The Work Begins
From age 2 until she went away to college, Liz McQuillan Delfino lived with her parents in this 1879 house in Newton, Massachusetts. When her mother passed away Liz inherited the property, and now, after almost two decades, she is getting ready to move back into the house she grew up in, along with her husband, Joe Delfino, and their two girls.
But not before the This Old House team goes through the Italianate foursquare home, renovating, adding on, and updating, all while filming the process for the new TV season, airing this month. Along with some updates and energy improvements, there will also be a new kitchen, a garage addition, and a family room addition with master suite above. It's a house for the next generation in more ways than one: As part of TOH's Generation NEXT initiative, eight apprentices will be working alongside the crew every step of the way.
Shown: Work is under way on this Italianate foursquare in Newton, Massachusetts, which was built in 1879 and is featured in This Old House's new TV season. Along with fresh siding and a rebuilt front porch, renovation plans call for new additions in the back.
Family on the Old Front Steps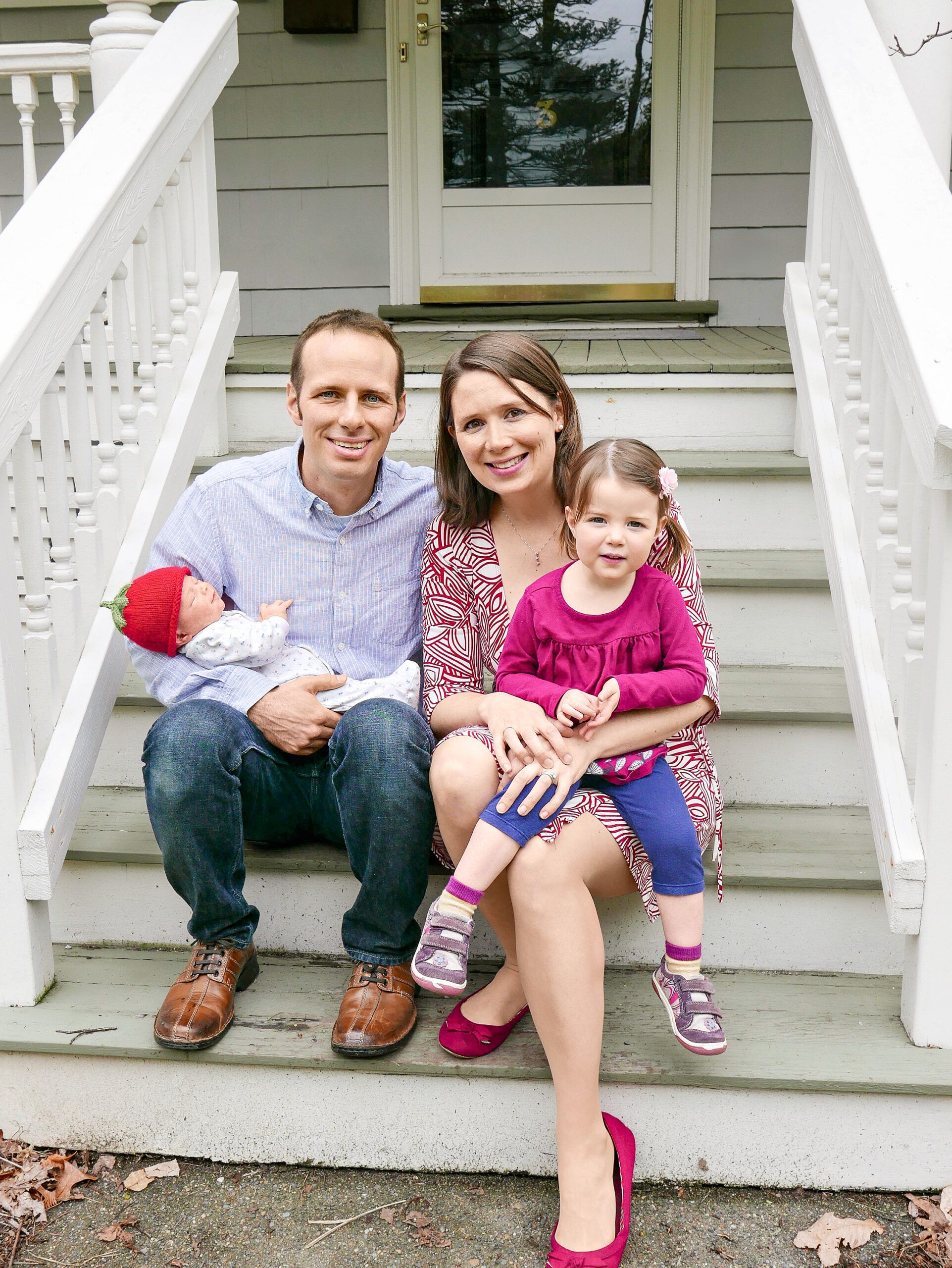 The house has already seen its share of renovations—and movement. Originally built as a guest house for the larger home nearby, town records show it was moved from across the street to its present location in 1894.
Liz's parents made their own changes to the house. When they moved in, the small room above the front door was a second-floor porch. "My dad enclosed the room, and we put a couch in there and a TV," says Liz, a former product-design engineer who's now a stay-at-home mom. A 1996 addition held a small family room, downstairs bath, and breakfast nook. And to make more room in the kitchen, an unused chimney was removed and the basement stairs were relocated next to the main stair.
Shown: When work is completed, Liz McQuillan Delfino, her husband, Joe Delfino, and their two young daughters will be moving into Liz's childhood home.
Kevin and Richard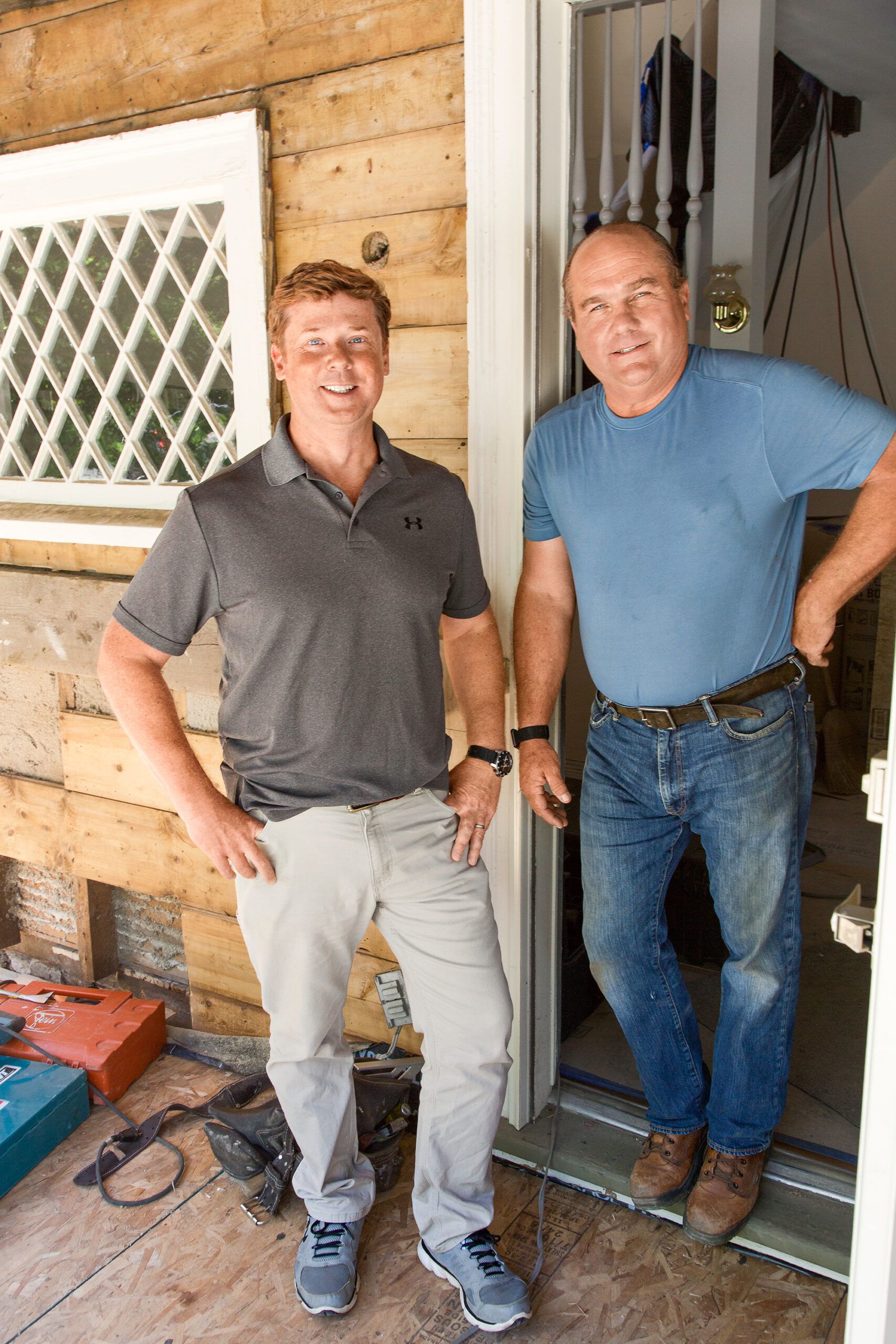 What hasn't changed is the close-knit neighborhood that Liz remembers. "The front porch used to be screened in. We'd eat dinner out there in nice weather and there would always be people out on the street," she says. People still watch out for one another on the street, and the kids play at one another's houses. "We're never surprised to look out the window and find neighborhood kids playing on the swing set," Liz says.
Shown: TOH TV host Kevin O'Connor and plumbing and heating expert Richard Trethewey at the Newton job site.
Carefully Wrapped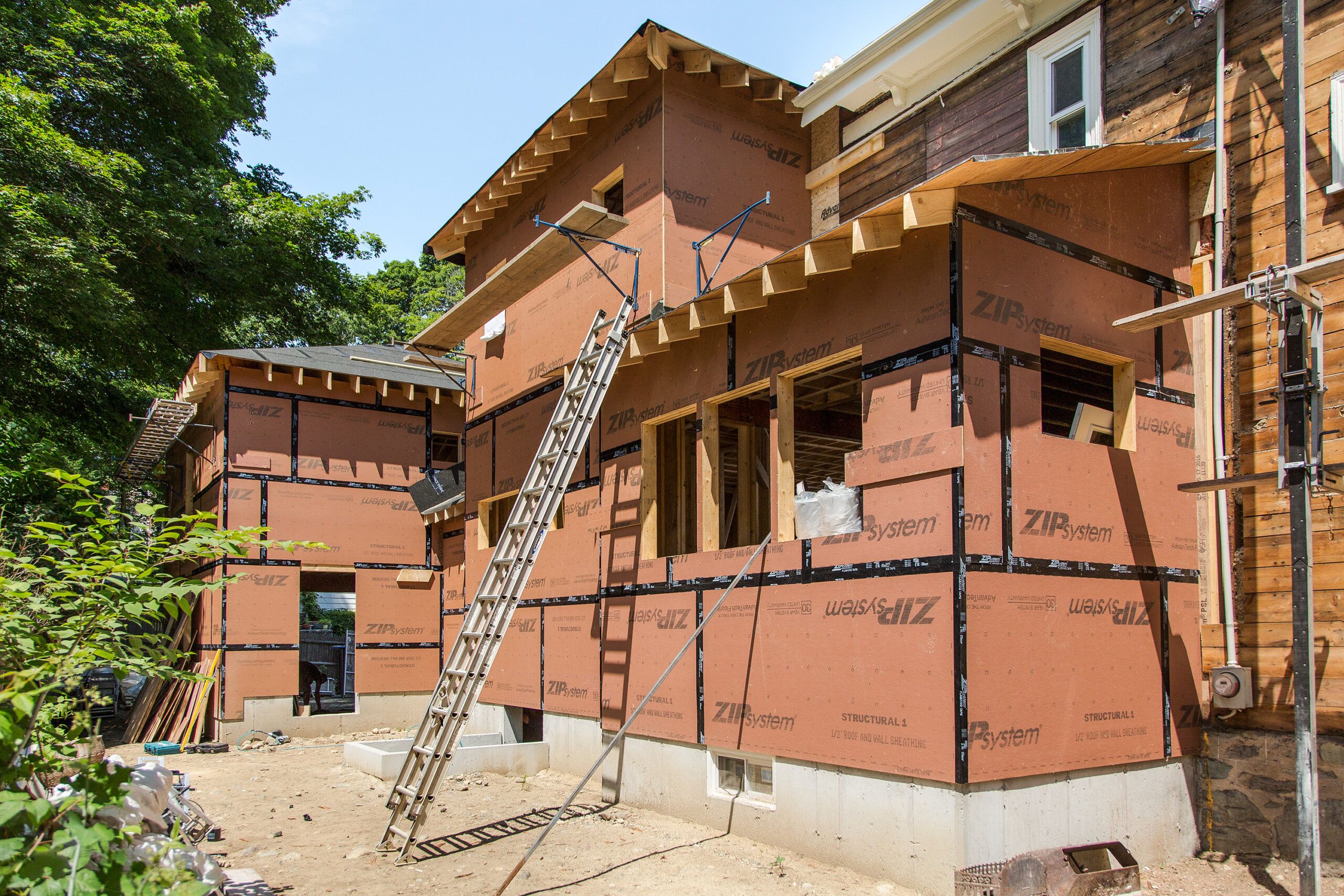 "When we were getting financing, it was difficult to find sales comps," says Joe, who works at Google. "People just don't move out of the neighborhood."
When Liz and Joe decided to make the move back to her childhood home, they had a short wish list of changes they wanted to make. "At first, we were really just thinking about adding a bedroom over the kitchen,"Joe says. "And redoing the outdated kitchen and maybe adding a deck in back," says Liz. The extra bedroom would help with the growing family, as they were expecting their second child. "Plus," says Joe, "my parents are retiring soon, and we wanted space for them when they visit from New Jersey."
Shown: The additions are sheathed with a product that combines an engineered wood panel with an air and water barrier. Taped seams in the panels further reduce infiltration.
Foundation by Tommy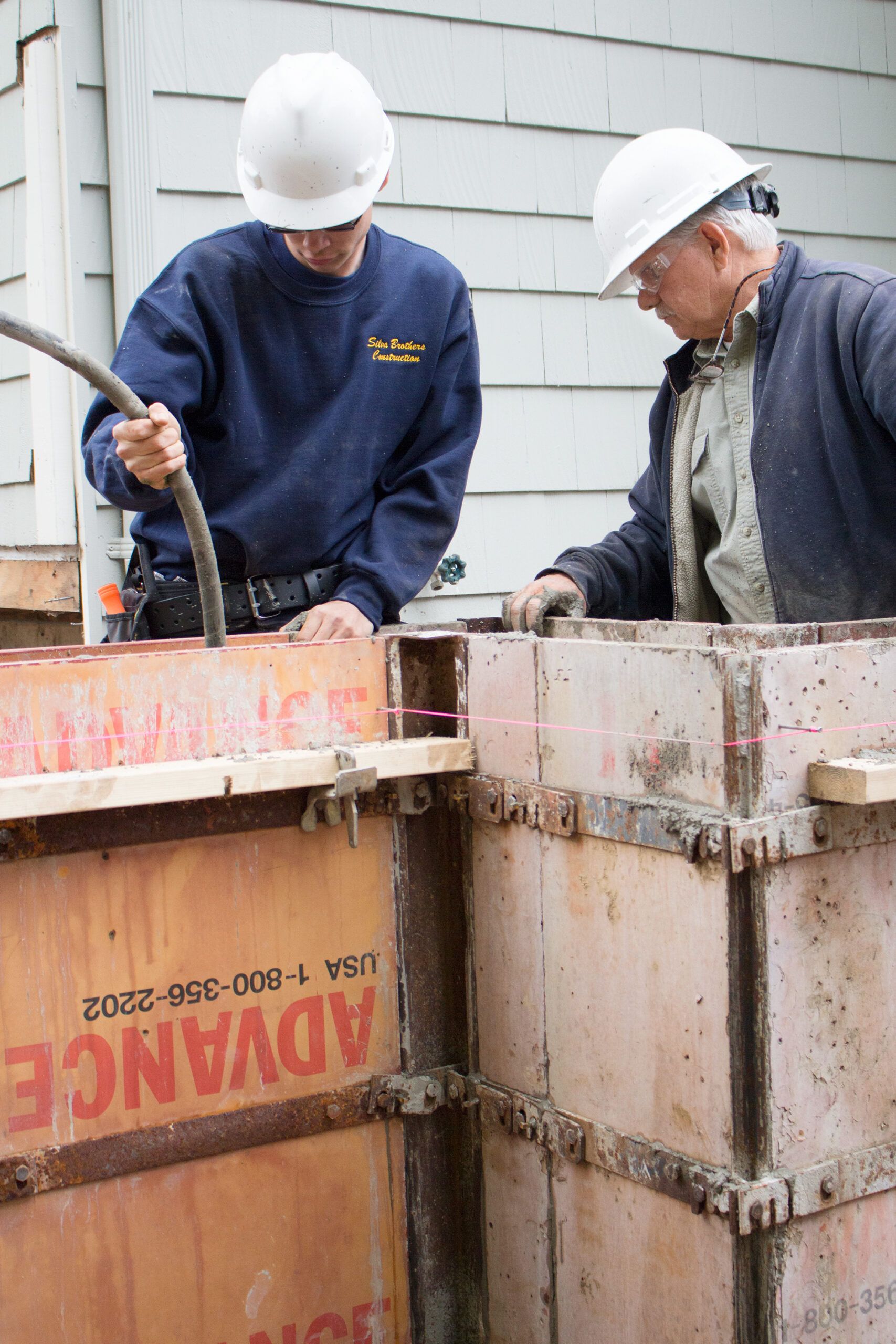 A friend recommended architect Mat Cummings. No newcomer to TOH, Cummings worked on the recent Belmont project house. "At first meetings," Cummings says, "my job is just to listen to what clients tell me they want in general terms. Over and over I heard Joe and Liz talk about how cool it would be to have a bedroom suite where Joe's parents could stay when they visit."
Shown: TOH general contractor Tom Silva shows apprentice Michael Barrett how to vibrate the concrete in the addition's foundation forms. This removes air from the concrete so that it flows into all the voids around the rebar.
3D Render
Everything changed when Cummings and the Delfinos headed outside for a walk around the backyard. "In an almost offhand way, I told Mat that we didn't want to do anything with the garage," Liz says. The stand-alone, single-car outbuilding divvied up the backyard into three separate spaces, including an underused alley-like 15-foot-wide strip along the property line. "I said, 'Don't hate me, but I think you have to relocate the garage,' " Cummings says.
Attaching the garage to the house was a big move. It unified the yard into one large, open space. And on the inside it made a more viable floor plan for the extended family.
Shown: A three-dimensional computer rendering shows additions in the rear of the house comprising a kitchen bumpout, a family room, and a garage. Second-floor spaces include a master suite over the family room and separate quarters for visiting grandparents above the garage.
Richard Specs the Plumbing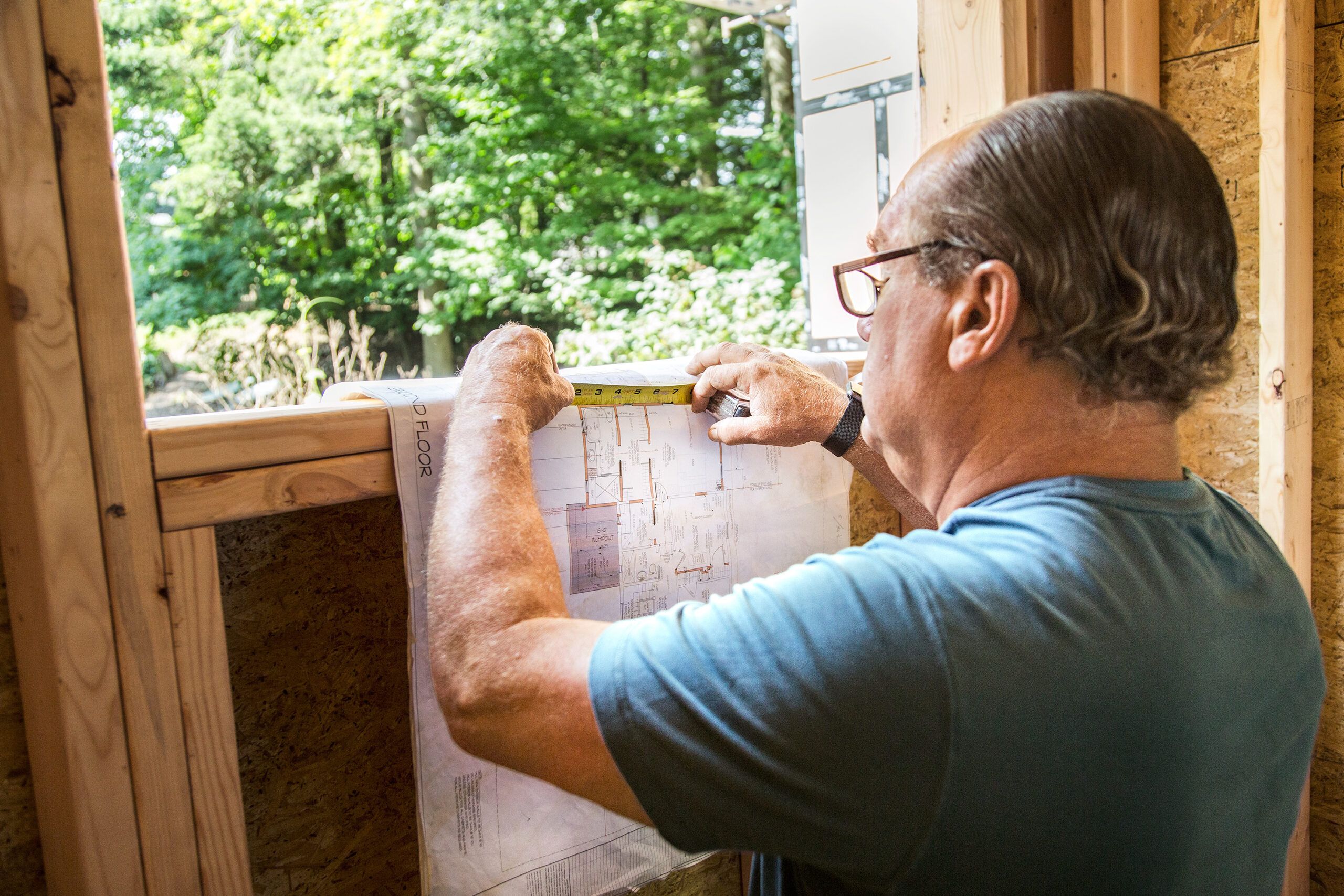 Given Newton's New England winters, it's no surprise that the Delfinos are looking forward to backing out of their new garage in snow-free vehicles. "For the last 12 years, we haven't even had a driveway, let alone a garage," says Liz.
"The garage was an easy sell," says Cummings, "especially after I showed Liz and Joe what we could do by adding a second floor." The 529-square-foot space above the garage is perfect for an in-law suite, with a large closet, full bath, wet bar, and a sleeping area separated by a wall from a small living room. The suite is connected to the house by a mudroom between the garage and the main house.
Shown: Richard Trethewey uses a tape measure to determine the location of a new toilet on the inch-scale blueprints. Each 1⁄4 inch on the prints equals 1 foot in the actual house.
Bailey Learns from Richard
"My parents can eat all their meals with the family and hang out with us as much as they'd like to," Joe says. "But they'll also have their own separate space when they want privacy."
Cummings's plans for the new kitchen, which has a center island and seating for four, required bumping out the old room by 8 feet. The adjacent dining room will retain its original door and window trim, and built-in corner cupboard and china cabinet. A family room with a woodstove and a large window looking out to a backyard deck will be visible across a half wall separating the room from the kitchen.
Shown: TOH TV plumbing and heating expert Richard Trethewey shows apprentice Bailey Beers how to locate that same toilet in the new framed-up master bathroom. "Having the apprentices here is great fun—it gives us a chance to get back to basics and assess how we teach. They learn, and we learn," Richard said.
Learning from Norm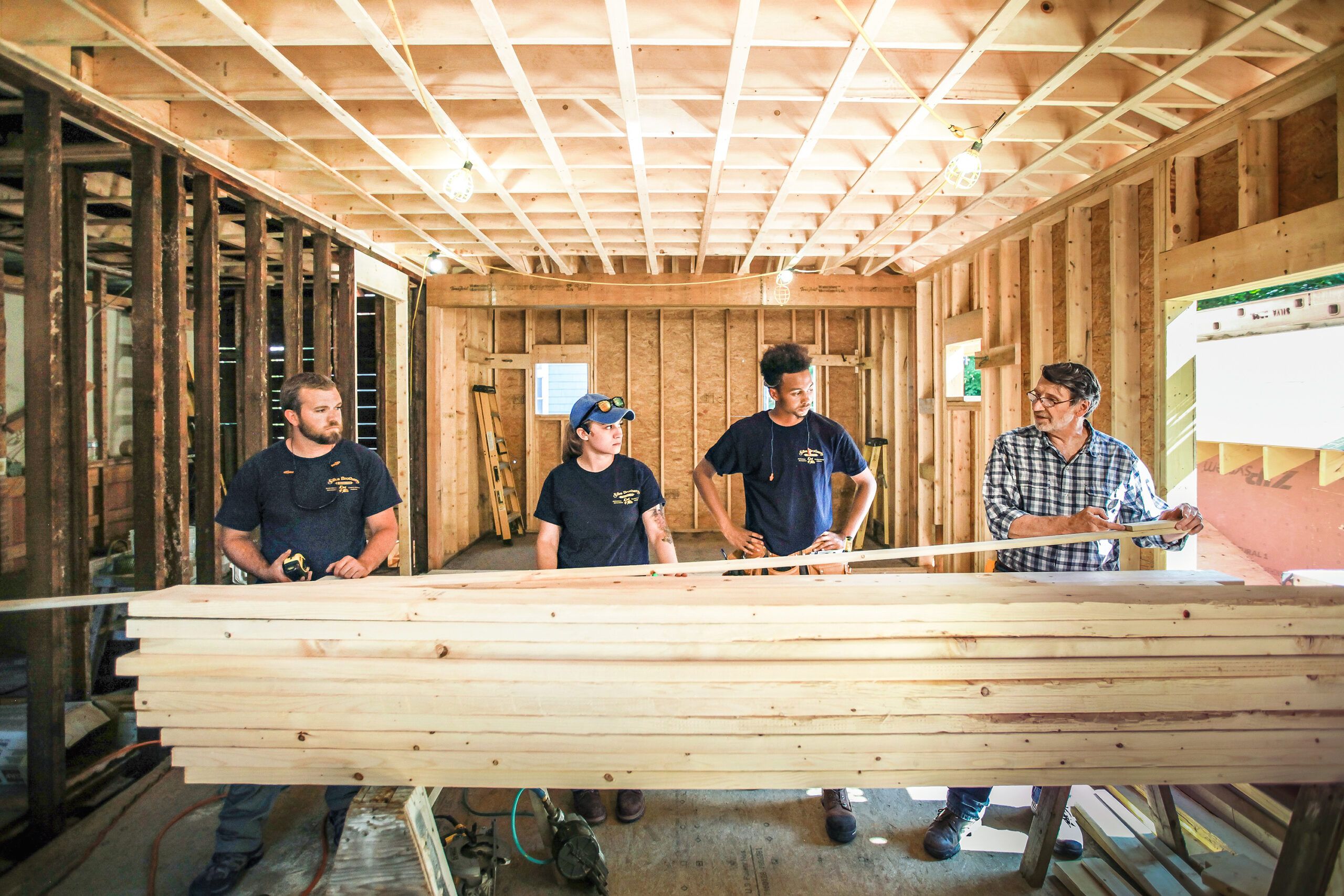 Cummings uses half walls to delineate individual rooms while keeping an open feel in the larger space. There's also a 42-inch-tall half wall between the family room and the bench in the mudroom. Structural posts and beams and ceiling moldings are other ways to visually separate the function of one space from another. Without these design details, the open plan would seem too vast and impersonal.
Shown: (left to right): Apprentices Nathan Gilbert, Bailey Beers, and Austin Wilson—chosen from TOH's nationwide Generation NEXT casting call—get a lesson in choosing lumber from TOH master carpenter Norm Abram.
Circular Saw Lesson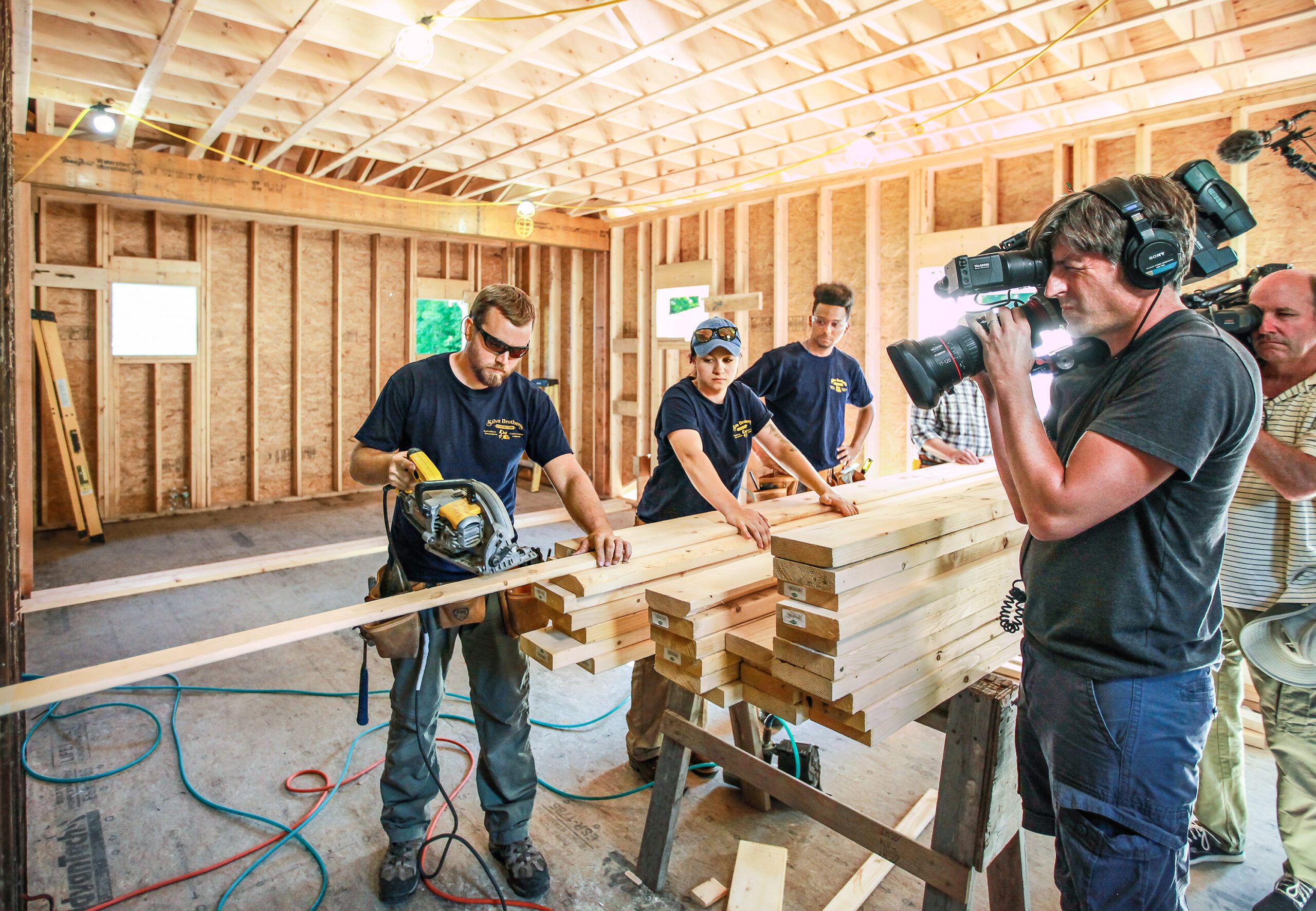 On the second floor, new back-to-back closets make the original bedrooms more functional, and a recently renovated bathroom will remain unchanged. Plans call for a master bedroom suite over the family room, where there's also a walk-in closet, and a master bath with a tub and a separate shower.
Shown: Apprentices Nathan Gilbert, Bailey Beers, and Austin Wilson take turns learning how to operate a worm-drive circular saw.
Learning from Richard
At the outset, Joe and Liz never imagined they'd be working with This Old House. "Mat suggested we use Silva Brothers as contractors," says Joe. "And we really liked Charlie and Tom."
"Then Charlie pitched our project to the show," says Liz. "And here we are.…"
Shown: Richard Trethewey explains to the apprentices how the waste lines from the original house will hook up to the addition's new plumbing.
Garage Framing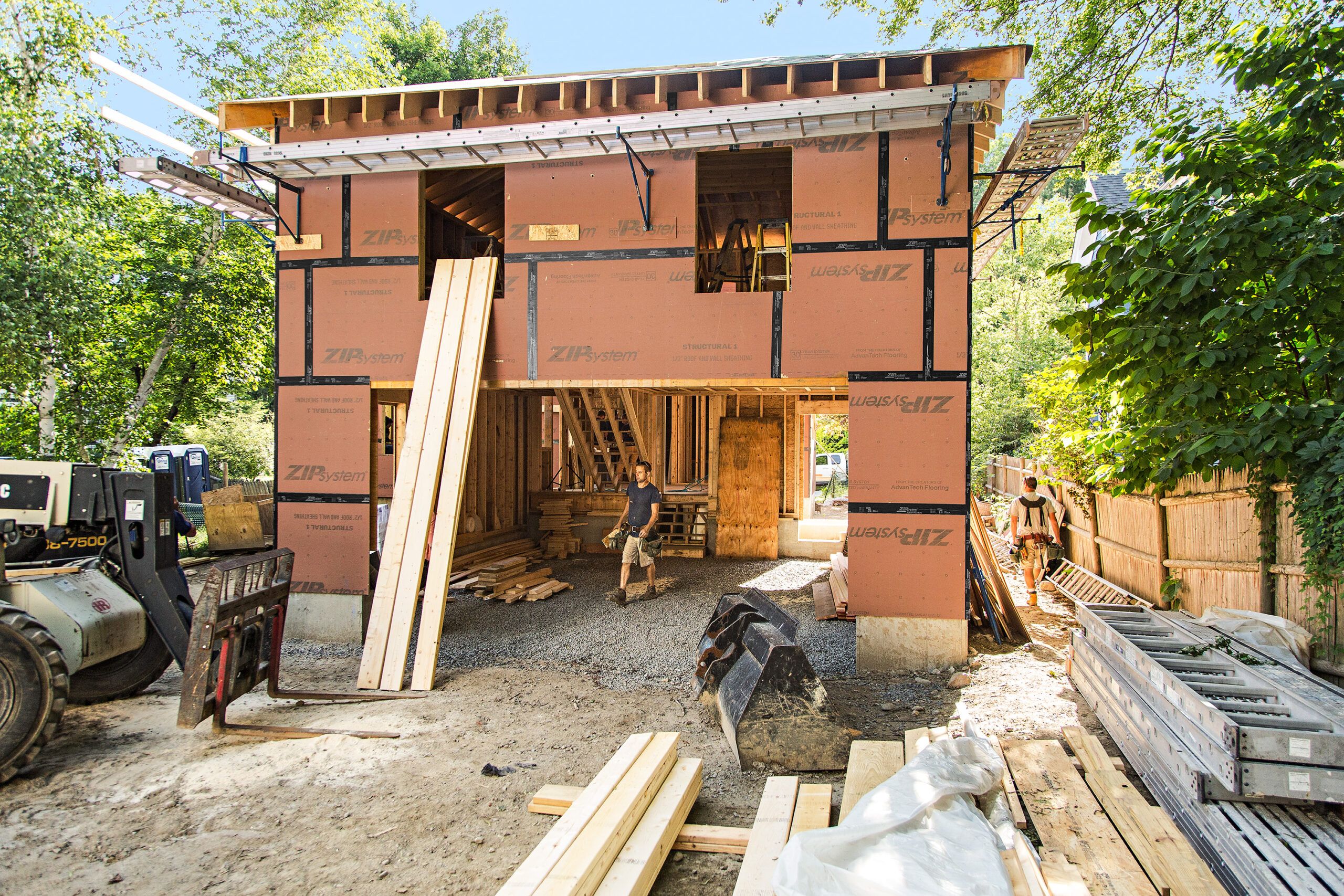 Work is well under way at the house. The old garage is gone, and the new one is almost closed in with roofing and windows. The plans called for utilizing the 1990s family room addition, but Tom Silva thought otherwise. The structure was so out of level that the floor heights met with the original house's floors in one location and were 1¼ inches lower in another. There was also a question of how to make the second floor match up where the original bedrooms would meet the new master suite. "We could've spent a lot of time racking and jacking the additions to make everything meet up," says Tom. "But when you looked at the checkbook, it was faster and cheaper to build all new additions."
Shown: The new two-car garage, with an upstairs suite for visiting grandparents, awaits windows, doors, siding, and interior finish work.
Framing the Master Suite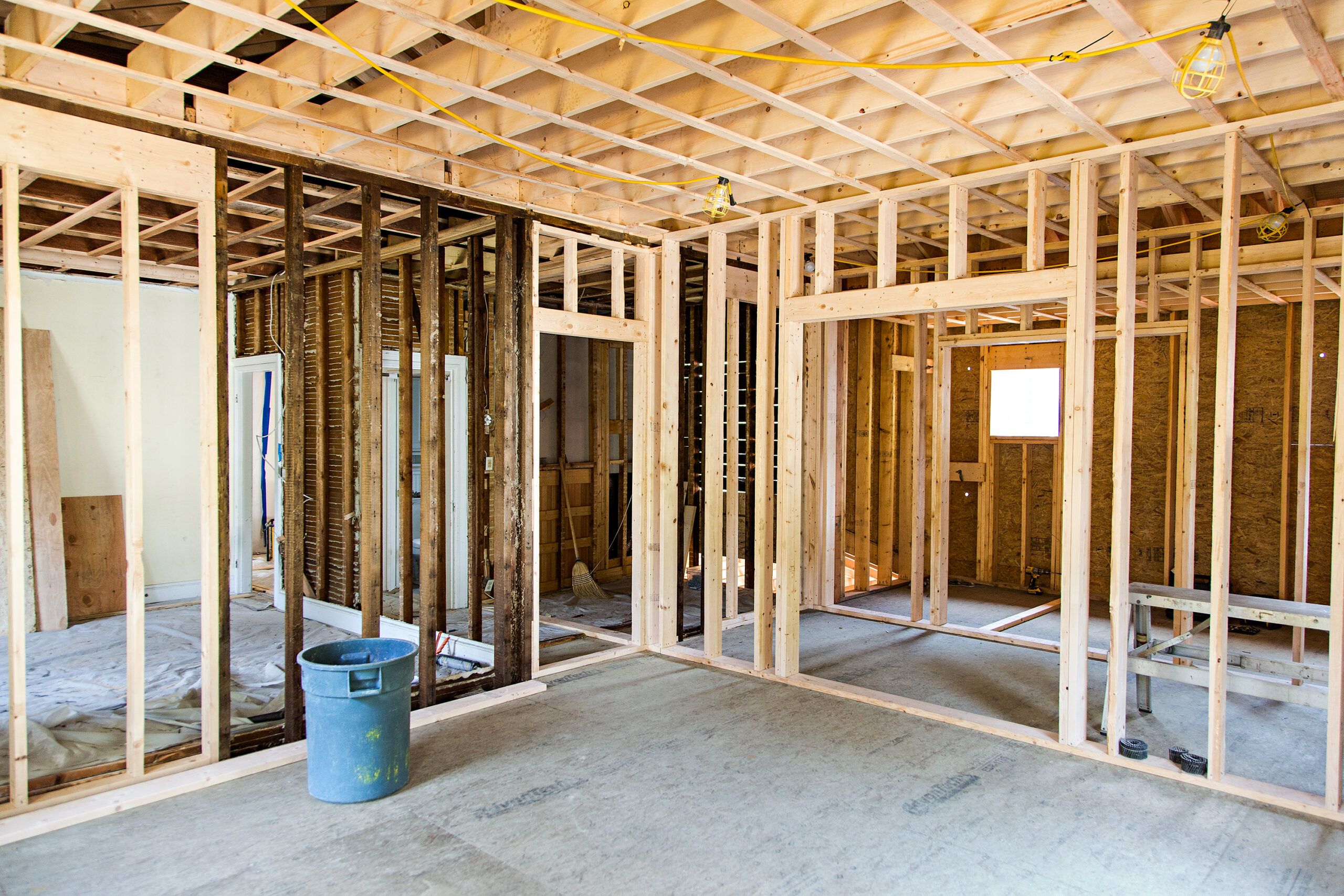 Liz is adamant about retaining as many details as possible from the existing house. Although the brick chimney was too expensive to save, the mantel from the quirky fireplace behind the front door is staying. "We used to roast marshmallows in that fireplace on special occasions," she says. And the ornate original balustrade and built-in cabinets have been carefully wrapped to protect them during construction.
"Liz remembers the good old days—when the house had only two bathrooms and no air-conditioning," says TOH's Richard Trethewey. "After we're finished, she can start on some new memories of the house—with three additional baths and a high-efficiency AC system."
Shown: On the second floor, new framing for the master suite's walk-in closet, bedroom, and bathroom tie into the house's original framing.
More Richard Pointers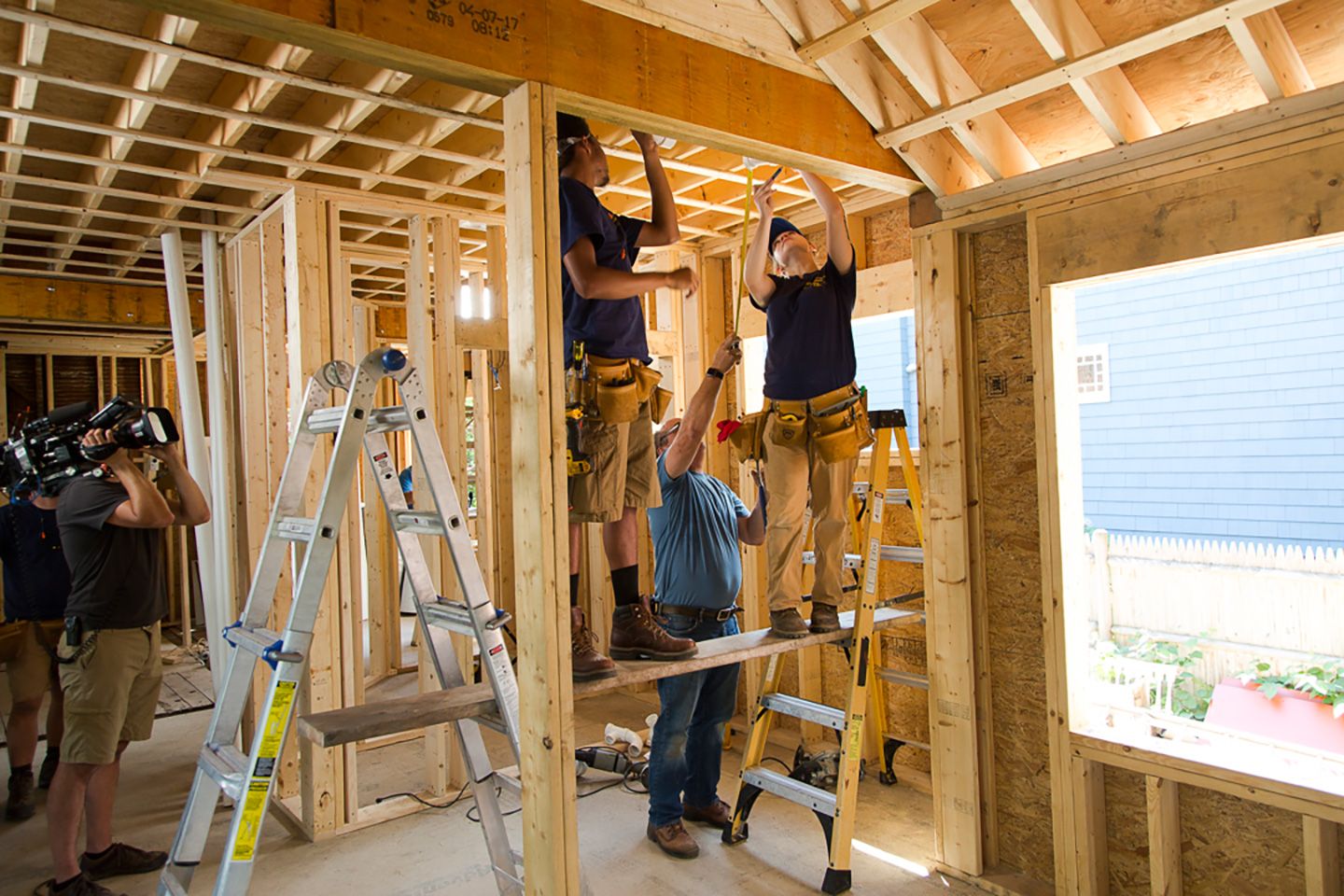 Before Liz's mom passed away, she had chatted with an architect about adding a small living space above the old garage. "My mom thought she would move there, and Joe and I could move into the house and start a family. The idea of three generations living close together appealed to all of us," says Liz.
And now, as it turns out, three generations will spend lots of time together when Joe's parents visit. "We imagine they'll stay for weeks at a time after they retire. It will be great for their grandkids," Joe says. "We can be separate but still close."
Shown: Richard shows Austin and Bailey how to measure a drainpipe for the upstairs master bath. All the pieces of the PVC drain will be measured, cut, then dry-fitted, before final glue-up.