Fit For a Family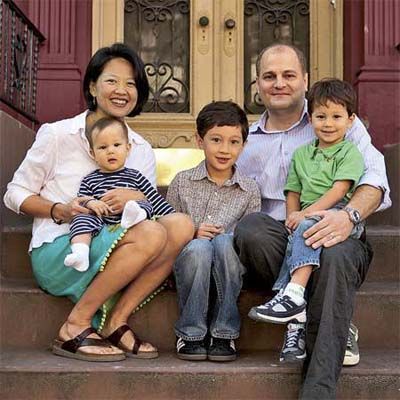 On a block lined with identical rowhouses, the former boarding house that Karen Shen and Kevin Costello had come to see hardly stood out. Its painted exterior and slightly worn condition were typical for the Brooklyn, New York, neighborhood of Prospect Heights. But as soon as the couple stepped inside, they knew they'd found a gem. There was the original woodwork intact—oak archways, classical columns, bird's-eye maple cabinetry, and a fantastic run of fretwork overhead. "We fell hard for the house," says Karen. "All because of those details."
The TOH crew, working with local contractor Michael R. Streaman, is remodeling the couple's 1904 Renaissance Revival rowhouse, helping them turn it into three apartments while restoring its exterior and preserving the ornate details. The late-Victorian-era house dates to the heyday of the decorated urban ­interior, when elaborate woodwork carved by machine was shipped in bulk around the country. Over the years, many similar homes were gutted and converted into separate apartments—but not this one. Its decades as a low-rent boarding house kept the woodwork away from renovators' wrecking bars.
The couple plans to live with their three young boys on the first and second floors and part of the garden-level floor. The rest of the garden level and the third floor will be separate rental apartments. But before they get started, come on in and check out the beauty that drew them—and This Old House—to this architectural treasure trove.
Painted Stone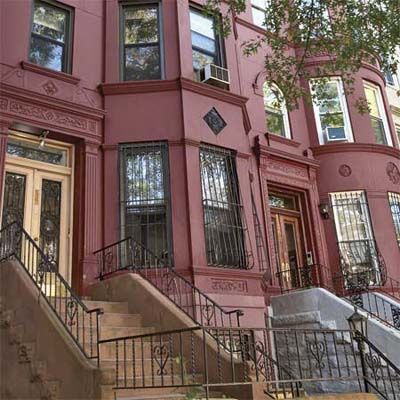 The Costello's house, a 1904 example of the Renaissance Revival style—a form modeled on Italian townhouses from the 15th and 16th centuries—is clad in the chocolate-colored brownstone (visible on the lower level) that gave New York City rowhouses their familiar nickname. The homeowners hope to strip the red paint to reveal the stone.
Secret Entry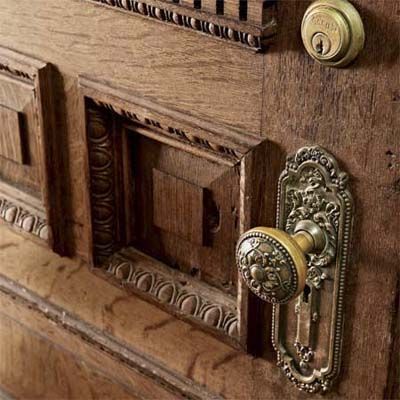 The ornate inner vestibule door has raised panels, egg-and-dart trim, dentil molding, and an elaborately decorated doorknob and escutcheon plate. However, only welcomed visitors could see this fancy portal; many Victorian-era houses hid the grander entry behind utilitarian outer doors.
Decorative Hinges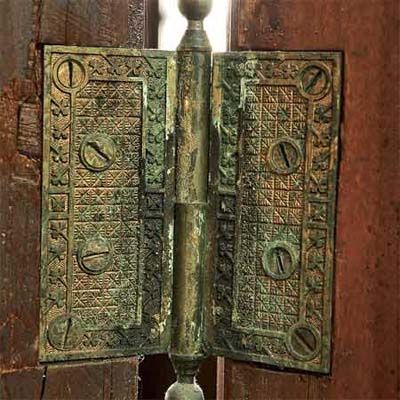 The period's emphasis on highly stylized woodwork increased homeowner demand for the perfect hardware to complement it. Fancy brass butt hinges such as these were extremely popular in the late 1800s, stamped out en masse in the factories of the American industrial age.
Ready-Made Millwork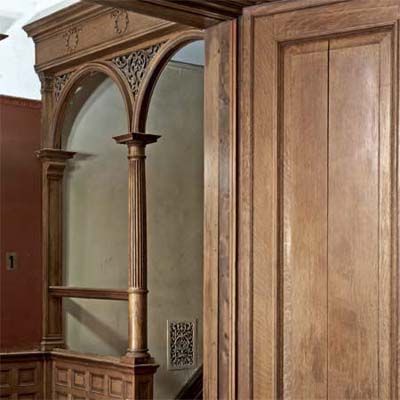 The first woodwork catalogs came out in the 1870s, and by the 1890s they offered hundreds of pages of architectural elements and trimwork, which developers mined to decorate the houses they built. "Advertisements would mention the fact that these houses had elaborate details," says architectural historian Charles Lockwood. "It was a big selling point." The oak wainscoting, doors, and columns seen here, as well as the triangular spandrel connecting the arches, were likely ordered from one such catalog.
Fanciful Fretwork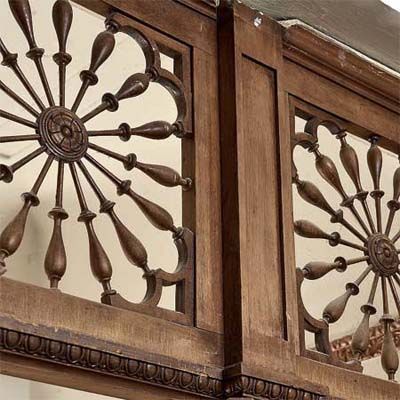 The mid-19th-century industrial revolution made mass-produced architectural details—like this oak fretwork that divides rooms on the parlor floor—affordable to the middle class, establishing an ornate style for the entire Victorian era. "A lot of people think the elaborate woodwork in these brownstones was all handcarved by master craftsmen," says Lockwood. "The truth is that long before the 1890s, most of this stuff was factory-made."
Handcrafted Touches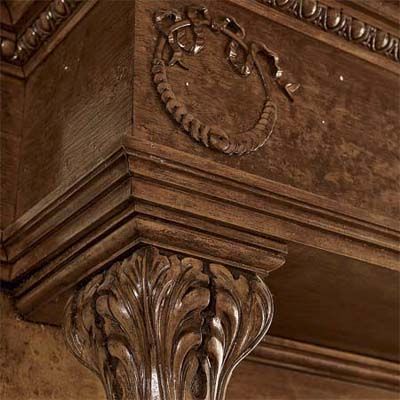 While most of the house's details were machined, some more refined elements were still crafted by hand, such as this diminutive wreath carving affixed to one of the fireplace overmantels. Many woodshops continued to employ European craftsmen, who were flooding the country in a surge of immigration, to add handcarved touches to their products.
Intricate Castings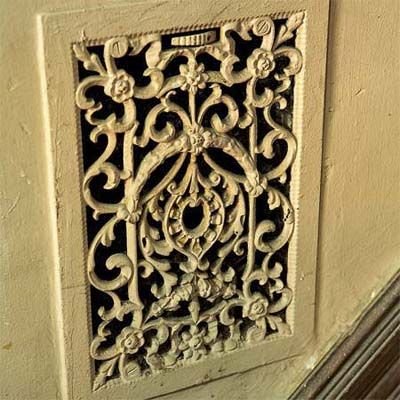 Factories used mechanized casting to create elaborately designed brass, bronze, and iron house parts like doorknobs, window hardware, and vent covers. This vent brought warmth to the first floor from the house's original coal furnace, but there was no forced air. "It operated by the simple principle of 'hot air rises,'" says TOH plumbing and heating expert Richard Trethewey.
Entry-Hall Storage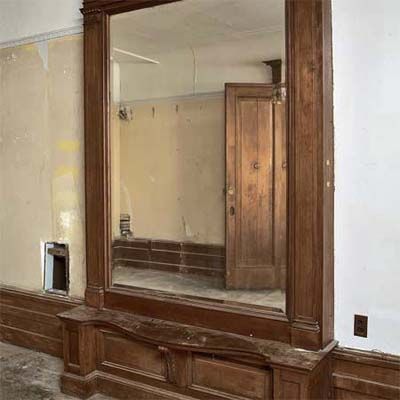 Hall trees, like this one carved from oak, were extremely popular in the late 19th century. The beautiful full-length mirrors weren't just eye-catching, they were also practical, serving as a spot where one could remove galoshes, hang up an overcoat, and primp before leaving the house. Think of it as the precursor to today's mudroom. The mirrors also served to make rooms and hallways appear larger.
Built-In Storage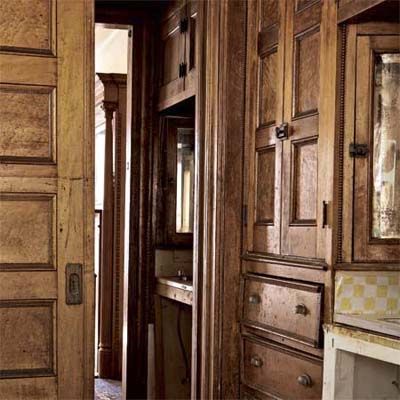 Many New York City rowhouses had front and back bedrooms on the second floor with small, well-appointed his-and-hers closets between them. They boasted ample storage space and marble washroom sinks. This one, enclosed by pocket doors, is decked out in bird's-eye maple cabinetry.
Classical Details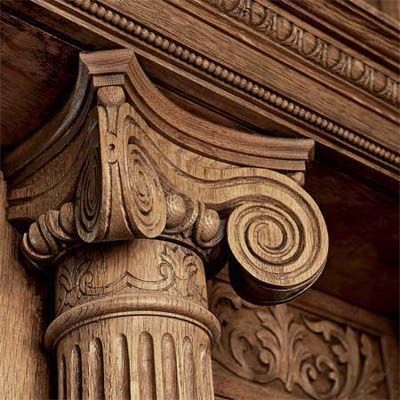 Classical details, like this column on the vestibule's surround, were de rigeur in even the simplest homes. "This is actually a very modest house compared to other brownstones that were being built back then," says Lockwood of the TOH project house. "Millwork like this was quite common"
Space-Saving Stairway
The side stair placement common to New York City rowhouses was intended to give the rooms as much square footage as possible. Stained-glass skylights, located directly above, illuminated most staircases.
Fire-Safe Decoration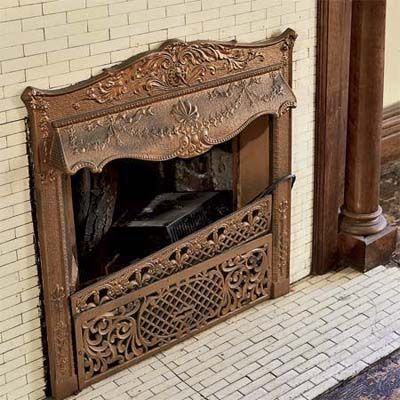 The end of the 19th century saw a transition from marble fireplace mantels to elaborate mirrored mantels made of wood. But the rectangular tile that surrounds the coal-burning fireplace insert shown here was just as important. "Tile was popular because fire safety was a big concern, especially in cities," says Brent Hull, founder of Hull Historical, which sells reproduction
moldings and millwork. "Tile manufactures knew this, and they started pushing their products as a safe but more attractive alternative to stone or brick."
Detailed Newel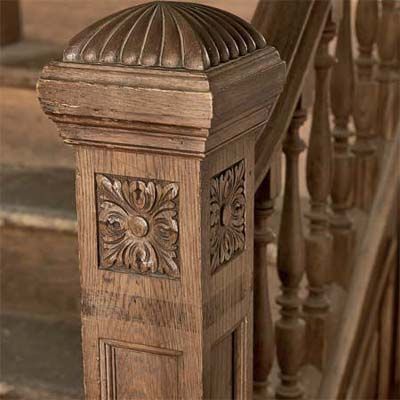 Near the end of the Victorian period, staircases and newels started incorporating more square-shaped elements—a precursor of the Craftsman style. While this newel was factory-made and ordered from a catalog, the floral carving was likely done by hand.
Get the Brooklyn House Look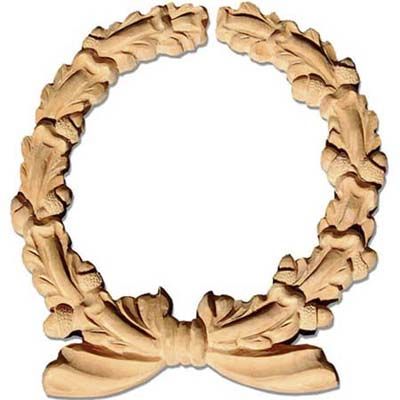 Interested in replicating the Rennaissance Revival style of TOH's Brooklyn House in your own home? These affordable, contemporary products add loads of architectural interest.
Hartford wreath wood carving. Starting at $54 per carving; InvitingHome.com
Stair Balusters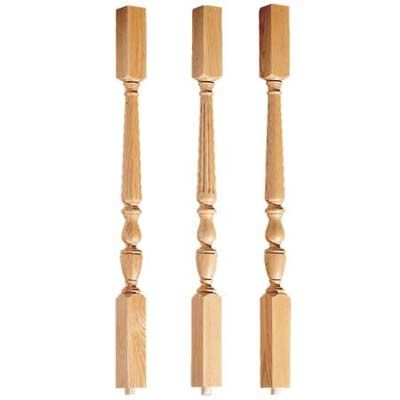 The 1800's collection by Architectural Turnings. Starting at about $15.50 per baluster; Architectural Turnings
Door Handle and Plate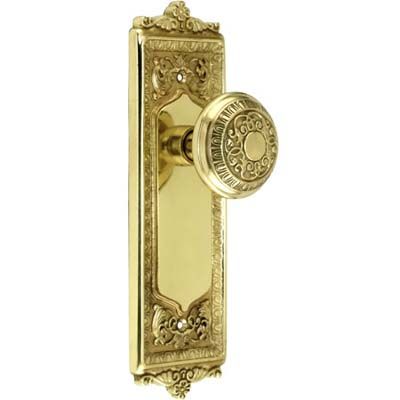 Egg-and-dart–style door set with decorative brass knobs. Starting at about $103 per set; House Of Antique Hardware.
Door Hinge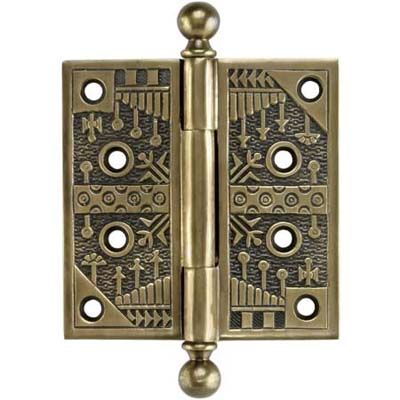 Solid brass ball-tip hinge with Windsor pattern. Starting at about $76 per hinge; House Of Antique Hardware
Panel Door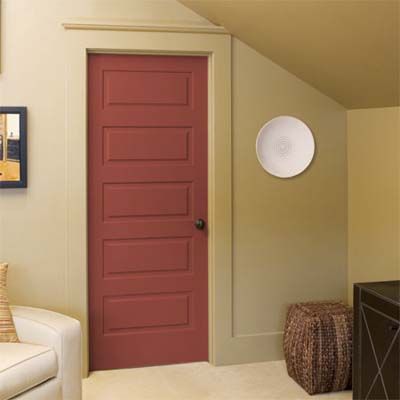 Rockport five-panel door by JELD-WEN Windows and Doors. Starting at about $40 per door; JELD-WEN