Squeezing the Most Out of a Small Space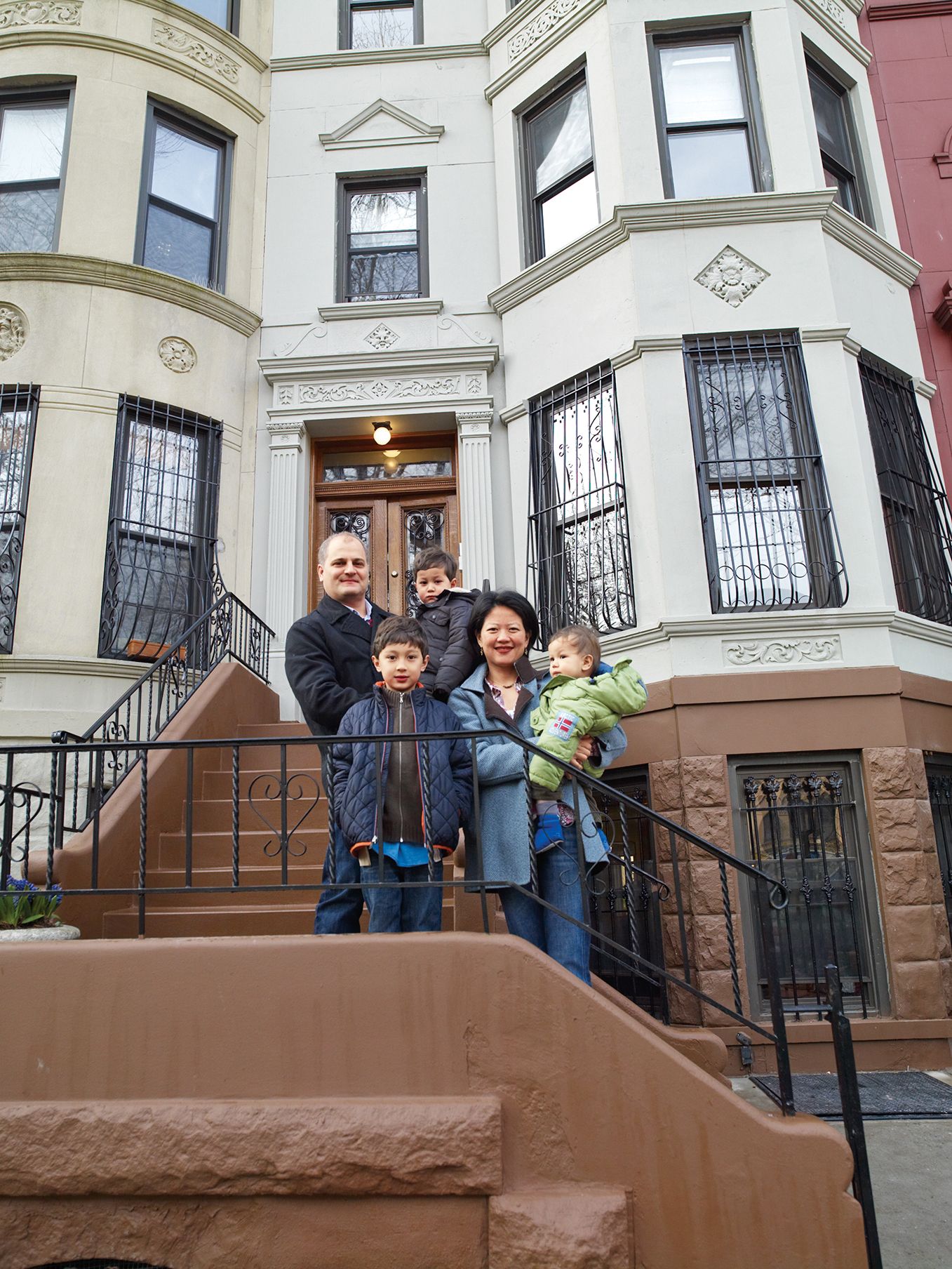 Urban living for young families is on the rise, but with it comes a need to think creatively about making the most of limited space. Karen Shen and Kevin Costello loved the extraordinary craftsmanship of their four-story 1904 Renaissance Revival brownstone in Brooklyn, New York, site of the current This Old House TV project.
But to save money, the couple is renting out one and a half floors of the house, leaving about 1,500 square feet of narrow living space for them and their three boys. "In New York City terms, this is a huge apartment," says Karen. "But with our growing family, we needed it to feel even bigger." Squeezing a family of five into a two-floor apartment posed several logistical challenges, but they managed to make a compact space feel like a roomy home. Here are a few of their best solutions for making a small house feel bigger.
Architect: Susanne Lyn, RA; Brooklyn, NY; 718-941-8596
Plumbing/HVAC: Aladdin Plumbing, Brooklyn, NY; 718-783-4621
Electrical Contractor: Super-Charged Electric, Staten Island, NY; 718-981-7173
Use Paint to Open Up a Room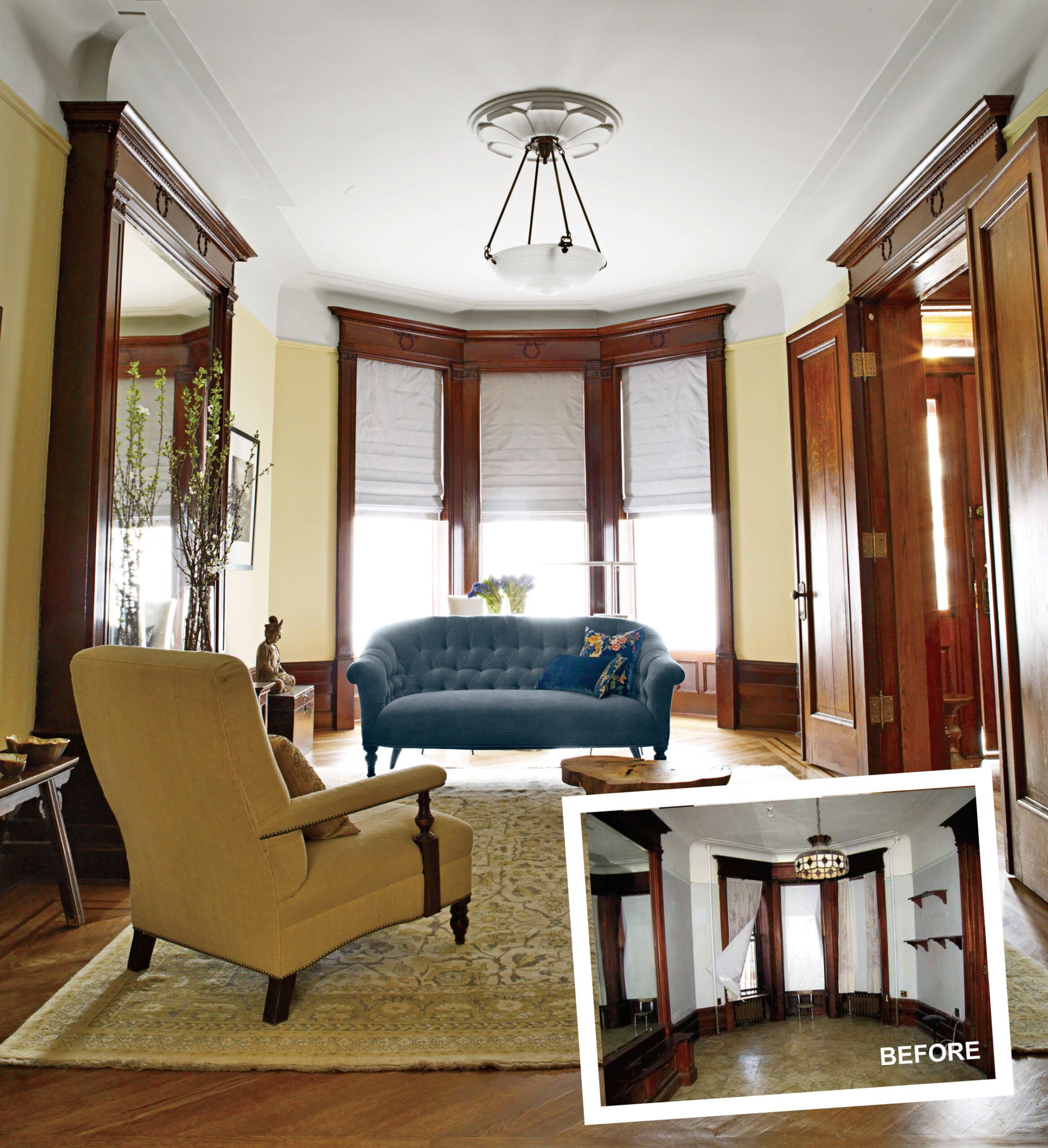 Paint crown molding to match the ceiling to widen a narrow room. Painting both the crown and ceiling white in this skinny space creates the illusion that the ceiling is wider than it is, minimizing the tunnel-vision effect. Here's another trick: Install flooring, whether it's wood or tile, in a diagonal pattern to help make rooms appear wider than they are.
TOH Tip: Keep compact rooms simple by using small-scale furniture instead of overstuffed pieces.
Flooring: Lumber Liquidators
Floor installers: Neale Flooring, 973-748-7105
Carpet, furniture, and accessories: ABC Carpet & Home
Window treatments: The Shade Store
Pendant light: Rejuvenation Hardware
General contractor: MRS Inc, Brooklyn, NY; 718-832-5958
Woodwork restoration: John M. Thomas Studios, New York, NY; 646-573-7105
Mirror, Mirror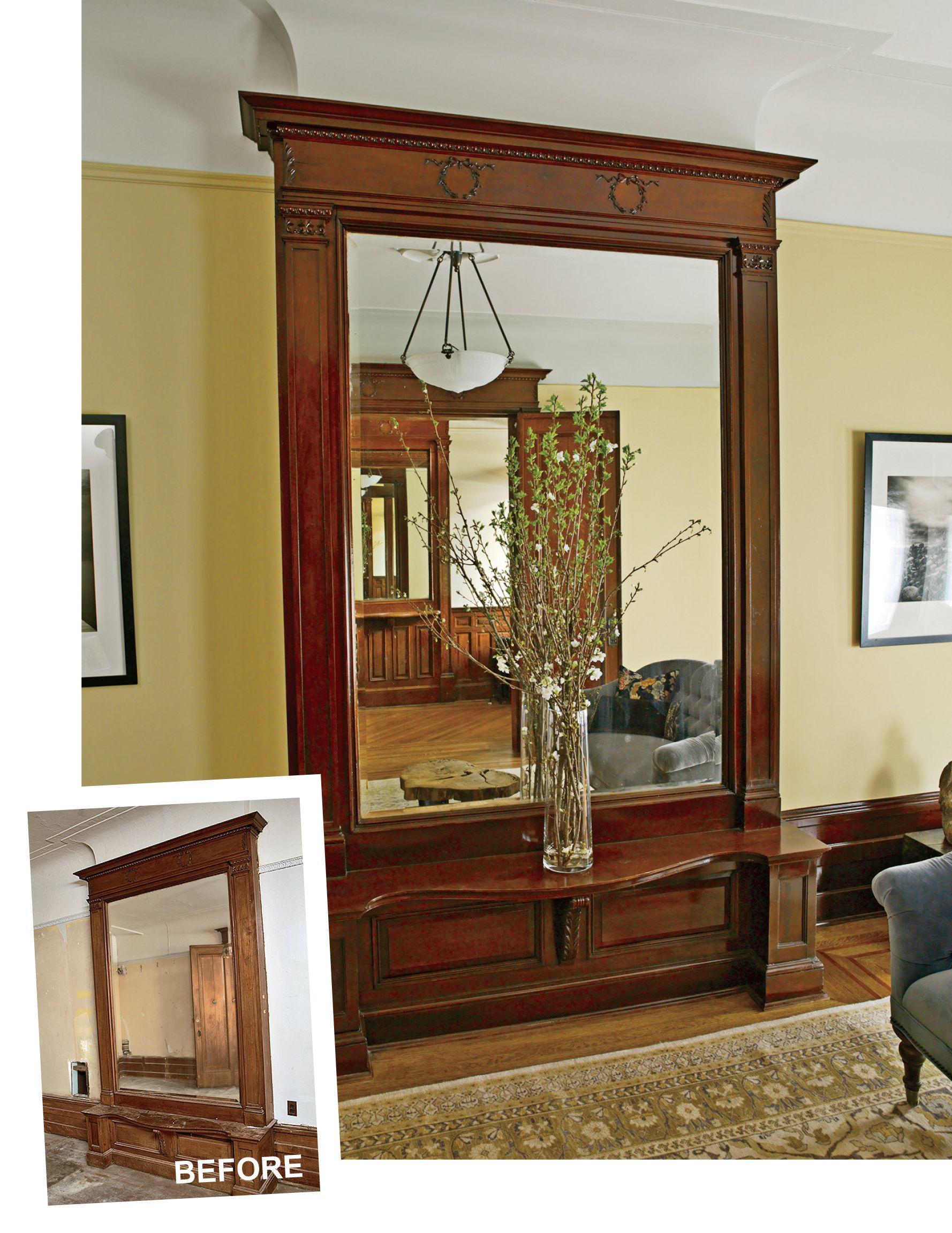 Place large mirrors facing each other to create the illusion of more space. One looking glass is enough to expand the perceived depth of a room, but two facing each other amplifies the effect even more. Here, a pier mirror on the front parlor wall faces another one in the front hallway, extending the illusion of added space and light indefinitely.
Gain Light and Square Feet With a Bay Window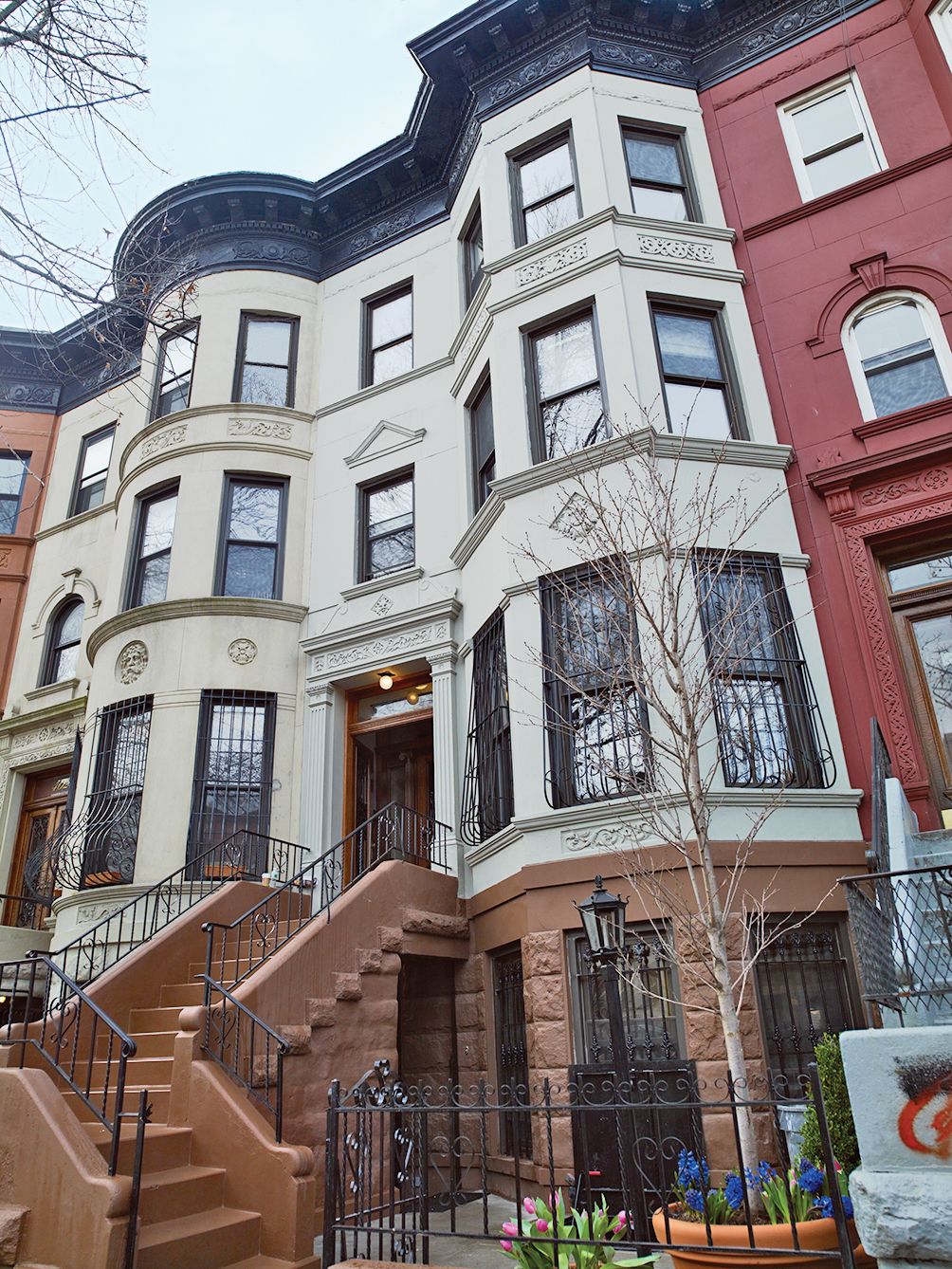 Maximize square footage and natural light with bay windows. When this house was built more than a century ago, the standard width of a rowhouse in New York City was a mere 20 feet. Bumping out bay windows was a common architectural trick for gaining precious square footage. It also created room for three ample windows that flood the rooms with sunlight.
Exterior restoration: Park Slope Brownstone Restoration
Wrought-iron paint: Rust-Oleum
Keep It Simple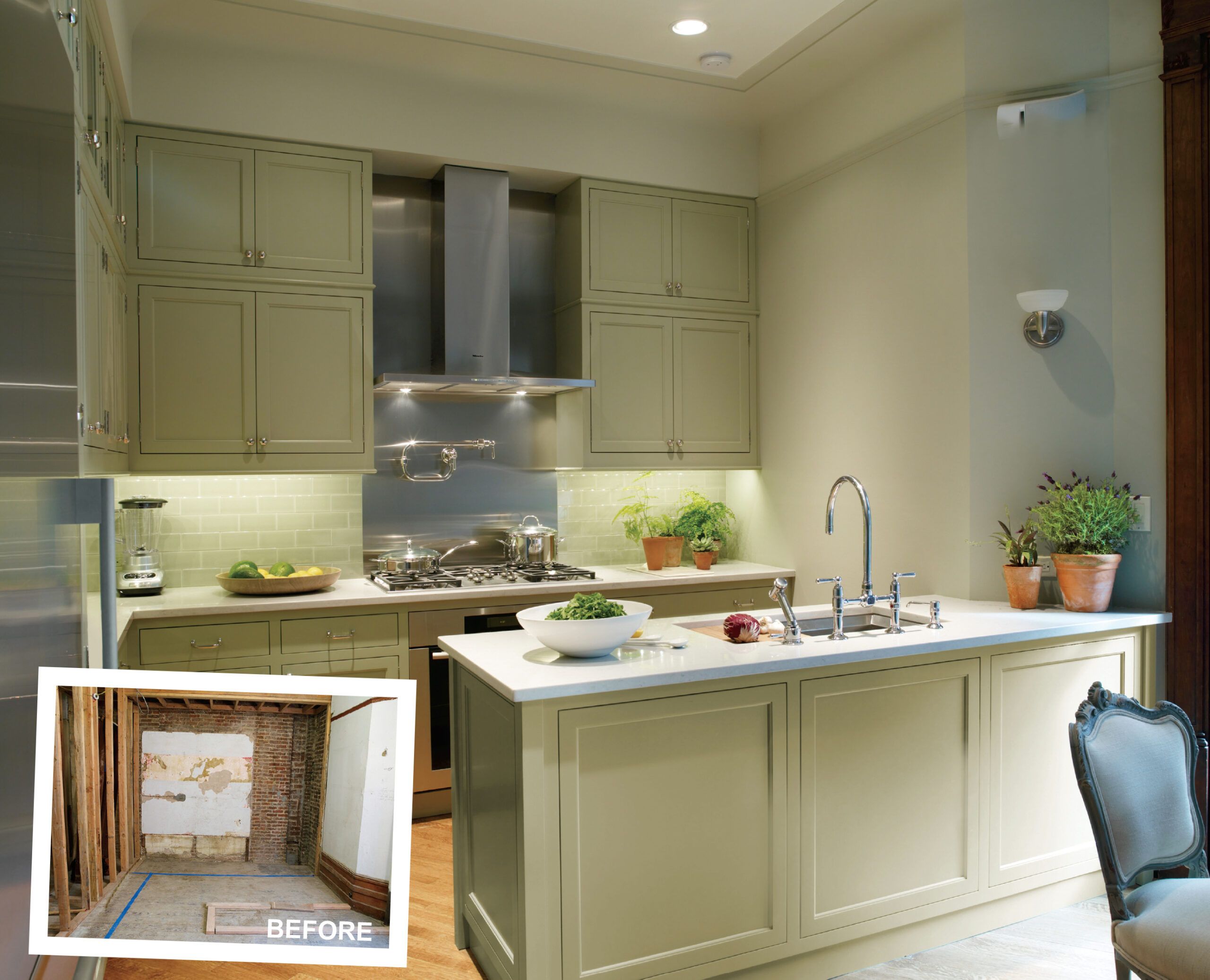 Choose simple profiles and reflective materials to open up rooms. The flat-panel cabinets in this tight in this 10-by-12-foot kitchen don't add any complicating and oppressive details, making the room feel airier. Stainless-steel appliances and shiny fixtures and hardware reflect more light, making the small space feel more expansive.
TOH Tip: Install cabinets under a soffit to mimic built-ins that recede into the wall instead of sticking out.
Appliances: Miele
Sinks and faucets: Kohler
Cabinet hardware and wall sconce: Rejuvenation Hardware
Countertops: CaesarStone
Backsplash tile: Mondial Tile
Custom cabinetry: MRS Inc., Brooklyn, NY; 718-832-5958
Think Vertical With Cabinetry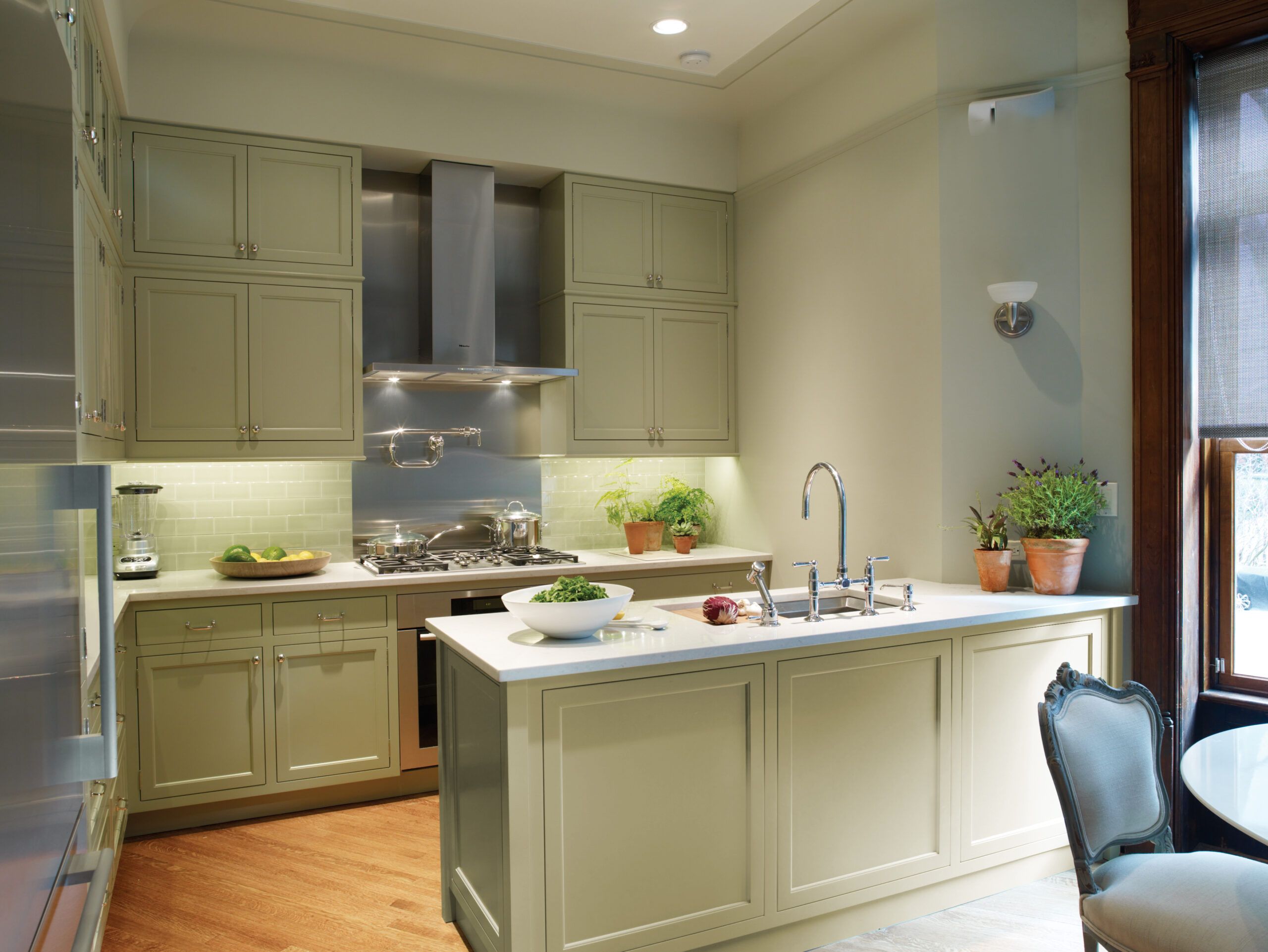 Use double-height cabinets for vertical emphasis and maximum storage. A second set of upper cabinets draws the eye upward, taking attention away from the limited counter space underneath. The extra cabinets also add much-needed storage space. "You have to take advantage of high ceilings," says general contractor Mike Streaman. "Sure, you need a footstool to access them, but they're a great place to store things you don't use much, like holiday dishes."
Cool Shades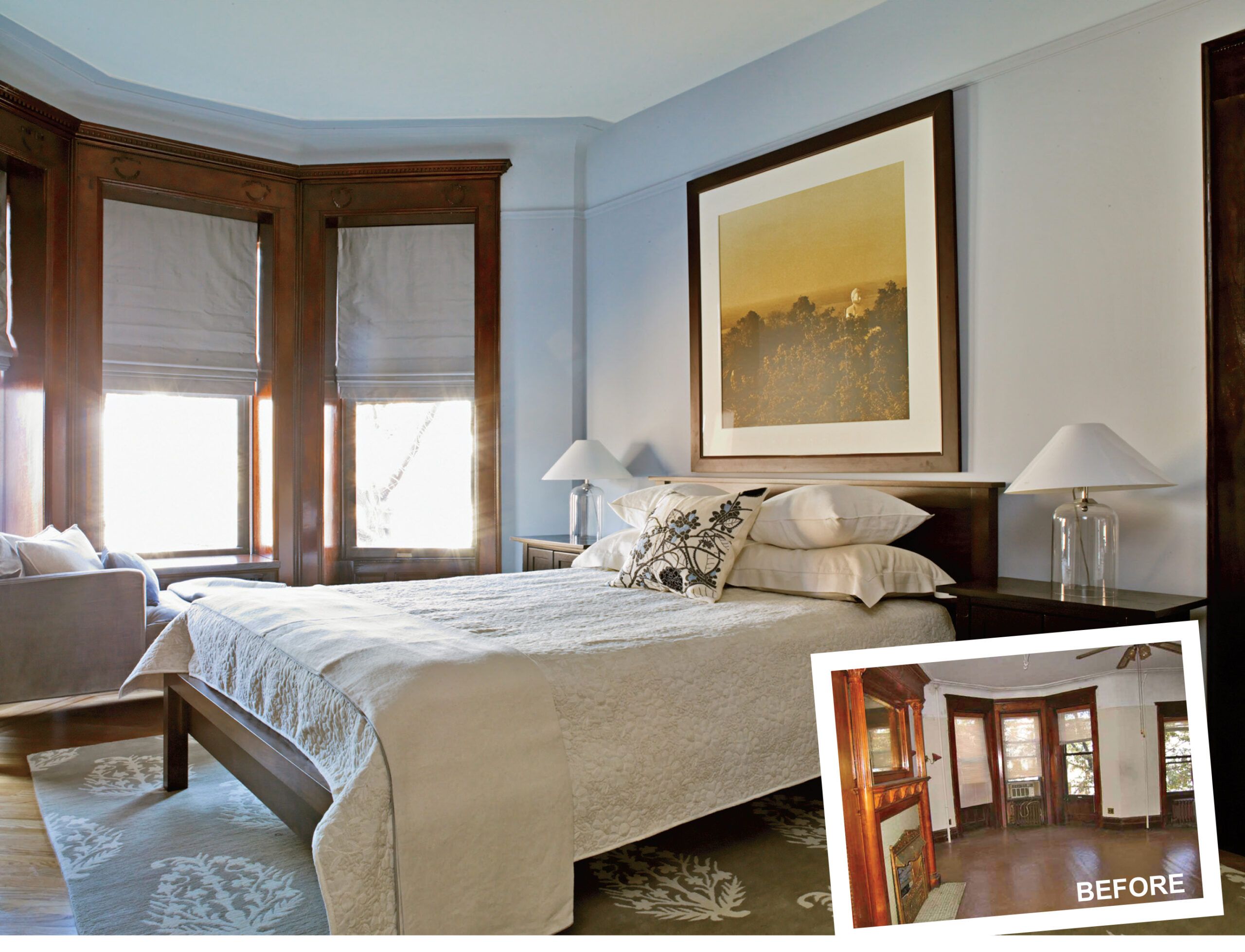 Use cool colors to make walls recede. In rooms where paint color makes a decorating statement, choosing cool shades (blues and greens) for the walls expands the space visually. The contrast between the rich, warm hues of the wood window and door trim and the pale lavender on the walls in this master bedroom makes the trim pop and the walls fade away.
TOH Tip: A large landscape painting creates a virtual "window," making a small space appear bigger.
Paint: Valspar
Artwork: Courtesy of Bonni Benrubi Gallery
Choose Tall Furniture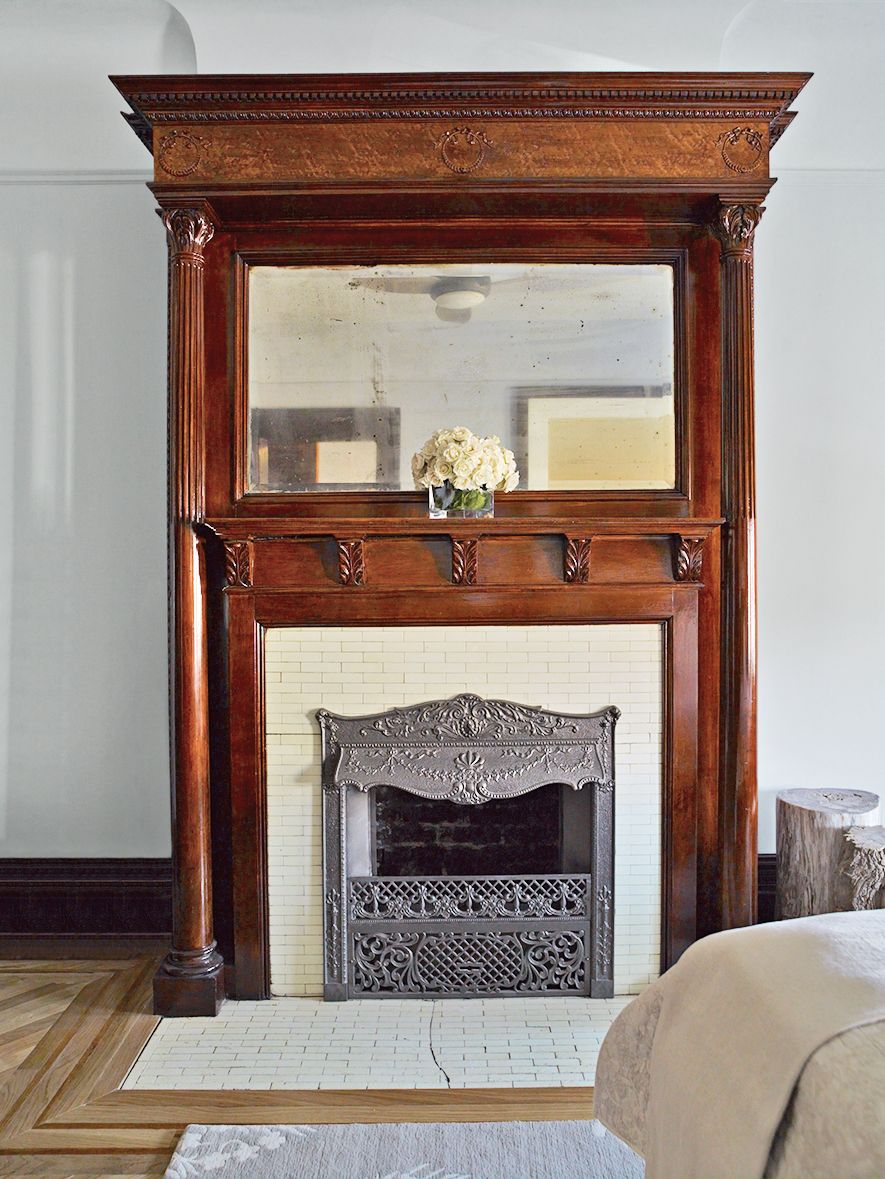 Use tall furniture and built-ins to draw the eye upward. Scale and shape play a large part in convincing the mind that a room has volume. The flared crown that tops the original overmantel in the master bedroom forces the gaze to pan up to the molding above, making the 9-foot ceiling appear higher. "Higher ceilings always increase the sense of space," says Streaman, "even when you have a limited floor plan."
Rethink Inefficient Floor Plans
Reconfigure the layout to get the most utility out of a limited footprint. Though costly, sometimes an effective floor-plan alteration works wonders. Take a close look at a small room's layout and see how you can maximize space. To make the most of this tiny master bath, the homeowners tucked the tub in just below the window (and shortened the window for privacy). This gave them enough room to pack in a double vanity where the old tub used to be. "Turning the tub also helped aesthetically," says Streaman. "A toilet, tub, and vanity all along one wall make a bathroom look like a bowling alley."
Cabinetry: American Woodmark
Plumbing fixtures and medicine cabinet: Kohler
Countertops: CaesarStone
Floor tile: Dal-Tile
Wall tile: Mondial Tile
Plumbing contractor: Aladdin Plumbing Corp.
Save Space With a Spiral Staircase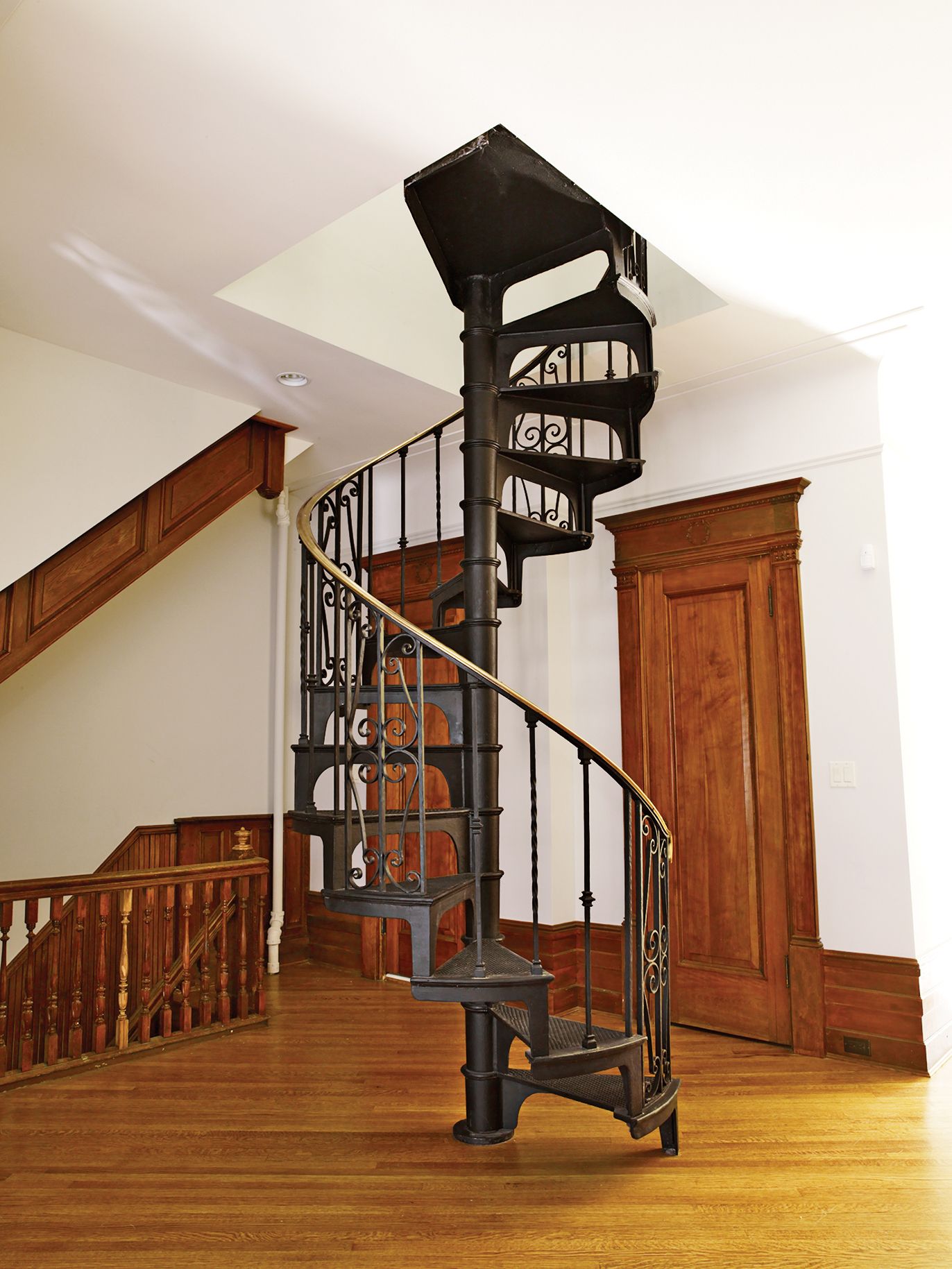 Install a compact spiral staircase to conserve floor space. Creating access to an upper story—say, for an attic conversion or addition—can gobble up valuable square footage. A spiral staircase is a compact alternative to a traditional one. The homeowners opted to install this salvaged stair—found on Brownstoner, a neighborhood blog—when they designated the house's main staircase as tenants' access. It fits neatly into a 5-foot-square area and gives them a way to move between floors without stepping into the hallway.
TOH Tip: Narrow doors make rooms look bigger by leaving more uninterrupted wall space.
Stair restoration: DVS Iron & Aluminum Works, Brooklyn, NY; 646-573-5953