More than problem-solvers, retaining walls also have a sculptural quality that adds definition to the landscape, and they can be made from various materials to evoke different styles. Stacked timbers or mortared stone, for instance, can impart a rustic look, while poured concrete is sleekly modern. Just keep in mind that when planning for a type of retaining wall meant to hold back tons of soil, there's little room for error.
How Long Should a Retaining Wall Last?
How effective your wall will be and how long a retaining wall will last—decades or just a few years—depends largely on things you can't see, such as a sound footing buried in the ground and drainage to keep water from building up behind the wall. Timber can last up to 40 years; there's no limit on the life span of a properly installed masonry or concrete wall.
4 Different Types of Retaining Wall Materials
1. Wood / Timbers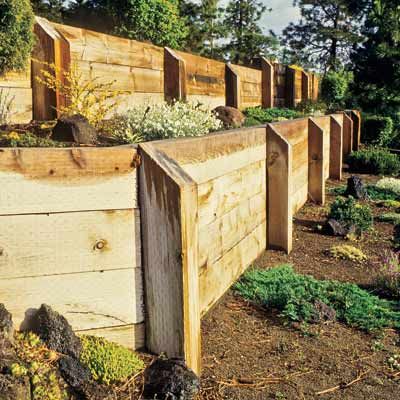 Affordable and good for DIYers; the 6x6s, 6x8s, and 8x8s sold in lumberyards and home centers are held together with screws, spikes, or rebar. These walls need only a basic crushed stone footing and T-shaped timber deadmen to anchor them. Pressure-treated pine and fir that are rated for ground contact should survive 40 years; western red cedar or redwood lasts about 20.
Cost: Pressure-treated pine, $6.15 per square foot uninstalled; Lowe's
2. Masonry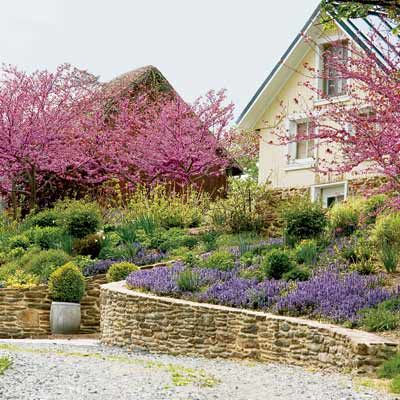 With sufficient drainage, stone, brick, or concrete-block walls are strong and long-lasting. You can buy these materials at stone yards and home centers, but you'll likely need a mason to install them. Mortared walls rest on a rebar-reinforced concrete footing set below the frost line and require to weep holes to relieve soil pressure. Mortar-free dry-stacked stone retaining walls need only a crushed-stone footing.
Cost: Fieldstone, $11 per square foot uninstalled; The Stoneyard
3. Poured Concrete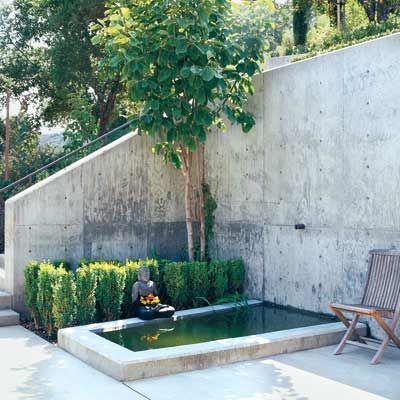 The strongest and most durable choice, concrete can be stamped, stained, veneered, or carved to look like mortared stone. Buy concrete dry, in bags from the home center, or wet, delivered by a ready-mix operator's truck. Leave the design, formwork, and pouring to professionals. Like mortared masonry, these walls are supported by a reinforced concrete footing and require to weep holes. This is the only wall type that isn't battered (leaned back) against the earth.
Cost: Ready-mix from a truck, $4.30 per square foot uninstalled; C & C Ready-Mix Corporation
4. Interlocking Concrete Blocks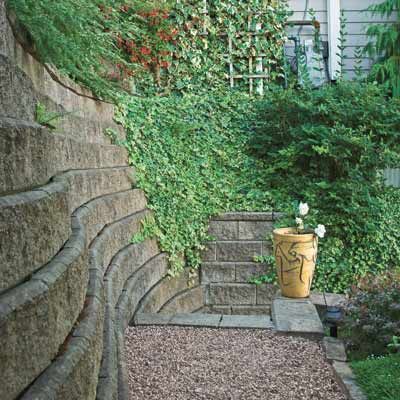 An easy choice for DIYers because of their lightweight, flat sides, and the foolproof way they fit together without mortar. These retaining wall blocks, sold at stone yards and home centers, have a rough face for a quarried look and come in a variety of gray, tan, and red hues. Like timber and dry-stacked stone walls, they rest on a crushed-stone footing. Heavy-duty mesh anchors every other course against the ground.
Cost: Versa-lok Weathered Mosaic (shown), $11.40 per square foot uninstalled; Versa-Lok
Can You DIY a Retaining Wall?
Timber and interlocking concrete-block walls are great DIY retaining wall ideas. Mortared masonry and poured concrete ones are usually best left to a mason. If you're considering building a retaining wall yourself, note that codes mandate that walls higher than 4 feet tall be designed by an engineer and built by a professional.
Retaining Wall Parts
The basic parts of a mortared-stone wall. Components can vary for other types of retaining walls.
Drainage stone: Keeps water from collecting behind the wall
Filter fabric: Prevents soil from clogging drainage stone
Batter: The backward lean into the earth, about 1 inch for every 1 foot of wall height
Weep hole: Spaced every 6 to 8 feet, it lets water drain through the wall base
Footing: Reinforced concrete supports the wall
Footing drain: Carries away water
How Do You Maintain a Retaining Wall?
Other than an occasional clearing of the weep holes, retaining walls don't need much maintenance. Clean and inspect your retaining walls at regular intervals.
If you find your retaining walls have some more serious damage, follow this guide to help you with the repair.
Retaining Wall Finishes
When selecting a material, you could also consider using a stain or veneer finish for your wall.
Stain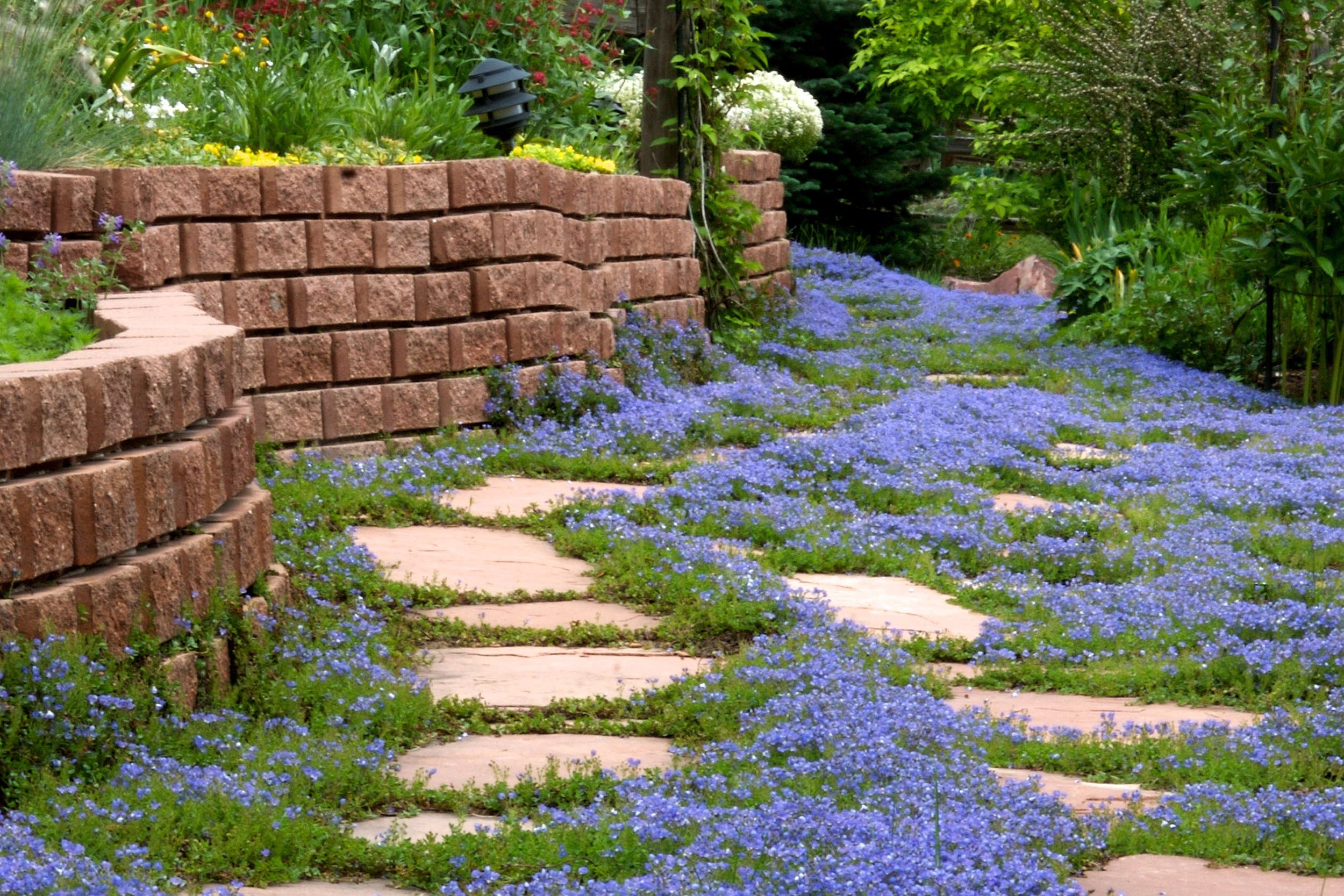 Give interlocking blocks a makeover with a penetrating finish in a warm reddish or golden hue. Water-based stains can be applied with a sprayer or roller directly onto a clean, unsealed surface.
Similar to shown: Rust-Oleum concrete stain, 15 cents per square foot.
Veneer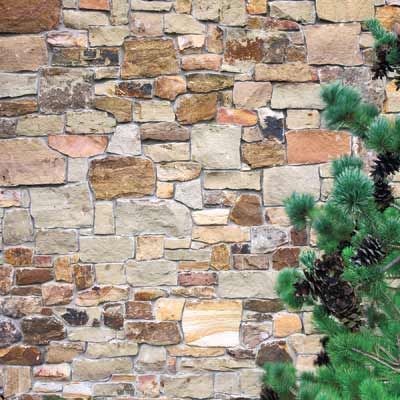 To enliven a bland surface, adhere thin slices of brick or stone, or concrete molded to mimic stone or brick. You get a traditional look for less than the cost of regular mortared masonry.
Shown: Natural Stone Veneers, Tuscan Collection, starting at $8 per square foot uninstalled.