First Things First: What is a Sub-Compact Tractor?
Designed with a smaller frame and less ground clearance to accommodate a mowing deck, a sub-compact tractor provides the strength and versatility of a compact utility tractor, with the agile handling of a 4WD vehicle and the feel of a garden tractor. Sub-compact tractors fall in the lower horsepower range, but the ability to customize them with a variety of performance-matched attachments for various applications makes them powerhouses in their own right.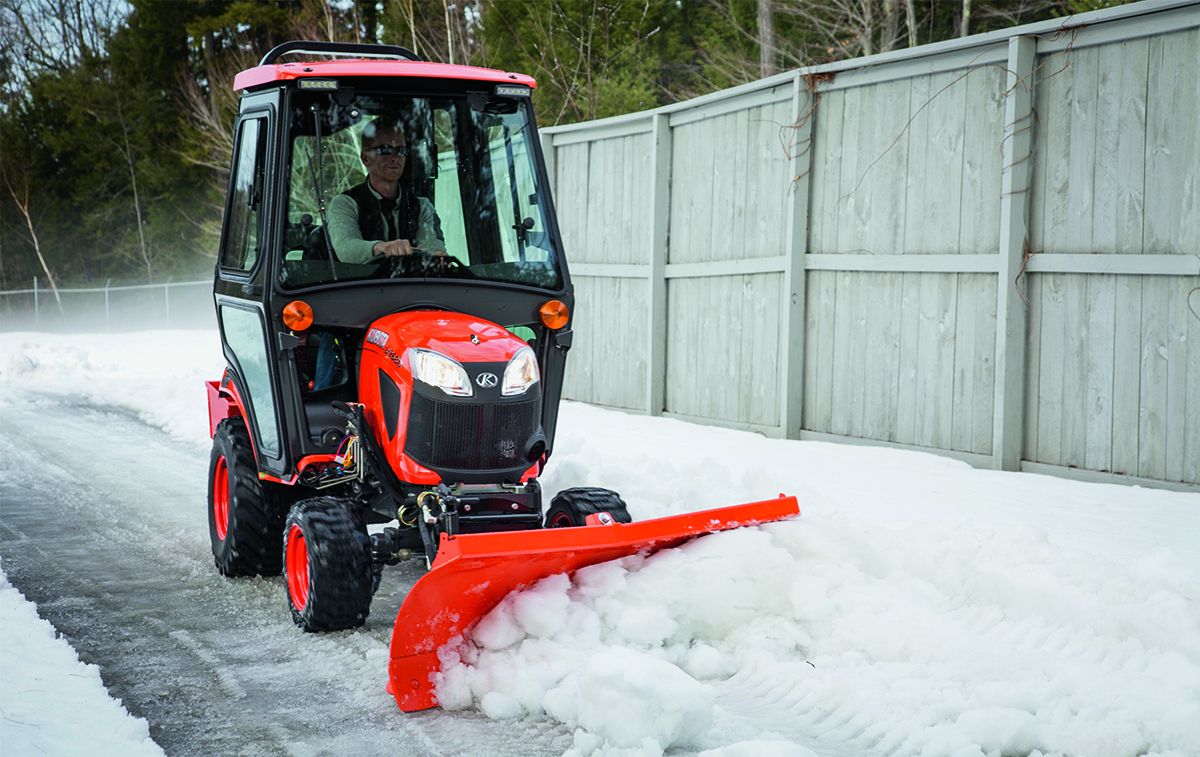 Is a Sub-Compact Tractor Right for You?
How much acreage do you have? If you have more than one acre and less than five, a sub-compact tractor is an ideal landscaping solution, depending on terrain and other uses.
What jobs will you be performing regularly? Will you use your tractor strictly for mowing, or do you plan to do larger-scale garden tilling, material moving, snow removal, grading, etc.? Let your job list help you determine how powerful a machine you really need, and what attachments you'll require.
What is your climate? If you live in a colder clime, snow-removal attachments can make quick work of clearing large swaths of property, and are especially useful for long driveways. Kubota offers an optional, dealer-installed heated cab; it's sure to keep you toasty while you work.
Do you have animals on your property? Horses and goats may act as natural lawn mowers, but they also require manure removal, weed control, and general pasture maintenance. The right attachments can assist with everything from moving feed to clearing manure. And a sub-compact's superior maneuverability will make it easier to work between stalls, pens, and other tight spots.
What is your budget? It's easy to get caught up in all the bells and whistles, but there's no reason to buy more machine than you need. Talk to your dealer about your property size and usage expectations. A sub-compact can offer a lot of the same benefits—but typically costs less and takes up less room—than its "compact" or "utility" cousins.
Where will you store it? Ensure you have the proper clearance, or your tractor will be spending a lot of time outside in the elements. All Kubota sub-compacts offer a Rollover Protective Structure (ROPS) to protect the operator in the event of a rollover. On the BX80 Series models, the ROPS measures less than 84 inches in height, and quickly folds down without tools, so they are designed to conveniently fit through most standard 7-foot-high garage door openings, making them easy to store when not in use.
Your Ideal Sub-Compact Companion
Kubota created the sub-compact tractor market category in 2000 with the introduction of the BX lineup. Today, more than two decades of innovations and improvements later, Kubota's new BX Series offers legendary reliability and versatility. Here are just a few of the reasons Kubota remains the No. 1-selling sub-compact tractor on the market*, and why its BX Series may be right for you.
*Based on EDA tractor sales data of under 20 horsepower models from 2009 to 2019
Maneuverability
A sub-compact is naturally easier (and less daunting) to drive than full-size models, thanks to its smaller size—but not all are created equal. Kubota's BX Series features that offers the ability to maneuver deftly around landscaping, fences, and buildings. Four-wheel-drive power provides traction for tough terrain. And the BX Series offers 6 inches of clearance—the highest in its class*—to easily travel over uneven ground and other obstacles.
*Best among sub-compact tractor drive-over mower decks. Based on EDA tractor sales data of under 20 horsepower models from 2009 to 2019
Performance
"Sub-compact" does not mean sub-par, especially in terms of power and efficiency. The BX80 Series tractors are built with state-of-the-art features that give them a clear competitive advantage:
A 3-cylinder diesel engine that provides you with plenty of power to haul, climb, and pull your way through even the most challenging tasks—and typically requires less maintenance and uses less fuel than gasoline engines
An amply-sized 6.6-gallon fuel tank that allows you to work longer and refill less frequently
Strong and durable metal hood and fenders that resist dings and dents
A smooth and dependable HST transmission that optimizes power to meet your needs
A full, forward-opening hood that offers easy cleaning and engine-service access
Implements and Attachments
This is where customization comes into play, allowing you to create a machine that is truly built for your needs. Kubota's hydraulically-controlled hitch system can accommodate a wide variety of attachments that will help you handle any job, including mid-mount mower decks and operator-friendly front loaders and attachments, such as snow blades and blowers. The hydraulic three-point hitch accommodates a rear-mounted Swift-Connect backhoe, rear-mounted snow-blowers, and a full line of additional implements like post-hole diggers, grading scrapers, and landscape rakes.
Did You Know? Removing the front loader when it's not needed helps prevent ground impaction and turf damage when mowing, and reduces your turning radius. Kubota's Swift-Tach Loader can be removed in less than 60 seconds* without leaving the operator's platform.
*Be sure to refer to your owner's manual for safety guidelines and operating procedures.
Operator Comfort
Much like with cars, tractor comfort is quite personal, and of the utmost importance to those who spend a lot of time in the driver's seat. Kubota has thoughtfully redesigned its operator area with fully-padded, adjustable seating; a flat deck with more room for your feet; ergonomic placement of levers; and a modern instrument panel with familiar, easy-to-read indicators.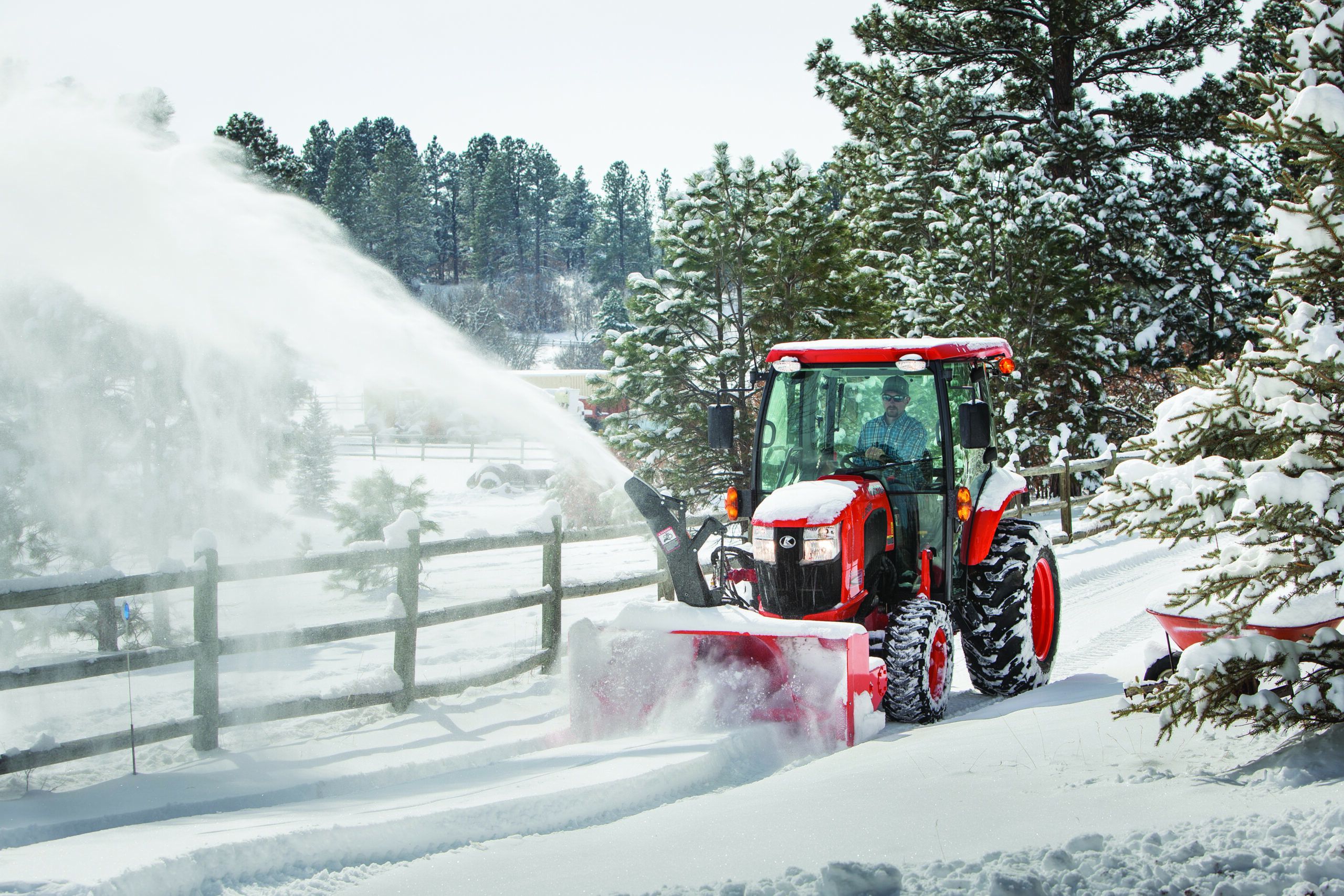 Now, what if you need a bit more power?
With more horsepower, clean diesel emissions, strong steel construction, and a bold look, Kubota's L-Series compact tractors combine robust performance and user-friendly features in one easy-to-operate compact tractor, ideal for everything from light construction and maintenance to commercial landscaping and farming.
A simple to use, 2-lever quick coupler means easy on/off buckets and other attachments require no tools—only mounting pins and hose couplers—allowing you to move onto the next task in a matter of minutes. Both 2-wheel drive and 4-wheel drive models come equipped with smooth, easy-turn power steering to reduce fatigue. And a wide variety of versatile implements, from front loaders to box scrapers, rotary tillers to rear snow-blowers, enable you to tackle even the most ambitious job.
The Standard L-Series not only has improved performance, but also features a revamped design with smooth, rounded contours from front to rear that improve visibility so you can get the job done easier and faster. And Kubota Front End Loaders and Backhoes are performance-matched, meaning they are designed for the maximum capacities that the base tractor can handle, so you can tackle tough tasks with confidence.
---
To experience the Kubota difference for yourself, ask for a hands-on demo at one of the company's more than 1,100 dealers nationwide. Click here to find a Kubota dealer near you.