6 Spring Home Maintenance Tips
1. Give your deck a refresh
Cleaning and recoating your deck will improve its appearance and protect your investment. First, clean off debris and inspect the finish. Stained boards—look for a color change in high-traffic areas—call for a deck stripper. If the deck was simply treated with a sealer, start instead with a deck cleaner to remove dirt and algae.
Before you begin, douse surrounding plants with water, then cover them with plastic sheeting. Wet the deck, apply a stripper, scrub with a stiff nylon brush, and then rinse. Deck cleaners can be sprayed on wet boards with a pump sprayer, brushed in, and rinsed off. In both cases, work in one small area at a time so that the liquid doesn't dry before you can scrub. Let the deck dry for a few days before restaining or sealing.
2. Clean and renew your pruners
Dirty, dull pruners that gnaw at branches leave plants open to disease and insects.
To renew them, follow these steps.
Clean. Scrub cutting blades with diluted dish soap and a nylon pad. Use a light alcohol solution on stubborn sap.
Remove rust. A damp rag and a mild abrasive, such as Bar Keepers Friend, should get rid of minor corrosion. Rinse and wipe dry.
Sharpen. Hone the blade with a file, like this 6-inch diamond-coated one (Blade Sharpener, $11; fiskars.com). Place it flat against the edge's bevel, and run it from the inside edge up to the tip. Repeat until you've got a clean, nick-free edge. Then run the file over the flat side of the blade to remove any burrs. (Test for sharpness by slicing a piece of paper.) Finish the blade with a thin coat of 3-in-1 oil.
TOH Pro Tip: "When switching to a finer grit on a power sander, vacuum both the project and the sanding pad to catch any coarse loose grit that could cause swirl marks." – Tom Silva, General Contractor
3. Complete a gas grill safety check
Cracked hoses and clogged tubes can keep your grill from lighting, produce uneven heat, or even cause a gas leak. First, scrub off grease and rust and replace damaged parts. Then test for leaks with a 1-to-1 mixture of dish soap and water in a spray bottle. With the controls turned to OFF, open the tank valve and spray the liquid onto the valve, regulator, and hose connection to the grill. See bubbles? Turn off the tank, replace the affected fitting or hose, and retest. Last, remove and clean the burners, then push a large pipe cleaner into the ends of the tubes that connect to the control valve to clear out spiderwebs.
4. Deodorize your garbage disposal
Got a stink in your sink? Your garbage disposal may be to blame. Clean it weekly with one of these methods to rid it of icky odors:
With the disposal turned off, pour in ½ cup baking soda, then 1 cup vinegar. Let it bubble for 15 minutes before flushing with hot water, then running the disposal with cold water for a few seconds more.
Add a large cup of ice, turn on the disposal, and then add 1/2 cup kosher salt and/or a few lemon wedges. When the grinding sound stops, flush with cold water.
Scrub away buildup with a brush designed for the job, like this one (Mr. Scrappy Disposer Brush, $6.74; lowes.com). If the splash guard pops out, place it in the dishwasher. To ensure that food waste flows past the p-trap, always run cold water before turning on the disposal, while grinding, and for a few seconds afterward. Avoid adding grease, oil, or fibrous waste, like onion skins or corn husks, that can clog the unit and the drain.
5. Rejuvenate your lawn
A thin layer of thatch—the accumulation of decaying organic material that forms between the soil and turf grass—is beneficial. But as it thickens it can prevent air, water, and nutrients from reaching the soil, causing brown patches and promoting fungal disease.
To see if your thatch layer is excessive, remove a small section of turf with a garden trowel. If thatch is more than ½inch thick, use a manual thatch rake or rent a mechanical dethatcher or power rake to separate the thatch from the soil. Rake it up, then aerate the lawn with a garden fork or mechanical core aerator and rake up the soil plugs. Overseed the lawn with a broadcast spreader with the appropriate seed, then follow by broadcasting a starter fertilizer high in phosphorus to promote germination and root development. Water well.
TOH Pro Tip: "Now is a good time to clean up shrubs by pruning off dead branches. If you are unsure if a branch is alive, carefully scrape away the thin bark with hand pruners or your fingernail. The second, or cambium, layer will be brown if the branch is dead and green if it's alive." – Jenn Nawada, Landscape Contractor
6. Tune up your garage door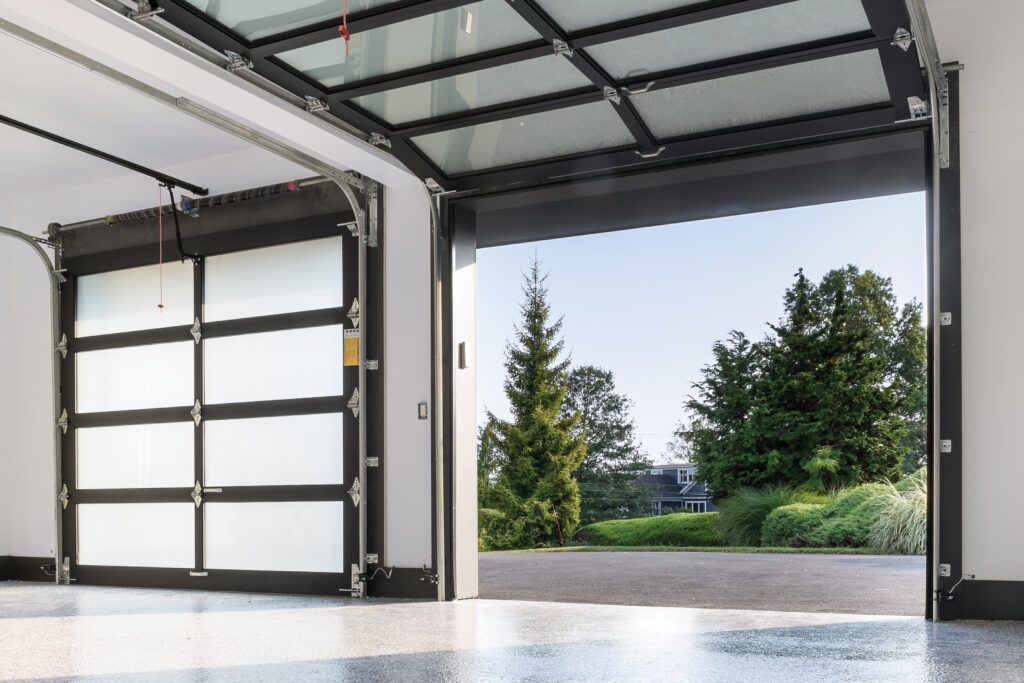 A squeaky overhead door isn't just bothersome; it may pose a safety risk. This annual maintenance routine will transform it into a silent and smooth operator.
Unplug the automatic opener so it can't be activated while you're working. Inspect and tighten all nuts and bolts (manufacturers suggest doing this monthly).
Inspect rollers for wear; if needed, remove the bracket to pop in a replacement. One caveat: Since the bottom roller attaches to the lift cable, leave it to a pro.
Check the lift cables for broken strands. Pay close attention to where they're looped to the bottom roller brackets.
Lubricate the rollers, hinges, tracks, and springs with a drying-type lubricant that won't attract dirt and is made for garage-door parts.
Plug the opener in to test the auto-reverse feature with 2×4 scrap. The door should get no closer than 1½ inches to the ground before reversing direction.
Inspect and replace extension springs that run parallel with roller tracks as needed. Because torsion springs (seen here) can be adjusted only when the door's down and the spring fully loaded, leave those to a pro, too.