Laundry With a View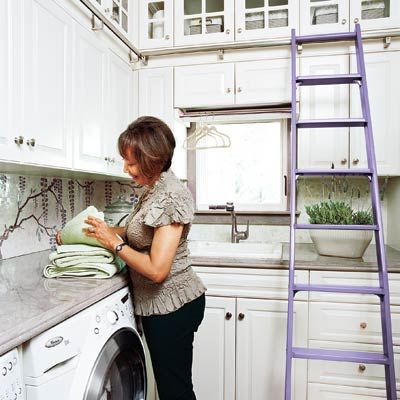 Doing laundry often involves a detour to a dark corner of the house. But what if the laundry area were an airy destination instead? During a gut renovation of their house in Redondo Beach, California, Diane Petersen and her husband, Aubrey Payne, accomplished just that, converting a guest-room closet into a haven for doing laundry and more. The now-sunny space, conceived by interior designer Sarah Barnard, has a whirlpool sink for delicates, a built-in ironing board, counter space for folding towels and arranging flowers, storage for holiday gear, and a rolling library ladder to reach high shelves. Barnard's layout allows the couple to work separately without getting under each other's feet or blocking their cats' path to a litter box hidden in a curtained cabinet. A wisteria-theme backsplash, hardwood flooring, and luminous quartzite stone countertops make the light-reflecting lavender-and-white room a go-to spot. "It's so pleasant to spend time there," says Diane—whether they're pairing socks, wrapping gifts, or "just stopping to gaze out our new window."
Shown: To-the-ceiling cabinets accessed by a rolling library ladder, quartzite counters, a drip bar, and a window trimmed with stone scraps make the room inviting and functional.
Ladder: Alaco Ladder Company
Before: Cluttered Closet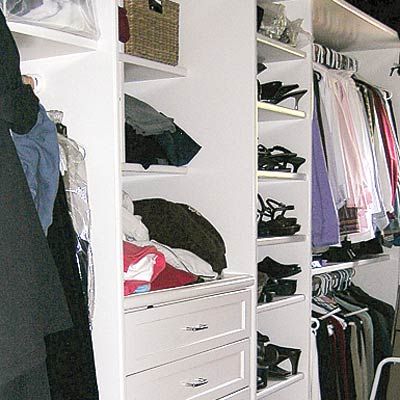 The main-floor space was a guest-room-closet-cum-overflow zone.
Key Details: Suped-Up Sink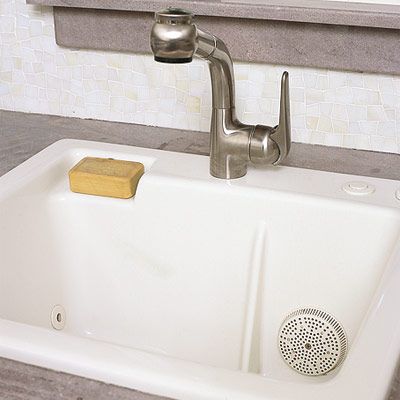 The spa-like sink has whirlpool jets to gently agitate delicates.
Acrylic sink: MTI Jentle Jet
Key Details: Curtains for Kitty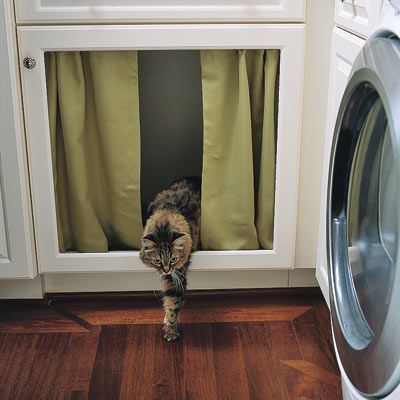 A curtained cabinet hides the litter box for the couple's three cats. The door's panel was removed and a tension rod installed in the cabinet.
Key Details: Agile Accessibility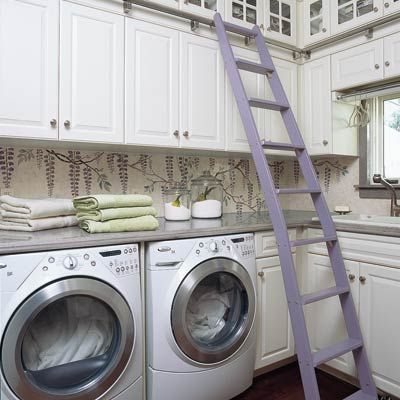 The library ladder, painted to play off the backsplash, moves around two walls and is angled to allow access to counters and appliances.
Washer and dryer: Maytag
Key Details: Hidden Convenience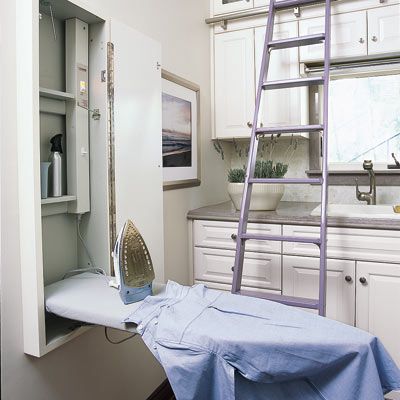 A fold-down ironing board pops out of its own wired cupboard.
Similar ironing center: Broan
Key Details: Splash of Color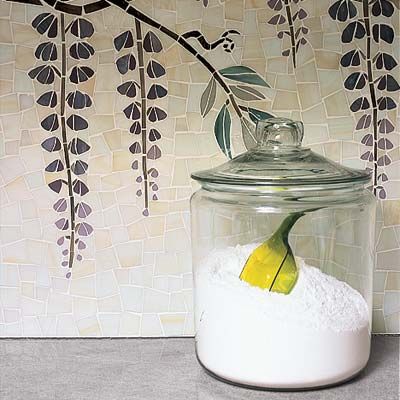 A glass-tile backsplash gives the room a unique, finished look.
Tile design: Sarah Barnard
Before: Wasted Space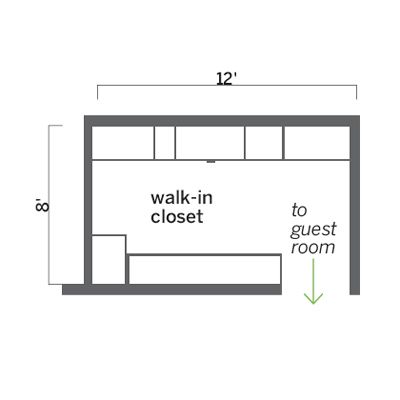 The 96-square-foot guest closet held wardrobe overflow and clutter.
After: Fresh Functionality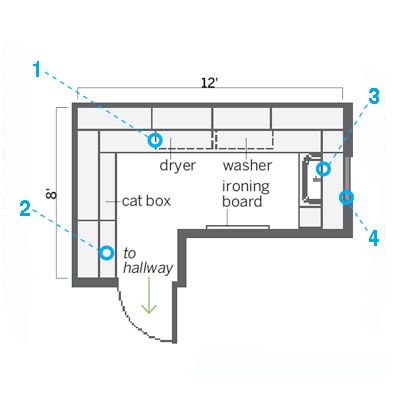 As part of a whole-house redo, most of the former closet was turned into a laundry room, with a doorway that now opens into the hall and a new window over the sink to bring in light.
1. Topped the washer and dryer with a 12-foot counter for sorting laundry—and holiday gear.
2. Added gift-wrap storage away from the laundry area.
3. Put in a drip bar and sink for washing and drying delicates.
4. Added a window over the sink to bring in light.