Period Flair Laundry Room: After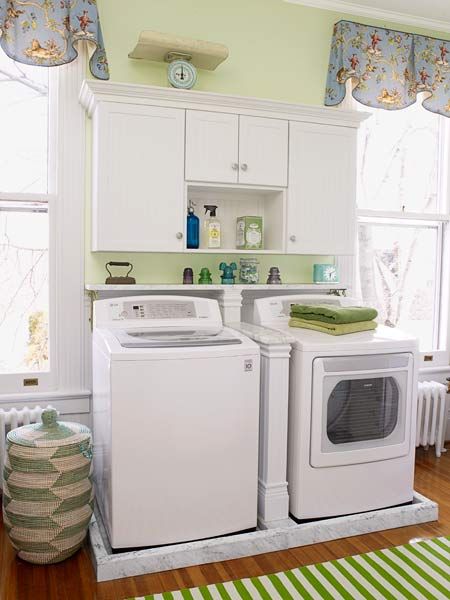 Utility rooms don't have to look utilitarian. Case in point: Chuck and Claudia Jepsen's light-filled laundry room on the second floor of their 1887 Queen Anne, in Stamford, Connecticut. The crumbling basement laundry that came with the house wasn't just undesirable, it was unusable. Plans to turn the space into a garage made relocating the washer and dryer a high priority.
Shown: Now a single room, it fits a washer and dryer, a sink, and storage cabinets, and it's filled with natural light.
Paint: Benjamin Moore's Iced Mint
Washer and dryer: LG
Green towels: Pottery Barn
Tiny, Dated Space: Before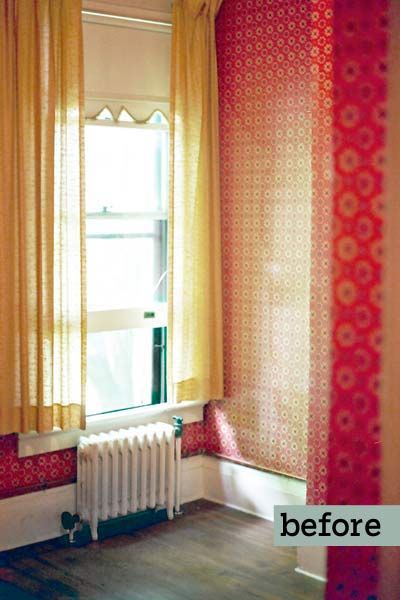 Luckily, they had a quirky little space upstairs with an attached half bath near the bedrooms that proved to be an ideal location. Taking down the bathroom wall opened up the space for laundry machines between two windows and for a sink, folding counter, and cabinets on the wall opposite. Running plumbing lines up from the kitchen below and into a half wall between the washer and dryer kept pipes off the exterior wall—important in a cold climate. Beadboard wainscoting and cabinet doors, original windows and moldings, and Claudia's collectibles help give the room period flair.
The result marries convenience and charm. "I like that when you walk in, it doesn't feel industrial," Chuck says. "It's so well integrated with the rest of the house."
Shown: Peeling wallpaper dated the tiny space, and the bathroom wall enclosed one of the two large double-hungs.
Cabinets for Clean Laundry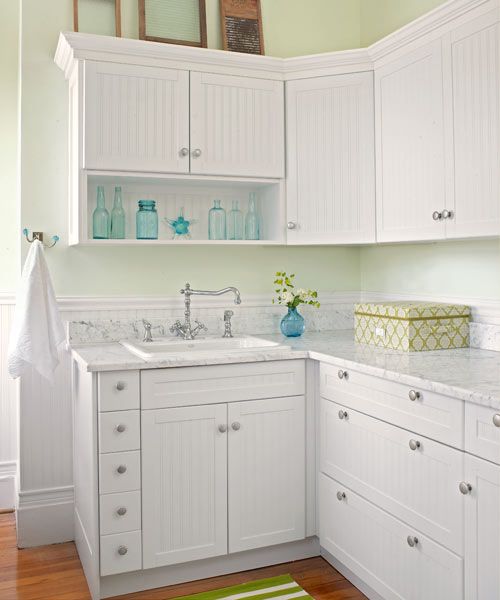 Beadboard-front cabinets hold clean laundry and linens.
Cabinetry: KraftMaid
Hook: Anthropologie
Antique Sewing-Machine Table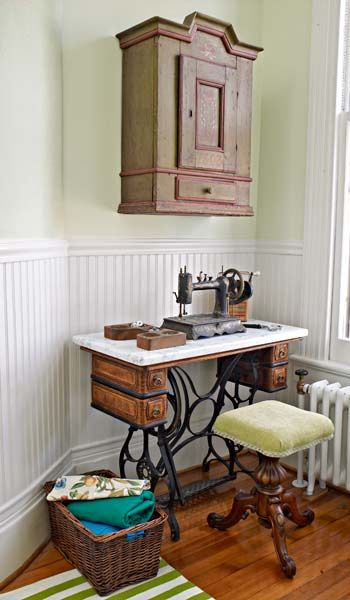 An antique sewing-machine base topped with marble serves as a sewing table; a modern machine swaps in as needed.
Carrara Marble Washer Drain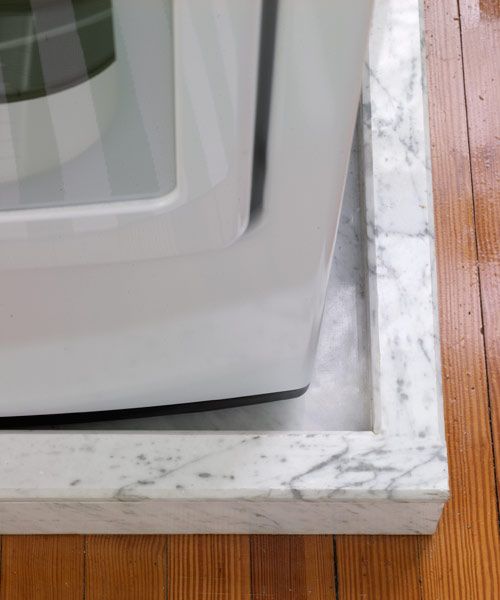 Code required that the upstairs washer sit over a drain. Rather than use a standard plastic drain pan, the couple built one out of Carrara marble that matches the countertops.
Pan and countertop: Dushi Marble & Granite, Stamford, CT
Floor Plan: Before + After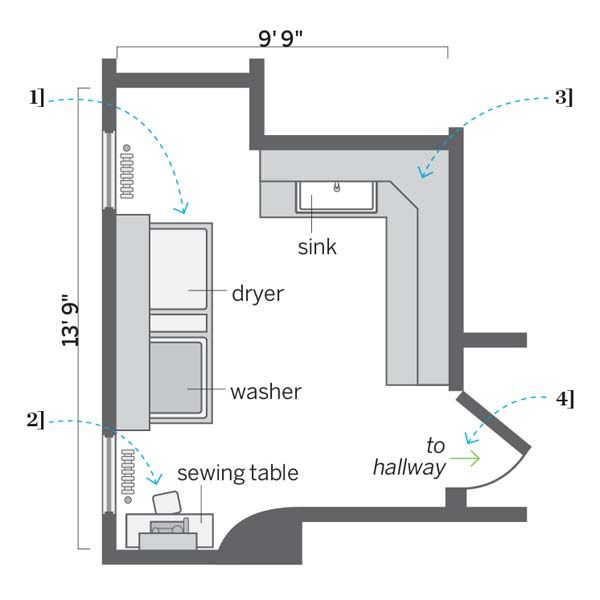 Combining two small rooms put them to better use as a spacious laundry room close to the bedrooms upstairs.
1. Placed the washer and dryer between existing windows. Added a half wall between them to keep plumbing off the exterior wall and protect it against freezing.
2. Removed the corner half bath and created a sewing nook in its place.
3. Installed an L-shaped bank of cabinets on the wall opposite the windows. Added counter space for folding and a laundry sink for spot treating.
4. Preserved the existing doorway, wood floor, and curved wall. Added wainscoting throughout.