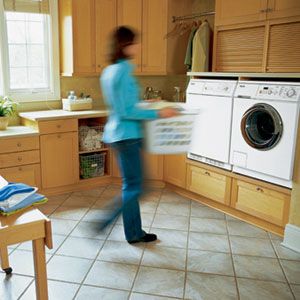 As you work your way up that list of fall home-improvement projects, remodeling the laundry room may not rank. But considering that the average American family does — gulp! —400 loads of laundry a year, maybe it should. Fact is, more homeowners are calling on architects and designers to help upgrade those often dim, dank, and unwelcoming spaces where they while away so much of their lives.
"The laundry room has turned into the hamper, the mudroom, the catch-all storage area," says Duo Dickinson, an architect in Madison, Connecticut, who adds home office, craft room, indoor potting area, and pet-washing station, to that, well, laundry list. And now, tricked out with first-class features such as custom cabinets, built-in ironing boards, and purr-quiet machines, the new harder-working laundry room is (when possible) migrating from the isolated basement. Find it on first and second floors, where the washer is just a dishrag's throw away from the kitchen, or a diaper's toss from the nursery.
So now that we've made our case for elevating that lowly laundry room, This Old House can help you brainstorm your how-to plan. In the following pages check out three design challenges, more than a dozen storage solutions, and some important safety and installation tips.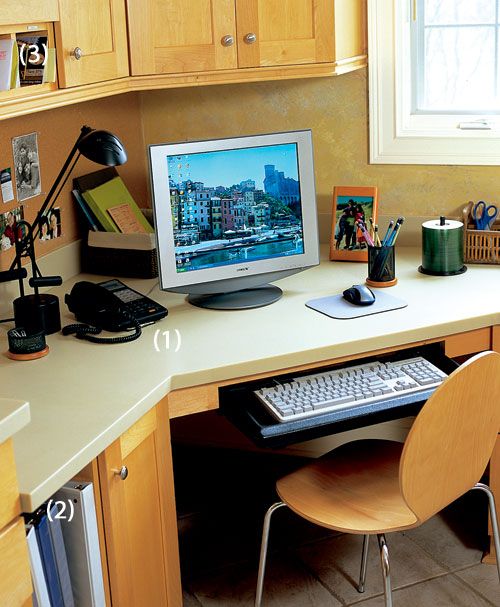 The Workstation Laundry Room
Overseeing homework and Internet access is a must for most parents of school-age kids. Problem is, such supervision typically occurs in the kitchen where food is also being prepped and the dinner table set. When devising a solution to the multitasking mania in their old kitchen, Richard and Wendy Cohen decided that in their new Riverwood, Illinois, house they'd preserve the kitchen for eating, and move computing and project crafting to a combination home office and laundry center.
Located off the garage and shaped like a Popsicle (five mudroom lockers and a powder room are in the "stick"), the space contains a corner desk (Slide 2, #1) with a computer wired for high-speed Web access; wide file drawers for legal folders; open shelves for phone books and school directories (2); and a mail-sorting station (3) with a slot for every family member.
A roll-away craft table (Slide 3, #4) adjacent to the desk doubles as a clothes-folding surface and forms one axis of a laundry triangle between the front-loading Miele washer and dryer (5) and a utility sink (6). "Putting the sink there was an efficient use of a dead corner," says architect Mar Benner, of design/build firm Orren Pickell in Lincolnshire, Ill. Maple Brookhaven cabinet doors (7) hide what you don't want to see: detergent, pet supplies, and a laundry chute above the machines; and dirties for the dry cleaner, cleverly placed in a standard pull-out garbage bin fitted with a cloth liner (8).
A pullout ironing board (Slide 4, #9) is camouflaged behind a false drawer front.
Besides "bombproof" materials such as tile floors and Earthstone solid-surface countertops, the homeowners insisted on one other design feature: a bank of windows to enjoy the view.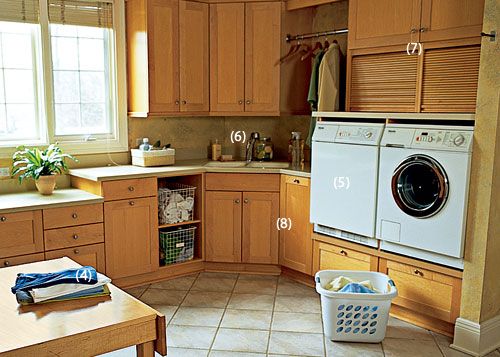 The Mudroom Laundry Room
Often a house's back door is the main door, and its vestibule the mudroom and makeshift laundry room where dirty footprints, drippy umbrellas, and cast-off clothing are on display for the homeowners and, even worse, their guests to see. Such was the case in this 19th-century farmstead in Chester County, Pennsylvania, where family members were always peeling off their mucky clothes and tossing them right into the washer before making their way to the adjoining kitchen.
So when undertaking a renovation of this high-traffic, multipurpose entryway (Slide, 6 #1), designer Barbara Herr was charged with not only making the space more functional but presentable, too. For starters, Herr commissioned two banks of wood base cabinets (Slide 7, #2) finished with an oil-based paint that resists mildew (moisture can be a problem in laundry areas) to flank opposite walls of the long, rectangular space. The larger unit holds the GE front-loading washer and dryer (3). And because the green-thumbed homeowner wanted the room to do extra duty as an indoor potting area, the smaller unit opposite houses a large stainless-steel Elkay sink with a pull-out Franke faucet (4), and two pull-out bins (5) that contain potting soil and garden clippings. A butcher-block countertop provides an ideal surface for cutting flowers on one side, while providing a smooth table for folding clothes on the other (6). Open shelves (7) above both units hold cleaning supplies and vases.
A terra-cotta tile floor (Slide 6, #8) is easy to sweep and mop but also gives the new laundry room a warm and rustic feel that's well-suited to an old farmhouse. "Now it looks like a real entrance," says Herr.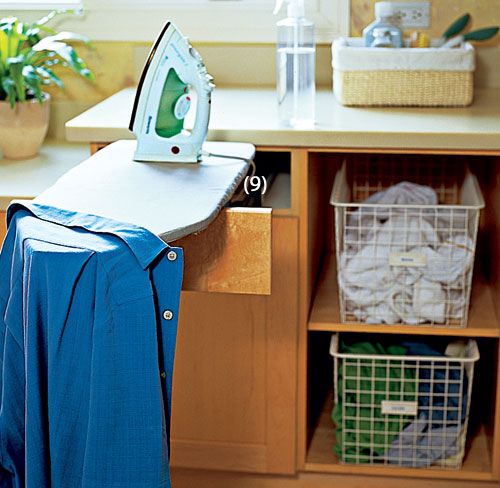 The Family Room Laundry Room
If you've got athletic adolescents, then you've undoubtedly spent myriad hours sorting through and washing team uniforms, often in that windowless cave otherwise known as the basement. For Dana Cristee, wife to Jeff and mother of three sports-mad boys, doing the family's usual three loads a day in their old house also meant schlepping overflowing clothes baskets from second-floor bedrooms. "I was always going up and down the stairs to our basement," says Dana. "And spending what seemed like more time down there than in our living room." When planning the layout of their new Shingle-style house in Carmel, Indiana, Dana and Jeff vowed not to repeat the cycle and consolidated a number of their household's needs into a laundry room-meets-family room on the first floor.
Their wish list included a built-in laundry chute (Slide 9, #1) to eliminate perilous trips down the stairs; an after-school meeting area with an island and stools (Slide 10, #2) where the boys could access the home's WiFi network on their laptops; a shower stall to bathe the dog in (Slide 11, #3); a double bowl soaking sink (Slide 9, #4); and an ironing center where Jeff could press his golf shirts. In response, cabinetry designer Shari Porter decked out a 15-by-15-foot space with all those features and more. Easy-to-wipe laminate cabinets (5) hold school supplies, as well as cleaning products and hand tools for "quick fixes" around the house, says Dana. Undercounter cubbies (6) contain laundry baskets, and long drawers (Slide 12, #7) store gift-wrap and ribbons. Subtle details make the space function better: Clipped corners on the island (Slide 10, #8) prevent bumps and bruises, hip-high counters make folding easier, and a hanging rod (Slide 11, #9) in the shower serves as a drip-dry rack. A slate floor running from the hallway off the garage, through the laundry room, and into the kitchen unites the space with the rest of the house. As a finishing touch, Dana and Jeff painted the laundry-room walls a pumpkin color to match their new Kenmore front-loading washer and dryer. (Slide 10, #10).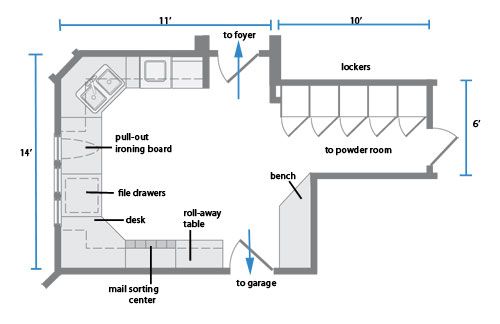 Movin' On Up
Whether as the primary wash-and-dry center or a secondary one, upstairs laundry rooms are gaining in popularity.
You've seen them in tiny apartments: laundry closets with stackable washers and dryers. But today, you're just as likely to spot one on the second floor of a larger house, say, off the master bath to function as a hamper for damp towels, says Minneapolis architect Christine Albertsson. Thanks to new compact and quieter machines, the upstairs laundry room — often the second such dedicated space in the house—is a growing trend for homeowners who want their laundry as close as possible to the dirty clothes and bed linens.
Upstairs laundry rooms require planning. Consider the following:
Flooding: Install the washer over a shower base with a floor drain (required by some local building codes), or a pan that'll funnel water to plumbing waste lines running to the basement, and be sure to hook the machine to an automatic shutoff valve — a must for downstairs washers, too.
Placement: New machines are quieter, but they still vibrate and thus shouldn't share bedroom walls. If your machine is level, it won't rock on the floor, says Albertsson. But in older homes, where floors are often uneven, put motion-arresting pads under the washer.
Venting: Ventless dryers (which use condensers to wring out water) are an option for second-floor laundry rooms. Common in Europe and Asia, they're becoming popular here. Albertsson cautions, however, that the machines are pricey and may take longer to dry your clothes. If your laundry room shares an outside wall, it's still best to use a conventional dryer that vents outdoors.
Noise: Choose cast-iron pipes over PVC, which don't muffle water sounds well. Wrapping pipes with insulation will also cut down on noise. And seek out machines engineered for quiet function. Bosch's Nexxt washers and dryers, for example, are so quiet you wouldn't even know they were on.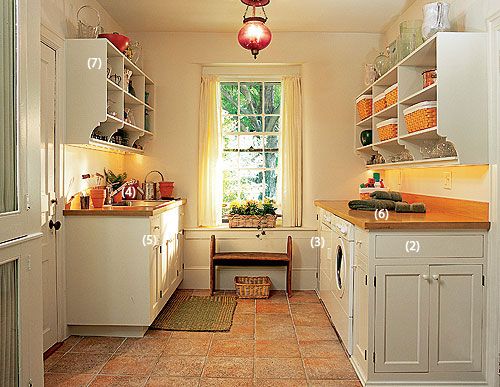 Where To Find It
INTRODUCTION:
Architect:
Mark Benner
AIA
Orren Pickell Designers and Builders
Lincolnshire, IL
847-572-5200
Cabinets:
Brookhaven, a div. of Wood-Mode Fine Custom Cabinetry
Kreamer, PA
877-635-7500
Washer and dryer:
Miele Inc.
Princeton, NJ
800-843-7231
Sink:
Elkay Manufacturing Company
Oak Brook, IL
630-572-3192
Faucet:
Moen
North Olmsted, OH
800-289-6636
Ceramic floor tile:
Floor Techniques Inc.
Park Ridge, IL
847-692-4990
Countertops:
DuPont Corian
Wilmington, DE
800-426-7426
Computer:
Sony
877-865-7669
WORKSTATION LAUNDRY ROOM:
Designer:
Barbara Herr, CKD, Barbara Herr Kitchens
Marietta, PA
717-426-2287
General contractor:
Restore 'N' Moore Inc.
Manheim, PA
717-664-7575
Custom cabinets:
Premier Custom Built
New Holland, PA
717-354-3059
Appliances:
GE Appliances
Louisville, KY
800-626-2000
Sink:
Kohler Co.
Kohler, WI
800-456-4537
Faucet:
Franke Consumer Products
Hatfield, PA
800-637-6485
MUDROOM LAUNDRY ROOM
Designer:
Sherry Porter
Reese Kitchens
Indianapolis, IN
317-253-1569
Interior Designer:
Tracey Perkins, Perkins Interiors
Carmel, IN
317-575-8788
Cabinets:
UltraCraft Company
Liberty, NC
800-262-4046
Cabinet hardware:
Restoration Hardware
800-910-9836
Appliances:
Sears Kenmore, Sears
Hoffman Estates, IL
800-469-4663
Ironing Board:
Iron-A-Way
Morton, IL
800-536-9495
Slate floor:
Architectiral Brick & Tile
Indianapolis, IN
800-253-8453
Plumbing fixtures and fittings:
Kohler
Wireless Internet:
Cisco Systems Inc.
San Jose, CA
800-553-6387
FAMILY ROOM LAUNDRY ROOM
Architect:
Christine Albertsson, AIA
Albertsson Hansen Architecture Ltd.
Minneapolis, MN
612-823-0233
General contractor:
Robert Gill Builder
Rochester, MN
507-288-2619
Custom cabinets:
Taylor's Cabinets
Stewartville, MN
507-533-4997
Windows:
Pella Corporation
Pella, IA
800-374-4758