Serene Scene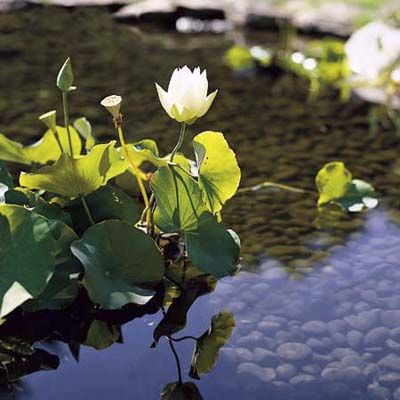 Not only are the sight and sound of water in your backyard soothing, but ponds and other water features also create an eye-catching focal point in the landscape. Filled with fish or ornamental plants, a pond becomes a mini ecosystem. Add a waterfall and enjoy the melodic rush of moving water. You don't need a lot of space to make an impact—even a patio can accommodate a small goldfish pond.
Basic Pond Styles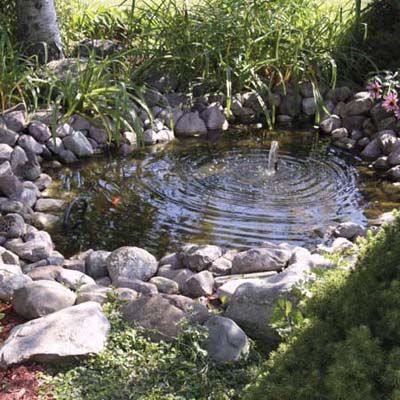 Ponds can vary in shape from big, free-form bodies of water that you can swim or even fish in to formal reflecting pools. Prices run the gamut too, starting at less than $1,000 for a small lily pond to $25,000 and up for larger versions with fountains or waterfalls. The most common choices of homeowners are flexible-lined or premolded fiberglass ponds, both of which are relatively easy to install.
For a larger pond and a more naturalistic look, a flexible liner can take on whatever size and shape you want. Many are sold in kit form, complete with liner, pump, filters, and installation directions. To construct a liner pond, dig a hole by hand or backhoe, then back-fill with a cushioning layer of clay and sand, and top with a feltlike pond fabric to help protect the liner from punctures. Finish the sides with a surround of rocks or landscape plants.
Planning and Budgeting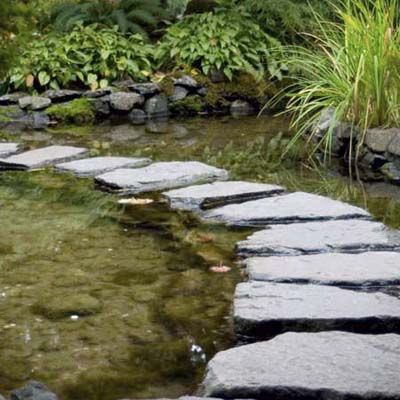 The initial cost to put in a pond is just the beginning. Maintenance has to be factored in, along with all the extras—plants, fish, stones, streams, waterfalls, fountains, even fences (a legal requirement in some places for ponds over a certain depth). In addition, a pond is a permanent feature in the landscape, so it must be the right proportion and style to fit in with your house and the surrounding property. A landscaping professional or expert from the garden center can help with design and siting. Just make sure to choose someone who has experience installing ponds and a good track record.
Wading Pond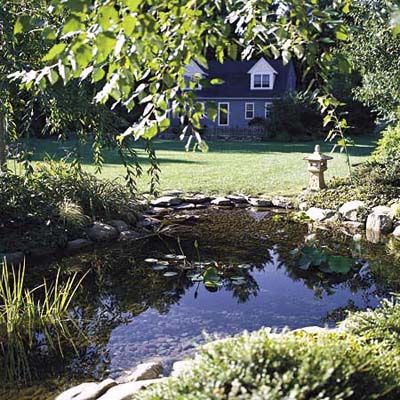 Here, a wading pond is the centerpiece of a front-yard garden. The flat coping stones were scavenged from an old stone wall. The pond was excavated with a backhoe, then back-filled with clay and sand to form shelves for potted irises, lotus, lilies and other plantings. Next came a fabric protective layer, then the flexible pond liner. Smooth river stones on top of the liner protect it from being punctured by the family dog, who uses the pond for cool dips on hot days.
Formal Pool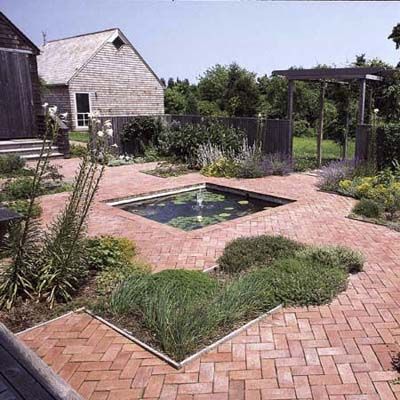 A clean-edged, concrete-lined pond looks just right in a formal, brick-paved herb garden. This pond, the centerpiece of a patio, was dug by a backhoe. Wooden forms strengthened with rebar were set into the 8-foot-square by 4-foot-deep hole, and the pond was lined with concrete. A drain prevents overflow, and a waterproof electric connection under the brickwork powers the fountain and recirculating pump. Pots of lilies and goldfish add color. After 18 years of operation, the pond no longer needs annual cleaning. The plants, fish and aerating fountain together create a self-sustaining ecosystem.
Pathway Pond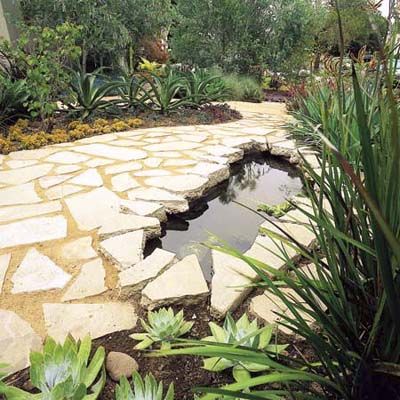 This sliver of water adds an unexpected decorative touch to a front walkway. The front-walk pond, only 2 by 5 feet and 18 inches deep, was dug by hand and lined with mosaic tiles set in concrete. After it was filled, the pump was hooked up to electrical outlets already in place in the garden, and the power cord buried under the walkway. With no fish and few plants, the pond requires nothing more than cleaning the pump filter every two months.
Falling Water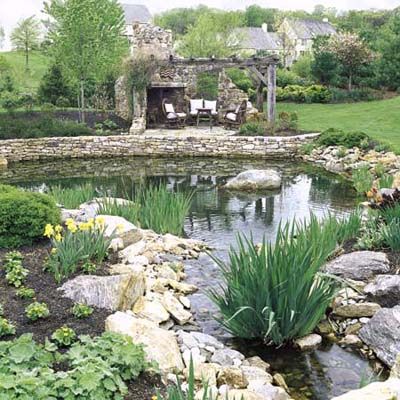 Built on two levels, this free-form pond, complete with waterfall, holds 30,000 gallons. Water cascades from the top, or "header," pond down a stone-lined spillway into the lower pond, where a pump recirculates it back to the top. To divert rain runoff, the excavated soil was used to build banked areas around the pond and flower beds. A stone retaining wall abutting the patio keeps any pond overflow from flooding the sitting area.
Pondside Storage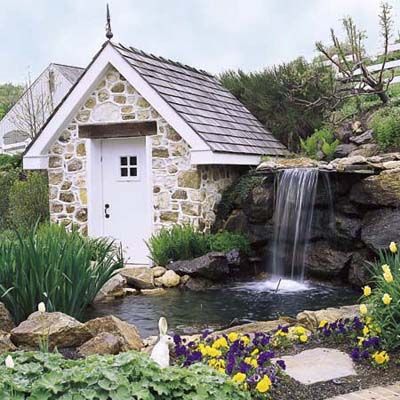 This landscape project also includes a spring house for garden-tool storage. Groupings of rocks around the perimeter and jutting out of the water give the setting a natural feel. Pump filters are hosed off every six weeks to prevent sediment buildup. The ponds are drained and cleaned every four years.
Koi Fish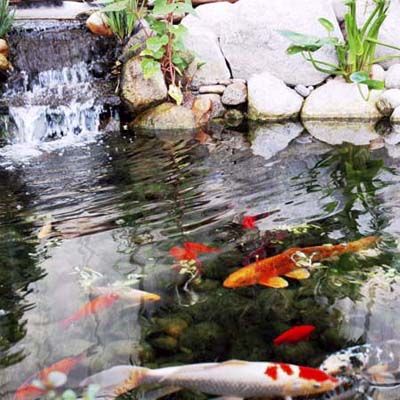 Most ornamental fish are types of goldfish or koi that require almost no care besides daily feeding. Be sure to pick a location that gets a balance of sun and shade, away from deciduous trees; decomposed fallen leaves can not only suffocate fish, they'll also muck up the water. The site should be clear of any rain runoff that can carry fertilizers or yard debris into the pond, where it may harm plants and wildlife. Two to 10 gallons of water is the minimum for a few small goldfish; larger koi require 1,000 gallons or more. Depth matters too: if the fish are going to winter over underneath a layer of ice, the pond should be at least 36 inches deep. You'll need to test the chemical balance of the water periodically to keep it healthy for fish and plant life.
Plants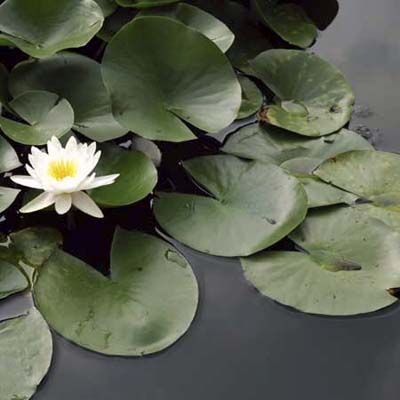 Adding plants to a pond enhances its beauty and also helps keep the water clean by controlling algae and providing oxygen for fish and other pond life. Some oxygenating plants, such as elodea (also known as anacharis), grow completely underwater and consume nutrients that would otherwise feed algae. Others, like water hyacinth, drift on the surface and provide shade that inhibits algae growth. Unless the pond has a natural-earth bottom where plants can root, they must be placed in pots. That makes for easy maintenance—just remember to take nonhardy plants in before winter so you're not scooping decomposed gunk out of the pond come spring.
Ongoing Maintenance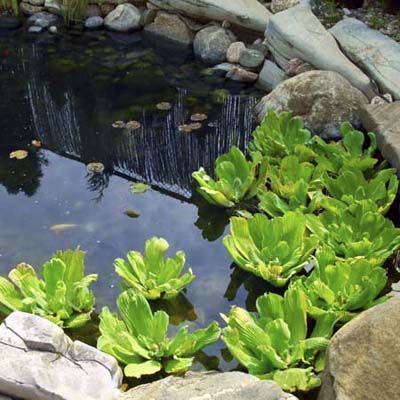 Taking care of a pond is similar to maintaining a swimming pool. In addition to a pump to aerate the water, most ponds use a filter to remove excess sediment. Some more complex designs also include a skimmer to suction debris from the surface. The entire filtration system needs to be cleaned at least once a year. And some pond specialists suggest hosing off filters every six weeks or so to cut down on buildup. Every three to five years, the pond should be completely drained for a thorough cleaning. Depending on your climate and cash flow, you can invest in a multitude of other pond paraphernalia, like bacteria-killing UV lights, a heater to keep the surface from freezing, a pool vacuum, and a winter cover.