Project details
Skill
1

out of

5
Easy
By using a cast iron planter that already has a drainage hole in its base, you can do this project with minimal tools and effort
Age and whether an urn is stamped by its manufacturer are major factors in determining its value. This one has no maker's mark. And because it has very little rust and no traces of old paint, I'd wager that it isn't more than 10 or 15 years old. Though far from an antique, it's handsome, and at $150, the price was right. (I not only planned to give the urn to my This Old House coworker Alexandra Bandon but also to fill it full of rust-inducing water instead of flowers.) The only other major expense for this fountain project was the submersible, recirculating bubbler, which I got for just $25. The rest was sweat equity. Here's how to do it.
Step 1
Prep bubbler's cord
Slip the bubbler's cord through slits cut into two rubber plugs. I used a sink stopper and toilet flush valve seat disk to go over top. Get them at the hardware store for about $2 each.
Step 2
Thread the cord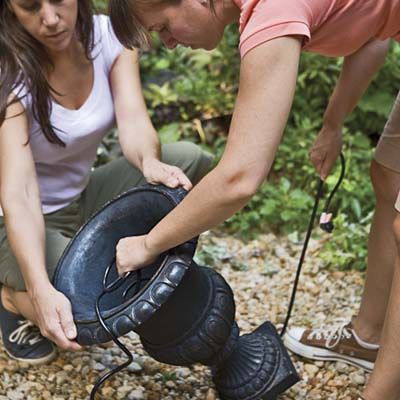 Thread the cord through the drainage hole in the bottom of the urn. (Alex is wicked strong, so I let her do the heavy lifting, or rather, tilting.)
Step 3
Caulk the edges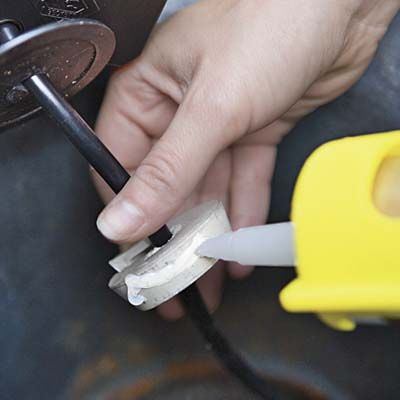 Squeeze a bead of silicone caulk around the edges of the first stopper, and insert the plug in the hole. Place the second stopper over the first and caulk around its edges to create a watertight seal. Wait 30 minutes for the caulk to dry.
Step 4
Finish assembly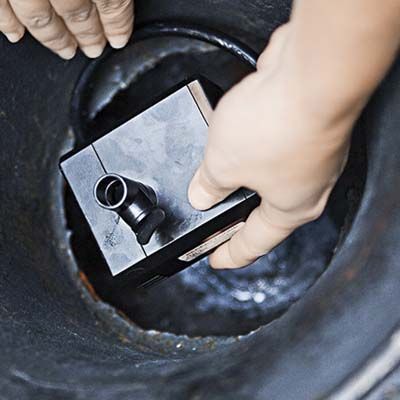 Place the bubbler in the bottom of the urn.
To retain the urn's existing finish, spray with a protective clear coat before exposing to the elements or filling with water.
Step 5
Showcase your creation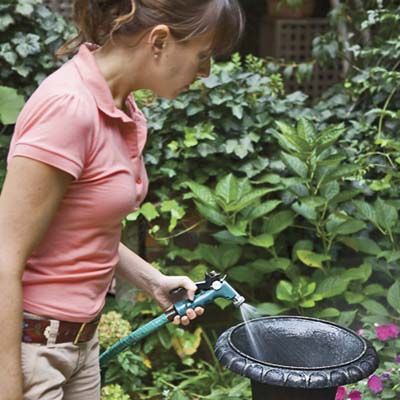 Position the urn where it'll be a focal point in your garden, then fill with water and plug the bubbler into a GFCI outdoor outlet. If the water geyser is too low or off balance, wedge smooth rocks under the bubbler to raise and level it.