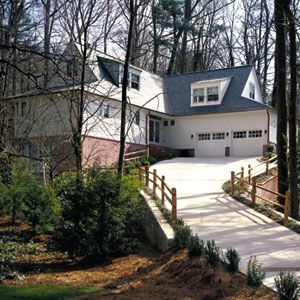 When landscape project manager Anne Wilfer first set foot on the steep, wooded Atlanta lot of This Old House magazine's Timeless Home one rainy Sunday in October of 2001, as the house was nearing completion, she quickly got an idea of how challenging the job ahead of her would be.
"The place was a narrow mud slide," she says. "Besides the fact that the land dipped into a streambed along one side of the property, there wasn't anything behind the house to keep an embankment from eventually sliding into the dining room."
Immediately she knew the property would require several retaining walls, as well as hearty native plantings with substantial root systems to anchor the soil. Getting from one side of the house to the other would require stone steps built into the hillside, as well as steps added to the basement-level deck. "Basically, we were hired to landscape a big hill," says Wilfer.
But because Atlanta sits in the foothills of the Appalachian Mountains, steep lots are nothing new for Wilfer and the Gainesville, Georgia, group she represents, The Jaeger Company. Many people are rejecting the long commutes and excessive traffic that come with a house in the flatter suburbs and choosing smaller, hillier properties in the older downtown neighborhoods.
But the convenience of proximity comes at a price: "Anytime you landscape a sloped lot, it's going to cost more," says This Old House landscape contractor Roger Cook. "Moving earth means renting equipment, and in terms of cost per square foot, building walls is one of the most expensive things you can do." At the Timeless Home (a joint project of TOH and the Masco Corporation), where Wilfer worked with crews to install three retaining walls, a stone pathway around the house, upper and lower decks, granite steps on one side of the house, and native, low-maintenance plantings with a drip irrigation system, the cost was roughly $70,000.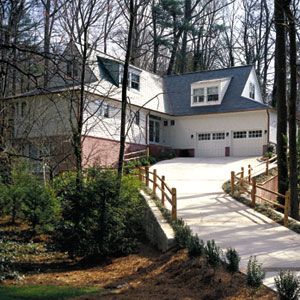 Plantings
Before putting any plants in the ground, Wilfer's first concern was to steer clear of the waterway that runs across the front of the property. "To prevent erosion, Georgia law states that you can't landscape anything within 25 feet of a stream," she says. Her second concern was to select native plants that would not only thrive with minimal care on the shady, wooded property but also help support the embankments behind the rear deck and to the side of the house. Shrubs such as rhododendron, doghobble (Leucothoe fontanesiana), Florida anise (Illicium floridanum), and inkberry (Ilex glabra) all fit that description. "The plants we chose have an extensive root network that creates a nice hold for a bank," Wilfer explains. "Doghobble in particular is a really good plant for stream-bank stabilization."
Wilfers next goal was to create a natural screen of trees that would be dense enough year round to shield the house from the neighbors. For that she hired subcontractor Mike Sutherland to plant Carolina hemlock, an evergreen tree that thrives in Zone 7, which just barely covers the Atlanta area. "They normally like cooler temperatures, but they'll do well in this shade," says Sutherland. "In about 25 years, these 8-foot saplings will be 30 or 40 feet tall."
To plant each of them in the sloped ground, Sutherland and his crew from the Atlanta-based company Habersham Gardens first dug a hole twice as big around as the tree's 40-inch root ball, to surround it with a rich topsoil mixed with sand, which allows for better drainage. "Most trees die from overwatering rather than a lack of it," says Sutherland. Once the tree was in the ground, the crew tamped down the soil mixture around it to get out any air pockets.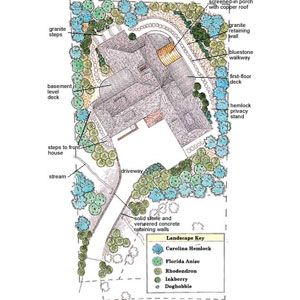 Retaining Walls
Retaining walls prevent soil on an embankment from washing away in the rain and can be from a foot tall to much higher, depending on the severity of the slope. The Timeless Home lot required walls that rose from 1 to 4 feet in the back of the house to 15 feet in the front. According to Roger Cook, there are three or four different types of wall you can build. "Riprap walls, where boulders are stacked on top of each other without any mortar, are the least expensive," he says. "It's a real rustic look." Alternatively, landscapers can use pressure-treated timber, concrete, segmental retaining-wall block, or fieldstone. But it's the labor involved, rather than the material, that most affects cost. "Masonry fieldstone walls are the most expensive because they are extremely time-consuming to build," says Roger. "Concrete walls may be the strongest when engineered properly, but there is some expense involved in digging and pouring a footing. And remember, when this is all done you still have concrete to look at."
Because the Timeless Home sits on a lot that is partially in Atlanta's 100-year floodplain, Wilfer and builder/owner Jason Yowell had to erect two reinforced walls on either side of the steep driveway that serves as a bridge over the flood area. "The high side's 15-foot concrete wall has a 5-foot-deep footing, and there's a tremendous amount of tied steel in there," says Yowell. "Forming it was like pouring the home's foundation walls."
Walls like this also require a drainage system installed along the base of the footing to keep rainwater from collecting next to the concrete. Yowell used a "French drain" — a 4-inch perforated pipe surrounded by gravel. Once the pipe and gravel are laid next to the footing, they're covered with soil.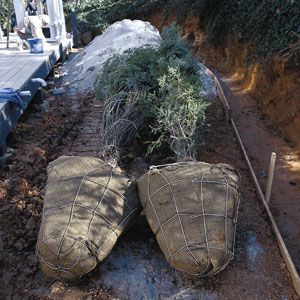 Decks
One advantage to having a steep lot is that it can offer spectacular views, and there is no better way to enjoy a vista than with an outdoor deck. "It's always nice to sit up on a platform and look out over the edge," says Roger. Building a deck on a sloped lot is much different from putting one on a flat site, he says. You have to install longer, beefier posts from the footings to the framing — requiring cross-bracing for extra support and latticework to hide the exposed underside — and a strong railing, but it's a worthy project. "With a deck you can turn an unusable slope into a usable space, provided it is engineered properly," Roger says.
At the project house in Atlanta, where there aren't many views but the mean temperature is above 60 degrees seven months out of the year, architect Jeremiah Eck designed a screened-in porch along with an upper and a lower deck to take advantage of the mild climate and the terrain. "Because of the sloped site, we were able to extend the interior space out into the landscape on two levels," he says.
The lower-level deck is made with a composite decking material that is 45 percent wood and 55 percent high-density polyethylene (HDPE), a plastic recycled from used milk jugs. The upper deck is topped with 100 percent plastic decking. Both products can be cut and screwed in place like wood, but don't require the sealing, painting, or upkeep needed with timber. "In fact, because they're plastic, they won't even take a stain," says decking subcontractor David Munisteri. Expect to pay about $3 a linear foot for the composite and $4 a foot for the all-plastic decking (versus $2 a foot for redwood and less than $1 for pressure-treated southern yellow pine).
Now when it rains on this Atlanta hillside, Wilfer isn't worried that the land or the house will wash away. She has created a low-maintenance yard that needs little care other than regular watering. "And there's no lawn — I like that."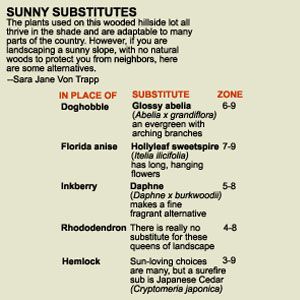 Where to Find It
Landscape design:
The Jaeger Company
Gainesville, GA
770-534-0506
Civil engineer:
Terry Boomer
BH&D Engineering Inc.
Woodstock, GA
678-445-9489
Landscape contractor:
Mike Sutherland
Habersham Gardens
Atlanta, GA
404-873-4702
Architect:
Jeremiah Eck
Jeremiah Eck Architects Inc.
Boston, MA
617-367-9696
Builder:
Jason Yowell
Metropolitan Design & Construction
Roswell, GA
770-402-6368
Site work:
Springer's Construction
Dawsonville, GA
770-475-0024
Masonry contractor:
Marian Pirvu
Sunrise Stucco Inc.
Atlanta, GA
404-867-9220
Decking contractor:
OutLook Construction
Cartersville, GA
770-382-8191
Copper roof installation:
Masco Contractor Services d.b.a. Quality Insulation
Norcross, GA
770-448-7005
Copper:
Copper Development Association
New York, NY
212-251-7200
Brick:
Normandy/17th Century Collection
Boral Bricks Inc.
Atlanta, GA
770-645-4500
Lighting:
Thomas Lighting
Louisville, KY
502-893-4690
Decking material:
Carefree Xteriors and U.S. Plastic Lumber
Chicago, IL
888-733-2546
Porch furniture:
Lloyd/Flanders
Menominee, MI
906-863-4491
Deck furniture:
Table and chairs by Hugonet — bench by McKinnon and Harris through Logan Gardens
800-992-4808