This article appeared in the Spring 2021 issue of This Old House Magazine. Click here to learn how to subscribe.
Buy an older house and you'll likely find some junk along with the gems. Previous renovations had left this kitchen, located in a 1943 Colonial Revival in Washington, D.C., packed with nondescript Thermofoil cabinets and myriad column and pilaster flourishes that detracted from assets like the lofty ceiling and tall, arch-top windows.
Shown: Removing some upper cabinets gave the striking copper range hood and new custom patterned wall tile center stage. A larger island added storage, prep space, and seating.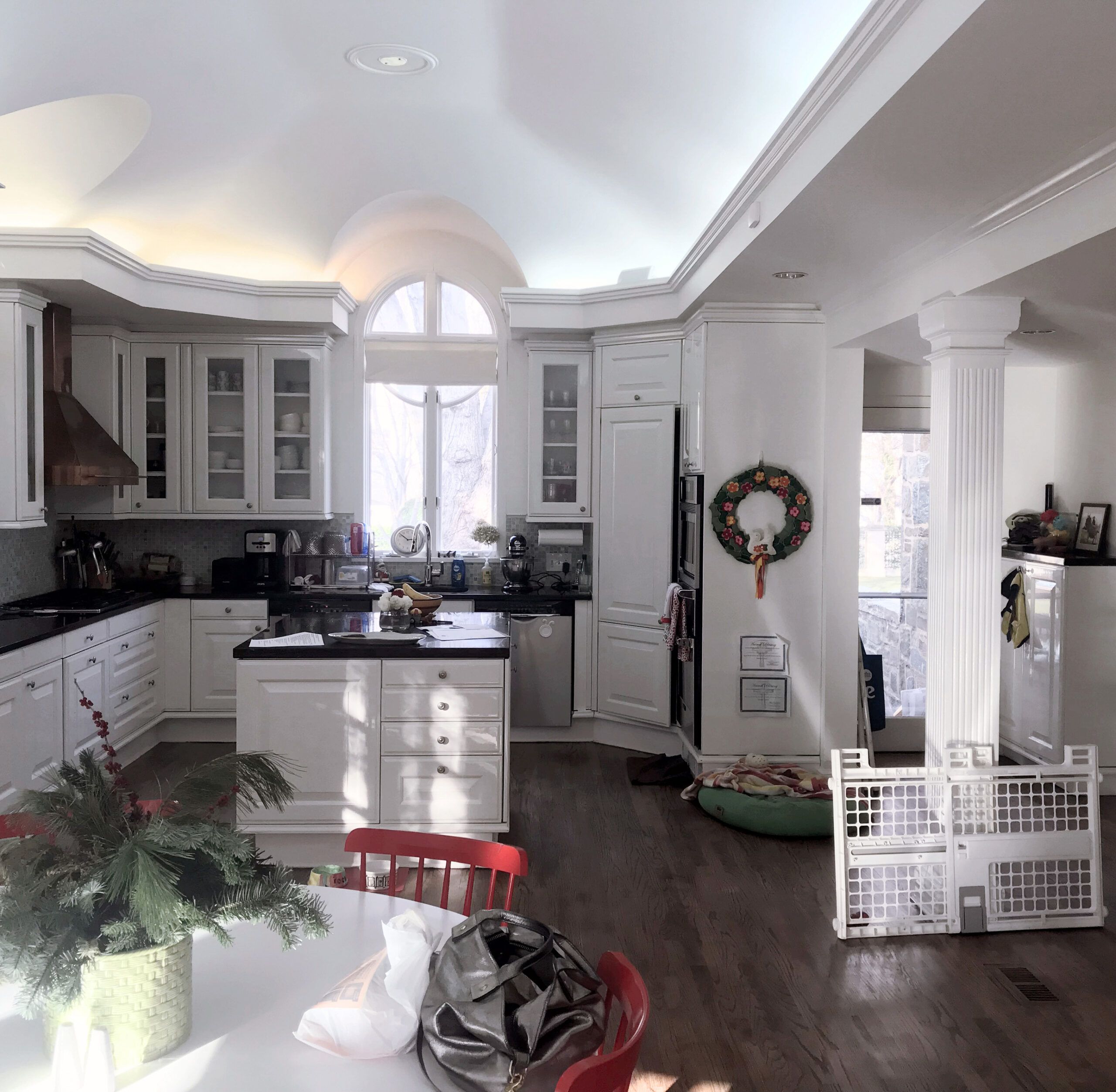 "Since starting from scratch wasn't in the budget, our goal was to minimize the fussiness and bring in a sense of balance and proportion while increasing storage, seating, and prep space," says Nadia Subaran of Aidan Design.
To better serve the family of four, who like to cook and bake together, she added a second oven and sink, as well as modular refrigeration (separating the fridge and freezer) and a larger island with stools. To open up the space, Subaran refined the cabinetry layout, taking away some uppers to show off the existing copper vent hood. The use of color reflects the wife's love of Swedish mid-century and Mexican Otomi textiles: simple white cabinets, white walls, with accents in bright red, green, and blue.
"We looked critically at what changes would make the most impact in terms of function, focal points, and flow," says Subaran. The result: a spirited space that's improved in every way.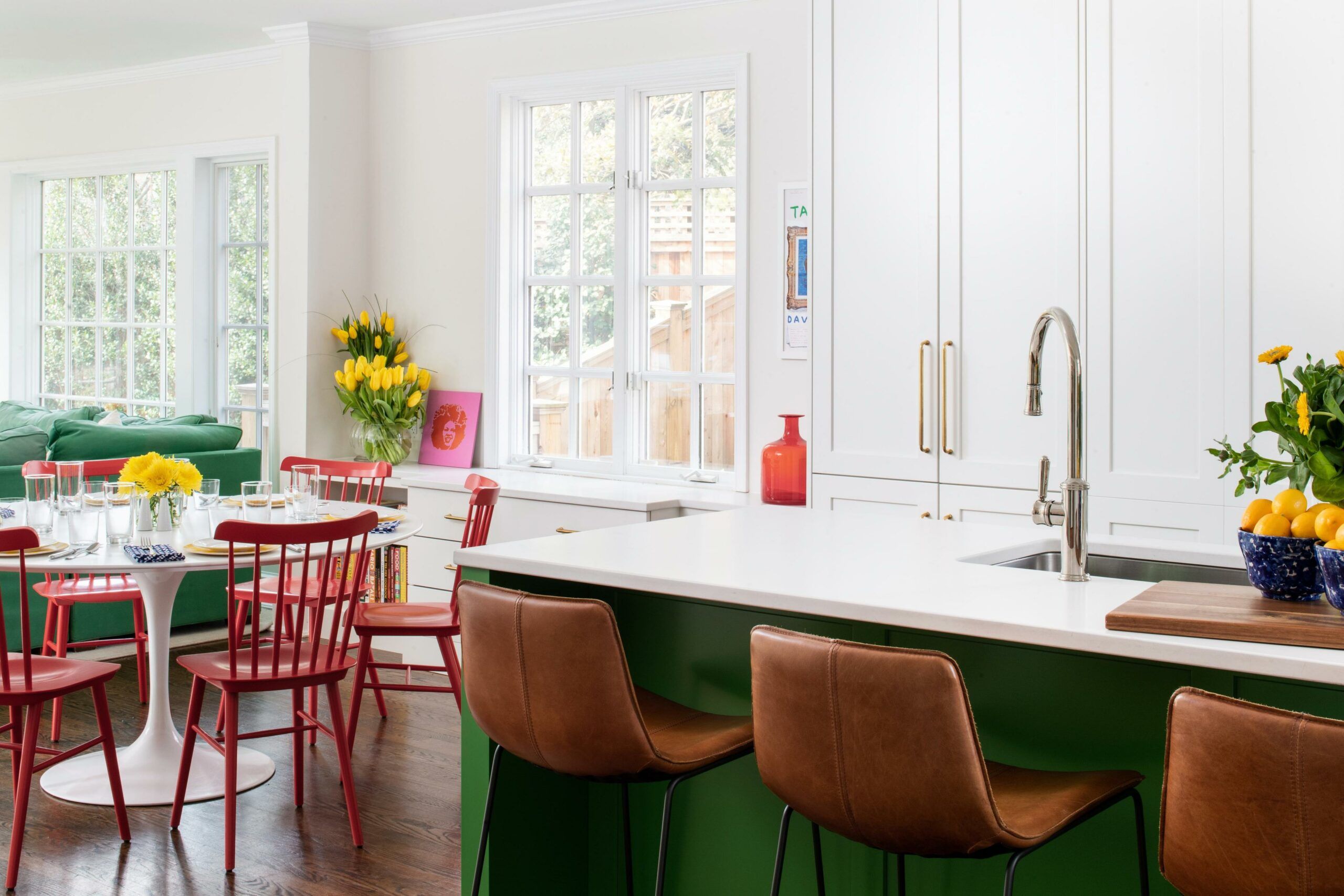 "The homeowners are parents to two active teenage girls, and their house is hangout central, so ample seating was essential," Subaran says. A pantry cabinet, now located between the fridge and the dining area's under-the-window drawer storage, is convenient to cooks as well as anyone seated at the table.
Shown left: In a house with multiple cooks, two sinks makes good sense. The island sink is intended for food prep, while the one under the window, flanked by dishwashers, does cleanup duty.
Faucets: California Faucets; Cabinets: Brookhaven by Wood-Mode; Custom tile: Clay Imports; Countertops: Caesarstone; Appliances: Thermador; Ice maker: Scotsman; Sinks: Franke; Hardware: Push Pull Decorative Hardware; Island stools: West Elm
Shown right: The white oak floor with a dark walnut stain was saved from the former kitchen, as were the red chairs. "Uninterrupted wood floors lend warmth and continuity to open-plan spaces," Subaran says. This one just needed patching in a few spots and refinishing.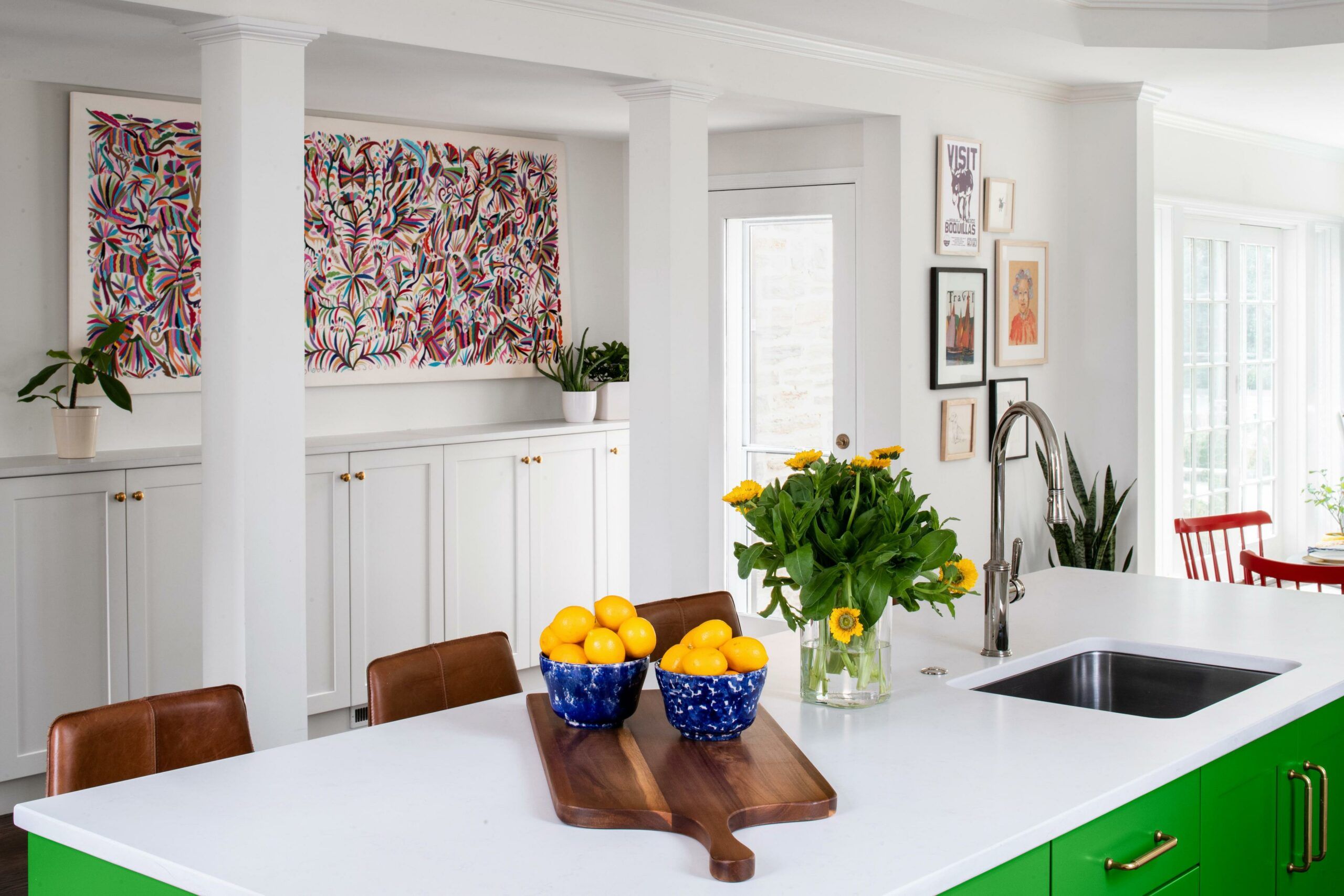 Another keeper from the former kitchen is a 94-by-40-inch embroidered Mexican Otomi wall hanging that the homeowner had commissioned. A new bank of lower cabinets by the back door shows off the cherished textile, which was a major inspiration for the kitchen's color scheme.
Expert advice
"The bones of a kitchen—cabinets and countertops—should have longevity, so err on the side of simplicity. You may love something trendy today but not feel the same in five or ten years."
"For a family who likes to cook, modular refrigeration—separating the refrigerator and freezer—can provide needed additional storage and help keep the scale balanced in a kitchen design." —Nadia Suborn, co-owner, Aidan Design
Floor plans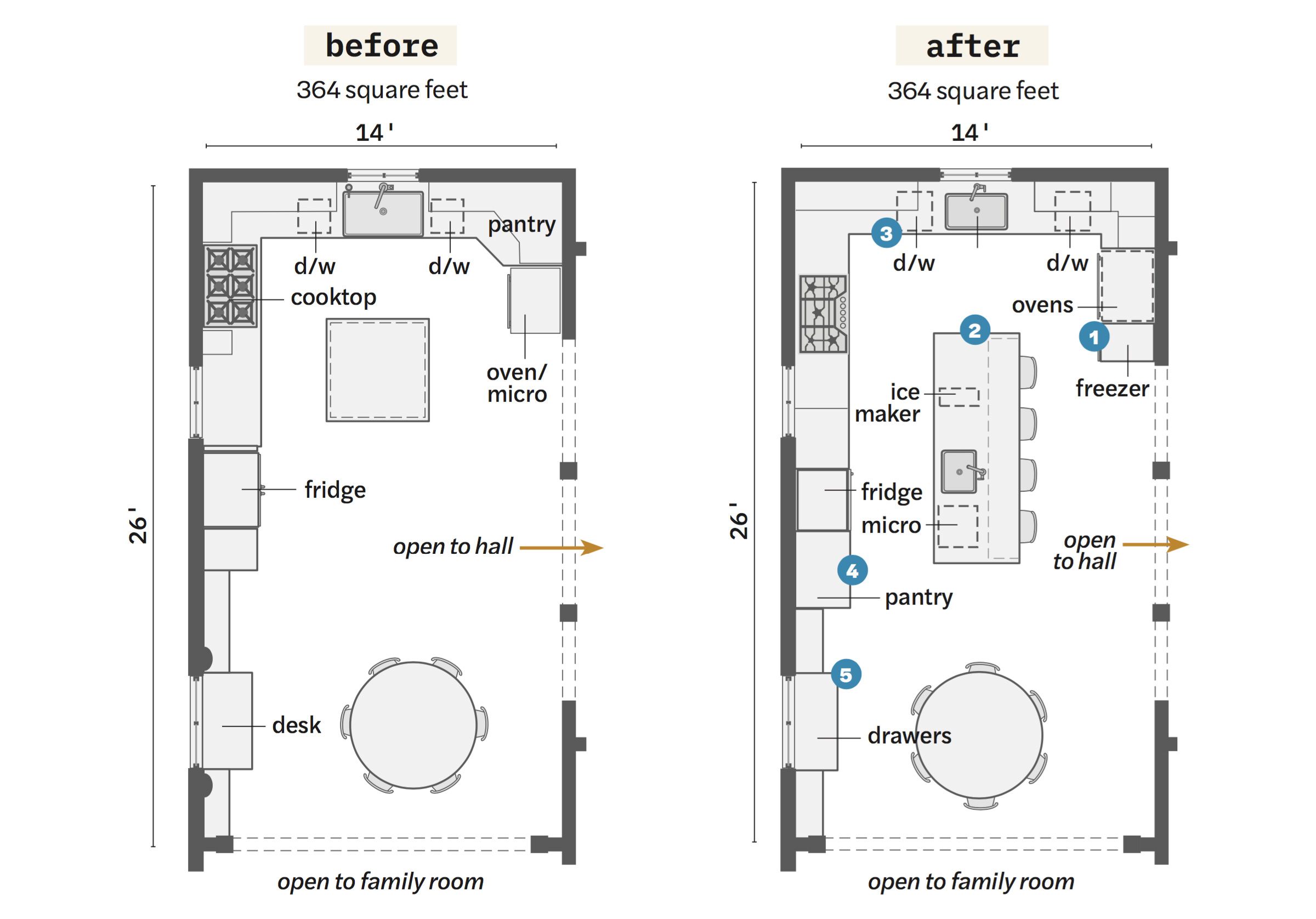 Simplifying the cabinet layout without losing storage, adding a multipurpose island, and updating the appliances improved function and flow in the 364-square-foot space.
Extended the interior wall by 15 inches, creating breathing room for double wall ovens and a freezer column; reduced the trim on nearby support columns.
Swapped a small square island for one 9 feet long with a prep sink and seating.
Removed three upper cabinets that had been crowding the sink window and range hood, adding elbowroom alongside both.
Relocated the pantry cabinet from the corner next to the oven to alongside the fridge column, for more convenient access, and doubled its capacity.
Replaced a seldom-used desk under a window flanked by pilasters with wide drawers for platters and place settings; put in simpler window trim.
Smart Spending Tips for Kitchens
Wondering where to put your hard-earned cash when it comes to renovating a cook space? Consider this strategic investing advice from designer Subaran.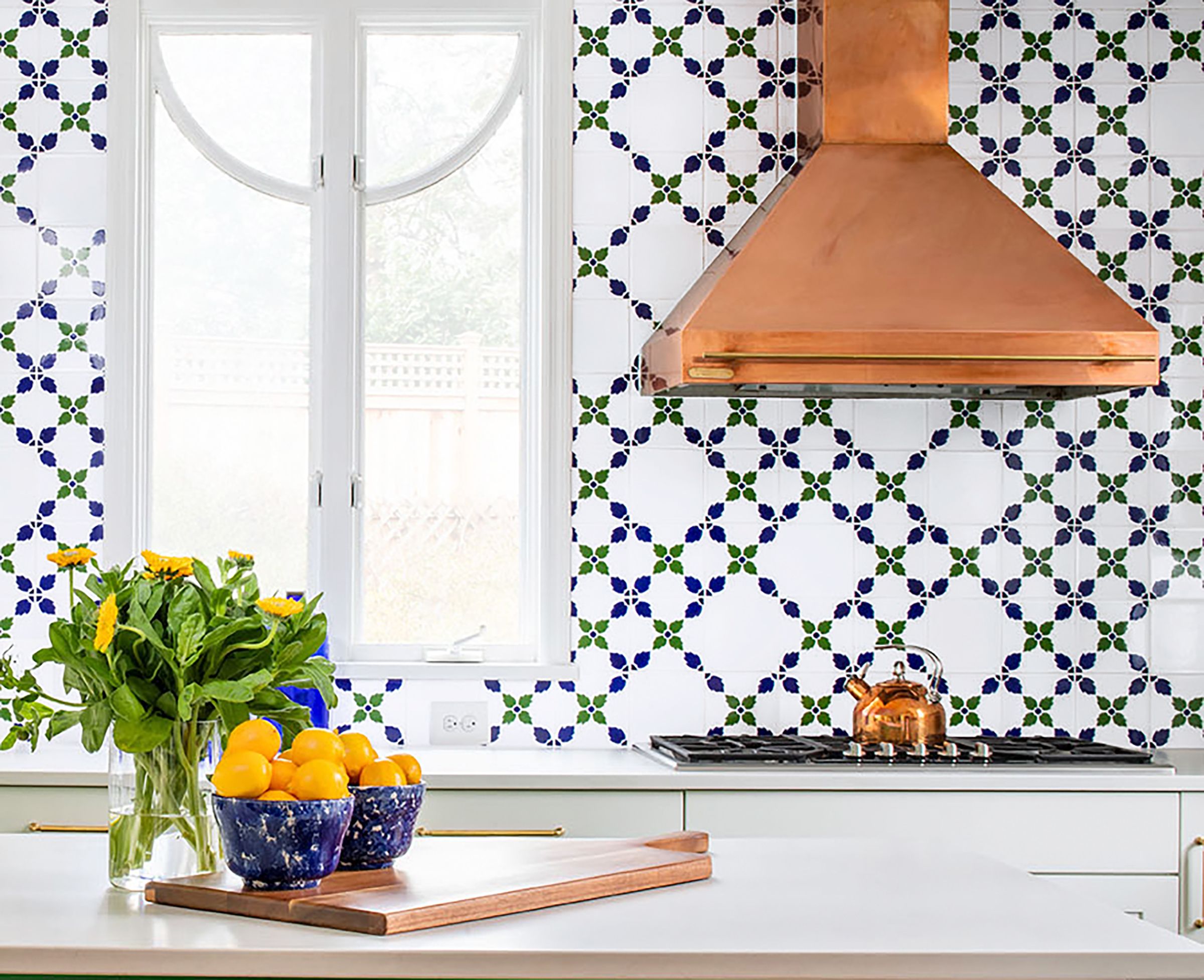 AMP UP PANTRY STORAGE. "Customizing a pantry interior to your needs is money well spent. I find pantry closets can be a waste of space; I prefer tall pantry cabinets with rollout shelves and racks at various heights. Adding rollouts on casters, like the ones used for trash bins, works great for bulk items, like dog food, for example."
USE WHAT YOU HAVE. "These homeowners wanted to keep their red dining chairs and loved the copper vent hood. Pieces in good shape, including appliances no more than five years old, can be worked into a new design. I suggest putting the savings toward decorative lighting and backsplash tile, which can add a lot of character."
GO FOR STYLES WITH STAYING POWER. "A kitchen renovation should last 20 years, so think timeless, not trendy, especially for cabinetry, which is expensive to change. Shaker-style doors are a classic. The patterns in countertop stone are a personal preference that can be limiting; a light marble look has more universal appeal."
Shown above: The cooktop was shifted away from the corner to allow the existing copper hood to shine. The custom tile was created from a photo of a Swedish kitchen the wife had held on to for years.
Get the Look
Good design can be had at all price levels these days. Here are some cost-conscious finds inspired by the kitchen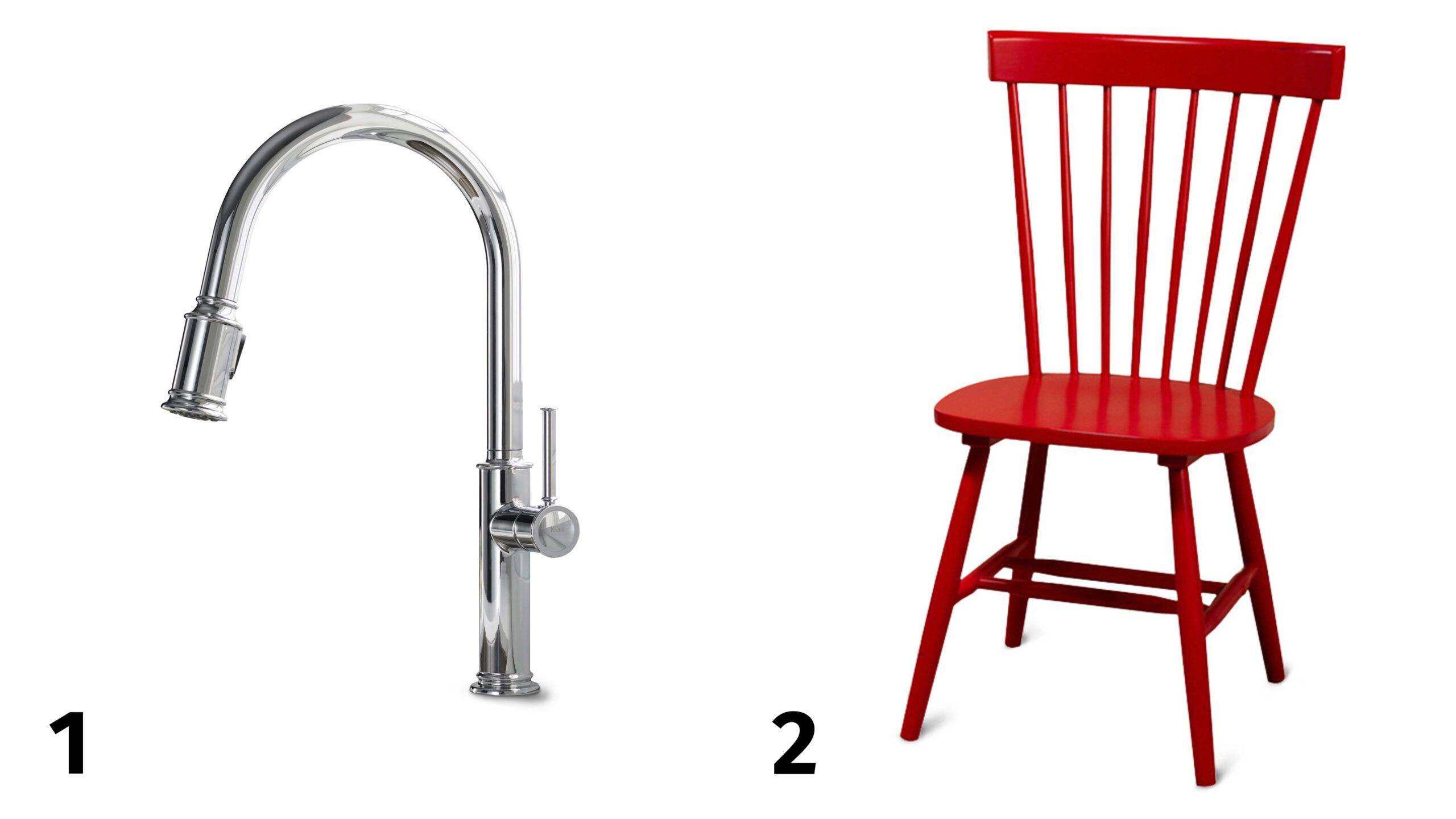 1. Pull-down faucet / KRAUS
This single-handle gooseneck combines traditional-meets-modern styling with a wallet-friendly chrome finish. The easy-to-grasp pull-down spout makes rinsing a breeze.
$159; Kraus
2. Updated Windsor chair / WAYFAIR
Vibrant red paint gives these simple spindle-back seats real presence in a mostly-white dining area­. The nice price encourages buying in multiples.
$200 for two; Wayfair
3. Bold green paint / BENJAMIN MOORE
This kitchen's island got a custom factory-applied color. For a similarly smooth, furniture-like finish, try the Advance line of water-based alkyd paint in Neon Green.
About $60 per gallon; Neon Green by Benjamin Moore
4. Copper vent hood / ZLINE
Turn a practical necessity into a sculptural focal point with a range hood that has a seven-layer copper finish over stainless steel—plus four fan speeds, 400 cfm airflow, and LED lights.
$750; Home Depot