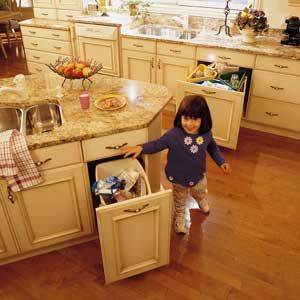 There's no doubt that recycling benefits the environment. But to pitch in to do your part, you need an efficient way to collect those stacks of newspapers and piles of empty cans and bottles. Fortunately, as the saying goes, one person's trash is another's treasure. In this case, cabinetry companies and storage-product manufacturers are now offering accessories that adapt their wares to this application. And professional designers and organizers have come up with their own simple strategies for dealing with household recyclables.
Whether you are improving an existing recycling area in your home or starting from scratch, you need to know three things: local recycling rules; pickup schedules or drop-off center hours; and the quantity of each type of recyclable your family generates in a week. This information will help you determine the size of the containers you need and how much overall space will be required for recycling.
If space is tight or if your family produces a lot of recyclables, consider a two-stage plan. Devote a small amount of space in the kitchen for day-to-day needs, and place the bulk of the storage in the garage or in outdoor garbage cans. Because you don't need to clean them, newspapers and magazines are the easiest to move out of the kitchen. Keep in mind, though, you really won't want to keep unwashed items in living areas for more than a day or two because of odor and insect concerns.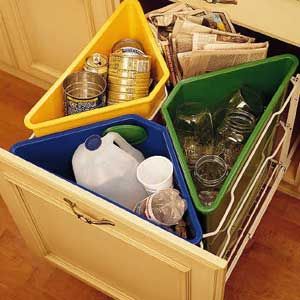 Kitchen
"Recycling in the kitchen is successful in direct proportion to the size of the kitchen," says Doug Austin, program manager at Amera Cabinetry. "The more space you have, the easier it is to give up some of it for recycling."
Base cabinets make the most sense for storing heavy and bulky items like glass, plastic and metal. Recycling storage comes in two-, three- or four-bin units that are concealed in pullout drawers, tilt-out bins or roll-out shelves. Some bins can be attached to the door so that they roll out automatically when you open the door—a nice convenience. Many bins have lids that shut automatically when the cabinet is closed.
Most of these items are designed for existing cabinetry; you'll find them at home centers or in catalogs. If you are remodeling, most cabinet companies offer these accessories as options, too.
Depending on the capacity of the bins, you'll need to devote a minimum of one 18-in. base cabinet to recycling, but one measuring 24 to 30 in. means fewer trips to the garage or outdoor trash cans.
Because both under-the-sink and corner cabinets offer less than ideal storage for regular items, they are good locations for a recycling center. If you have more than one sink, don't use the base cabinet beneath the primary sink, where storage for food, pots and pans is often more important. It will be easier to give up space near the second sink. In new construction, consider offsetting sink plumbing so there is more room for storage. In existing cabinets, if pipes are in the way, attach a roll-out drawer to the bottom of the base for flat items like newspapers, magazines and flattened boxes.
Corner cabinets are inefficient and inconvenient for storing food and pots and pans, even if equipped with a lazy Susan—you're forever spinning the shelves to find something. But rotating recycling bins take advantage of this otherwise awkward space. Corner cabinets offer another advantage: They often sit between work areas, which makes them easy to reach whether you're cooking or cleaning up. However, because these lazy Susan bins don't pull out and you can't see through them, label or color-code them by material to save time sorting.
"Don't forget about composting," says certified kitchen designer Mary Jo Peterson, of Brookfield, Connecticut. She suggests a lidded chute that is cut into the counter and leads to a bin in the primary food-prep area.
The advantage: It's easy to collect scraps as you prepare meals. The disadvantages: You give up 6 to 8 in. of counter space and you can only install it in countertops that are impervious to water throughout their thickness, like solid surfacing, stone and stainless steel.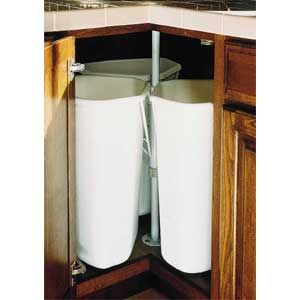 Pantry, Mudroom, Laundry
If your kitchen is small or if you don't want to give up prime storage space, areas near the kitchen are a good alternative. While walk-in pantries can be used, you may prefer to keep food and recyclable storage separate. Transitional rooms between the living area and garage, like the laundry or a mudroom, are ideal because they are usually close to both kitchen—where many recyclables start—and trash cans, where recyclables end up.
In a mudroom, you can use low bins under a bench. If you already store gloves, scarves and sports equipment in your mudroom, use similar containers to store recyclables for a uniform look.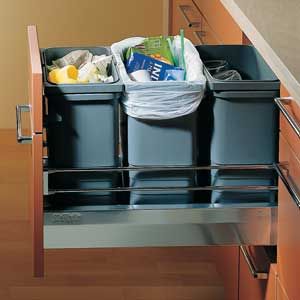 Garage, Basement, Workroom
If there isn't any space on the inside of the door to the garage, consider the garage itself. Stackable bins with lids can be flipped open to add recyclables and locked closed. They are inexpensive, washable and don't take up much floor space. Put them on wheels with an inexpensive trolley or dolly and they're also easy to move to the curb for collection.
Translucent containers make it easier for you to see contents at a glance. Pick colorful containers instead. But do remember to label the containers for the specific material, such as glass or plastic. No matter what the material or color, be sure to choose containers that close securely, especially if you leave your garage door open. Otherwise, smells can attract animals.
The basement, workroom or hobby room can also be used to store washed recyclables if it is near either the kitchen or outdoor garbage cans. Another option, if your kitchen is above your basement or garage, is a chute or multiple chutes from the kitchen to storage containers below. The chutes can be made of large-diameter PVC pipe or rigid stainless steel. Obviously, this configuration is not appropriate for glass items.
Remember, the more "finished" the space, the more important the look of the recycling containers.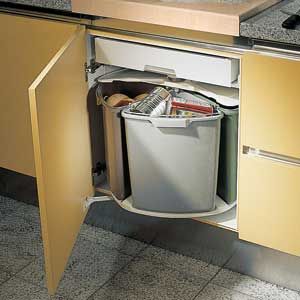 Recycling on Another Scale
Your kitchen harbors more than just recyclable bottles and cans. Last year, Americans recycled 39 million appliances, according to the Steel Recycling Institute. All those refrigerators, washers, dryers, air conditioners and water heaters yielded enough steel to build 160 new football stadiums. If you add in steel cans, cars and construction materials, recycling steel saves enough energy to provide electricity for 18 million homes for one year.
If your town has curbside appliance pickup, it probably participates in a recycling program. (In 18 states, appliances must be recycled.) If not, go to www.recycle-steel.org, which lists more than 12,000 appliance-recycling centers— one of them near you.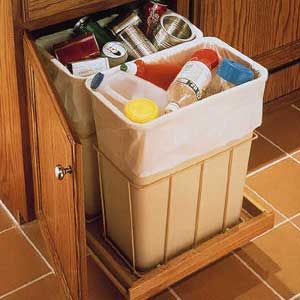 Where to Find It
ClosetMaid
Box 4400
Ocala, FL 34478-4400
www.closetmaid.com
800/874-0008
KraftMaid Cabinetry
15535 S. State Ave.
Box 1055
Middlefield, OH 44062
www.kraftmaid.com
800/571-1990
Merillat Industries
Box 1946
Adrian, MI 49221
www.merillat.com
800/575-8763
Jean Schanker
JS Design
65 Crandon Way
Rochester, NY 14618
716/442-3909
SieMatic Corp.
2 Greenwood Sq.
3331 Street Rd. #450
Bensalem, PA 19020
www.siematic.com
215/244-6800