Space-Saving Sconces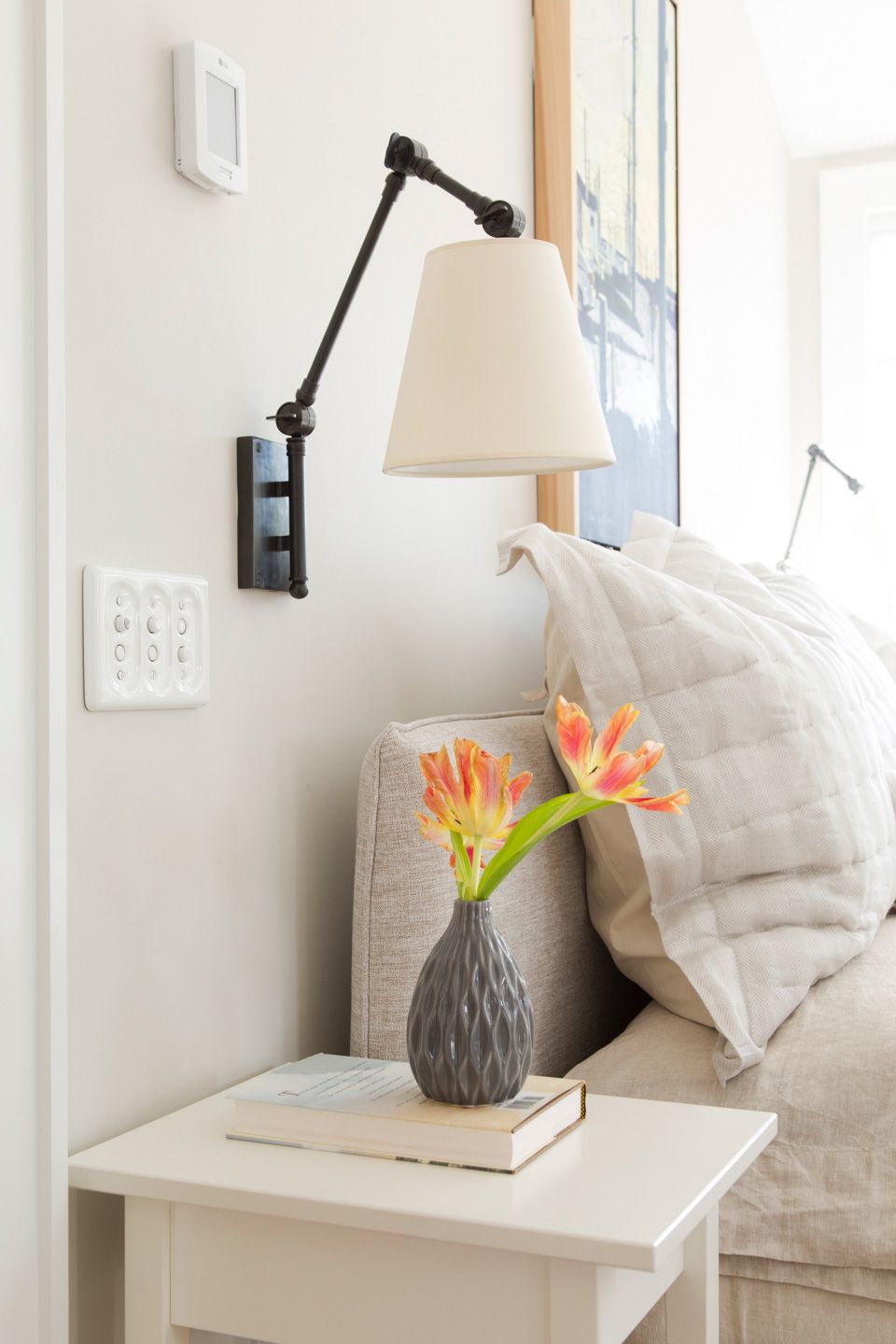 Dana explains, "We only had space for small bedside tables, so these pivoting, wall-mounted sconces were an attractive, space-saving solution."
Pivoting Sconce: Circa Lighting
Hardware: Switch plate and Push-button dimmers by House of Antique Hardware
Hardware with a Modern Flair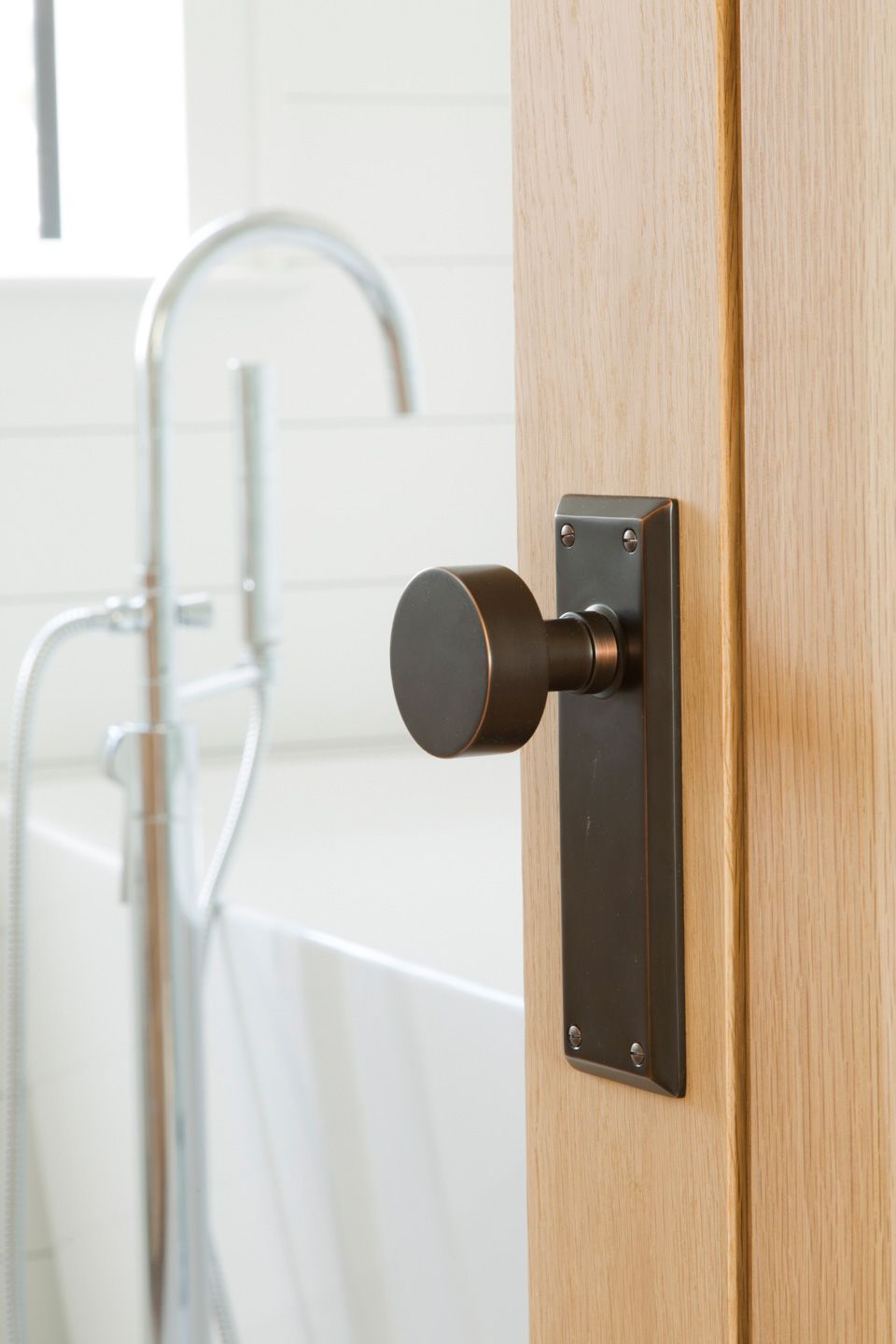 Says Dana, "The choice of door hardware was a continuation of our 'modern tradition' theme. The knob with backplate is the traditional configuration for door hardware, but the shape of the knob itself is a little more modern; this disc shape is repeated in the cabinet knobs of the upper cabinets."
Hardware: Door set and disc knobs by House of Antique Hardware
A Perfect Place to Dip
"It was tough to fit a tub into the master bathroom, but I'm so glad Donald was able to make this slim, freestanding tub work—I think I've used this almost every night since we've moved in," laughs Dana. Of the pebble floor, not only is it in keeping with their neutral/natural theme, but "it feels great to walk on, like a foot massage, and is really easy to maintain."
Fixtures: Freestanding soaking tub, floor-mount faucet by DXV
Pebble Stone Mosaic Tile: Somertile
Hip to be Square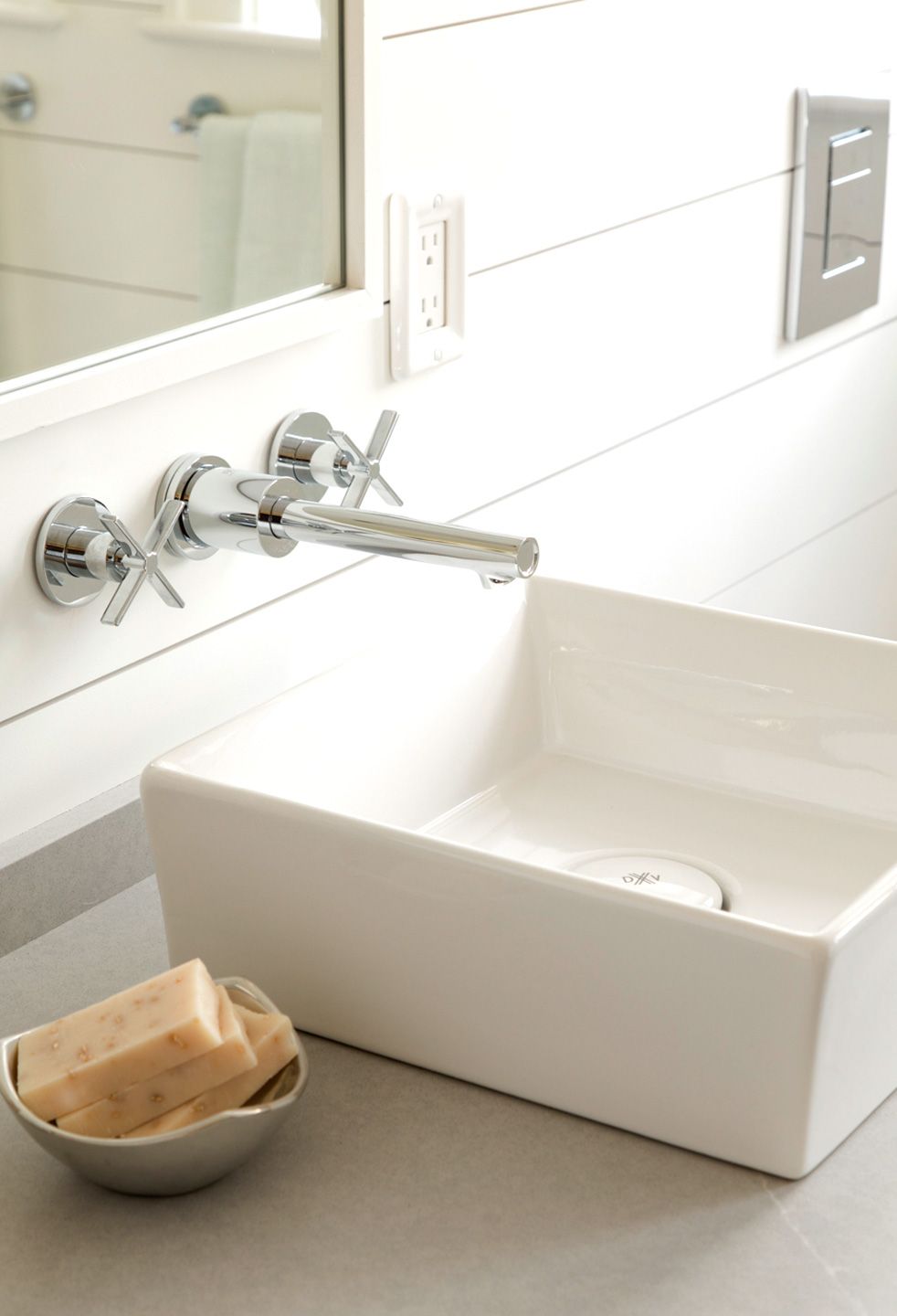 A wall-mount faucet and elevated, squared vessel sink offer a more modern approach in the master bathroom.
Countertop: Silestone
Circular Sconces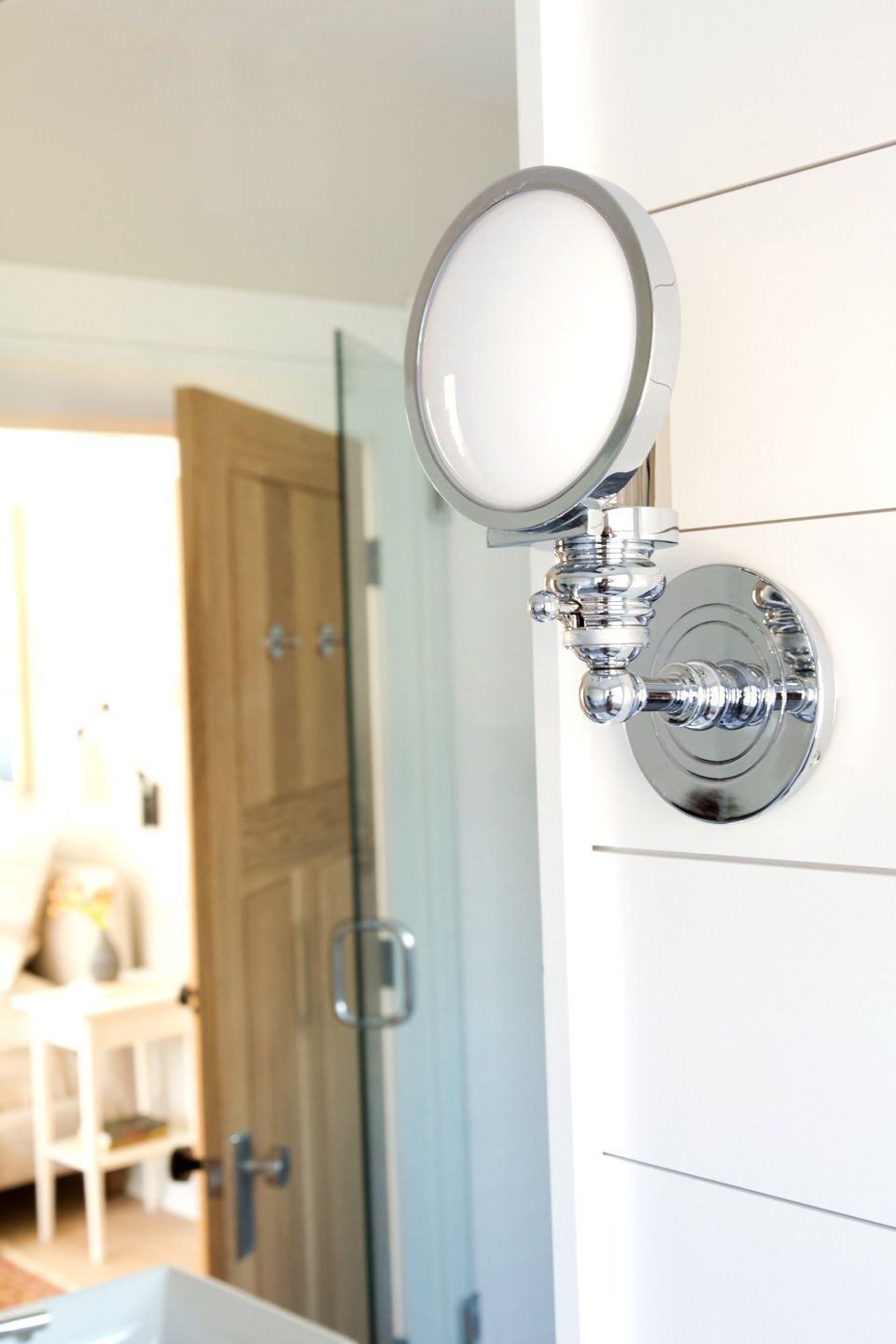 Dana and Don both loved the retro, vaguely nautical look of this sconce.
Headlight Sconce: Circa Lighting
Stylish Showerhead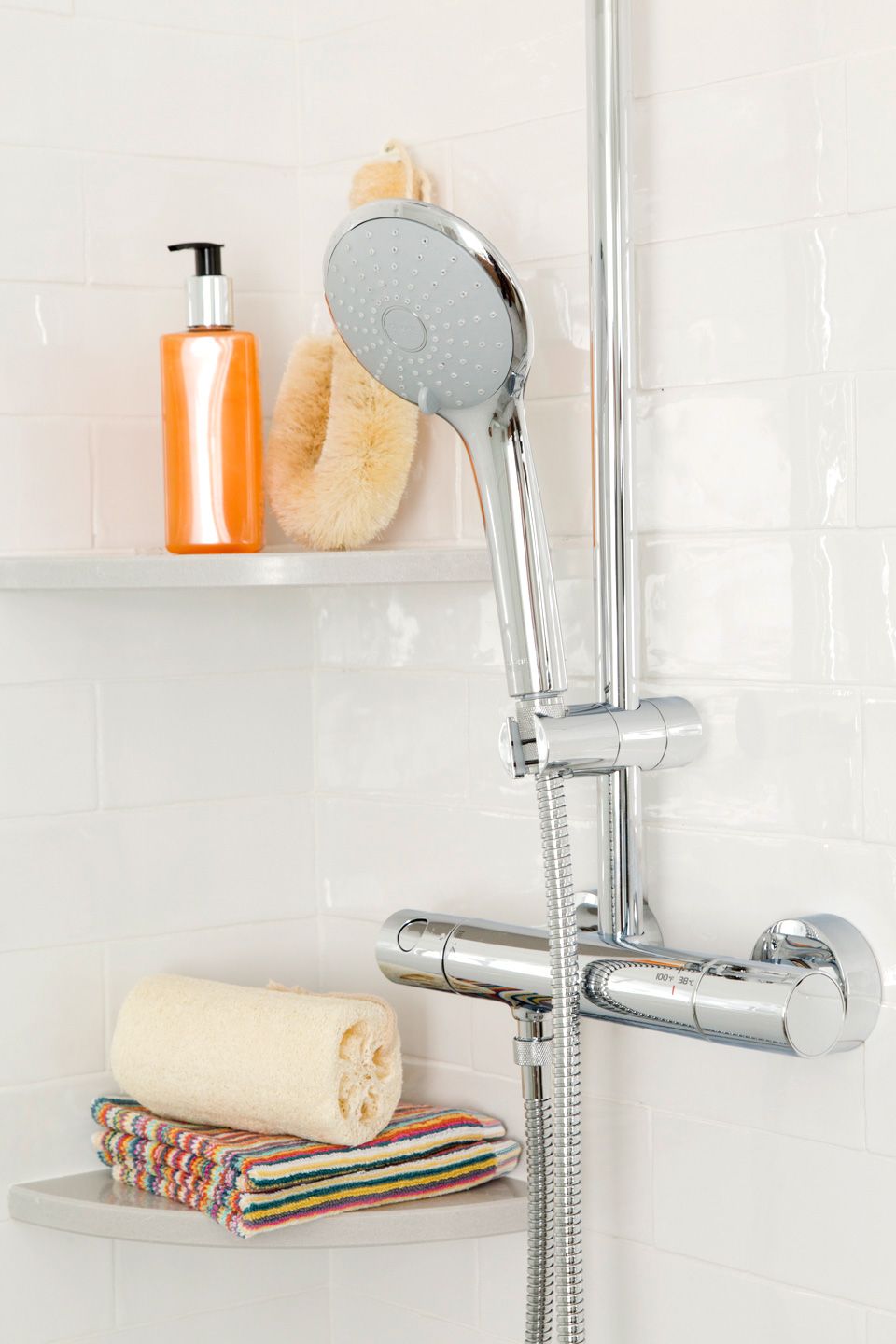 The stainless shower fixture was selected for its clean, simple design, which exposes the water-supply "riser" to the head as part of the aesthetic.
Showerhead: GROHE
Split Finish
In the bathrooms where the fixtures are chrome, Dana specified a matching chrome finish for the door hardware. However, on the bedroom side, it is oil-rubbed bronze.
Hardware: Door set by House of Antique Hardware
Switch It Up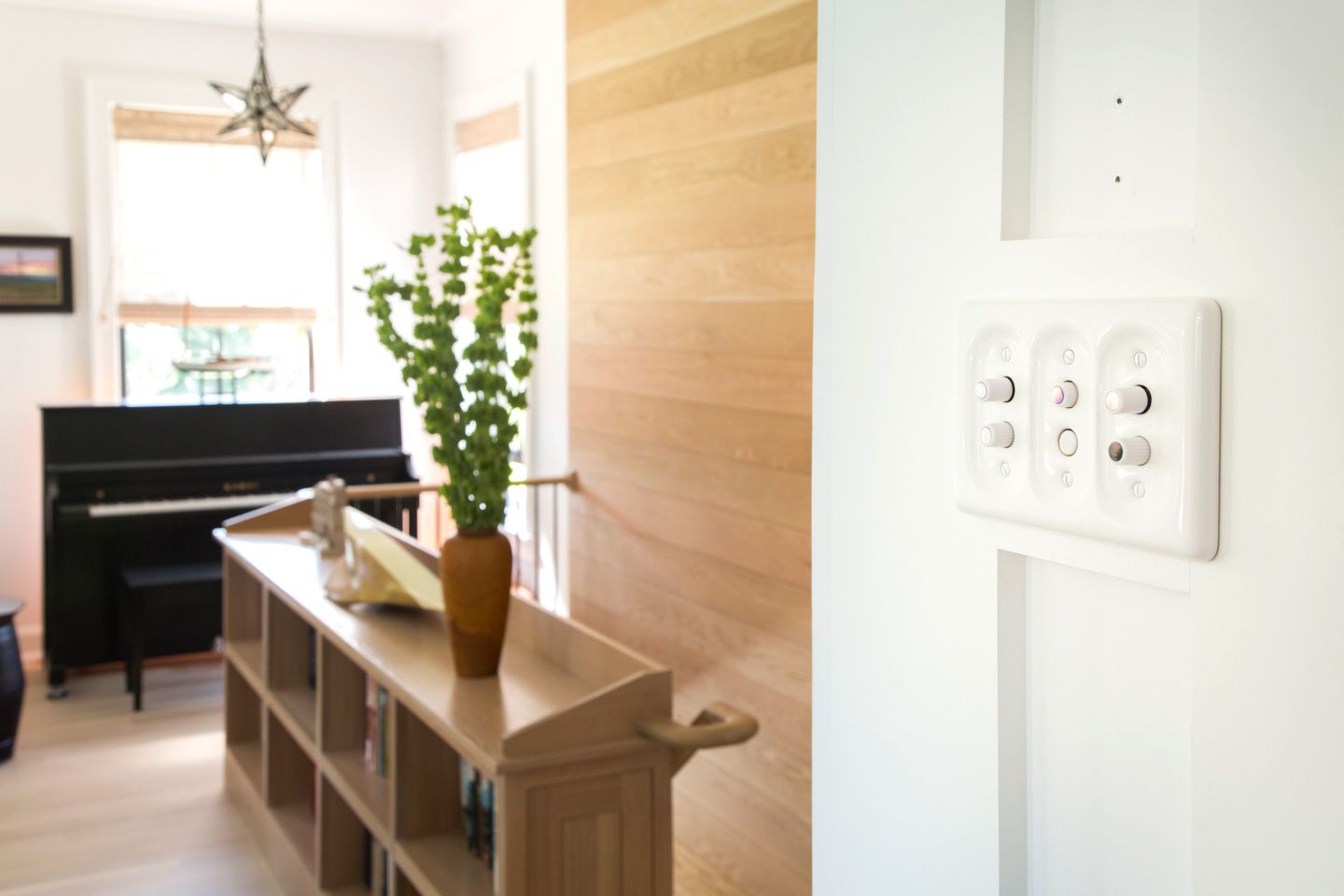 The ceramic backplates and the modernized, updated push-button switches give a fresh look to a type of switch typical of old houses. It's another example of what Dana and Don describe as "modern traditional."
Hardware: Switch plate, push-button dimmers by House of Antique Hardware
Clean and Classic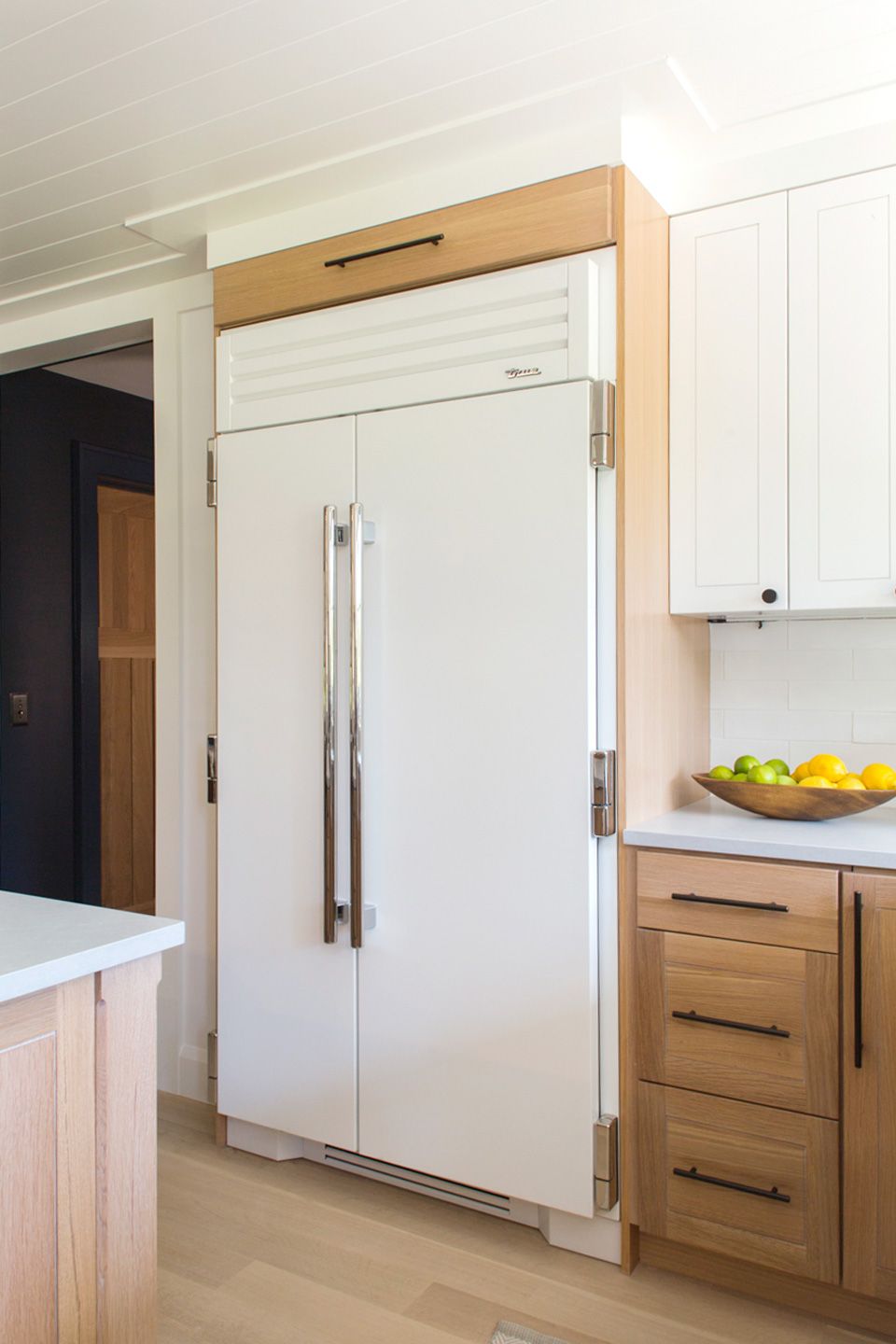 "We decided to stick with modern versions of the typical '50s white enamel appliances; we love how fresh they look against the natural wood cabinets and light wood floors."
Refrigerator: True Refrigeration
Pro-Level Range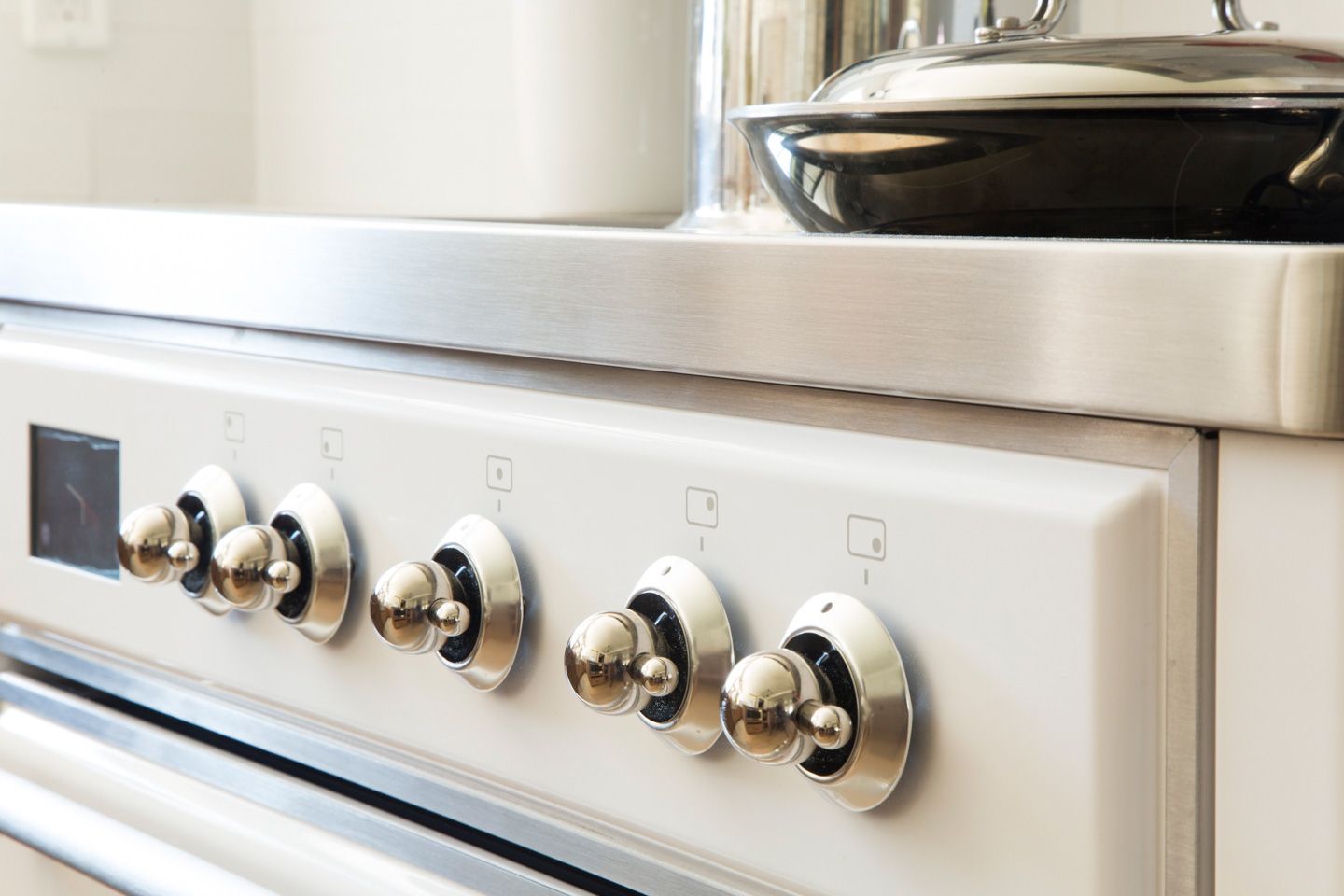 "This stove is available in something like 240 different colors! Initially we wanted turquoise, but chickened out," Dana confesses.
Stove: ILVE
Authentic Look. Ultra-Low Maintenance.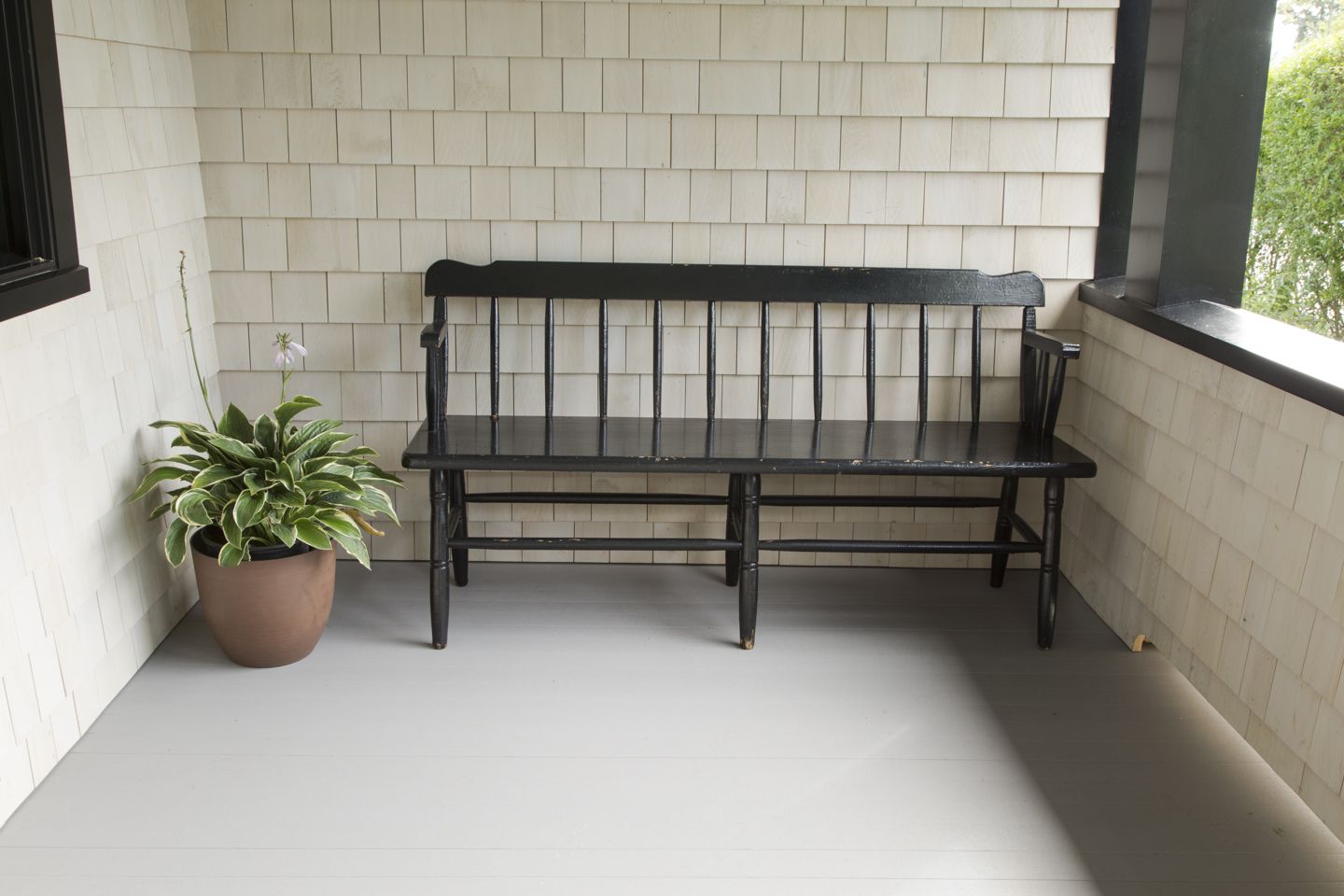 For an authentic look that's made to last, the Powers chose an innovative, tongue-and-groove composite porch floor. The lightweight boards are easy-to-handle on the job site, and won't splinter, sag, chalk or crack unlike other porch flooring options.
Composite porch floor, shown in Kettle finish: Deckorators
A Bold, Beautiful Barrier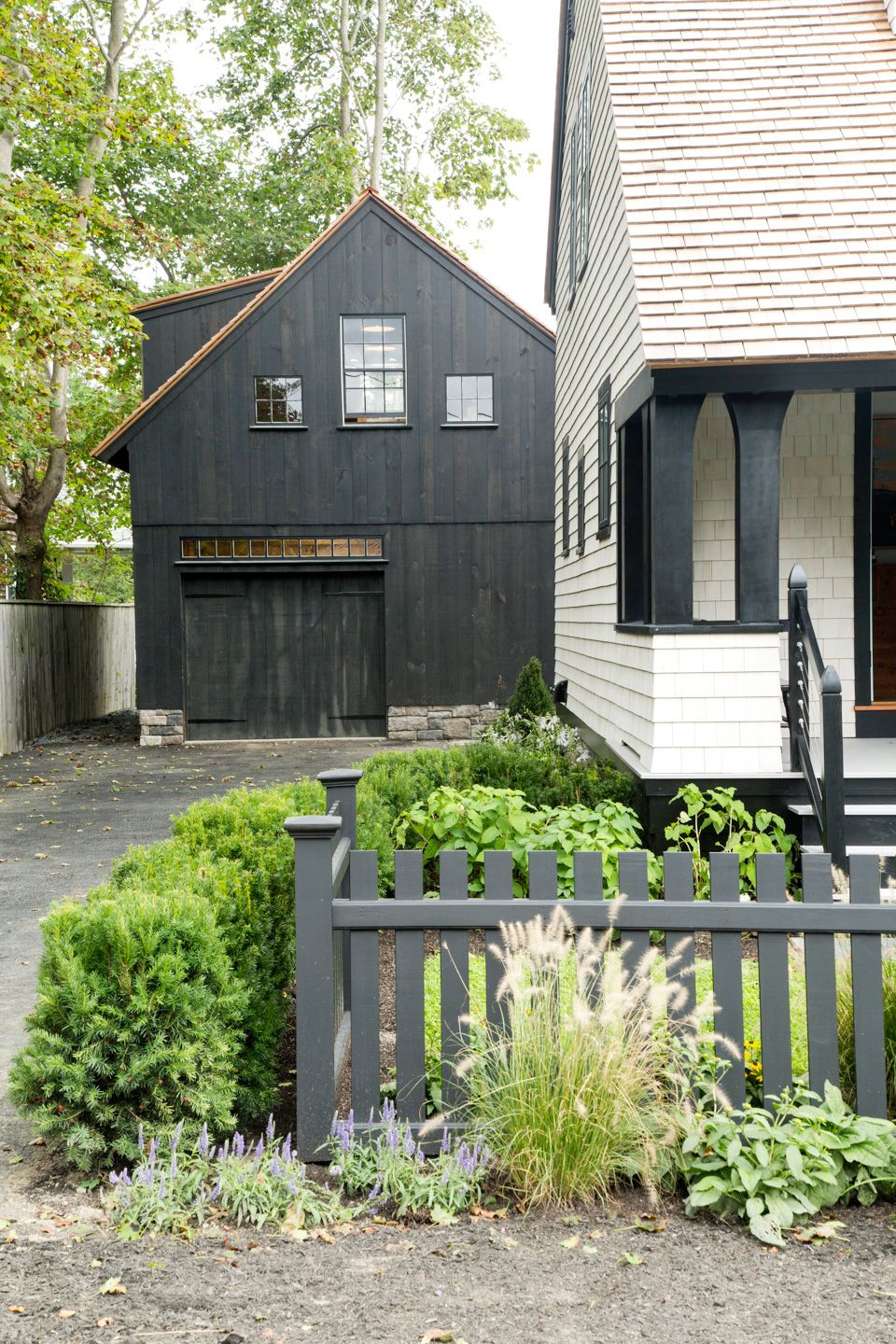 "Once we decided to use black trim on the house, the decision to paint the barn black was an easy one. Using black for the fence and pergola really ties everything together," Dana says. Adds Don, "The barn is very intentionally set to the back and north of the site so that it can help screen us from our neighbors, and our neighbors from us. This placement really helps to create a beautifully scaled and private outdoor world for us, and helps form the same for the neighbors."
Barn: Country Carpenters
Solar Standout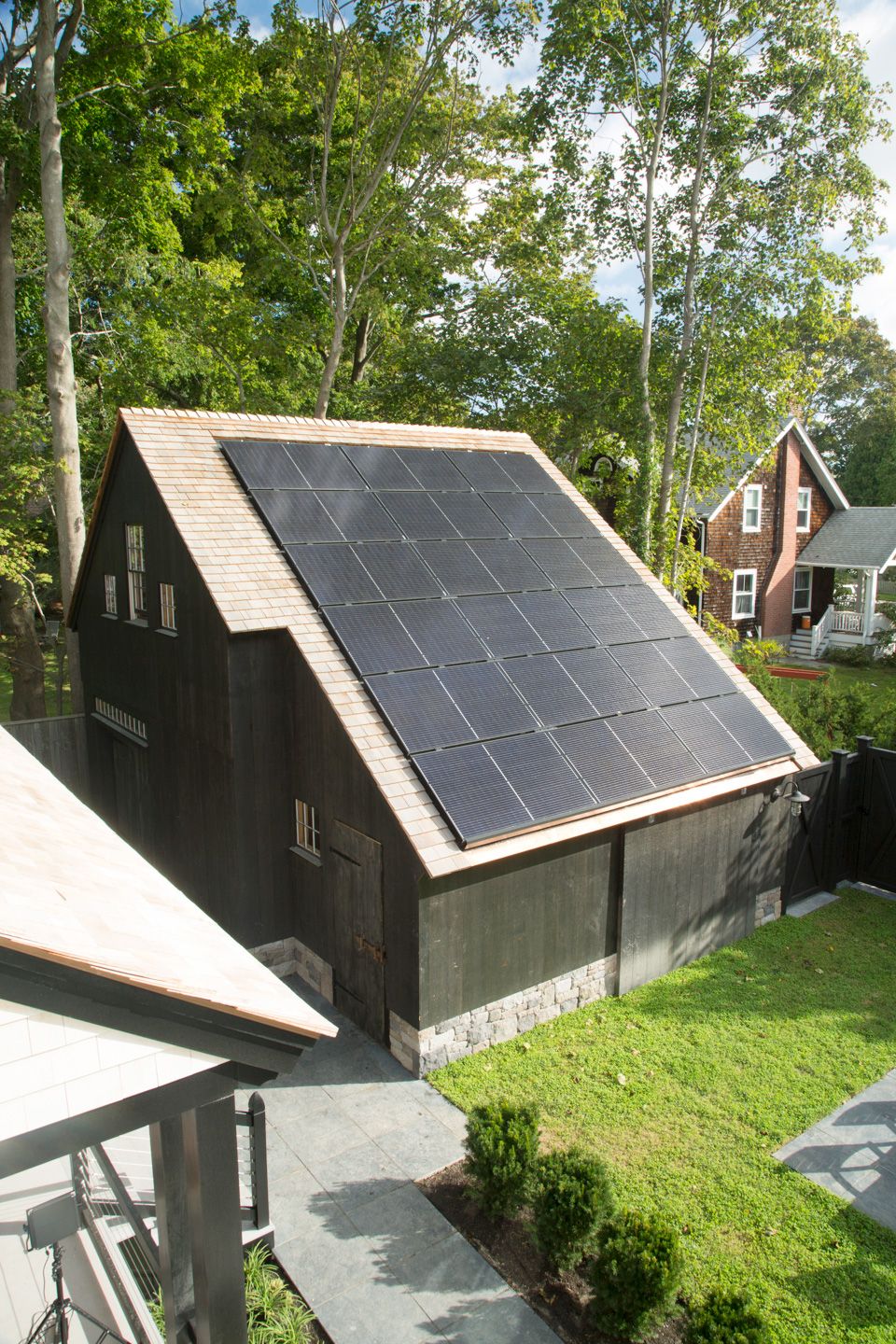 "I've always hated the way solar panels are slapped on a roof as an afterthought," says Don, "so I was determined to have them actually contribute to the clean look of the barn." To accomplish this, he designed the barn around the panels so that they would sit perfectly and proportionally on the roof.
Solar Panels: Vivent