Disabled Awning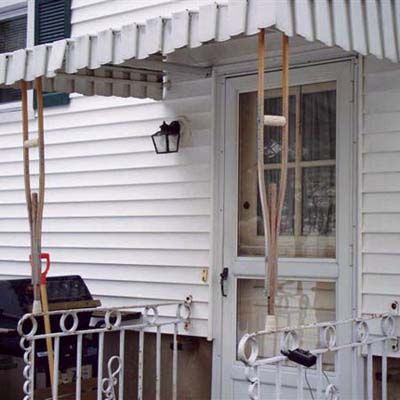 Crutches are designed to support, but this might be a new application.
Tom Tussing
M.H. Shaefer Inspection Service, Inc.
New Britain, Conn.
Please Keep Dr. Phil Out of Your Bathtub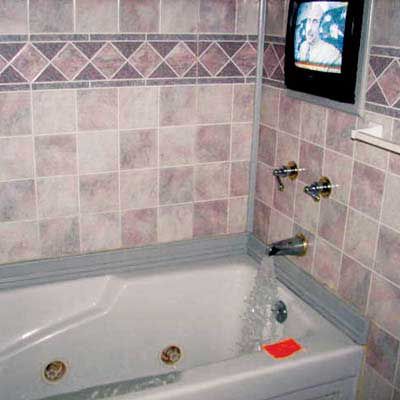 I came across this interesting configuration during a recent home inspection: a TV installed just above a jetted tub. The TV did not have a remote, so I envisioned the homeowner standing in the water and surfing the channels. I advised the owner of the potential electrical shock hazard, but he saw no problem with the TV in the tub and planned to continue enjoying Dr. Phil while bathing.
Joe McKinney
McKinney Home Inspection, Inc.
Lawrence, Kansas
Put That in Your Pipe (Or on It)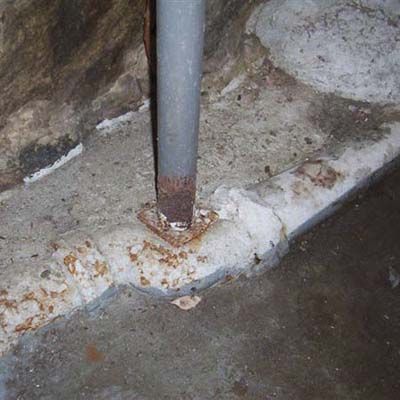 Here's a 50-year-old cast-iron drain pipe supporting a column under the house's main
carrying beam. How long before the whole thing goes down the drain?
Jim Blonshine
Infotech LLC
Gales Ferry, CT
Yowie Zowie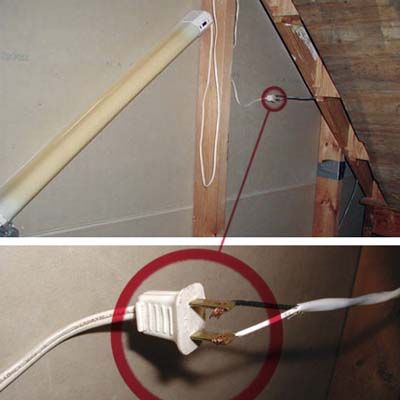 A new way to wire a closet light. Just don't touch the plug.
Rod Harrison
Christian Building Inspectors, Inc.
Duluth, Georgia.
Something's Fishy in the Attic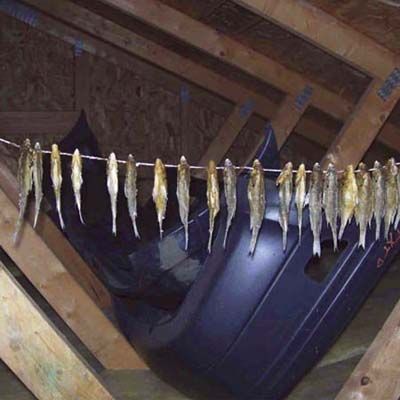 I thought I had seen everything in an attic until I saw this. Yes, these are fish.
Mike Duncan
One To One Home Inspection
Columbus, Ohio
An Explosive Combination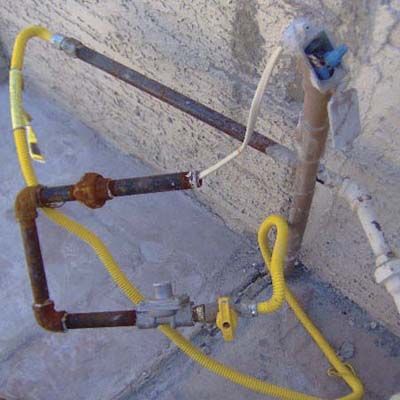 This is an interesting example of someone who does not think gas combined with electric can hurt you.
Michael Legatt
Advantage Inspection Service
Phoenix, Arizona
Kick This Habit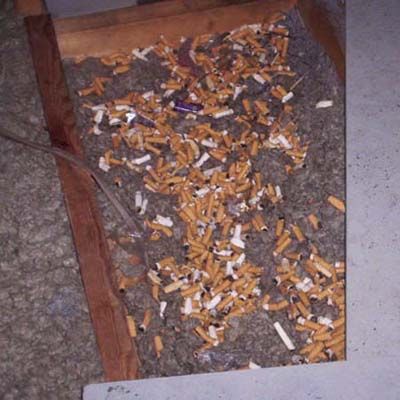 Must be a new type of insulation—or a better ashtray—not sure which.
Dave Fletcher
Pillar To Post operated by kwFAST Inc.
Harrison, Tennessee
All-Purpose Chimney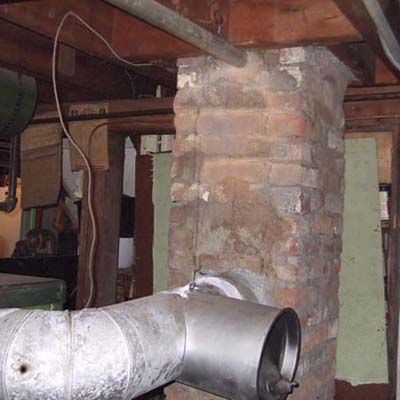 When I didn't see a plumbing vent anywhere on the roof, I just knew I was going to find it someplace interesting—like attached to the chimney.
Rich Madore
Pillar To Post Home Inspections
Newington, Connecticut
Rube Goldberg Contraption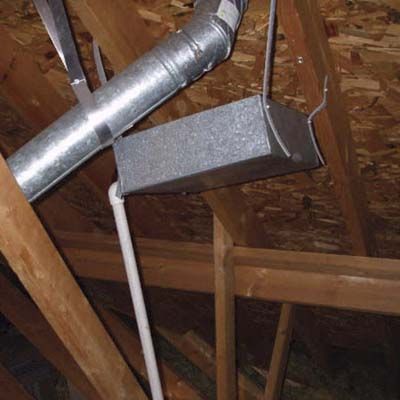 Remember that game Mouse Trap, where the ball would fall from one thing to the other? This guy must really have a fear of heights to go to this extreme. Water leaked from roof flue into metal pan hanging from rafters, drained into pipe discharging into an air handler drip pan under the unit, which ran from the second floor to the crawl space and discharged outside.
Scott Stegall
Carolina HomePro Inspection
Rock Hill, South Carolina
Extra, Extra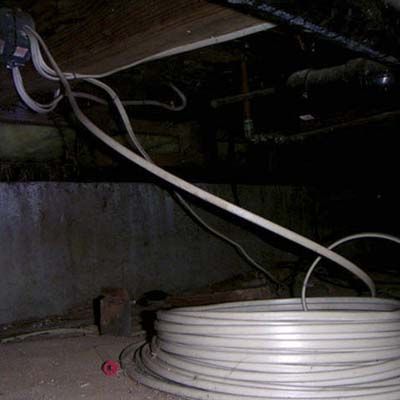 Hey, why not leave an entire roll of electrical wire hooked up at a crawlspace junction box since you never know what improvements you (or future buyers) may want.
Corey Folsom
Ben Lomond, California
Taking License with Parts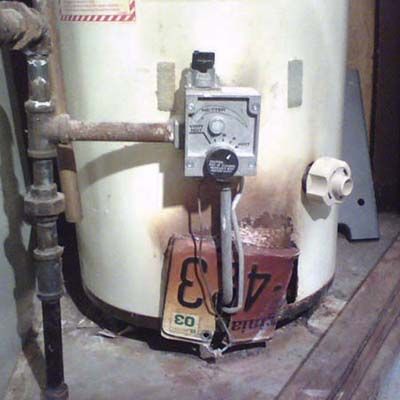 "I'm sorry, sir. Your water heater registration has expired. I'll have to issue you a citation. Have a nice day."
Jim Sexton
Sexton's Inspections Inc.
Manassas, Virginia
Creative Reuse of a Chandelier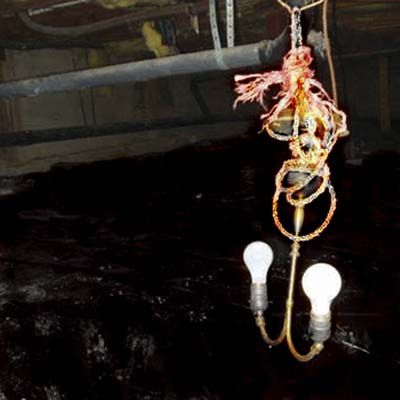 Dinner for two . . . in the crawlspace!
Rob Renfro
Coastline Home Inspections
Seattle, Washington
Duct Tape Use of the Month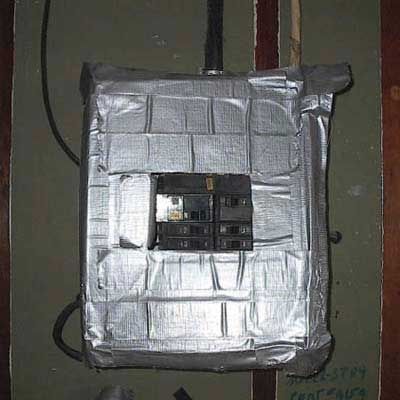 Here is a photo of a duct tape front cover of the main electric panel at an electrician's home. I wonder where the UL label is on the duct tape?
Jerold Sweet
Michigan Home Inspection Services, Inc.
Marshall, Michigan
Well, Eventually it Will Be Concrete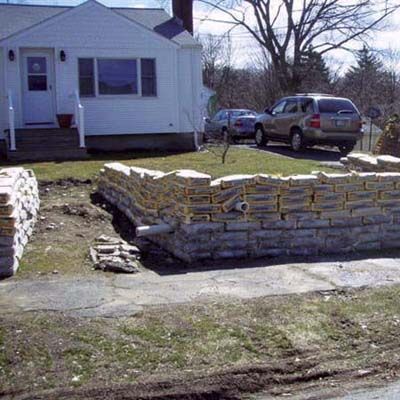 It's nice to see a retaining wall with the proper weep holes. Unfortunately, the owner forgot to add water and stir the concrete.
Ron Cook
Close-Up Home Inspections
Hopedale. Massachusetts
Sideways Thinking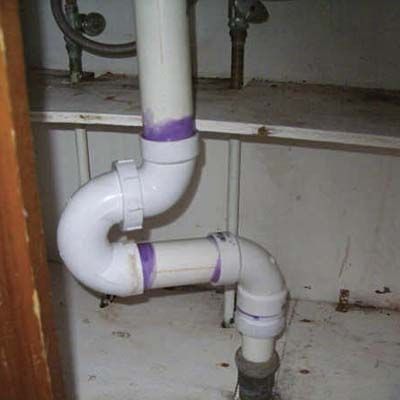 If you turn your head sideways, the trap should work.
Roy Briscoe
OmniSpect Property Services
Hampton, New Hampshire