Dogged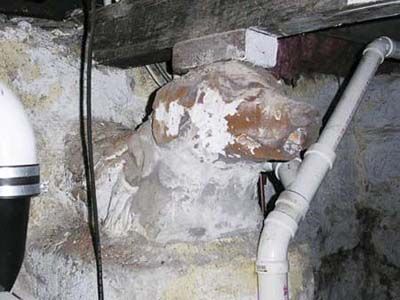 What? A DOG holding up the kitchen floor?
Randy Via
C.L. Gleich & Associates Home Inspections, Inc.
Columbus, Ohio
No Exit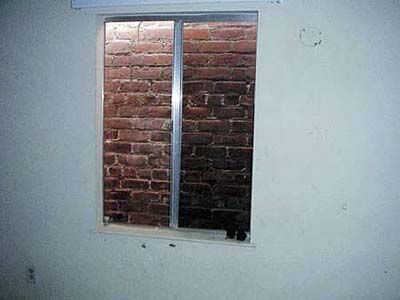 Here's a bedroom window where emergency egress was not
considered.
Corey Folsom
Corey Folsom Home Inspector
Ben Lomond, Calif.
Some Plumber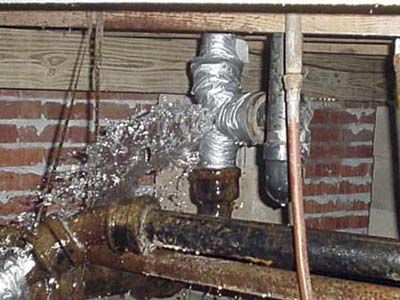 The owner of this house swore he had a plumber FIX this leak under the house.
Don Carnathan
Central Mississippi Home Inspections, LLC
Jackson, Miss.
Sleepy Time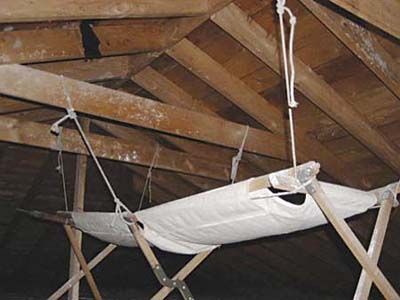 Someone suspended this cot from the rafters, presumably to collect rain water. "After I finish this inspection, I think I'll take a little nap in the attic."
Eric Brown
Heartland Inspection Services, Inc.
Indianapolis, Ind.
Nice Wiring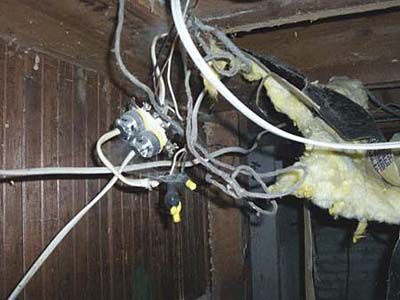 The homeowner assured me all electrical work was completed by a licensed electrician. RE-HE-HE-HE-EALLY!
Dan Chapleski
True North Inspection Services
Coeur d'Alene, Idaho
Shower Siding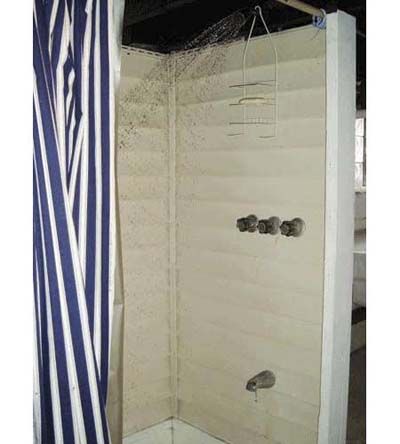 This is a new use for vinyl siding as a "high-tech" shower surround material. Prior to the start of the inspection, the homeowner bragged about the fully finished basement bathroom.
Bob Bowling
Land America Property Inspection Services
Livonia, Mich.
The Phone Wire is an Unusual Touch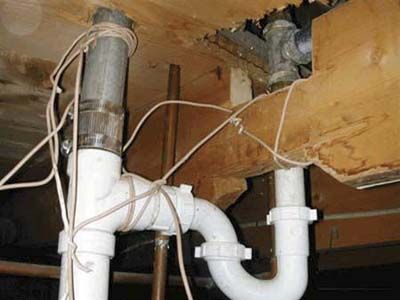 This is a photo of some extreme whittling of a floor joist to accommodate a bathtub drain, along with telephone wire supporting drain pipes. Do yourself a favor: don't cave in on the building codes when you're cutting into joists.
Tom Oliver
Oliver Home Inspection Services
Montrose, Colo.
Skimpy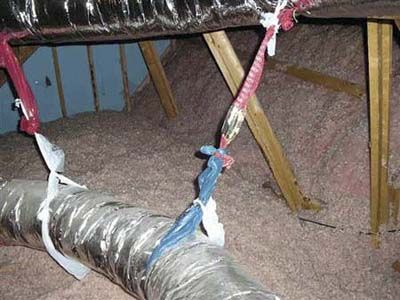 Who needs duct strapping when there are citrus bags and plastic bags handy?
C. John Limongello
Land America Property Inspection Services
Marietta, Ga.
3 Strikes and You're Out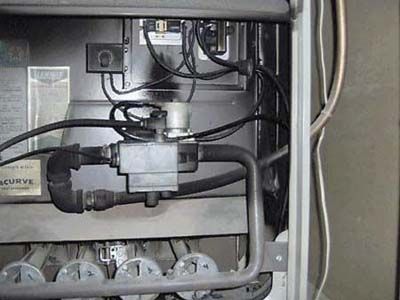 Here's a furnace with 1) a copper gas line using natural gas; 2) a gas leak and; 3) to top it off, can you see where the fire was? The valve and wires, as well as the inside of the furnace, are blackened with soot from an earlier fire.
John Kerwin
Protect Inspect
Colorado Springs, Colo.
Venting by Luck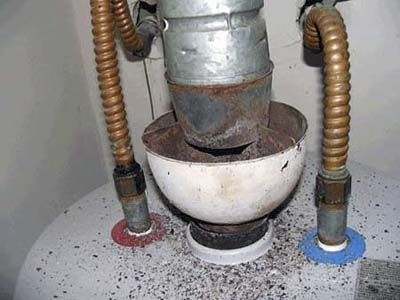 I found this gas water heater with an upside down draft collar that did not even match the installed tank. Dangerous flue gases can leak right out. The owner had to really work hard to put all of this together.
Scott Patterson
Trace Inspections
Ridgeland, Miss.
Easy Fix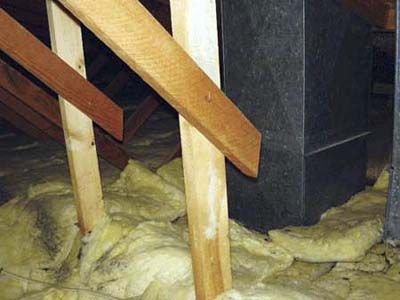 This homeowner had no clue what had been done to install his gas pack. Even the ceiling joists—yes, the ones that hold up the ceiling—had been cut for this installation. Really makes you wonder what people are thinking.
Richard Franco
Casa Inspection Services
Globe, Ariz.
It Worked for a While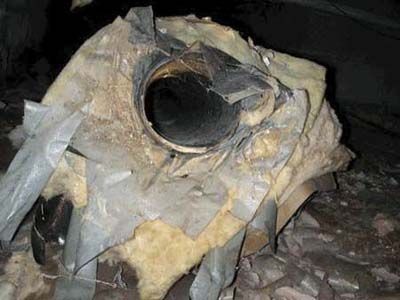 Mr. Homeowner had some leftover landscape drains and he made HVAC ductwork. Lots of duct tape, and it still fell off.
Mike Everett
Southern Home Reports
Anniston, Ala.
Proof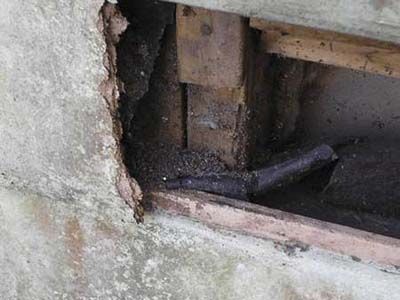 This photo was taken in a frame house with massive termite damage. The homeowner had an invoice for treatment that was ongoing for a period of three years. She tried to convince me that there were no more termites in the wood because it had been "treated." Whatever you say, ma'am!
John Astl
Avail-A-Pro Home Inspection Services, Inc.
Tampa, Fla.
Burnin' Up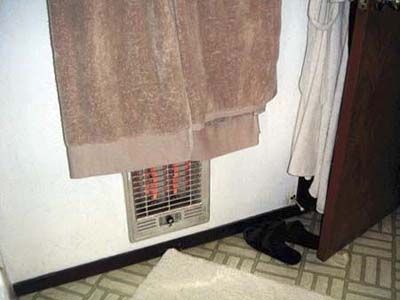 Oh, lordy! The client didn't see anything wrong with having hot towels and had no intention of changing this setup. It made me want to alert the neighbors.
Corey Folsom
Corey Folsom – Property Inspector
Ben Lomond, Calif.
Shimmy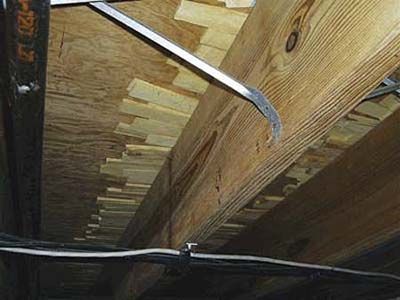 Shims galore.
Joe Lengel
Advantage Home Services, Inc.
Garrettsville, Ohio
Cracked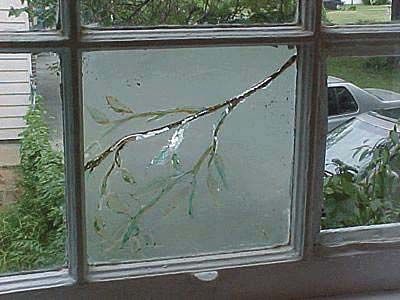 A home seller creatively painted a branch on a bathroom windowpane that included a crack. The buyer was favorably impressed!
Richard Petzold
Assured Home Inspections
Knoxville, Tenn.
Look Out Below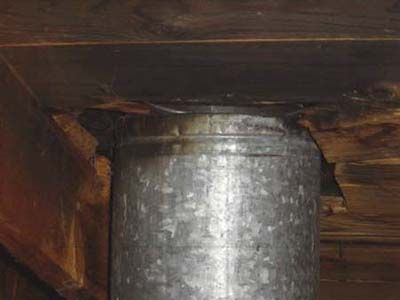 The flue is open just at the roof deck and is about to burn the house down.
C. Dwight Barnett
Barnett & Associates, Inc.
Evansville, Ind.
One for the Road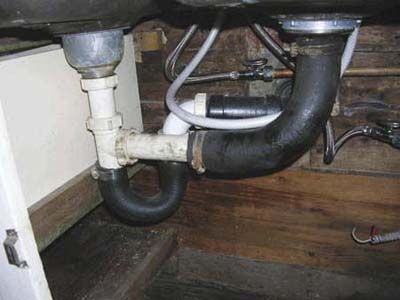 Don't get rid of those junk cars in the yard. Use their old
radiator hoses in place of the trap and pipe under the kitchen sink.
Jan Lee
Sandpoint Inspection
Sandpoint, Idaho
"Hot" Tub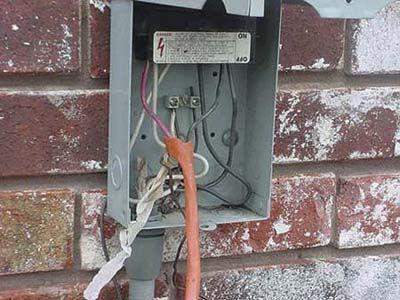 This seller had run an extension cord from his patio around the corner of his house and inserted it directly into the disconnect box for his exterior air conditioning condenser. He told me since he only used the hot tub in the winter and the air conditioning in the summer, he didn't think it was a problem because then it wouldn't overload circuit. Did I also neglect to mention that the tub was only about six feet away from the disconnect/condenser on the patio? Talk about a "hot" tub.
Brad Stringer
Pillar To Post
Owasso, Okla.