Working from home has become a reality for many—no longer a pandemic stopgap but a preference. However, as WFHers may have realized, plopping down on the sofa with a laptop isn't the best strategy. Dedicating space to a more functional office setup may be long overdue, and since a spare room may not be available, a common area such as the dining room, living room, bedroom, or kitchen may have to do double duty.
Read on for logical, comfortable home office layouts, plus tips for necessities like lighting and electronics, so that you can foster creativity, boost productivity, and maintain organization for WFH success.
12 Home Office Layout Ideas
Walk-ins welcome
Situate your desk to face the entrance of the room if you'll be welcoming clients or partners (or keeping an eye on kids' comings and goings). With this arrangement, you'll be able to see whoever may be outside the door. Feng shui practitioners believe that facing the door while at your desk, with a solid wall behind you, puts you in a secure command position and provides a sense of control.
Made for meetings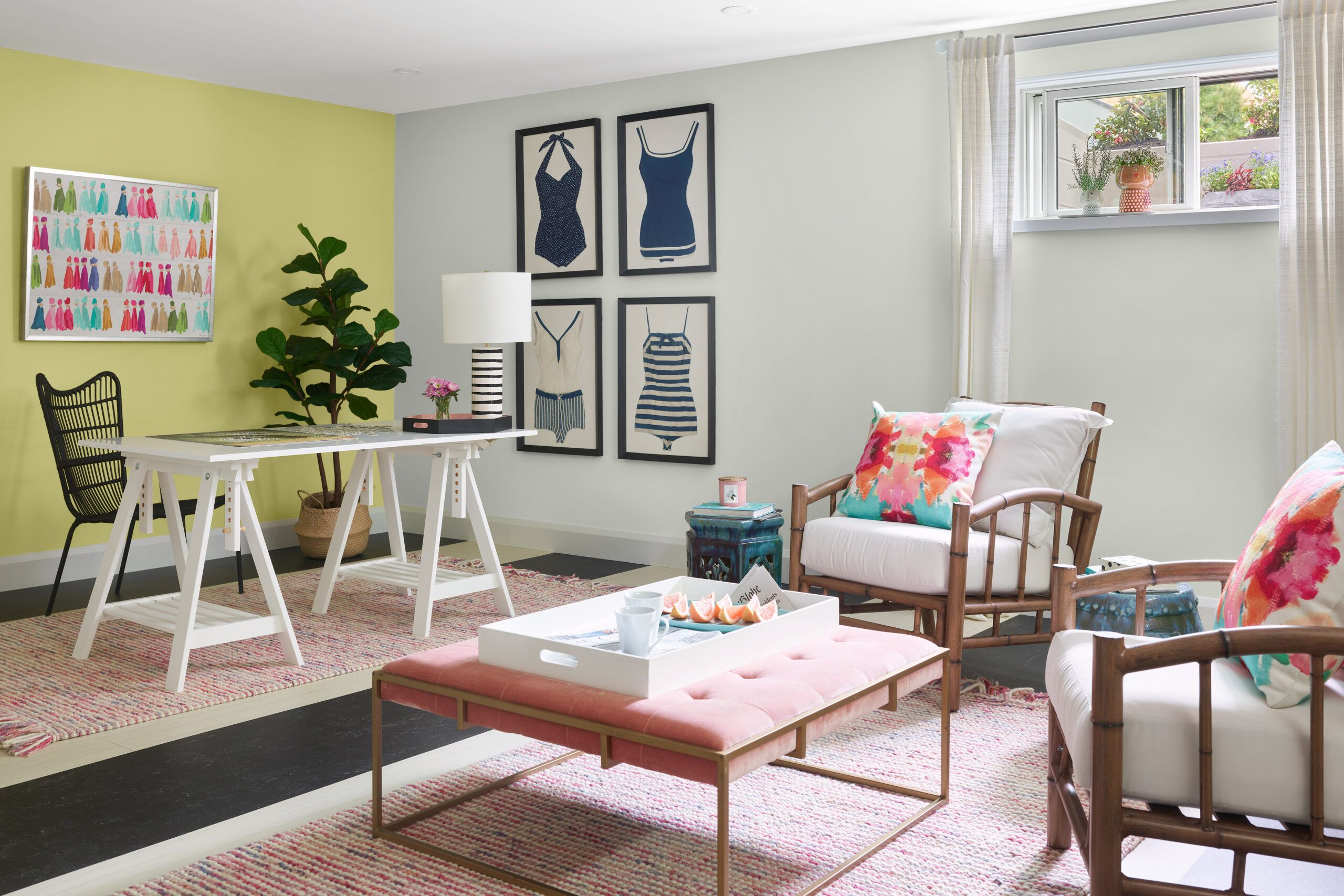 If confabs and teamwork are basic to your business, consider a living room home office with seating for several arranged around a coffee table. Place a desk on the opposite side of the room, facing the gathering area. Chairs should be comfortable and in sync with décor, but lightweight enough to move around as needed to suit the situation.
Make it a murphy
Those who are truly short on space but not ingenuity may find an ideal solution in a drop-front desk that masquerades as a piece of artwork when folded up against the wall. Think of it simply as a boxed-in shelving unit with a hinged cover that, lowered horizontally, functions as a work surface. Buy one that suits your style or build your own: This DIYer got the job done in no time.
Get in ship shape
Not every WFH situation relies on a traditional desk setup. If your business requires a substantial amount of shipping, install a long surface against one wall where you can pack, wrap, and weigh your wares for postage. This expansive workstation can also hold a computer and other office equipment if needed.
Corner the market
For optimum focus, face your computer away from distractions. And setting an L-shaped desk in a corner, instead of a standard model in front of a single wall, may offer more surface/storage for equipment and supplies (important in a smaller space, like a bedroom). Free plans and instructions—like this tidy dresser-style desk—abound for DIYers of all skill levels.
Ideally, there'll be a window on one wall for natural light, and a conveniently located wall outlet for a power strip is essential. One "leg" of the L can even be extended for an additional work surface, but again, the ability to plug in is a must.
Encourage creativity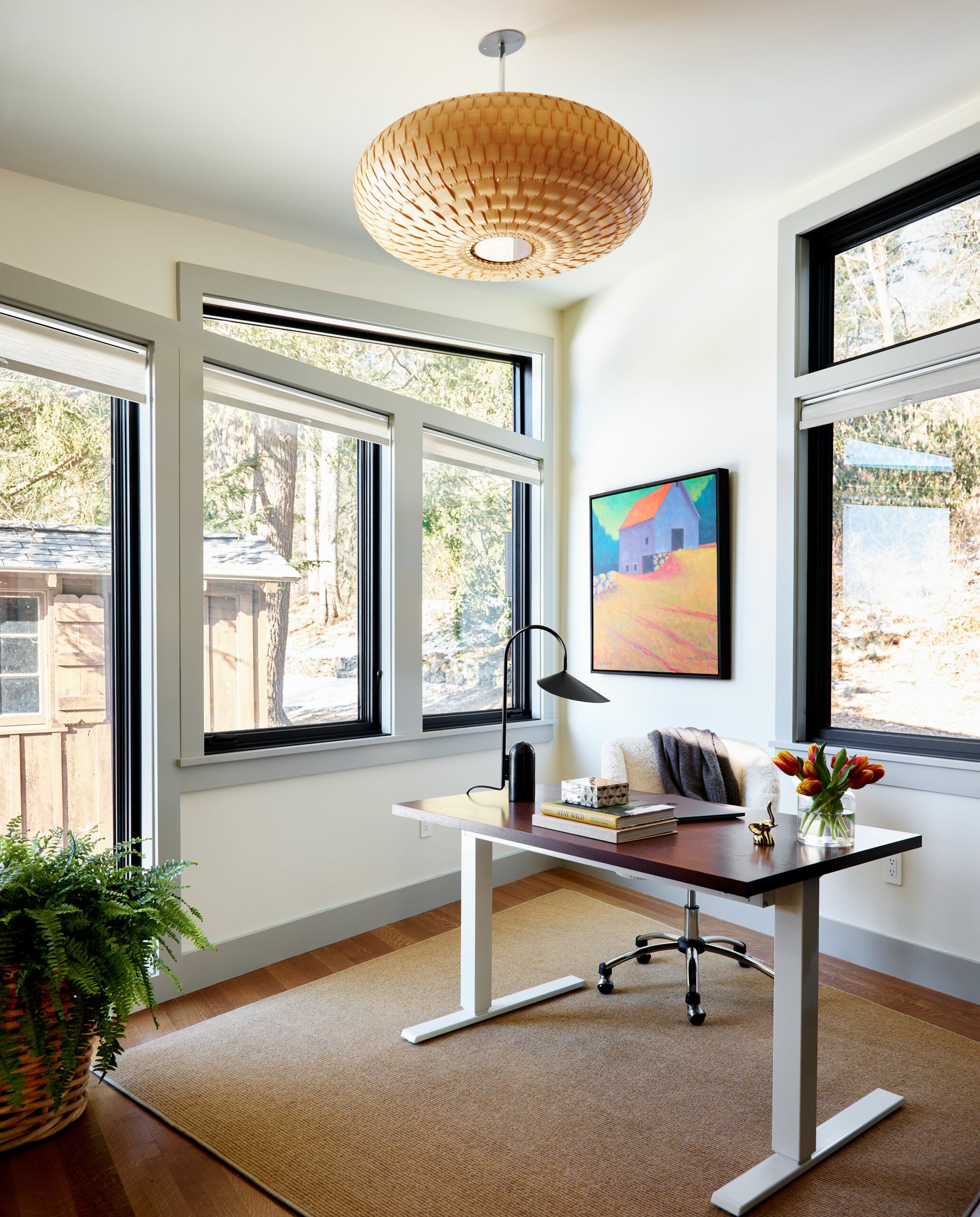 Inspiration and invention often demand freedom of movement rather than hunkering down in front of a screen. A sense of luxury, with ample visual and tactile stimulation, also contributes to creativity. If you haven't got a separate room for this, perhaps you can clear a portion of the living room. Try one of these ideas to add openness and opulence to your workspace:
Go for plush furniture. Arrange, for instance, a pair of wingback chairs perpendicular to a small sofa facing a coffee table.
Instead of a traditional desk, which can be clunky, add a standing-height computer station discreetly on one wall to free up floor space.
Plants, artwork, and exciting colors/patterns/textures will further fuel the imagination.
Face to face
Can two people toil in relatively close quarters, such as a living or dining room alcove? Yes, by pushing a pair of matching desks together so that they face each other—a modern take on the classic partners' desk.
Each person has a computer, lamp, and drawer storage, but shared items like a printer and scanner can be installed on shelving or in cabinets against a nearby wall. Situate the double desks in the center of the space for equal traffic flow on all sides.
Recipe for success?
Even with an airy, open-plan kitchen, the cooking space is perhaps the least ideal for a WFH setup. Kitchens tend to be noisy, high-traffic zones unconducive to the concentration required for writing, researching, accounting, etc.
That said, wall space not already devoted to cabinetry could be allocated to a simple desk/computer station, perhaps with open shelving above for supplies. Just locate it far enough away from cooking duties; you don't want even the tiniest suggestion of grease on your newly printed report.
If you are planning to renovate your kitchen, consider transforming an underused area into a dedicated office space. For instance, a breakfast nook that family members rarely gather at can be repurposed; install bench seating on either side of the table for supply storage.
Work the windows
Though task lighting will often be required at a desk, natural light enhances just about every work setup, so consider any window in your WFH space a business asset. If the view is serene, situate your desk nearby, but a busy, hectic scene outside could be too distracting. Easy-to-operate window treatments, such as roman shades or blinds, are important to control harsh light and provide privacy.
Work-life balance
A superior setup for a living room-office combo is to arrange seating, such as a sofa and two chairs, around a coffee table, as is standard, and then situate the desk behind the sofa. An attractive desk chair on casters can roll easily into the "living" part of the space as desired. The grouping around the coffee table may need to be a bit closer than pre-WFH, but you'll likely grow accustomed to that intimacy.
Dinner and a desk
The dining room can serve as a workspace—but who wants to move a computer, printer, camera, etc. off the table every evening for dinner? Set up a small desk in its own spot rather than using the table. Stow work gear in an existing hutch, sideboard, or china cabinet, or build in a banquette with under-seat storage for office supplies.
A rolling file cabinet or utility cart can be pushed into a corner or closet when it's time to dine. If you've got no choice but to work at the dining table, treat yourself to a chair comfy enough to let you pull long hours there.
Divide and conquer
Despite your best attempts toward an office setup that works with your home décor, mixing business with pleasure can be visually jarring. That's where room dividers come in. Folding screens, curtains, bookcases, or simply a sheet of attractive fabric can separate the laidback aspects of a room (the bed or sofa, say) from the no-nonsense stuff (desk, office equipment).