The Convertible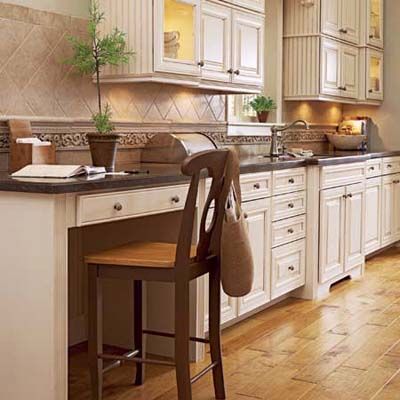 Situate a desk extension at the end of a long countertop—close to the action but not too close. "Clients can do homework or pay bills here," says Connie Edwards, design director for Shenandoah Cabinetry, "but they can also use it as a staging area for a buffet or to roll out a pie crust." When the cooking threatens to spill over, office supplies can be stowed in the drawer.
To retrofit the desk, remove a seldom-used base cabinet. Then install a new drawer and end panels on either side of the knee hole to support the counter and give the desk a finished look. The countertop here is 36 inches high, to fit a stool pulled over from the island. A pendant lamp overhead lights the area.
Stand-Up Station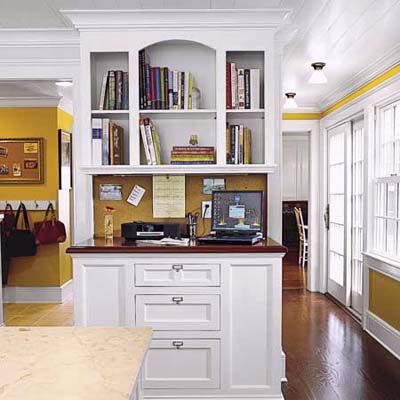 For folks on the run, a stand-up message center like this one designed by Fairfield, Connecticut's David Raymond may be the answer. Messages and reminders are tacked on the cork backsplash, and three-ring binders containing calendars, recipes, and take-out menus are stashed in open bookshelves (not shown) recessed in both sides. The three center drawers of graduating depth hold pencils, papers, "and everything my kids need to get out the door in the morning: hair clips, teachers' notes, and money for pizza," says this armoirelike kitchen unit's owner. Cell phones and other portable electronics are recharged via outlets built into the backsplash.
Bonus Built-In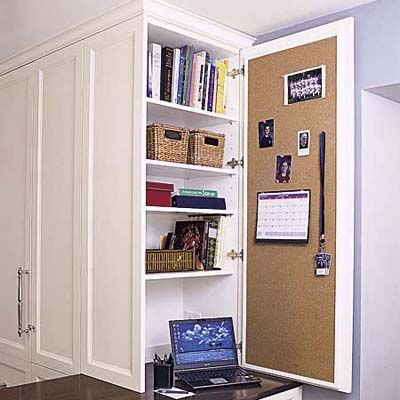 Chicago designer Mick DeGiulio shoehorned this message center into a "blind corner" of a breakfast bar by rotating a cabinet so that the door opens onto the bar instead of into the kitchen prep zone. A false door panel on the side helps the unit blend seamlessly with the other cabinets.
DeGiulio placed the electrical outlets and phone jack inside the cabinet to keep electronics safe from spills. Also hidden inside are shelves to corral cookbooks and baskets to stow odds and ends. Two small drawers in the 36-inch-high base unit contain phone books and notepads, while a large one on the bottom is fitted with a wire frame for hanging files. The back of the cabinet door is lined with cork to post snapshots, as well as a calendar for jotting down appointments while on the phone or e-mail. If the message area is close to where food is prepped, consider easy-to-clean metal magnetic or dry-erase board instead of cork.
Corner Command Center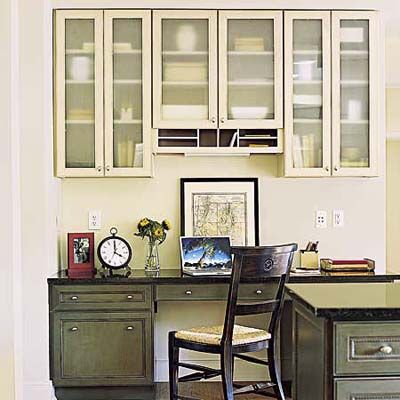 A sit-down desk in a calm corner offers extra space outside of the bustle of the work triangle. This office designed by Norwich, Connecticut architect Michael Stein is a natural landing place for keys and mail, and a place where family members can sit comfortably. Designers generally recommend a desk height of 28 to 30 inches and a knee-hole depth of 25 inches.
Deep drawers in this maple base unit—painted moss-green to match the island—are fitted with hanging folder frames. And the 7-foot-long granite countertop is perfect for spreading out textbooks. To hide clutter, the upper cabinets' glass fronts are frosted and supplies are stashed in boxes and baskets. With eight electrical outlets, a telephone jack, and a cable port for high-speed Internet access all located above the counter, powering up electronics is easy.
The Catch-All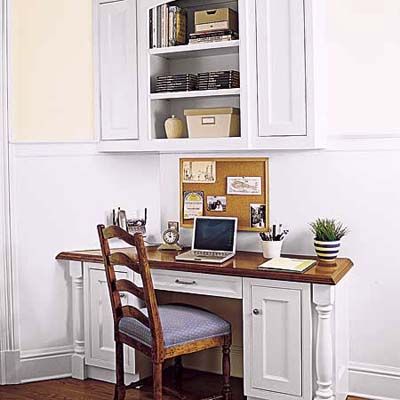 When kids are in the picture, the kitchen office can be part writing desk, part high-tech hub, part first-aid center. That's the case with this multitasker designed by Greenwich, Connecticut, architect Jay Haverson: The lower cabinets in the teak-topped desk store office supplies, phone books, and recipes. Emergency supplies, including medicines and flashlights, as well as electronics, are hidden up high behind touch-latch cabinet doors. The homeowners work on their laptop, which is connected via a cable port in the wall to a modem hidden in the basement. To coordinate the style, Haverson accented the white-painted maple desk with the same turned table legs that he used on the nearby island.
Side-by-Side Seating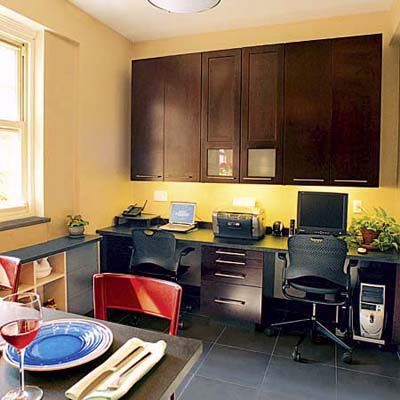 Kitchen designer Elsa Kessler devised this dual workstation for a New York City mom who wanted a space she could share with her 12-year-old son. Key features include outlets for two computers, a cordless phone, and
a printer; undercabinet xenon lighting; and a dividing
column of drawers to stow craft and office supplies.
The Handsome Assistant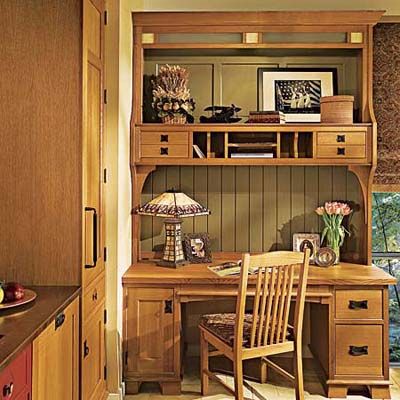 Use finish details to make a desk look like heirloom furniture. New York City kitchen designer Rita Luisa Garces was inspired by an Arts and Crafts-style hutch, creating an office that's as good-looking as it is functional. The hutch, constructed of rift-sawn white oak using dowel joinery, was custom-made by Rutt Handcrafted Cabinetry, which also built the kitchen cabinets. It rests on wooden feet rather than a recessed toekick and shows off ornamental beadboard and recessed paneling along its back surface. Decorative brackets adorn either side of a mail sorting station and small drawers for storing stationery. The deep desk drawer on the right side holds hanging files, while a smaller one above it stows pens and pencils. The desk cabinet hides a hard drive or wireless modem.