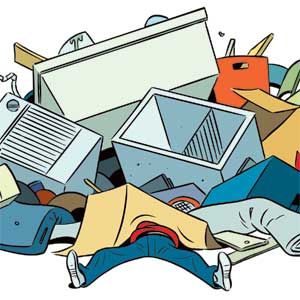 Whether you're updating a room or gutting an entire house, chances are you have piles of junk taking up valuable real estate. No problem finding takers for that claw-foot tub, but what about the stuff you can't sell on Craigslist or unload on eBay? You've got garbage, and you're not alone. Reader Jeff Kirk recently posted his own tally of accumulated trash on message boards: "After three days of demo, my 6×8 shed was full, the 10×14 deck was ­covered with contractor garbage bags, and a section of the yard was filling up with carpet." Small wonder. This Old House general contractor Tom Silva says it can cost up to $10,000 to make the guts of a whole-house remodel go away. So before you load up a Dumpster with shards of drywall and strips of wall-to-wall, lighten your load—and your disposal costs—by repurposing and recycling what you can. Then make sure the rest gets a proper burial. From dented washers and ­wheezing air conditioners to surplus boards and gypsum, here's how to do the right thing with your rubbish.
Carpeting
In the words of the National Association of Home Builders, "The bulkiness of carpet and padding waste can make disposal very costly." Manufacturers are making a concerted push to help you recycle it instead.
•If Your Carpet is in good shape, with no stains or worn patches, donate it.
•If You Have Damaged or worn carpet and area rugs, click on a map at the Carpet America Recovery Effort to find a location where you can drop it off for recycling.
•If You Must Toss It, ask your sanitation department when and how to put rugs on the curb.
White Goods
These big, bulky items—your dishwasher, washing machine, clothes dryer, stove, fridge, and freezer—can push a job-site container to overflowing without even trying.
•If You've Got a Vintage stove or refrigerator, sell it to a dealer or restorer such as AntiqueAppliances.com.
•If Your Appliances Still Work and are on the new side, ask a resale store if it will pick them up. Just remember to request a receipt so you can take a tax deduction.
•If You Own an energy-guzzling refrigerator, freezer, or air conditioner, ask your electric utility if it offers a rebate for getting rid of it and, if it does, how to proceed. In 11 states, a private company, JACO Environmental, will pick up a working guzzler and give you a check. It then files for the rebate, captures and disposes of any Freon, and recycles 95 percent of the rest; 800-299-7573.
•If You Have No Other Takers, consider selling your old appliances for scrap. Dealers pay about 10 cents a pound or about $30 to $80 for appliances (except those containing a coolant). Some dealers will come by to pick appliances up. Find salvaged-metal dealers at yellowpages.com
•If You Must Toss Them, ask your sanitation department if and when it picks up such items and what's required. (Your town's website may be helpful.) For safety reasons, doors on freezers and fridges should be removed, for example, and there may be rules governing disposal of Freon.
Lumber and Scrap Wood
It may grow on trees—but all the more reason to recycle wood if you can.
•If You Have Unused Tongue-and-Groove Flooring, take it to a dealer or give it to a resale store. These places may also want large pieces of undamaged lumber and wooden doors. Find salvaged-wood dealers at yellowpages.com.
•If You Have Lumber Scraps and leftover pieces of raw lumber, contact a wood-waste dealer for recycling or repurposing. You may have to pay a fee, but it should be less than the cost of disposal. Look for wood-waste dealers at yellowpages.com.
•If You Must Toss It, make sure you are not handling baseboards and other woodwork that could contain lead paint. For tips on safe handling of materials painted before 1978, consult U.S. Environmental Protection Agency. Ask your sanitation department for rules on disposal.
Drywall and Other Construction Debris
Here's how to get rid of gypsum scraps and other rubble.
•If You Have Asphalt Shingles, you may be able to find a nearby recycling center at ShingleRecycling.org.
•If You Have Mixed Debris, look for a center where gleaners sort and sell recyclable wood, metals, concrete, gypsum, and other materials. Often they charge a nominal fee. Contact the Construction Materials Recycling Association or call 630-585-7530 for locations.
•If You Must Toss It, ask your sanitation department if there are special pickup days for construction materials, or call a hauler such as 1-800-Got-Junk?.
Leftover Paint
Consumers toss millions of dollars worth of paint every year, often because they picked the wrong color. But your bad red can be another man's crimson. If no one will take it (and you can't use it to add another coat or cover the walls of the workshop or garage), find a place for it—never pour paint down a drain, because it can contaminate water supplies.
•If It's in Good Shape, donate it to a school or church; for alternatives, go to ReDO.
•If No One Likes The Color, donate it to a paint-recycling center. For addresses, enter your ZIP code at 800-253-2687 or earth911.
•If You Have Oil-Based or alkyd paint, treat it as a hazardous material.
•If You Must Toss It, turn latex into a solid by pouring it into a box of cat litter or shredded news­paper and allowing it to dry. Leave empty cans outside to dry, too. Ask your sanitation depart­ment if the latex-litter mix can be tossed into the garbage and whether empty cans can be recycled.
Hazmats
Solvents, strippers, paint thinners, WD-40: These products must be handled with care.
•If Your Sanitation Department does special pickups for hazardous waste, ask when and how to put yours out.
•If You Don't Want to wait, ask the sanitation department for the address and hours of a household hazardous-waste drop-off center.
•Don't Toss Them in the trash. It's against the law.
Don't Dump. Donate! You may be able to give your goods to a cause. Habitat for Humanity has 500 U.S. stores stocked with secondhand building materials. Or find leads at the nonprofit Reuse Development Organization directory or Building Materials Reuse Association.