Get Planting
Why wait for warmer weather to put your green thumb to work? Plant some cold-loving leafy greens in spring, and you can enjoy fresh produce weeks before it's tomato-planting time. Sprouted from seeds or dug in as seedlings, these hardy and hearty vegetables are easy to grow and can survive a late-season cold snap. Snipped young and tender, they perk up any salad mix; cooked, their mature leaves can add zing to stir-fries, soups, stews, and more.
Many of these cold-loving greens are members of the brassica group of antioxidant-rich, immune-boosting cruciferous vegetables like arugula, which has a nutty taste and a slightly peppery bite. You can find variations on its long, narrow, serrated or lobed leaf in the six seed varieties at Burpee, including 'Myway,' which matures in just 30 to 35 days.
A raised bed allows you to control the garden's soil composition from the start. Its height also makes planting and plucking easier on your back. Find out how to build a raised planting bed.
Collards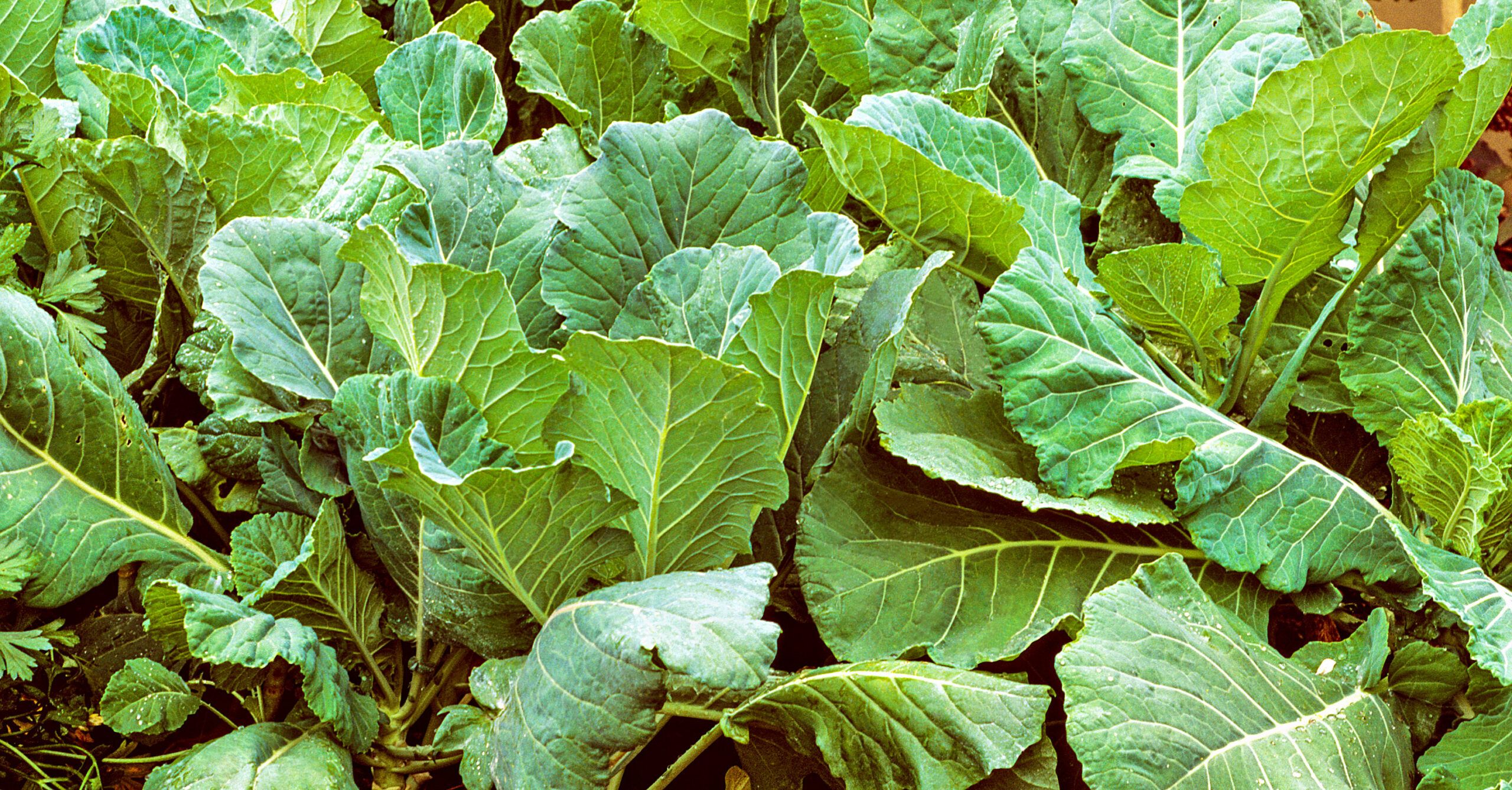 Collards, long popular in the South, can be picked in the infant stage, chopped up, and added to your favorite slaw. Full-grown, the large, flat leaves can serve as a wrap around sandwich fixings. For spring planting, look for a compact variety, like 'Champion,' that matures quickly for early harvests.
Kale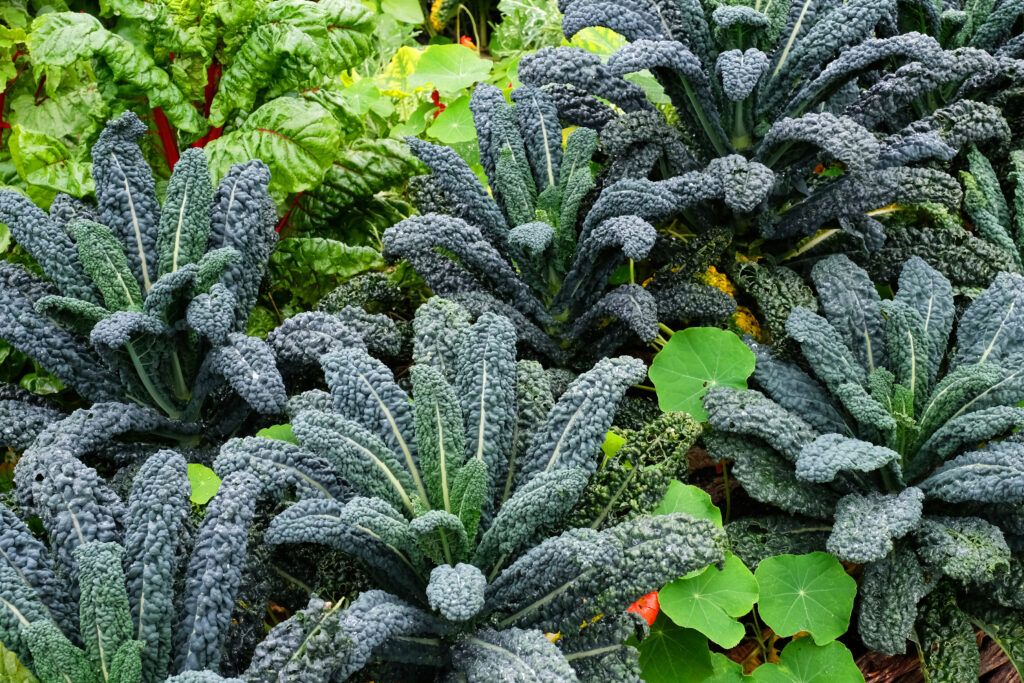 Tuscan kale—also called black, lacinato, or dinosaur kale—has an elongated, dark-green, pebbled leaf that is quite tender and cooks more quickly than curly-leaf types. A great introduction to varieties you won't see at the local grocery story is the Kale Premiere Blend Seeds mix at Botanical Interests.
Mustard Greens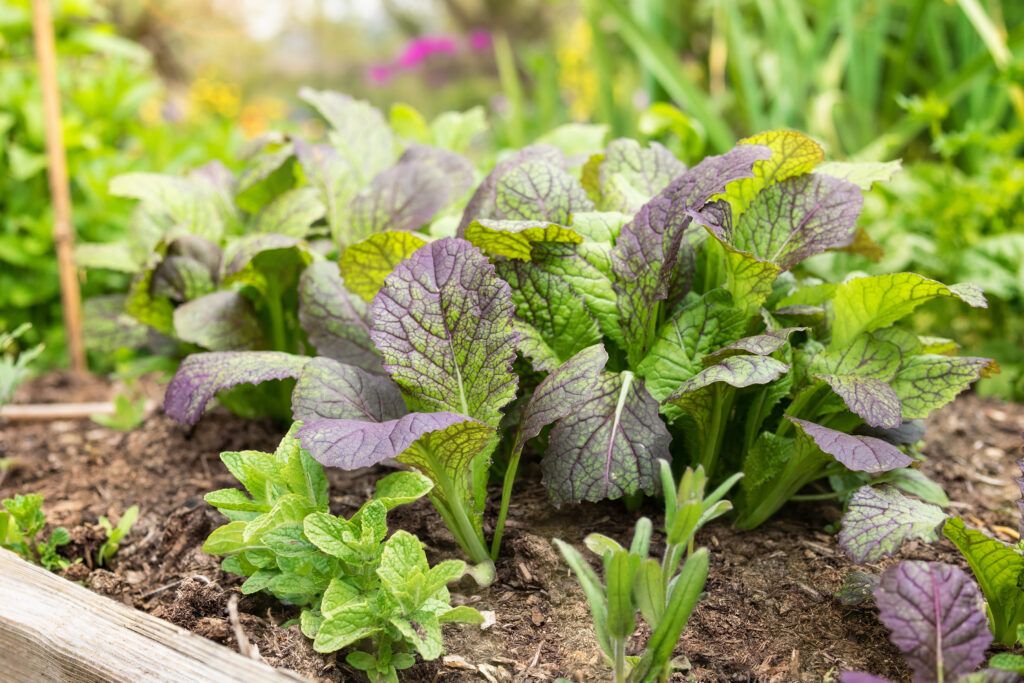 Mustard greens come in many shapes and sizes, including 'Scarlet Frills,' 'Red Giant' (a popular Asian variety with round, flat leaves), and the more common bright-green 'Southern Giant.' A bit thinner than collards and most kale leaves, cooked mustard greens are best just wilted—like most greens, overcooking makes them bitter.
Spinach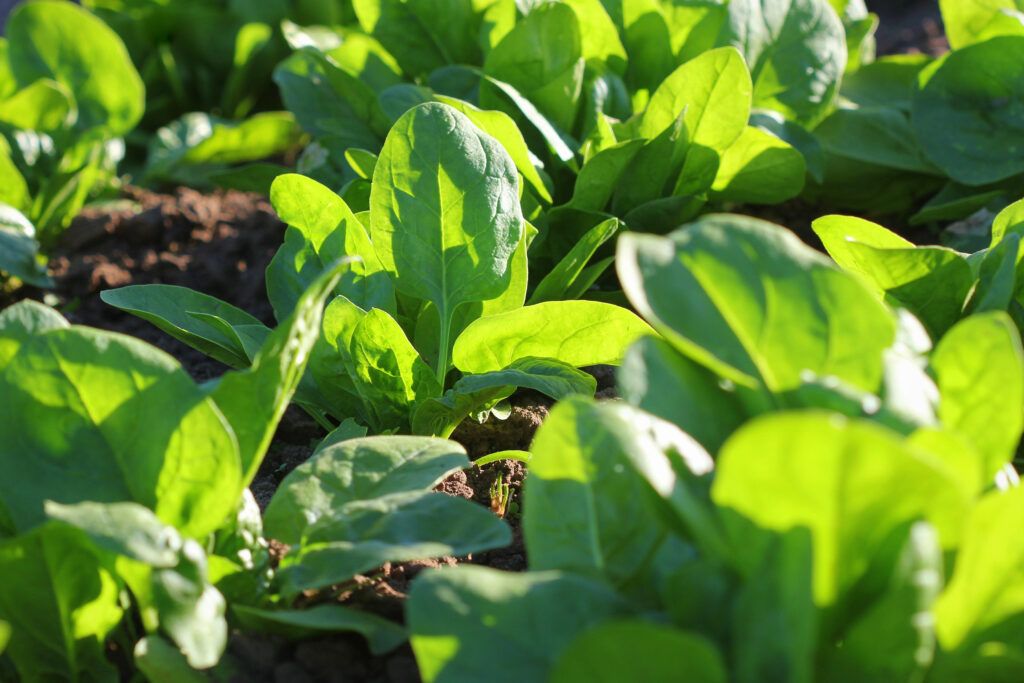 Spinach, part of the amaranth family, offers a mellow contrast to mix in with the sharper brassica greens. Some types have savoy, or very curly, leaves; others are flat and rounded or pointed and narrow. Johnnyseeds.com, which specializes in time-tested heirloom and organic vegetables, offers 15 varieties of spinach. A baby flat-leaf type, like 'Flamingo,' will give you more bang for your buck, as it is slower than most varieties to bolt—or flower and go to seed.
Chard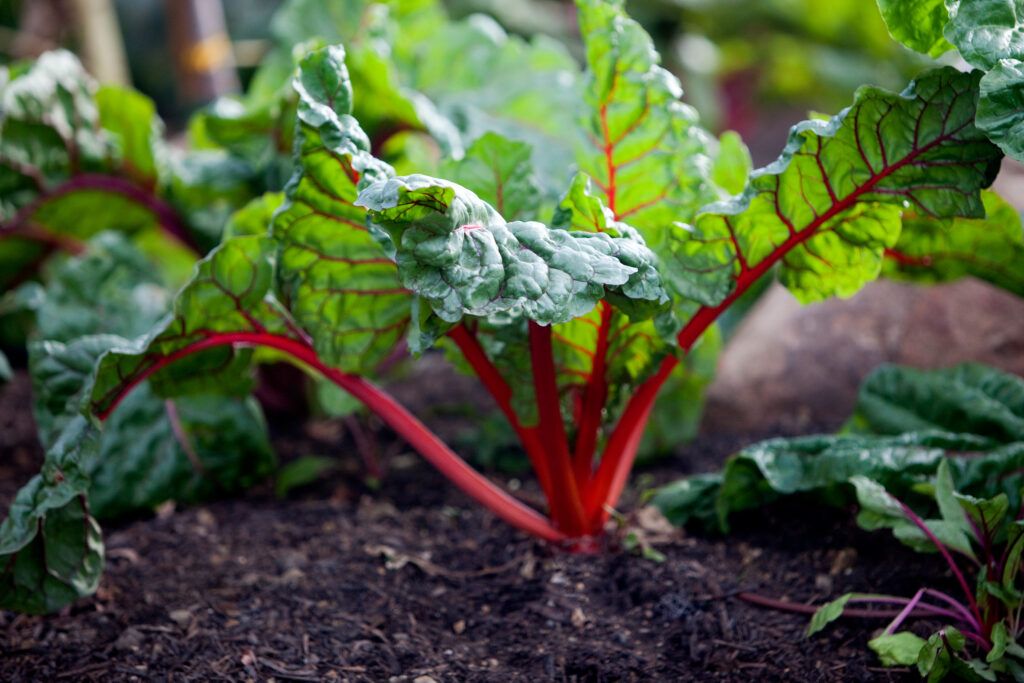 Chard, which is related to the beet, is similar in taste, texture, and nutrient profile to spinach, but is more heat-tolerant, so it's a good choice to plant when your spinach is finished. 'Bright Lights' is a mix with enticing purple, red, pink, orange, yellow, and white stems.
If you opt to grow your spring greens from seeds, you can sow them directly in garden beds or outdoor pots when the soil temperature reaches 45ºF. In just five to eight days, you will see plants poking up through the surface. In 20 to 30 days, you can start harvesting small leaves to relish.
Arugula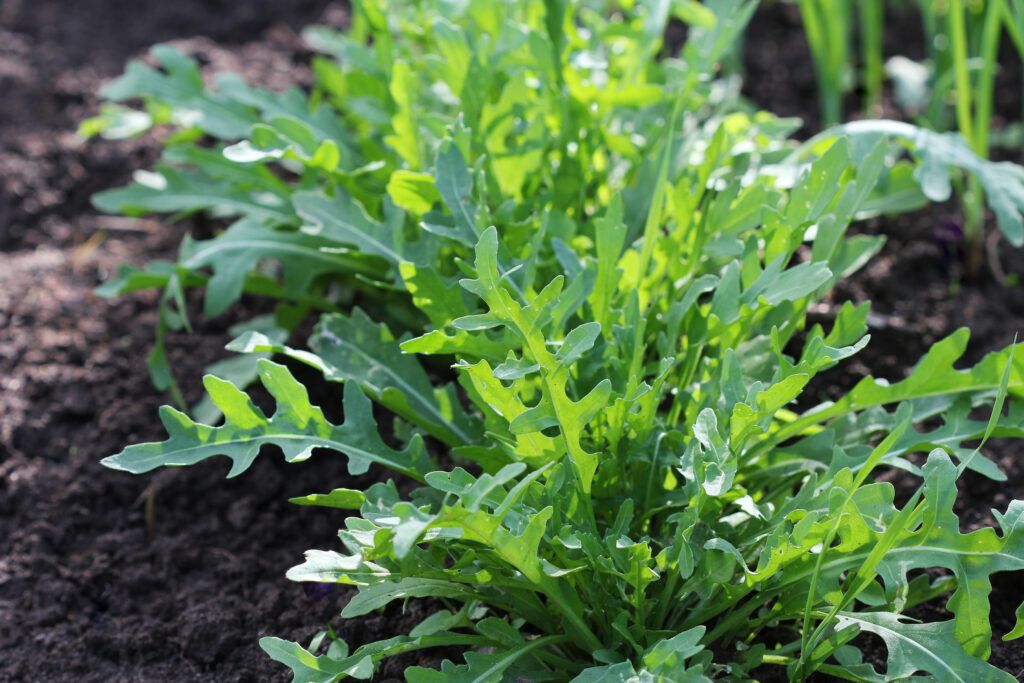 These greens grow best in full sun but will tolerate partial shade, particularly once the weather warms. Use organic soil or potting mix and moisten with water. Sow the seeds by scattering them across the surface of the soil and top with about ¼ inch of soil just to cover the seeds. Keep the soil moist by misting it until the seeds germinate. Once seeds have sprouted, thin the seedlings to allow for proper growth; share extra plants with friends or transfer them to containers so they have room to grow. If growing in pots, larger containers work best. While you might fit four arugula plants in a 12-inch pot, for a larger green, such as lacinato kale, you would have only one plant in a pot of that size.
If you purchase plants, or start your seeds indoors (following the packet instructions), you can transplant seedlings to your beds or containers a bit earlier than other crops—from three to five weeks before the last frost date in your USDA agricultural zone. These plants can survive a light frost or two as long as they are protected by a lightweight covering (an old bedsheet, removed during the day, can work) when temperatures drop below 32ºF. Water when the soil feels dry or when the plants look droopy, but don't overdo it. Use an organic fertilizer according to label directions once the plants start growing additional leaves.
To harvest your greens, pluck or snip the outer leaves of the plant, allowing the center to continue to grow and leaf out. Before the plants start to go to seed, cut them back to encourage more leaf growth. You can also sow seeds thickly for a continuous crop of baby greens: Simply snip off the tops and let them grow back for another round or two.
Recipes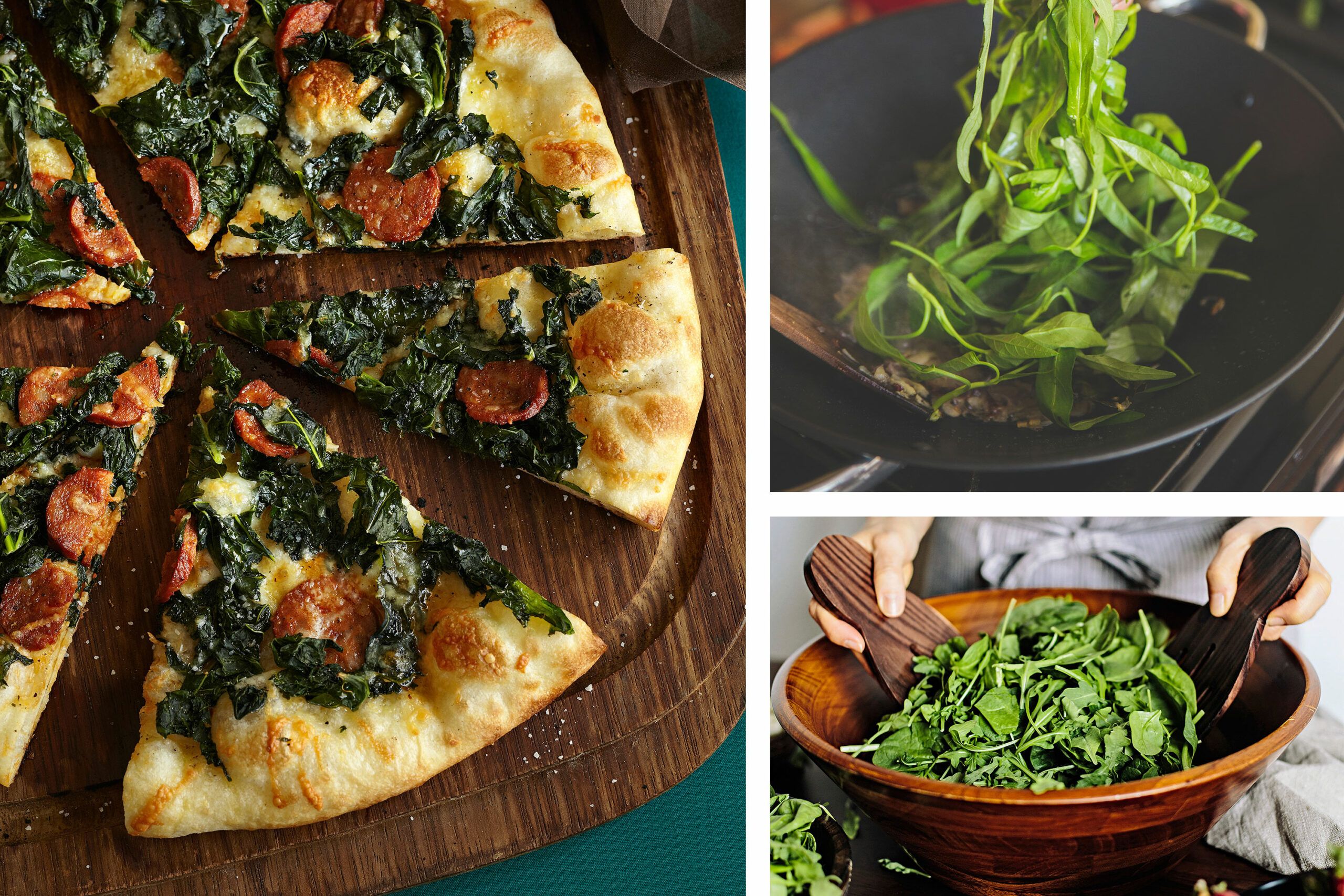 Now that you've got the garden in the works, here's what you do with the harvest. See some easy, enticing recipe ideas for all those homegrown greens.