Grow Your Own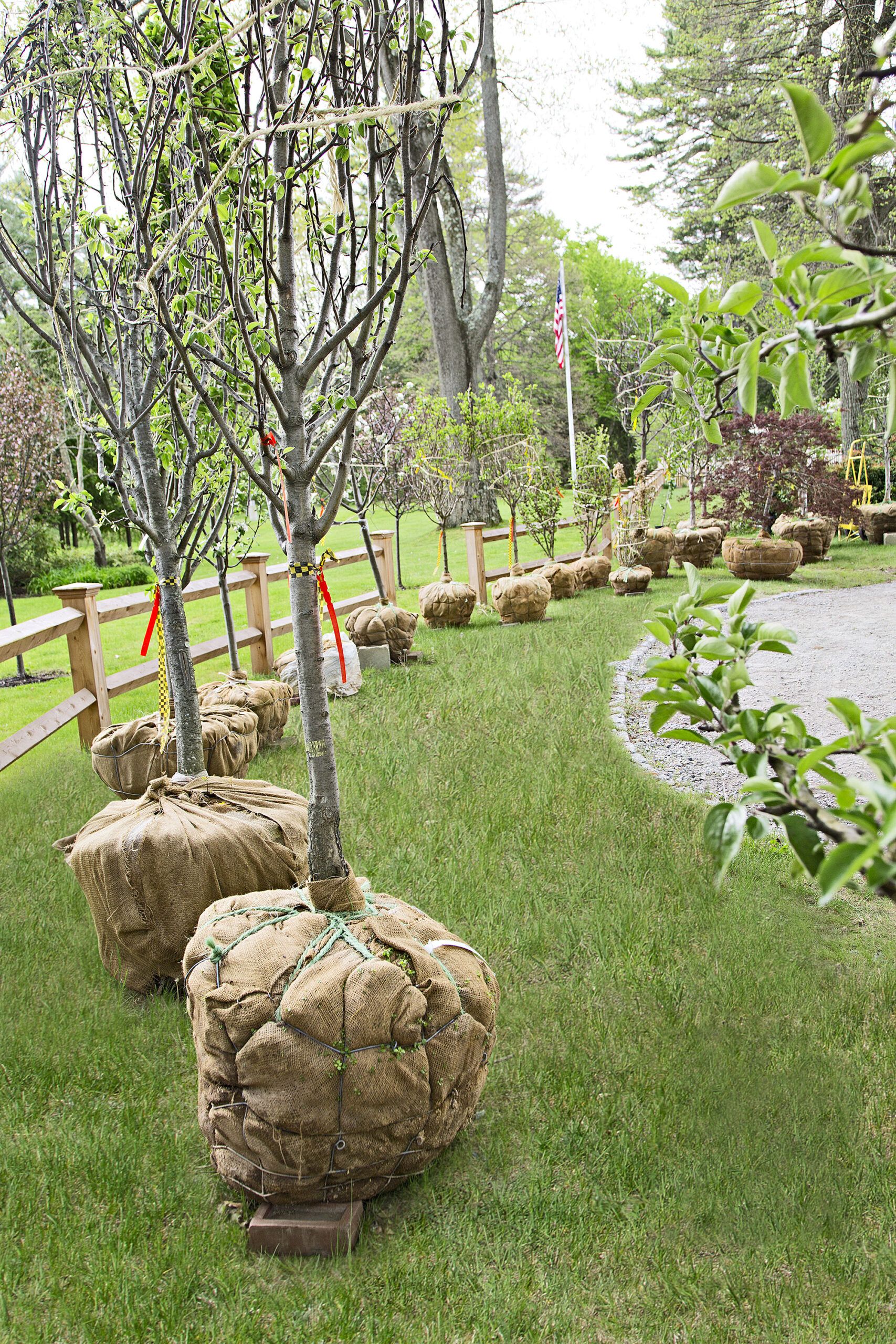 Crisp apples, succulent pears, juicy peaches—fruit trees really earn their keep in a garden, providing strong silhouettes in winter and a lovely show of spring blossoms, in addition to all that beautiful bounty in summer and fall. Home orchards are a long-standing tradition; some of the first homeowners to enjoy them were the wealthy in Ancient Rome, when the apple made its way from its native Kazakhstan to Europe. Much later, apple trees grafted from English stock were planted on colonists' farms in America, usually to make hard cider.
Shown: Balled-and-burlapped fruit trees await planting by Roger Cook and his crew. The varieties he chose for this Zone 6A (see slide 4) site include 'Fuji,' 'Gala,' 'Honeycrisp,' 'Red Delicious,' and 'Spartan' apples as well as 'Bartlett' and 'Flemish Beauty' pears.
Orchard Site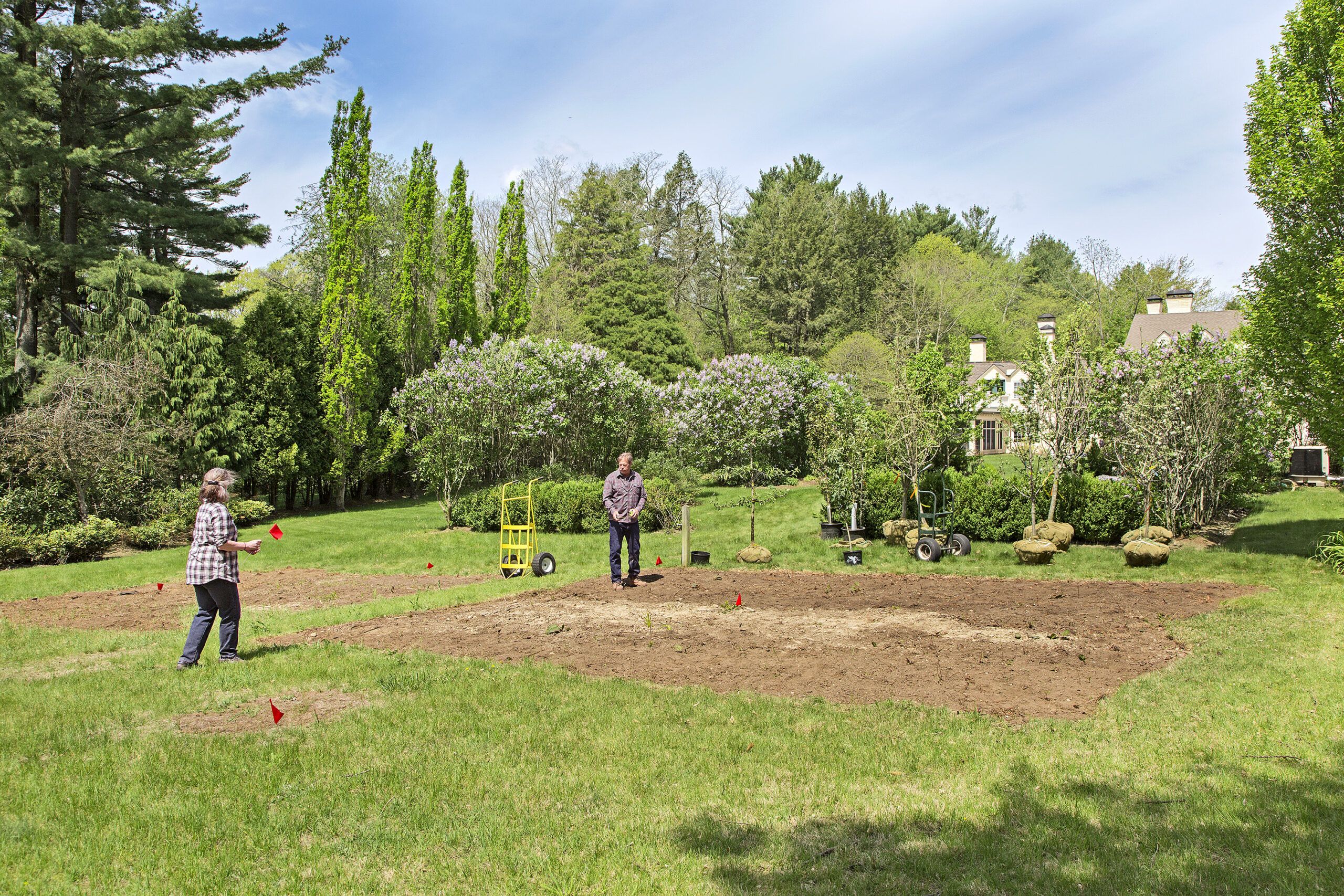 Home brewing was far from Julia Farwell-Clay's mind last fall when she sought Roger Cook's advice on what to plant behind her 1902 gambrel-roofed home in Concord, MA. She wanted to replace a vegetable patch that had been part of the home's landscaping. Set back about 40 yards from the house, the beds became difficult to maintain, and over time, vines and voles took over.
Still, Julia wanted edibles. Roger Cook's suggestion was to think long-term and convert the 40-by-80-foot plot to a small fruit orchard. "A typical vegetable garden this far away from the house is always hard to maintain," says Roger. "Besides, when you're cooking, you want to be able to just step outside and grab a handful of herbs."
Shown: With the old vegetable beds cleared out and the soil leveled, TOH landscape contractor Roger Cook and homeowner Julia Farwell-Clay plant flags where the eight fruit trees will go. Placing them roughly 15 feet apart, in a diamond-shaped pattern, will allow room between the trees when they reach maturity. Tweaking placement with the flags is a lot easier than moving around trees that weigh more than 100 pounds each.
Choosing Trees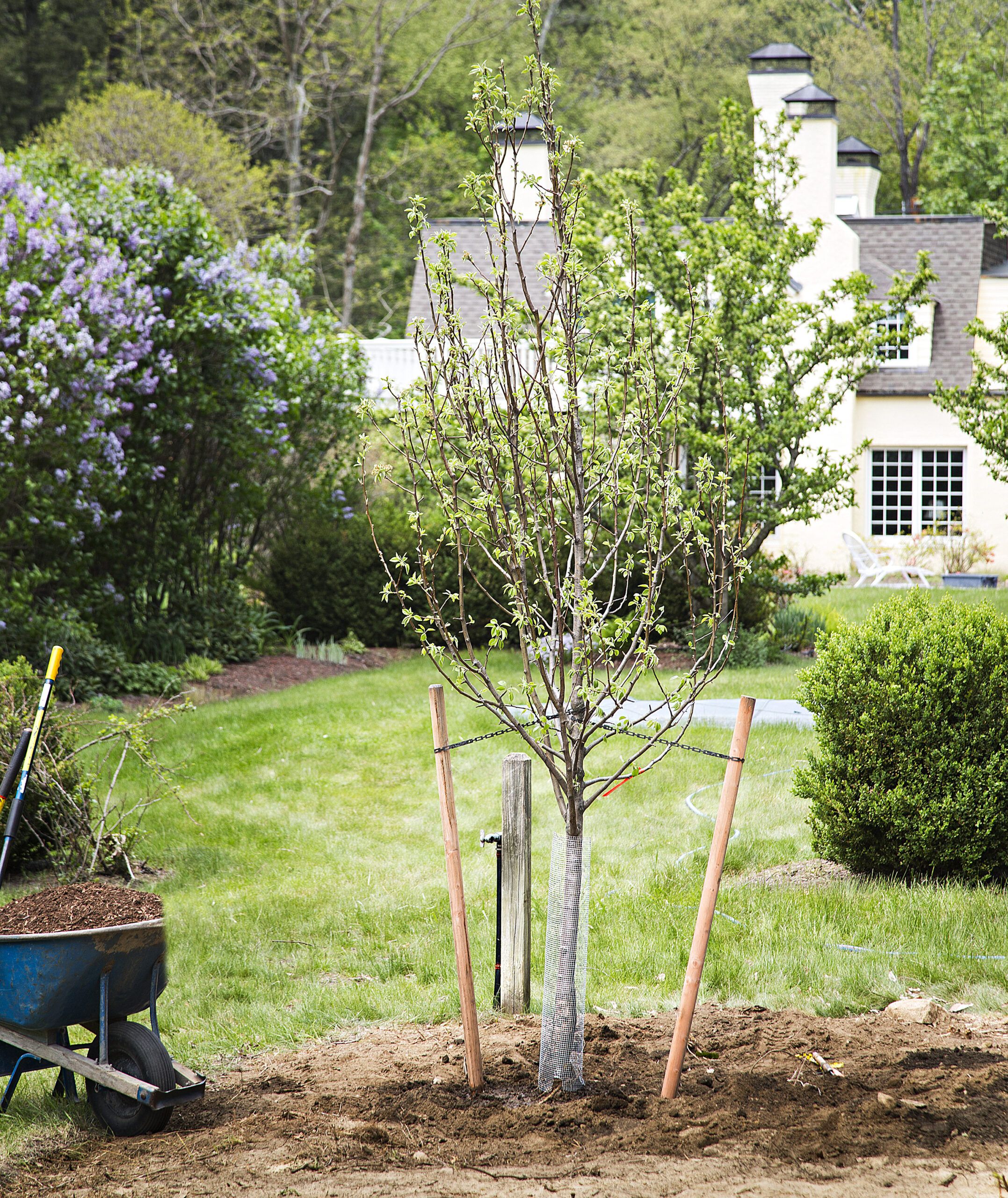 Roger chose six apple and two pear trees to plant in a diamond pattern, creating an outdoor room. To select the right varieties, he had to take into account more than just the site conditions and growing zone. "For a tree to fruit, it has to accumulate enough chill hours," he says. "That means time spent in dormancy, between 32 and 45 degrees."
While Julia waits for the fruit of their labor—after planting, the 5- to 7-year-old trees may need that many more years to produce—she'll have snowy spring blooms and a lush setting for an open-air dinner come summer.
Want a mini orchard of your own? See how Roger put in this productive patch.
Shown: Newly planted trees need a lot of watering; a dedicated faucet makes the job easier. To install one, add a Y-shaped garden-hose splitter to the house spigot and connect a length of flexible PEX tubing with fittings. Bury the line 6 inches deep as you run it out to the trees, then secure it to a post with pipe hold-downs. Use more fittings to connect the tubing to the faucet.
Which Fruit Where?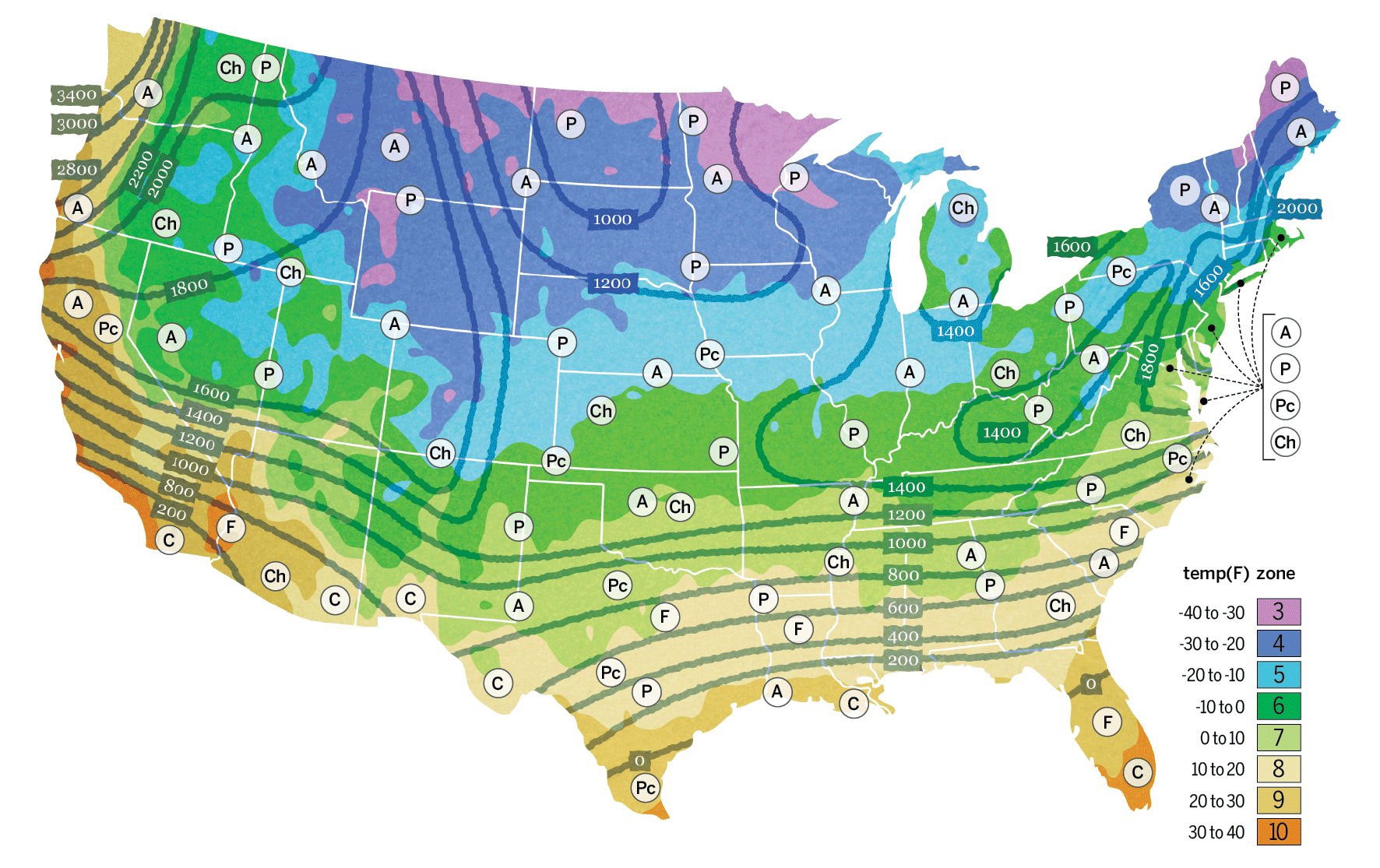 Picking the right fruit tree means considering USDA plant hardiness zones and chill-hour requirements—the amount of time temps need to hover between 32°F and 45°F. This map can help you pick species that will fruit, not just flower, where you live.
Be sure to check your local cooperative extension office for fruit tree varieties that thrive in your area.
Apples (A): While these can grow across the country, colder climates favor apples and their hefty chill-hour needs. But some cultivars, like 'Anna' and 'Ein Shemer,' require just 300 chill hours in warmer areas. Most apples need a second variety to pollinate, or you can buy a tree grafted with another variety of apple.
Zones: 4-9
Chill hours: 400-1000
Pears (P): Like apples, pears will fruit nearly everywhere, but some varieties like 'Ayers' handle Southern heat better. European cultivars like 'Bartlett' are best picked mature, then allowed to rest for a week at room temperature to finish ripening. Asian varieties can be left to ripen on the tree.
Zones: 3-10
Chill hours: 350-900
Citrus (C): Lemons, oranges, limes, and grapefruits want zero chill hours and will often lose leaves after weeks below 50°F—making them hard to grow outside of the Sunbelt. Kumquats are some of the cold-hardiest citrus, weathering temperatures as low as 20°F. In colder zones, try potting up citrus indoors in bright sun.
Zones: 8-10
Chill hours: 0
Peaches (Pc): The unofficial fruit of summer likes hot, frost-free growing conditions. In cooler climates, pick a warm spot to plant, like against a south- facing wall that will reflect heat. Or plant a cold-hardy variety such as 'Contender.' Peaches save space in small yards because they self-pollinate.
Zones: 5-9
Chill hours: 600-800
Figs (F): These tropical fruits require long, hot summers, though they can be wrapped for protection in cold climates. Once mature, the trees can produce in summer and fall. The common fig doesn't need cross-pollination, but its tree-ripened fruit will stay fresh for only two days in the refrigerator.
Zones: 8-11
Chill hours: 100-200
Cherries (Ch): While all cherries need full sun and similar chill hours, sweet varieties like 'Lapins' are more finicky, requiring milder temps, low humidity, and a second variety to pollinate. Sour cherries, used for preserves, are self-pollinating, more cold tolerant, and tend to bear fruit at an earlier age.
Zones: 4-8
Chill hours: 500-800
MORE: