Upping the Charm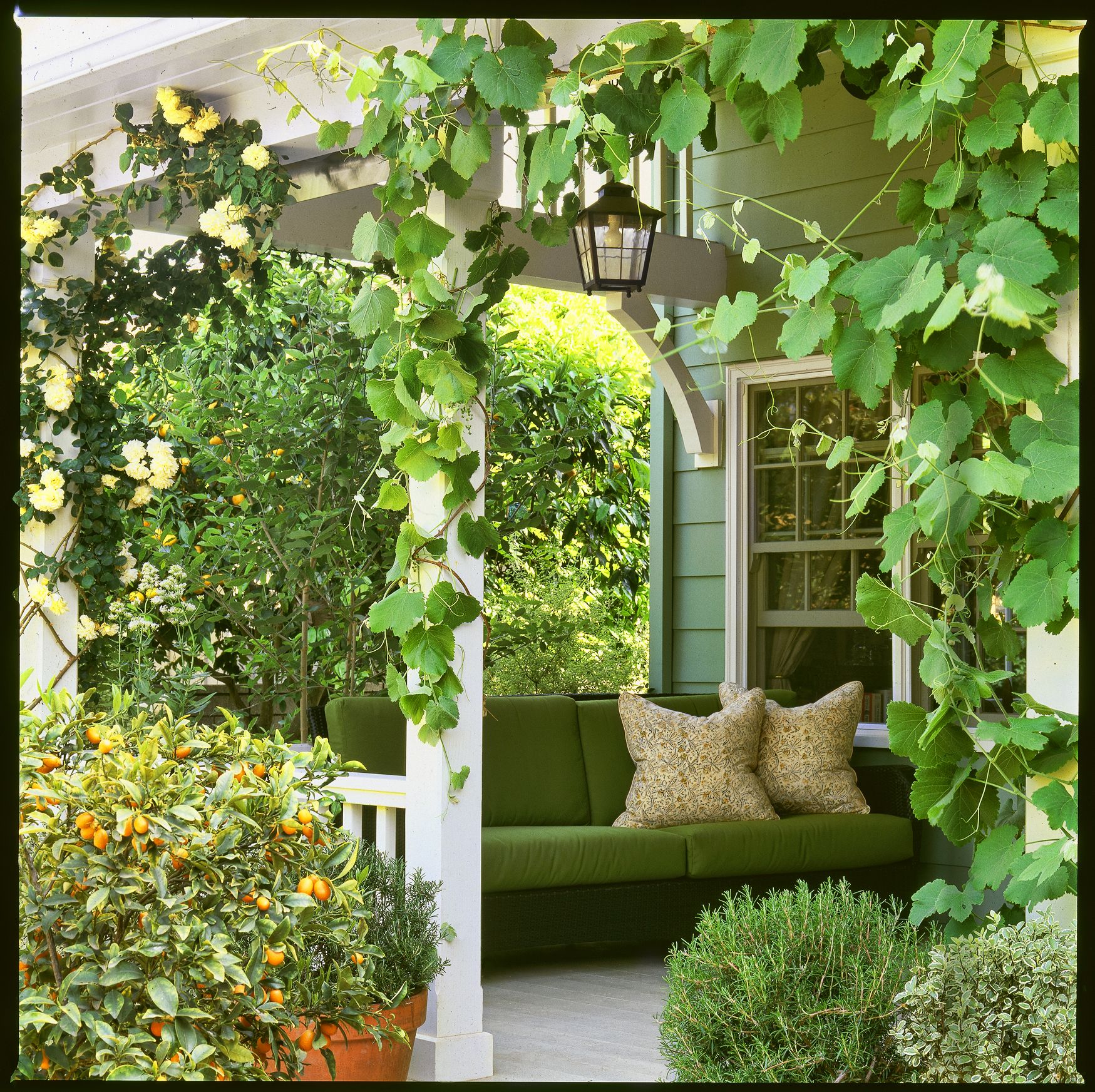 A cottage garden says, Come in. Wander. Stay awhile. It's freewheeling, not formal; generous, not stingy. Its abundance may be what you notice first: Vines clamber up porch posts, roses twine across arbors, flowers overflow their beds in the company of herbs and other edibles. "Cottage gardens are personal and embracing," says Lisa Moseley, a Santa Monica, California, designer who has created quite a few. "They're bursting with color, and their happy clutter complements the character of the house, often within the confines of a tiny lot." She adds that almost any style of home can get a charm boost from traditional cottage plants: old-fashioned hollyhocks and delphinium, iris and hydrangea, catmint and pinks, selected, of course, for local growing conditions and deployed en masse.
Shown: White climbing roses and leafy grapevines scramble up a porch's posts, while pots of kumquat and rosemary flank the steps at a cottage garden created by Santa Monica, California, designer Lisa Moseley.
Be sure to also check out the TOH editors' picks for the best plants for a cottage garden.
Organized Chaos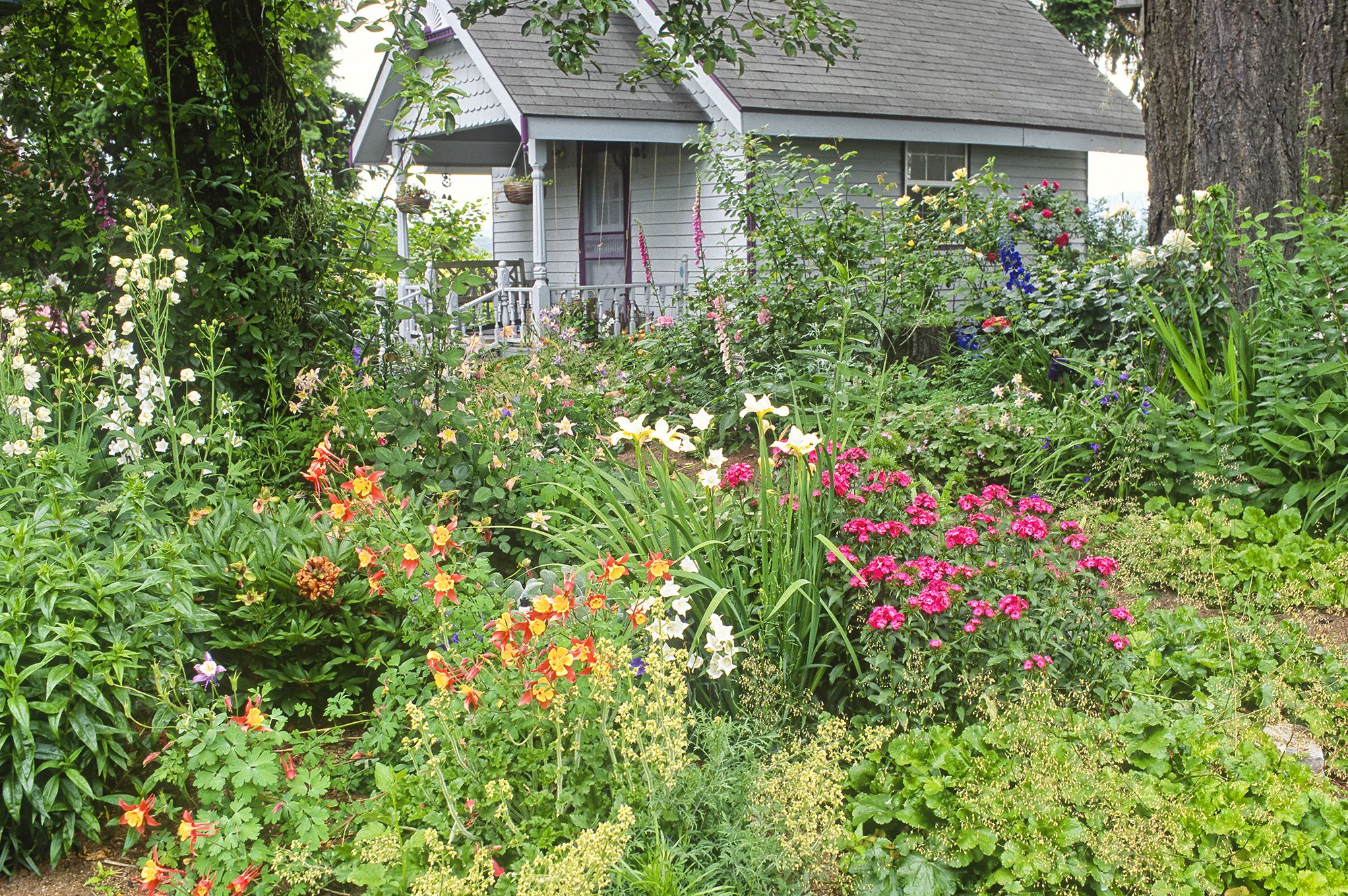 Dating in this country from colonial days, the first cottage plots provided needed food and cheering beauty in the face of hard times. Today, still eclectic and naturalistic, the garden is closely bound to the house it frames, which guides its layout and materials. In fact, says Moseley, with all its color-mad chaos, a cottage garden needs a bit of order to look its best. Planning before you plant will ensure it is cohesive, despite the wildness at its heart. Here are some elements to consider.
Shown: An energetic mix of columbine, iris, and roses sprawls beside a tiny cottage.
1. Fences and Gates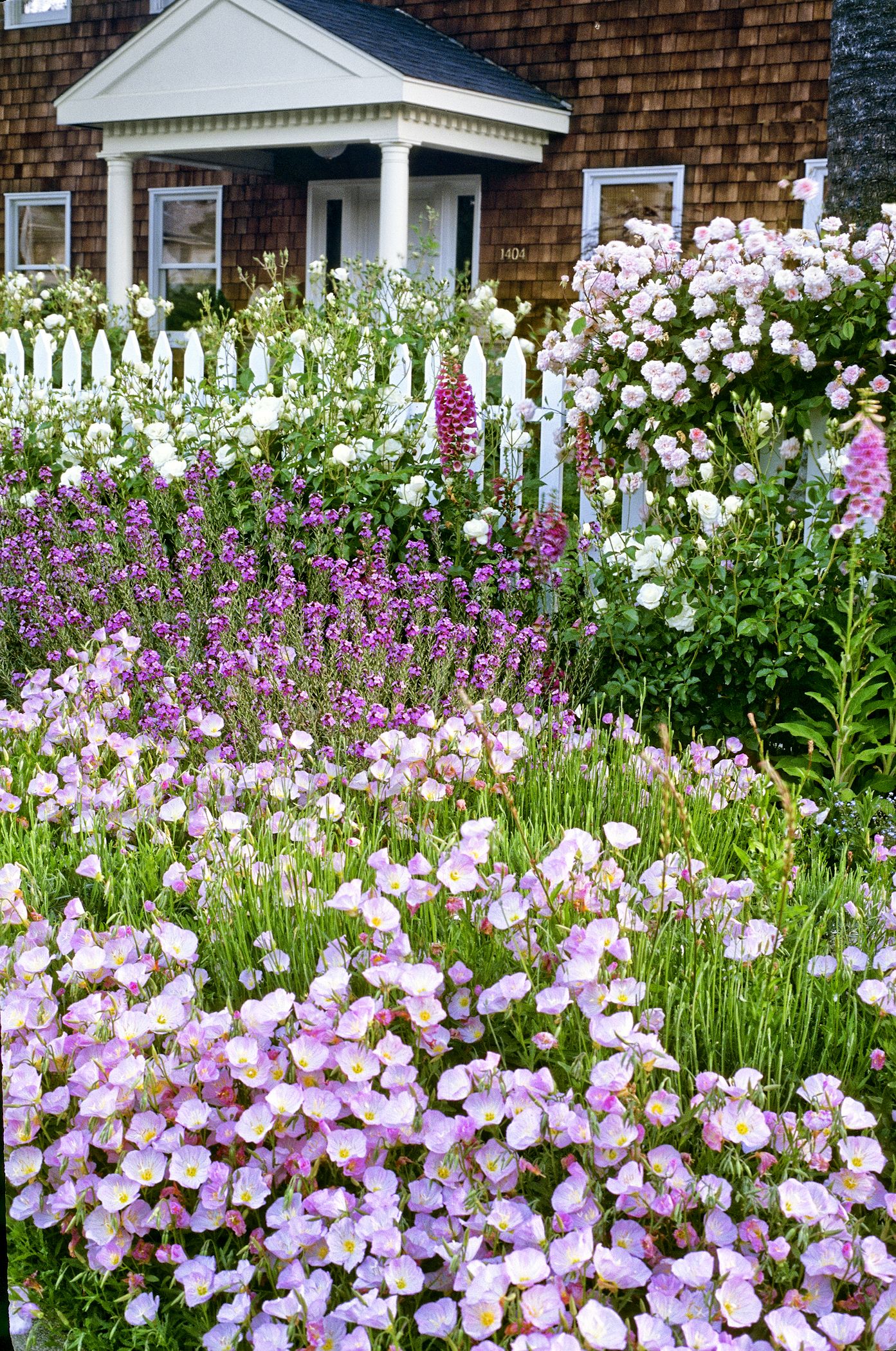 Historically, cottage plantings were enclosed to keep livestock out, and the picket fence is still a shortcut to an old-time "grandma's garden," separated from the street but visible—and friendly—to passers-by. A front fence neatens the look of sprawling plants and supports tall and rambling flower stems. Natural, rustic materials—painted wood, bent willow, even latticed bamboo—suit this purpose, as long as they harmonize with the house. This goes for front gates, too, which, in keeping with the cottage, are often welcoming and low, marking entries rather than discouraging approach.
Shown: Crisp white fencing creates a frame for a profusion of pink 'Cecile Brunner' roses, purple shrubby wallflower, and showy pink evening primrose.
2. Walls and Hedges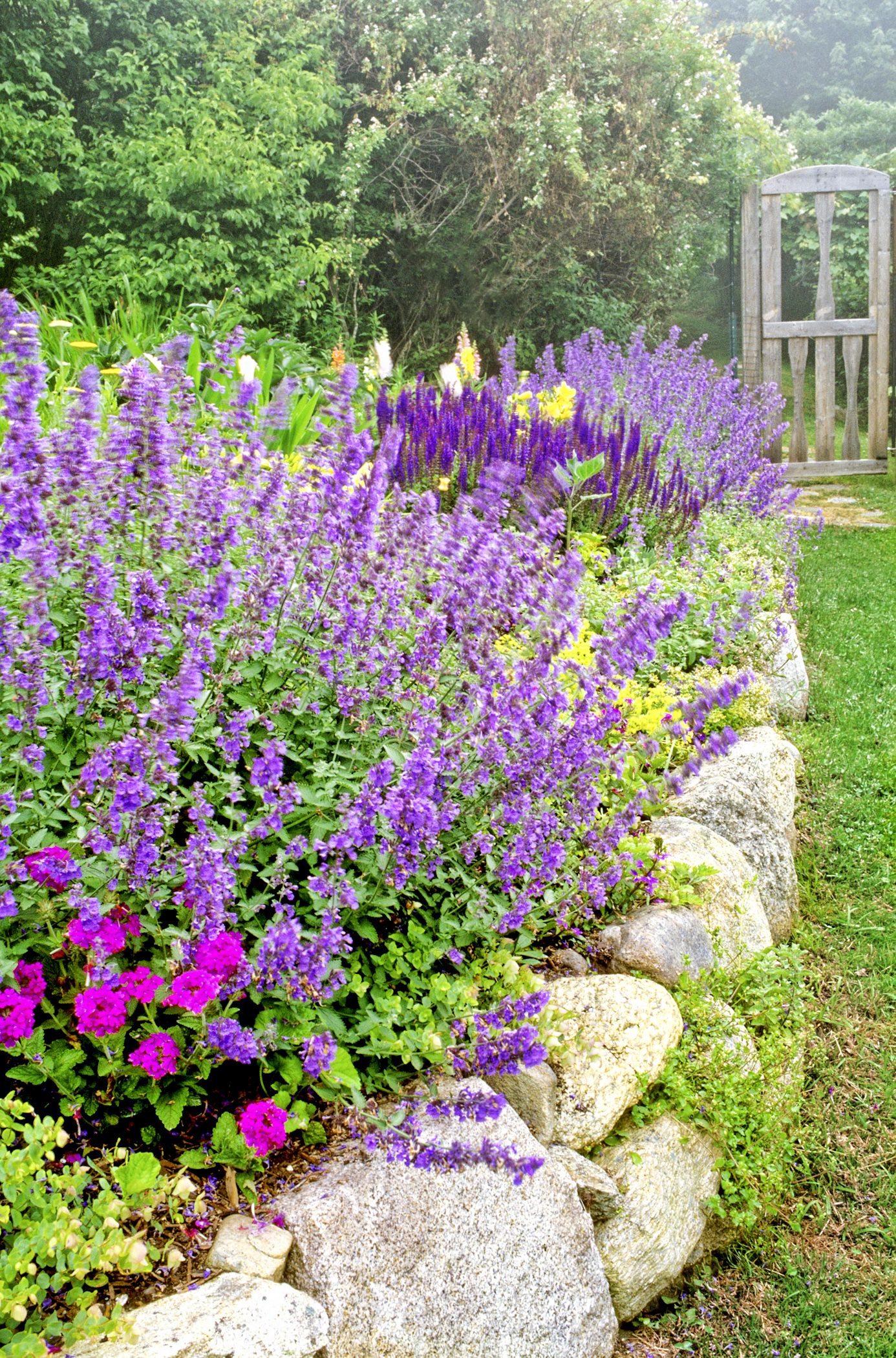 While landscapes and houses should always relate, with a cottage garden each supports the look and purpose of the other. Space is tight and every inch counts. So, more than just a backdrop, the cottage is another garden surface, ideal for overflowing window boxes and trellises for vines to climb. The garden in turn extends the home's lines outside, sometimes in walls that echo its textures while enclosing areas for living. As a less-expensive alternative, Moseley recommends clipped hedges, which can define space and provide "bone structure" for sprawling plants. To maintain order year-round, choose evergreens like boxwood, wax myrtle, or yew for hedging. Along with small trees and other shrubs, plant these early in the process to give them growing time.
Shown: A rustic stone retaining wall edges a bed overflowing with fragrant catmint and salvia.
3. Paths and Pergolas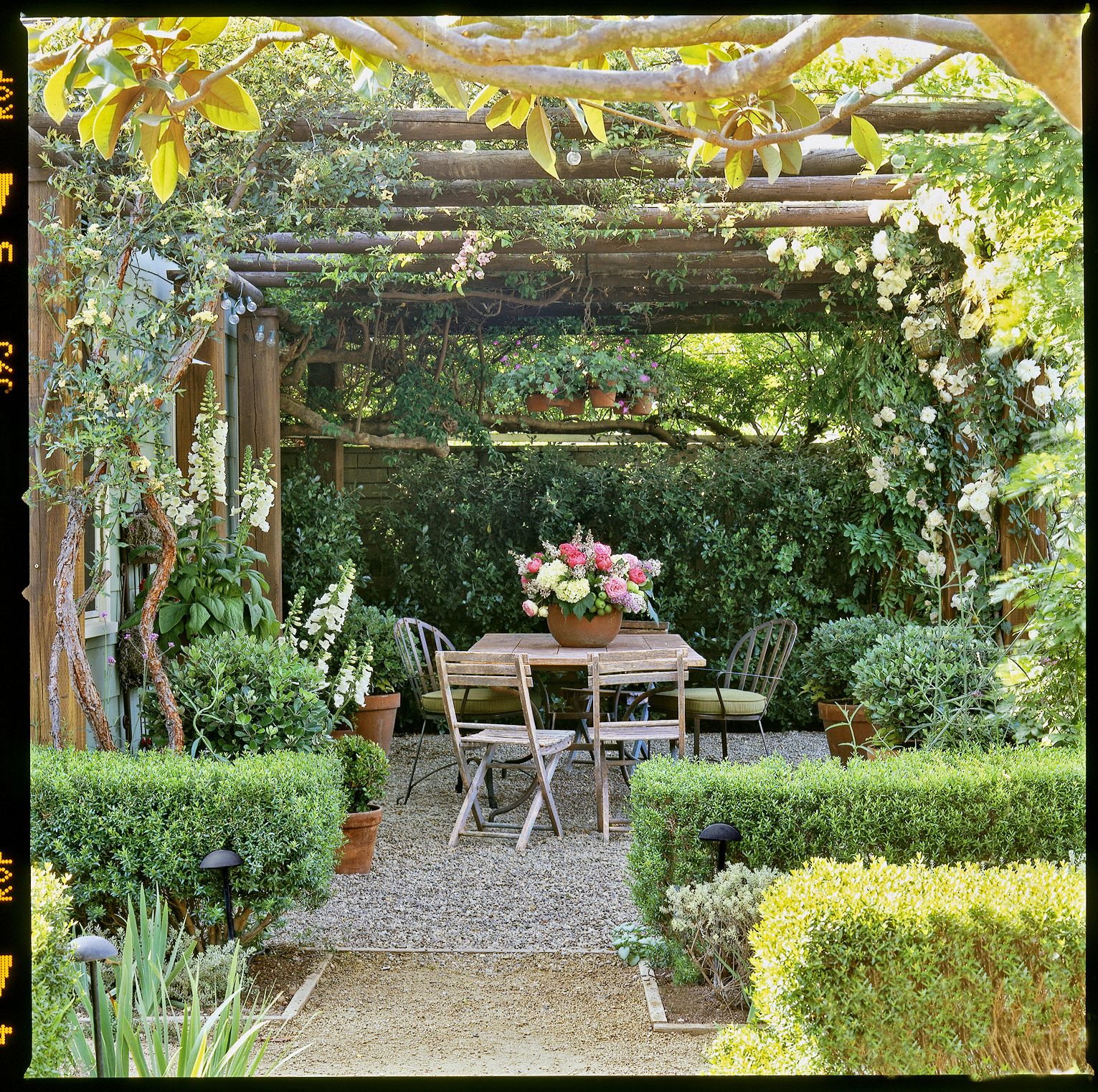 Even small landscapes can seem larger when broken into parts, says Moseley, adding variety and purpose to an everyday stroll. Cottage gardens are meant to be used, and walkways connect the pieces, linking one experience to the next. Informal paths work well and can carry through paving themes—gravel from a driveway, say, or flagstone from a patio. Vine-clad overhead structures, typical of this garden style, contribute romance and shelter as they point out special spots. A wisteria arbor might show the way to a hidden bench; a fruiting grape might wrap a pergola above a dining table. Inspired and shaped by the house, these vertical features add architectural richness outside.
Shown: Wood poles form a simple overhead structure that supports climbing roses and wisteria and shades a pea-gravel patio edged with boxwood. White foxgloves peek in around the edges.
4. Backbone Plants
Think cottage, and certain old-time flowers come to mind, including roses, coneflowers, and phlox. But the list of what works is almost endless, and though blooms are sweet, not everything need flower to be fitting. Consider where you live: In the dry Southwest, rosette-shaped succulents make more sense than the thirsty foxgloves you might favor in New York. Foliage is important, too—in varying tones, textures, and shapes, which persist when blooming fades. Groundcovers, such as creeping Jenny, bellflowers, or lady's mantle, are vital, especially in suppressing weeds and reducing maintenance. For year-round interest, consider evergreens, such as dwarf conifers, in your mix, along with more-typical cottage perennials, such as peonies, columbines, and true geraniums. To extend the season, tuck in annuals like violas and calendulas. For greater impact, Moseley advises, group border plants in masses rather than ones and twos, and arrange so you can see them—short in front, taller toward the back. Choosing a color theme, such as pink, purple, and white, or yellow and lilac, keeps borders from getting overly busy.
Shown: Biennial hollyhocks, an old-fashioned favorite, bloom mid- to late summer. To grow them when and where you want, snip and save the seed pods, then plant in fall or early spring.
5. Ornamental Edibles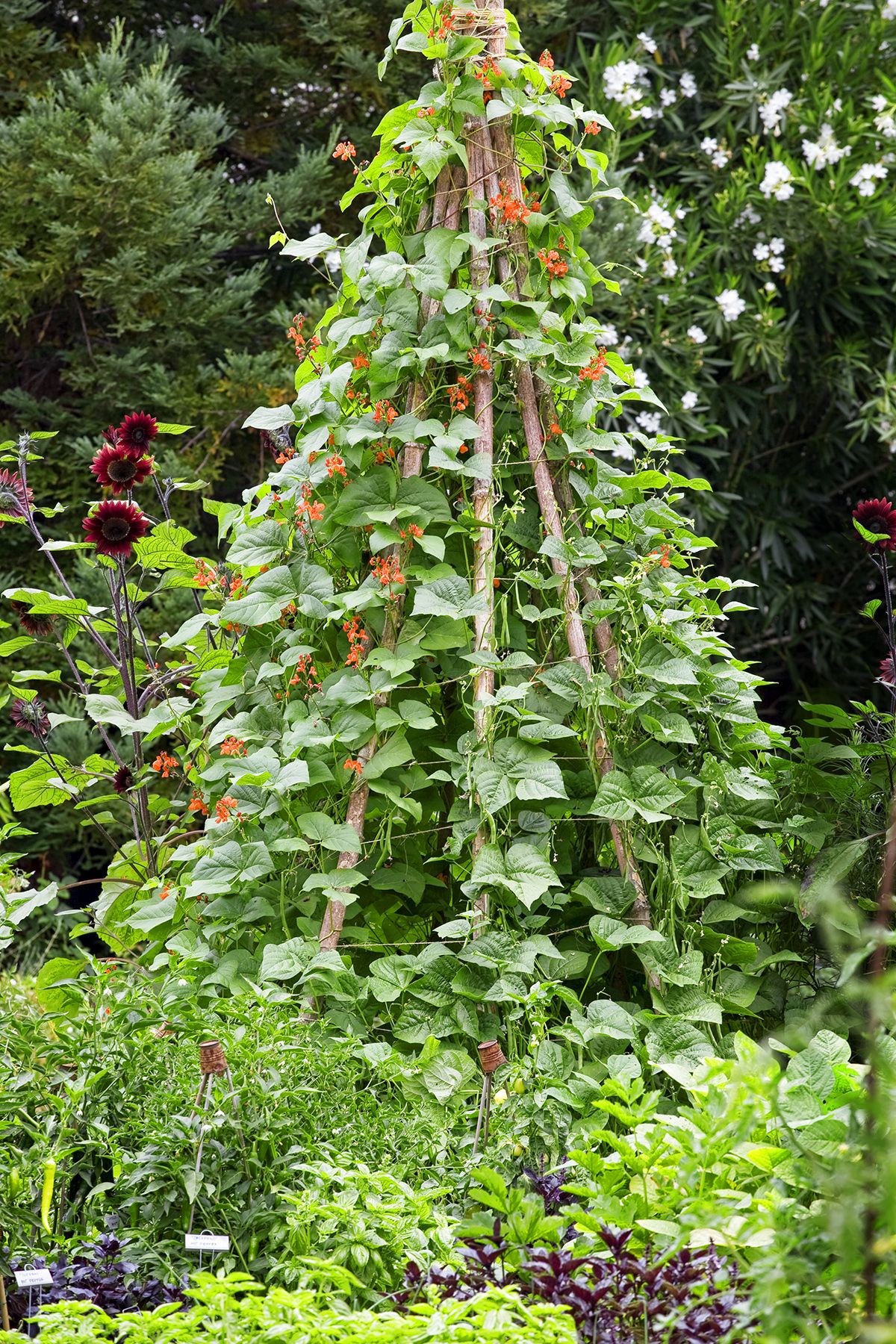 A tepee of scarlet runner beans not only works as an ornament in a blooming border but also harks back to the early aim of the cottage plot: to feed the body and the soul. Moseley sees this time-honored combination as a solution to the widespread contemporary gardener's conflict between wanting to grow food and wanting to have pretty flower beds. Since most edibles and blooming plants need sun, it's hard to reconcile making separate spaces for both, especially on a small lot. In the eclectic cottage garden, dill looks at home among dianthus, while chard can pick up the hues of daylilies, pulling the color palette together. Another way to work food in is with an apple or pear espalier—on a wall or as a fence. One cautionary note: For fertilizer and pest control, use organic products if you have plants you plan to eat.
Shown: Fruits and vegetables grow side by side with colorful shrubs and flowers in a typical cottage garden. Here, weathered wood poles provide a climbing structure for scarlet runner beans.
6. Twig Structures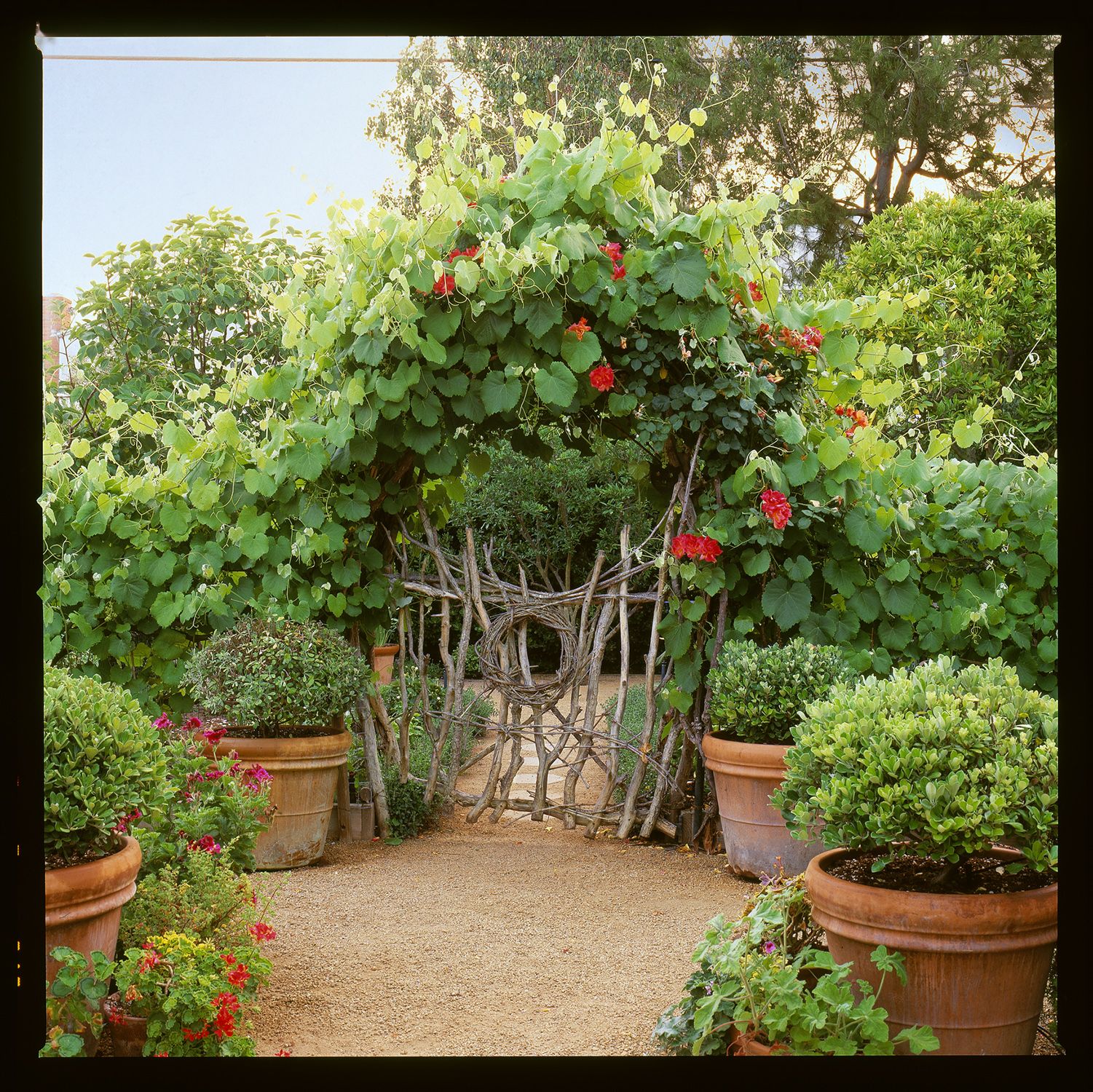 Cut grapevines are woven into a naturalistic fence, garden gate, and arch that support 'Joseph's Coat' climbing roses and 'Roger's Red' grapevines that have broad heart-shaped leaves.
7. Lattice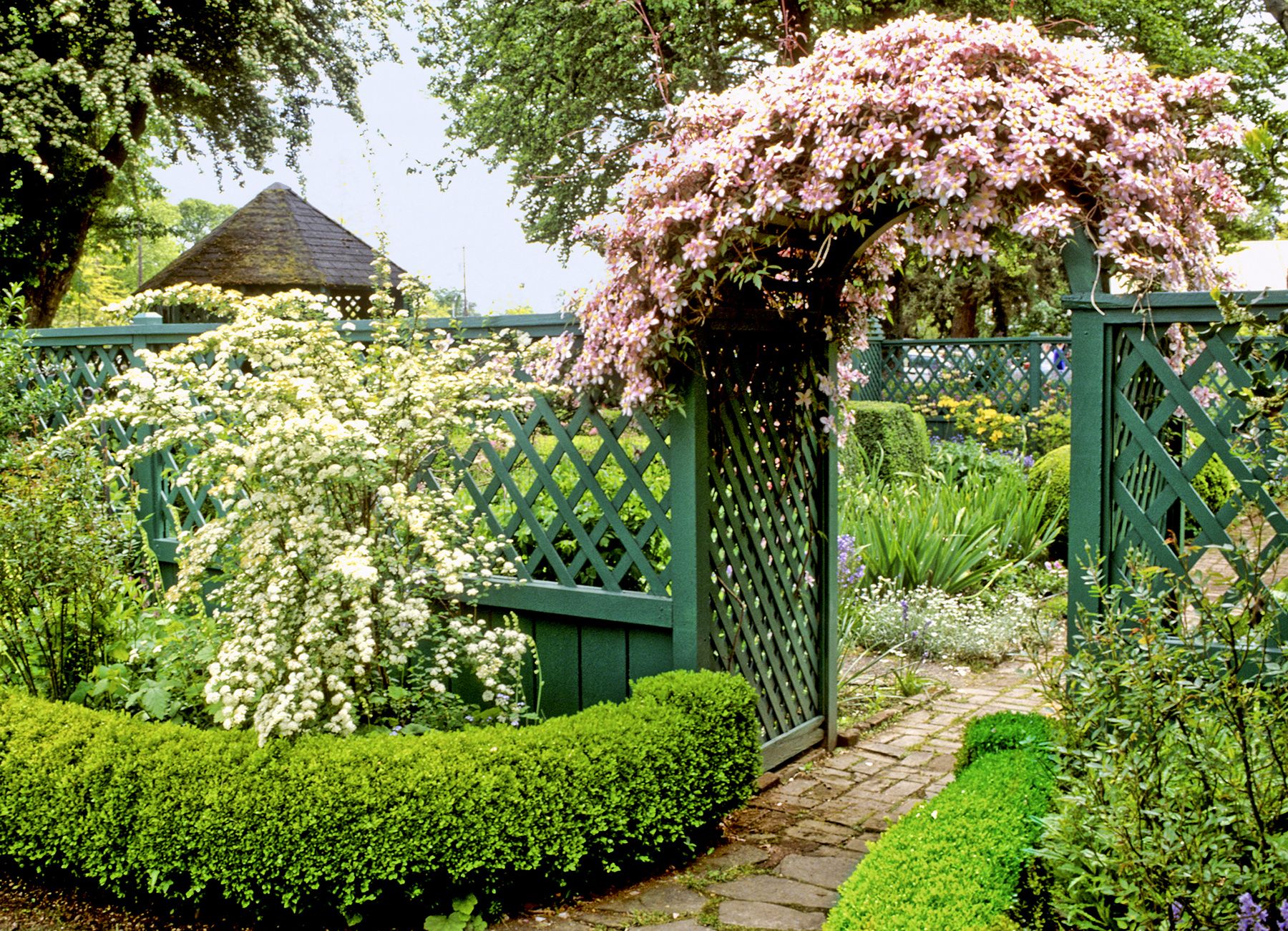 Painted a deep green, a wood fence and arbor offer a subtle backdrop that highlights the white blooms of a hawthorn shrub and the pink flowers of a clematis vine.
8. Decorative Objects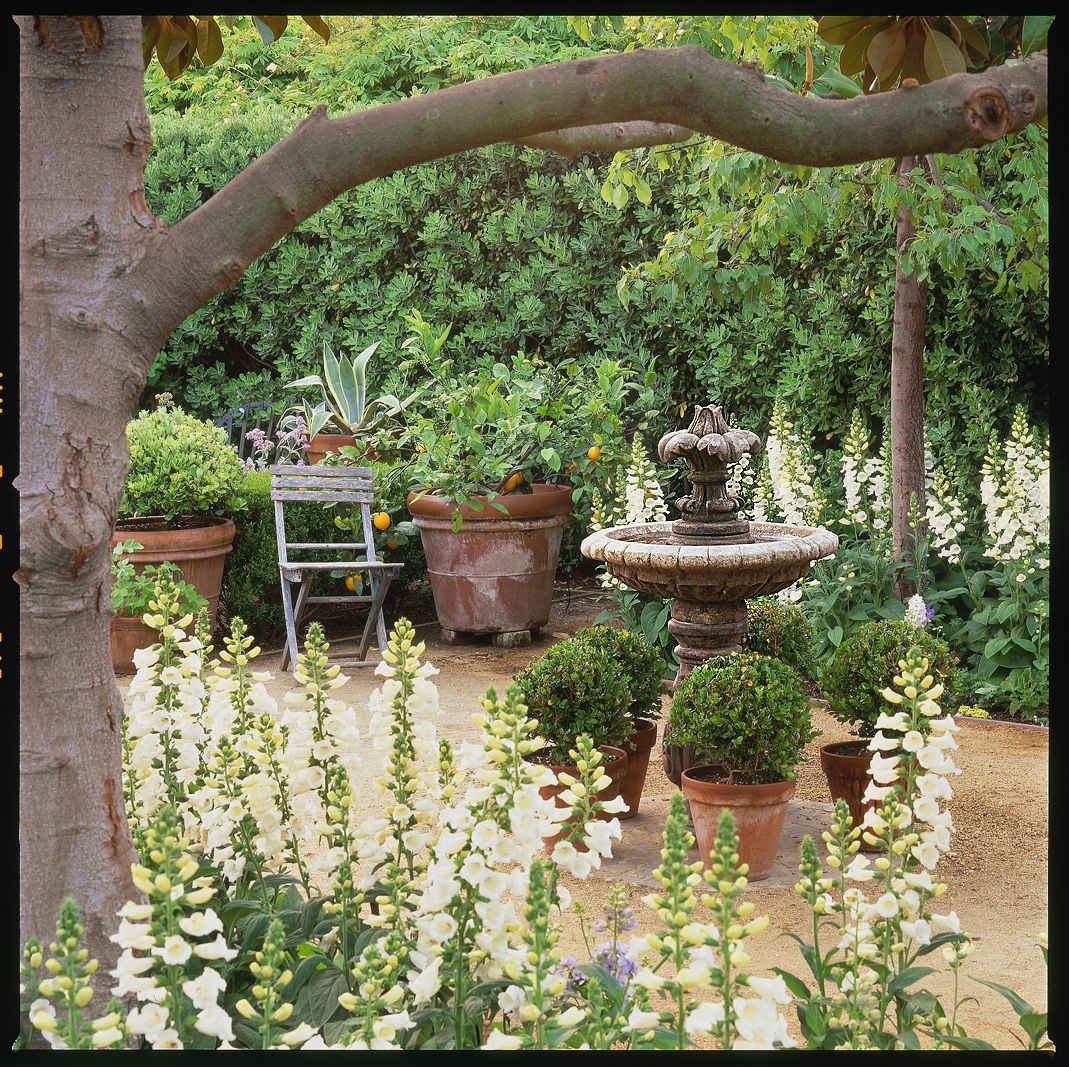 Amid the teeming beds around a cottage, sundials, birdbaths, and fountains can focus the eye, still the mind, and make us smile. Moseley encourages people to have fun with such decoration but to use restraint so as not to complicate the picture. Plants themselves, she notes, can be ornaments. She often adds clipped boxwood globes, in garden beds or in pots, as a living substitute for sculpture. Such trim lines serve as a welcome foil for cottage plants' naturally untamed beauty.
Shown: In this garden, a path of decomposed granite is lined with banks of towering foxglove and punctuated with a tiered fountain circled by pots of boxwood globes.