Hitting the garden center in March or April to buy plants in bulk for your containers, window boxes, and flower beds can take a toll on your wallet. So if you've got favorites such as coleus, geraniums, and impatiens still looking lush in your yard right now, and you live someplace with a real winter, think about propagating them before they wither away.
Step 1
Snip Now for (Free!) Plants Next Spring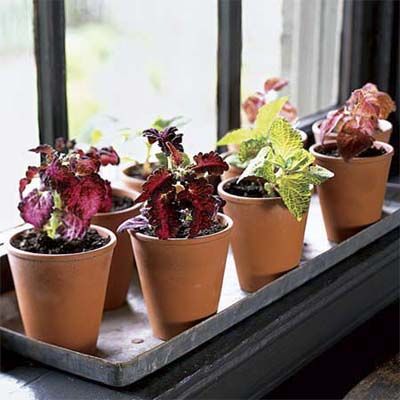 Plants to Propagate
Any tender perennial—plants grown as annuals wherever there's a sustained hard freeze—can be grown from simple-to-take cuttings. Harvest small stems before the first prolonged frost, pot them up indoors, and they'll take root over the winter in time to fill in bare areas in your landscape come spring. Just park them on a south-facing windowsill and watch them grow.
See more plants suitable for propagating.
Shown: Variegated coleus makes a colorful, shade-tolerant border and is easy to propagate.
Step 2
Take a Cutting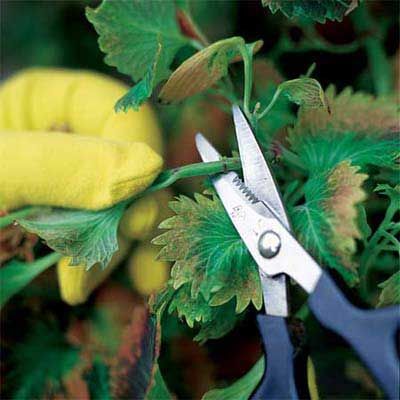 With a clean pair of garden snips or scissors, cut off a stem that has three to six nodes, the spots where leaves meet the stem. Pinch off any flowers, and the leaves on the bottom third of the stem. To keep cuttings from drying out while you work, roll them in a moist paper towel, stash them inside a zip-top bag, and keep the bag out of direct sun.
Pro Tip: Robert E. Lyons, professor of landscape horticulture, University of Delaware, Newark, Delaware says,"As you're taking cuttings, be sure to clean your snips with rubbing alcohol as you move from plant to plant to make sure you don't spread disease."
Step 3
Dip In Rooting Hormone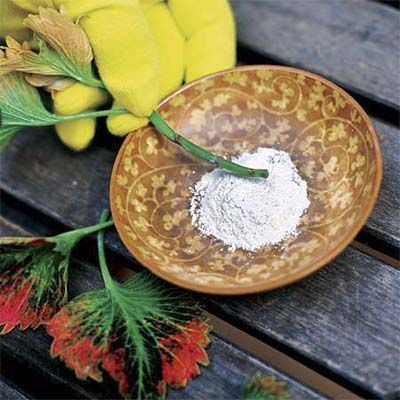 To encourage root development, pour powdered rooting hormone, available at garden centers, into a small dish, then roll and dab the cut end until it's thoroughly coated. If using liquid hormone, soak the cut end for 5 seconds.
Step 4
Pot it Up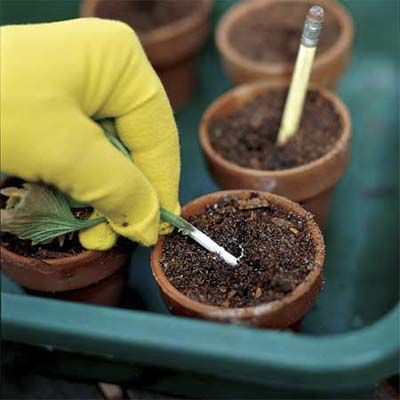 Fill small pots or flats with a sterile soilless potting mix moistened with water. Using a pencil or chopstick, make holes for the cuttings, spacing them at least — inch apart. Insert each cutting at least 1 inch deep, then pack the mix around the stem.
Step 5
Keep Them Moist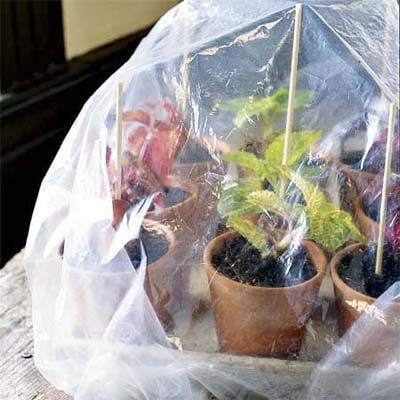 Using chopsticks or small wood dowels as supports, drape —-mil plastic sheeting over the pots (or flats) to create a makeshift greenhouse. Place them out of direct sun and keep the mix moist. Check the cuttings weekly for root development by gently tugging on the leaves to see if they come out easily; remove the cuttings when you feel strong resistance. Once the roots have developed, gently pry up the cuttings with a butter knife, replant them in potting soil, and add a balanced fertilizer. Park the young plants in indirect sun for the first week. After that, move them to a spot in full sun through the winter and water as needed before moving them outside in the spring.