Garage doors continue to reside at the top of the list of home improvement projects that offer high return on investment, and with good reason—it's an affordable, easy project, with the ability to exponentially enhance your curb appeal, and increase the resale value of your home.
And when it comes to style, "Homeowners can't get enough of the look of wood, but they are often deterred by the daunting upkeep," says Christina Carlson, award-winning architect of Union Studio Architecture and Design, and architect of the TOH 2020 Idea House on Cape Cod, MA. "That's where faux-wood options come in."
There are several choices to bridge the gap between the look homeowners want, and the convenience of a lower-maintenance material. Today's options offer more authentic looks than ever, with a wider variety of finishes, materials, and price points. If you're considering a faux-wood garage door and you're not sure where to start, read on to find out more about some of the incredibly authentic-looking door selections from our friends at Clopay.
Wood Look, Less Maintenance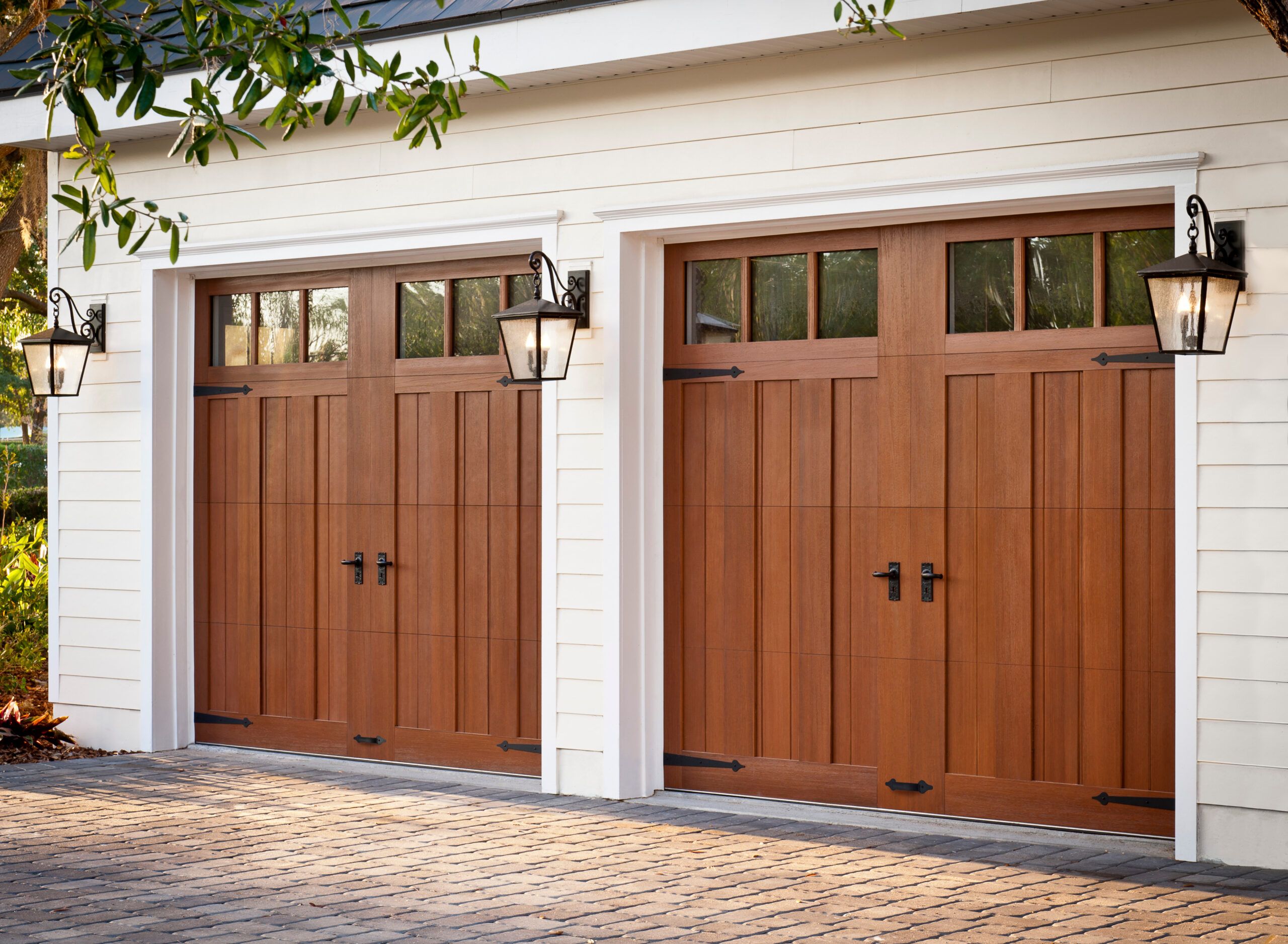 Simply put, wood doors are beautiful, but they need a lot of attention. Sun and moisture can adversely affect wood doors, so they require regular maintenance to protect the finish. Typically, this translates into being repainted or stained every 1-3 years, a messy job that includes re-sanding and refinishing.
If you want the look but not the commitment, consider faux-wood doors. Early iterations of faux woods were less than convincing, to be sure. However, Clopay's Canyon Ridge Collection features cladding and overlays molded from real wood boards to replicate the grain patterns and surface textures. The result is a truly genuine wood appearance, in a moisture- and UV-resistant material that requires less upkeep.
Shown: Clopay® Canyon Ridge® Carriage House (5-Layer)
Authentic Appeal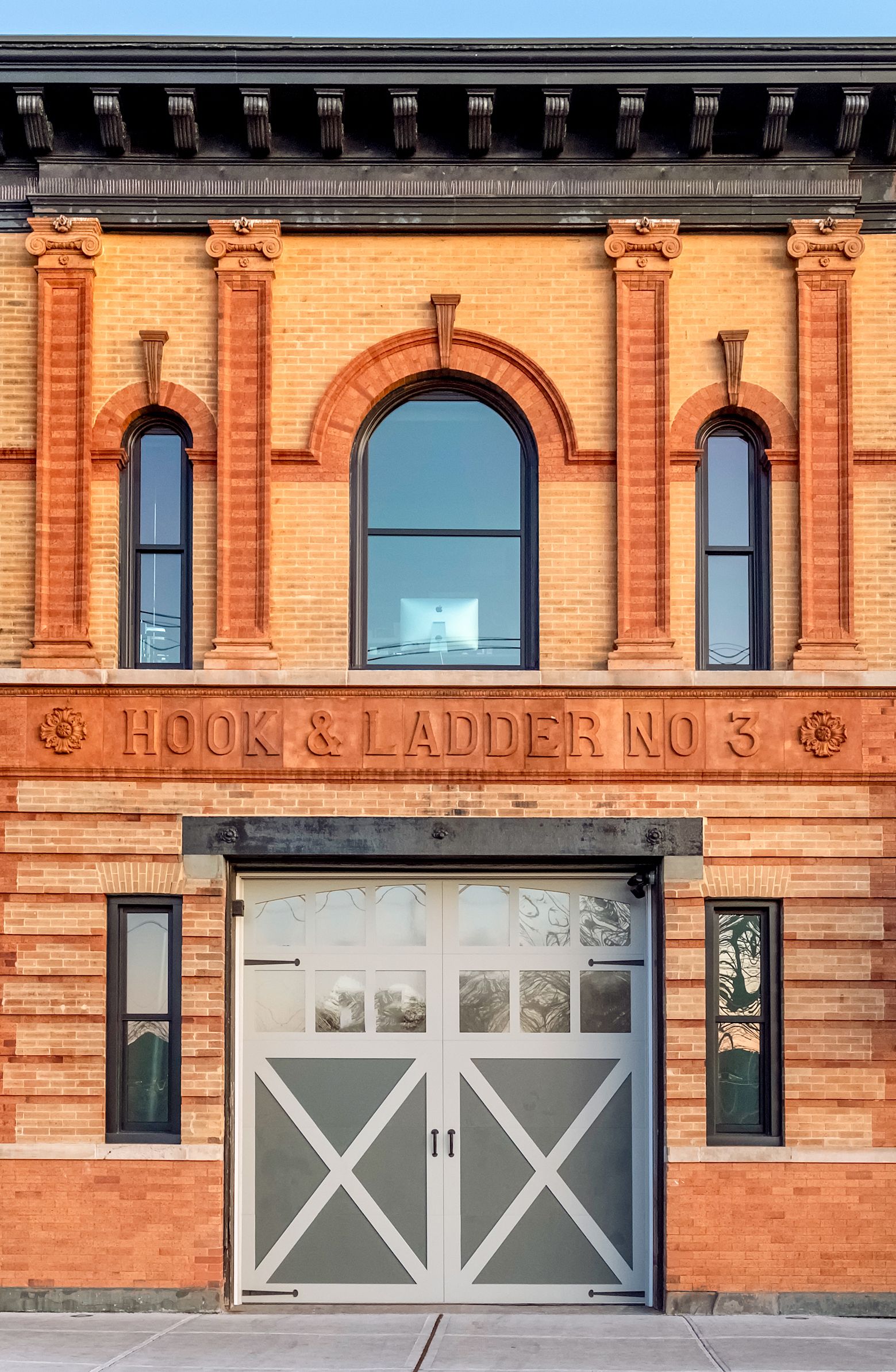 If you're remodeling an older home or building in a historic district, every detail counts. When it comes to exterior building products—windows, garage doors, railings, porch floors—natural wood was once the only choice for retaining authenticity, and the only product that Historic Commissions would approve. But today's faux woods are rising to the occasion.
When converting an 1890s firehouse in Jersey City, NJ into his personal residence last fall, HGTV designer and construction expert Anthony Carrino needed a garage door that would look the part, but would stand the test of time and not require frequent upkeep. He chose a Clopay faux-wood carriage house style door to replicate the appearance of traditional wood craftsmanship.
Shown: Clopay® Reserve® Wood with Extira®
Low-Maintenance Modern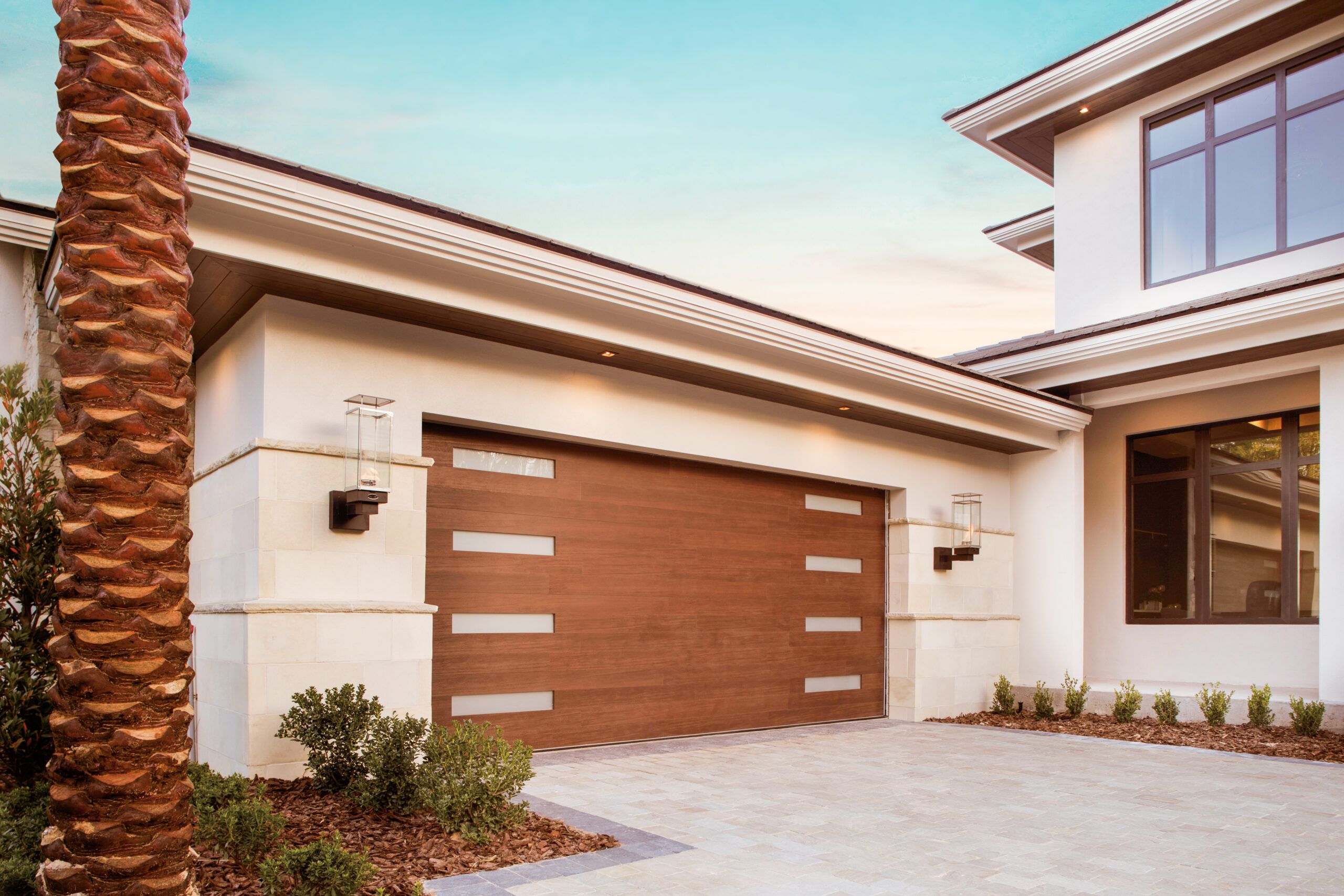 Looking for something a little more mod? Continuing to expand designs and colors to fit evolving design trends and preferences, Clopay's Canyon Ridge Modern low-maintenance garage doors provide a range of contemporary styles that beautifully complement mid-century and modern homes. Choose from horizontal plank designs, aluminum inlays, and full-view glass options, that won't rot, warp or crack.
Says Carlson, "The minimalist design and unique window configurations of the garage door shown here echo the sleeker lines of the home and its rectangular paneled glass windows, enhancing the contemporary look."
Shown: Clopay® Canyon Ridge® Modern
Coastal Curb Appeal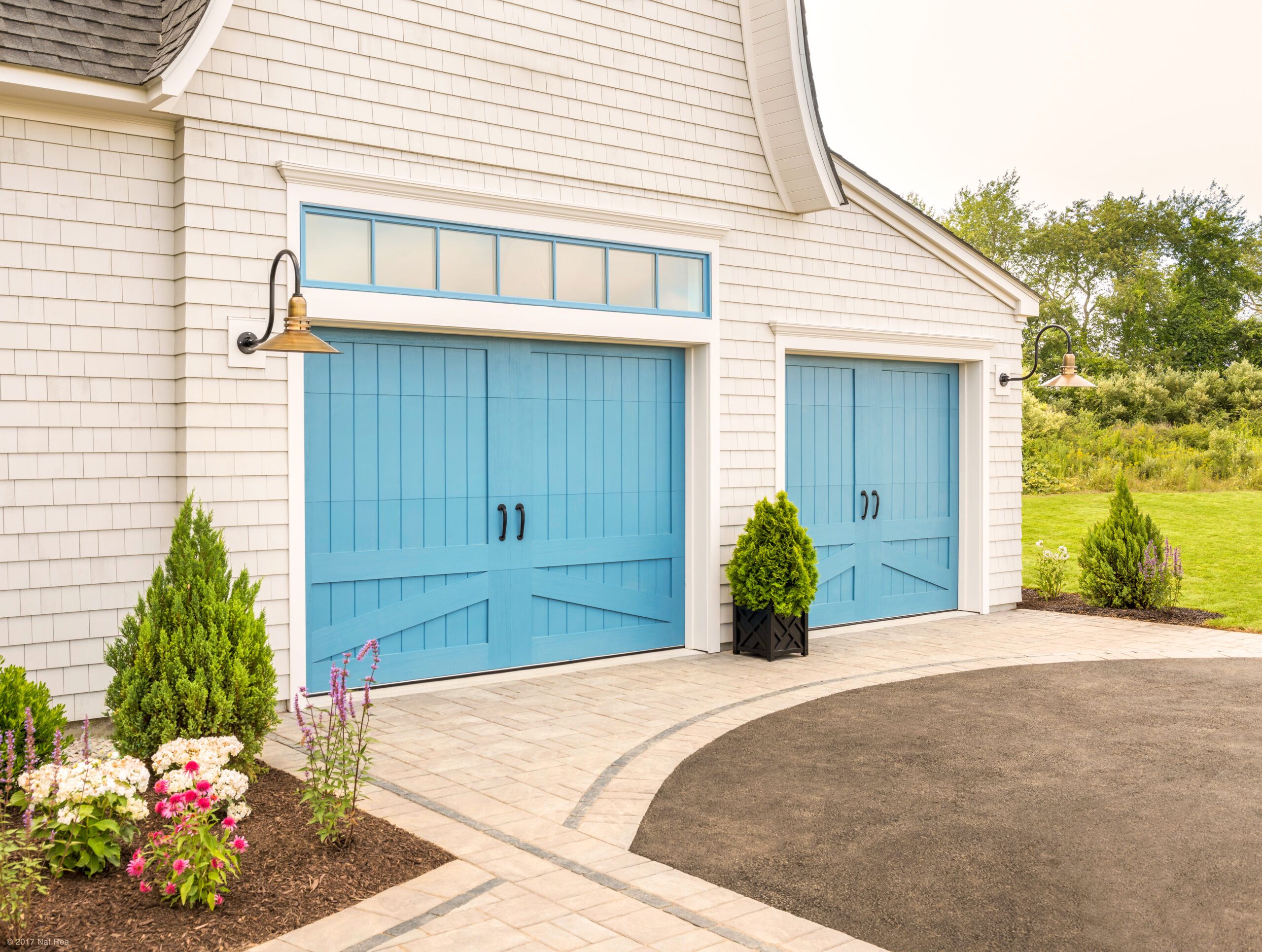 Fans of This Old House may recall these bright and cheery blue Canyon Ridge Doors as featured in the TOH 2017 Beach House. Canyon Ridge will make a comeback on our 2020 Idea House in Cape Cod, Massachusetts, designed by Carlson.
If your home is in a coastal location, materials can make all the difference; moisture can cause natural wood to rot, and the fluctuations in temperature can cause warping. Moisture- and UV resistant Canyon Ridge doors won't rot, warp or crack. Built-in WindCode reinforcement protects homes from hurricane-force winds. And they are constructed with Intellicore® polyurethane foam insulation ensuring year-round comfort in both the garage and any loft or living space above it.
Shown: Clopay® Canyon Ridge® Carriage House (5-Layer)
Paint-Grade Perfection and Custom Detail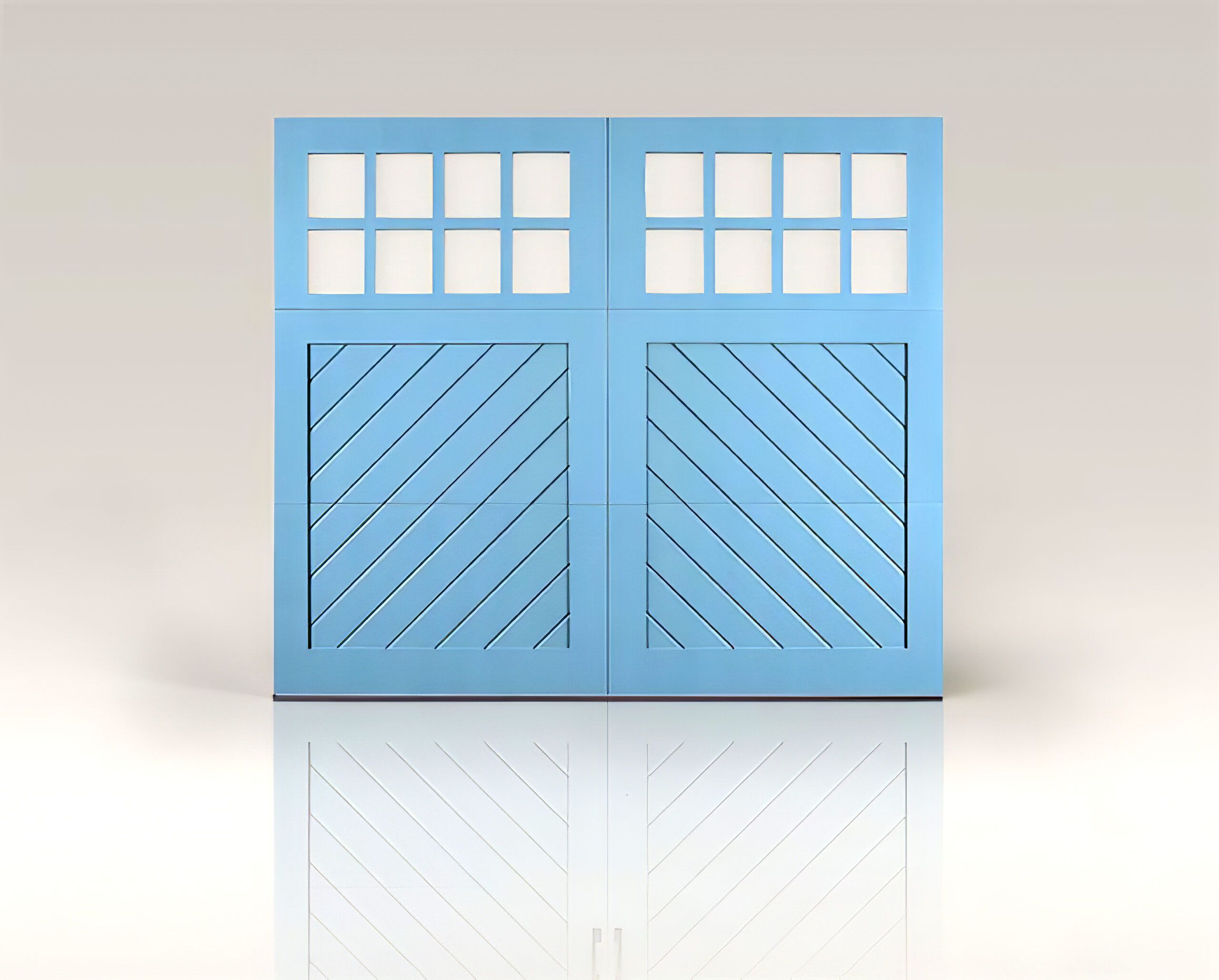 Ideal for homeowners who want a painted wood look with the ease of composites, Clopay's new Extira paint-grade garage doors offer the best of both worlds. With a perfectly smooth, knot-free, grain-free surface, Extira doors can be routed, carved, and painted just like real wood. You have the artistic freedom to create detailed and custom patterns that add architectural interest, like the chevron pattern shown here. It is sure to stand out in any neighborhood.
Made from eco-friendly materials, Extira is moisture, rot, and termite resistant, offering superior performance to paint-grade materials like MDF and many wood species.
Shown: Clopay Reserve® Wood with Extira®
Easy and Economical Steel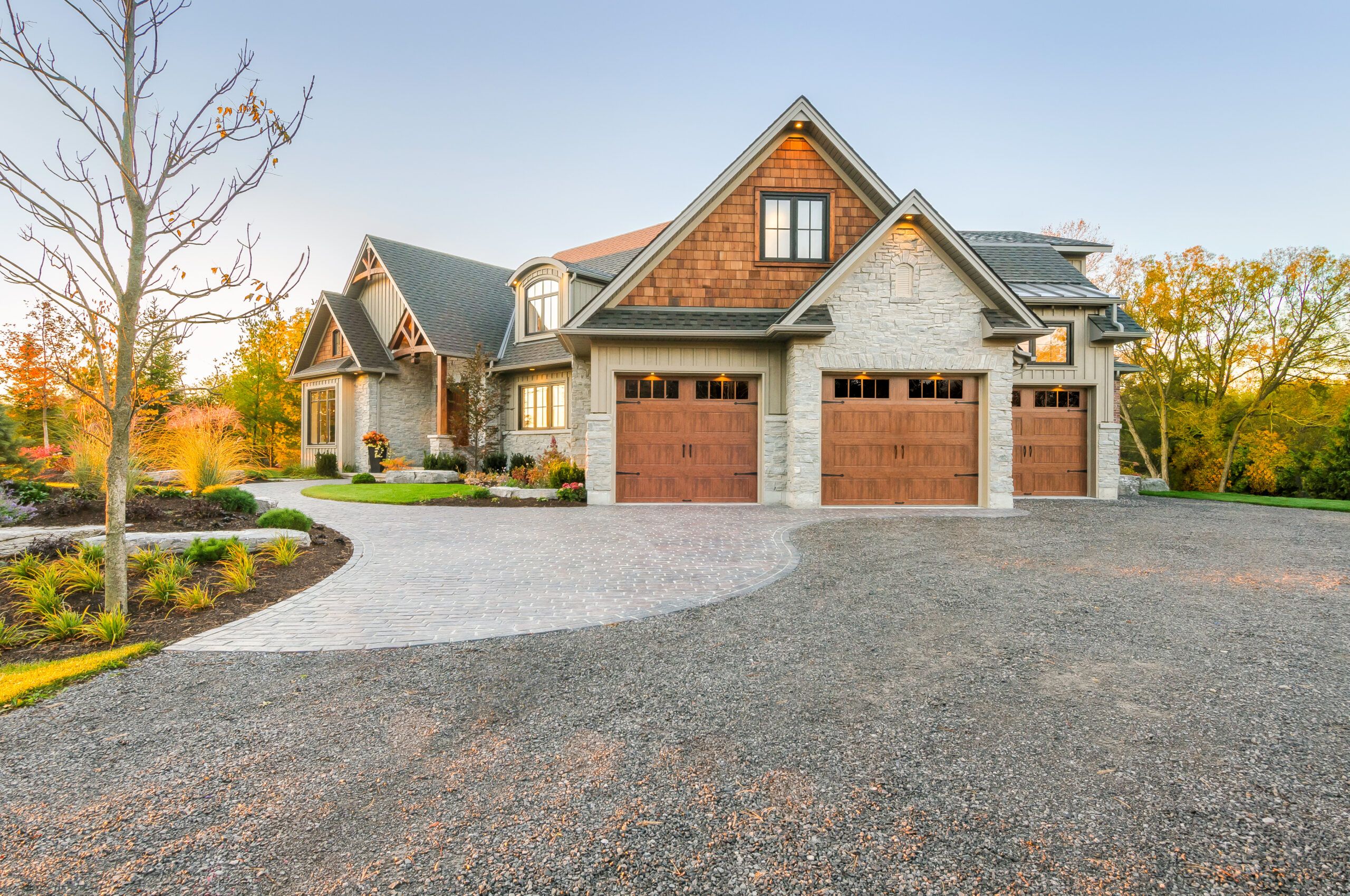 If you're looking for a more affordable option, consider a durable steel door with Clopay's wood-look Ultra-Grain finish.
Available in a variety of colors, this energy-efficient garage door has a wood grain pattern imprinted on the steel for a long-lasting, low-maintenance finish. The only upkeep required is to wash and wax the surface annually—it doesn't get much easier than that!
Shown: Clopay Gallery® with Ultra-Grain® Finish
Customizable Style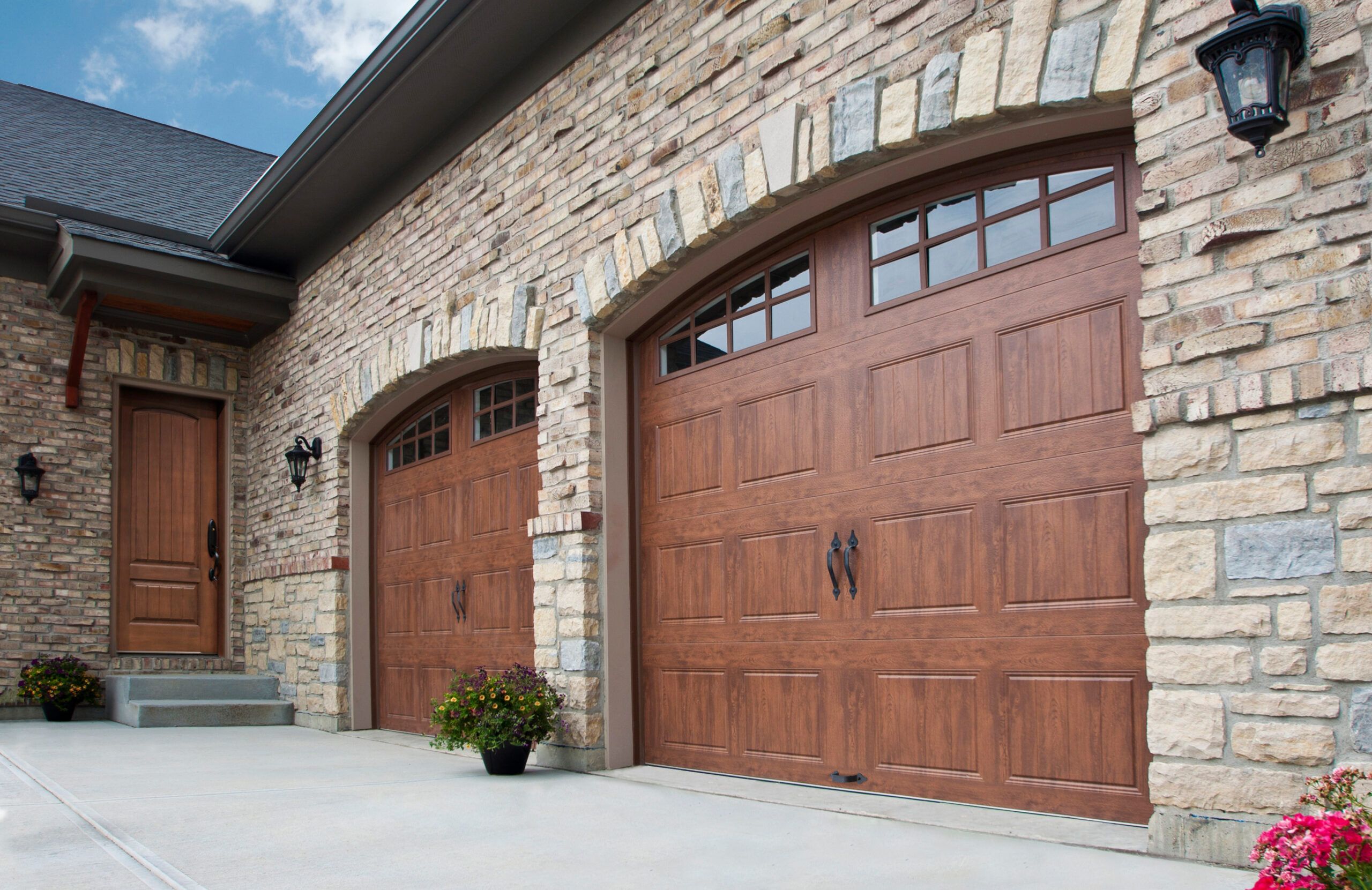 "Carriage-house charm will never go out of style," says Carlson. True carriage doors that swing open are quite expensive (and impractical), but you can still get that old-world look by adding arched windows and decorative hardware to any faux wood door, including the steel door, as shown here.
Shown: Clopay Gallery® with Ultra-Grain® finish
Mixing Mediums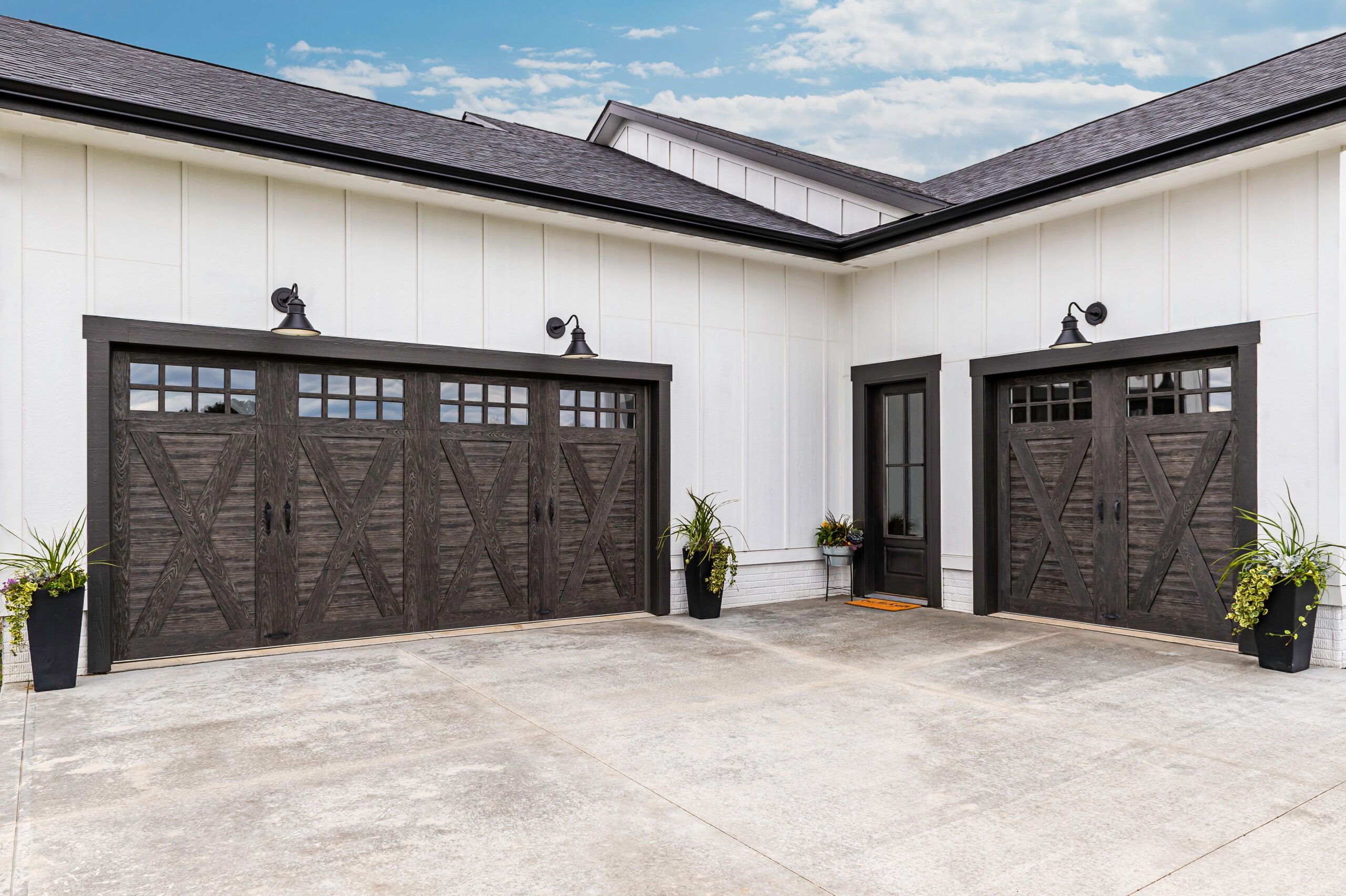 Often considered a "third-neutral" for black or white exteriors, "Natural wood tones bring warmth and beauty to more modern styles, making the home ultimately more inviting." says Carlson. These contrasting slate-look doors provide the rustic appeal of real wood, with less upkeep.
Looking for more inspiration? Here are 12 more makeovers to ignite your imagination.
Shown: Clopay Canyon Ridge® Carriage House (4-Layer)
Finishing Touches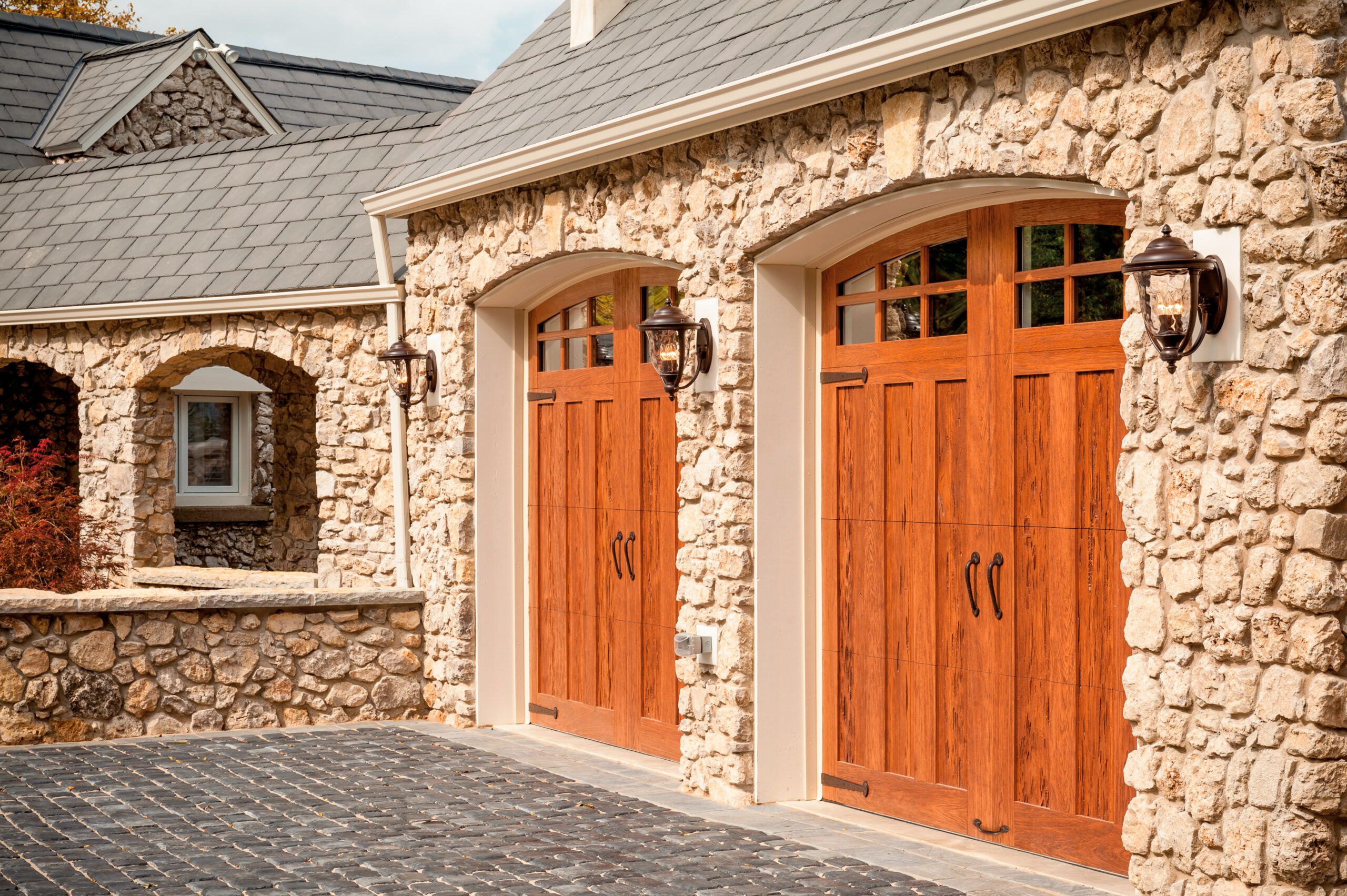 The possibilities for personalizing your garage doors are endless. Arched, rectangular, or square windows can play off of the window shapes of the main house. Attention to details, like seeded glass, can complete a historic look. And levels of glass opacity can allow natural light according to your comfort level, and can be tailored to maximize privacy.
And don't forget the accessories. Suggests Carlson, "Think of period-appropriate hardware as the jewelry that completes the look." Clopay offers decorative handles, hinges, and step plates to complement any door style.
Shown: Clopay Canyon Ridge® Carriage House (5-Layer)
Sneak Peek
Stay tuned for the reveal of the TOH 2020 Idea House on the Cape this fall, where you'll see a sleek, black, faux wood Clopay door making a striking statement. Carlson, who designed the home, says "The single panel and square lites of this door have a relaxed feel, reminiscent of a boathouse—the perfect vibe for a cottage on the Cape." And with its unquestionable quality, high efficiency, and low maintenance requirements, our future homeowners will surely enjoy this door for many years to come.
Clopay offers faux and natural wood doors to fit any home style and budget. Try a new door on your home now with the Door Imagination System. And for more advice and information, check out this informative buying guide.