Few, if any, home-improvement projects offer a greater return on investment than garage door replacement. Once again this year, garage door replacements topped the Remodeling 2019 Cost vs. Value Report,* continuing a two-year streak of returning, on average, nearly 100% of the project cost at resale.
With options that can enhance any home style and materials that are both durable and energy efficient, the right garage door can be an architectural highlight and prominent design feature.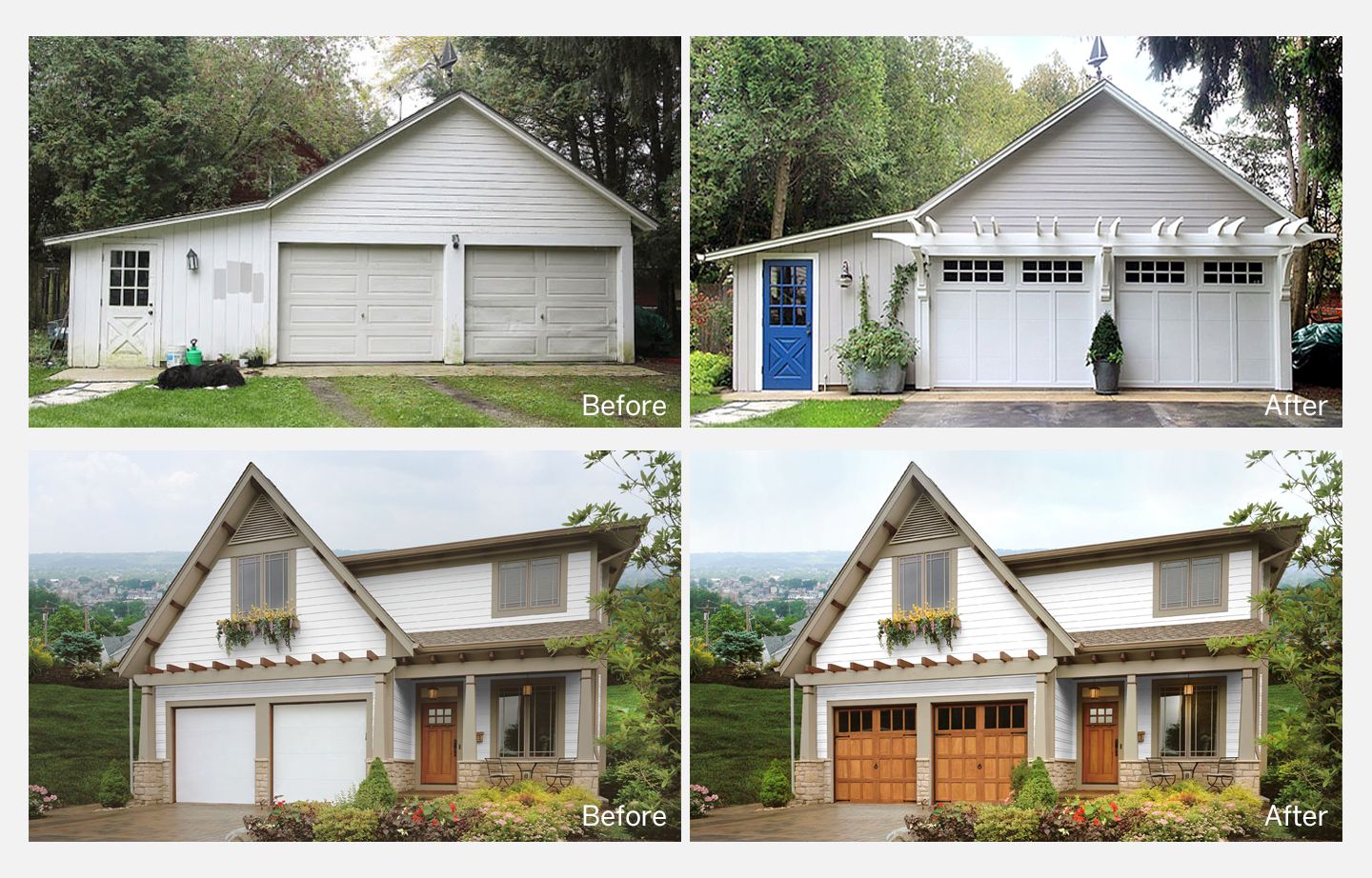 It's now easier than ever to find a door that will increase your curb appeal and ultimately make your home more inviting. Our friends at Clopay Garage Doors are about to show you how this single, simple home-improvement project can have a major impact on your home's exterior.
*©2019 Hanley Wood, LLC. Complete data from the Remodeling 2019 Cost vs. Value Report can be downloaded free at costvsvalue.com
Authentic Craftsman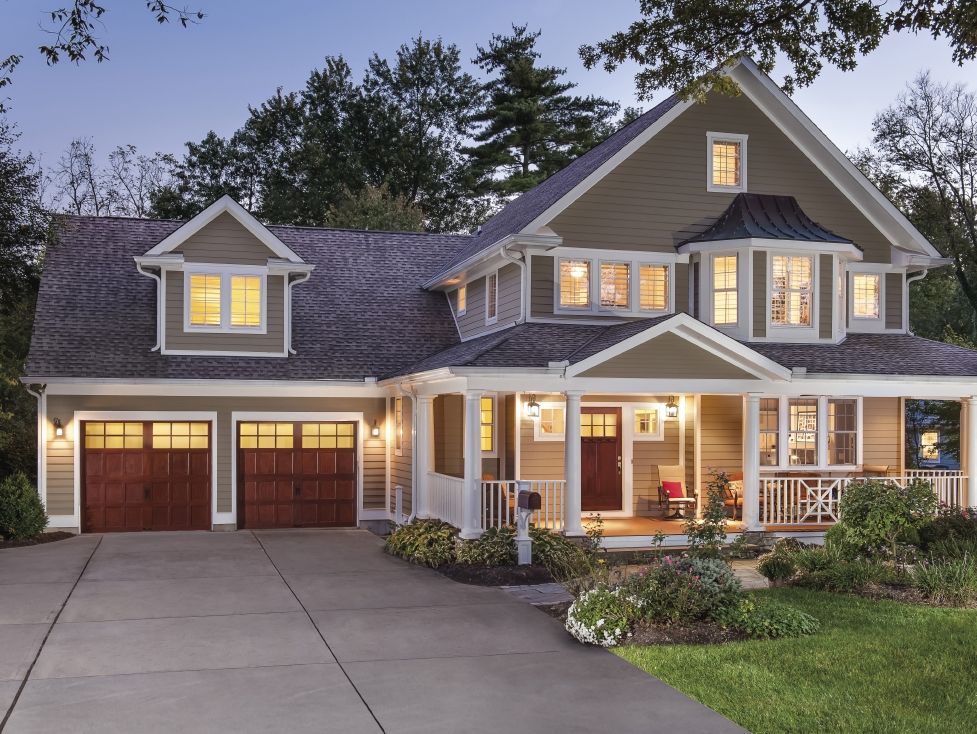 For a one-of-a-kind door, consider a Clopay® custom wood door, designed and finished to your specifications in the wood species and finish of your choice.
Natural wood is a great complement to other organic exterior textures, like faux- or natural-wood siding, stone, and brick. Handcrafted semi-custom wood doors from Clopay are available in hemlock, redwood, or cedar. See more natural wood doors, here.
Shown: Clopay® Reserve Wood Collection Semi-Custom Series garage doors
Convincing Craftsman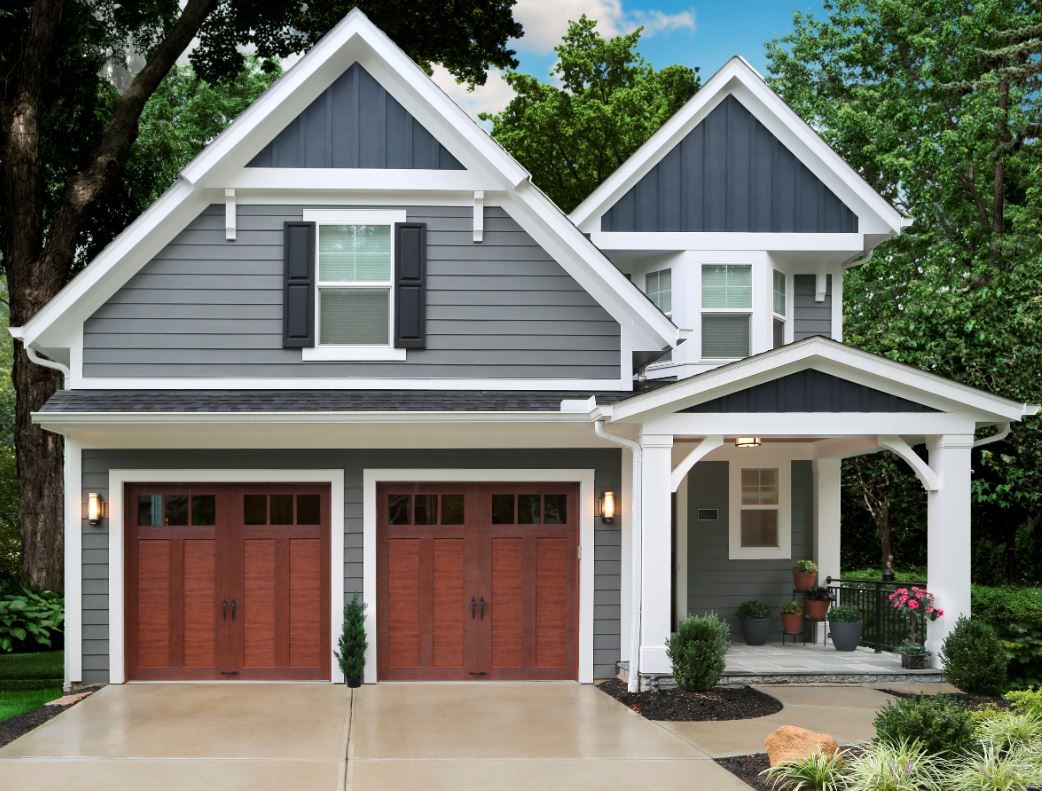 To get the same look with less maintenance, consider wood-look garage doors. They appear authentic because the steel door has a stained woodgrain paint finish topped with overlays molded from actual wood pieces to reproduce the texture and grain pattern they emulate. These garage doors come in several factory-finished stain colors to complement other stained exterior woodwork. Walnut is shown in the above photo; you can choose from Medium, Dark, or Slate.
Many Clopay® garage doors feature the insulation benefits of Intellicore®, a proprietary polyurethane foam that is injected into a garage door; this dense insulation keeps the garage, and rooms above it, comfortable year round.
Craving more Craftsman? Click here.
Shown: Clopay® Canyon Ridge® Ultra-Grain® Series garage doors
Classic Farmhouse Curb Appeal
These carriage-house-style garage doors with crossbucks are reminiscent of barn doors found on classic American farmhouses. Yet unlike their wooden predecessors, these doors are crafted of multiple layers of durable, low-maintenance, insulated steel with composite overlays, for the perfect blend of beauty and practicality.
Shown: Clopay® Coachman® Collection garage doors
Modern Farmhouse Flair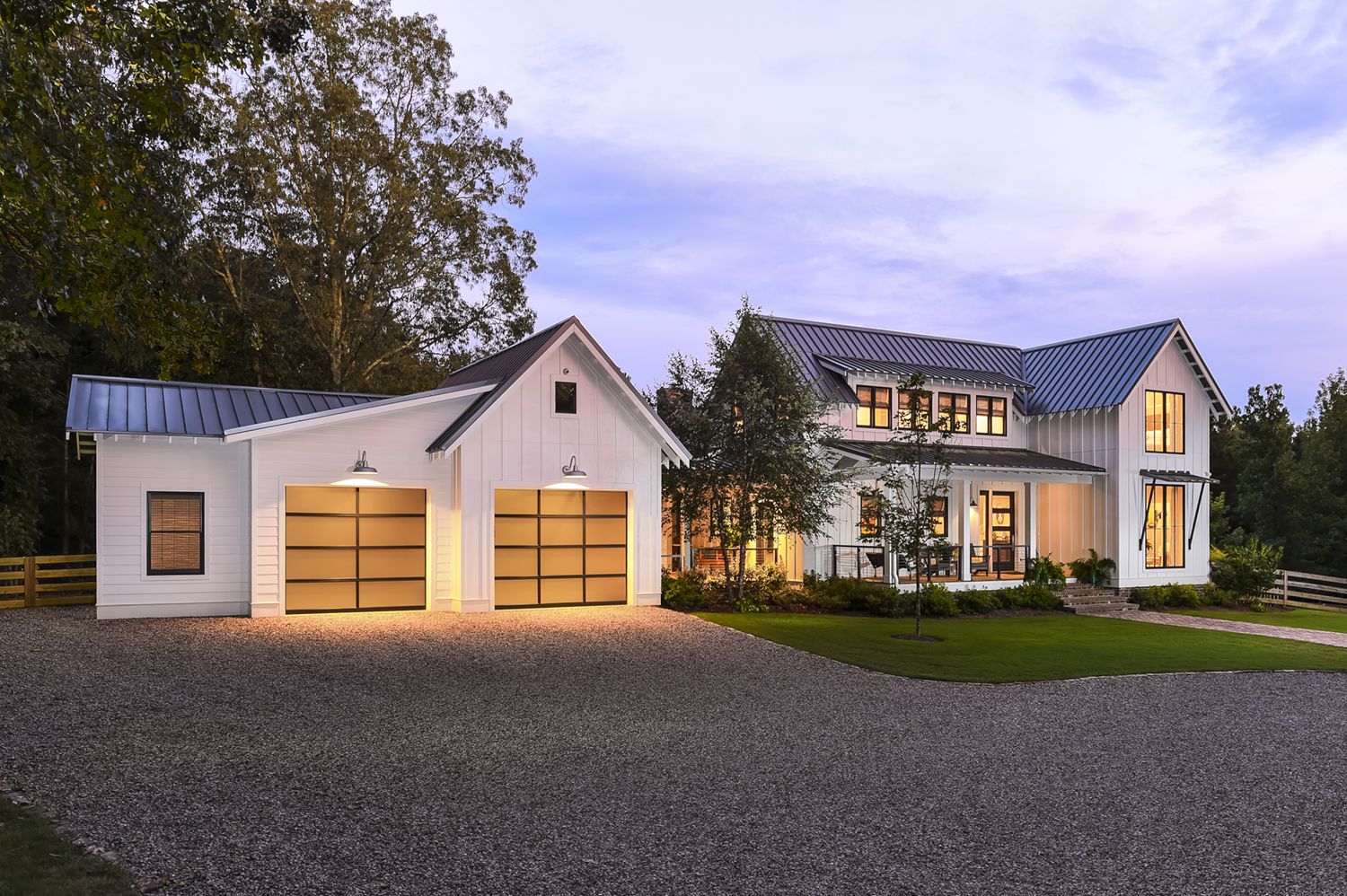 Here's an example of how one contemporary element can completely transform the look and feel of a classic farmhouse. While the garage features the same traditional white board-and-batten siding as the main house, the aluminum-frame doors are distinctly modern; yet because they echo the windows of the main house in shape and color, they complement the house instead of competing with it.
TIP: Aluminum garage doors are available in a variety of frame and panel combinations. Panels come in glass, acrylic, polygal, and solid aluminum, in colors matching the frame. You can also select the degree of glass transparency for your garage door: opaque, frosted, clear, and more. By choosing a glazing, you control levels of light and privacy, allowing you to use the garage as functional living space.
Shown: Clopay® Avante® Collection garage doors with frosted glass panels
Mid-Mod Focal Point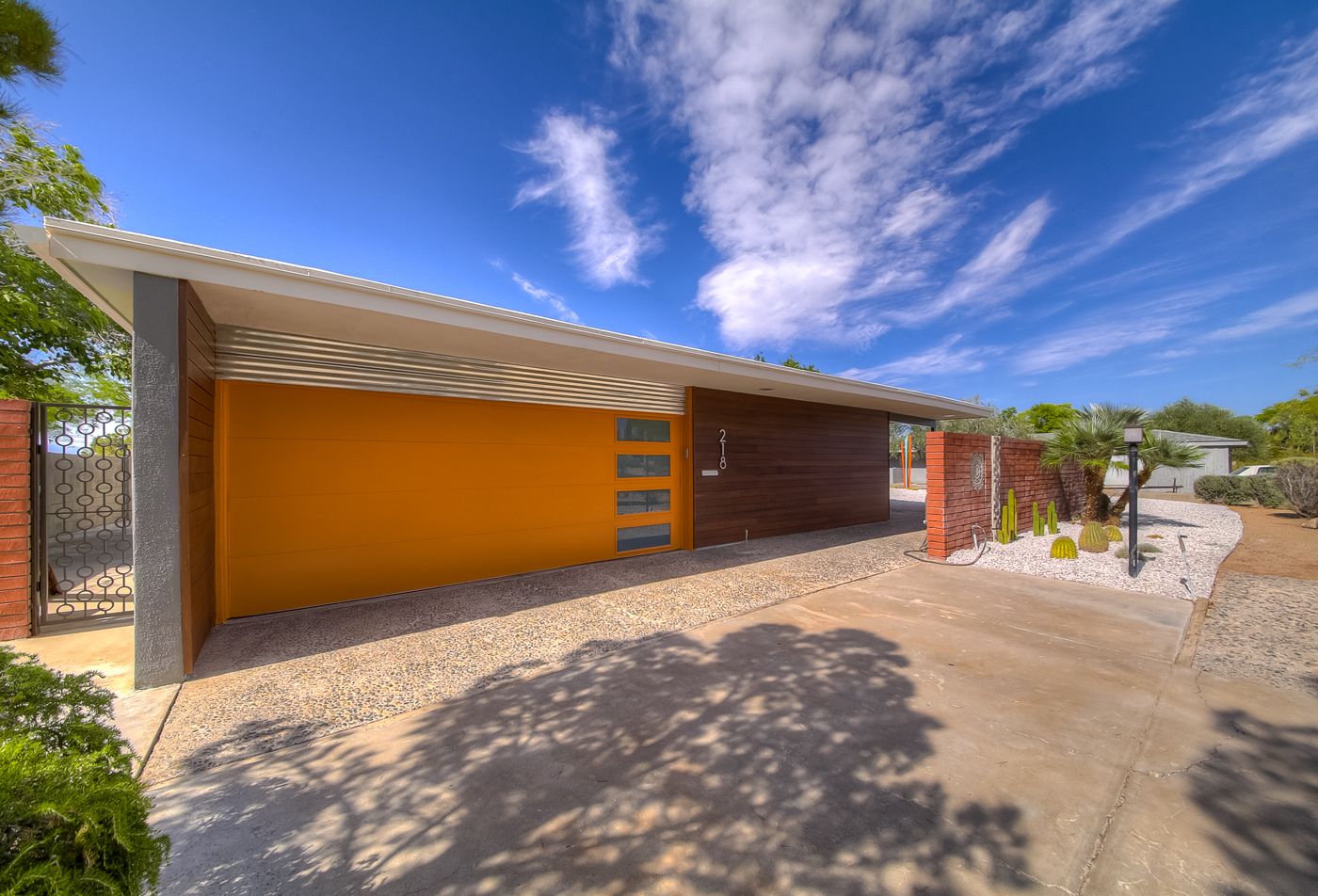 This homeowner took full advantage of the prominent steel garage door as a design feature, embracing the home's 1960s "mod" vibe by choosing a striking orange paint color to create a wow-worthy focal point. Garage door manufacturers like Clopay® offer more than 1,500 factory-applied custom color options for a durable, flawless, low-maintenance finish that matches your home's exterior perfectly.
Click here to see more garage door makeovers that will ignite your imagination.
Shown: Clopay® Modern Steel™ Collection garage doors
Contemporary Chic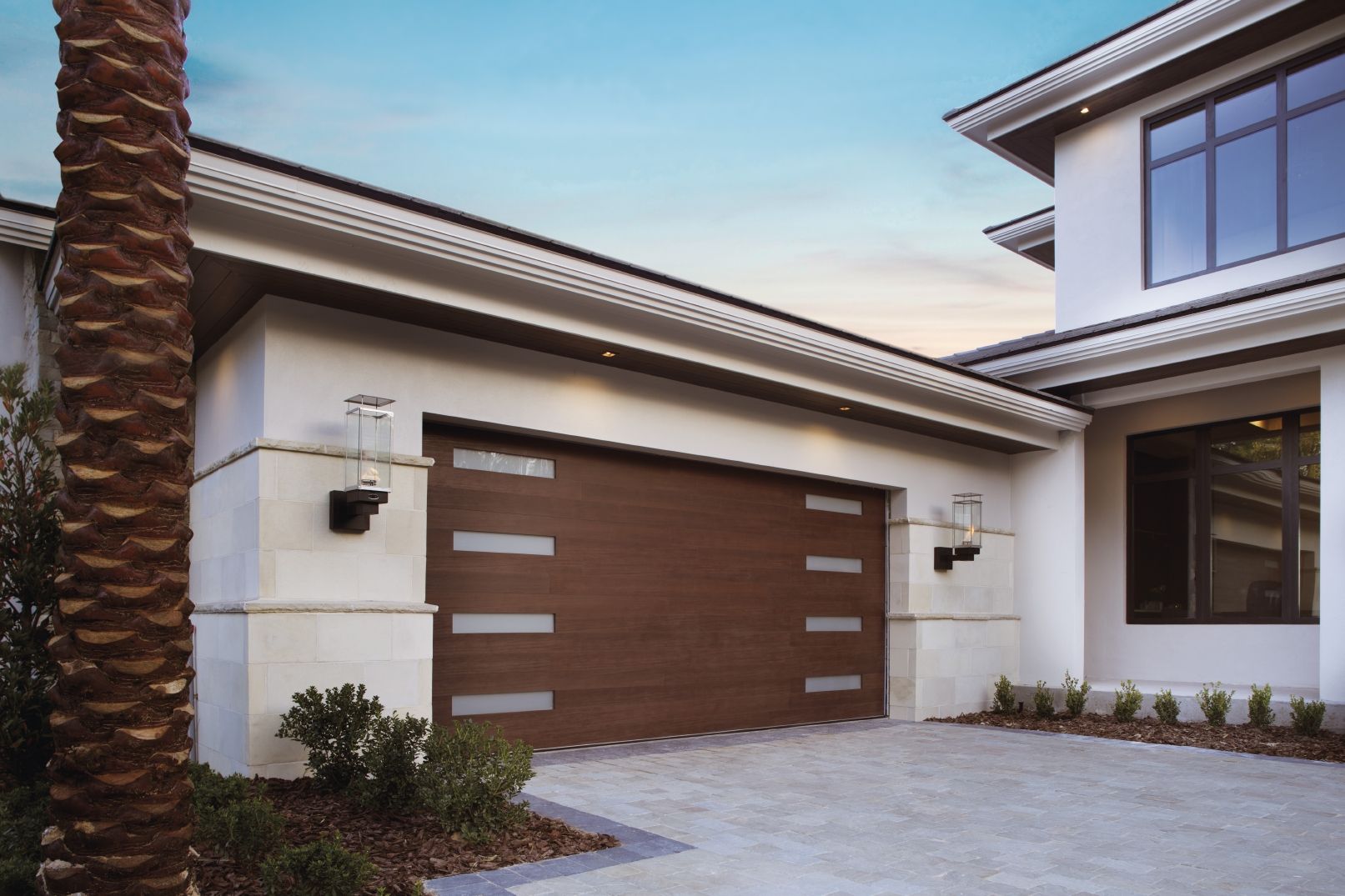 Suitable for mid-century and contemporary home styles, this smooth, sleek garage door features horizontal planks molded from real wood for a truly authentic look that requires less upkeep. This composite material is moisture-resistant, and it won't rot, warp or crack. Like wood, these doors can be painted or stained, and come in eight different designs. Shown here, the frosted rectangular windows complement the shape of those found on the house.
Shown: Clopay® Canyon Ridge® Modern Series garage doors
How to Find the Right Garage Door for Your Home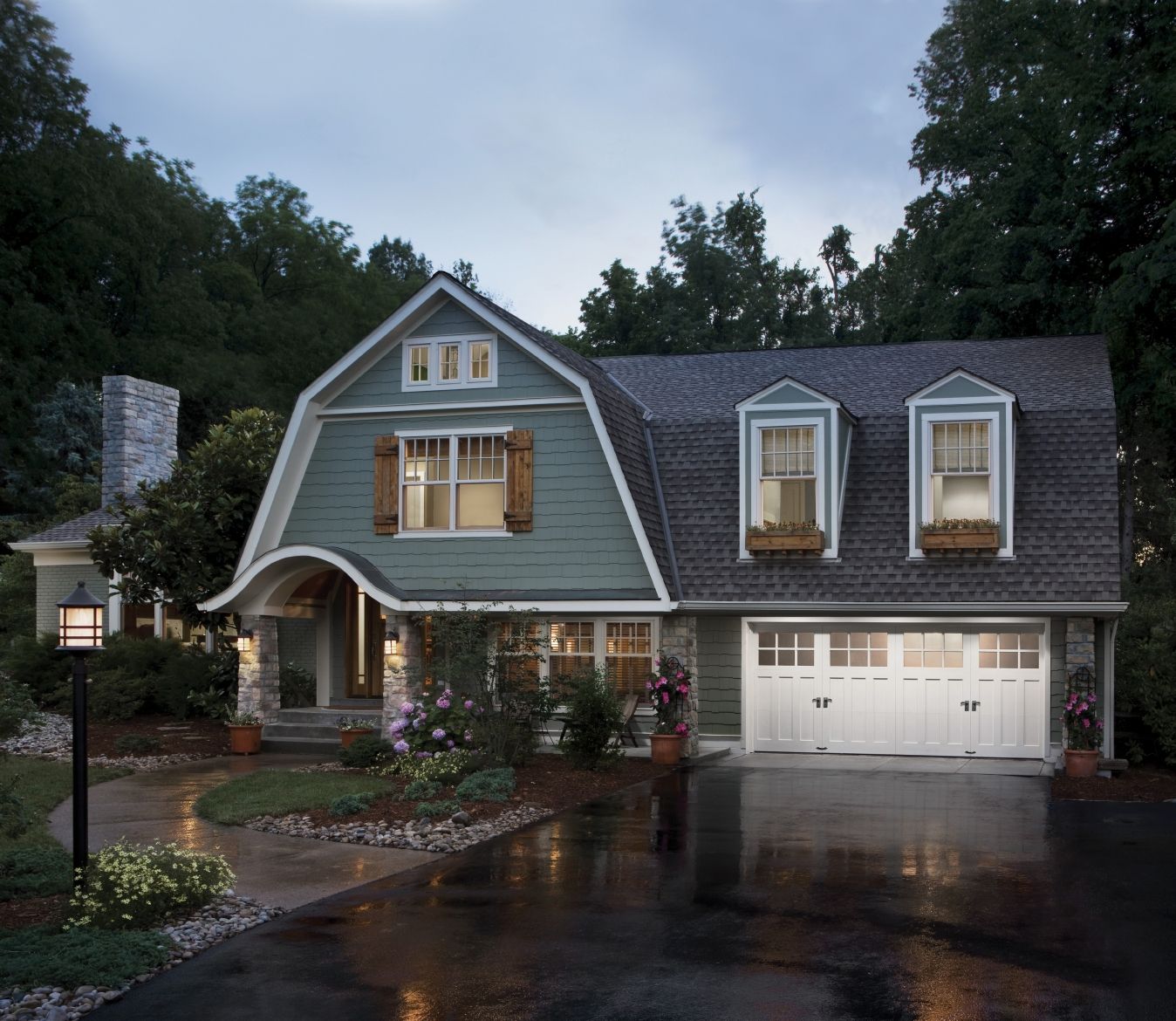 1. Choose a door that will enhance your home's architectural style. From carriage house to contemporary, the right doors can add to the unique charm of your home.
2. Pick the right materials:
Construction—Choose from aluminum, steel, wood, or faux-wood composite materials, depending on the look you want, your budget, and the upkeep you're willing to commit to
Energy efficiency—A well-insulated door keeps your garage 10-20 degrees warmer in the winter and cooler in the summer, for improved comfort, and this is especially important if you use the garage as a workshop or have living space above it
3. Add a personal touch with windows, decorative hardware, or a custom color.
For more shopping tips, check out Clopay's Garage Door Buying Guide.
Easy Upgrade. Major Impact.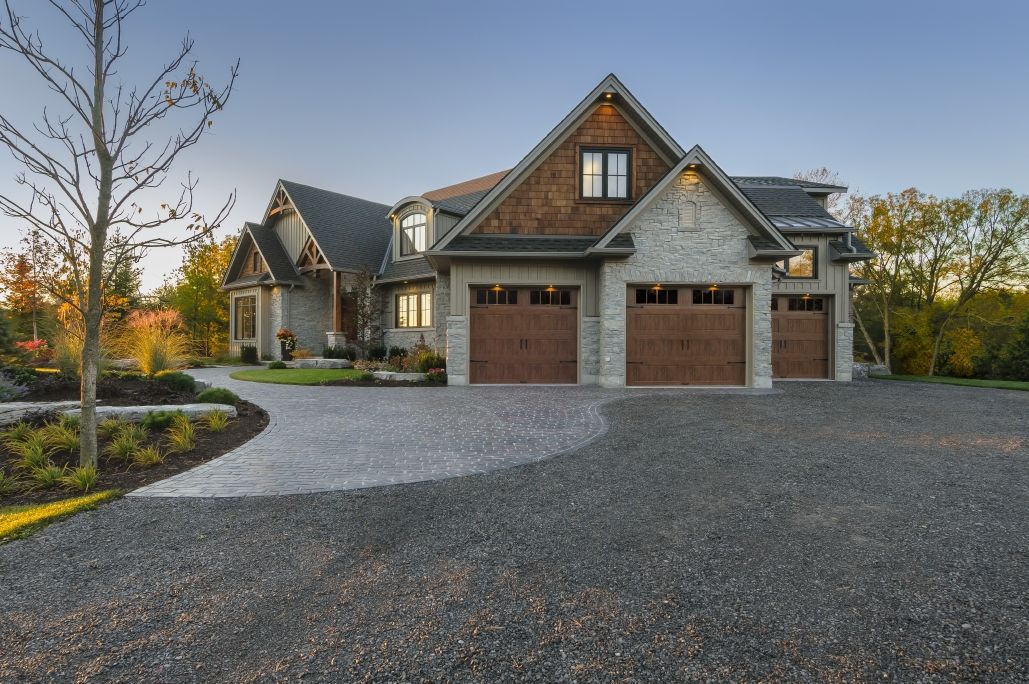 The right garage door can have a major impact on your home's curb appeal and resale value. And it takes less than a day to complete.
Upload a photo of your house to Clopay's free online design tool to see how a new garage door can transform your home.
Shown: Clopay® Gallery® Collection garage doors with Ultra-Grain® finish