For Cars or Cows?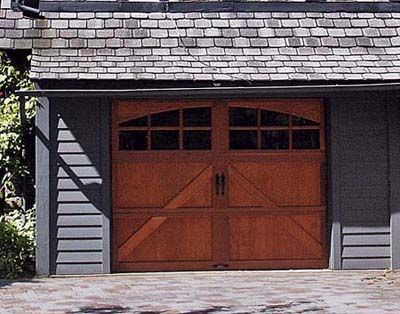 Barn-red carriage-house-style doors contrast with the cool gray of weatherboard siding and a slate roof. The narrow tongue-and-groove doors have traditional "Z" braces and arched windows with six lights. Although made to look like two swinging doors—with two wrought-iron bean handles—a third handle on the bottom stile belies its true design as an overhead door (which could suffer some damage if that loose gutter falls).
Formality for Your Ford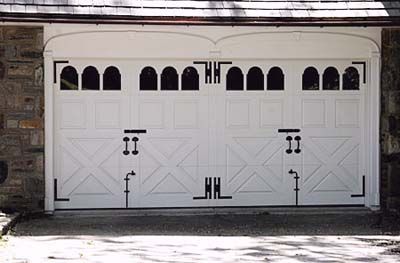 A standard two-car opening is outfitted with a door made to look like two sets of carriage-house swinging doors. The raised panel doors are dressed up with wrought-iron corner braces and fleur-de-lis handles as well as arched triple lights. Curved molding and pilasters frame the doors, adding to the formality.
Mellow Motor Home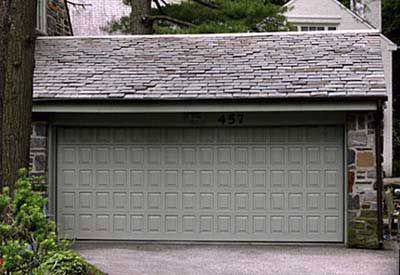 A mossy shade of green makes a long expanse of garage door recede so it doesn't detract from the surrounding stone wall. The raised panels add depth and texture, a soothing complement to the stone and earth-toned color scheme.
Shed Its Identity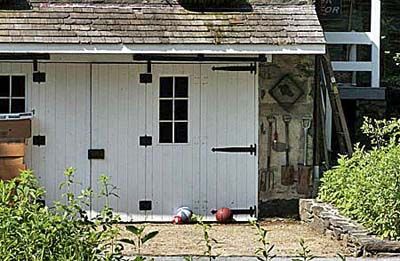 In converting a garage into a garden shed, the owners replaced a traditional door with two sets of swinging vertical-board doors. One set has a six-light window and wrought-iron strap hinges.
Country Quaint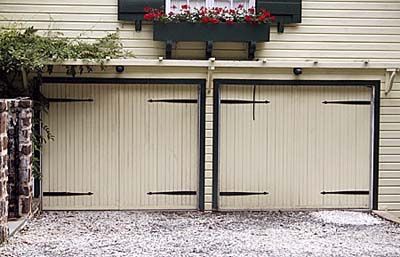 Four sets of symmetrical iron strap hinges on tongue-and-groove bead board give the illusion of old stable doors that swing open. However, these doors slide up and down to accommodate cars. A flowering vine climbs the rustic pergola overhead.
Hardware Helps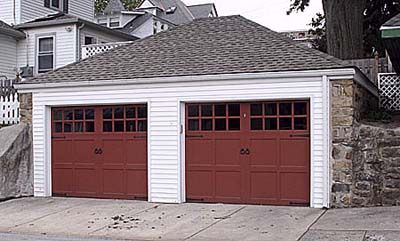 A pair of red overhead doors evoke twin bays of an old carriage house. Two sets of four-over-four lights further emphasize the symmetry, while the traditional stile-and-rail pattern is enlivened by wrought-iron strap hinges and round door pulls.
Top Heavy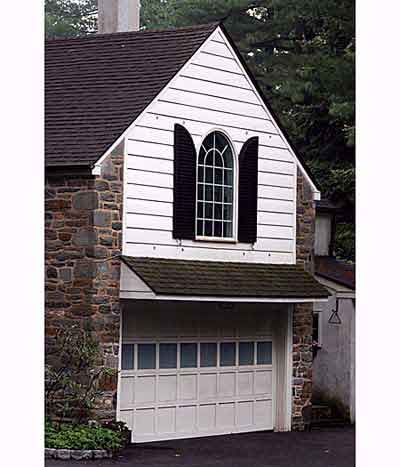 The peaked gable roof and Palladian window draw the eye upward—away from the simple garage door with its traditional stile-and-rail pattern and middle window. The mix of geometric shapes—triangular gable, rectangular clapboards, arched window and shutters, square door panels and windows—contrast with the organic feel of the stone wall and slate-roof overhang.
Motoring onto the Marshes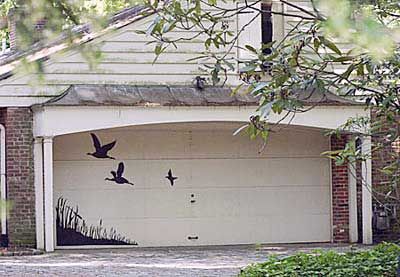 An older flush-style garage door evokes a Victorian portico with the help of a four-column copper-topped canopy. Painted or cast-iron silhouettes, such as this one of marsh grass and pheasants in flight, add touches of whimsy and lend depth and dimension.
King Arthur's Carport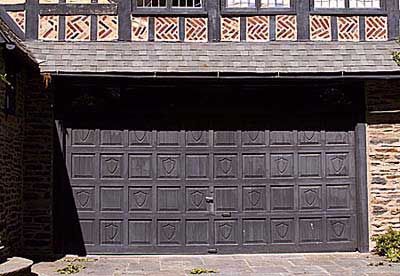 Painted black, a double-width stile-and-rail pattern garage door doesn't call attention to itself. But upon closer inspection, you see a shield pattern carved into every other panel, providing another textural element to a Tudor-style façade that already contains stone, slate, and mosaic tile.
Undercover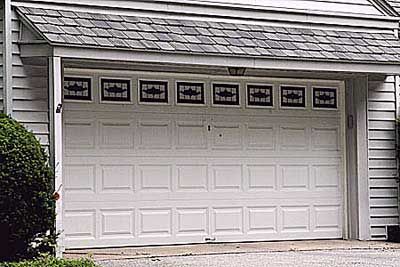 A slate-tile overdoor shelters a traditional garage door. Glazed with grilles over raised panels, this overhead style is one of the most prevalent in America
Triple Play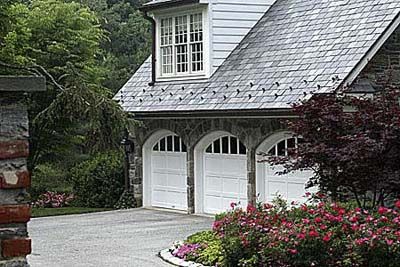 Carriage-house-style times three: Arched doors with six-light windows add to the Victorian charm of this triple garage. Chamfered jambs are a polished finishing touch for these overhead doors.
Greening the Garage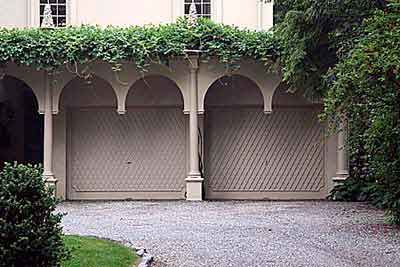 Wisteria growing on an overhead arbor serves as a valence, topping the elliptical arches that frame the two doors. The raised jacquard pattern on the doors and silver topiary finials on columns make the garage look more formal.
Palette for Parking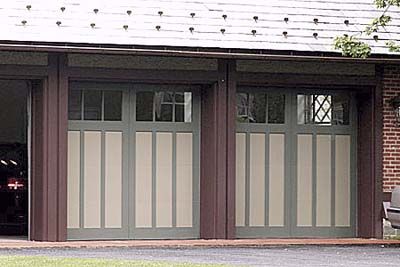 Painting the half-timbered panels yellow and green warms up a "black and white house," as Tudor styles are sometimes called because of way the exterior walls are delineated by exposed timber framework and white stucco-covered brickwork. Four six-light windows across the top provide light but protect privacy.