As a design trend, painted furniture shows no signs of slowing down. With the wide range of textures and finishes and limitless color choices, there's a look to suit just about any décor style. So if you're ready for a fun, creatively satisfying project, why not give an old piece a new attitude with a fresh coat of paint.
Painted Furniture Ideas to Try
Here you'll find DIY ideas for furniture made of wood, metal, and plastic, so before you grab that brush (or spray can), click through for inspiration, helpful how-tos, and links to complete tutorials.
Use Chalk Paint
A big part of the DIY painted furniture craze has to do with chalk paint. It's easy to use, adheres well to a host of surfaces with an appealing matte finish, and works great with other mediums (such as glaze and stain) as well as stencils and transfers for truly unique looks.
Try Milk Paint
Similar to chalk paint in results but with a slightly different formulation, milk paint is also popular with crafters (in fact, you can mix up your own). To create the cool distressed patina on this dresser, use a scraper on the almost-dry surface to add dings and chips; you can also place tape on near-dry milk paint and then peel it off for a stripped effect.
Paint Upholstered Furniture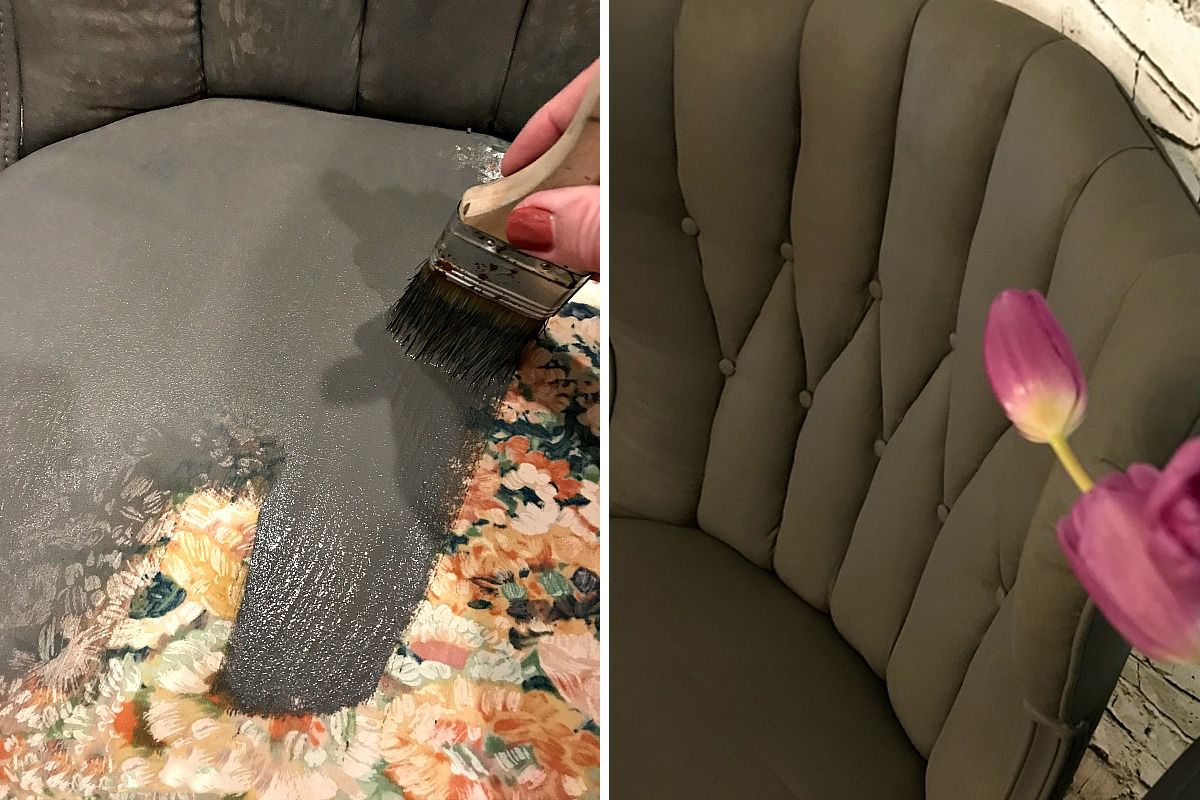 Got an upholstered chair with a fussy pattern? Paint can provide a modern monochrome transformation. The trick is to mist the upholstery well with water to help paint adhere. Be sure to wiggle into all the nooks and crannies with a small brush, and sand lightly between coats. It will take at least three coats to fully conceal the pattern, and more if going from a dark shade to light.
Try the "Pour-on" Method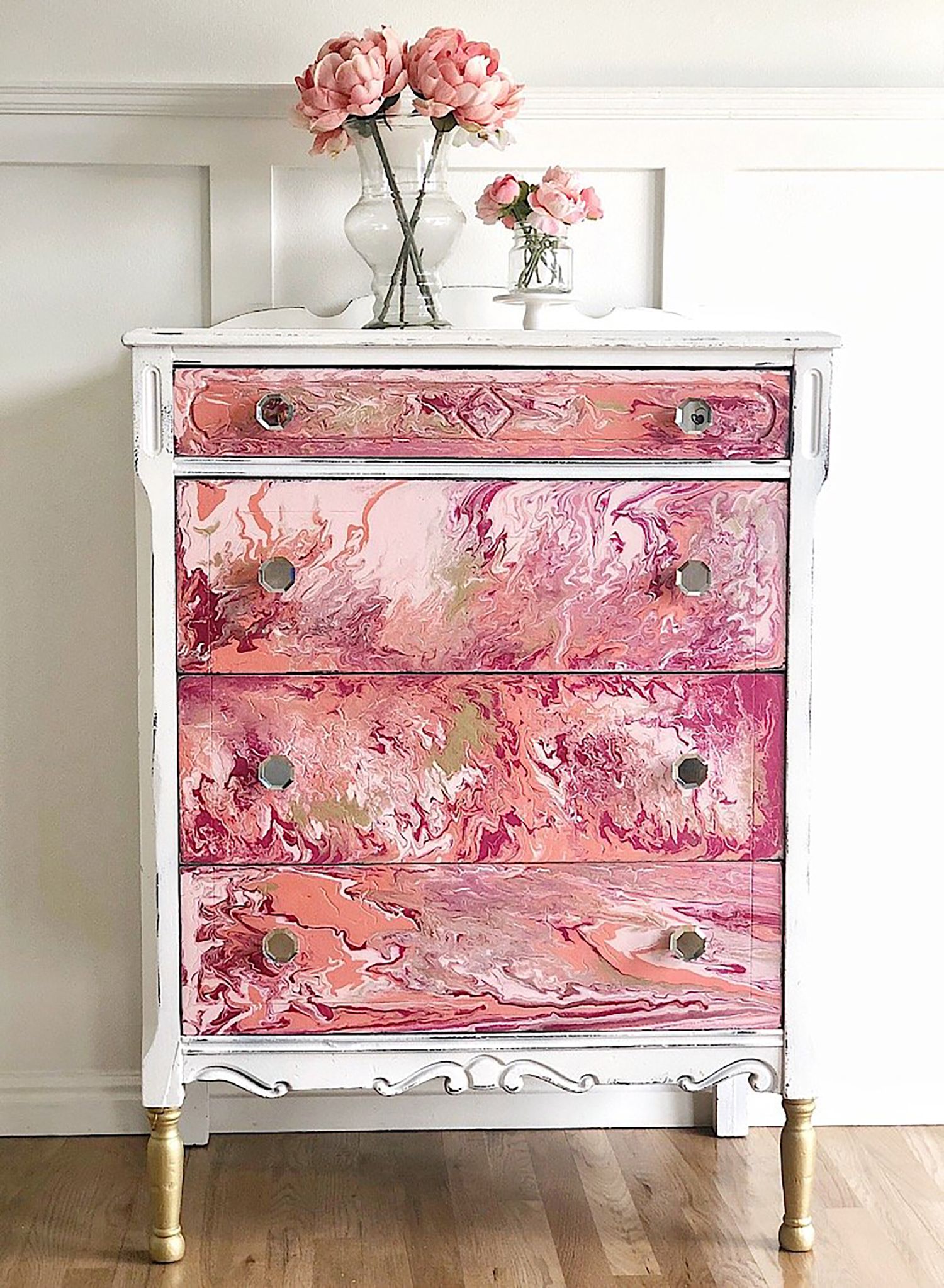 This dazzling design recalls the spin-art creations made at carnivals back in the day. An entire piece done with the "pour-on" method would be too busy, but it's just right on drawer fronts. The secret is to give the paint a runny consistency, with water, topcoat, or thinner. Simply drizzle on loosened paint randomly, then move the drawer in all directions to spread and swirl. Repeat with two or more colors.
Paint Metal, Plastic, and Fiberboard
Just because you've got work to do doesn't mean the décor must be seriously drab. Redo a metal filing cabinet, adding tapered legs and new hardware in a glitzy hue, and your home office may become your new happy place. Check out the This Old House primer for painting metal—and other surfaces you thought you couldn't take a brush to!
Color Wash Furniture
Though you appreciate the warmth of wood, you may wish to liven it up a bit—especially on a large, potentially stodgy piece like an armoire or hutch. Try this cool color wash technique, great on raw wood as well stained surfaces. Chalk paint is thinned with water and brushed on, then wiped off. The beauty of the grain will show through the subtle color.
Achieve a Boat-Wood Effect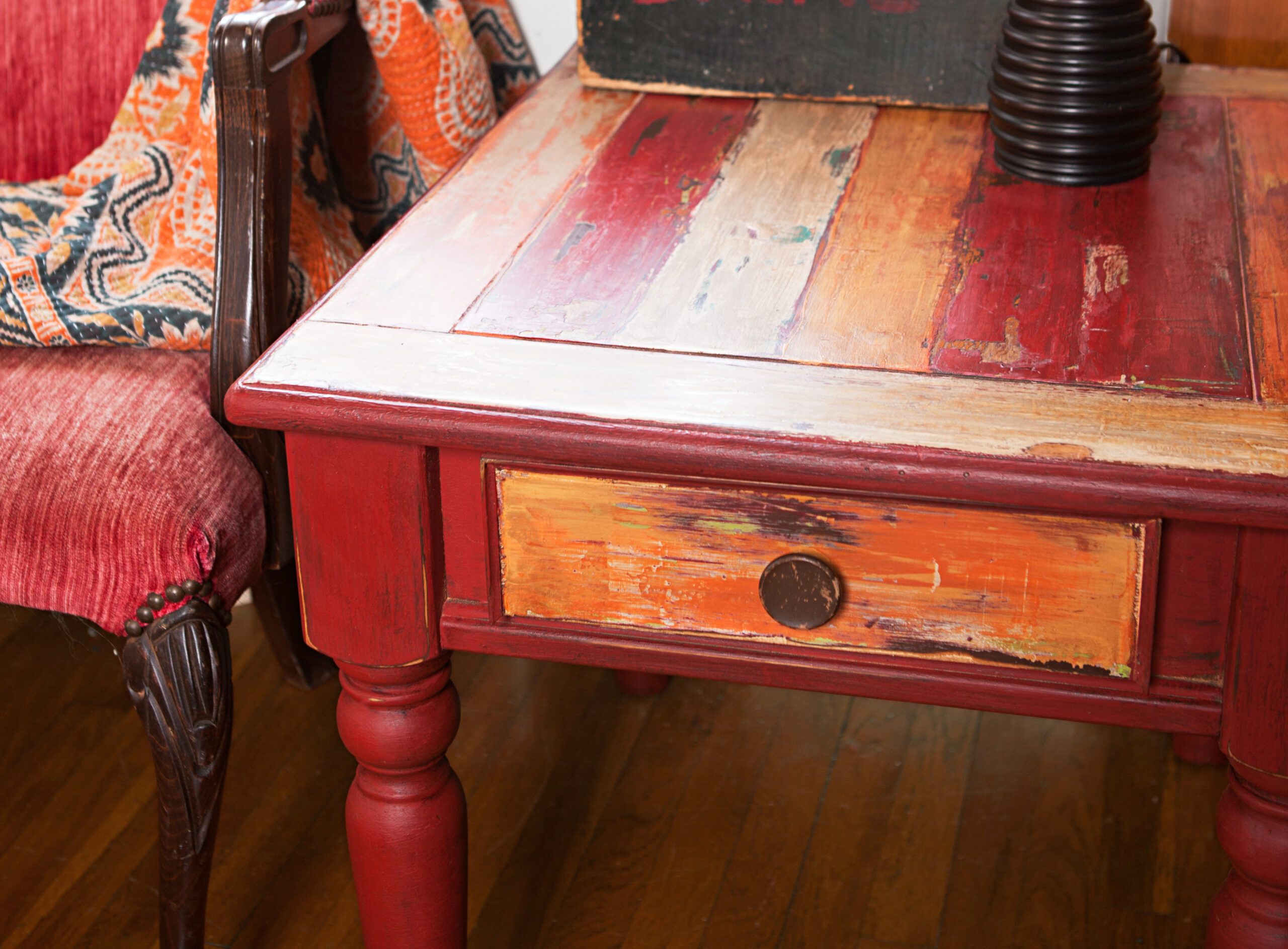 Furniture crafted from the wood of salvaged fishing boats inspired this four-color paint technique. You'll brush on a base coat in one shade, then layer on others and scrape or sand to get the desired effect when the paint is 90 percent dry. The rustic results are ideal for small pieces like this end table or perhaps a trunk.
Memphis Style Furniture Painting
It's ba-a-a-ck! The flashy colors and asymmetrical shapes of the Memphis Milano movement have resurged. So grab a few hot hues—neon pink, acid green, bright primaries—and transform a staid sideboard or dressing table into a piece that screams Eighties. Draw your design in chalk first—or dare to go freehand!
Create Faux Marble Furniture Surfaces
A natural stone tabletop is elegant—but heavy and expensive. To fake it, pick paint colors that mimic real marble, white, and a few shades of gray. Brush on a coat of white, then use a cotton rag or sock to dab and swirl the other shades while the first coat is still slightly wet.
Paint Wrought Iron Furniture
An iron bed frame can be a contrary piece. Thin spindles and airy curves have a delicate quality, but black is a bit bleak, particularly in a bedroom with a feminine feel. Lighten things up with water-based acrylic paint—a fast-drying, low-fume formula that will resist cracking and chips once cured. Clean the iron really well first (tip: use trisodium phosphate). Since you may not wish to move the heavy frame from the bedroom, be extra conscientious about protecting the floor from splatters with a drop cloth.
Decoupage Furniture
Enhance the most pedestrian pieces with decoupage: the art of combining paint techniques with colored paper cutouts. These days, you can cheat by buying ready-to-use decorative paper made for this technique. See the how-to for transforming a once-blah bookshelf with teal chalk paint and beautiful butterflies arranged on the inside for stealth style.
Create a weathered paint look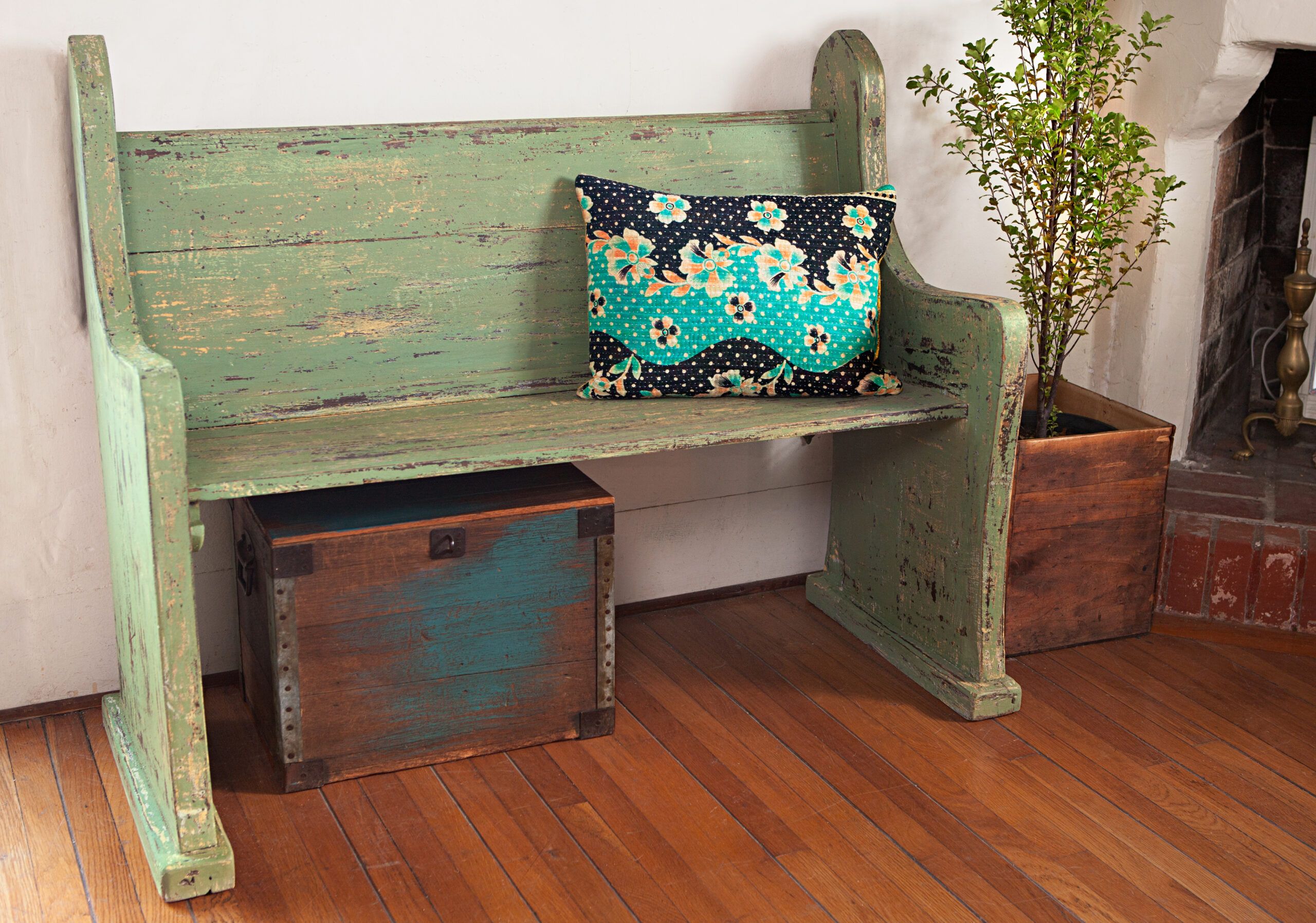 Fashion instant "antiques" like this worn-to-wow bench with three colors and a scraper. Finish with wax or, if your piece will sit outside, hemp oil (wax won't hold up to the elements well). Chalk paint and milk paint both work equally well for this project.
Paint Plastic Outdoor Furniture
Plastic outdoor furniture that's seen better days needn't become landfill fodder. The material is fairly porous, so the right paint will adhere well—just first ensure that surfaces are squeaky clean and smooth. For long-lasting, chip-resistant results, opt for Rust-Oleum Paint for Plastic. The oil-based formula affords good coverage without primer, and the glossy finish is perfect for plastic. For a similar product on a budget, go with Rust-Oleum Painter's Touch Multi-Purpose Spray Paint.
Paint Picture Frames
To create an impressive gallery wall, paint a collection of different size and style frames in the same shade. A single color lends cohesion and helps draw the eye from one picture to the next. Remove the backing, glass, and artwork from the frames, sand lightly, and wipe clean to prep. This is a great way to use up leftover latex paint from a previous project.
Spray Paint Wood Furniture
If the wooden spindle chairs in your dining space need a makeover, but poking around all those slender pieces with a brush seems daunting, reach for spray paint instead. With the right technique, it will go on more smoothly and evenly—not to mention faster—than you'd manage with a brush. For a durable, long-lasting finish, use enamel, a hard-drying formula ideal for furniture, trim, and cabinets.
DIY Distressed Furniture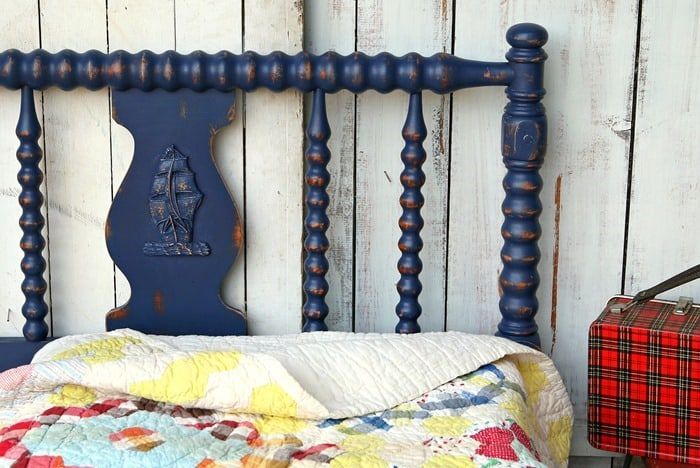 Kids will be kids—and that can be hard on their bedroom furniture. So treating their wooden bedframes to a deliberately distressed effect makes a lot of sense! Paint, then sand or scrape in random spots, and finish with wax.
Paint Furniture to Match Decor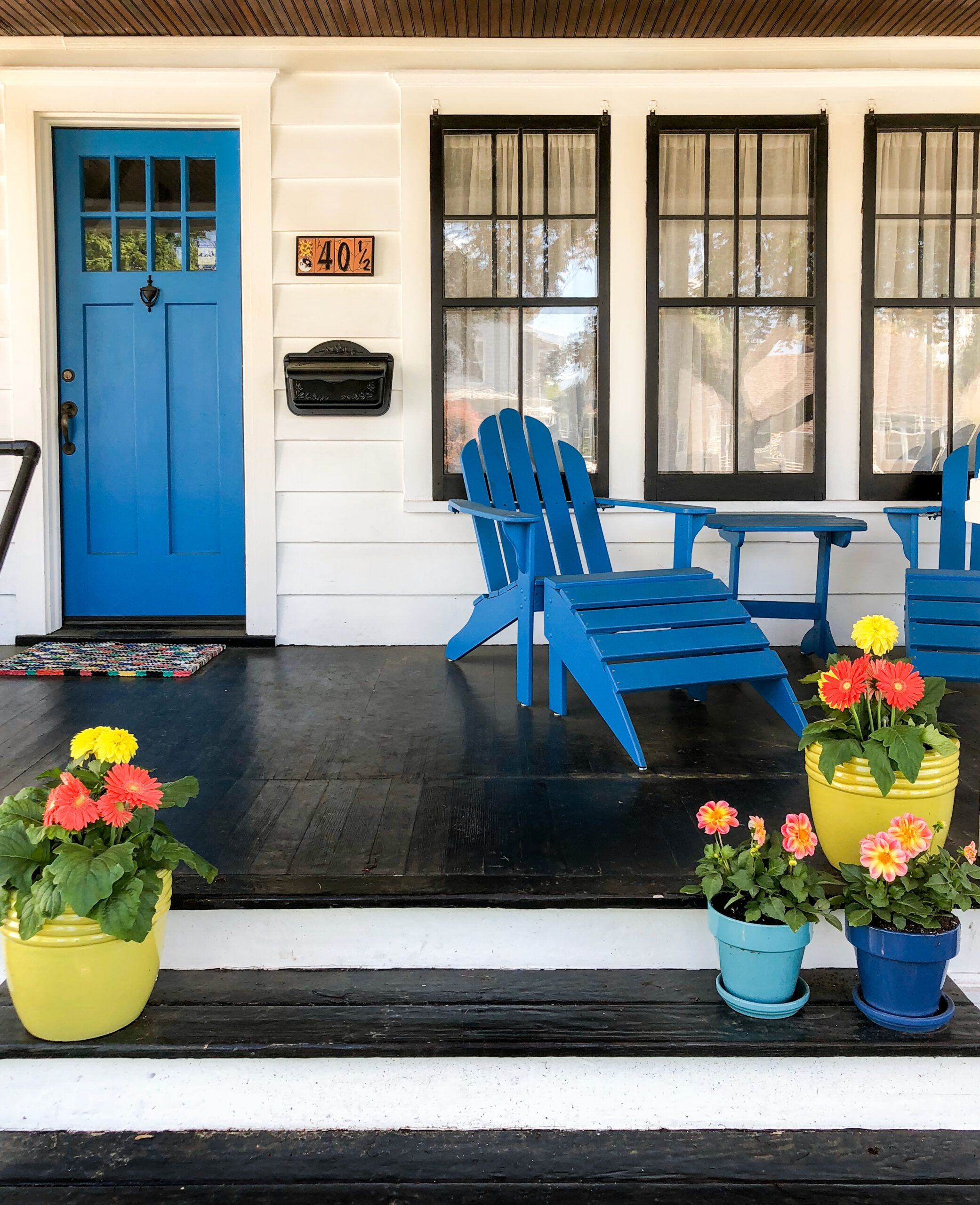 Make a style statement with an accent wall and a piece of furniture in the same hue. Among the year's most popular interior paint colors are saffron, plum, aqua, and pale apricot (a wonderful and gender-neutral choice for a nursery).