For Your Little Athletes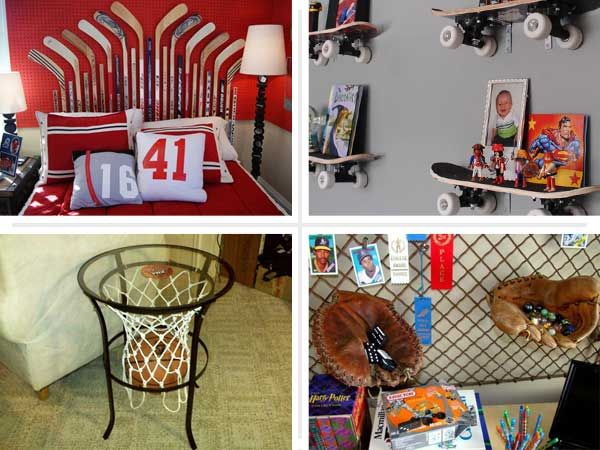 With fall sports fast approaching, you're going to want to clear out all of last year's gear to make room for the new, but don't throw it all away—there is a world of options for old sports equipment. You could pile it into a box somewhere, but why not repurpose those old baseball bats or broken tennis rackets in your little all-star's room?
Inspire Your Future NHLer with a Hockey-Inspired Room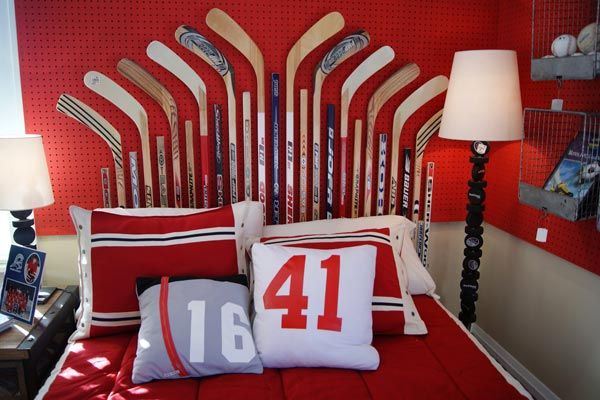 Hockey-stick headboards, jersey pillows, puck lamps? That's the hockey-themed-room hat trick. Get your young Gretzky ready for the season with these icey upcycles. The bloggers behind the Bachman's Holiday Ideas House put all their hockey gear to use; now it's your turn!
Celebrate Every Slap Shot in a Hockey-Stick Chair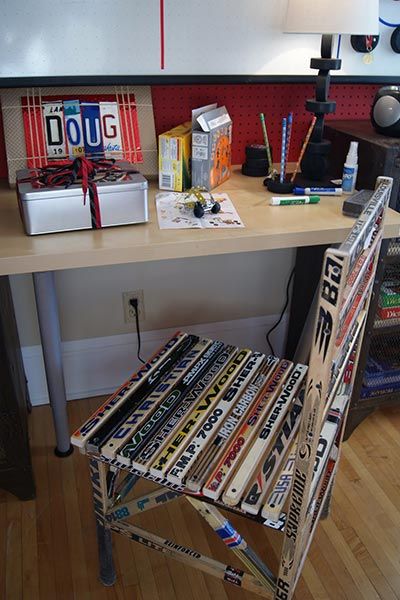 Broken sticks are just another hazard of the job for hockey players. Don't throw them out—reuse them! It might take a little craftsmanship, but the result is well worth it. Check out this chair also from the bloggers behind the Bachman's Holiday Ideas House.
A Dugout-Inspired Shelf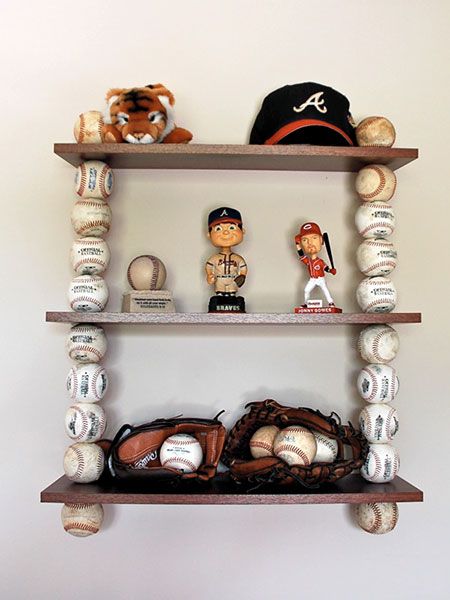 Grab 20 of those baseballs that are rolling around the house, car, and front yard and put them to use like blogger Amanda from Aromatic Delights did. All you need are a few boards, hardware, and a threaded rod to hit this kid's-room-storage look out of the park! Click here to download the instructions to build a baseball shelf
Ace Trophy Storage with a Tennis Racquet Shelf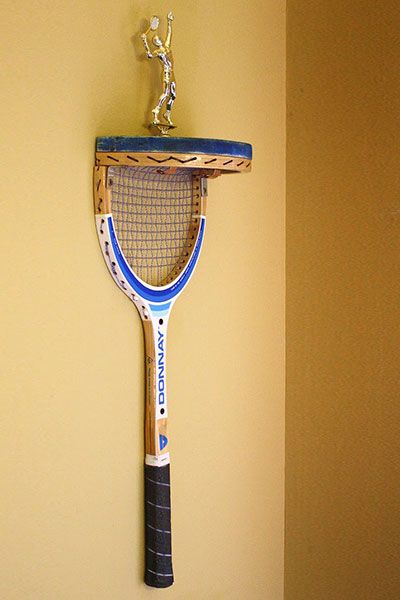 Broken tennis racquet? No problem. With just a little touchup on the wood and strings, your castoff racquet can be the perfect trophy holder like the one by blogger Brian Carlisle from GadgetSponge.com.
Score with a Basketball-Net Table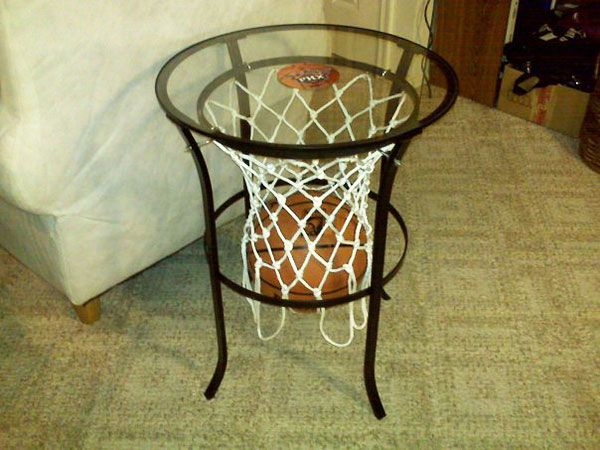 Give your favorite point guard a table that will catch all their rebounds, like this one from the blog IkeaHacks. Start with a spray-painted embroidery hoop and attach a basketball net to it. Hook the hoop to each of the legs and you've got a slam-dunk-worthy side table.
Hit an Ollie with These Sweet Shelves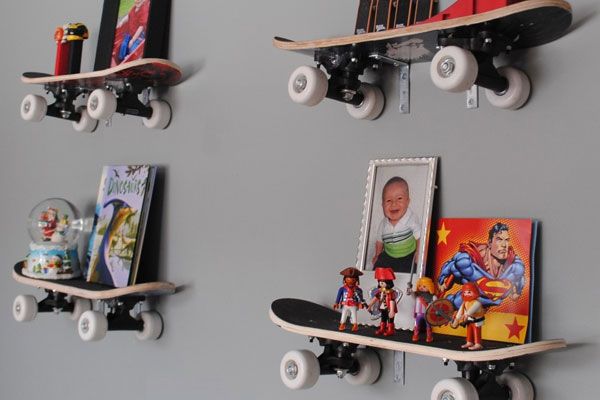 All you need is an old board and some L-brackets to make the perfect place for your skater's stuff to chill. Jenna Burger, a blogger from Jenna Burger Design, used mini decks, but with the proper hardware you can also hang a normal-sized skateboard.
Light Up the Night with This Badminton Redo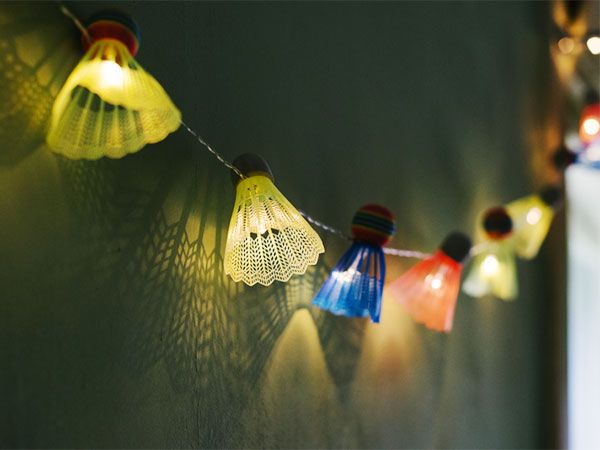 If your family loves badminton, then you're sure to have extra birdies everywhere because those things sure do get lost easily. Why not snag a few for this DIY shuttlecock lights garland that blogger Daria from Kittenhood made? All you need is a set of string lights and a sharp tool to affix the sporty shade to fuel those stadium-light dreams.
Encourage Sweet Dreams of Homeruns with This Headboard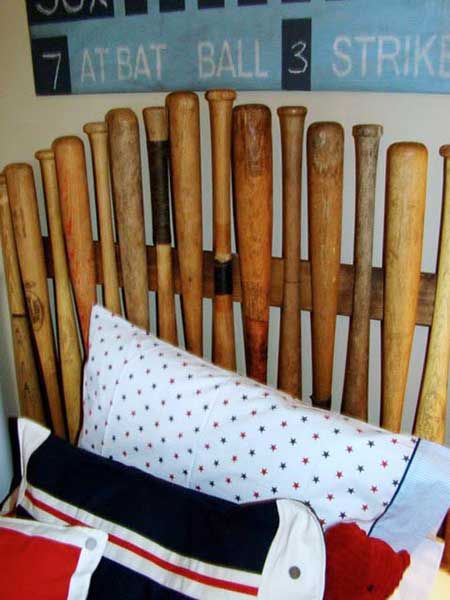 Make use of that barrel of discarded bats by making a simple bat headboard. Alternate the bats on a wood headboard, like the Bachman family did in their Spring Ideas House, and your rookie will never strike out.
Catch Everything in Old Baseball Gloves for Extra Storage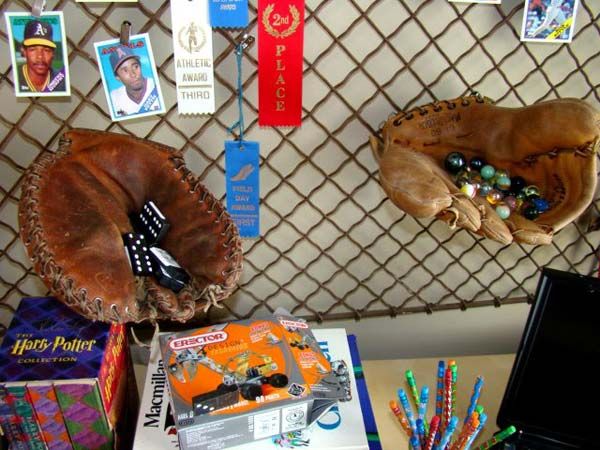 Give your Golden Glove a place to keep those fly balls and trinkets by hooking an old glove to the wall; or go for more authenticity, like this room also from the Bachmans' Spring Ideas House, and attach them to fencing right from your favorite sandlot.
Turn Homework Goals into GOOOAAALLLLSSSS with This Desk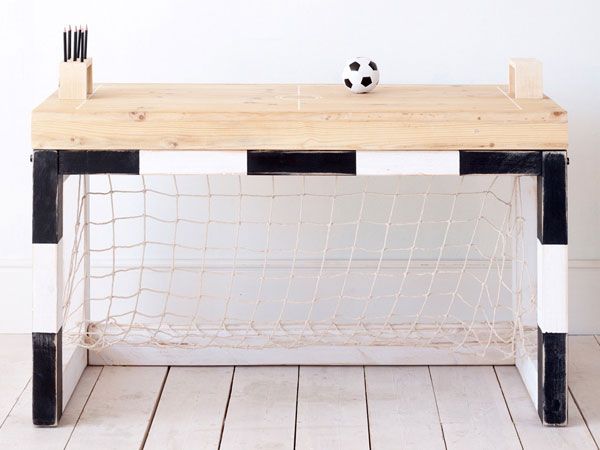 We love this desk from XO In My Room. It's a sporty but subtle way to decorate your MVP's space, and an easy DIY, too. Just a little paint on the legs of your child's desk will secure the goal for a sure win.