From Trash to Treasure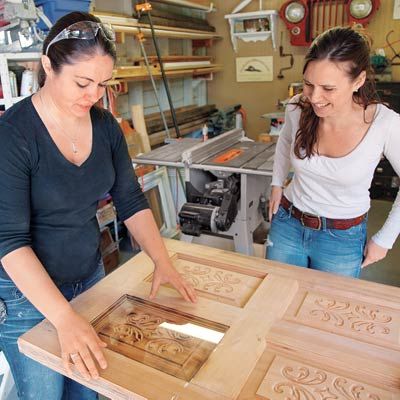 Who: Cheryl Demartini
Where: Ramsey, N.J.
What: Builds tables, cabinets, and more from vintage finds.
Cheryl Demartini, who was practically reared on TOH, turned her junking hobby into a budding business when she was just 18 years old.
Shown: Cheryl shows me how she'll cover the panels in an entry door she plans to use as a tabletop.
Getting Started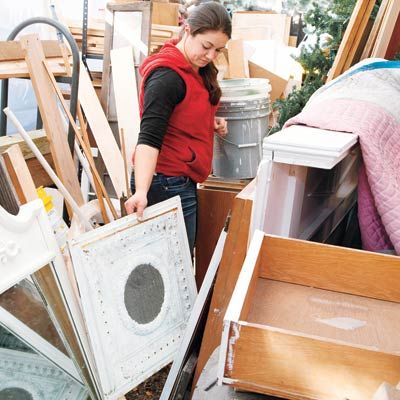 It started with discarded dining chairs that she rebuilt and freshened up by painting scenes on the backs. A shop owner offered to display them, and within a week she'd sold five. "I was a student working at a deli. And then all of a sudden I was like, 'Forget buttering bagels, I'm making $100 a chair,'" says Cheryl.
Shown: Cheryl pulls out a tin ceiling tile stored in a carport beside her shop.
Birds of a Feather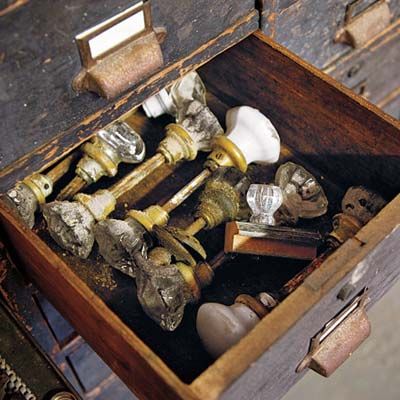 I laughed when she told me this. There we were, 13 years later, in Cheryl's garage workshop, two junkers from Jersey sharing how we got our start. I'd decided to visit Cheryl's workshop after she e-mailed me photos of her recent work to consider for our Reader-Created Issue. She incorporated old doors and tin ceiling tiles into farm tables and paneled cabinets. I had to see her in action and hear her story.
Shown: Old doorknobs that she repurposes as coat-rack hooks.
Building Instincts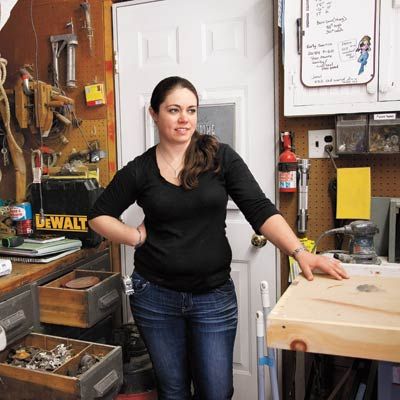 Cheryl started learning carpentry from her dad when she was 6 years old. "I showed him a picture of a birdhouse and asked if he'd help me make it." Her affinity for working with architectural details also came early, developed while inventorying moldings, doors, and windows at her family's lumberyard.
Shown: Cheryl explains how she'll put old hinges and pulls on new cabinet projects.
Making a Name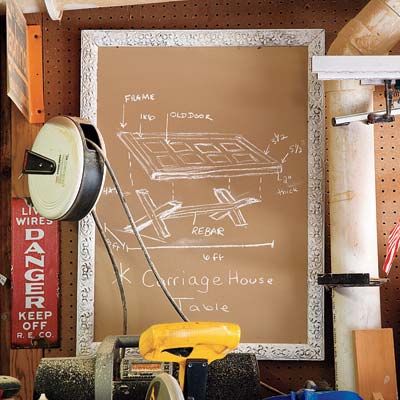 After getting her college degree in fine arts, Cheryl made a go of the furniture business full-time. She sold most of her creations via word of mouth. And what didn't sell often got kicked to the curb to make room for new projects.
Shown: Plans for a dining table; its top is an old entry door.
Opportunity Knocks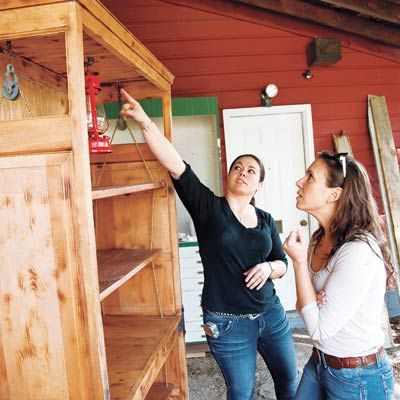 It was one of those very castoffs—a reworked armoire—that helped Cheryl find a bigger market for her designs. The woman who'd trash-picked it was opening a store specializing in rustic housewares, and she asked Cheryl to supply all the furniture.
Shown: Cheryl uses an electrified lantern to light the interior of a reclaimed-wood shelving unit.
Going Solo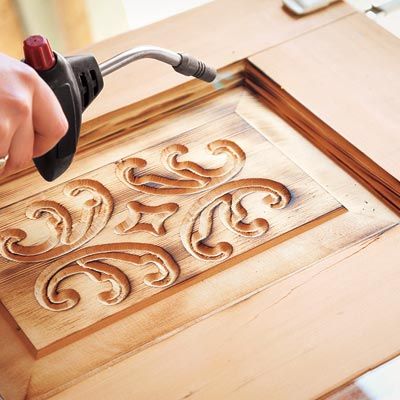 The store has since closed, but Cheryl now takes orders through her own website (junkchickdesigns.com). To supplement her income, she works in real estate, which has its perks. When clearing out their homes to sell, Cheryl's clients often give her old hardware, tools, and furniture, which she refinishes or farms for parts. "They'll say, 'I was going to throw it out, but I'd rather see someone use it,'" she explains.
Shown: She burnishes a door's incised panel design with a blowtorch.
Material Maven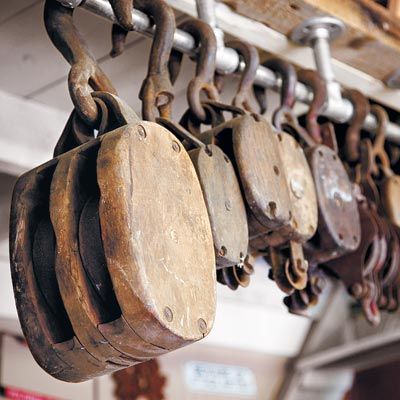 So many people donate materials that Cheryl bought a pickup truck and a trailer to haul it all. She keeps her trove, which also includes garage-sale and Craigslist finds, beneath a carport canopy she erected next to her workshop.
Shown: Vintage block-and-tackle pulleys that she uses as design elements.
Happy Hunter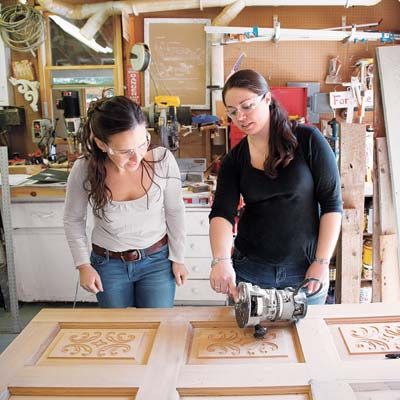 All this hunting and gathering may seem extreme, but not to me. I'm a space-constrained apartment dweller with a long list of street scores that got away. I'll never forget that freestanding farmhouse sink whose twin I later saw for $3,500.
Shown: Cheryl prepares to router a bead detail along a door's edges.
Living the Dream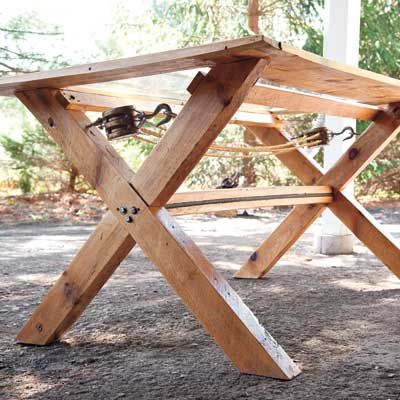 Cheryl doesn't need to pay salvage-dealer prices, she can build just about anything, and she's got a tricked-out shop with not one but six routers always at the ready, so she never has to change a bit.
I'd expect nothing less from a diehard TOHer.
Shown: A farm table built from barn wood and pulleys.