Restore Wood's Luster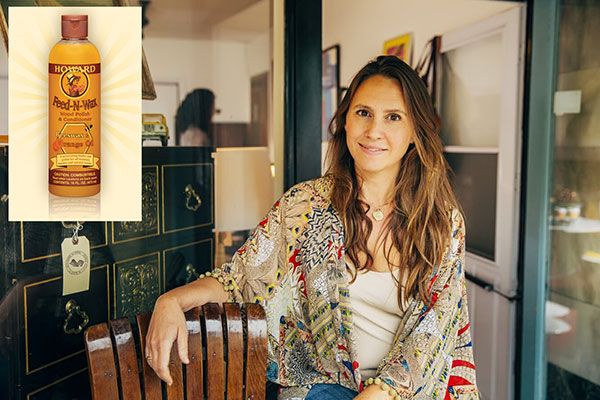 At my furniture and design shop, Salvage Style, in Maplewood, New Jersey, I've learned a lot of tricks for reviving vintage wood pieces. The number-one tool in my fix-up arsenal: a natural, no-fuss polish called Feed-N-Wax by Howard. Often all it takes is a couple coats of this beeswax, orange oil, and carnauba-wax mixture to completely bring dull, dried-out wood furniture back to life. It's especially effective on mid-century modern, Danish Modern, and earlier Shaker-style pieces made from teak, walnut, cherry, or rosewood. These were typically coated with just wax or oil for a matte, natural finish that highlighted the wood's color and grain pattern. But I also use the polish to clean and brighten furniture that's been finished with a glossy, hard coat of polyurethane or varnish.
Cover Scratches and Renew Color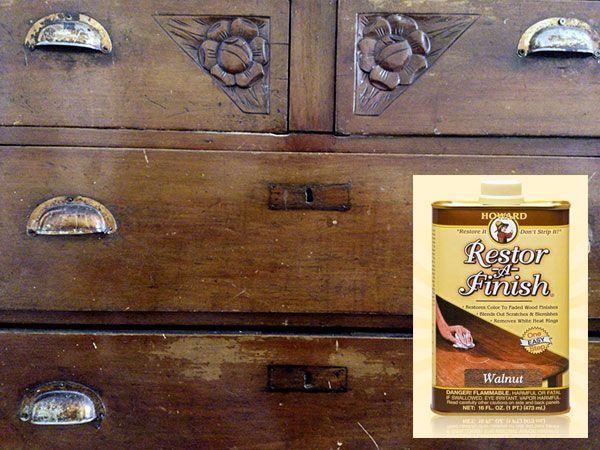 I like Restore-A-Finish, by Howard, to remedy blemishes, such as minor nicks and scratches, and sun-fading on wood furniture. This penetrating sealer goes on easily with a lint-free rag—or super-fine (000) steel wool for a more aggressive treatment—dries quickly, and comes in nine shades to match an original furniture finish.
Touch Up Nicks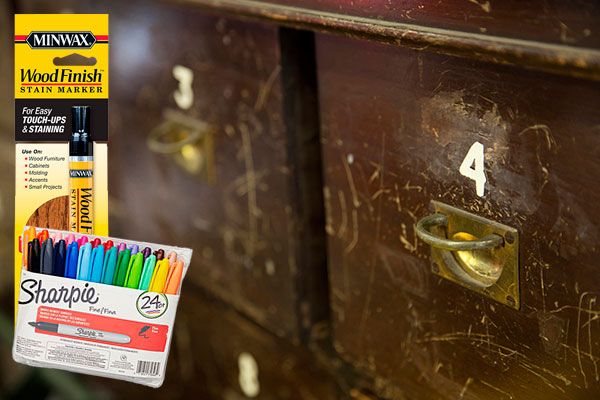 For small, precision fixes, I break out my collection of Minwax stain sticks and wax pencils. Both come in a range of wood-tone colors to match most finishes, with crayons offering the advantage of allowing you to combine hues for custom blends. I've even used Sharpie permanent markers for tiny touch-ups on colored lacquer pieces, such as a lipstick-red console table and a jet-black mid-century credenza.
Reattach Broken Bits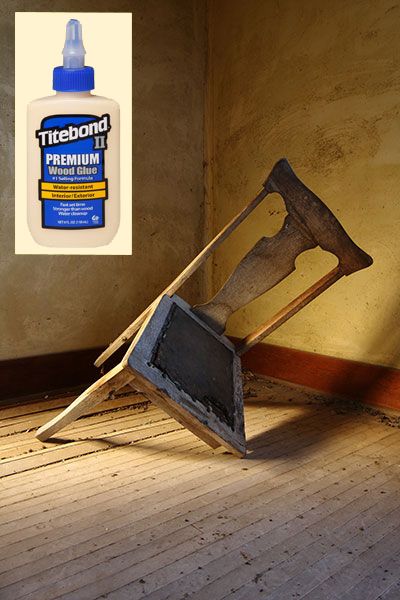 To secure wood carvings, loose dowels, or pieces of veneer that have come loose, I use a regular water-based wood glue from the hardware store, like Titebond. Repairs on plastic, metal, or masonry call for a polyurethane-based adhesive, such as Gorilla Glue. For precision fixes, I put the glue in a syringe and inject it right where it's needed. Then I apply pressure to the repair with clamps until the adhesive fully cures.
Buff Out Rust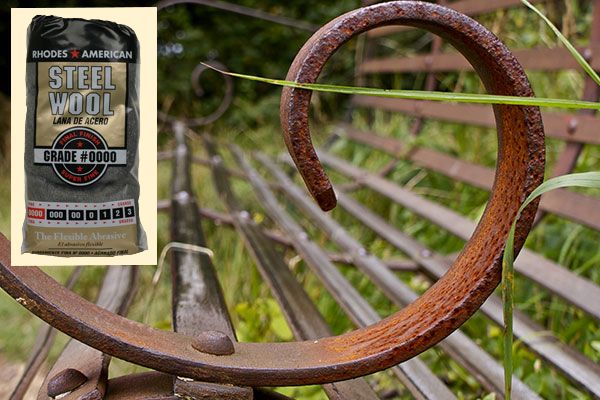 To remedy minor pitting and corrosion on chrome- or nickel-plated finishes, as well as on painted metal, I lightly scrub the surface with super-fine (0000) steel wool dipped in a solution of mild dish soap and water. I've used this technique to restore the shine to a mid-century chrome-and-glass tea trolley and to reveal the original paint on an industrial-style steel worktable.
Remove Marks and Adhesive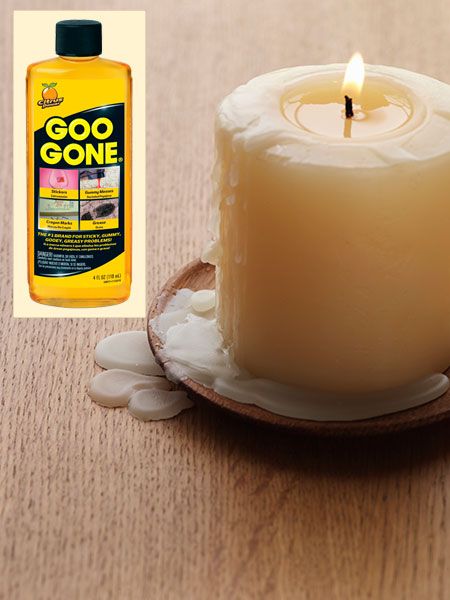 Goof Off Pro Strength Remover in the little metal can is my go-to for obliterating latex paint scuffs on clear-finished wood furniture, as well as glue, marker, and grease marks. This heavy-duty solvent also works on glass, metal, and stone, but use it sparingly and don't rub too hard—you might damage the very piece you are trying to salvage. For less stubborn messes, such as sticker adhesive, crayon scribbles, candle wax, and chewing gum, and for cleaning up painted furniture, I use a mild oil-based remover called Goo Gone.
Erase Water Rings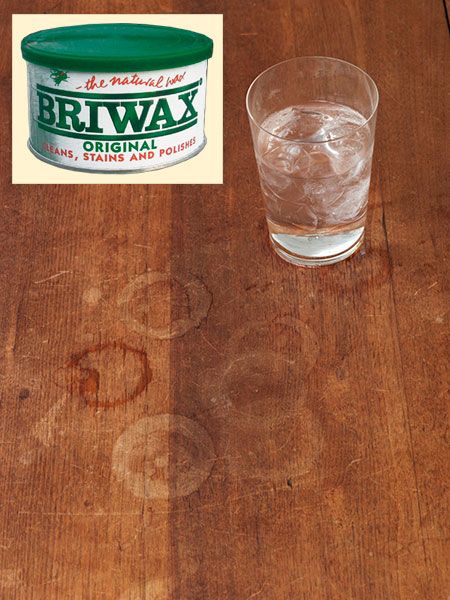 I use untinted paste wax, such as Briwax, and old-fashioned elbow greases to remove white water rings from the surface of most clear-coated wood furniture. Just work the wax into the finish with a soft cloth, pushing hard to eliminate the offending air pocket that has developed between the finish and underlying wood.
Banish Musty Smells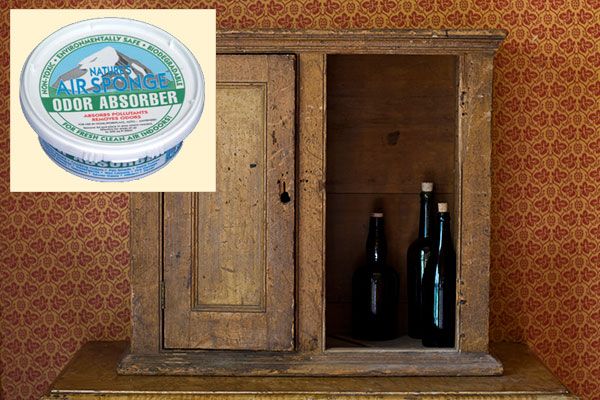 To de-funk drawers and cabinets, I use an unscented solid-gel type, enzyme-based odor absorber, such as Nature's Air Sponge. To use it, first clean the furniture with a soft cloth dampened with water and mild detergent. Let dry, pop the lid on the tub, and place it inside the drawer or cabinet. In a week or so, the smell should be neutralized.