Sitting Pretty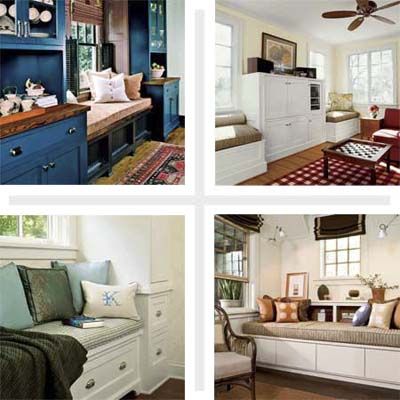 Window seats provide a place to perch or relax (even snooze) and add style to any room in the house, often with the bonus of built-in storage.
Bay-Window Daybed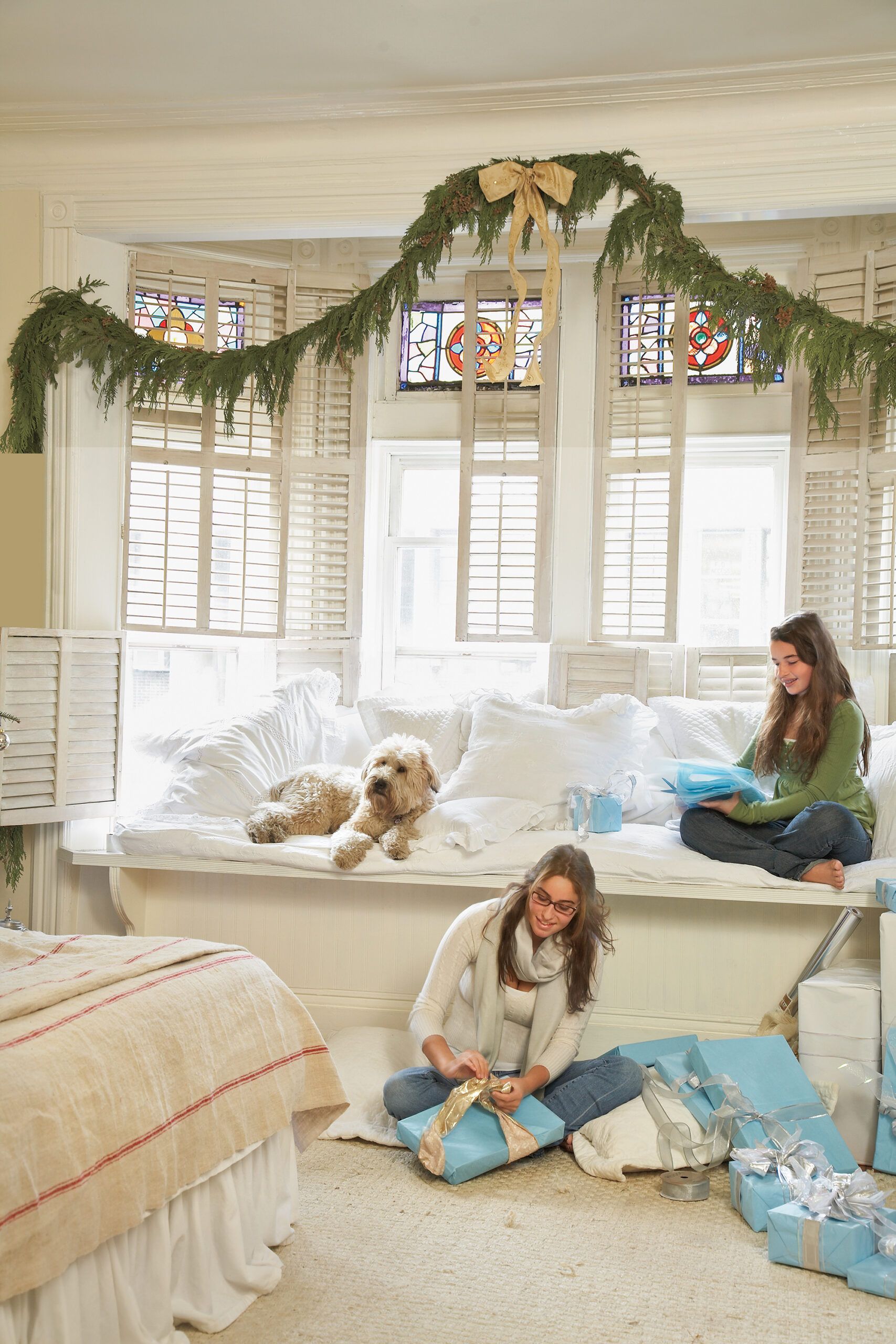 The mood-lifting natural light and ready-made alcove that a bay window brings with it practically beg for the addition of a window seat. Here, a long, deep bench lined with soft oversize cushions creates a perfect lounge area. Decorative brackets help support the seat's overhang and give the large-scale built-in a lightened-up look, as does the all-white color scheme. Tall base molding ties this window seat design in to the rest of the room.
Tip: Add adjustable window coverings, such as the interior shutters shown here, to control the amount of light where windows are large—and to shut out sunrise in a bedroom setting.
Two-Tier Built-In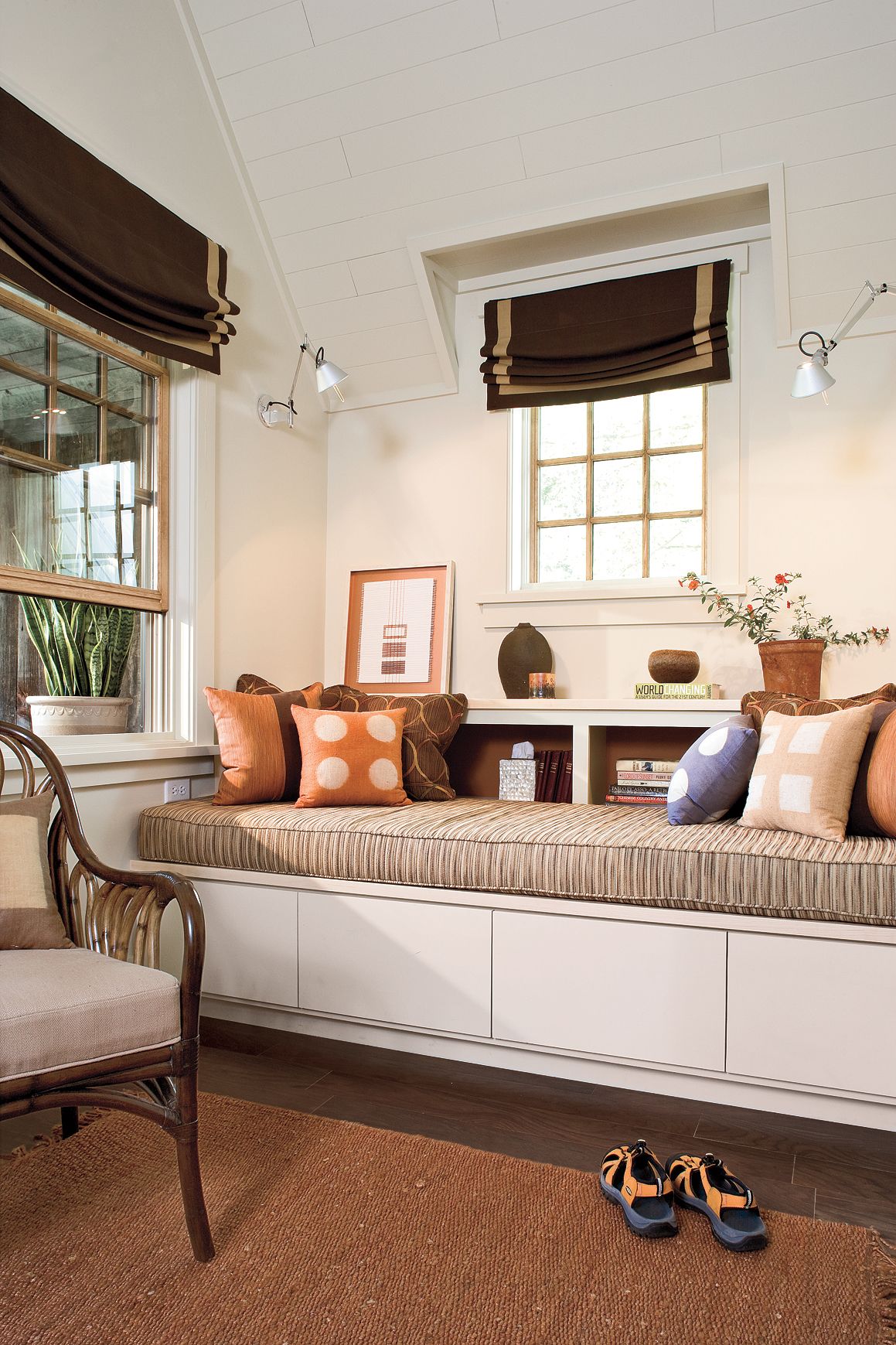 A hybrid seat can make awkwardly placed windows look intentional, as in this home office. The bookshelf back displays keepsakes and reading material under the high window; the cushioned base tucks under the sill of the lower one. The bottom of this window seat idea also does double duty with a bank of flush-front drawers that hold legal-size file folders.
Tip: Make your seat feel more sheltered by lowering the ceiling a few inches with a soffit that slopes toward the window.
Sofa Bed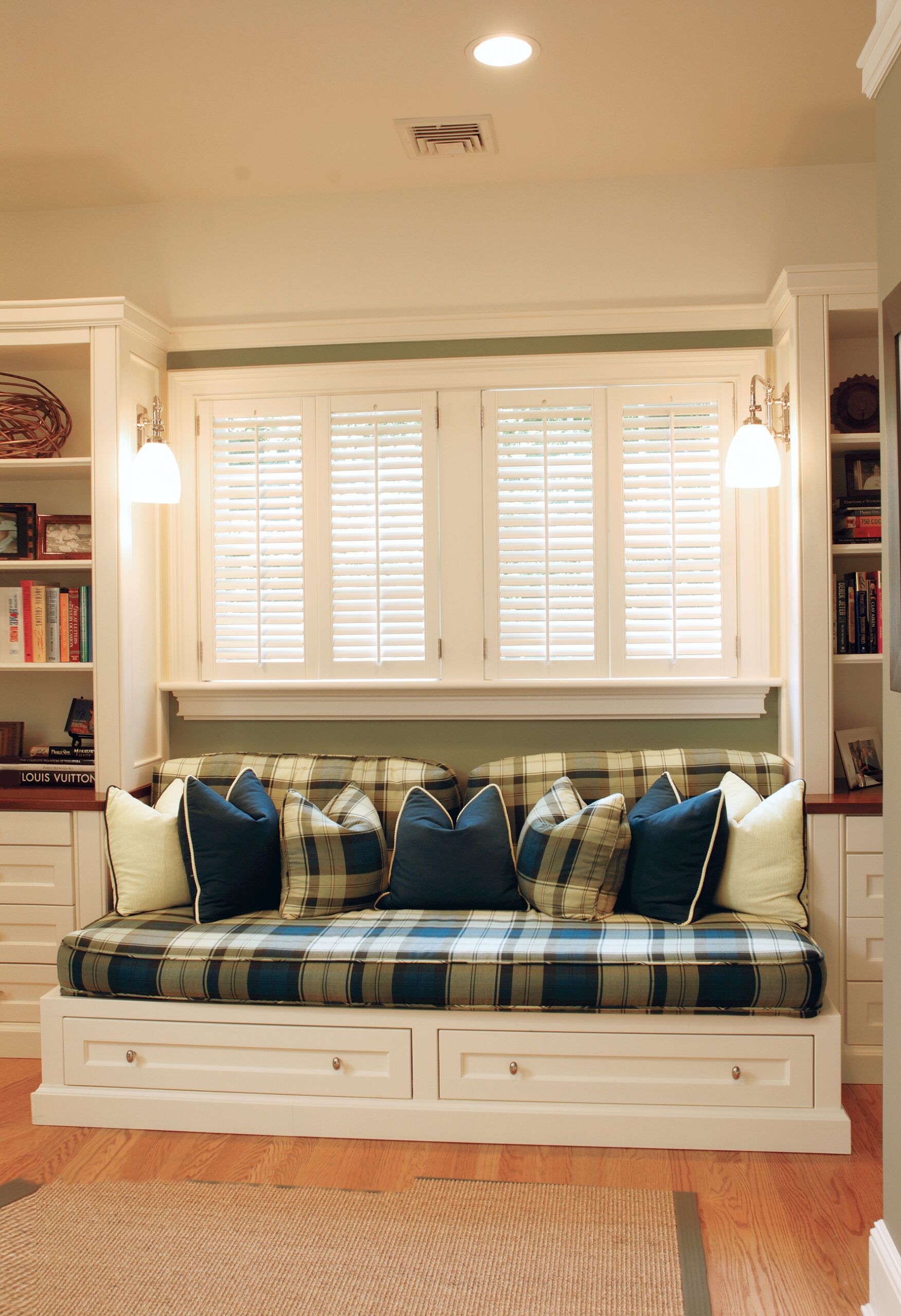 An extra-deep window seat design can serve as a comfy-enough-for-catnapping couch—and double as a crash pad for overnight guests. If you have the space, build the frame to the specs of an off-the-shelf twin- or full-size mattress—about 39 by 75 inches or 54 by 75 inches, respectively—and you've got a ready-made cushion just waiting to be covered; a jersey or flannel fitted sheet in a dark color or pattern can even do daytime duty. Then pile on the back pillows. Built-in drawers offer a convenient place to stow extra blankets and bed linens.
Tip: Install a pair of sconces directly above a sofa-style window seat where you'll want to read—6 feet from the floor is a good head-clearing height—so that you can keep up with that page-turner even after the sun sets.
Pair of Perches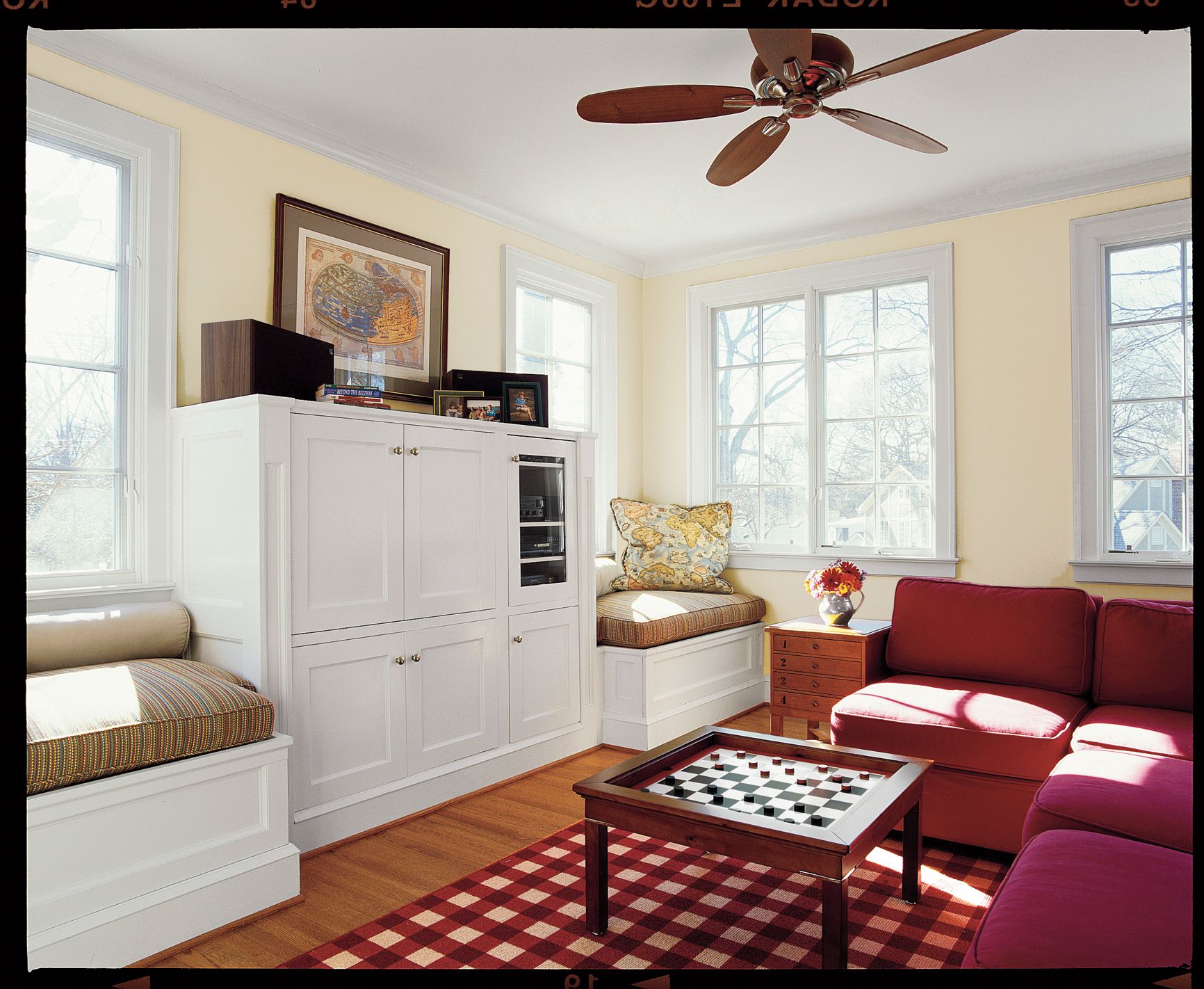 Small benches on either side of a family room entertainment center create a handsome wall of built-ins that don't impinge on big views and allow for two semiprivate nooks kids can retreat to. The paneled seat fronts mimic the media cabinet doors; jogging them farther into the room adds both comfort and visual interest. These corner units, which take advantage of wraparound views, even have tops that lift up to reveal twin-size pull-out beds for sleepovers.
Tip: A window seat meant for one can be a minimum of 22 inches deep, but if space allows, 30 to 36 inches is more comfortable, with at least 36 inches side to side.
Space Saver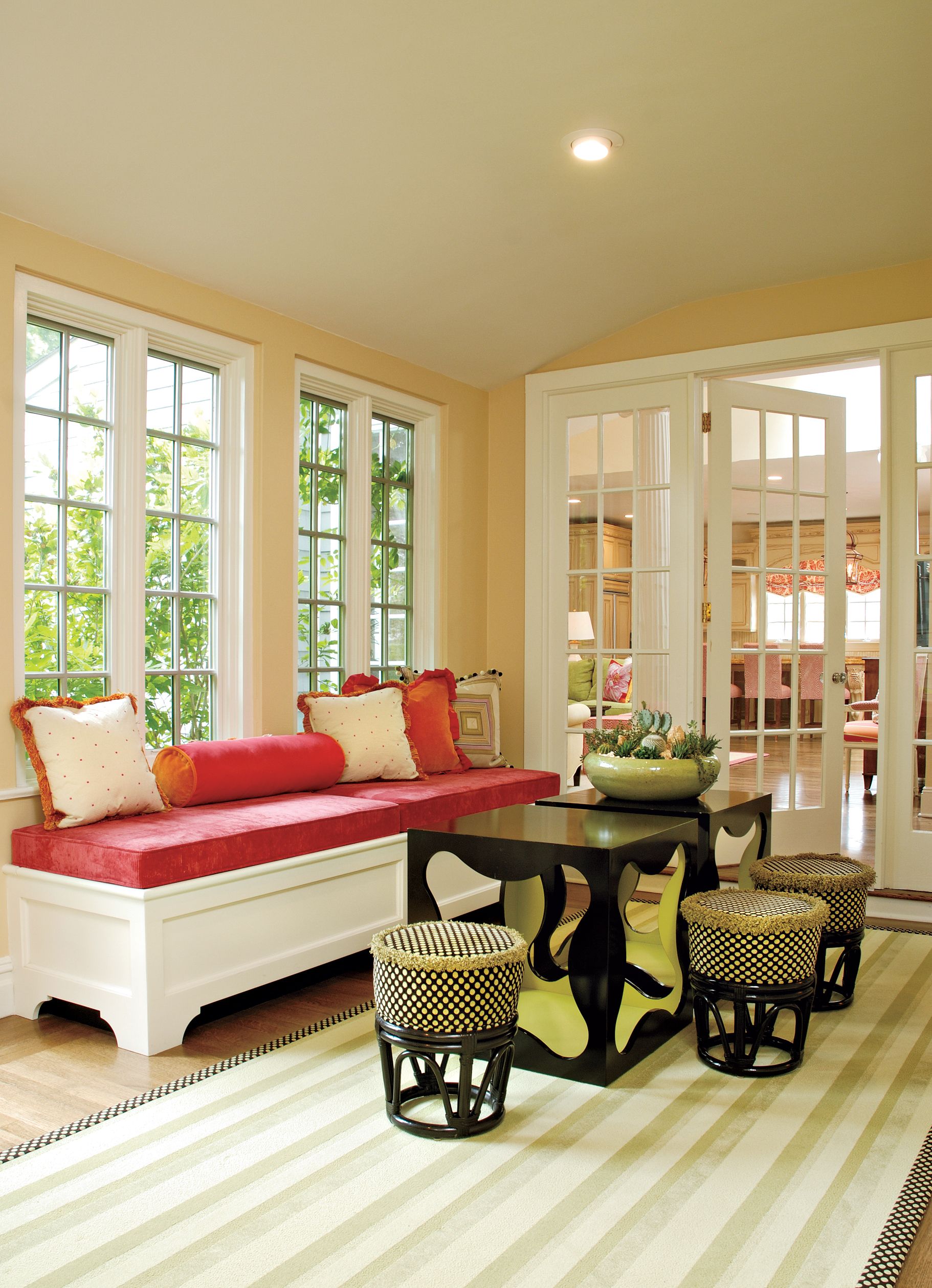 A window seat can be a compact couch where traffic flow is an issue, as in this tight spot in a sunroom with working French doors. Colorful, dressy fabrics give the bench a living room look, as do its furniturelike curved feet. A mix of plush throw cushions ups the comfort level without detracting from the tall windows behind it; cube-style coffee tables and small stools can be moved as needed to accommodate guests.
A mix of pillows offers a less bulky look than sofa cushions while still providing ample support when guests lean back.
Tip: Make sure to build your bench about 15 inches high to allow most people to sit comfortably, feet on the ground. A 3-inch cushion will bring the seat's height in line with that of most chairs.
Storage Center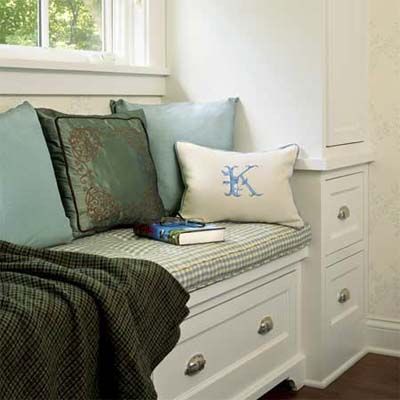 A windowed wall of cabinetry bulks up clothing storage in a small bedroom and adds a restful nook for curling up with a book. Though more expensive than a simple flip-top compartment, drawers installed in the space below avoid the inconvenience of having to remove a cushion to reach belongings stowed inside. Drawers can also be a worthy investment for stashing kids' sports gear in a mudroom or place settings in a breakfast room.
Tip: To make a comfortable cushion, get medium-density or firm foam for the core and wrap it with cotton batting. For durability, cover it with upholstery-grade laminated fabric or apply a stain-resistant treatment to lighter-weight material.
Bathroom Organizer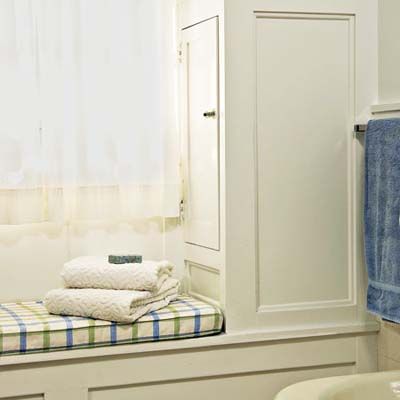 Filling a wall with cabinetry might seem like an extravagant use of precious floor space in a small bath, but it can both maximize storage and create a place to park your towels (or yourself) as the tub fills. Here, a deep cabinet that's accessed from the side offers a spot for stowing bought-in-bulk paper products. Open the flip top on the bench to find space for extra towels and grooming supplies.
Design doors on a built-in storage unit to open over the seat, rather than into the room, where space is tight.
Tip: When adding a lift-up lid that will be opened by kids, consider installing safety hinges to prevent it from slamming down on small hands.
Inglenook Style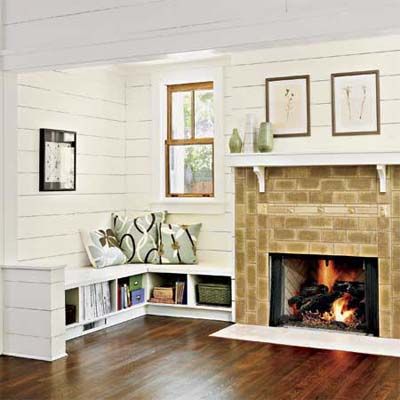 Take advantage of a corner configuration and combine charming occasional seating with handsome open storage. This L-shaped bench—its mirror image flanks the other side of the hearth—offers a convenient spot to stash photo albums and magazines, and invites small groups to gather around the fireplace. A low half-wall at the end of the seat makes a perfect armrest and provides a handy place to set down a drink.
Tip: Don't let an existing heat register or baseboard unit derail your window seat plan. Extending the ductwork to relocate the register or swapping in a toekick heater is a simple job for any HVAC professional.
Bookshelf Bench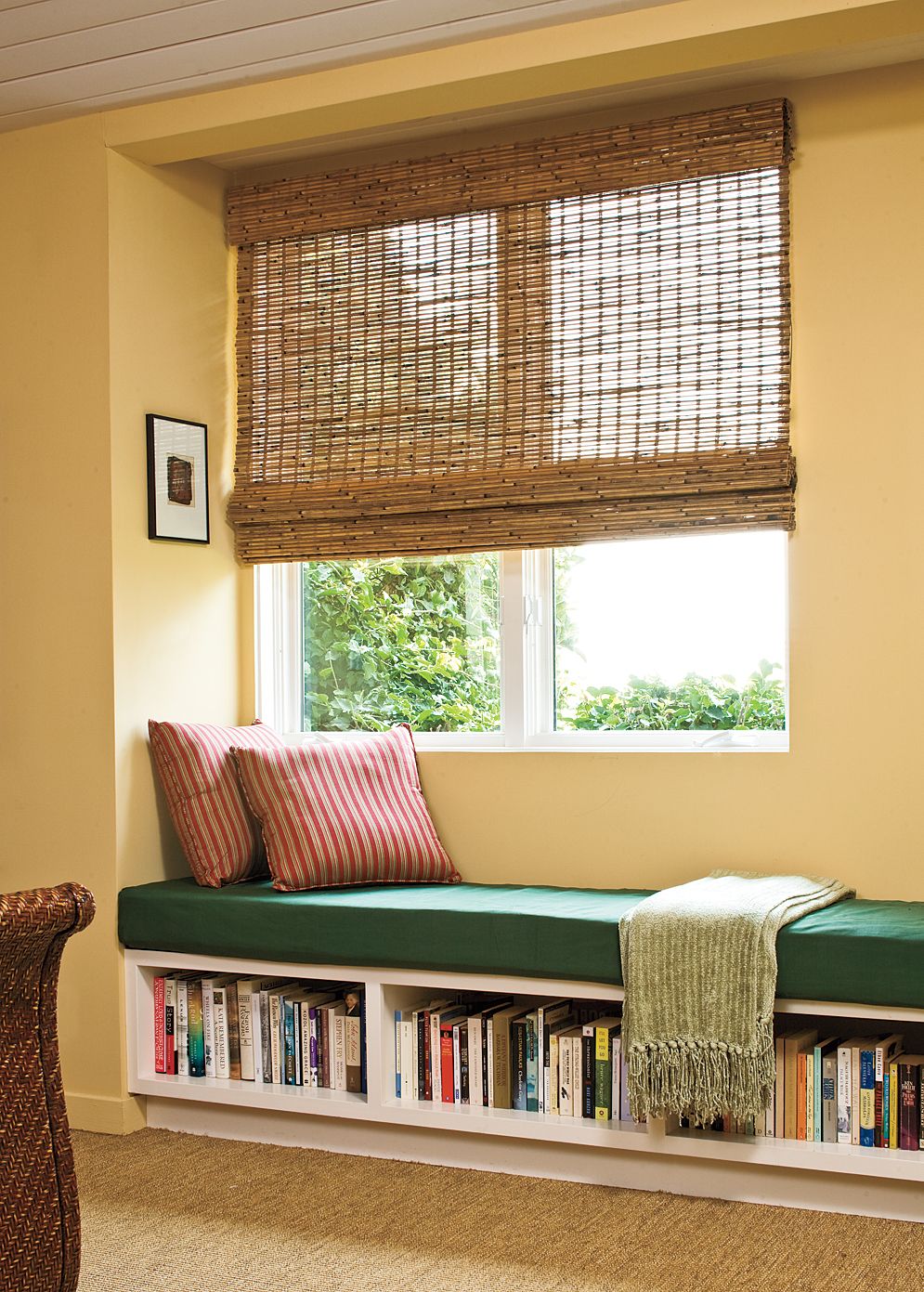 Sometimes, natural niches are created where walls bump in or out. Here, open shelves serve as the base to a bedroom window seat, keeping books close by. To visually enlarge a window, where space allows, extend the seat at least 8 to 12 inches on either side. Lengthening it to about 5 feet will invite people to stretch out.
Build dividers into open bookshelves to support your seat and act as bookends. Add toekick space to elevate your mini-library off the floor.
Tip: For window seats that see lots of direct sun, use UV-resistant outdoor fabrics for cushion and pillow covers so that colors will be less likely to fade.
Vintage-Style Seat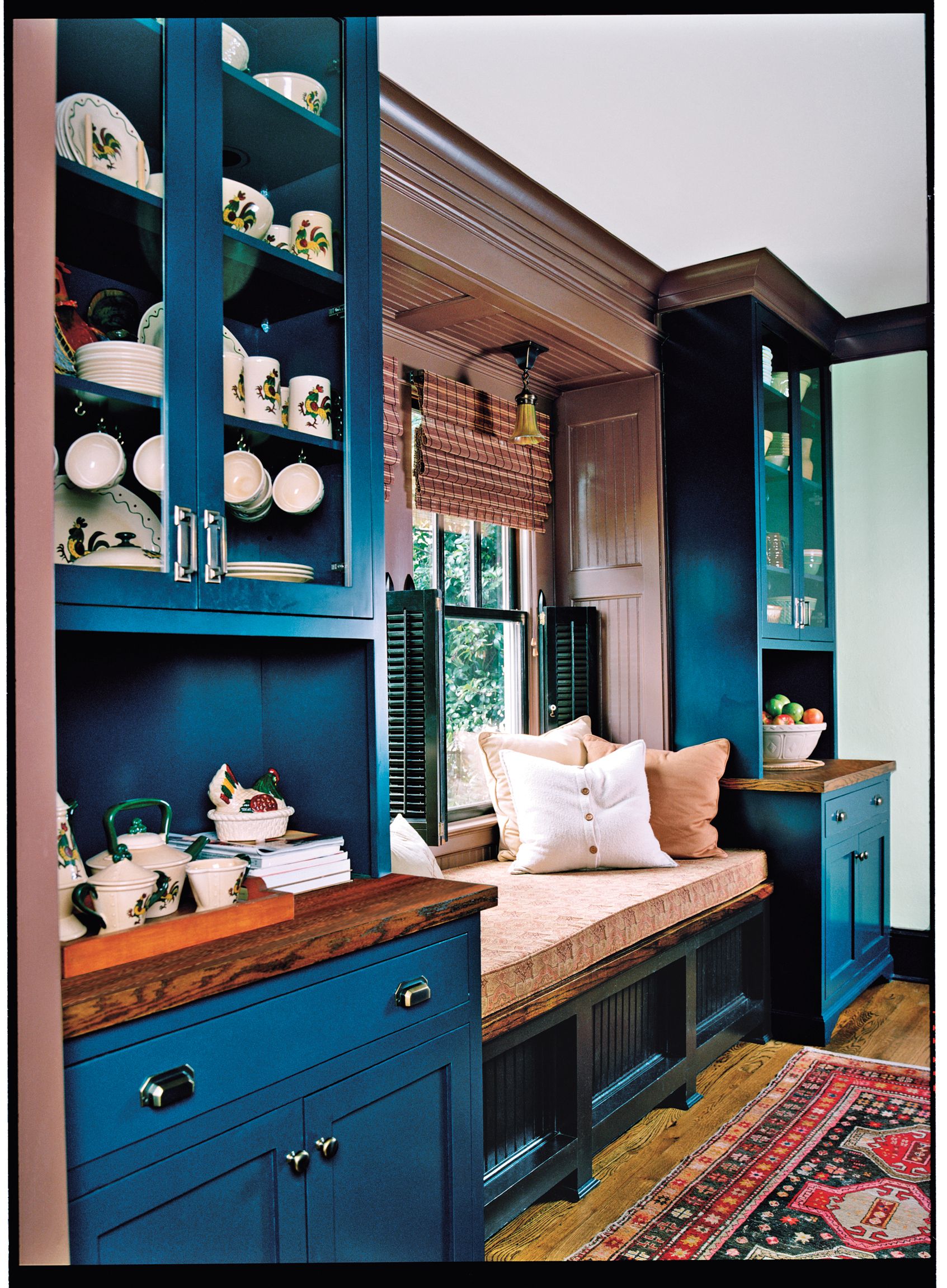 Period kitchens featured furniture pieces for storage, food prep, and seating. Making this window seat's top out of stained oak that matches the counters on the flanking china cupboards ties them all together, but its more elaborate millwork and high-gloss black paint make it feel like a separate piece. Pull up a small table and it doubles as a banquette.
Tip: In kitchens, mudrooms, and dens, where spots and spills might be a problem, opt for patterned fabrics and removable, washable covers for window seat cushions.
Stairway Getaway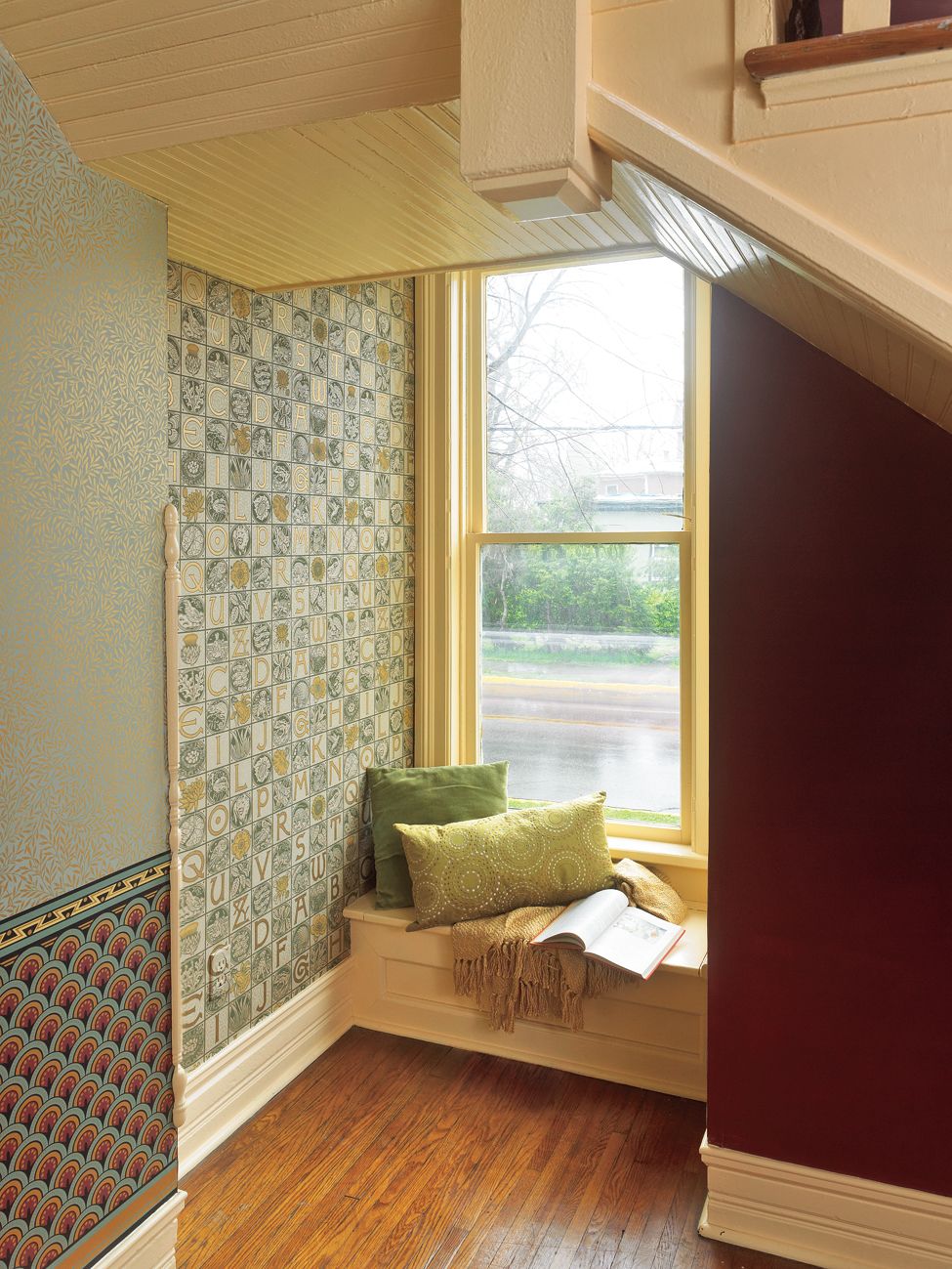 An under-the-stairs nook off the foyer is the kind of odd space old houses are prized for. Here, a little window seat instantly turns what might have been dead space into a secret hideaway any kid would love. For a similar effect, exploit under-the-eaves space in an attic for a laid-back homework zone. Or build a niche into a windowed wall on a wide stair landing or in an upstairs hallway.
Tip:Got space under a window near the front entry? Build in a flip-top bench and you've got room to stash extra scarves, gloves, and other coat-closet overflow.