Sure, you can pick up some knock-together set of shelves, but built-ins provide so much more than just a place to stash your stuff. Made to rise ceiling high, create an alcove for furniture, or wrap an existing nook, they can add style, charm, and architecture to an interior, all while offering custom storage and display space. Here are seven ways to make them special.
7 Styles of Built In Bookshelves
1. Library Style
Bookcases arranged to form a passageway and united with flat trim create a mini library, complete with a rolling ladder that beckons young readers to hunt for a good book on the topmost shelves. Designer Bret Franks came up with the idea as a way to add old-house character to a new farmhouse with a completely open first floor beyond this office space.
Apple-green backing keeps the built-ins fun and family-friendly, as does the mix of objects dotting the adjustable-height shelves. The poplar boxes are screwed into the walls and ceiling, with flat poplar stock edging the thin ¾-inch MDF shelves for a heftier appearance and creating panel details along the bottoms and sides.
The top and bottom are wrapped with the same moldings that rim the ceiling and floor, completing the built-in look. A ladder made from a kit slides along a circular rail secured with brackets to a special facing that conceals a beefed-up support.
2. Happy Landing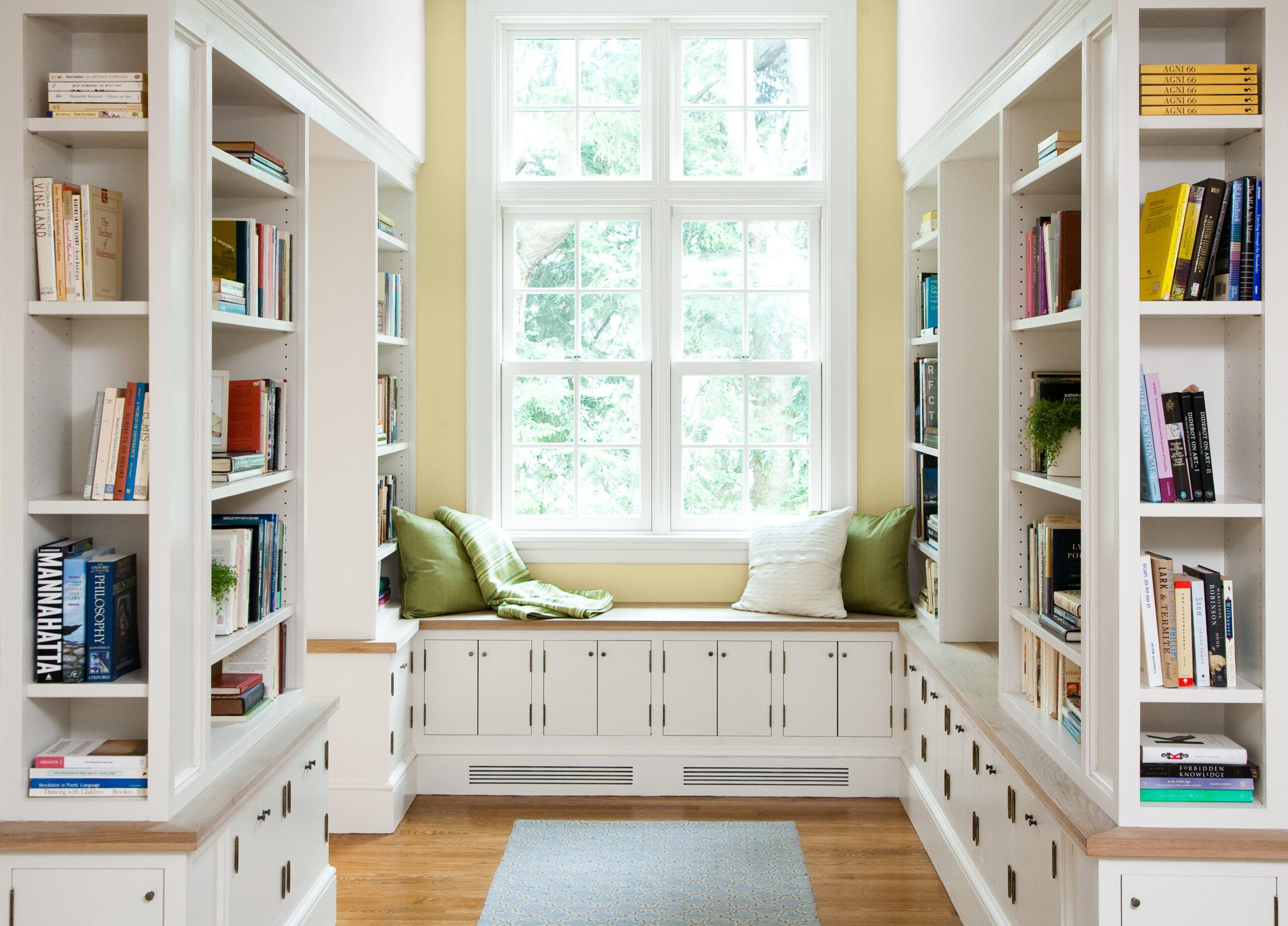 As part of the expansion of a 1915 Dutch Colonial, architect Paul Rovinelli transformed the hallway outside a new office into a light-filled reading nook. He turned two narrow shelf units outward to showcase the books since this upstairs landing is visible from the front door, and added panel detail to enhance the area left beside the larger units.
Constructed from ½ clear-finish maple with MDF trim, adjustable shelves store books while window-seat cabinets hide games and other items. The large dormer window has a skylight effect, tempting readers to stay awhile.
3. Alcove Formation
Building around a furniture piece creates a cozy, architectural feel. Here, the sofa sits snugly between bookcases that form an inside corner. Crown molding that continues along the wall connects the bookcases, as does painting the built-ins, moldings, and walls the same deep-blue hue.
Designer Ashley Whittaker extended the everything-in-its-place, shipshape feel of the room with library-style case-mounted lights. Planning for such lighting ahead of building is crucial in order to safely run wiring behind the woodwork.
4. Pine-Paneled Look
Even a clean, streamlined interior needs a place to put stuff. Here, an updated 1950s cabin takes knotty-pine paneling into the 21st century with a whitewash treatment and integrated shelving. The shelves in this open-plan living-dining area corral all the little things—books, art, bric-a-brac—and also maximize interior space by using the existing wall as the backing.
Designer and homeowner Bobby Houston attached the open-back shelves directly onto the horizontal pine paneling. The shelves, made from 5/4 common pine stock, are fixed in place by means of dado cuts for a slightly rustic feel, while the uniform grid of shelves keeps the look simple and spare.
5. Airy Effect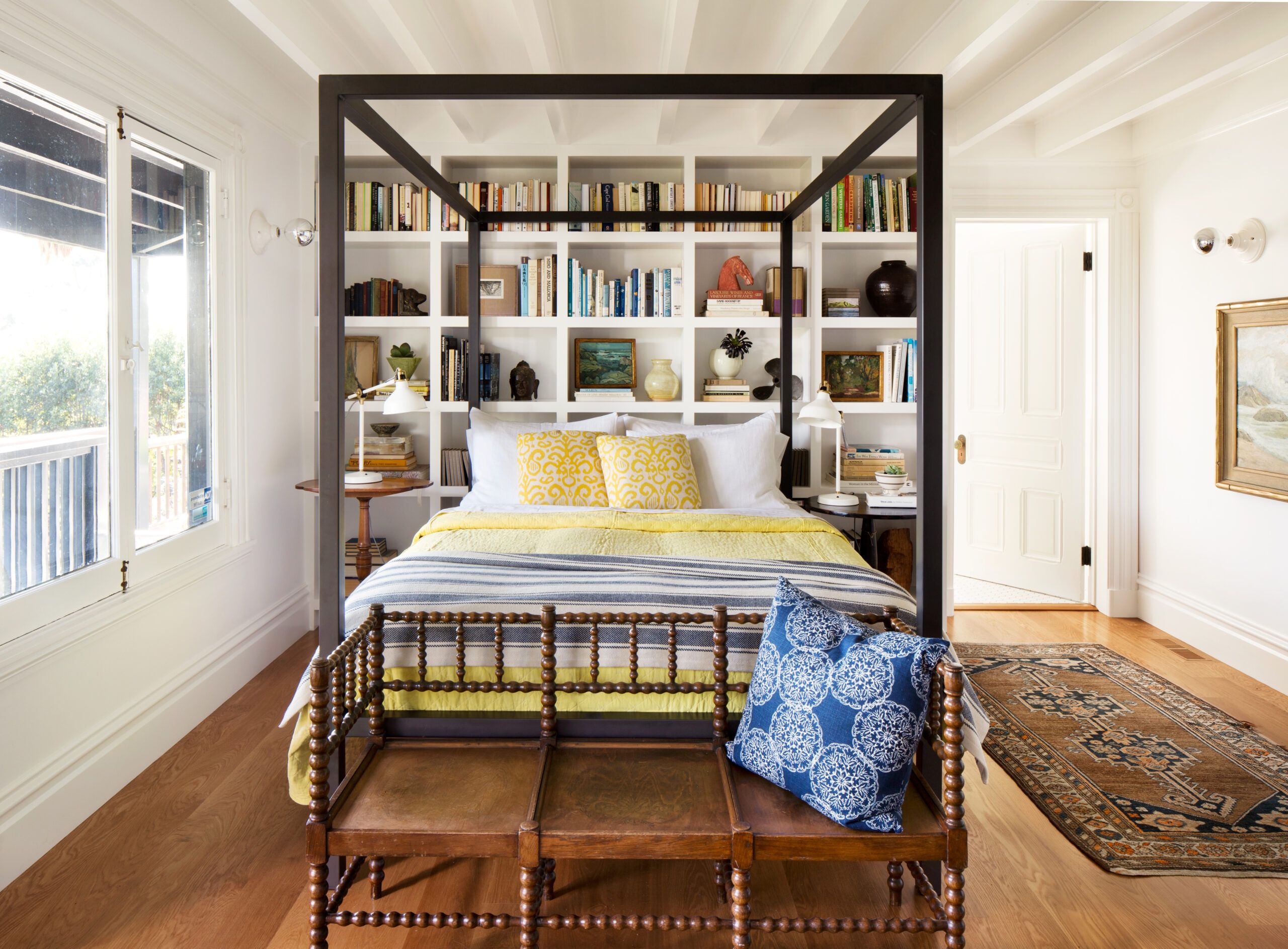 This built-in bookcase plays all the angles. Architect Mark Reilly designed the room around the minimalist canopy bed, aligning one shelf with the top of the mattress, continuing with equal-size book bays in the remaining space.
The bookcase serves as both headboard and backdrop, providing storage for extra books, reading glasses, and decorative objects. The fixed shelves mimic the rectangles formed by the bed, the bench, even the beams overhead—creating an airiness that suggests a larger space. They also act as a sound barrier between the master bedroom and bath.
5. Curved on Top
A strategic built-in can turn an awkward niche into a design feature. In renovating this turn-of-the-century home, architect Tom Stringer had to work around some challenging existing features. Faced with a fireplace situated on a painted brick wall, he added millwork details to create depth and interest, and installed an arched-top bookcase on one side to balance a low bookcase underneath a window on the other side. The built-in's true arch—no fool-the-eye face frame here—accommodates taller collectibles and sits proud of the wall, adding an elegant shadow line.
6. Furniture Style
Plywood and trim are all it took to convert an existing recess off a back door into a furniture-like storage wall in a potting-area-cum-kitchenette serving an outdoor patio. The piece, which was built on-site, extends wall to wall and floor to ceiling, maximizing space without interfering with traffic flow. Architect Ankie Barnes gave the simple birch-plywood shelves a French-country feel with double-bead poplar trim, simple crown molding, and, at the base, feet in front of a false toekick. The stepped casing around the window is a charming effect that came about out of necessity: Because of the thick masonry walls, the out-swinging casement window required a subframe as well as a jamb extension. The paint color, a modern garden-green, freshens up the traditional casework.
How Deep Should Built in Shelves Be?
Take stock of what you'll be storing on them: trim travel guides or oversize art books, bulky board games or lidded baskets, collectibles large or small. Most shelves are built a minimum of 11 to 12 inches deep, but this is your chance to customize: Go for it!
What Materials Can You Use for Built In Bookshelves?
To figure out whether shelves should be made of MDF, plywood, pine, or oak—taking into account their span and what they will hold—search "sag calculator" online before you finalize a bookcase design.
Solid wood: Hardwoods are strongest, but are also more costly than plywood or MDF. Lower-priced softwoods are not as supportive.
Hardwood plywood: Strong, 4-by-8-foot sheets are available in a wide range of face veneers suitable for paint or clear finishes.
MDF: The most affordable option. Not as stiff as solid wood or plywood, but won't cup, warp, or splinter. Takes paint beautifully.
4 Types of Shelf Edge Treatments To Choose From
1. Veneer Tape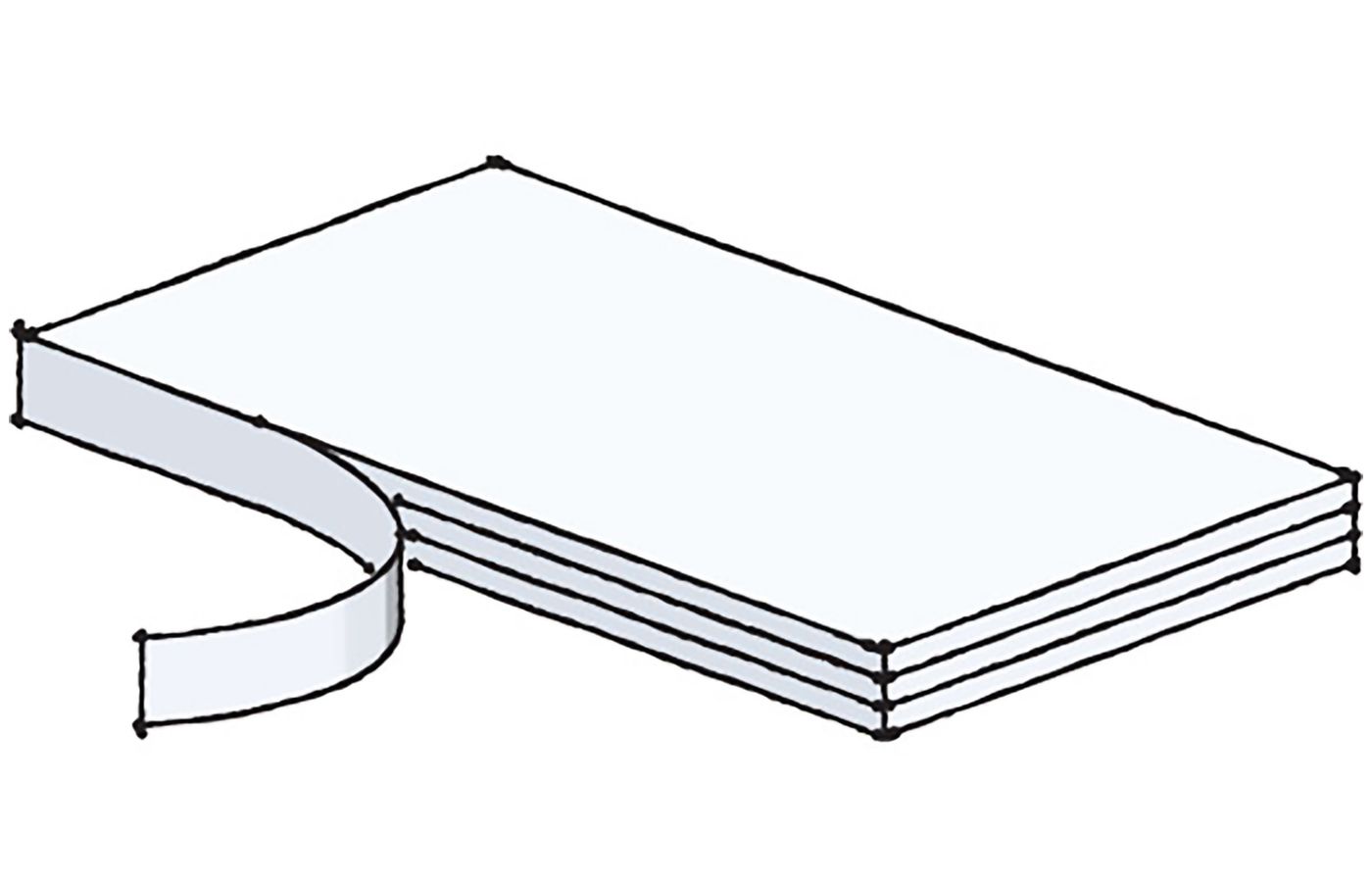 Has a backing that's coated in heat-sensitive adhesive. Use a hot iron to secure it to exposed plywood edges. Comes in a variety of looks.
2. Wood Edging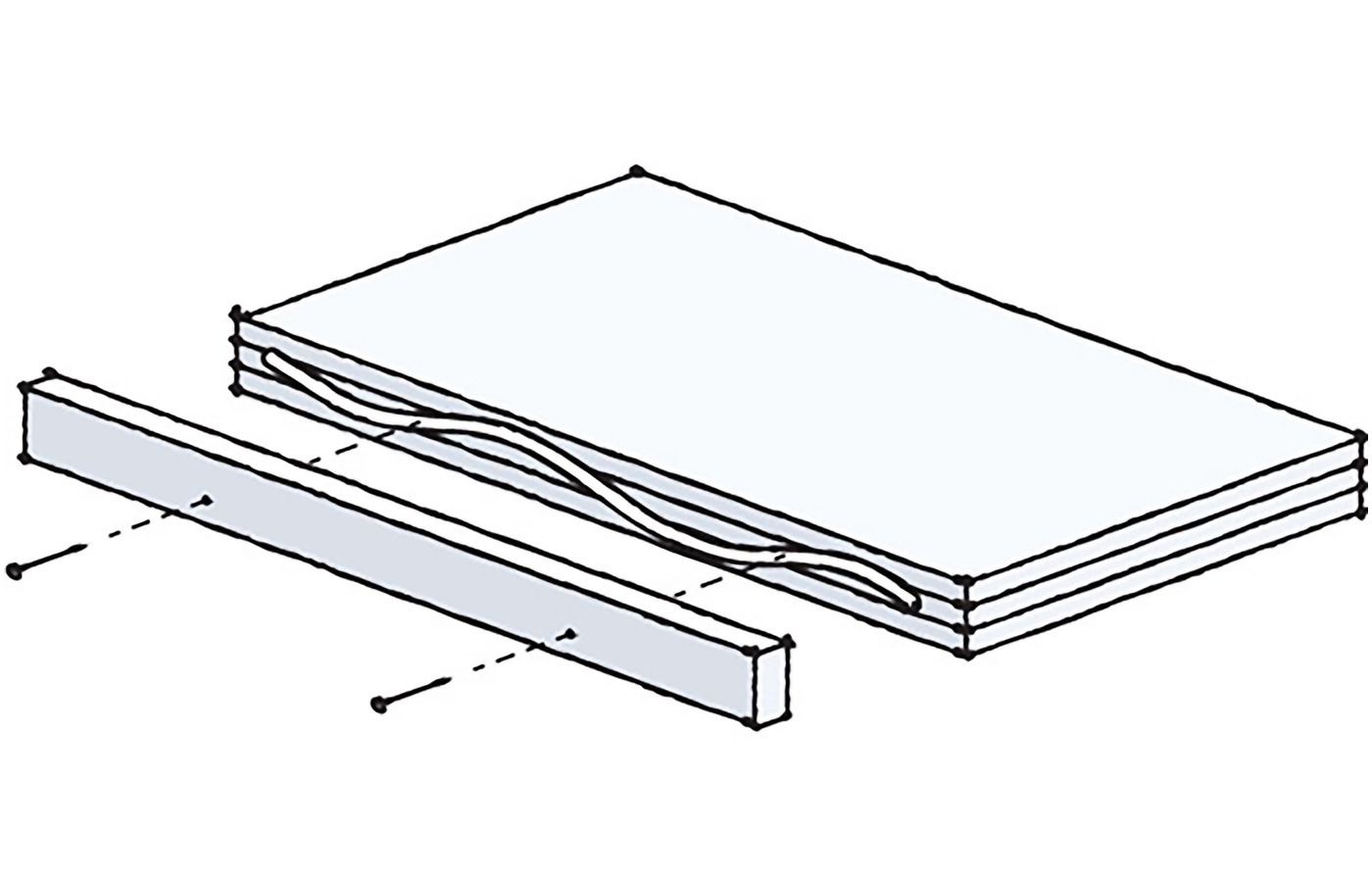 To make thin stock look beefier, glue or nail larger nosing flush with the shelf top.
3. Molding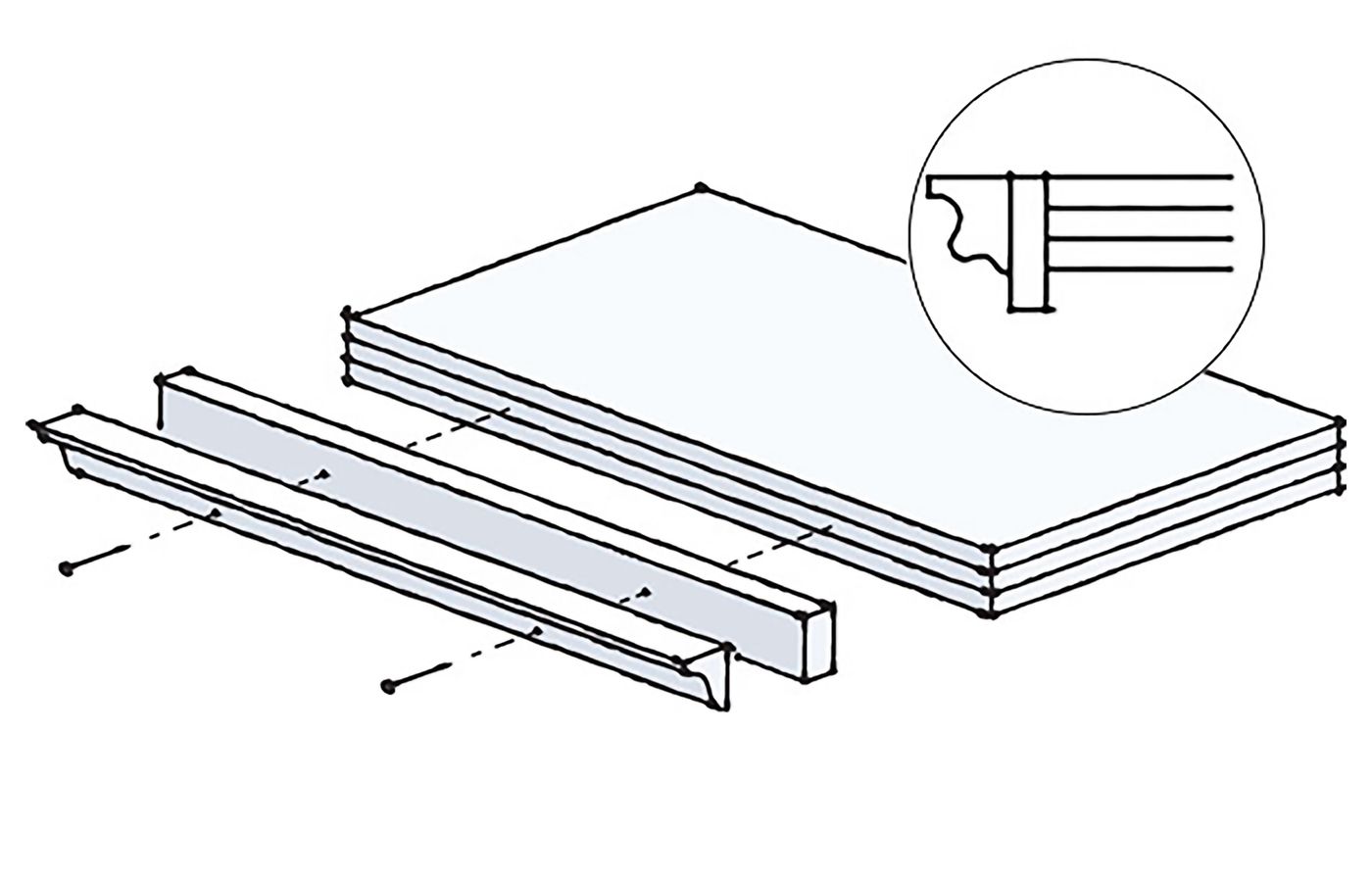 Adding a curved profile to the nosing creates a fancier edge.
4. Solid-Wood Face Frames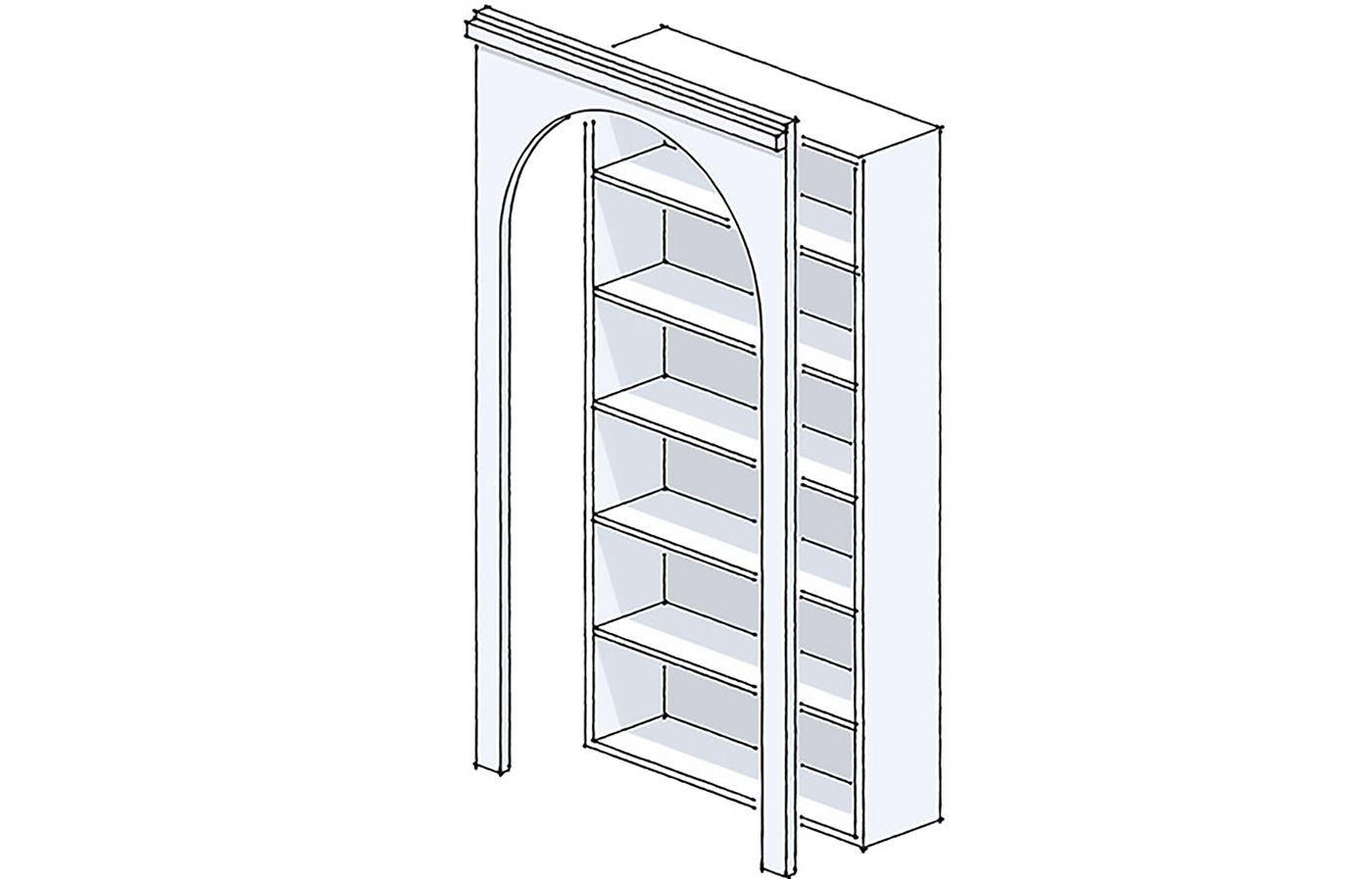 Useful if you need to cover joints or if you want to add visual weight or interest to a case.
Supports for Adjustable Shelves
Metal Standards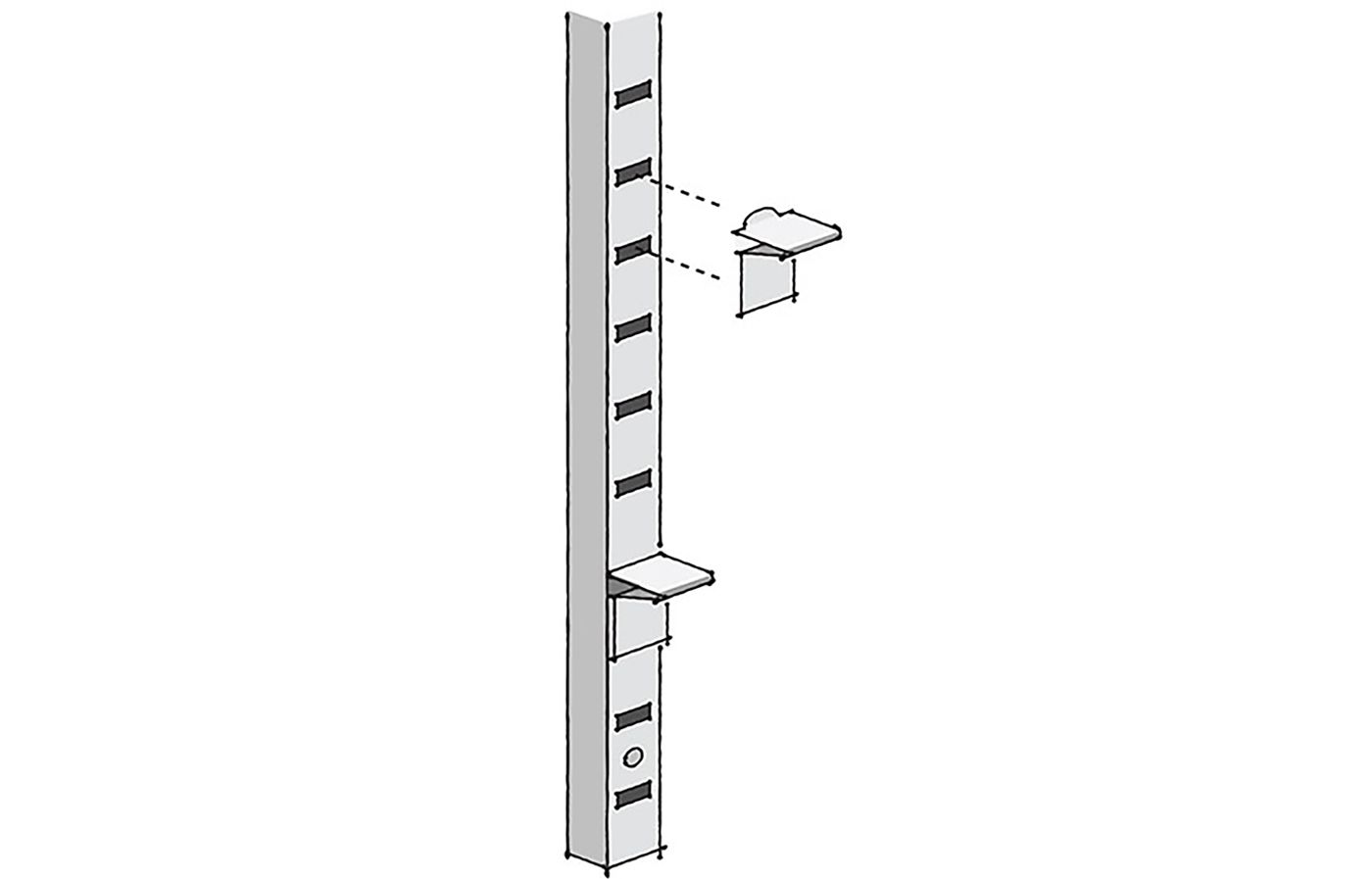 The simplest way to secure adjustable shelves in conjunction with clips. Quick to install and strong, they come in two widths: ⅝ inch and ¼ inch. Recess them into the side of the case for a more streamlined look.
Pins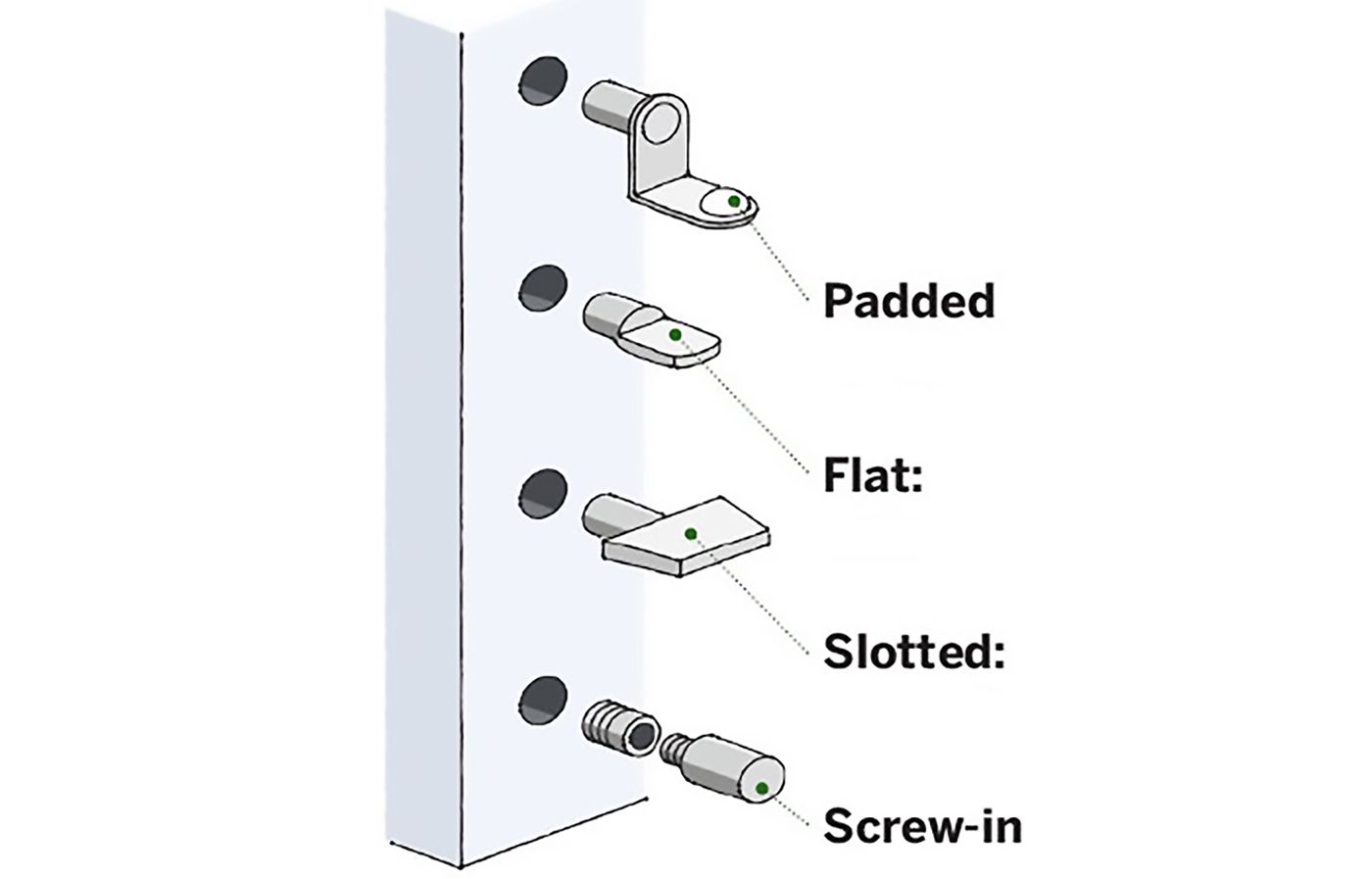 Less obtrusive, metal pins recess into holes drilled into the bookcase.
Padded: Helps keep the shelf in place.
Flat: Simple and inconspicuous.
Slotted: Fits into a kerf in the shelf.
Screw-in: A threaded sleeve means it won't slip out.
Supports for Fixed Shelves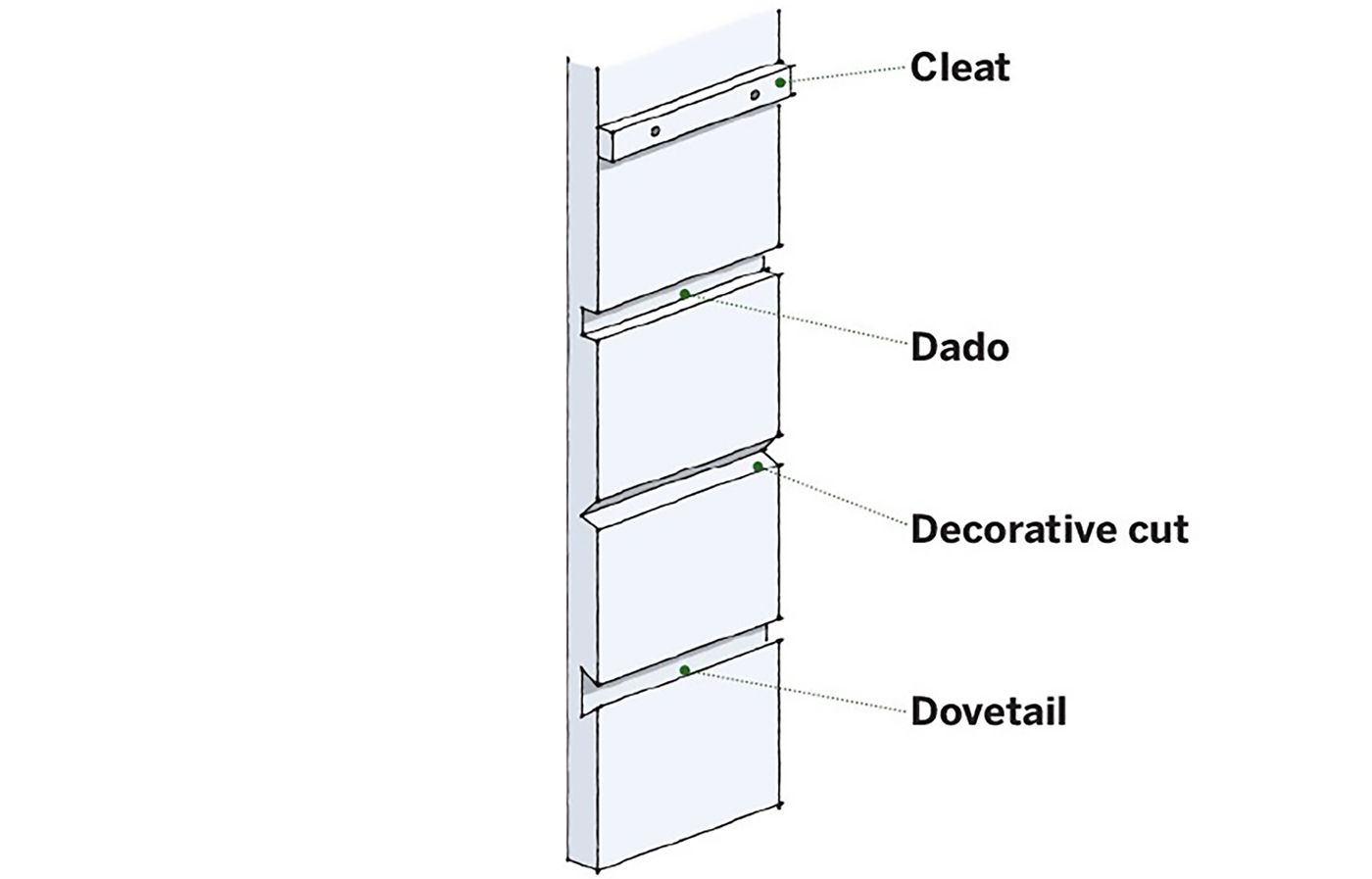 Cleat: Shelf sits on top of a wood strip screwed in place. Quick and easy to install.
Dado: Shelf slides into a groove. Strong support.
Decorative cut: Nice for display shelves that won't bear heavy loads.
Dovetail: Use a hammer or woodblock to lock in shelf. Handcrafted look.