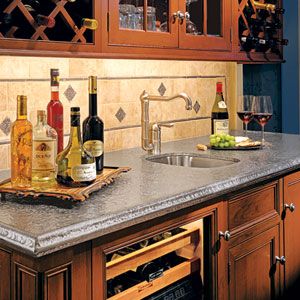 For many homeowners, it's an answer to the old, 'Every time I have a party, everyone ends up in the kitchen,'" says Jay Haverson, a Greenwich, Connecticut, architect who has designed half-a-dozen built-in bars in the last year. But that mental image of a paneled basement rec room, foosball tables, and Uncle Herman's beer mug collection? Forget it. Today's bars sit in high-visibility areas off the kitchen or great room and often feature custom cabinets and top-of-the-line fixtures and fittings. Some are plumbed butler's pantries that stand ready to serve up snacks and hors d'oeuvres, while others are nothing more than doorless closets with access to a waterline. And there's still a call for sit-down bars—whether connected to the kitchen or a home theater.
Wet or dry, large or small, built-in bars suit time-pressed homeowners who want an inviting and accessible entertaining zone for friends and family—and who appreciate dedicated storage for all the accoutrements. Because behind those cabinet doors aren't just shot glasses and single malts, but also wine coolers, keggeries, icemakers, dishwashers, plasma televisions, and other accessories that transform an ordinary space into the life of the party.
Butler's Pantry Bar
Constructed as built-ins or to resemble oversized furniture pieces, these wall-spanning wet bars (sometimes called buffets) transform a transitional space near the kitchen or dining room into an efficient entertaining area. While it's obvious that upper cabinets hold wine glasses and beer steins, guests might not know that icemakers and bottle-cooling drawers are often concealed behind the fine cabinetry. And that's the idea: great-room polish with kitchen function. A long countertop with the sink positioned at one end makes party-food prep more convenient. Handsome stone countertops provide a durable, stain-resistant work surface that's easy to wipe clean. Often, materials are slightly upgraded from what's in the kitchen, since here they're on public view.
How's the Wiring?
Electrical capacity is an important reality check when designing a wet bar that's going to include appliances. Just as your plumber will work out waterline and drain access, an electrician will determine whether your circuit will be overloaded if you put in another fridge, microwave, or other energy-eaters. You might need to add a new circuit, and if your bar's going to include an oven, don't forget the 220-volt line. Also, plan as many electrical outlets as you'll need for small appliances such as a blender.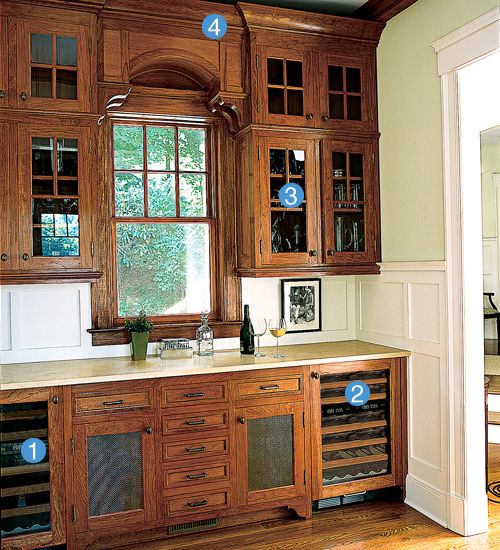 The Pull-Up-a-Chair-Bar
The seated bar is still a favorite, especially where it can double as a spot for morning coffee or after-school smoothies. Sit-down bars can range from a freestanding front bar that accommodates eight in an entertainment room to a peninsula with two tuck-under stools off the kitchen. Since the inner workings of these bars are hidden behind a counter, their fixtures and materials tend to be more casual with basic countertops and simple bar sinks and faucets that favor function over decoration. What is seen is the base of the seating area, which may be covered with wainscoting, barn siding, stone, or brick—stuff that stands up to shoe scuffs. Open shelves or glass-front cabinets show off stemware and serving pieces.
Space Requirements Clearance follows an easy rule of thumb, says cabinetmaker Bill Nickerson of Tilton, New Hampshire, who's built bars for 30 years: "You need two feet per stool. So an eight-foot bar will seat four." Most bars sit 42 inches high with a 12-inch overhang for stools.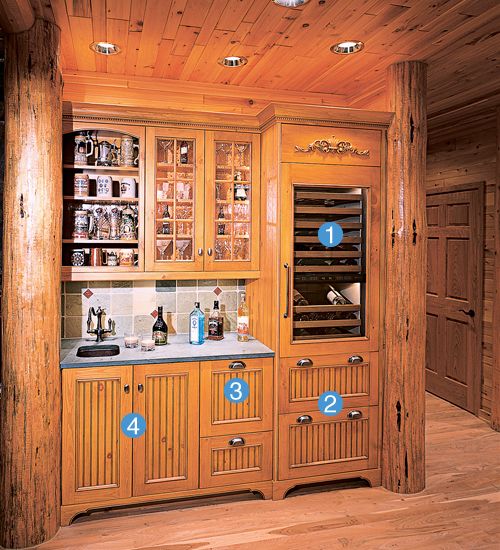 The Anywhere-It-Fits Bar
Follow your waterline and you just might discover a ­closet or convertible space that has wet-bar potential. Of course, not every bar needs a sink, but smart architects and homeowners have discovered that closets and unused areas ­adjacent to powder rooms, kitchens, even laundry rooms, can be converted into drinks centers by tying into the ­existing plumbing. Quick and casual, these bars typically have just enough work surface to slice a lemon, just enough of a fridge or wine cooler to keep the after-work chaser chilled, and just enough storage to handle the liquor cabinet and some basic barware.
Find the Existing Drain
This goes hand-in-hand with tapping into a water source when it comes to an easily installed wet bar. You'll want to run a waste line into the wall, tying into the one already in the powder or laundry room. Of course, if access is a problem, you can install a new drain, but hooking it up to the existing sewer or septic line might be more complicated. And since wet bars often involve water and electricity, make certain that your electrical circuits have ground faults for protection in the event of a short.
The Old-Fashioned
For purists who want the look and feel of an old pub in their home, a reclaimed bar is the way to go. Finding one might not be as difficult as you think. Some dealers specialize in bars, receiving stock from dismantled saloons and apothecaries in the U.S., Britain, and Ireland. They'll even work with you to figure out how to retrofit them with a bar sink, fridge, or flat-screen TV. Some owners buy just a back bar to add atmosphere, says Mark Charry, owner of Philadelphia's Architectural Antiques Exchange. Others go all out with a canopied bar (like the one shown above) for a saloon room. Carved of oak, cherry, walnut, or mahogany, these bars may even bear the original brass plaque with the maker's name.
…and the Sidecar
For those with space (and budgetary) constraints, manufacturers are busily turning out stylish, storage-intensive bar cabinets. Neatly containing glassware and bar accessories, these furniture pieces start at about $300 and range from a tabletop model, such as Bernhardt's Georgian Bar Cabinet ($1,000, shown below), to a 7-foot painted-wood hutch by Pottery Barn ($1,549) that could sit in the dining room. Among their extras: pull-out serving trays, grooves for hanging stemware, and concealed casters.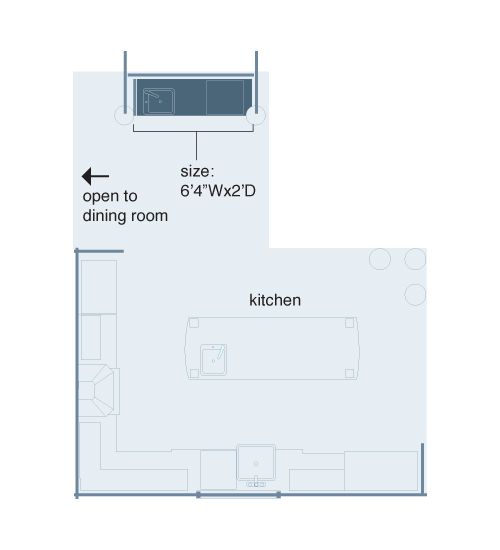 Where To Find It:
Custom Cabinetry:
Hibernian Millwork
Hopewell Junction, NY
845-227-1939
Mirror:
All Glass
Cos Cob, CT
203-629-2446
OPENER:
Designer:
Dan McFadden, Past Basket
Geneva, IL
630-208-1011
Construction manager:
John G. Harty Ltd.
Highland Park, IL
847-266-1845
Cabinetry:
Quality Custom Cabinetry
New Holland, PA
800-909-6006
Sink:
Franke
Hatfield, PA
800-626-5771
Faucet:
Rohl
Costa Mesa, CA
800-777-9762
Wine cooler:
Sub-Zero Freezer Co.
Madison, WI
800-222-7820
Backsplash tile:
Chadwicks
Libertyville, IL
847-680-3222
RED OR WHITE:
Architect:
Haverson Architecture and Design
Greenwich, CT
203-629-8300
Cabinetry:
Hibernian Millwork
Hopewell Junction, NY
845-227-1939
HIDDEN EXTRAS:
Designer:
Larry Frasier, Frasier's Kitchen Showplace
Rhinelander, WI
715-365-3333
Cabinetry:
Pin by Wood-Mode Fine Custom Cabinetry
Kreamer, PA
877-635-7500
Cabinet Hardware:
Classic Brass
Jamestown, NY
716-763-1400
Wine cooler and icemaker:
Sub-Zero Freezer Co.
Madison, WI
800-222-7820
Sink:
Oregon Copper Bowl Company
Eugene, OR
541-485-9845
Tumbled-slate backsplash:
Ann Sacks
Portland, OR
800-278-8453
BRIDGING THREE ROOMS:
Designer:
Kathy Marchall, CKD, K.Marshall Design Inc.
S. Hamilton, MA
978-465-7199
Backsplash beadboard and hardware:
Plain & Fancy Custom Cabinetry
Shaefferstown, PA
800-447-9006
Sink and faucet:
American Standard
Piscataway, NJ
800-442-1902
Honed black-granite countertop:
Gerrity Stone
Woburn, MA
781-938-1820
THE OLD FASHIONED:
Architectural Antiques Exchange
Philadelphia, PA
215-922-3669
THE SIDE CAR:
Pottery Barn
888-779-5176
Bernhardt
877-205-5793
SOCIAL SERVICE:
Contractor:
Clark Remington, Clark Remington Design and Planning
Pacific Palisades, CA
805-496-3630
Base cabinetry:
PWN Carpenters
Duarte, CA
626-303-2016
Faucet:
Price Pfister
Foothill Ranch, CA
800-732-8238
Special thanks to:
Bill Nickerson, Northern Millwork Corp.
Tilton, NH
603-286-4235
STARTED AS A CLOSET:
Cabinetry:
Cow House Designs
Atlanta, GA
404-452-5154
Glass-front wine cooler:
The Home Depot
800-553-3199
Faucet:
Delta Faucet Co.
Indianapolis, IN
800-345-3358
Sink:
Franke
Hatfield, PA
800-626-5571
Special thanks to:
Jeff Conefry of Incurvature Furniture
UNDER THE STAIRS:
Architect:
Stuart L. Disston, AIA, AustinPatterson Disston
Quogue, NY
631-653-6605
Cabinetmaker:
Joshua Friedman & Co.
New London, CT
860-439-1637
Sink:
Bates and Bates
Paramount, CA
800-726-7680
Faucet:
Harrington Brass Works Ltd.
Allendale, NJ
201-818-1300