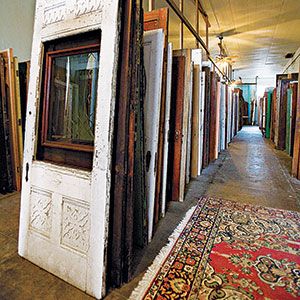 These vast indoor and outdoor emporiums are full of claw-foot tubs, stained-glass windows, exterior wood doors, marble mantels, iron fencing, period light fixtures, and lots and lots of hardware. Most dealers salvage the architectural details themselves, bidding for the rights to surgically remove them from houses and buildings slated for demolition. Some also purchase directly from homeowners and contractors undertaking a remodel. Of the various places to find old house parts, salvage yards are typically the priciest. You pay for the wide selection, and the option of turnkey service, which can include repair, refinishing, delivery, and sometimes even help with the installation in your home.
Where to find them
Just about every state has at least one salvage yard. But if you're unsure where the closest one is, ask a contractor; many buy reclaimed materials for restoration jobs. I've also compiled a resource guide in the back of this book. For a more complete listing of salvage yards, as well as antique-lumber and garden-ornament dealers, check the website of Architectural Salvage News, which puts out an annual directory that you can download.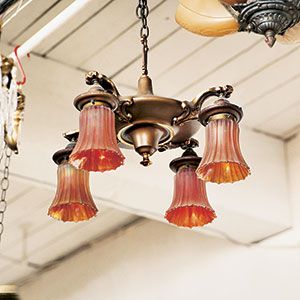 Treasure hunting tips for salvage yards
• Bring props. Blueprints, room photos, pages torn from magazines, as well as items that need to be replaced or matched, are great to have on hand while you shop. That way it's easy to convey your vision to the salvage dealer and get help finding the right materials.
• Ask for advice. I've gotten some of my best creative-reuse ideas from salvage dealers. They've seen and done it all, and are great problem solvers. Some can even turn that old door into a coffee table for you—for a price.
• Keep an open mind. The fun of making new stuff out of salvage is that everything is ripe for reinvention. Carved-wood door casing can become a mirror frame, a medicine cabinet can double as a message center, and a kitchen sink can be transformed into an outdoor bar.
• Shop with a pro. If you don't plan on doing the work yourself, make sure that your contractor, architect, carpenter, or plumber is up to the task of working with and retrofitting the salvaged materials before you buy. Old house parts typically aren't returnable.
• Know your measurements for the room, space, or opening you need to fill. Unlike many new parts, which come in standard sizes, old ones were often custom built on-site or factory-made and sold via catalogs that predate modern construction codes.
• Be prepared to get dirty. I ruined my favorite white pants while sorting through crates of dust- and mortar-covered ceramic bathroom accessories. Granted, I like my toothbrush holder better than the pants, but it was a lesson: Always wear dark jeans and tees to the salvage yard.