Pretty Easy
When it comes to adding warmth, beauty, and value to your home, hardwood can't be beat. And thanks to the wide array of prefinished solid-wood flooring now on the market, it's never been easier to replace or find a match for your old floors. These wood strips and planks are typically coated with multiple layers of an aluminum-oxide-infused polyurethane and cured under UV lights; this process creates an exceptionally hard finish that will outlast once applied in your home on unfinished wood. Equally appealing: You can walk on the floor the day it's laid, since there's no messy sanding or long wait times for clear top coats to dry.
Since their appearance in the late 1940s, prefinished solid-wood floors have improved dramatically in look and performance. There's a species to suit every style, from traditional pine planks and heavily grained oak strips to exotic varieties featuring rich red and chocolate shades. You can even choose from a range of sheens and surface effects, such as a hand-scraped finish that delivers a distressed, old-world look.
Budget-conscious homeowners can install prefinished boards themselves, cutting out the cost of hiring a pro and getting gorgeous results in a weekend. Once it's in, the flooring is a breeze to maintain, requiring only basic cleaning and occasional touch-ups to the clear coat. And if the surface starts to look worn, it can easily be brought back to like-new condition without a lot of effort.
Follow our guide to choosing, installing, and caring for prefinished solid-wood floors, and you can count on the boards you ultimately pick to last as long as you own your home—and beyond.
Similar to shown: Rivermont oak in Saddlebrook, about $7.60 per square foot; mohawkflooring.com for dealers
Vitals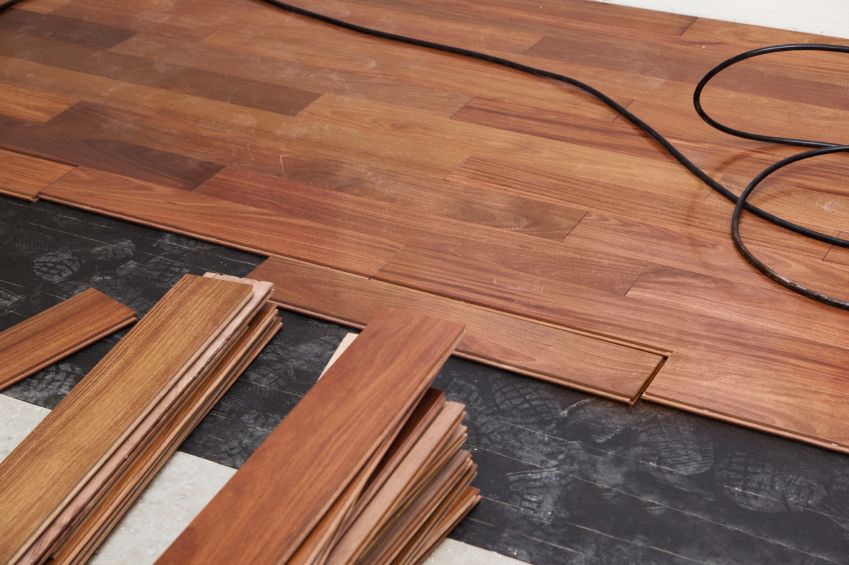 What does it cost? From $3 to $20 per square foot, depending on species and grade. That's about 30 to 50 percent more than unfinished strips, but you'll save on installation because you won't need to sand and finish the floor.
How to care for it? Sweep regularly to remove grit that can abrade the finish, or vacuum with a soft brush attachment. Mop with a microfiber cloth and a cleaner specified by the manufacturer. Skip oil soaps, which break down the finish and leave a residue that attracts dirt.
Does it hold up? Warranties range from 10 to 100 years and cover only wearing through the finish, not dents; surface scratches; and gapping or warping. With proper care, a prefinished wood floor can last the life of the house.
DIY or hire a pro? A handy homeowner can install prefinished wood flooring in a medium-size room over a weekend. For installation by a certified pro, tack on an additional $3 per square foot, minimum, to the cost.
Is a Prefinished Wood Floor Right for You?
Pros:
• It's easy to install. Instead of the multiple-day process of sanding, staining, and then applying three polyurethane top coats to unfinished wood, these DIY-friendly floors can be put down in a single day.
• It looks good for a long time. The tough, UV-cured, factory-applied top coat lasts longer than a typical one applied on-site. With normal wear, you can expect the finsih to last 30 percent longer before you need to screen-and-poly.
• It lasts for centuries. Like all solid-wood flooring, it can be sanded and refinished multiple times. To refinish an older floor, there must be at least ⅛ inch left between the top of the boards and the tongue. Check by sliding a piece of paper between two boards and marking the distance or by removing a floor vent to see a side profile of the floorboards.
Cons:
• It's pricey. The cost is steep compared with other DIY options, such as vinyl, laminate, carpet, and ceramic tile, some of which can go for as little as 50 cents per square foot.
• It doesn't weather all weather. All wood expands and contracts with changes in moisture, so boards may cup in high humidity and gap during dry spells. This is why solid wood can't be installed below grade and isn't a good idea in baths or laundry areas.
• It can still scratch and dent. Dog toenails, unprotected furniture feet, a dropped cast-iron pan—all can do a number on prefinished wood. You can conceal scratches with a manufacturer's touch-up kit, but you'll need to refinish if the damage is extensive.
Shop Smarter: Bevels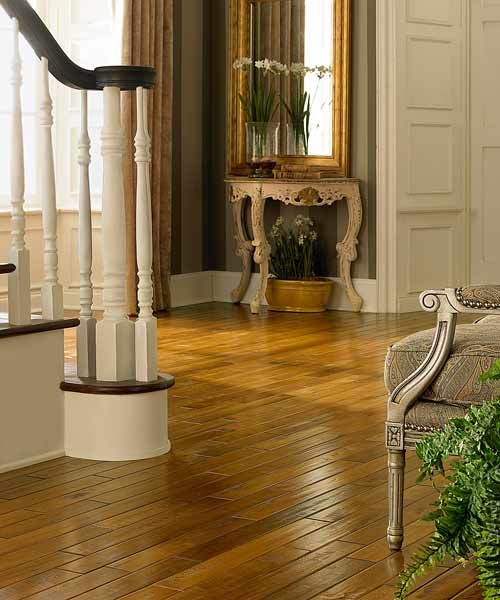 Most prefinished flooring has beveled edges and ends, which protect the finish from chipping during installation and hide unevenness that would be sanded smooth on unfinished wood. When installed, the bevels form a small groove, some as deep as ⅛ inch; others have barely noticeable micro-bevels. Keep in mind that deep grooves can collect dust and dirt and be a pain to clean. You can also opt for bevel-less "square-edge" flooring that mimics the look of site-finished boards. These work best when the subfloor is perfectly flat; otherwise you may see exposed edges.
Shop Smarter: Width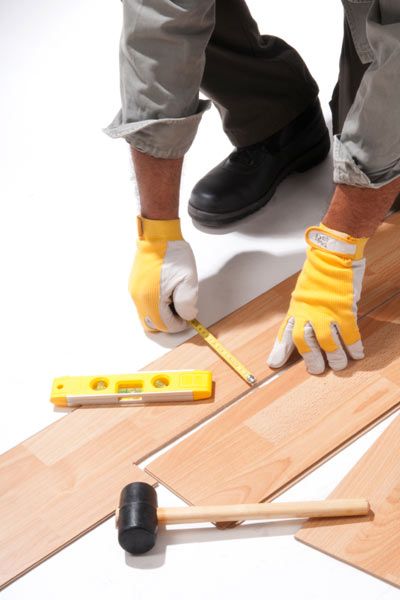 Wood flooring is sold in strips up to 3 inches wide and planks that are wider than 3 inches. Narrow boards are less expensive than wide ones and have a more traditional look. Rustic-feeling planks are more sensitive to swings in humidity, so there's a greater chance you'll see warping and gaps between boards. The wider the boards, the worse these problems will get.
Shop Smarter: Thickness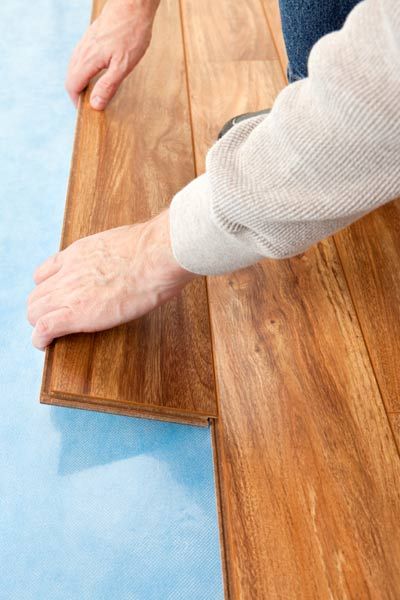 The standard is ¾ inch, but you can find boards as slim as 5/16 inch. Thinner boards can be handy during remodels, when you're trying to ease the transitions at doorways and stairways. But they also have a shorter life—think one or two sandings at most.
Shop Smarter: Grade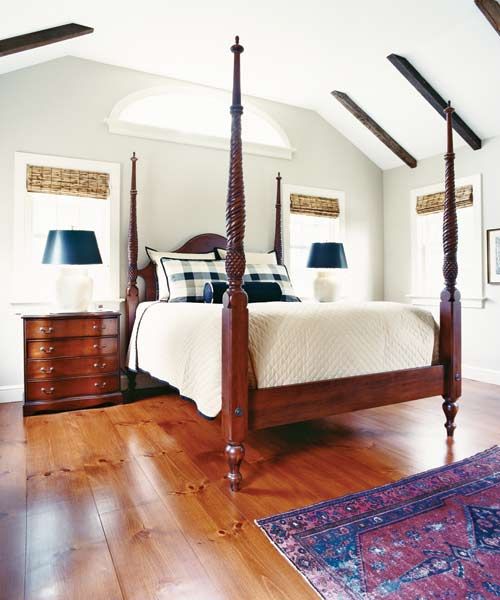 Mills classify flooring by grade, which refers to the number of surface defects, such as knots and color variations, and the length of the boards. Fewer defects and longer boards mean a higher grade and cost. All grades will make a structurally sound floor; the choice is more about whether you look at a piece of knotty pine or maple and see defects or character.
Shop Smarter: Grain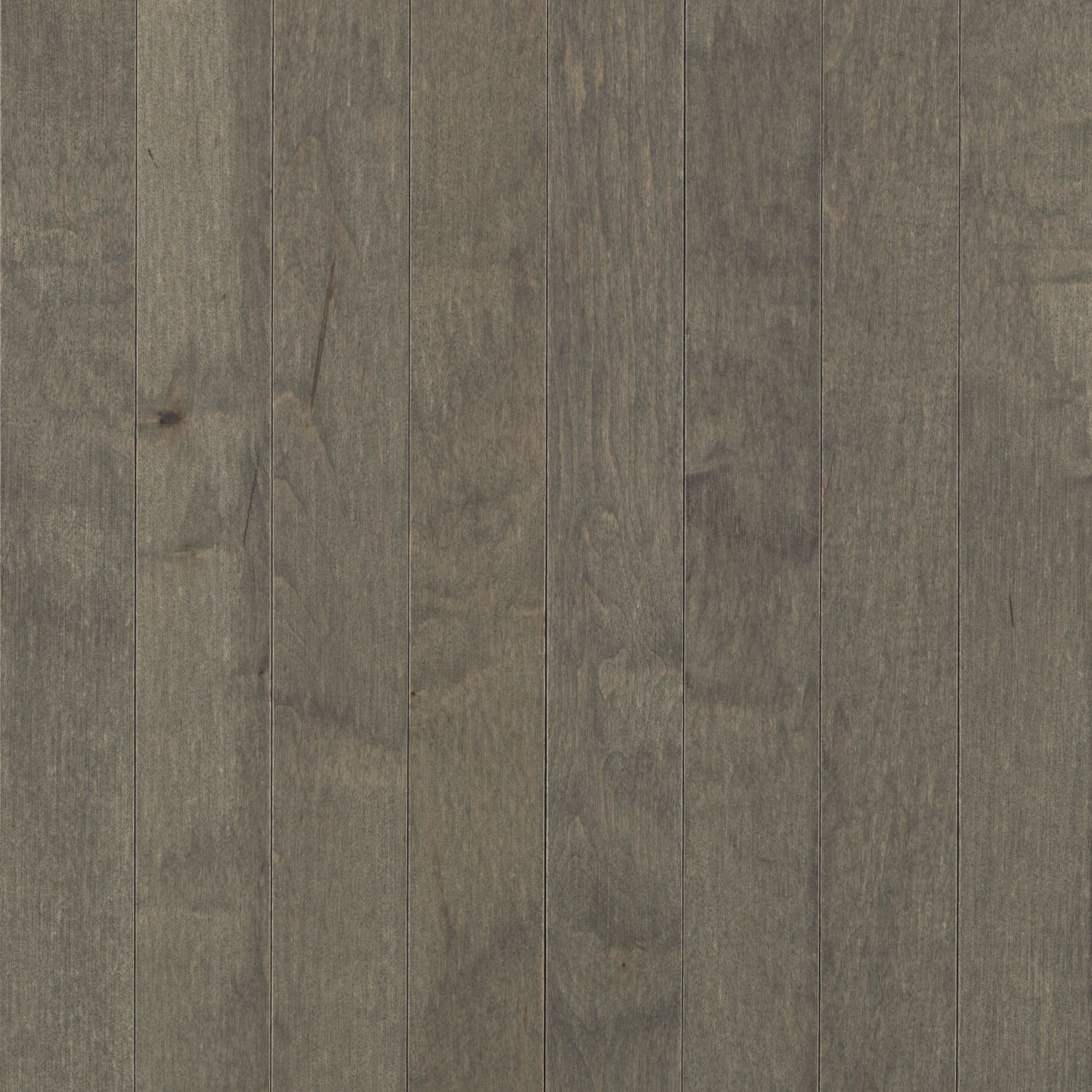 When boards are cut from a log, they may be flatsawn, or plainsawn, so that the growth rings are roughly parallel with the face, creating a wavy grain pattern, or quartersawn, with growth rings perpendicular to the face and a straight grain. Most wood grades include a mixture of both, or you can opt for all quartersawn boards, which are less prone to shrinking, swelling, and cupping. But expect to pay a premium price for this cleaner-looking flooring.
Calculator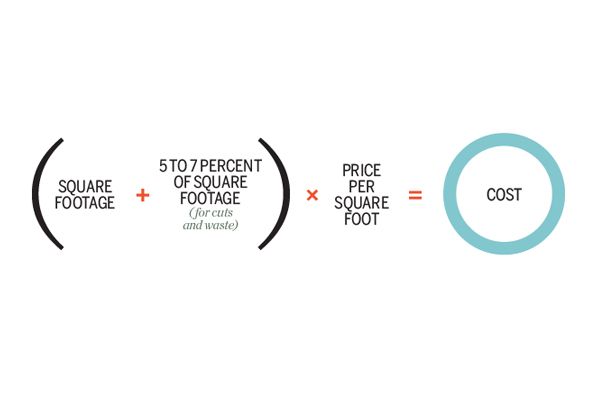 To estimate how much a new prefinished wood floor will set you back, measure the room's square footage and add a percentage for cuts and waste (5 percent for strip flooring, 7 percent for planks). Multiply that number by the price per square foot to get your final cost.
Heed Hardness Ratings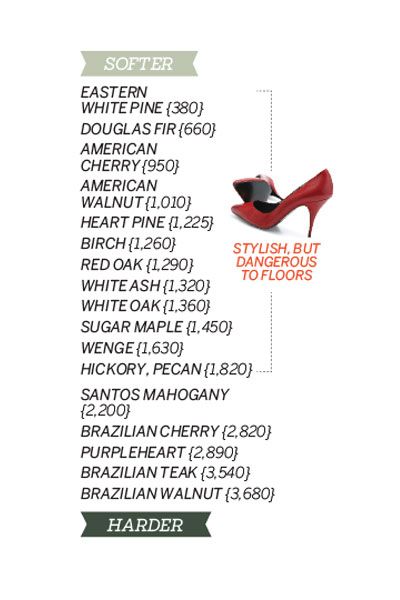 The durability of wood is ranked by the Janka hardness rating, which measures the pounds of force per square inch needed to embed a steel ball in the surface. The higher the number, the harder the wood and the more resistant it is to dents and scratches. To put the figures in perspective, consider this: A 125-pound woman in high heels exerts 2,000 pounds of force per square inch on a wood floor. Keep in mind that the noticeable grain of certain woods will hide wear and tear better than others. That said, you can always enforce a no-shoes policy in your home if you fall for the look of one of the softer species.
The Lowdown on Top Coats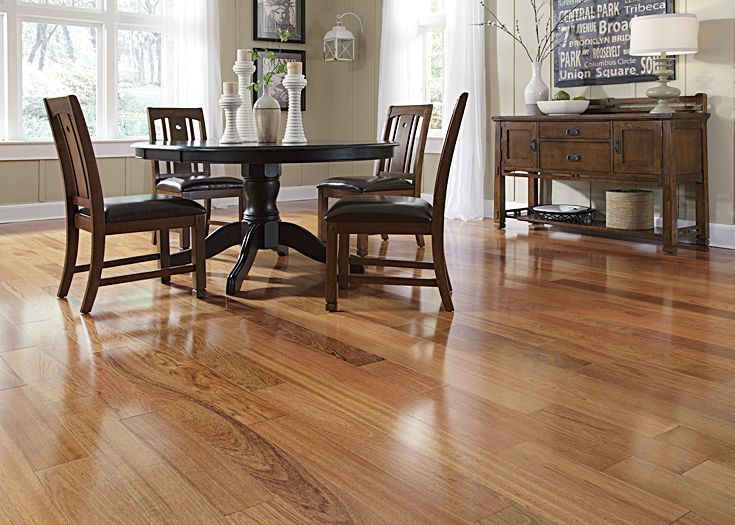 Comparing the durability of brands is nearly impossible. Manufacturers may tout the number of finish coats, but the thickness of the coats varies, meaning a floor with three layers may have a thicker coat than one with seven layers. Bring samples home and try to scratch them to get an idea of how they'll wear over time. As for sheens, higher glosses intensify color and grain but make scratches and dents more visible; satin or matte comes closest to matching the look of a site-applied polyurethane. Once the flooring is installed, a family with kids and pets can expect to maintain the floor in high-traffic areas with a screen-and-poly every five to 10 years. Sanding and restaining may be needed only every 15 to 30 years.
Pick Your Board: White Maple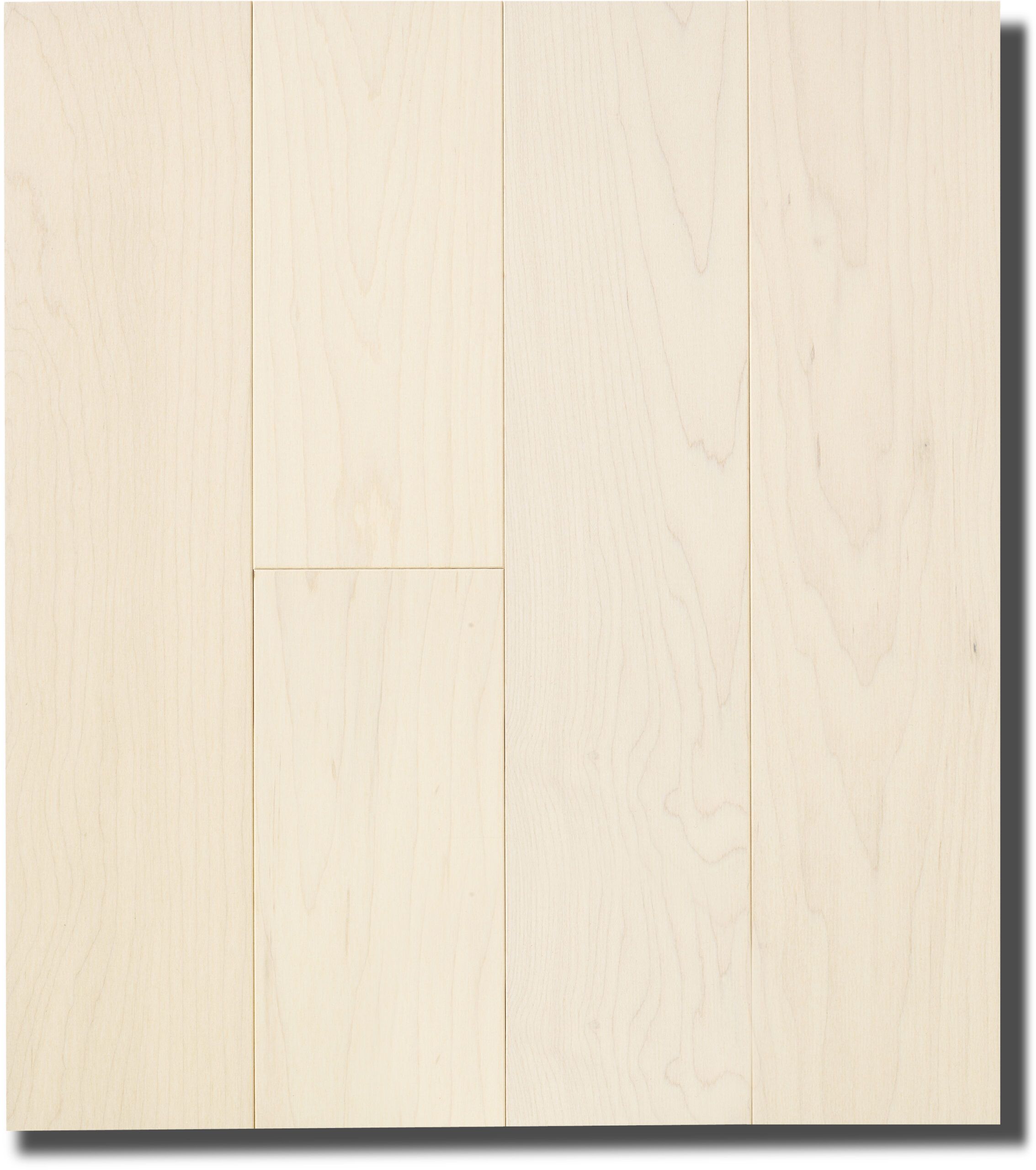 Price: about $11-$12 per sq. ft.
Maker: Armstrong
Highlights: Micro-bevels and a white-washed stain create a Scandinavian vibe.
Pick Your Board: Natural Hickory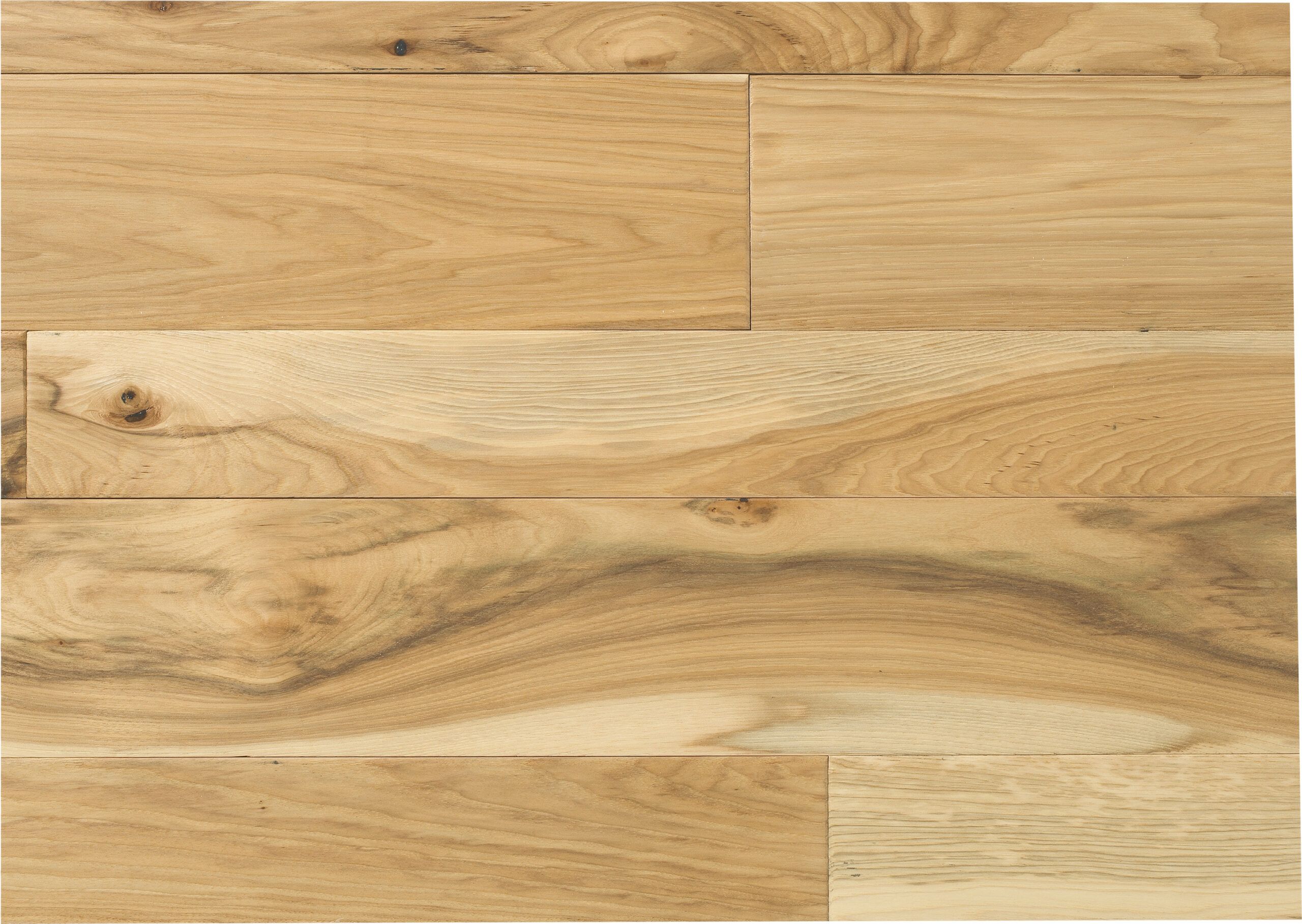 Price: about $7.20 per sq. ft.
Maker: Mohawk
Highlights: Alternating strips and planks make gapping less likely; a natural finish lets the grain's beauty shine.
Pick Your Board: Traditional Oak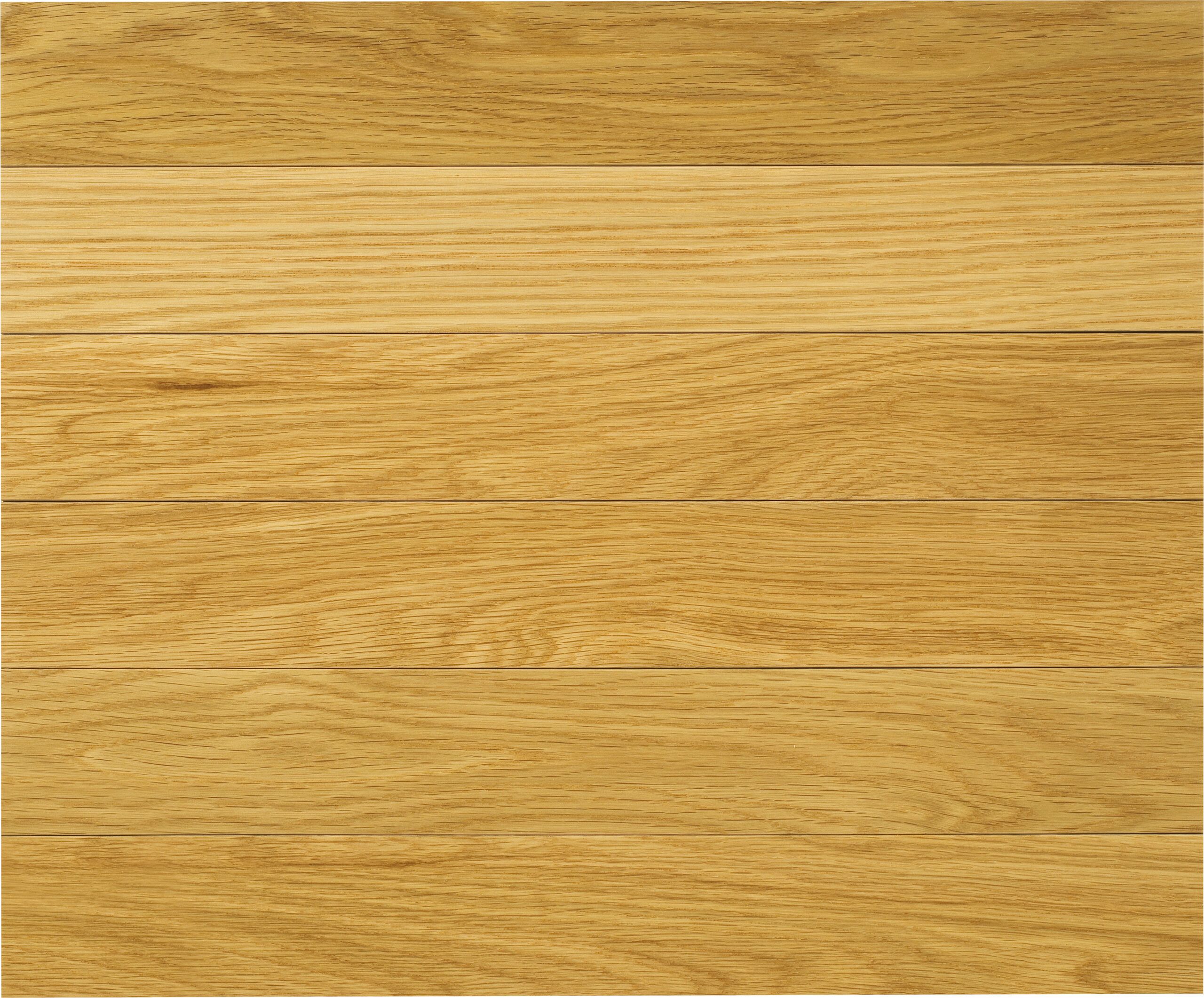 Price: about $4.99 per sq. ft.
Maker: Somerset
Highlights: High-gloss oak strips adapt to many styles; the strips have square-edge ends instead of bevels.
Pick Your Board: Ebonized Oak
Price: about $6.50 per sq. ft.
Maker: Mullican
Highlights: Standard oak gets an unexpected update in a just-shy-of-black midnight stain and 5-inch planks.
Pick Your Board: Warm Maple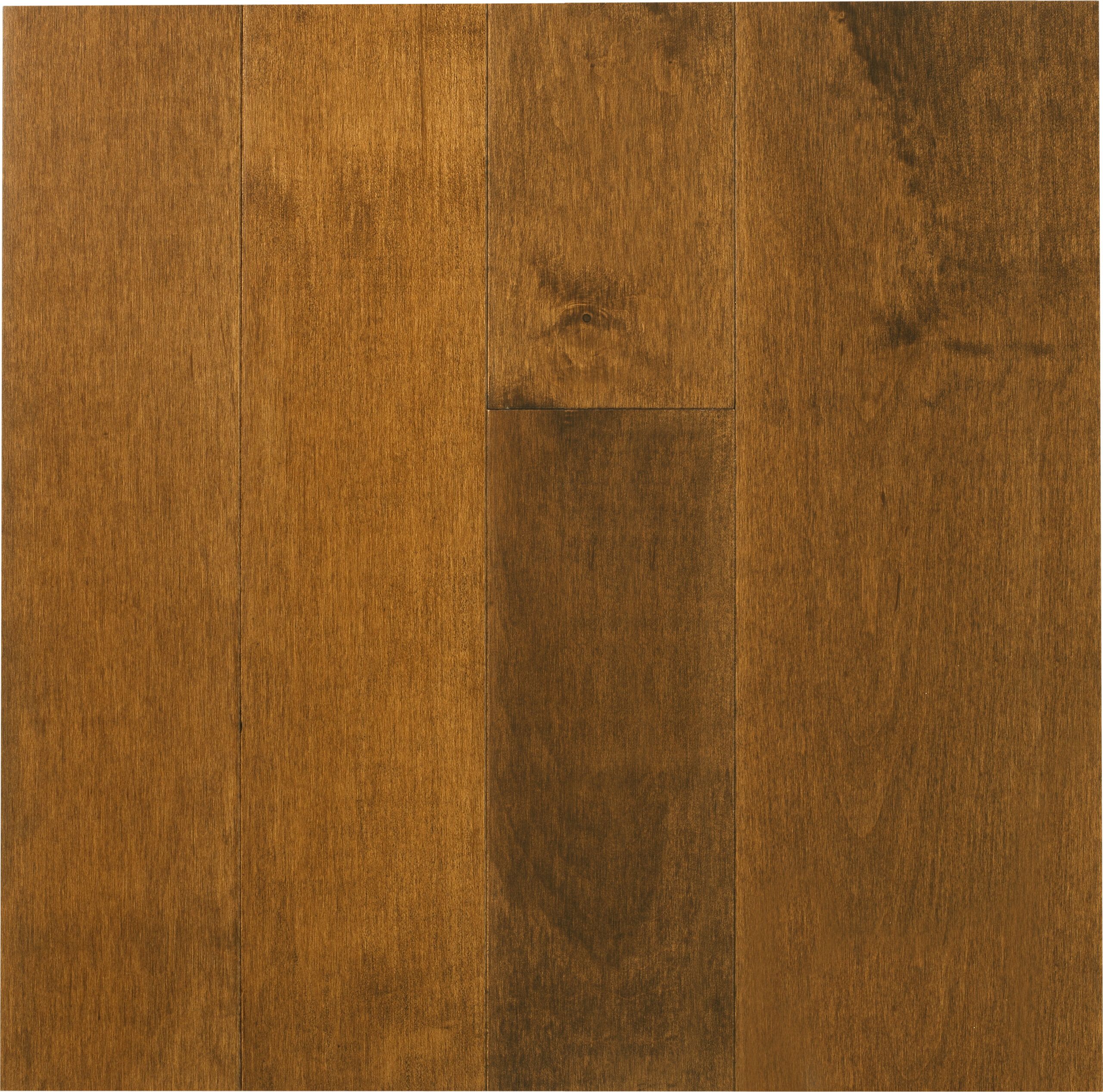 Price: about $7.50-$7.99 per sq. ft.
Maker: Bruce
Highlights: Uniform graining makes it look seamless; a reddish hue warms it up.
Pick Your Board: Rustic Pine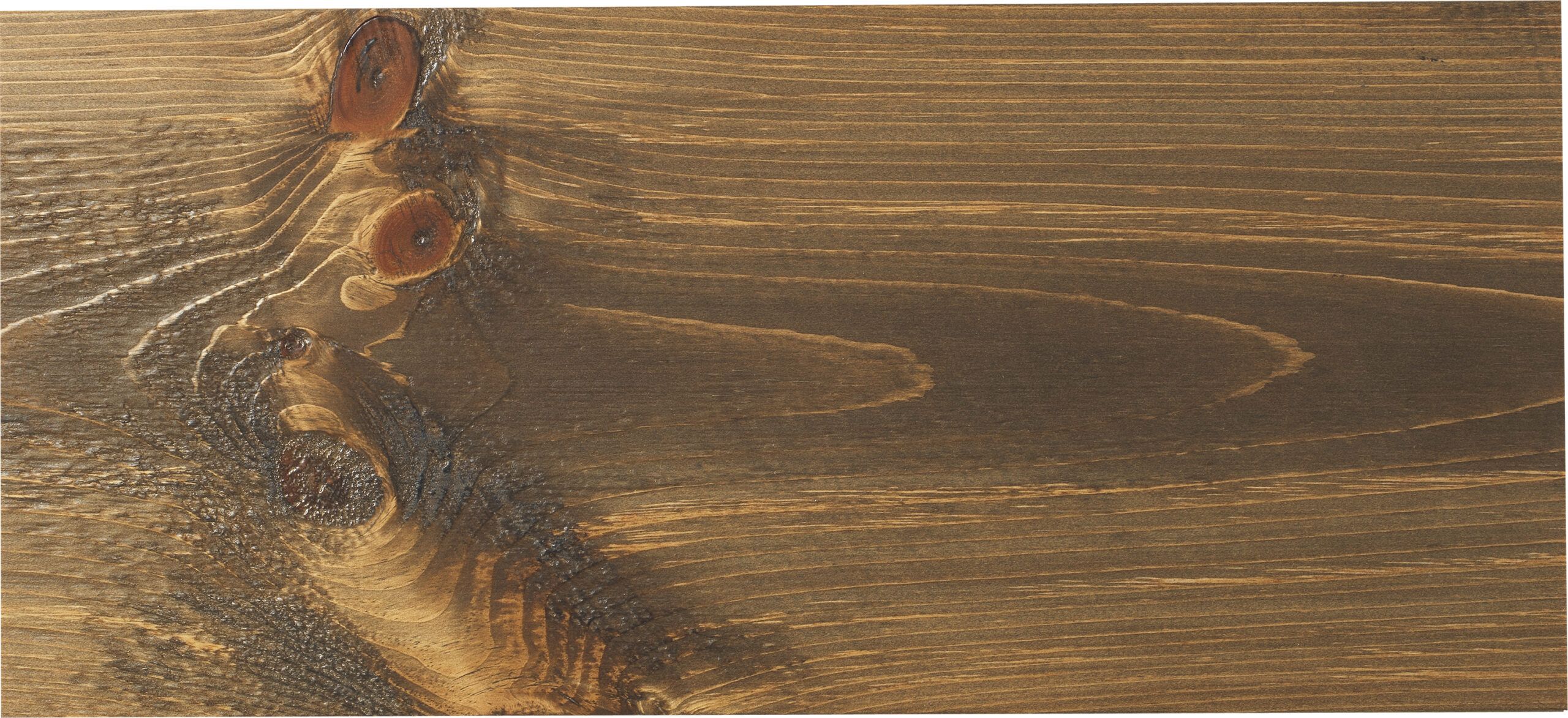 Price: about $10 per sq. ft.
Maker: Carlisle
Highlights: Plenty of knots and a textured watermill finish add character; comes in a variety of plank widths.
Pick Your Board: Textured Hickory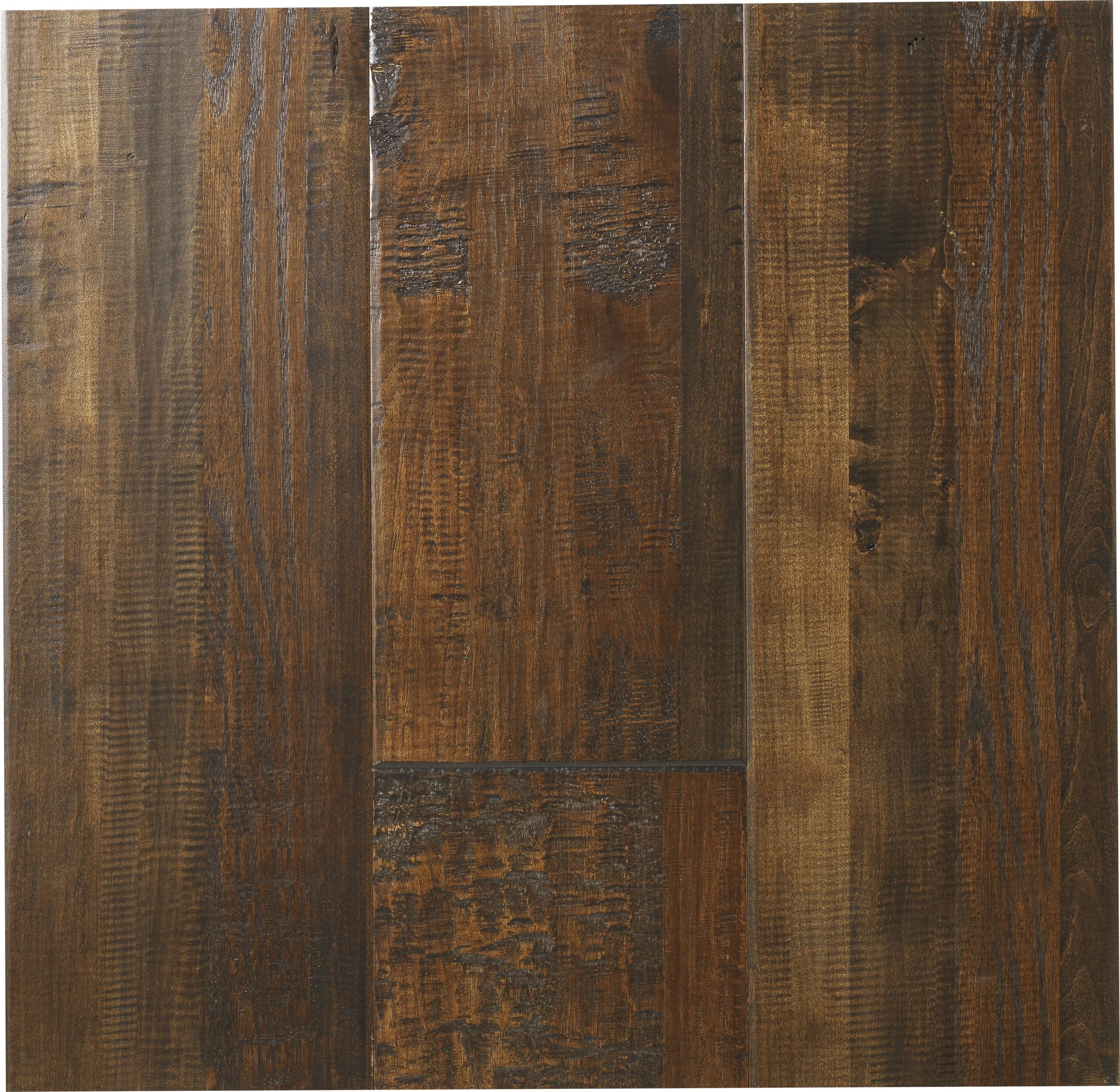 Price: about $18-$20 per sq. ft.
Maker: Shaw
Highlights: Each 8-inch plank is made up of four solid boards for stability; has a vintage hand-scraped look.
Pick Your Board: Shadowy Maple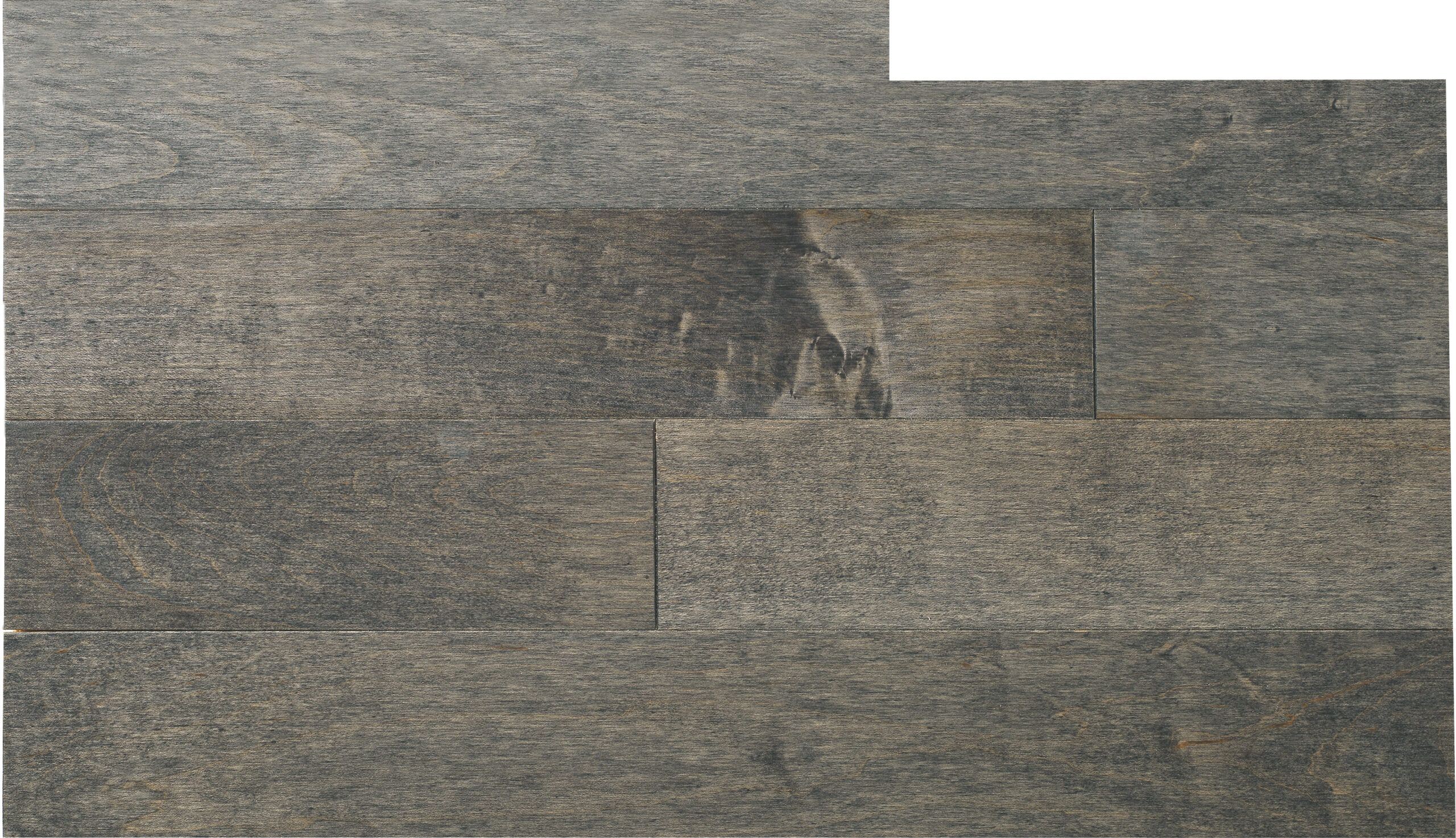 Price: about $4.09 per sq. ft.
Maker: Casa de Colour
Highlights: The gray trend makes its way from walls to floors; one is widely available at Lumber Liquidators.
Pick Your Board: Reclaimed Douglas Fir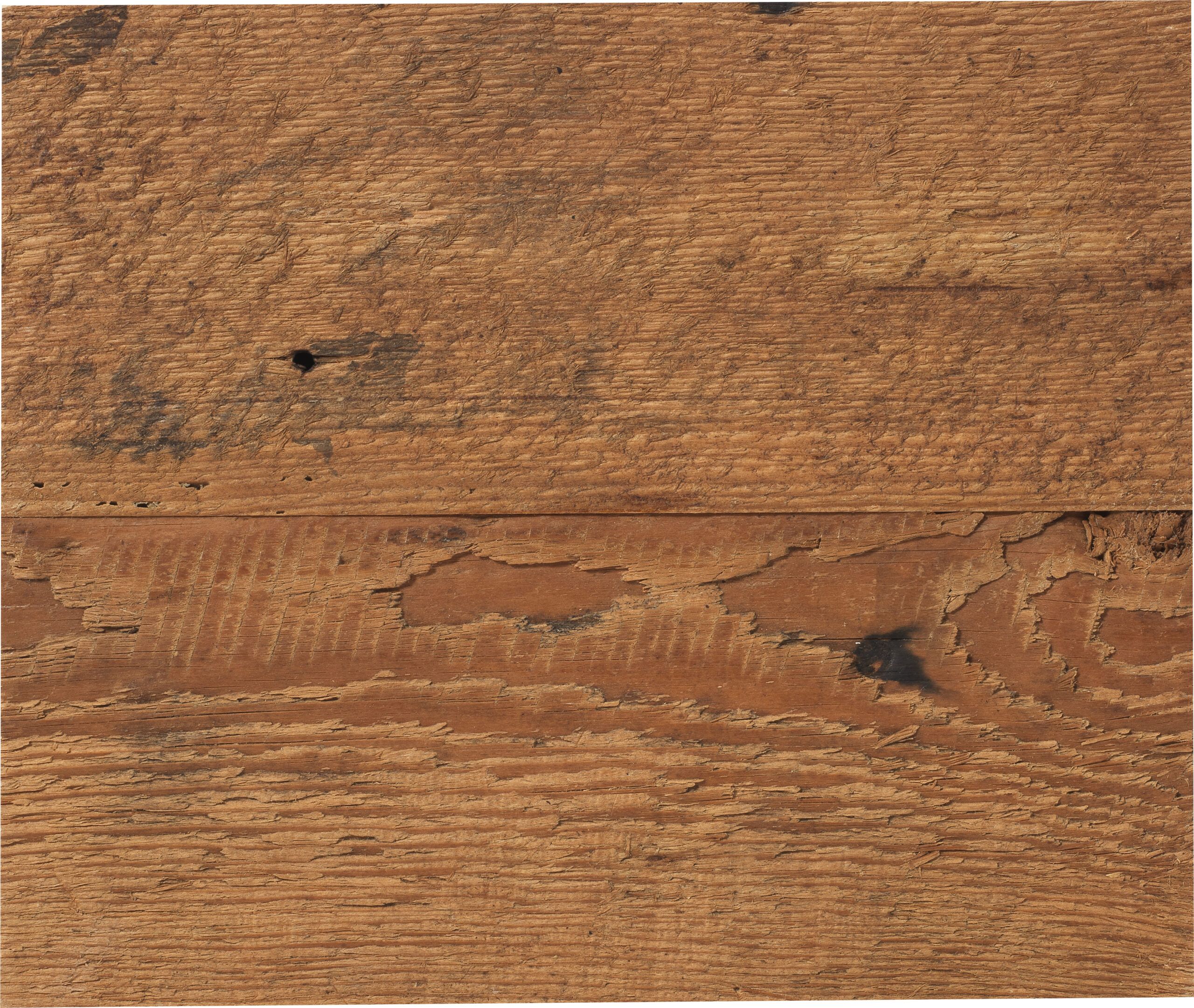 Price: about $10-$11 per sq. ft.
Maker: Viridian
Highlights: Nail holes add a rustic touch; comes in a mix of 4- to 6-inch-wide planks.
Pick Your Board: Rich Brazilian Cherry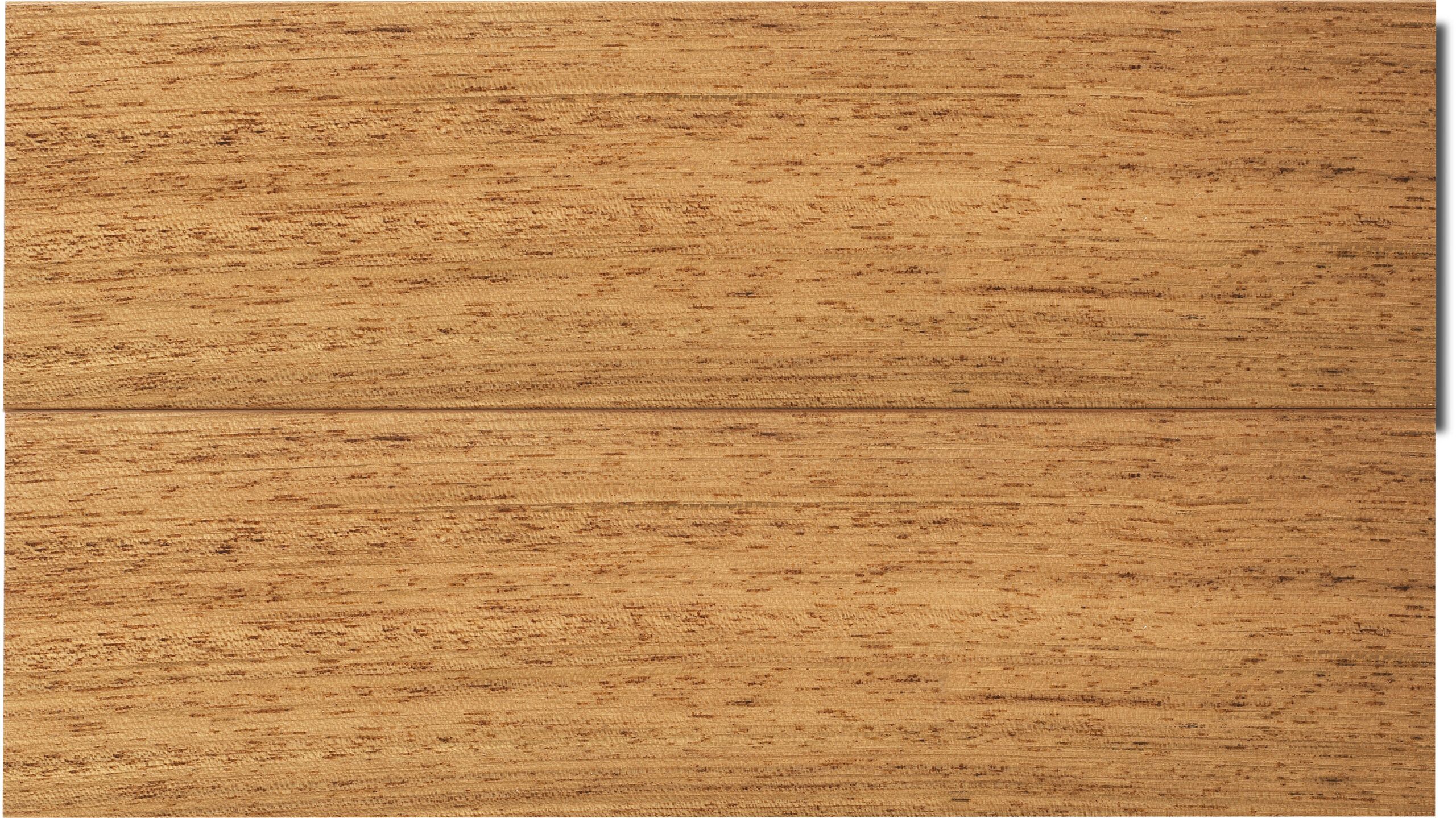 Price: about $8.99 per sq. ft.
Maker: BR-111
Highlights: Its natural orange undertone adds warmth; an exotic, it's hard to scratch or dent.
Get Rustic Character with Reclaimed Flooring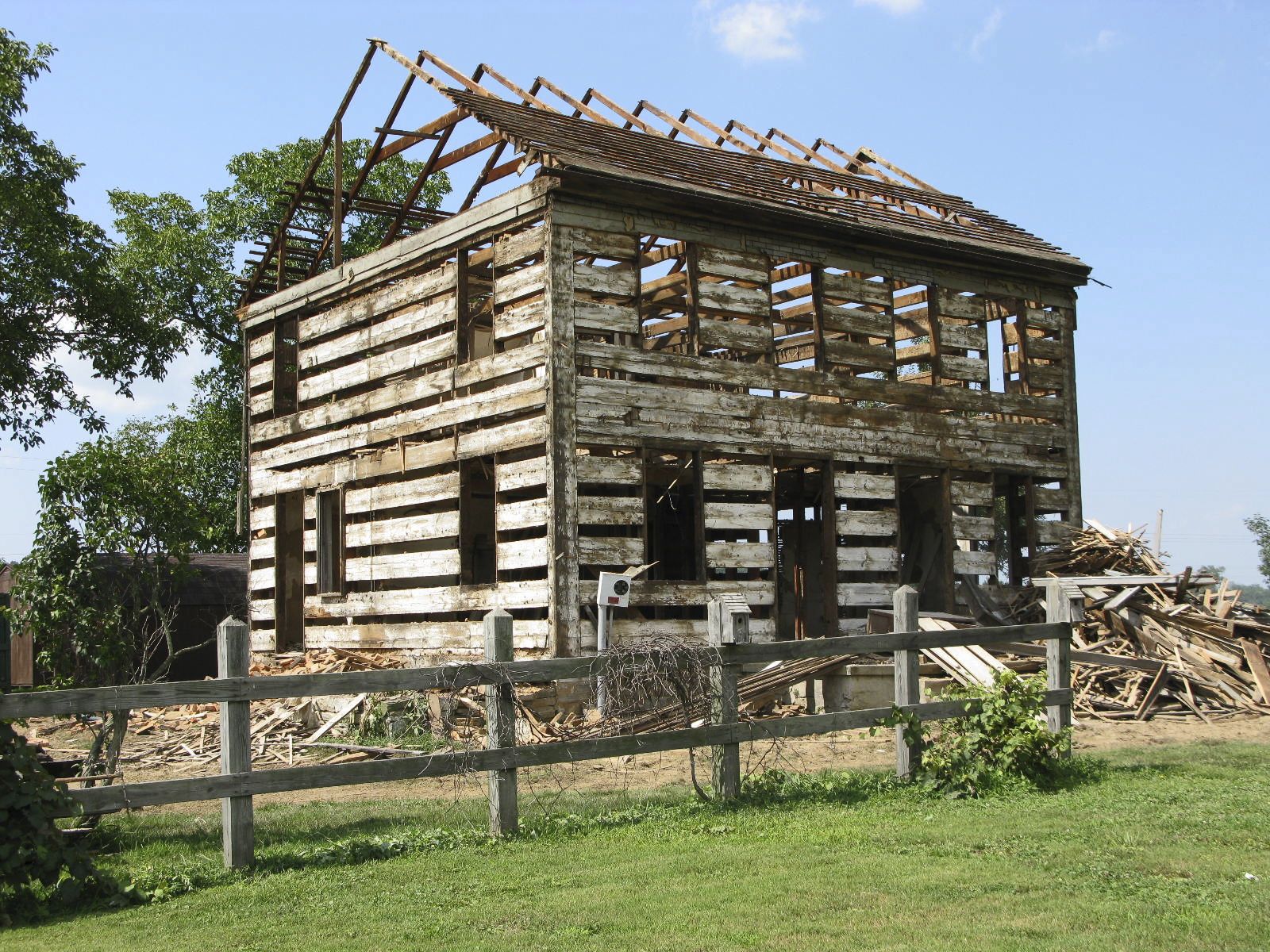 Weathered wood salvaged from old barns and factories or milled from logs pulled from river bottoms has a timeworn appeal—nail holes are common—and means fewer trees harvested from forests. The wood may also be harder than freshly cut boards because it comes from old-growth trees with compact growth rings. Companies such as Viridian, TerraMai, and Goodwin Heart Pine offer boards prefinished with hard-wearing UV-cured polyurethane. Expect to pay $3 to $4 more per square foot for this ready-to-install, refurbished wood—but you get a great story to go with that price.
The Competition: Unfinished Solid Wood

Bare wood strips and planks (about $2 to $12 per square foot) are sanded, usually stained, and topped with three protective polyurethane coats after they've been installed. The process takes several days and isn't DIY-friendly for the average homeowner, so it's best to hire a pro. But some prefer the even look of bevel-less boards topped with a lower-gloss (though less durable) site-applied finish. You can also stain unfinished flooring almost any shade. And when it's time to refinish, site-finished floors save money. Removing or abrading a factory finish requires special products and takes more time and skill, so many contractors build an extra 30 percent into the cost.
The Competition: Engineered Wood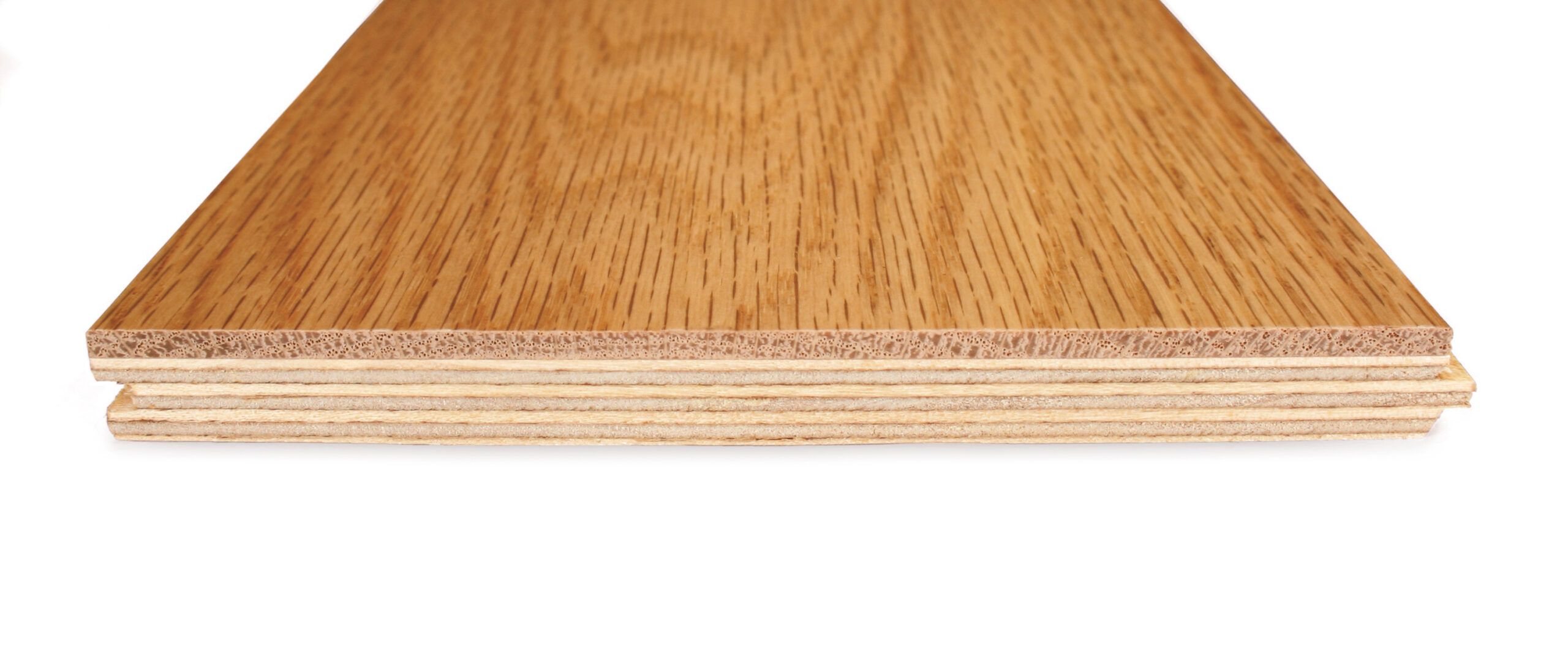 It looks like a solid board but consists of wood veneers glued together like plywood and topped with a factory finish. The sandwich-like construction, typically 5/16 to ½ inch thick, lends stability and allows engineered boards to go where solid wood can't, such as in basements or directly over concrete slabs. Engineered flooring is great for DIYers—some types simply snap together—and its cost is on par with unfinished solid wood, at about $2 to $12 per square foot. But the durability can vary greatly depending on how thick the top veneer is; an average board can withstand just a few sandings, while others can be refinished as many times as solid wood.
The Competition: Laminate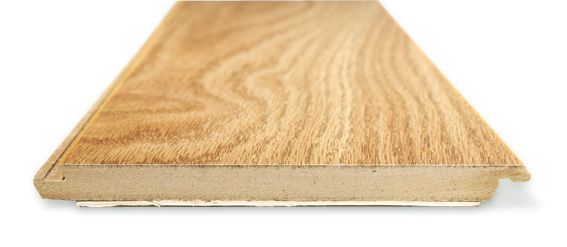 A sheet of fiberboard topped with a high-resolution wood-grain image on paper and coated with melamine mimics the look of solid boards but is just 6 to 12 millimeters thick; a surface embossing gives it texture. These DIY-friendly click-and-lock floating planks go everywhere engineered wood can and are a safer bet in bathrooms and laundry rooms, where drips can wreak havoc on real wood. Laminate is about half the price of wood, costing just $1 to $6 per square foot, but you may notice a hollow, clicking sound when you walk on this thin floor. And while the clear top coat resists scratches and stains, this type of floor can't be refinished if damaged.
Wood Flooring to Suit Every Style: Warm Craftsman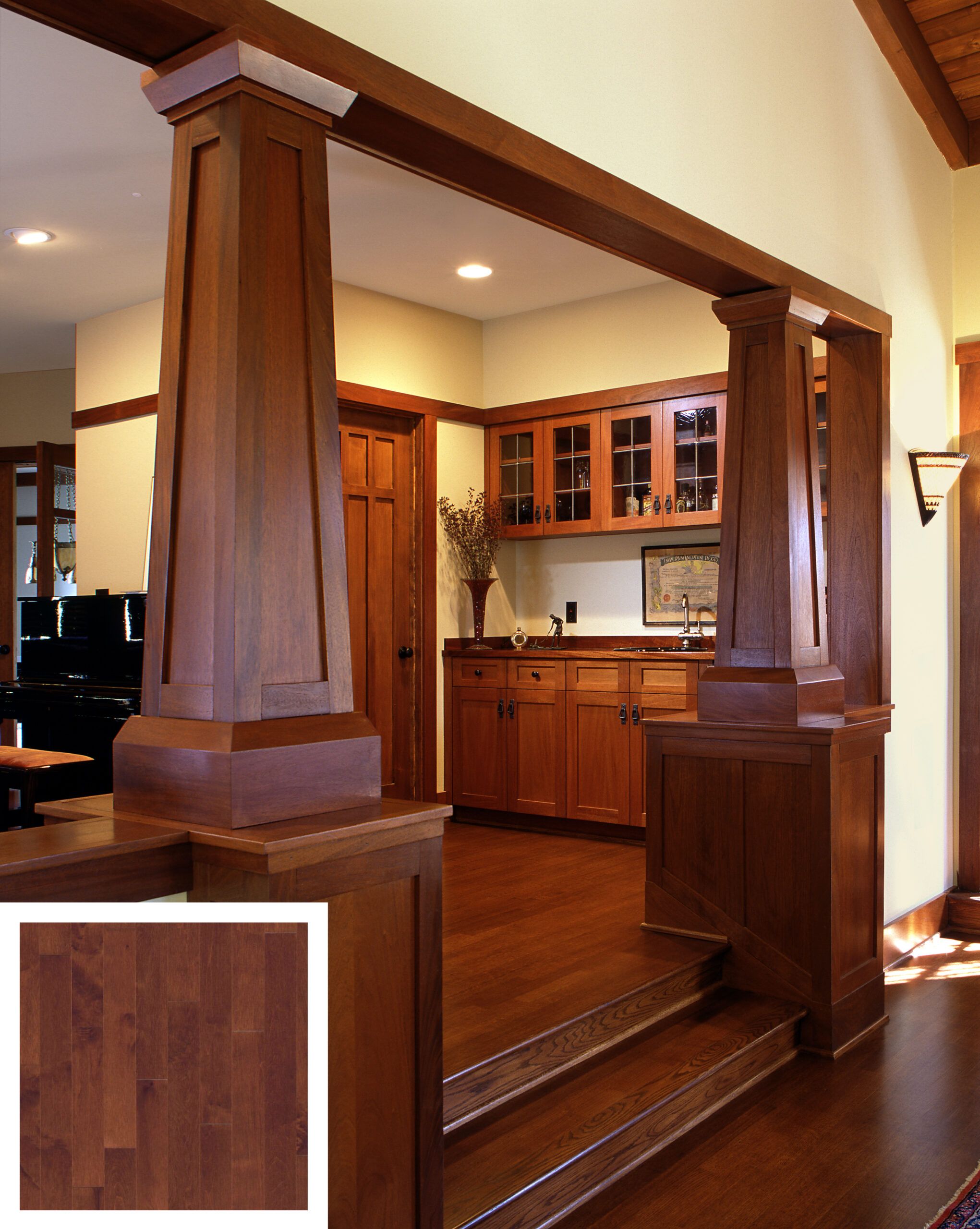 Rich, reddish-brown maple floors add depth to this classic Craftsman home. Using oak on the stair risers and the cabinets creates enough variation in the color to keep the room from feeling one-note.
Similar to shown: 3¼-inch Admiration Maple Canyon, about $10.12 per sq. ft.; miragefloors.com for dealers
Wood Flooring to Suit Every Style: Cool Mid-Century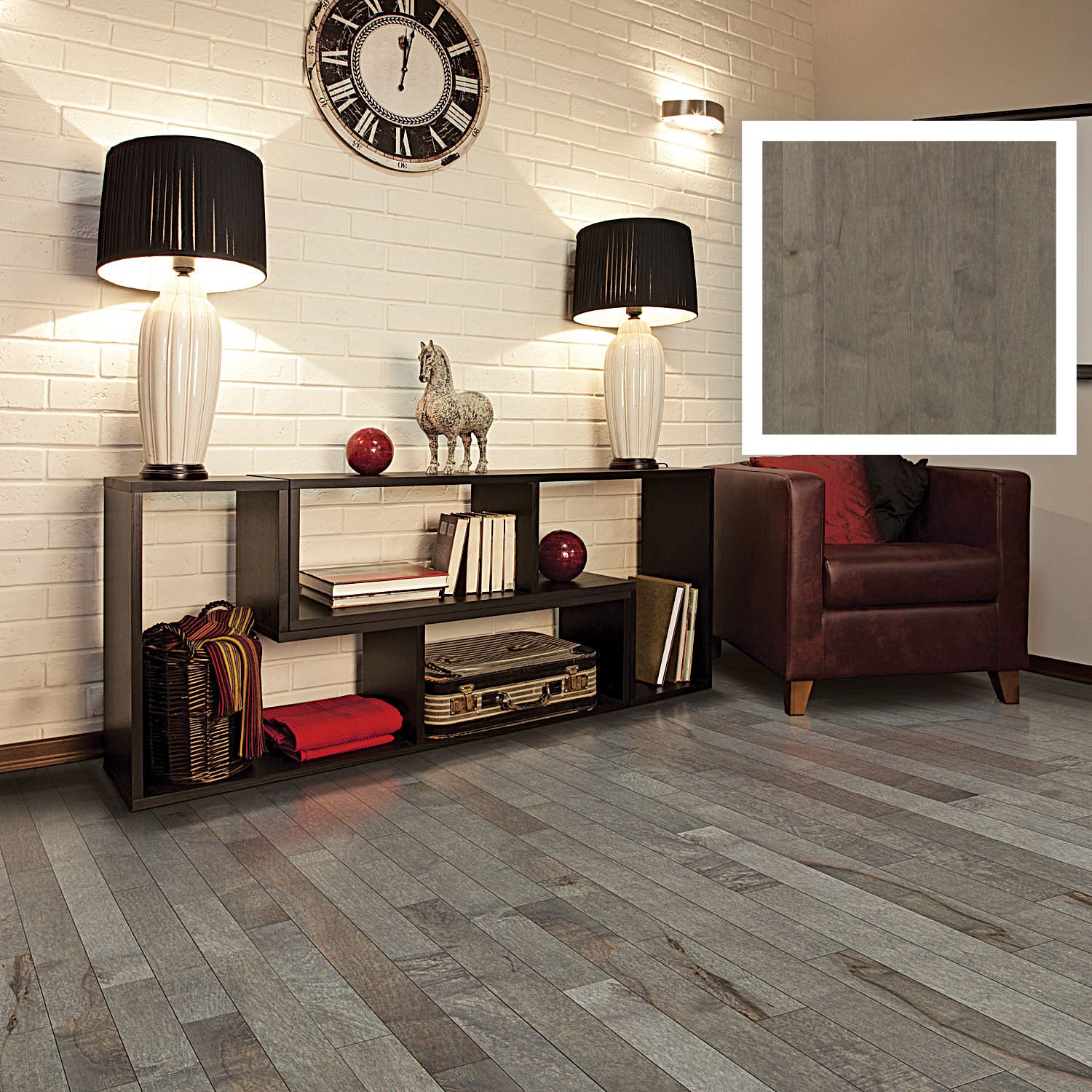 Flooring in a stylish gray finish updates a classic ranch. The hue looks striking against the white-painted brick walls and complements the clean-lined furniture. Vintage accessories, such as the lamp and suitcase, add more personality to the space.
Shown: 3¼-inch Rockford maple in Flint, about $5.95 per sq. ft.; mohawkflooring.com for dealers
Wood Flooring to Suit Every Style: Rustic Cottage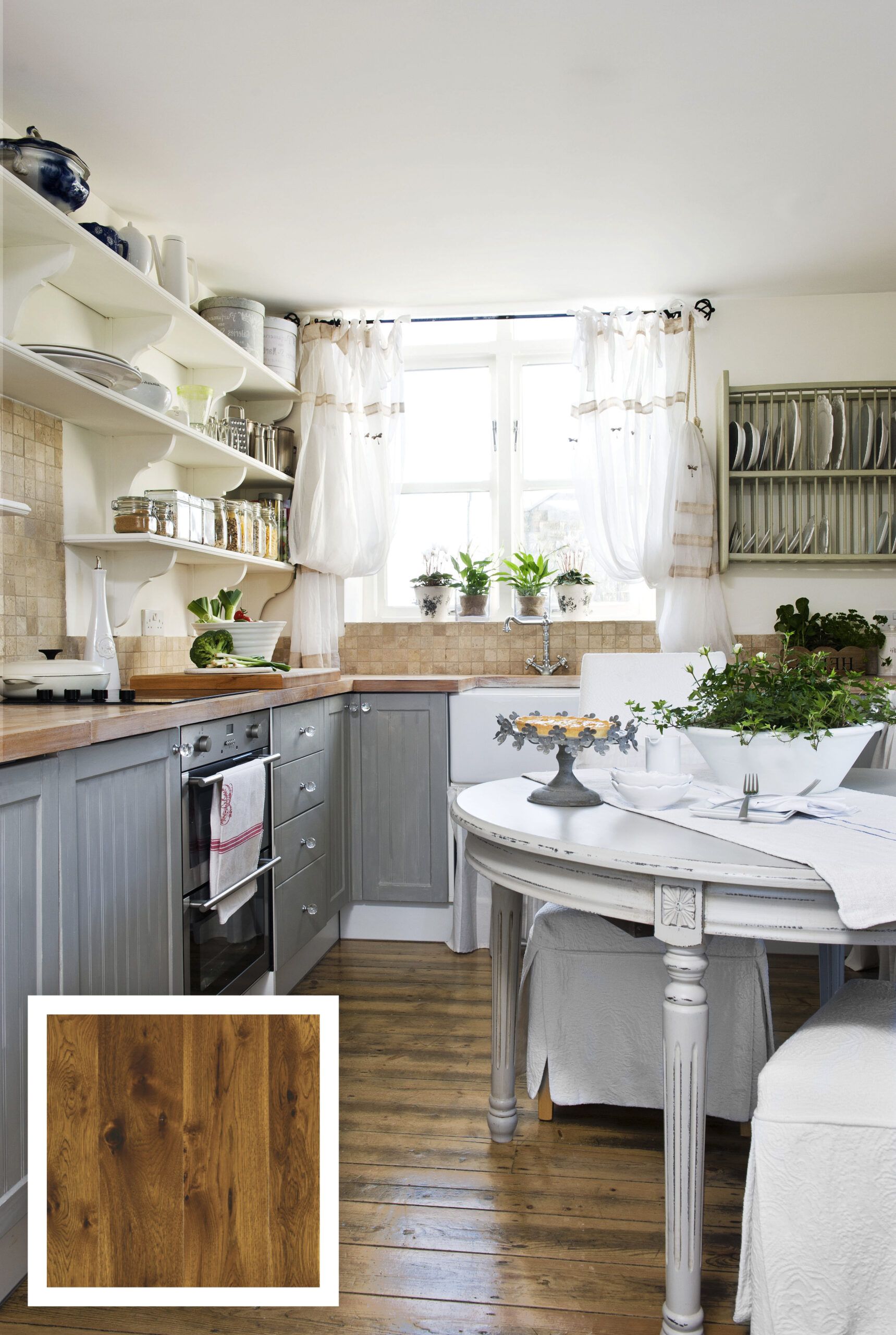 With its noticeable knots and dark finish, wide-plank hickory feels right at home with the painted beadboard cabinets, open shelving, and antique furnishings in this cozy kitchen.
Similar to shown: 8-inch Signature grade hickory in Bradford Umber, about $18 per sq. ft.; wideplankflooring.com for showrooms
Wood Flooring to Suit Every Style: Eclectic Traditional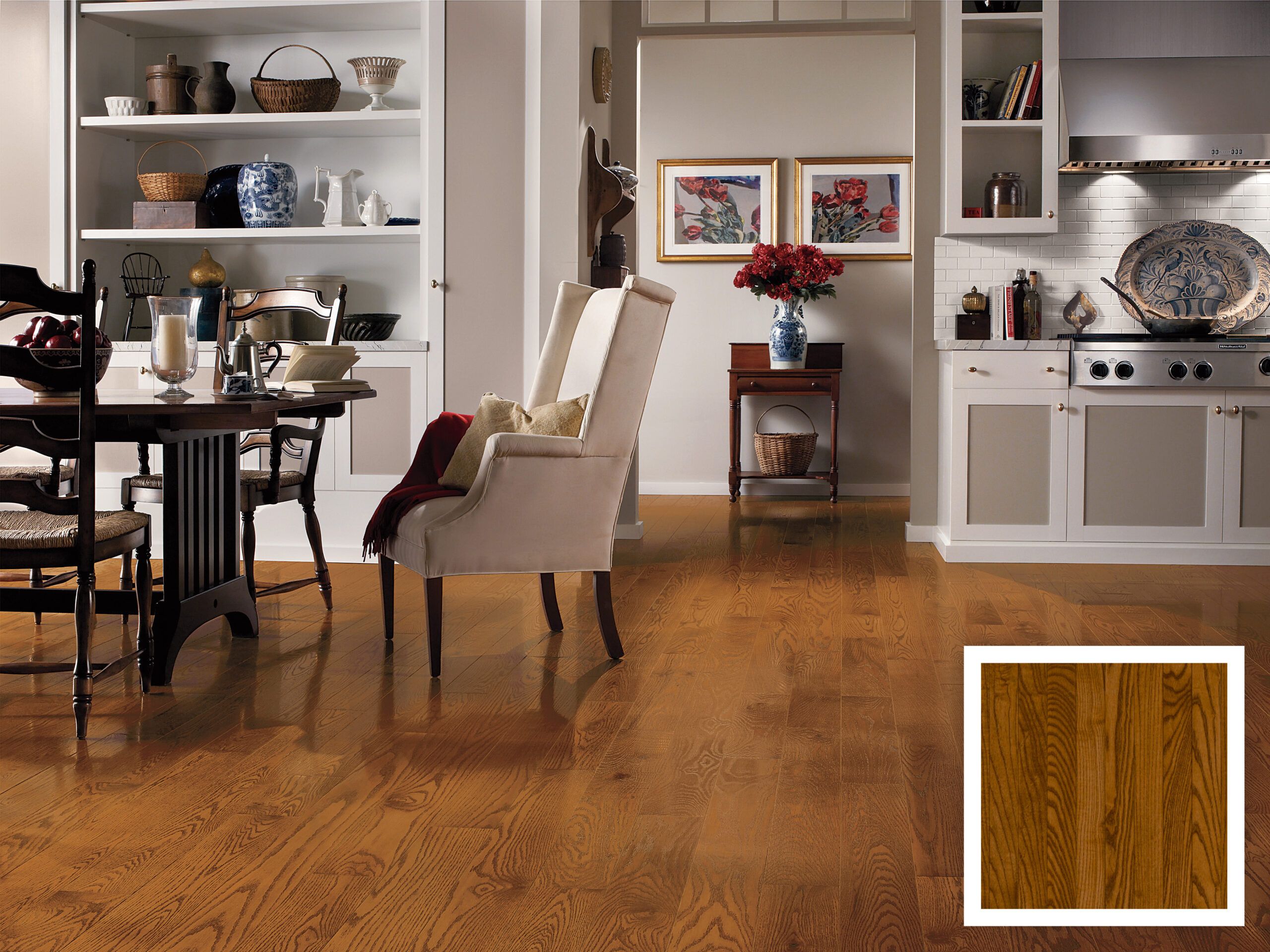 To anchor a dining room that hosts a mash-up of styles—a Mission-style table, classic American ladder-back chairs, and a modern, scaled-down wing chair—stick with a neutral, goes-with-everything flooring, such as oak in a warm golden stain.
Shown: 5-inch Dundee oak in Gunstock, about $6.29-$6.69 per sq. ft.; bruce.com for dealers
Pick a Pattern: Smart Angle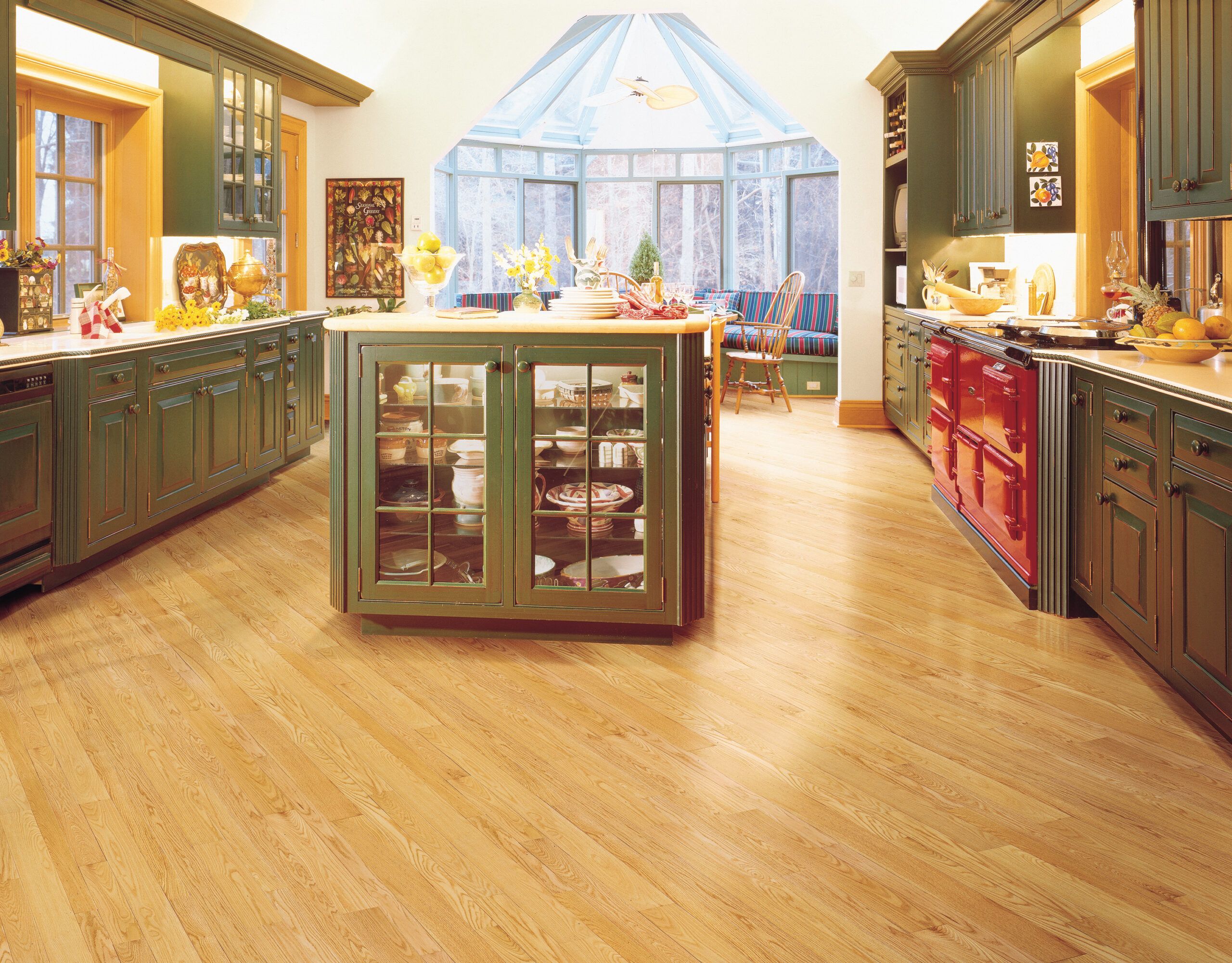 Laying flooring on the diagonal can visually expand a small or narrow room, such as a galley kitchen. It's also a good solution for older homes that aren't square, where a parallel-to-the-wall installation might make that flaw more noticeable. And it doesn't take any more flooring than a typical install.
Shown: 2¼-inch St. Andrews red oak in Natural, about $5.99 per sq. ft.; mullicanflooring.com for dealers
Pick a Pattern: Double Border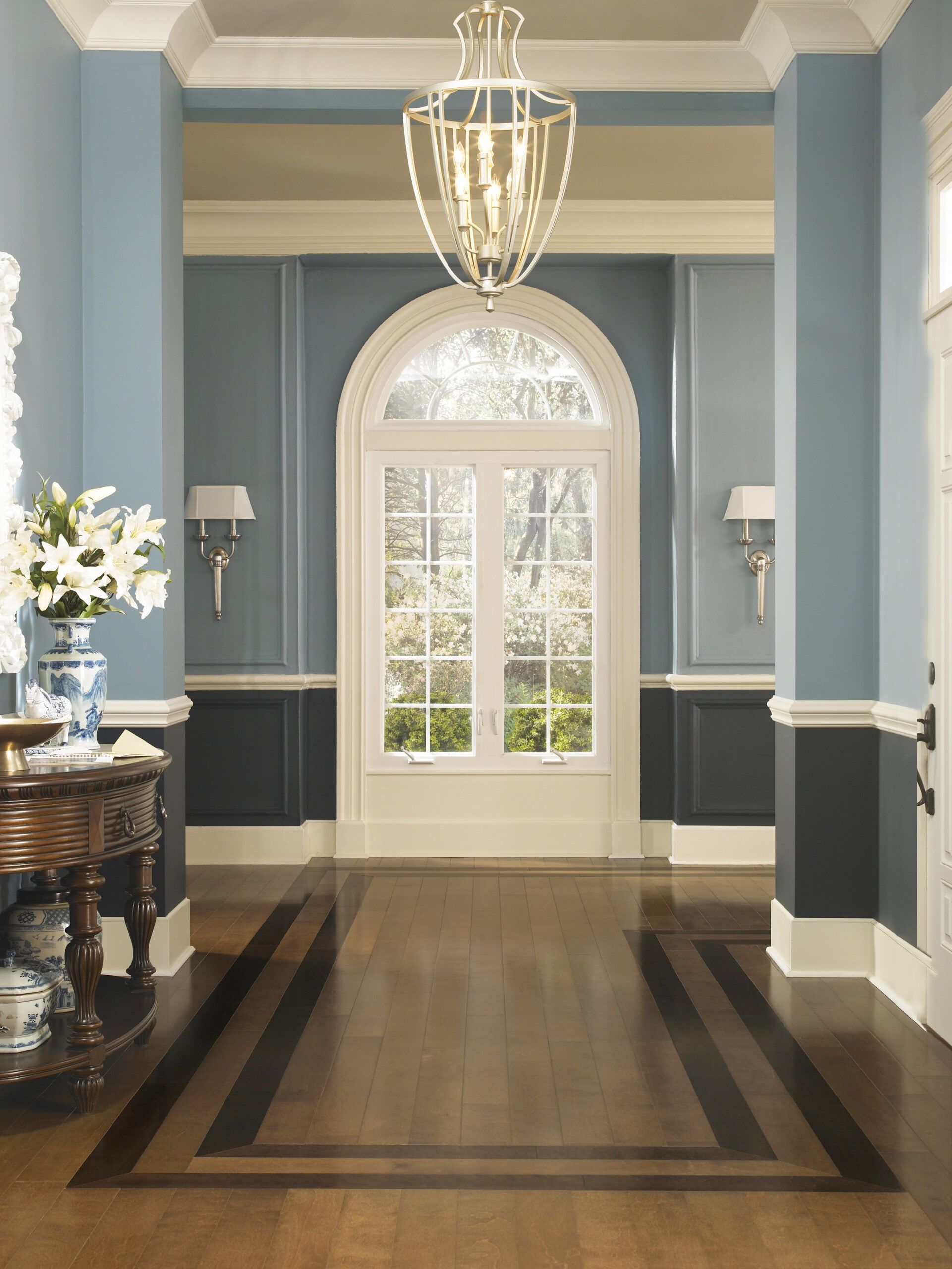 Outlining the floor with two high-contrast stripes creates a decorative border that helps balance the rest of the room's architectural detail. If you can cut mitered corners on the floorboards, this project should be a cinch to do.
Similar to shown: 3¼-inch Nantucket maple in Summer House Tan and Brant Point Brown, about $8-$10 per sq. ft.; shawfloors.com for dealers
Pick a Pattern: Haute Herringbone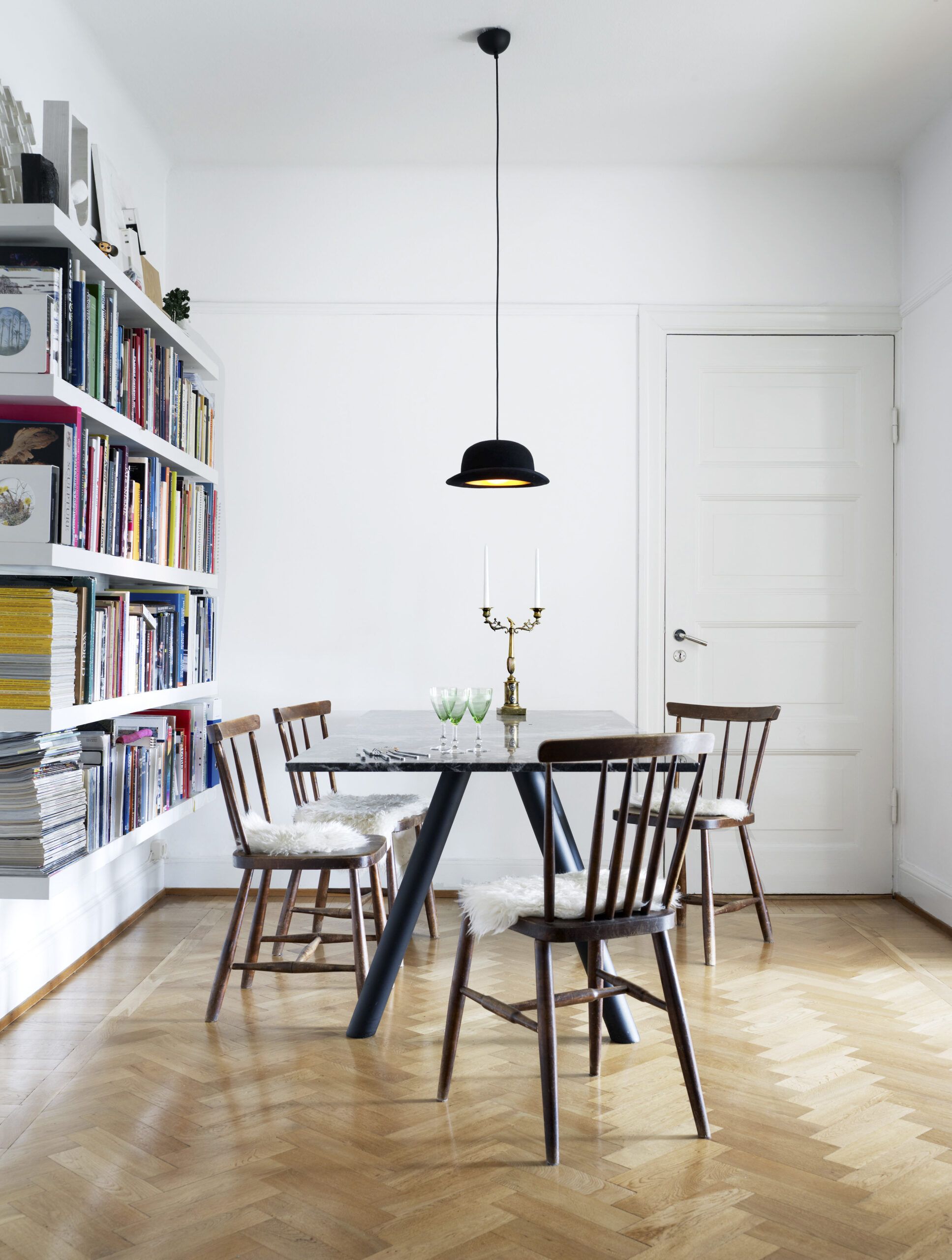 This stylish pattern looks best in rooms that don't have competing architectural focal points. Precise cuts are key, and, because of the difficulty in laying out the pattern, this is a job best left to pros or experienced DIYers. If you're up for the challenge, get the how-to here.
Similar to shown: 2¼-inch Bellawood select white oak, about $4.99 per sq. ft.; lumberliquidators.com
Pick a Pattern: Simple Stripes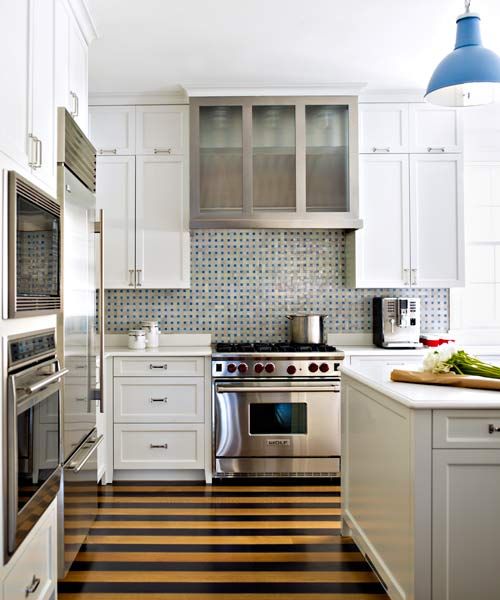 Alternating bands of light- and dark-stained maple bring color and a sense of energy to this otherwise all-white kitchen. Using stripes in a hallway can also be a smart way to create a bridge between rooms with floors that have different finishes.
Similar to shown: 4-inch Kennedale Prestige maple in Natural and Cappuccino, about $8.29-$8.99 per sq. ft.; bruce.com for dealers
DIY Like a Pro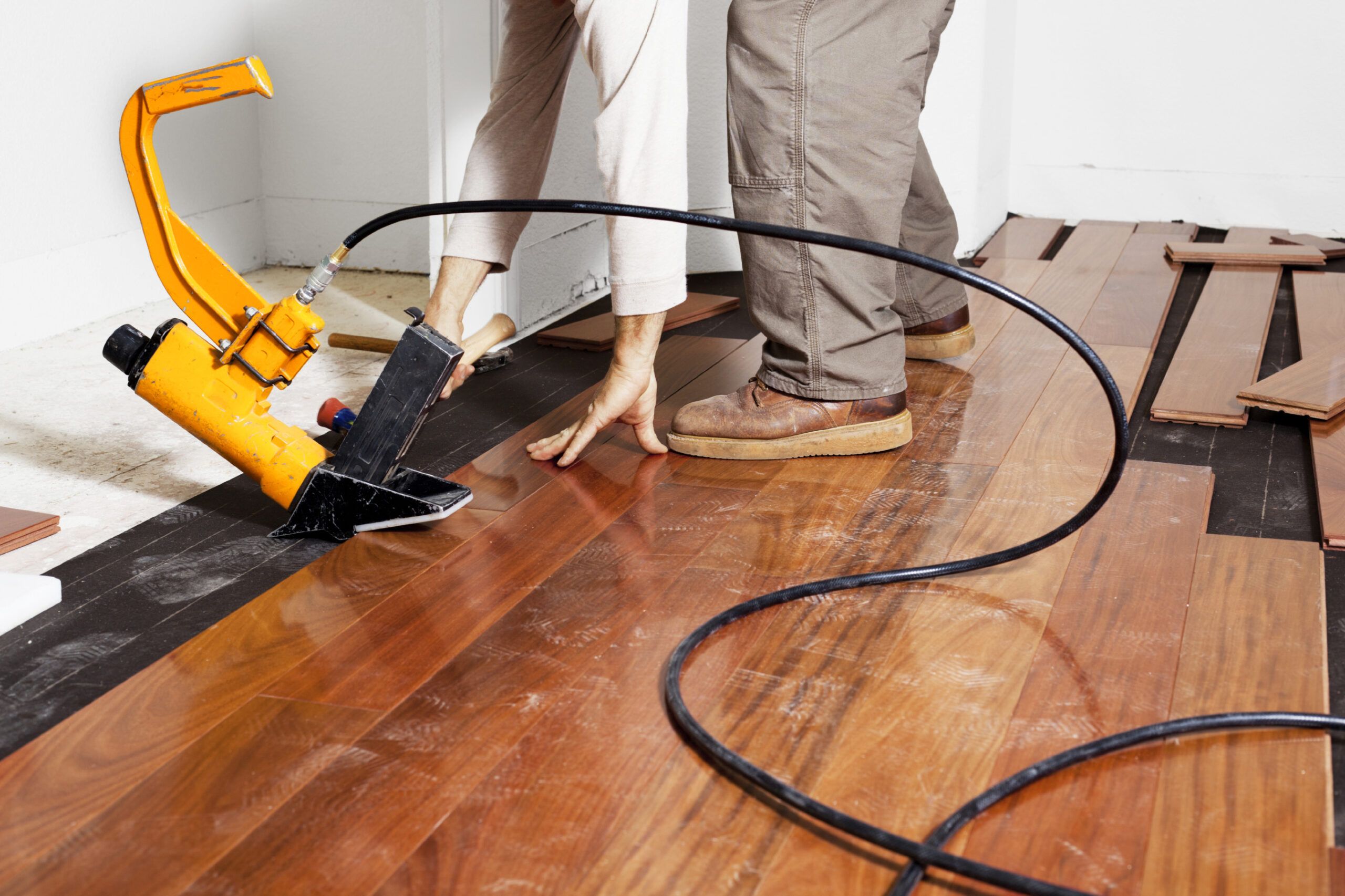 Solid-wood strips and planks have a tongue on one side and a groove on the other, allowing them to interlock. Because the boards shrink and swell, they must be fastened to a plywood subfloor. For best results, keep your home between 60 and 80 degrees F and 30 to 50 percent relative humidity (measure both with a thermometer-hygrometer), and leave flooring in the room where it will be installed for at least a week. This allows the wood to acclimate and prevents issues like cupping and gapping down the road.
1. Strip Flooring: Face-nail the first board, then toenail the tongues of subsequent strips with a floor nailer or a stapler and a compressor (rent them from home centers for about $70 a day). Ask for the nailer's adapter plate; it prevents damage to the factory finish. Fasteners driven through the tongue are hidden by the groove of the next board. Be advised: Staples may be cheaper than nails but are more likely to fracture the flooring's tongues.
2. Plank Flooring: Wide boards move more than strips do and require additional holding power. Nail or staple planks, as above, applying beads of construction adhesive to the subfloor every foot or so. Or face-nail the boards by hand, using square-head nails for an old-world look.