The Soul of the Apartment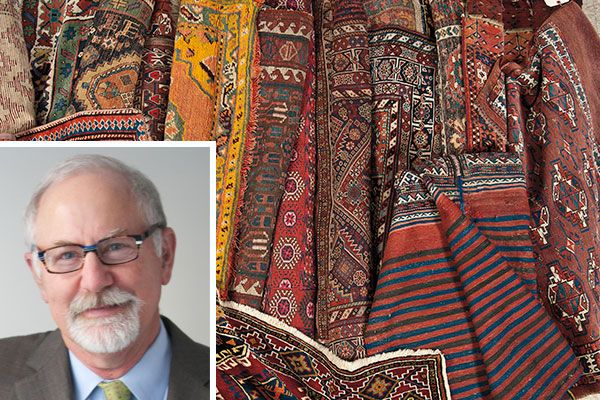 American author Edgar Allan Poe is best known for his mournful poetry and eerie short stories. He also had plenty to say about what we today call interior design. In an 1840 essay about interior decorating, Poe states, "A carpet is the soul of the apartment."
Stephen Fletcher, the executive vice president, chief auctioneer, and director of the Americana department of Skinner Inc., an international auction house, says that Poe's observation is still true. Widely regarded as one of the world's foremost experts on early American furniture, American decorative arts and folk art, Fletcher is also a popular appraiser on the PBS television series Antiques Roadshow.
Here, Fletcher looks back at how floor coverings were used to set the tone of a room in early American history.
Patterns in Sand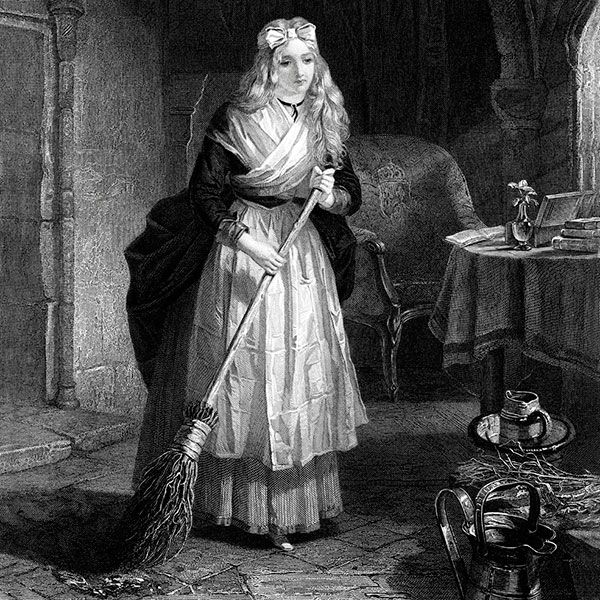 Style-conscious but frugal 17th-century American housewives poured clean sand over a bare floor, and swirled the grains into patterns with a broom simply to add a design accent to their surroundings.
Shown: Sample of a bare floor with sand
Painted Wood Floors
As sawmills proliferated so did the availability of wood boards, which were sometimes painted. One popular motif was alternating black and white squares, to imitate the marble floors in grand European homes.
Shown: American School/Albany, New York Area, 19th Century, Portrait of Three Children, 1835-1845 (Skinner Auction 2242, Lot 26, Sold for: $22,325)
Floorcloths With Geometric Designs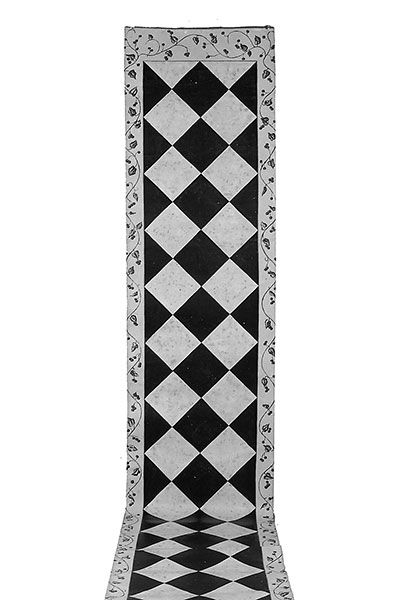 By the 18th century, floor coverings of heavy canvas appeared. American floorcloths were painted in colorful geometric designs or swirling marble patterns. Some patterns were based on the Oriental carpets beginning to make their way into well-to-do homes.
Shown: Painted Canvas Runner, America, 19th century (Skinner Auction 2011, Lot 187, Sold for: $861)
The "Turkey" Carpet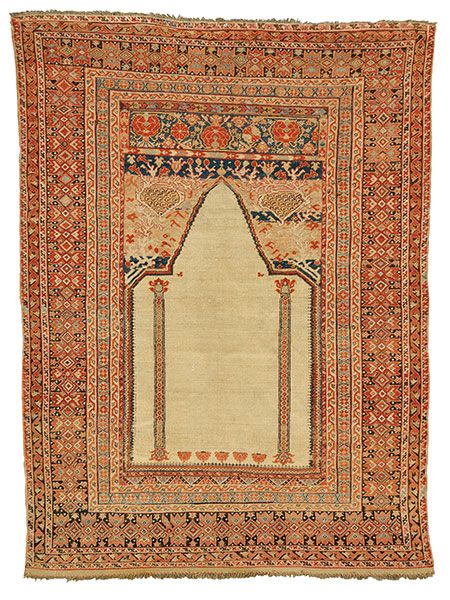 "Turkey" carpets—as Oriental rugs were called—were far too costly to be subjected to foot traffic from unpaved, filthy streets. Proud owners draped them over tables instead.
Shown: Ghiordes Prayer Rug, West Anatolia, late 18th century (Upcoming Skinner Auction 2845B, Lot 149, Estimate $4,000–$5,000)
"Rag" Rugs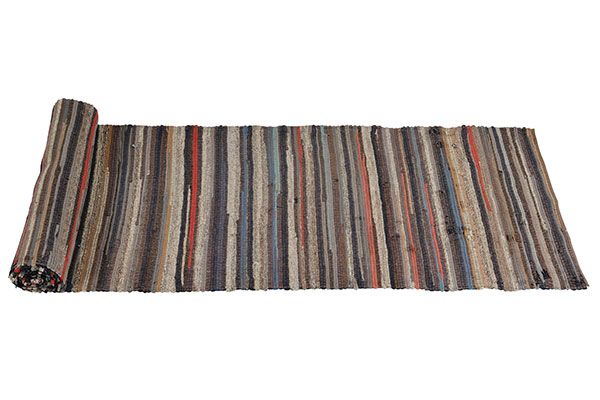 Far more common were rugs and smaller mats made at home by weaving multicolored scraps of wool fabric on a handloom. These "rag" rugs became more colorful as machine-made textiles were more plentiful and affordable in the 1840s and 1850s.
Shown: Rag Hallway Runner Rug, America, mid to late 19th century (Skinner Auction 2838M, Lot 1322, Sold for: $1,230)
Hooked Rugs
Shirred rugs, popular from the 1820s to the 1850s, were also made mostly at home with fabric scraps tightly packed together and stitched onto homespun backing.
In the 1840s, hooked rugs gained popularity. Burlap fabric made of jute fiber was strong and widely available. This loosely woven material was an ideal foundation for rugs, which housewives made by pulling narrow strips of fabric through from the back with a small hook.
Hooked rugs could be made in larger sizes than utilitarian scrap hearth rugs and allowed great freedom in their patterns. Motifs varied from conventional flowers and geometrics to exuberant patriotic scenes and purely fanciful creations.
Shown: Large "Home Sweet Home" Hooked Rug, America, late 19th century (Skinner Auction 2838M, Lot 337, Sold for: $1,968)
Designer Rugs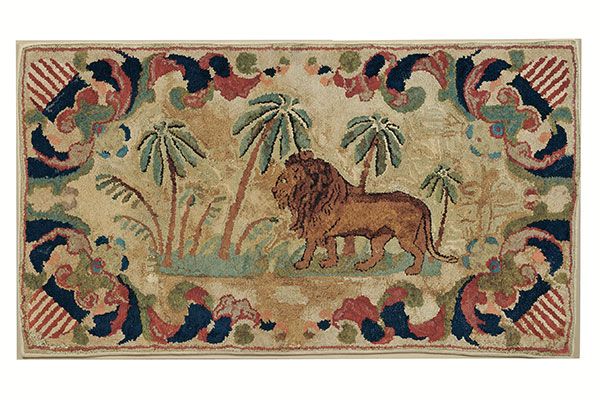 In the 1860s, professionally designed patterns began to be stamped or stenciled on a burlap background. Edward Sands Frost, a New England merchant, started a successful business creating stencil patterns; surviving examples of Frost's designs are much sought after today.
Shown: "Frost Pattern" Pictorial Hooked Rug with Lion and American Shields, design attributed to Edward Sands Frost (1843-1894), Lyman, Maine (Skinner Auction 2608M, Lot 1313, Sold for: $1,185)
Ingrain Carpets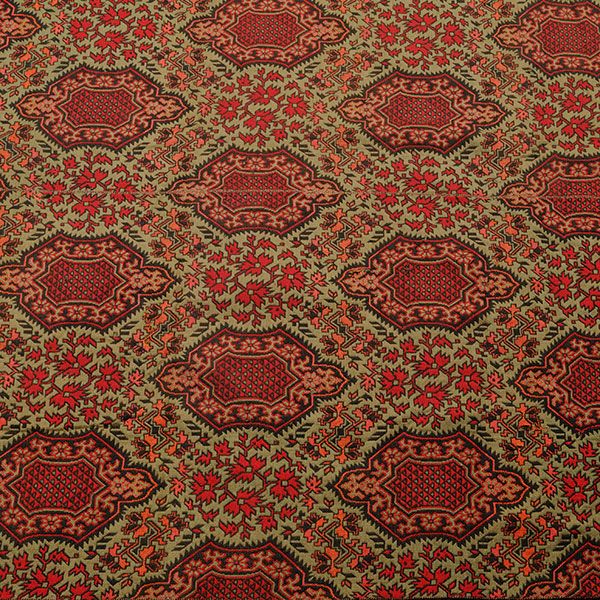 By the late 1700s, an important innovation occurred: the ingrain carpet. These bold flat-pile wool floor coverings were made on a more sophisticated loom that could produce elaborate geometric and floral patterns. The most popular colors were red, yellow, and green.
Since ingrain carpets were machine-made, they were relatively affordable and were found increasingly in middle-class homes. Ingrain carpets retained their popularity well into the 1800s.
Shown: Room-size Woven Wool Ingrain Carpet, mid 19th century (Skinner Auction 2669M, Lot 598, Sold for: $420)
Oriental Rugs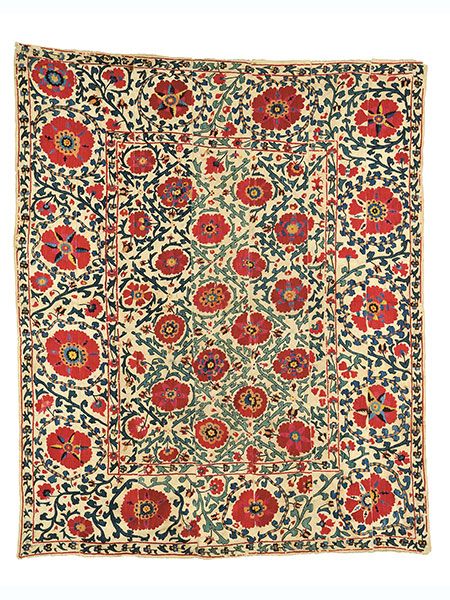 The Middle Eastern Oriental rugs often displayed today in American homes and museums were, in fact, not widely used until the later half of the 19th century. These long-wearing handwoven creations offer an endless variety of colors and patterns.
Who's to know what new fashions will emerge. Whatever the period of a house and the tastes of its inhabitants, there will be a carpet, in Poe's words, in the soul of it.
Shown: Kermina Suzani, Uzbekistan, mid-19th century (Upcoming Skinner Auction 2845B, Lot 187, Estimate $4,000–$5,000)