Buying new carpeting successfully involves much more than running your hand across some samples. The basics you need to learn: what makes a quality carpet, which padding is best for you and what goes into proper installation.
When it comes to buying wall-to-wall carpeting, what you don't know can definitely hurt you. Consider that covering a 300-sq.-ft. room will cost $650 to $3,400. And just because you spend a lot of money doesn't guarantee that you're getting the best carpet for your needs.
How Can You Tell a Quality Carpet?
When shopping, think function before form. "A lot of people look at the fiber as a measure of a carpet's durability," says Jim Allen, of carpet retailer Einstein-Moomjy in New York. "But it's only one part of the story. It's important that you take all of the other factors into account." Other elements to consider include style and weight. "The trick is to find a sample that meets your needs and style while still working within your budget," says Dave Grable, of Carpet One/Carpet Shack in Dubuque, Iowa.
What Type of Carpet is the Most Durable?
Wool and nylon fibers are the most durable of the five basic categories. The type of fiber used determines the basic performance and appearance of the carpet. The fiber content is usually listed on a specification sheet on the back of the sample.
Although there are dozens of different trade names, remember that products fall within one of five basic categories:
Wool is the luxury and performance benchmark. It is softer than synthetics, is exceptionally durable and offers great stain resistance. But at $50 to $100 per square yard, it's not cheap. It accounts for only 3 percent of carpet sales.
Nylon is a close second to wool in terms of durability and feel, but on average it costs a lot less ($18 to $35 per square yard). It has excellent soil resistance, colorfastness and resilience. Nylon accounts for nearly 60 percent of carpet sales. Some new offerings feature added wear and stain resistance. Others have carbon-composite nylon filaments woven into the yarn that eliminate shocks. Some of these enhanced nylons cost as much as wool.
Olefin, or polypropylene, is both durable and water- and stain-resistant, making it a good choice for berbers (low, loop-pile carpeting) and indoor/outdoor carpeting, and in commercial settings. Because it is less resilient than nylon, it is best used in low-pile carpets; otherwise, it can mat or crush. It costs $9 to $16 per square yard.
Polyester is noted for its soft hand, or texture, especially when used in a luxurious thick pile. It has good color retention and soil resistance, but it's not as resilient as nylon. It runs $11 to $19 per square yard.
Acrylic offers the look and feel of wool, at a lower price—$10 to $15 per square yard. But because the fiber tends to fuzz and pill, it's not typically found in room-size carpets. This moisture- and mildew-resistant fiber is usually found in bathroom rugs.
3 Styles of Pile Carpets
Carpets are made of fibers that are cut, looped or cut and looped. As a general rule, as pile height increases, the carpet becomes softer and more luxurious but also harder to clean. Although there are several different subcategories of carpet styles, all fall within one of these three groups.
1. Loop-Pile Carpets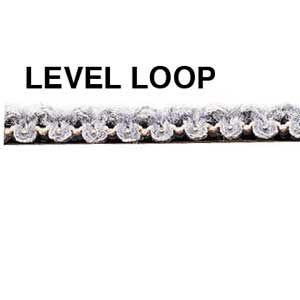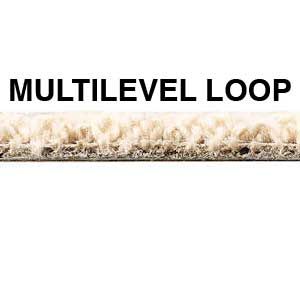 There are level loops and multilevel loops. Because the yarn tips aren't exposed, these carpets tend to wear better and work well in high-traffic areas, such as hallways and family rooms. "Thick berber rugs are fine for high-traffic areas, but the tightly spaced loops of thick yarn tend to trap dirt and can be difficult to keep clean," says Grable.
2. Cut Pile Carpets
These include styles known as velvets, saxonies and friezes. They have a nicer look and richer feel but aren't as durable as loop piles. Adding a twist to the fiber, however, does add durability. "The tighter the twist, the tougher it is," says Bruce Baxter, a dealer/installer in Pine Bush, New York.
"A velvet is fine for low-traffic areas but tends to show dirt and footprints. Saxonies are twisted and then heat-set, giving them more resilience for use on stairs or in hallways." Friezes have the most curl and greatest resilience.
3. Cut-Loop Pile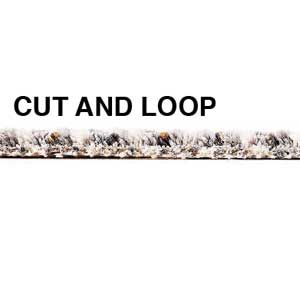 This is a combination of loop-pile and cut-pile carpets. The combination of large islands of cut tufts and lower loop tufts hides wear well. It's recommended for stairways, family rooms and less formal dining areas.
Carpet Face Weight and Durability
The last consideration is face weight (weight of the carpet pile) per square yard. "A higher face weight means more yarn," says Grable, "And more yarn makes for a longer-lasting product." As an example, within one product line the "good-level" carpet has a face weight of 40 oz.; the "best-level" weighs in at 63 oz.
Does Face Weight Matter?
Face weight makes a difference, but only when comparing similar products. An olefin sample may weigh more than a nylon, but it has entirely different performance qualities.
Be wary of dealers who try to sell you on carpet density, or stitches per inch (SPI). The same goes for the theory that you can read a carpet's density by bending the sample backwards. "This is just not true," says Grable. "Bend back any carpet and you'll see backing." Again, standards vary widely among different styles and fibers; a nylon cut-loop pile might have 10 to 12 SPI, while a thick wool berber might only have 5 to 6.
Check the Warranty
"The simplest indication of durability is the warranty," says Grable. The warranty factors in fiber, style and face weight, providing an at-a-glance quality comparison. Look for 7- to 10-year wear and stain warranties. Pay attention to the fine print; for example, pet stains void most stain warranties. Also ask if the warranty covers full replacement value, or if it's prorated. A prorated 10-year warranty might cover half the material cost if the carpet is five years old.
Allergies and New Carpeting
Although formaldehyde has not been used in the manufacturing process for years, carpets, backings and pads are made of hundreds of different chemicals that can affect the allergy-prone or chemically sensitive. Typical symptoms include headaches, respiratory problems and other flulike symptoms.
The Carpet & Rug Institute in Dalton, Georgia, has developed a testing and certification program to identify flooring products that meet tougher indoor-air-quality (IAQ) requirements. Qualifying products carry the CRI's IAQ emission label. If you're at risk, stay away during the removal and installation process. To remove existing allergens, vacuum the old carpet before removal, and ask that the floor be cleaned prior to installation. In addition, the CRI recommends that you keep windows and doors open for at least 72 hours after installation.
Picking the Perfect Carpet Pad
When you buy new carpeting, you'll also select padding. The pad is the carpet's support system. It makes the carpet feel richer and more comfortable to walk on and keeps the carpet from getting worn and matted. Good padding also makes carpeting easier to clean by enabling air to circulate through the carpet when you vacuum.
Carpet Padding Costs
Prime urethane pads ($3 to $4 per square yard) are generally the least expensive because they have a tendency to compress after installation, especially in high-traffic areas. Natural- and synthetic-fiber pads ($5 to $6 per square yard) are the densest and most resilient but also the most expensive. Bonded or rebonded pads ($4 to $5 per square yard), made of multicolored polyurethane foam chunks, are a good compromise and are the most common padding for residential use.
Thickness and Density
All of these types come in a variety of thicknesses and densities. It's important that you use the right pad for the carpet or you can actually damage the carpet. "An extra-thick pad can cause the carpet to flex too much, opening seams and weakening the backing," says Gary Johnson, technical consultant at the Carpet & Rug Institute, in Dalton, Georgia. "A pad that's too thin can collapse and cause the carpet to wrinkle or wear out prematurely."
The Carpet Cushion Council and the CRI have developed padding specs based on room traffic. A Class 1 rating is for moderate traffic, such as in bedrooms and formal living rooms. A Class 2 rating is for heavier traffic, such as on stairs or in halls. Within each rating there's a range of options, depending upon your budget and the feel you want. Ask your dealer to show you the CRI chart.
How to Install Carpet with Professional Help
Get the Right Measurements
The first time a rug installer comes to your door, the only tools he should have are a pencil, a pad of paper and a tape measure. All of the sales reps and installers we spoke with warned against taking measurements yourself. "A pro is trained to see things that a homeowner wouldn't, such as traffic patterns and incoming light, and he can suggest the best places to hide seams," says Allen. "A pro measurer can prevent waste," adds Grable. "And if someone's going to make a mistake, we'd rather it be us."
Plan Your Approach Considering Your Floor Plan
The floor plan of the installation should be included in your contract. "Pay attention to the location of the seams," says Baxter. "Few seams are invisible, but they can sometimes be positioned under furniture, or out of major traffic patterns."
While inspecting the floor plan, ask how the installers will do the job. "In order to tell the difference between a good installer and a mediocre one, you need to ask about installation details," says Emad Ghanim, a carpet mechanic who has worked in the New York area for more than 20 years.
For instance, discuss how stairs will be carpeted. With a cap-and-band treatment, the carpet is tacked under each thread. In the waterfall approach, the carpet flows over the tread and onto the next step.
"The waterfall is a more modern look and works well with smaller patterns, but most people prefer cap-and-band because it looks more traditional," says Ghanim. Exposed edges are typically turned under and tacked in place, but if you have a short, tight pile, or want a more finished look, the edge should be bound. Most installers will bind edges at their shop; Ghanim uses a portable machine.
Move Furniture and Remove Old Carpet in Advanced
In most cases, says Ghanim, the installers are responsible for moving furniture and removing any existing carpet. "We can move heavy furniture easily using special nylon skids," he says. "The only things we don't move are antiques or delicate items, like crystal or china," Grable adds.
Also ask about removal of the old carpet, including carpeted stairs. If there's an extra charge for this, you might be able to cut about $2 per square yard off the bill by doing this part yourself.
Nail Tack Strips
Once the old carpet has been removed, the mechanics install tack strips, also called tackless, around the perimeter of the room. Tackless should be nailed in place about a 1/2 in. away from the baseboard so that the edges of the carpet can be tucked under the molding.
Ask what type of tackless is best for your particular carpet. For most installations, a 1-in.-wide strip is sufficient, but some heavy woven and berber-type carpets require extra support. Ghanim often installs two strips of tackless side by side to secure woven wool carpets. "The extra strip ensures the carpet won't shift later on," he says.
Use a Special Trimmer Instead of a Utility Knife
Good installers use a special trimmer rather than a utility knife. The protected edge of the tool runs along the wall as the blade slices the fabric. "Utility knives," Ghanim explains, "tend to damage floors and baseboard molding."
Power Stretch Carpets in Rooms Larger than 10510 ft.
While installers once used kneekickers for the entire installation, rooms larger than 10510 ft. should be power-stretched. "A power stretcher, which can be expanded to span a room, allows greater leverage. And that means less buckling later on," says Ghanim. With large rooms, a few seams are inevitable. "By making sure the pile runs in the same direction, a good mechanic can make them almost invisible," Ghanim says.
Combining a good carpet with the right pad and having it installed by a knowledgeable and careful pro will help you enjoy years of attractive comfort.
Where to Find It
The Carpet & Rug Institute
Box 2048
Dalton, GA 30720
www.carpet-rug.com
800/822-8846