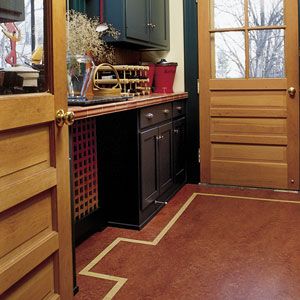 For linoleum makers, it's something of a bittersweet joke: A man walks into a flooring store and says he wants to buy linoleum for his kitchen. No problem, says the store clerk. Over here we have all kinds of vinyl flooring. "It's amazing," says Frank O'Neill, publisher of Floor Focus magazine. "Even dealers you'd think would know better use vinyl and linoleum interchangeably." In truth, the two couldn't be more different. Where vinyl flooring is a synthetic product made of chlorinated petrochemicals, linoleum is produced from all-natural ingredients. Where vinyl will melt if a lighted match or cigarette lands on it, linoleum can't. And where most vinyl patterns are printed into the surface, linoleum's colors go all the way through. "As linoleum wears, different layers of color are gradually revealed," says Duo Dickinson, an architect in Madison, Connecticut, who has also used the material on backsplashes and countertops. "It can be quite beautiful."
Durability is another of linoleum's attributes; some floors have survived 30 to 40 years in tough commercial environments. "It seems to last forever," Dickinson says. Amazingly, linoleum's makeup and manufacture have hardly changed since an Englishman named Frederick Walton patented the product in 1863. The story goes that he got the idea from the leathery skin of oxidized linseed oil that forms on paint. Walton eventually perfected a mix of linseed oil, cork dust, wood flour, tree resins, ground limestone, and pigments — the same recipe used by linoleum makers today — and figured out how to press it onto a jute backing. Then he gave his concoction its name, combining the Latin words for flax (linum), the source of linseed oil, and oil (oleum). Made in sheets, tiles, or even decorative area "rugs" and stuck to the floor with adhesive, linoleum became a favorite floor covering in stores, restaurants, and kitchens, where its smooth, water-resistant surface made cleaning less of a chore. But, when cheaper vinyl flooring became available in 1947, people began turning away from drab, old-fashioned linoleum. Says Frank O'Neill: "Frankly, it looked pretty lousy." But now linoleum is surging back. The Dutch linoleum maker Forbo Industries, which holds 90 percent of the $40 million U.S. linoleum market, has seen sales jump by more than 30 percent over the last two years. Domco, a Canadian maker of vinyl flooring, plunged into linoleum in 1997 in response to requests from architects and specifiers. That same year, in what many see as the surest sign of linoleum's renewed popularity, vinyl-flooring giant Armstrong bought the world's second-largest linoleum maker, DLW (Deutsche Linoleum Werke), reentering a market it had left for dead in the 1970s. Why the renewed interest? Color, for one thing.
Today, linoleum comes in a Crayola box of vibrant hues, a far cry from the muddy offerings available before World War II. And new factory-applied sealer coats protect those colors against dirt and stains. No matter what its color, a growing number of architects and designers regard linoleum as "green," environmentally friendly flooring. "From a resource standpoint, it's great," says Environmental Building News editor Alex Wilson, who last year installed a linoleum floor in the kitchen and bath area at the newsletter's offices in Brattleboro, Vermont. "It's made from natural, largely renewable, materials, and there are no environmental toxins involved in its manufacturing or disposal." It's also a natural choice for vintage houses. Dean and Lauren Gallant — owners of a 93-year-old house in Belmont, Massachusetts, that This Old House renovated in 1993 — put linoleum in their laundry room, mudroom, and one of the bathrooms. "The original butler's pantry had it, and it was still in reasonably good shape," says Dean Gallant. "So we said, 'Well, if it lasted that long, why not do it again?'"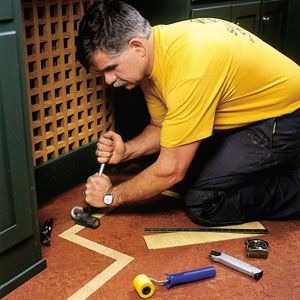 There's another reason for linoleum's comeback: novelty. Dennis O'Brien, Armstrong's vice president of marketing for residential flooring, says, "I think what's old is new again. Just as the Volkswagen bug is back, so is linoleum." Of course, linoleum does have its drawbacks. Because it's porous, its appearance and continued resilience depend on regular maintenance. Walt Bamonto, owner of Merlin Flooring in Farmington, New York, advises that new floors be given one or two coats of acrylic sealer and a recoat once a year after that to keep them looking fresh. Also, newly laid linoleum floors have a pronounced linseed-oil scent. This dissipates in a matter of months but, during that time, certain people are bothered (sometimes because of an allergy) by the oil's fatty acids. Even so, retail stores, day-care centers, and hospitals remain prime buyers of the flooring because of its natural bactericidal qualities.
In the view of interior designer Sue Walling of SW Design Inc. in Minneapolis, linoleum's many pluses outweigh its minuses, particularly in kitchens. "Ceramic tiles can be hard on your legs, and some people are nervous about having wood flooring around dishwashers," says Walling. "Linoleum is comfortable, you can get it wet, and you don't have to worry about dropping knives on it, the way you do with most vinyl." (To make a gash in linoleum disappear, fill it with a mix of wood glue and fine scrapings off a leftover piece.) Walling admits, however, that clients are often reluctant to go with linoleum, even though sheet linoleum costs about the same as vinyl sheet flooring — $3 to $4 per square foot installed — and remains a bargain compared to ceramic tile or wood. She thinks their reluctance stems from perceptions anchored to the past, which may explain why more than 90 percent of the material sold in the United States today winds up on commercial, not residential, floors. But those perceptions seem to be changing. According to Walling, "Once you show people what linoleum looks like and how it holds up, they really love it."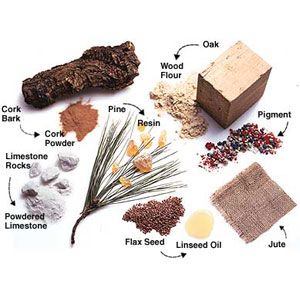 Laying Linoleum
Almost anyone can lay linoleum tiles, according to Walt Bamonto, who's been installing flooring in upstate New York for 30 years. Just spread swaths of latex adhesive on the floor with a notched trowel, snug the tiles against each other, and flatten with a 100-pound roller.
Laying sheet linoleum is another story. To achieve tight seams, Bamonto first trims seam edges with a two-bladed beveled edge trimmer. "Factory edges aren't good enough," he says. And when he unrolls sheets into the adhesive, he leaves 18 inches adhesive-free at each end. Why? "When it hits the glue, linoleum shrinks in length and expands in width," Bamonto says. So he waits a half hour for the material to stabilize, before overlapping the next sheet. Then, pulling both sheets back slightly, he trowels on the adhesive and traces the edge of the lower piece onto the top piece using a special seam-scriber tool. A cut along the scribe with a hooked knife leaves a gap the width of his blade but, Bamonto says, "it closes right up." The adhesive takes 24 hours to set firmly enough to support furniture. Park a table or chair on it too soon, Bamonto warns, and the floor will have dimples forever.