Front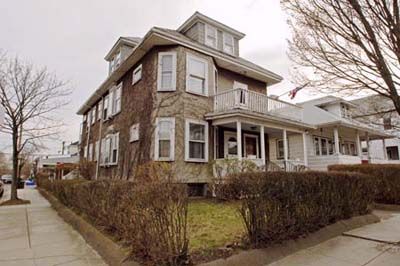 This Old House television's project in East Boston is a 1916 two-family builder's special that needs a lot of updating and repair. The new owners, Christine Flynn and Liz Bagley, are an aunt and niece who bought out the rest of their relatives to take over a house that has been in the family since it was built. They have only $250,000 between them to make their dated, worse-for-the-wear 15 rooms into two cushy apartments—without ignoring the long neglected roof, porches, and stucco exterior.
by Alexandra Bandon
Back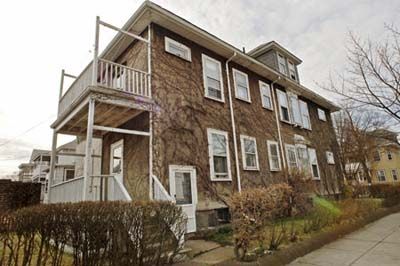 Rot is starting to claim much of the front and back porches, as the house is a mere two blocks from the water (and one small stretch of bay away from Logan Airport). But the worst problem is the ivy, which blankets the house in green in spring and summer, then turns a vibrant red in autumn. Unfortunately, the vines have caused considerable damage to the stucco siding, so it will have to come down.
First floor: entry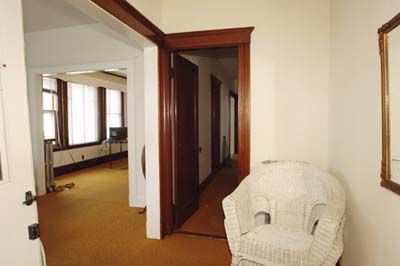 Downstairs in Liz's one-story apartment, which was most recently inhabited by an elderly relative, the look is decades out of date.
First floor: living room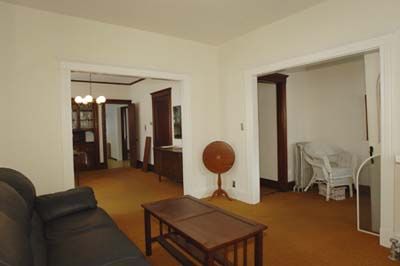 The layout of the first and second floors is almost identical, including front living room, center dining room (complete with matching built-in china cabinets), and back kitchen. Some of the wood trim has a natural finish, some was painted; Liz will have to decide which look to go with in her remodel. The well weathered orange carpet hides a long-leaf pine floor in excellent condition.
First floor: dining room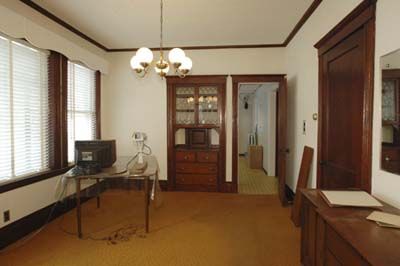 The china cupboard in Liz's dining room is original to the house, and matches one upstairs in Chris's apartment. However, Liz hopes to open up the dining room and kitchen into one loft-like space, so the crew will have to rethink how to use the cabinet elsewhere in the house.
First floor: kitchen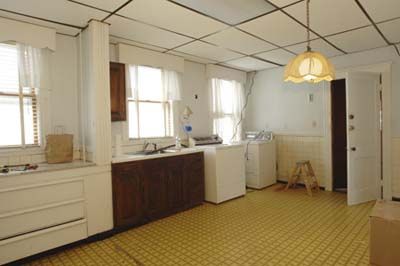 Tile, tile everywhere: vinyl on the floor, acoustical on the ceiling, ceramic on the wall of this bare-bones kitchen. Liz would like a "modern loft" feel for her cooking space, so walls, cabinets, and especially tile will have to go.
First floor: kitchen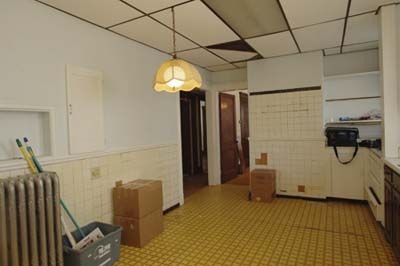 One thing this kitchen decidedly lacks (besides style, cleanliness, and modern appliances) is storage. Liz's new kitchen will have banks of cabinets on both sides—and hopefully a view straight out the front of the house, once that wall goes.
First floor: bedroom 1
This small bedroom at the back of the apartment and off the kitchen is one of three, which Liz feels is too many. Instead, she'd like to open up this room to a new back deck with sliding glass doors, making it a great place for entertaining or curling up in the sun.
First floor: bedrooms 2 & 3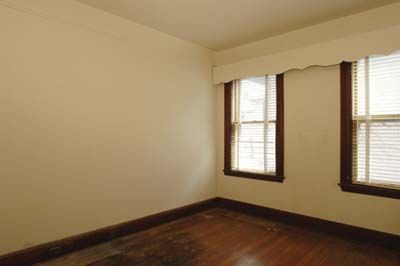 The bedrooms in the house are simple rooms, with wood floors, double-hung windows, and small closets. Because most of them don't need any renovation, both women will be able to save money by just repairing plaster and refinishing the floors, leaving the bedrooms much as they were.
First floor: bathroom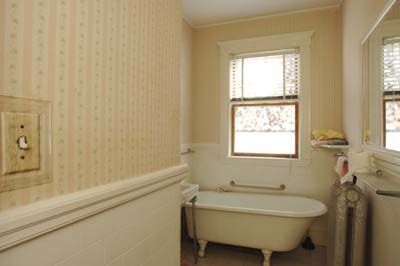 Liz's bathroom is nice enough, but she'd like to see the fixtures and decor updated to suit her tastes.
Second floor: bedroom 1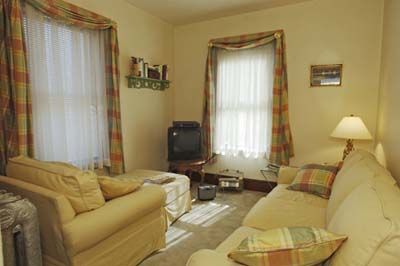 A trip up a back staircase from Liz's apartment takes you to the first of two floors in Chris's duplex, where she has been living for several years. She's been using this back bedroom (one of five in the apartment) as a sitting room, but she wants to take it over to open up her kitchen into a great room for entertaining, figuring she rather have a big, well-used kitchen than a lot of unused bedrooms.
Second floor: kitchen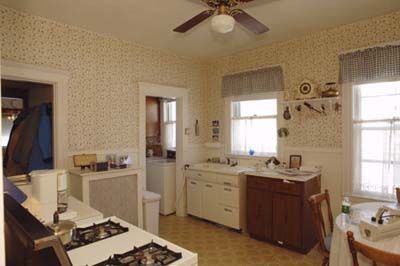 Chris's kitchen, in the apartment where she grew up, is minimalist, to put it nicely—few cabinets, no dishwasher, and a refrigerator hidden in a separate pantry.
Second floor: kitchen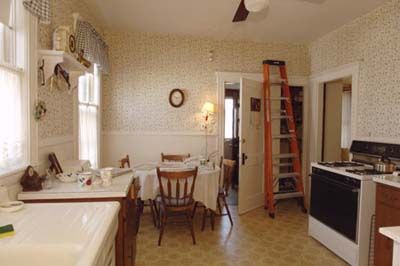 Another view of the kitchen shows how few amenities it really has. But once the wall on the right goes away, the space will open up and become the "cottage by the sea" kitchen Chris has always dreamed of.
Second floor: bedroom 2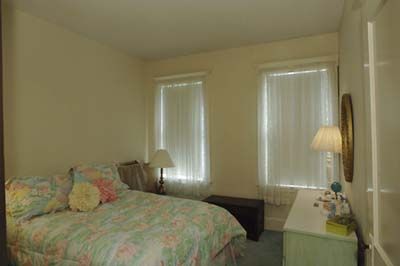 Chris's kitchen plan will likely lose her a second bedroom, bringing her grand total down to three—still plenty of space for the family and friends that always like to visit.
Second floor: bathroom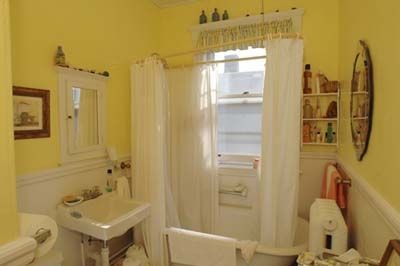 The upstairs apartment, with its five bedrooms, still only has one bathroom. Chris hopes to change that. But in the meantime, this bathroom will stay untouched for as long as possible, as Chris and Liz plan to stay living in the house while the renovation takes place.
Second floor: bedroom 3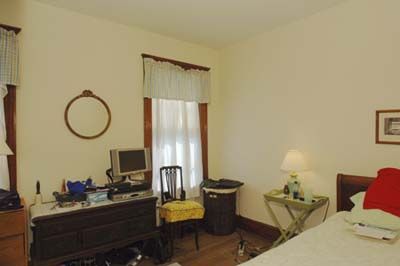 Some bedrooms in Chris's apartment, like in Liz's, will remain unchanged, save for a few cosmetic repairs.
Second floor: dining room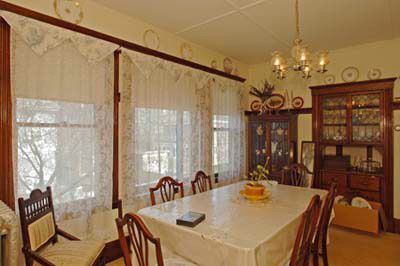 Unlike her niece Liz, Chris would like to keep a formal dining room—and the original china cabinet in it. This room will get a superficial fix up, including plaster repairs and new insulation (actually, an addition for the entire house).
Second floor: living room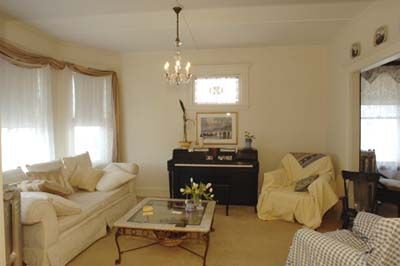 The layout of the house's second floor is nearly identical to that of the first floor, with a front living room and bay window.
Second floor: living room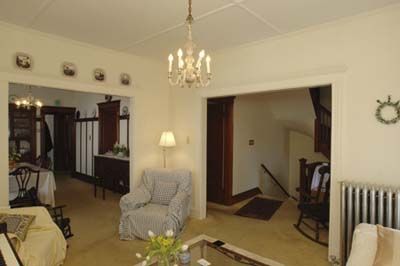 A view from the front of the house shows how the living room opens to the dining room and then kitchen, with a front staircase that goes down to the front door or up to the third floor bedrooms.
Second floor: landing and porch
Chris's apartment has a door that leads out onto a deck over the front porch, a feature that will remain but needs a lot of repair. However, the staircase treads and balustrade were recently refinished and will not need any work.
Third floor: sitting room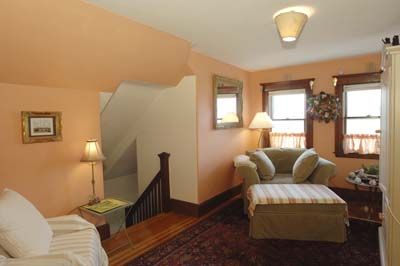 At the landing of Chris's second floor (the house's third floor) is an open space with cozy seating and views of the water.
Third floor: landing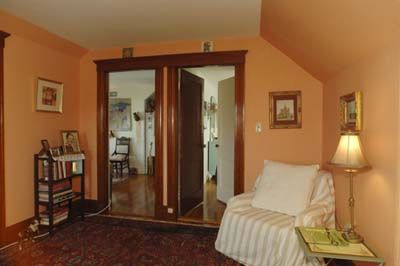 A view from the top of the stairs shows how the third-floor space splits off into two bedrooms.
Third floor: master bedroom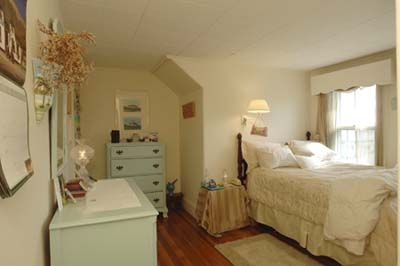 Chris's garret bedroom is her sanctuary. It won't get any changes during the renovation.
Third floor: bedroom 5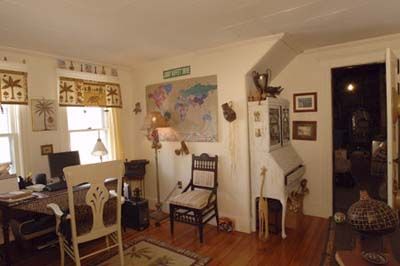 Chris has been using her other top-floor bedroom as an office, which she is likely to continue to do after work is completed. Beyond the space is a door into the other half of the top level, which is unfinished attic space.
Attic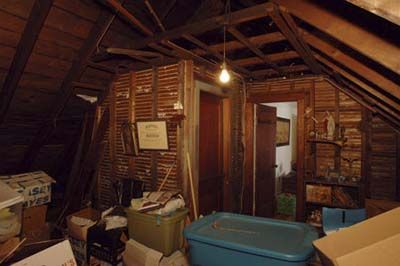 The view of the unfinished attic on the third floor (facing back toward the office and a door into Chris's master bedroom) shows the vast amounts of unused space on this level—and the utter lack of insulation in the house. Chris's plans call for inserting a full bath in a portion of this space—as well as some insulation here and in the rest of the house—making her late-night shivering trips down the dark staircase to the bathroom below a thing of the past.
Basement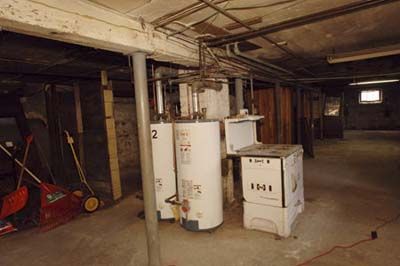 Liz and Chris's huge, shared basement (which still contains the family's 1930s summer oven), won't get any kind of upgrade. But the systems will, including new oil tanks and a pair of efficient boilers to keep the heating costs for the two apartments at a minimum.