A Two-Family Stays in the Family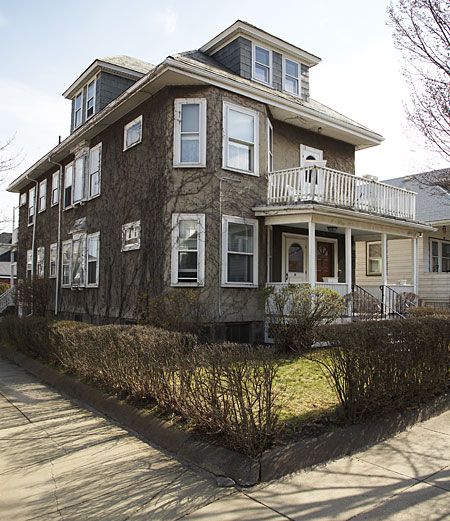 This season, This Old House television is going back to its roots, renovating a two-family house in East Boston on a modest budget. The 1916 builder's special needs lots of basic repairs—the stucco is cracked, the porches are rotted, the flooring is worn, and the furnaces are inefficient—and a couple of new kitchens and baths. Homeowners Christine Flynn and Liz Bagley are an aunt and niece who bought out relatives to keep the 1916 house, which was new when Chris's great grandparents moved in.
Downstairs Kitchen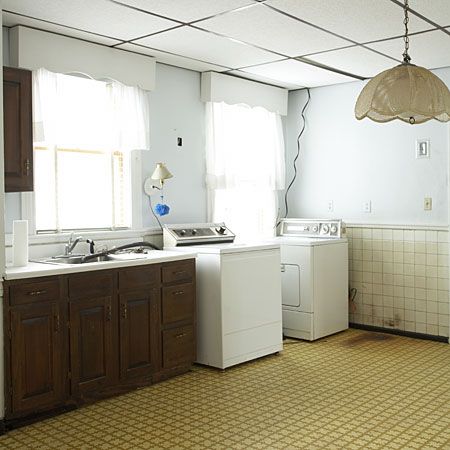 The kitchen in the first floor apartment is showing its age, with dated cabinets and worn vinyl flooring. Homeowner Liz Bagley hopes to turn this tired space into an open, modern entertaining area.
Downstairs Living Room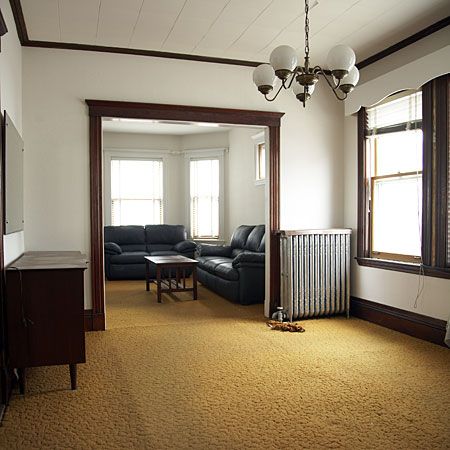 Liz's dining and living rooms could use some modernizing too. She expects to rip up the carpeting, refinish the floors, and expand the small kitchen into the space. Thankfully, however, the original wood trim is in great shape, needing just a light sanding and a new coat of finish.
Upstairs Kitchen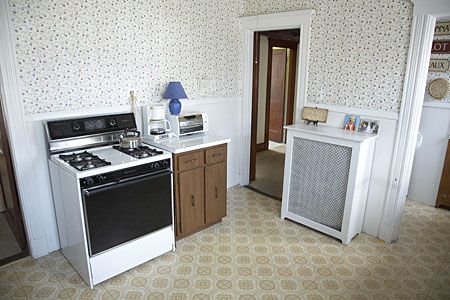 Chris Flynn's kitchen in the upstairs apartment has had more recent use, as she has been living there. But it too is in need of a change: Chris hopes to give it a "seaside cottage" feel, turning it into a space fit for family gatherings.
The Homeowners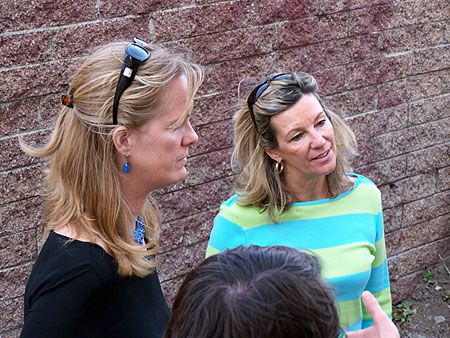 Homeowners Liz Bagley (left) and Chris Flynn on one of the show's filming days at the house.
The Water Approach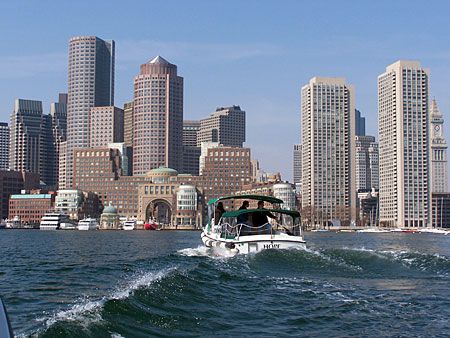 For the first episode of the season, host Kevin O'Connor and master carpenter Norm Abram decide to arrive by water taxi, a quick trip across Boston Harbor to East Boston.
A Walk on the Beach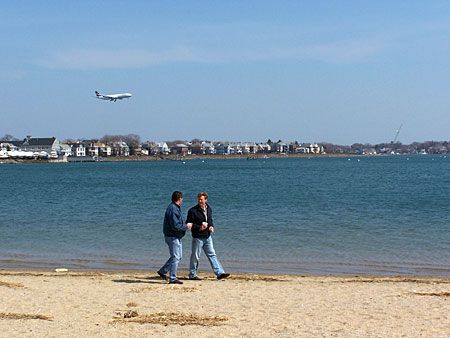 After arriving in East Boston, Norm and Kevin take a stroll on Constitution Beach. In the background, a plane comes in for a landing at Logan Airport, the area's most famous neighbor, sitting just a small span of water away from the project house.
Reviewing the Plans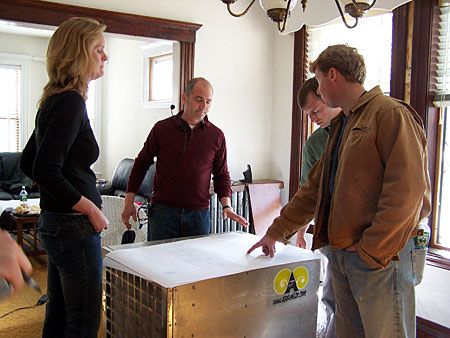 One early episode deals with trying to nail down plans for the two apartments. Here, homeowner Liz Bagley talks through a sketch of her apartment with TOH director David Vos, architect Craig Buttner, and Kevin O'Connor.
Hedgeless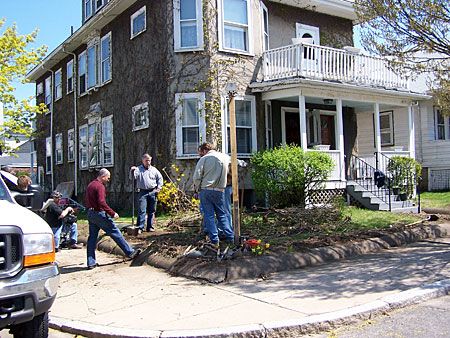 One of the first jobs at the house is the removal of a scraggly privet hedge to make way for construction equipment. Here, TOH general contractor Tom Silva (center) and landscape contractor Roger Cook take a pause from digging to take direction from David Vos, as cameraman Dino D'Onofrio (kneeling) awaits his cue.
Salvageable Goods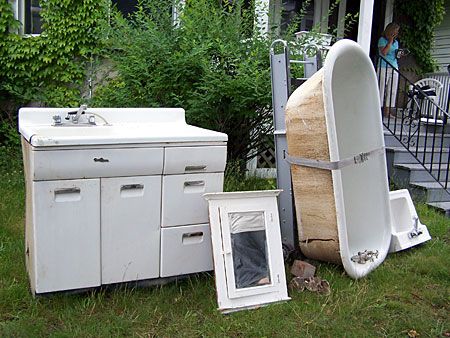 Some of the old fixtures being removed from the house are still in fair shape, so the homeowners will try to sell them to New England Demolition and Salvage to offset costs.
On a Lift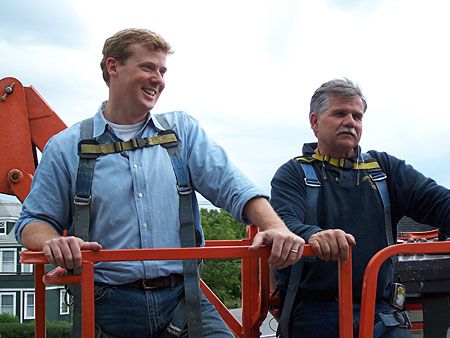 Kevin and Tom harness up and take a ride in a lift to get a closer look at the aging slate roof.
Chimney Removal
Doing a renovation on a budget requires that homeowners put in a little "sweat equity"—helping out with some of the work to save on labor costs. This season you'll see Chris and Liz get down and dirty with the crew—as Chris does here, helping to take down a brick chimney.
Bucket Brigade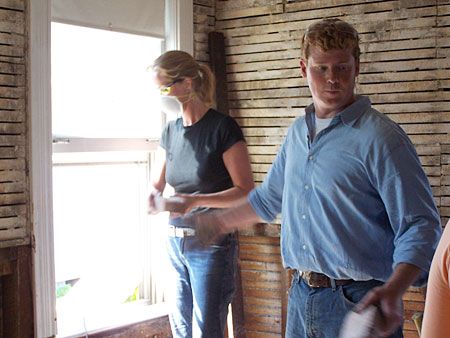 Chris hands off bricks to Kevin, who passes them to Liz to be tossed out the window and into a waiting Dumpster.
Temporary Kitchen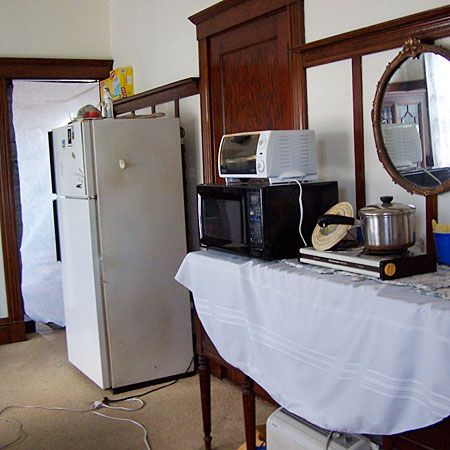 Living in a house that's under renovation means making due. Early on in the project, Chris and Liz, who are sharing Chris's apartment during the renovation, created a makeshift kitchen in the upstairs living room.
Stucco Repairs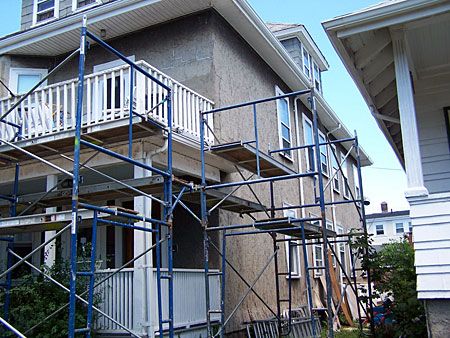 For this project, the budget also precludes replacing the cracked stucco siding, so the crew will do their best to repair the worst of the damage and employ some stop-gap measures to ward off more problems for a few years.
Tree Trimming
The homeowners also have a tree issue—a tall specimen out front is blocking views and spreading roots in the sewer line, but the city won't let them replace it—so arborist Matt Foti (in bucket, seen here talking to Roger Cook) does some creative pruning.
Dirty Work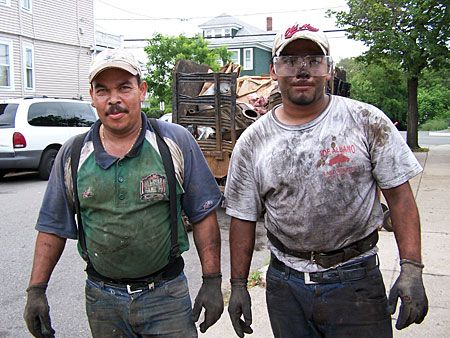 The need to replace two outdated, inefficient furnaces means calling in a pair of removal specialists who aren't afraid to take a little bit of their work home with them.
Up the Flue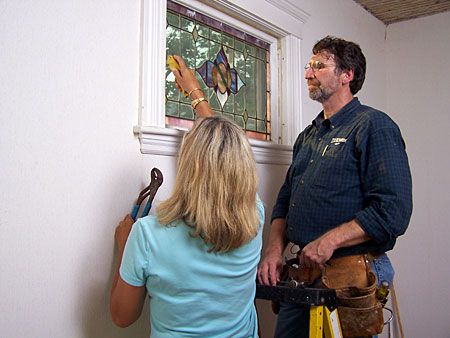 New furnaces mean new exhaust pipes. Here, TOH plumbing and heating expert Richard Trethewey says hey from down below.
Saving Glass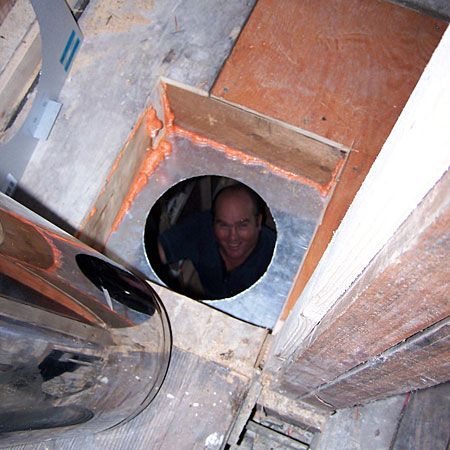 On one particularly hot day, Chris gets a tutorial from Norm on safely removing original stained-glass windows for repair.
Bathroom in a Pinch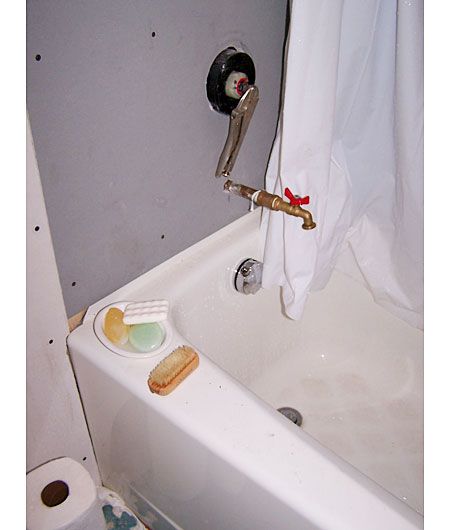 Living in the house during construction also means a temporary bathroom hookup while the two other bathrooms are being renovated, giving the women a place to wash up—but not much more.
The Boys are Back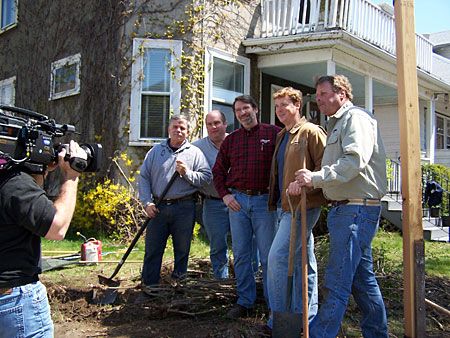 Cameraman Dino D'Onofrio with the TOH crew—(from left) general contractor Tom Silva, plumbing and heating expert Richard Trethewey, master carpenter Norm Abram, host Kevin O'Connor, and landscape contractor Roger Cook—filming the signoff scene to an episode. New episodes about the East Boston project air on PBS beginning October 5.