Detroit Comeback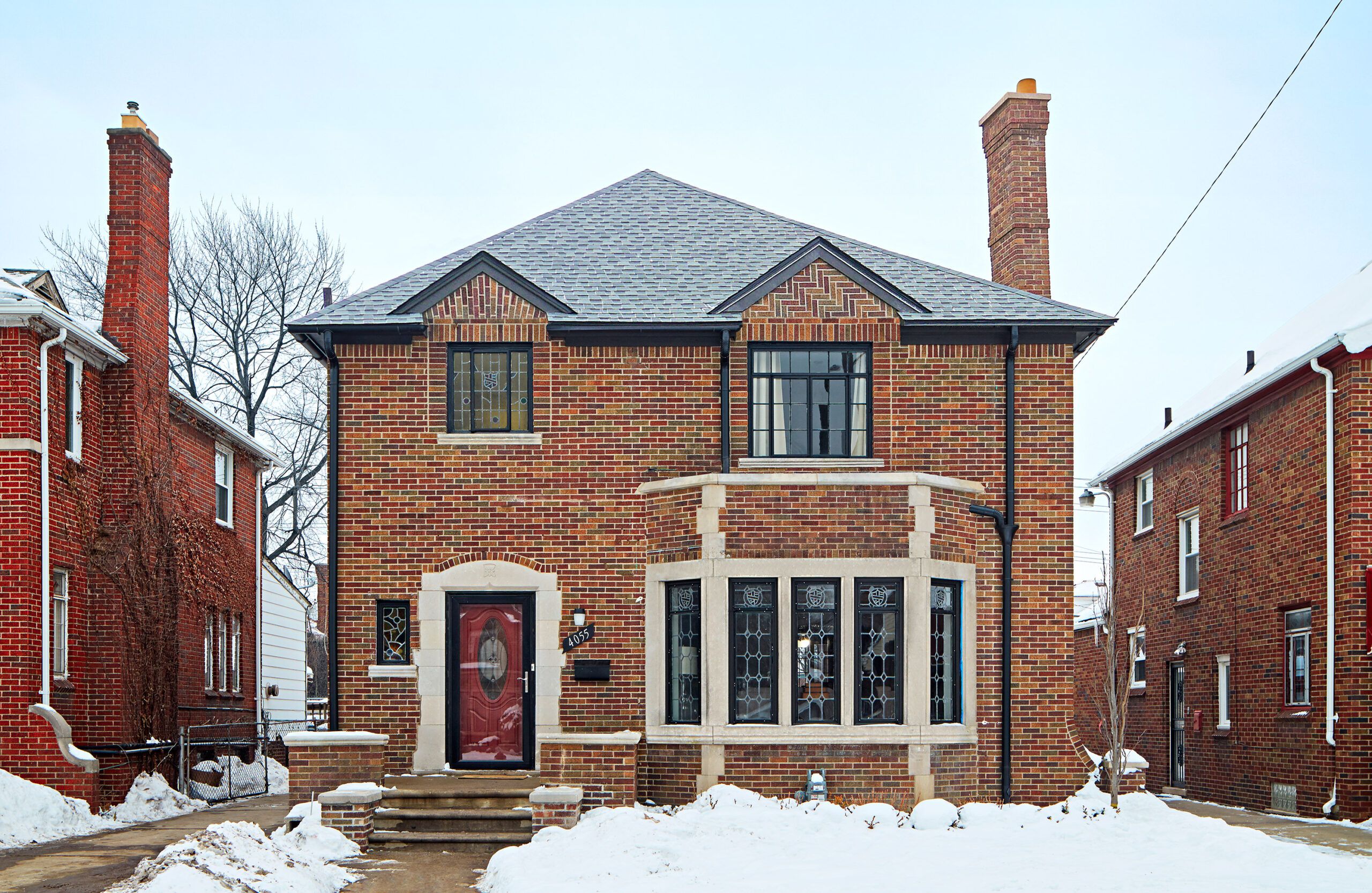 One great human being led to another—and another, until it seemed half of Detroit's nicest, hardest-working people had descended on a single house. Painters, plasterers, carpenters, you name 'em. And all of them talk about how much they enjoyed getting to know the homeowners, Frank and Tamiko Polk, not to mention how gratifying it was to contribute to the salvaging of a historical house. "They are the most down-to-earth people," says house painter Brian Creary, who was paid, he jokes, "in shawarma sandwiches." Don't you wish every renovation went like this?
ROOF: Midwest Roofing Supply
GUTTERS: Classic Gutter Systems
FASCIA: Gutherie Lumber
Frank and Tamiko Polk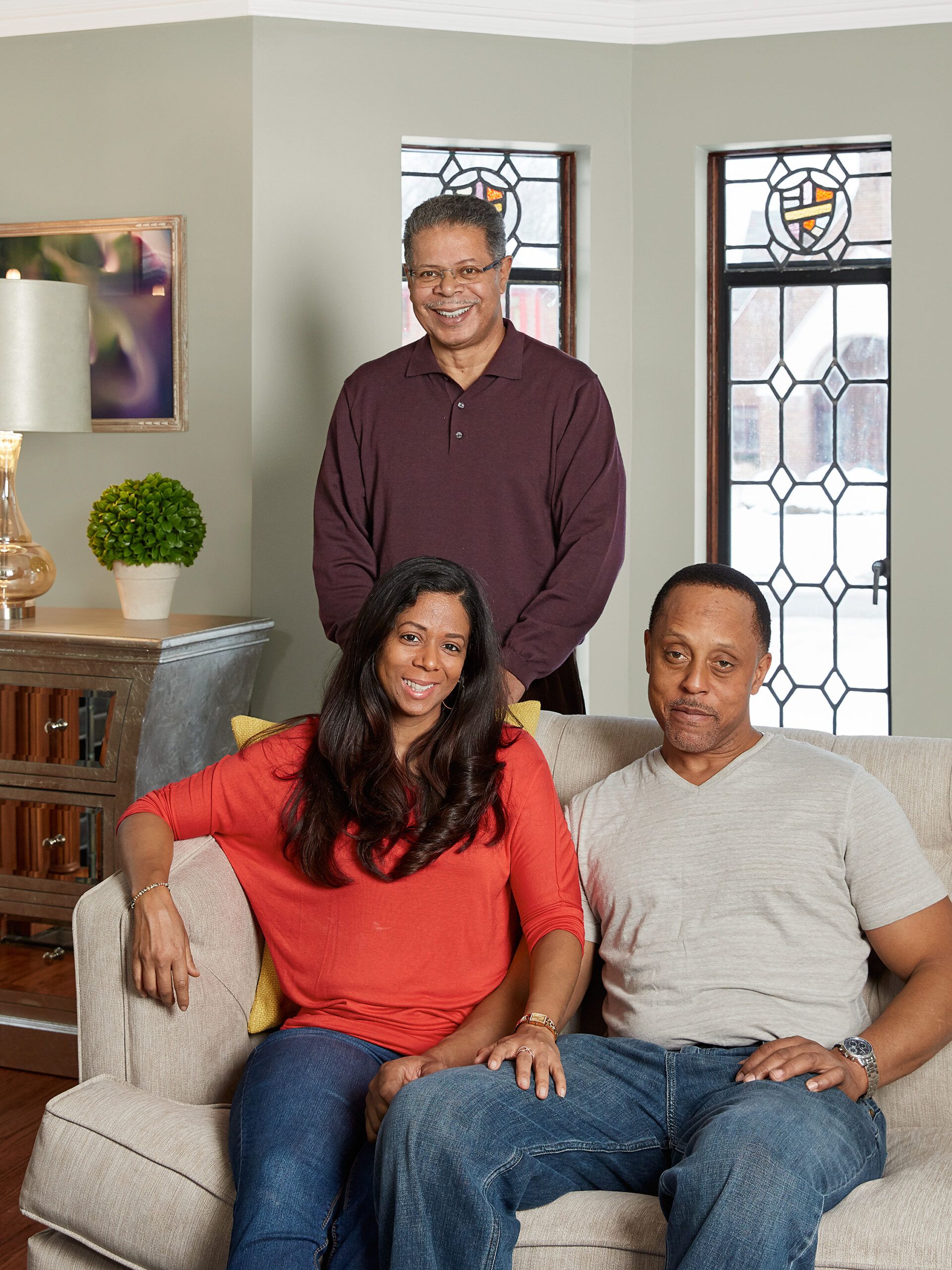 When last we checked in on the Polks, the renovation was at full speed, pushed along in no small way by the well-oiled machine known as This Old House TV. But if the homeowners had a gigantic to-do list—they were renovating a 1,700-square-foot 1939 house in such bad shape the city practically gave it to them—the TV crew's schedule was tight, and its mission precise: to produce 10 discrete how-it's-done episodes while juggling a second renovation, in Arlington, Massachusetts.
Shown: Frank and Tamiko Polk with her dad, Donnie Parker, an ad hoc crew member.
Restored Living Space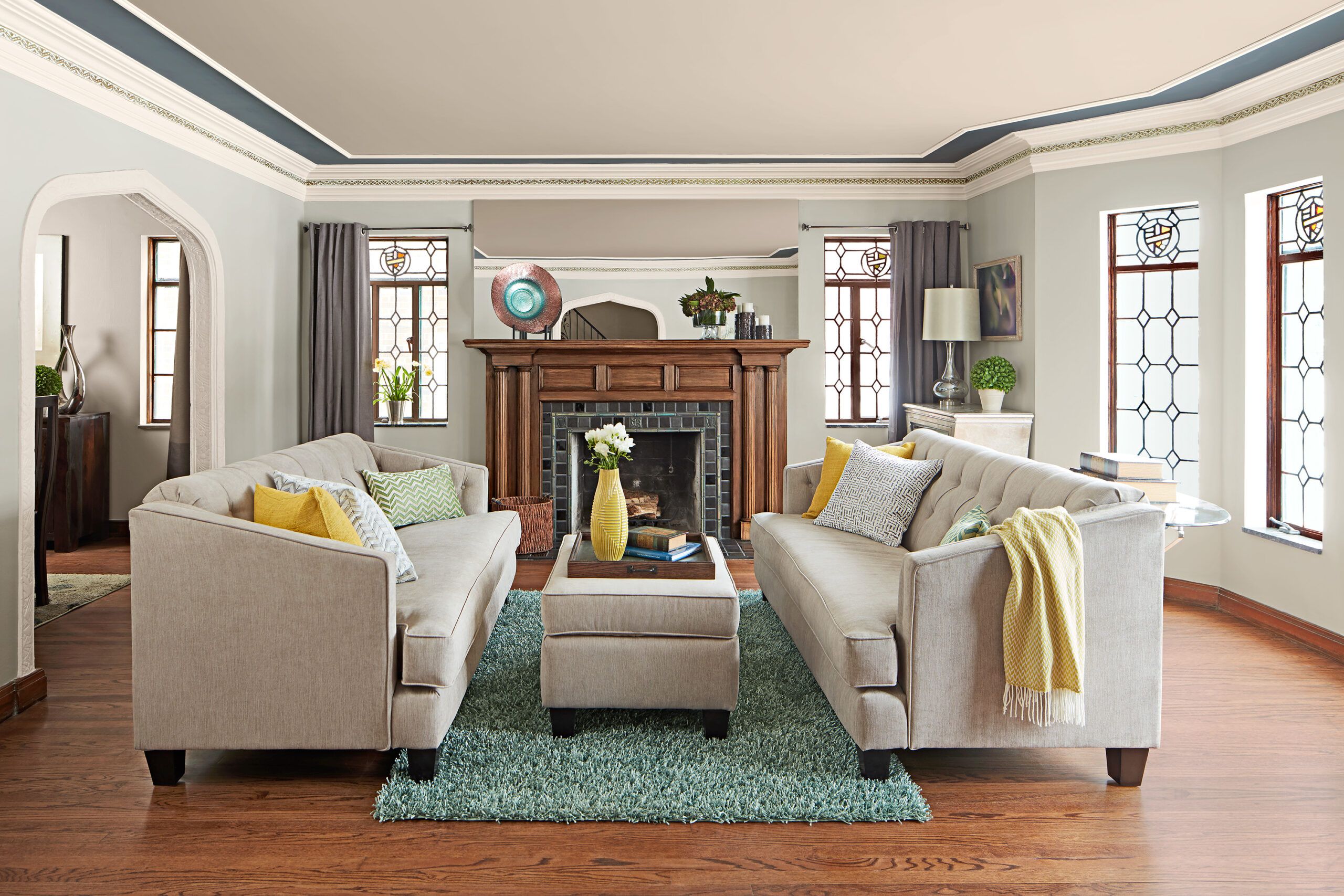 This was the TV crew's first foray into the Motor City, and as word got around, the doorbell kept ringing­—fans driving by hoping to peek inside and catch sight of a familiar face. Actually, forget the doorbell; the house didn't even have a furnace: Thieves had looted it.
Which explains why strange noises in the foyer one day gave the homeowners pause. "We were working upstairs when we heard something," Tamiko recalls. "I looked down and saw this big guy standing there"—big, bearded, and bristling with tattoos.
Shown: local experts restored the stained-glass windows and helped create a tranquil palette anchored by gray, black, and metallic-green tile, custom-made by a Detroit pottery studio founded in 1903.
FIREPLACE TILE: Pewabic
FURNISHINGS: Gardner-White Furniture
PAINT: Sherwin-Williams's Austere Gray (walls), Tony Taupe (ceiling), and Gibraltar (cove)
ARTWORK: Minted.com
WOOD TRAY: Mutual Adoration
Light, Bright Kitchen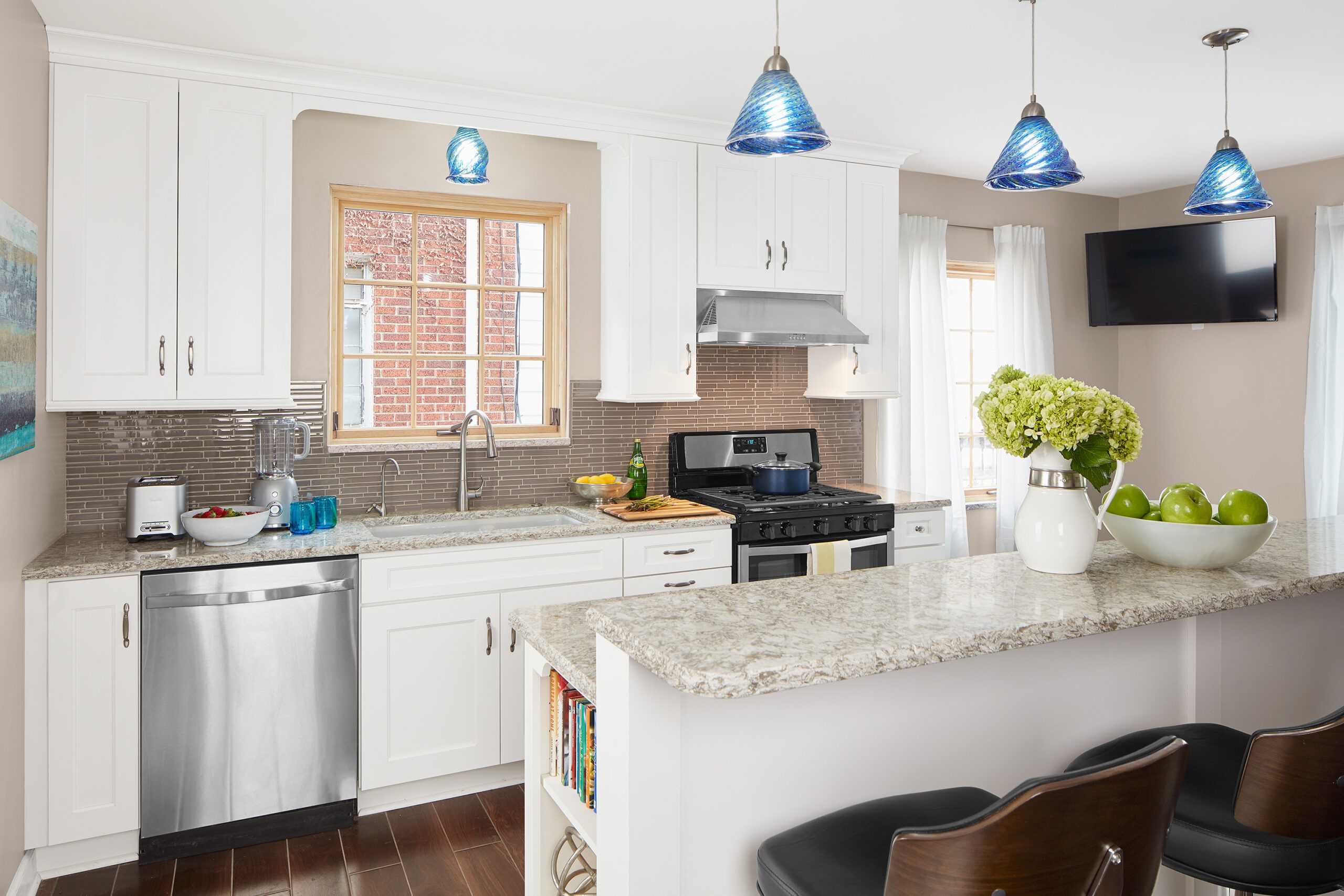 Luckily, he wasn't coming for the copper pipes. Throwing out a hand, Josh Engle introduced himself as a longtime general contractor who'd grown up in Detroit. As a kid, he had been glued to PBS—"we didn't have cable," he explains—and he was curious to meet his renovation-show mentors.
He could see they'd been busy, even if the reno was far from over. This Old House plumbing and heating expert Richard Trethewey had taken a sledgehammer­ to the upstairs bath, landscape contractor Roger Cook was digging trenches for dry wells, and general contractor Tom Silva, with host Kevin O'Connor as his aide-de-camp, investigated botched roof repairs that had allowed water to seep willy-nilly through the roof. A front-facing parapet "was so filled with dirt—it wasn't just a parapet but a planter," Tom says. "Fixing the roof was the first thing that needed to get done, so there would be no more damage."
Shown: The homeowners opened up the kitchen and warmed up the wood-look tile with radiant heat.
KITCHEN CABINETS: Wellborn Cabinet
WALL TILE, KNOBS, AND PULLS: Home Depot
COUNTERTOPS: Blasius
SINK AND FAUCET: Kohler
FLOOR TILE: Lumber Liquidators
APPLIANCES: Whirlpool
REPLACEMENT WINDOWS: Kelly Window & Door Manufacturing
Business Side of the Island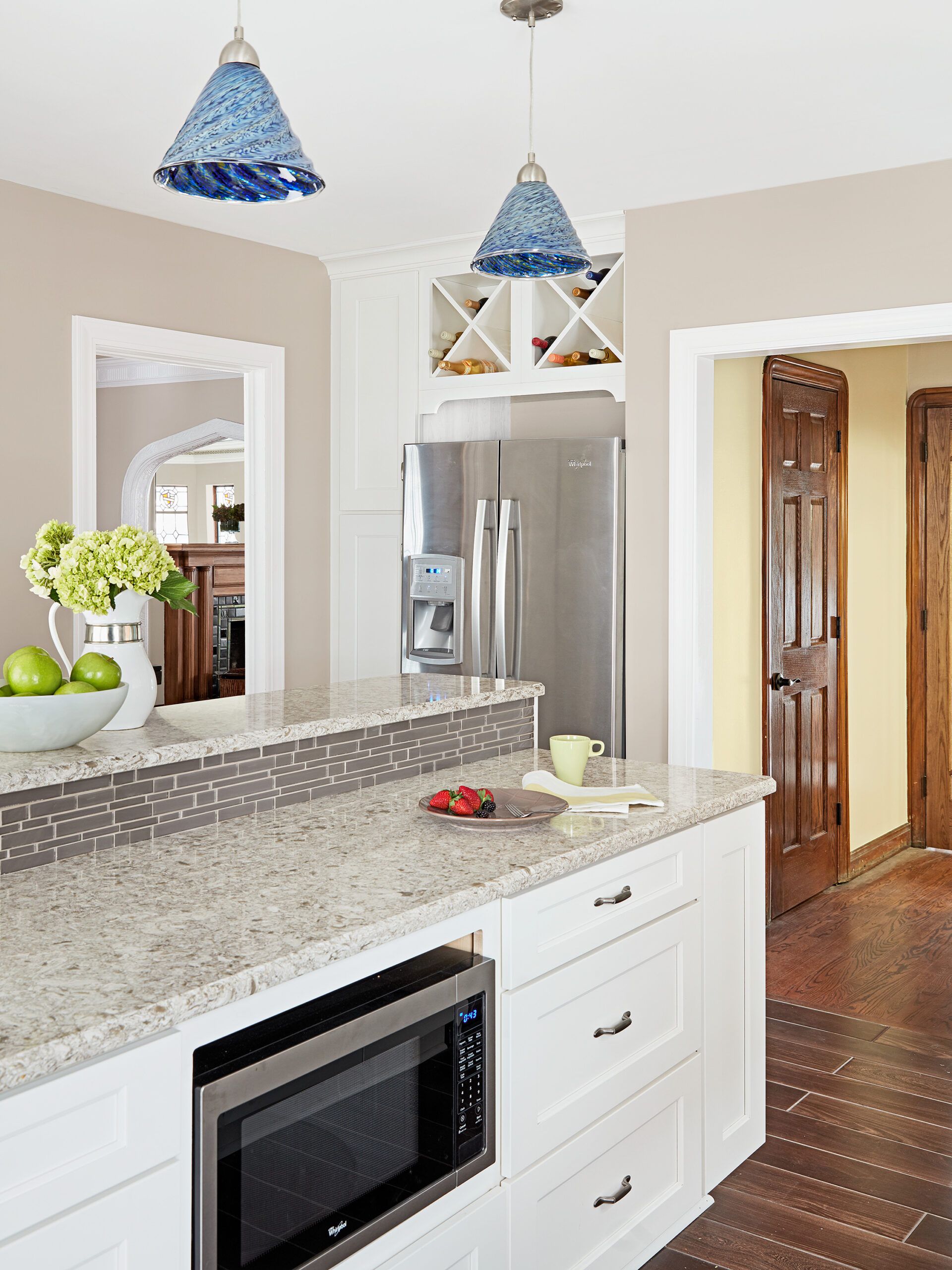 Looking around, Engle could see that the homeowners had bitten off more than even his TV heroes could chew. So he started making calls.
Among the first to arrive was glass artist Ann Baxter, who tackled the facade's once-lovely leaded- and stained-glass windows and transoms. Along with fractured panes and corroded metal frames, she found "repair materials of unknown background." She laughs. "I've seen everything from chewing gum to concrete. They think, 'Oh, this will hold!' "
Shown: The business side of the island is storage-packed, freeing up prep space for crowd-pleasing home cook Frank.
NEW INTERIOR DOORS: Home Depot
RADIANT FLOOR HEAT: Schluter Systems
PENDANT LIGHTS: Furnace Design Studio
BOWLS ON ISLAND: Perfect Setting
BOWLS ON COUNTER: Crosell & Co.
PAINT: Sherwin-Williams
Refreshed Dining Room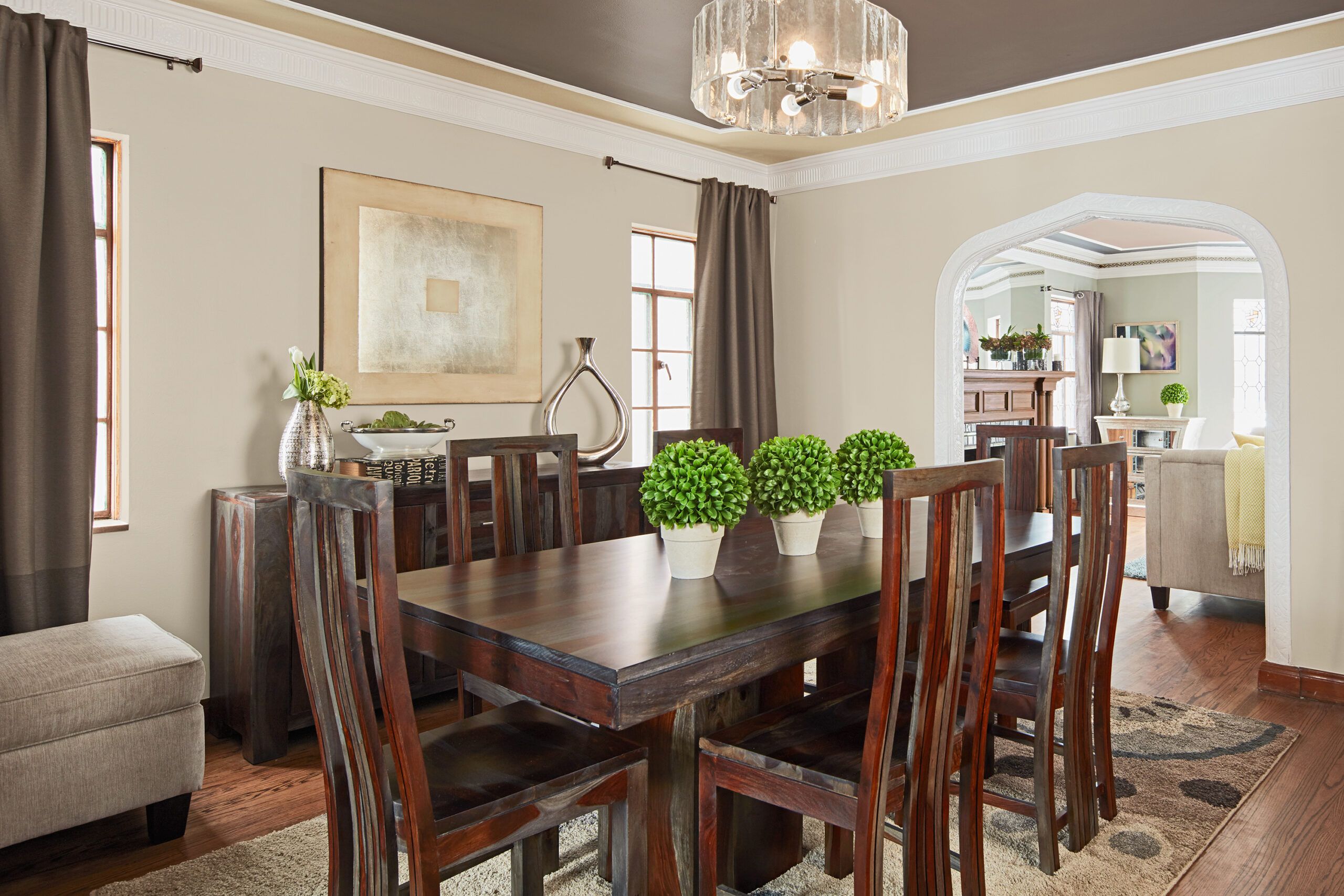 Once she pried the windows out, Baxter started making calls herself, tracking down a friend who blasted and stripped away old paint and rust, welded metal where needed, and powder-coated the frames. Baxter busied herself replacing 13 panes, cleaning up the embossed leading, or caming, and puttying the windows. "When people look at decayed old windows, they say, 'Oh my gosh, I can't do this,' and they get replacements," Baxter says. "To be able to restore them and save historical details, to not give up and say it can't be done, that's what keeps me going."
Shown: The dining room held on to its original molding and Tudor arch, needing only a fresh coat of paint.
PAINT: Sherwin-Williams's Twilight Gray (walls), Foothills (ceiling), and Sand Beach (cove)
DINING ROOM CHANDELIER: Rejuvenation
Elegant Home Office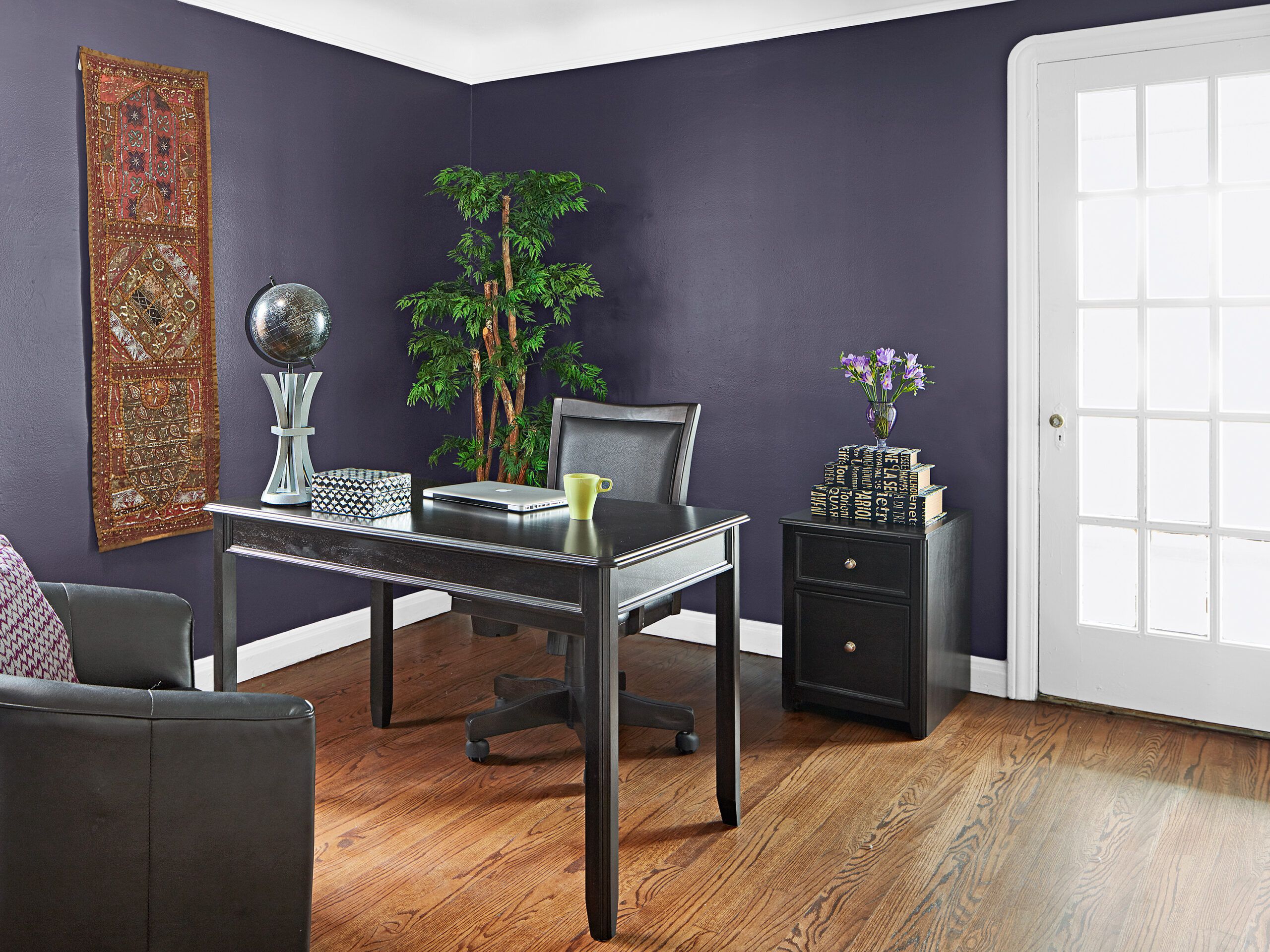 The homeowners brought in troops of their own, including close friends of Frank's from his childhood and his days as a firefighter. An ad hoc demolition crew took down a wall to open up the kitchen, while Engle, hoping to make quick work of new flooring in the living room, queasily learned that moisture had made its way underneath, touching off a carpenter ant stampede.
The job's army of volunteers dealt with water damage in the foyer as well. "The crown moldings were in pretty rough shape, there was cracking throughout and missing pieces, and previous patching had to be chipped out," says Dan Clouser, who was joined by his father-in-law, plasterer David Harris. The homeowners' son Christian climbed a ladder to "gild" the plaster details in the living room with paint, while Tom Silva, with Frank as his apprentice and the help of a 3-D printer, patched the ornate trim framing one of the arched openings.
Shown: A former bedroom now holds office space. Local floor refinishers stripped years off the original red oak floorboards and made them shine.
FURNITURE, RUGS, LAMPS, AND ACCESSORIES: Gardner-White Furniture
Media Center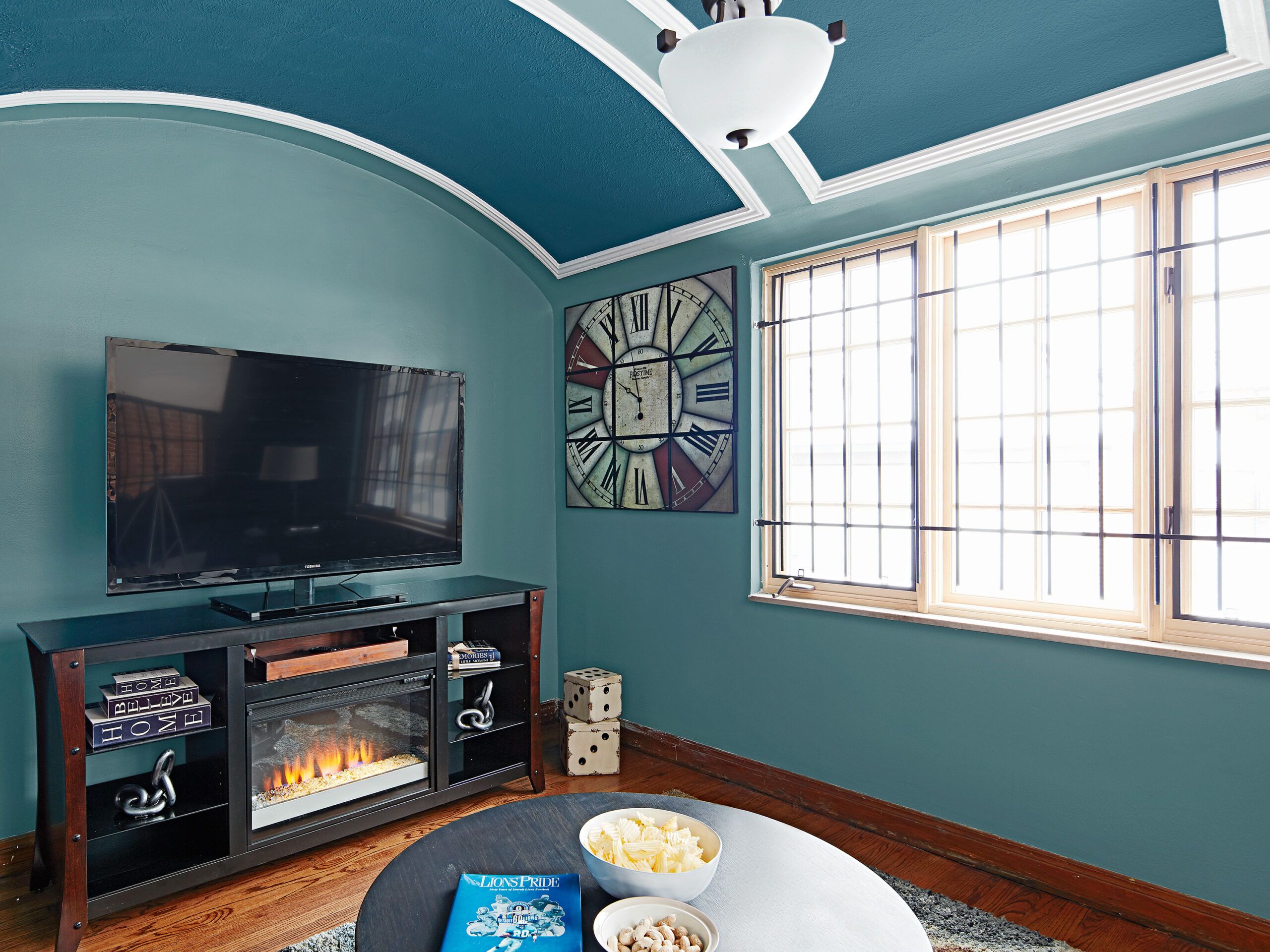 The homeowners arrived each morning ready to tackle the next old thing. "They put in so much sweat equity," says Jerusha Kaffine, a designer who helped the couple turn gutted space into a cook's kitchen. "There were days when it was sweltering hot, and they were working." Along with demolition, Frank helped rebuild the porch, install new windows in back, replace soffits, seal the foundation, and tackle the rough and finish carpentry. After learning that the fireplace surround had once been gleaming unpainted wood, Tamiko made it her job to scrape and strip away layers of paint until the grain reappeared.
There was a lot to do and even more to discuss, as any couple will tell you. "Trust me, it was very stressful," Tamiko says. "And even though we were on the same page, my husband's ideas—let's say he can be bold in his decisions, and I have to say, 'No, that doesn't look right.' You have to meet in the middle, and we did."
Shown: The first-floor library TV room boasts a barrel-vaulted ceiling, a fireplace entertainment stand, and enough leisure space, Tamiko jokes, to qualify as "the man cave, for sure."
PAINT: Sherwin-Williams's Quixotic Plum (office walls), Mediterranean (library walls), and Seaworthy (library ceiling panels)
Powder Room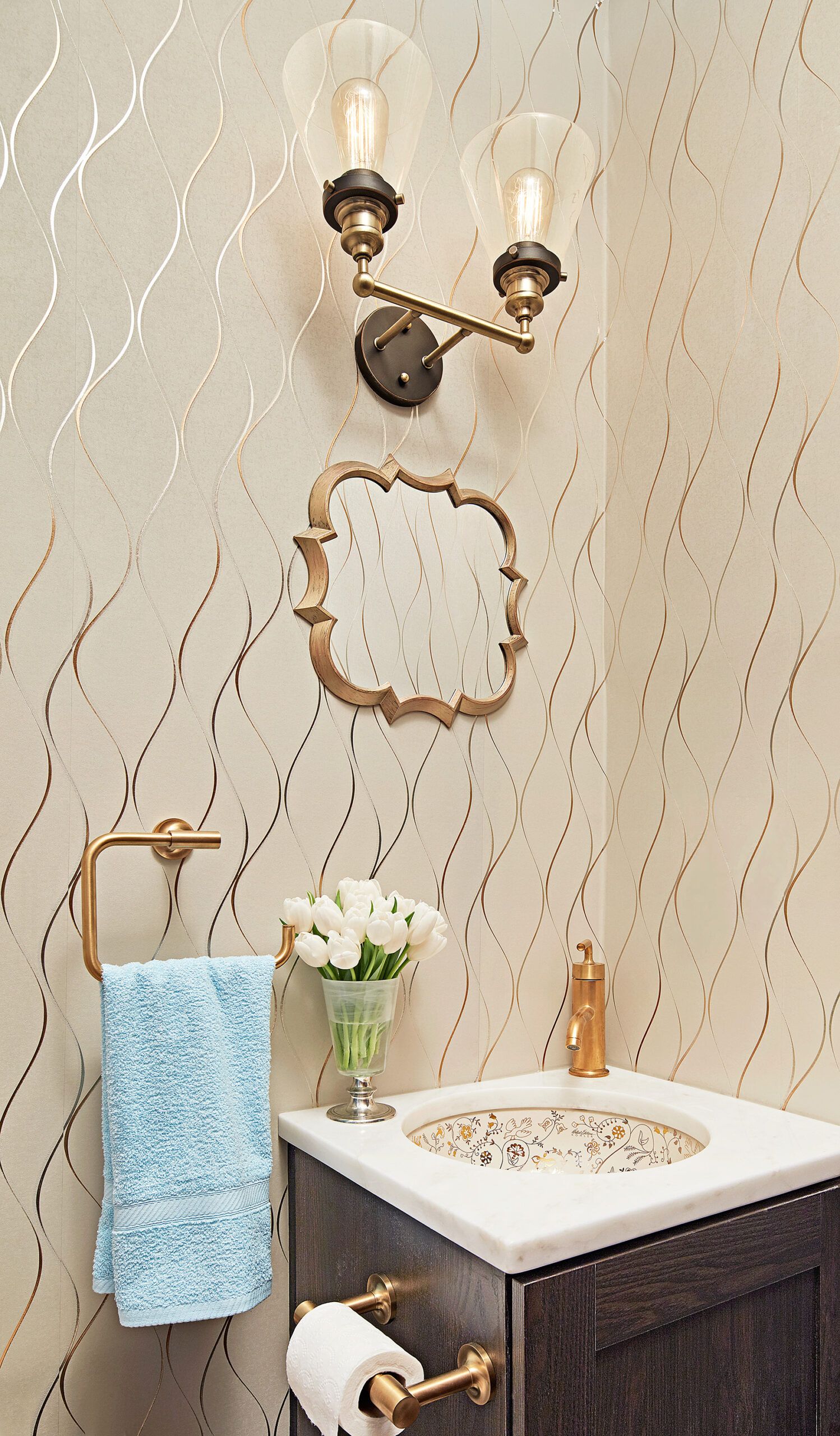 They had plenty to talk about during a field trip to the Kohler Design Center, in Kohler, Wisconsin, where they selected finishes for their new kitchen and baths. Kaffine, who works with local Kurtis Kitchen & Bath, helped the couple craft a layout that allows Frank to cook while guests gather around an island nearly 9 feet long.
Engle trained his sights on the "squeaky" staircase. "I took the ceiling out below it and put glue, nailers, and a bunch of wood in there to make it not move, then we added spray foam to make it not echo when you step on it," he says. "It's just something I like to do. I love a staircase that is quiet and doesn't move."
For help reviving the original red oak flooring, Engle reeled in local pro Matt Stamper. "I took over the house for a week," Stamper says. "I even kicked out the homeowners." But not before they'd had a chance to win him over. "Frank and his wife are just adorable," says this self-described "cranky old man."
Shown: Gold finishes add polish to the first-floor powder room.
VENT FAN: Panasonic
POWDER ROOM SCONCE: Menard's
WALLPAPER: York Wallcoverings
Master Bath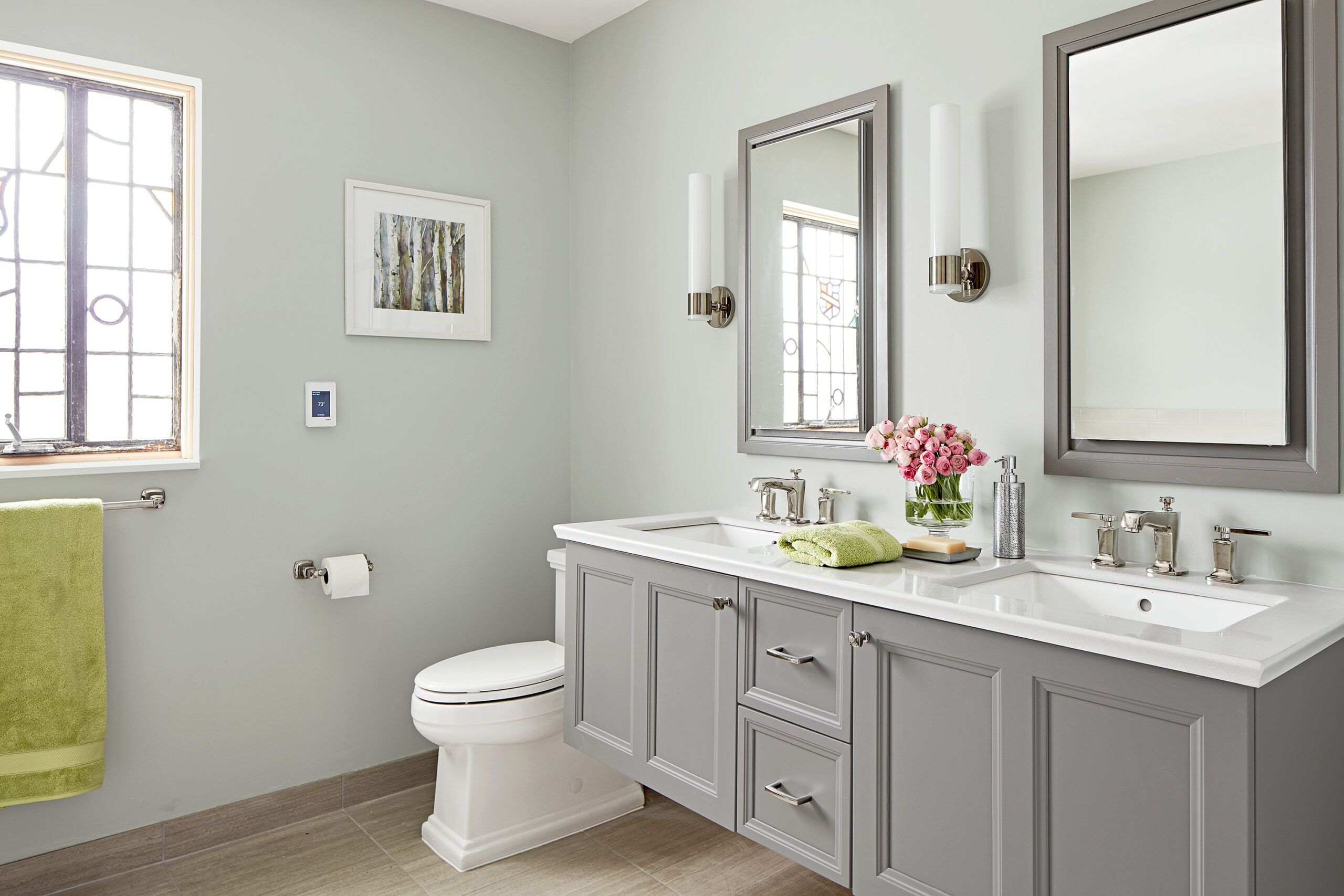 After Tamiko restored the fireplace surround, famed Detroit pottery studio Pewabic stepped in. "We were excited to get involved," says technical designer Mario Lopez. "From a craftsman's point of view, the house was high quality. Custom tile was a chance for the house to get dressed up and have its debut again." Interior designer Lynn Sebastian, who volunteered on behalf of a local furniture showroom, felt the same way. "We stayed up till 1 a.m. arranging everything for the cameras," she says. "It was a lot of fun—they are such a great couple."
Shown: A restored window with stained glass is reflected in a master bath mirror.
PAINT: Sherwin-Williams's Silver Strand (master bath walls)
VANITIES, SINKS, FAUCETS, TOWEL BARS, MEDICINE CABINETS, AND MASTER BATH SCONCES: Kohler
BATH TILE: Virginia Tile
RADIANT FLOOR HEAT: Schluter Systems
Serene Bedroom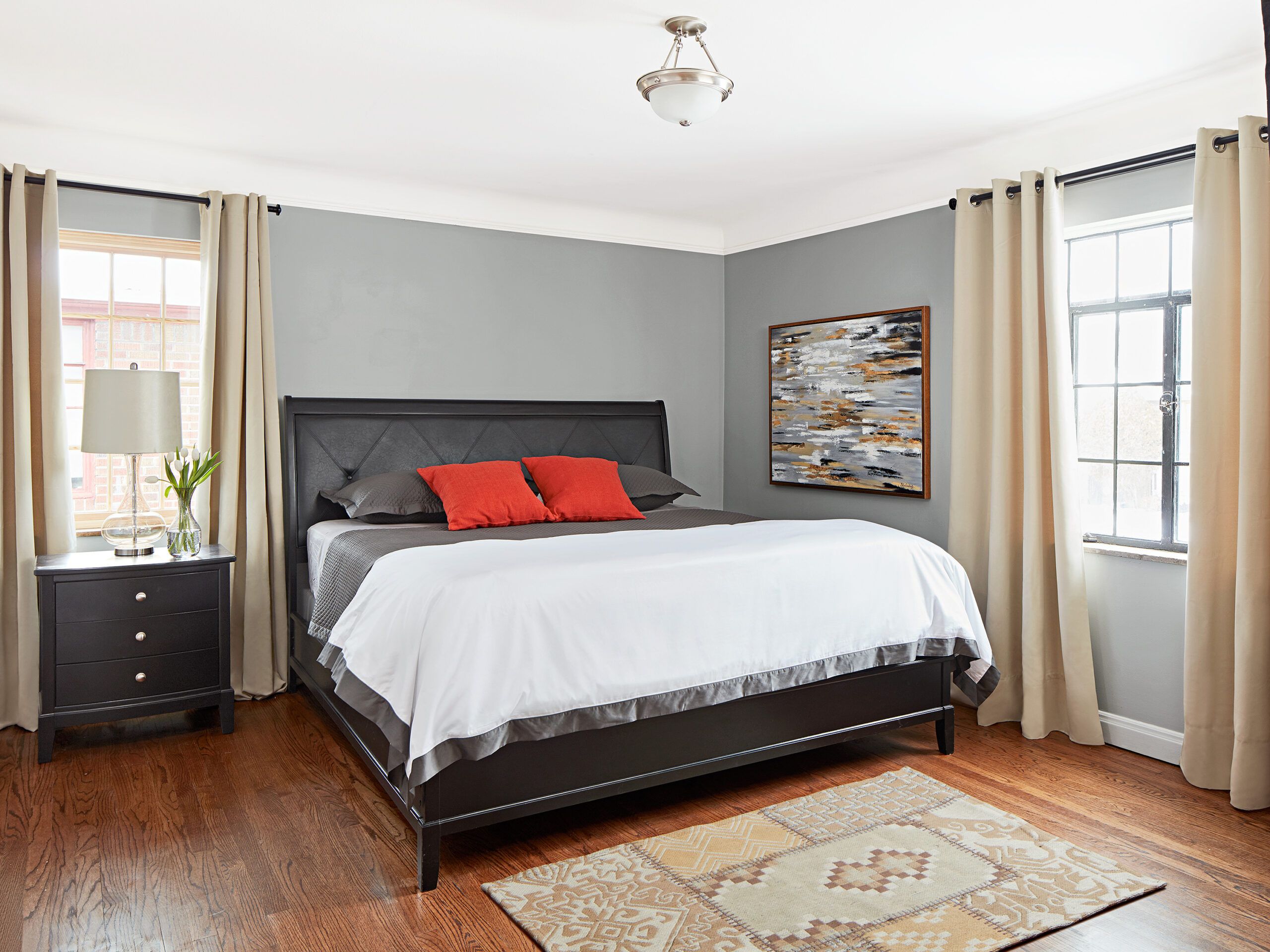 Looking back, Kevin says he was moved by the eagerness of so many to work alongside the TOH crew and show off their skills.
"They wanted Detroit recognized for what it has to offer," Tamiko says. Painter Brian Creary agrees: "It's such a fantastic city. There's technique you don't see anywhere else—it's good to see it coming back."
Now that the crowds have thinned, Frank and Tamiko are happily soaking up their new surroundings. Forget the chaos that ate up much of last year. "We love just sitting in the living room and looking out the windows," Tamiko says. "We feel so proud, and thankful."
Shown: The serene master bedroom pulls in light from two directions.
PAINT: Sherwin-Williams's custom blend (walls) and Ibis White (trim)
MASTER BEDROOM FURNITURE, RUG, LAMP, AND ACCESSORIES: Gardner-White Furniture
VASES: Crosell & Co.
WHOLE-HOUSE INSULATION: Covestro
WHOLE-HOUSE HVAC: Luxaire
Ornate Trim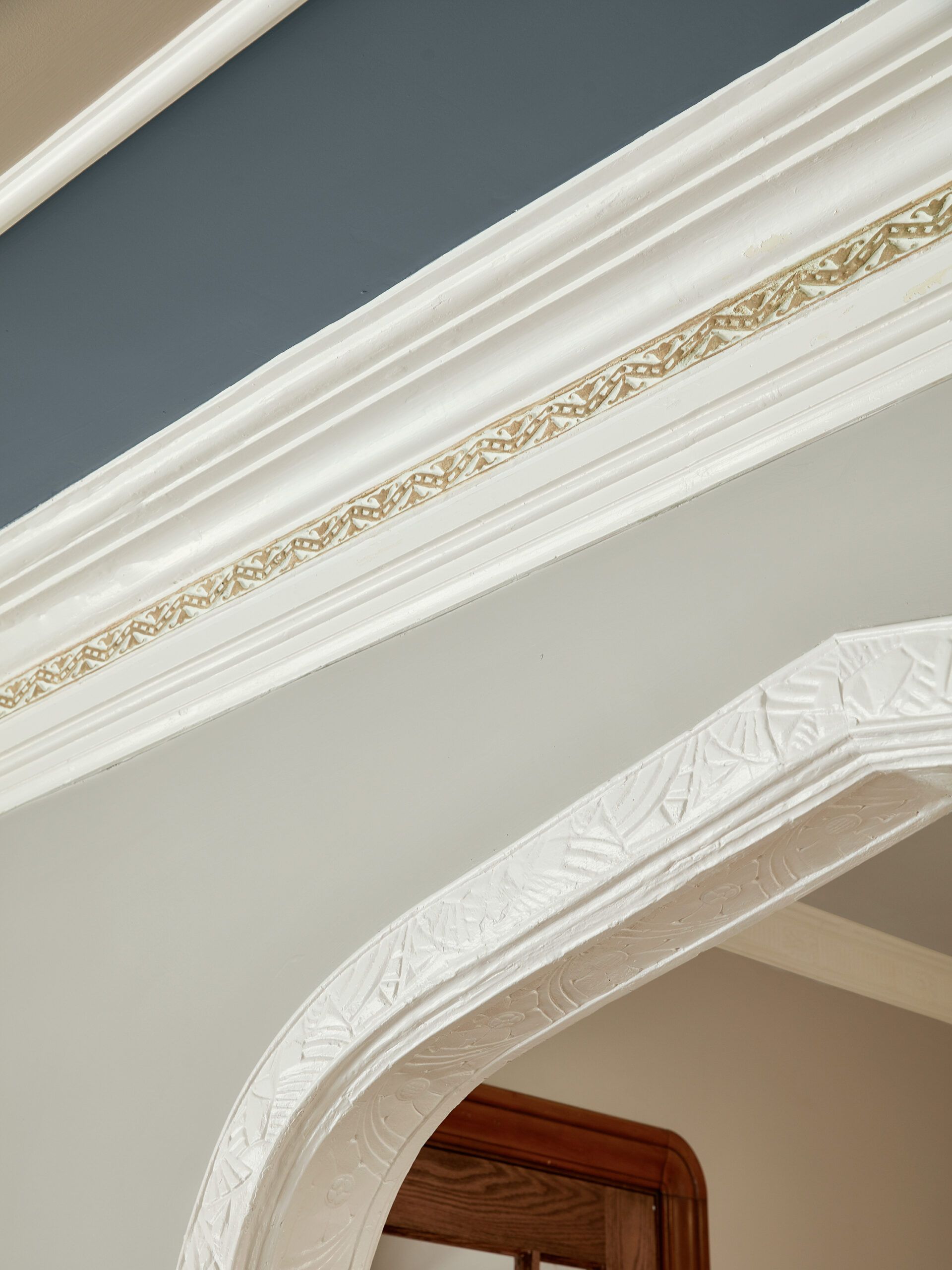 The homeowners' son Christian finished the ornate trim sandwiched by tiers of crown molding in the living room, custom-blending the gold paint color and painstakingly brushing it on the plaster relief.
Stained-Glass Palette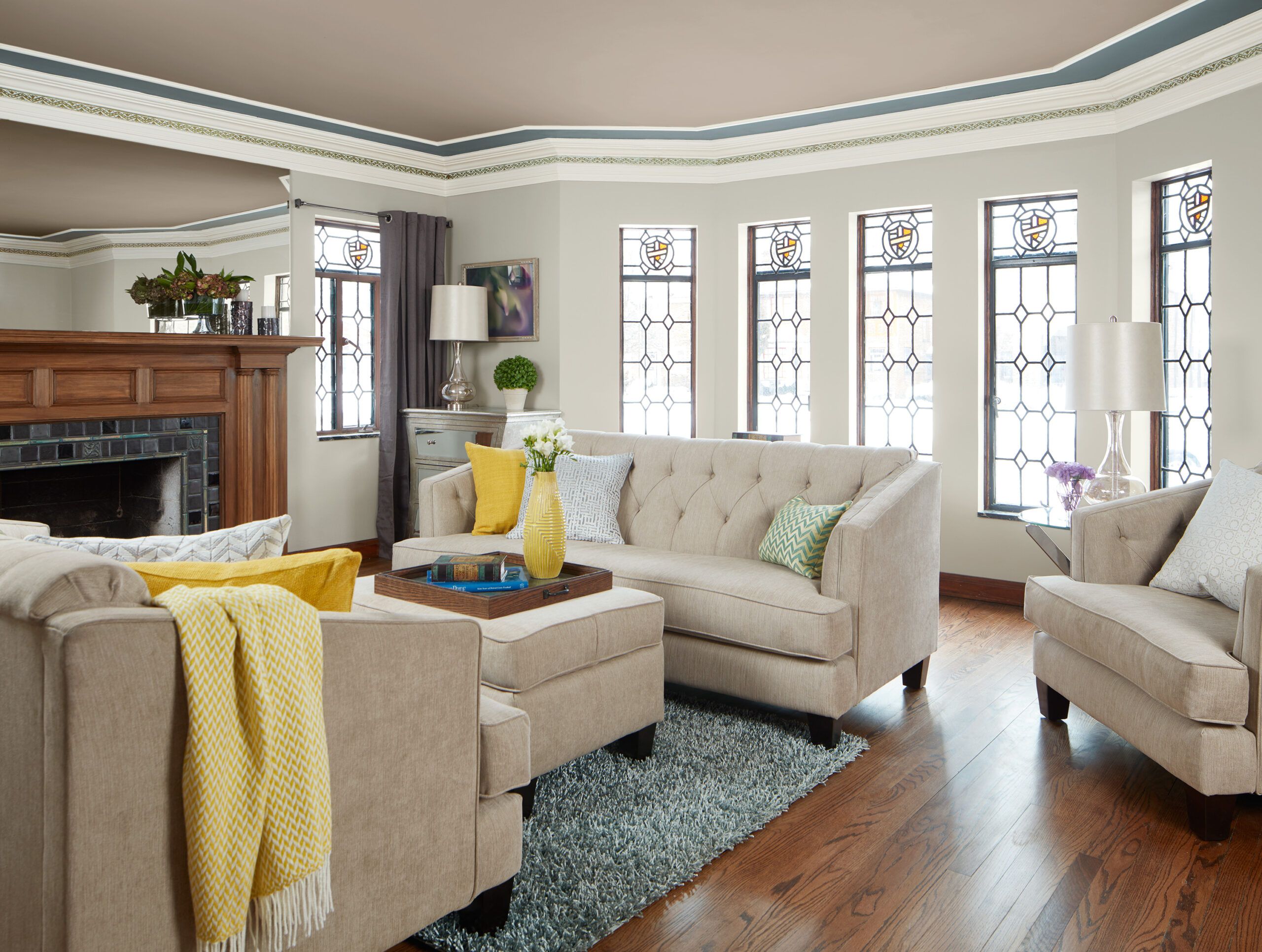 The homeowners based the living room palette on the original stained-glass windows and the custom fireplace tile in shades of gray and black, with insets in a mercurial metallic green.
FIREPLACE TILE: Pewabic
RUG, FURNITURE, AND ACCESSORIES: Gardner-White Furniture
Stained-Glass Art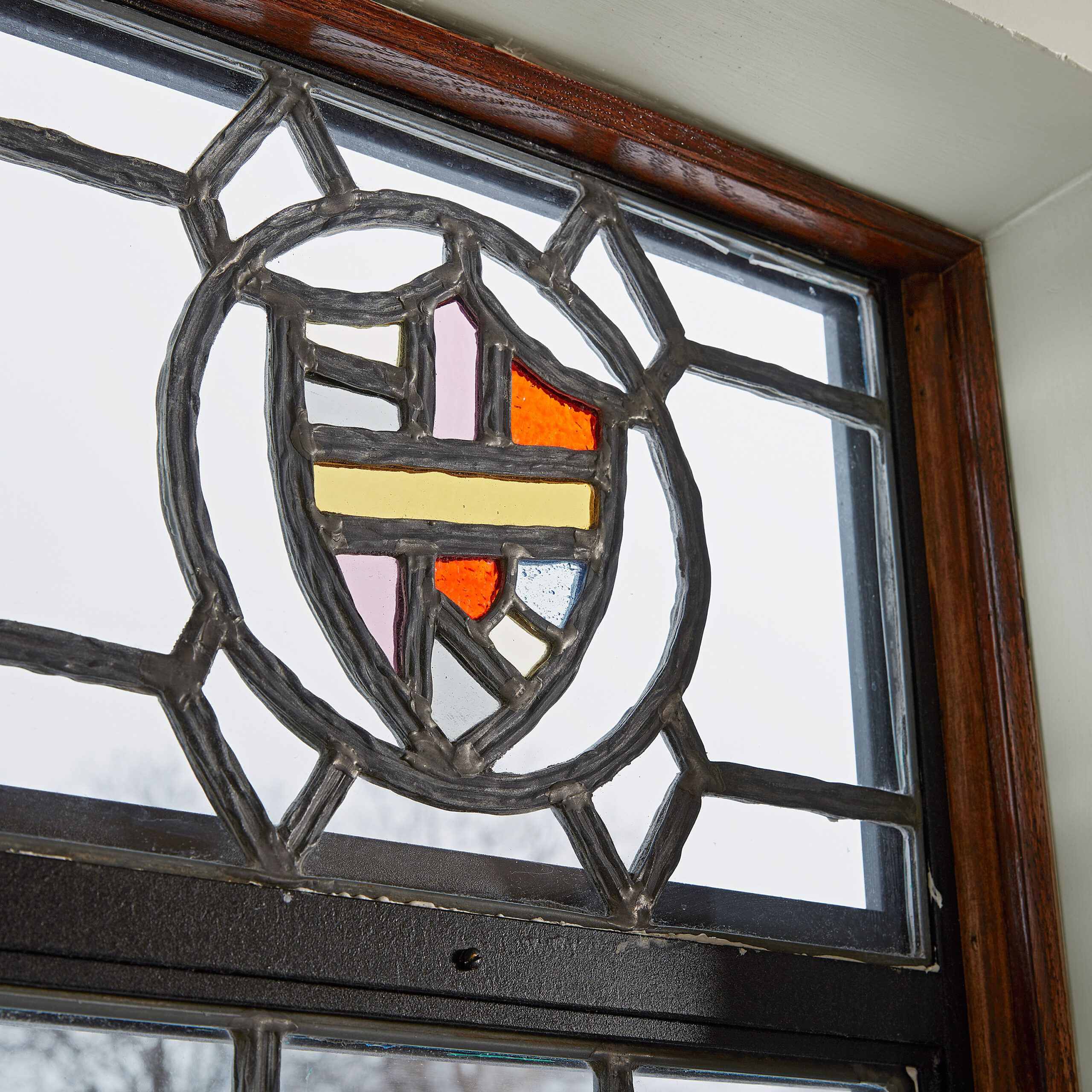 Detroit glass artist Ann Baxter replicated the 1930s embossed leading and replaced broken panes with glass salvaged from houses of the same vintage.
Fireplace Restored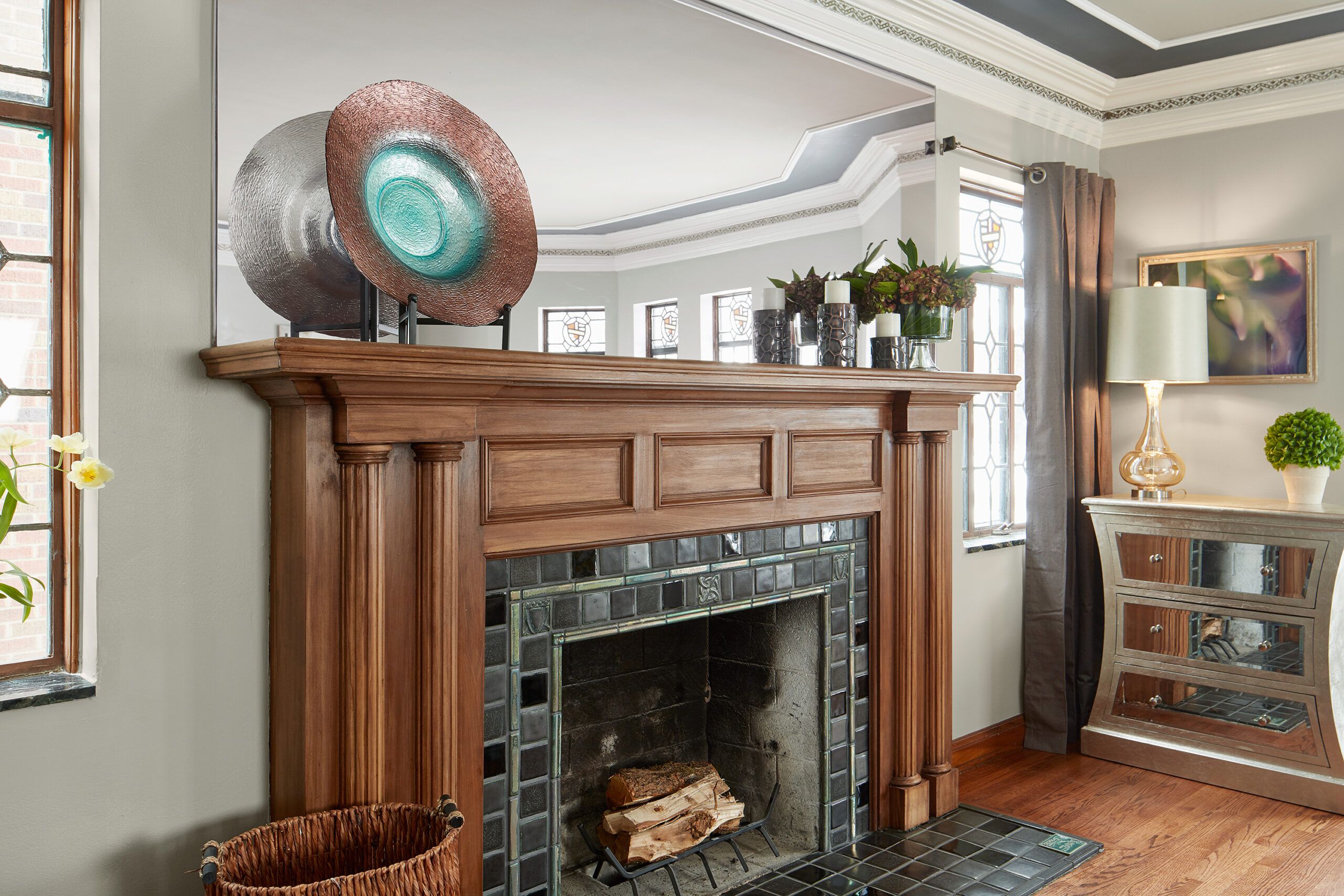 Homeowner Tamiko Polk stripped off decades of paint and, with the help of a custom tile surround from a heritage Detroit pottery studio, turned the timeworn fireplace into a focal point.
TILE: Pewabic
MIRRORED CHEST, LAMP, AND ACCESSORIES: Gardner-White Furniture