Getting Started | Here to Stay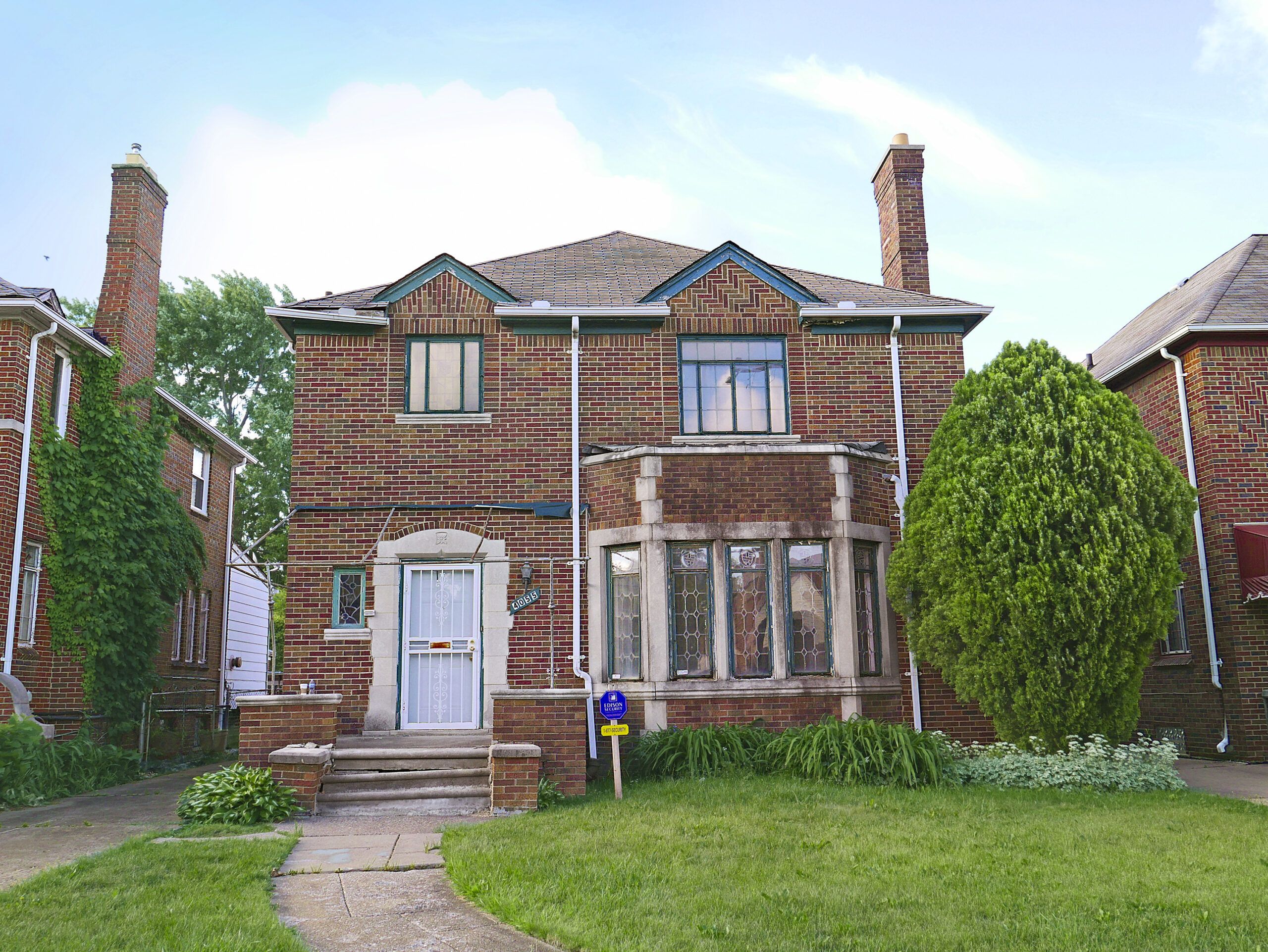 In the historic Russell Woods neighborhood of Detroit, the leaves are finally falling after the hottest summer on record, but the weather isn't the only thing that is changing. Contractors, family members, folks from the Detroit Historic District Commission, and the crew from This Old House are zipping in and out of Frank and Tamiko Polk's recently purchased home, laying down a protective barrier over the newly installed kitchen floor, carrying in cabinets, hunting for tools, and discussing how the project is helping shine a spotlight on the city.
"It's going, going, going," says Frank, briefly stopping in the middle of the living room just before disappearing again. "It's nonstop motion."
Shown: Though the house showed signs of water damage inside from a failing roof, it also retained wonderful original details, including leaded- and stained-glass windows and ornamental plasterwork. Featured on the current season of This Old House, the project marks the TV show's first visit to the city.
Meet the Homeowners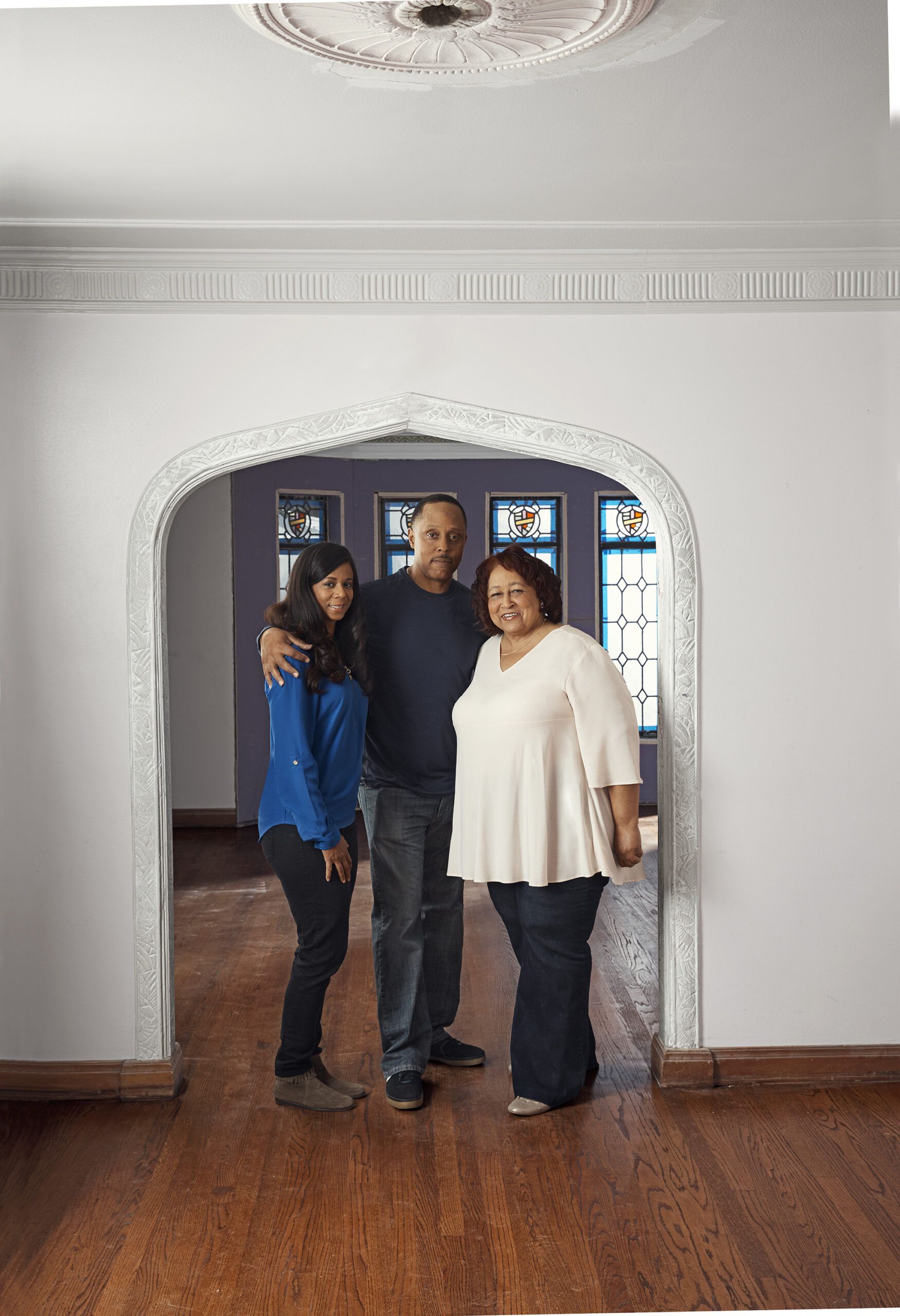 The buzz around the house is a testament to how well Detroit is living up to its motto of rising up from the ashes. The story of this 1,700-square-foot, two-story brick house from 1939 encapsulates the city's history, too. When the house was built, Detroit was a pioneer in innovation and one of the more prosperous cities in America, but after a series of social and economic disasters, it became known for having the highest concentration of poverty among large U.S. cities. Since Detroit successfully emerged from bankruptcy a couple of years ago, things are beginning to change once again.
Frank, 47, a second-generation firefighter, now retired, and Tamiko, 45, who works for Chrysler, have been married for 26 years, but the couple have known each other much longer than that. They both grew up in Detroit and met as children, when Tamiko and her girlfriends were riding bikes in their shared neighborhood. They've both witnessed their city go through a lot. "We've seen a lot of changes in different eras," says Frank, whose job took him to nearly every neighborhood. "I've seen it thriving, I've seen it fall economically—the real estate market and the job industry—and now, the resurgence." With all three of their children either on their own or away at college, the Polks considered leaving the city. But halfway into tying up loose ends and planning to relocate to North Carolina, they found out about the Detroit Land Bank Authority, which oversees both the demolition of thousands of blighted buildings and the auction of abandoned and foreclosed homes. The Polks realized the Land Bank could provide an affordable path to homeownership in the city they both love. "Finally, we just came to a decision: Why run? This is who we are, this is where we are, and for right now, it's going to work for us," says Frank.
Shown: Homeowners Frank and Tamiko Polk with Frank's mother, Carolyn O'Bryant, who lives nearby. The Polks, who both grew up in Detroit, are fixing up a brick two-story.
Tudor-Style Details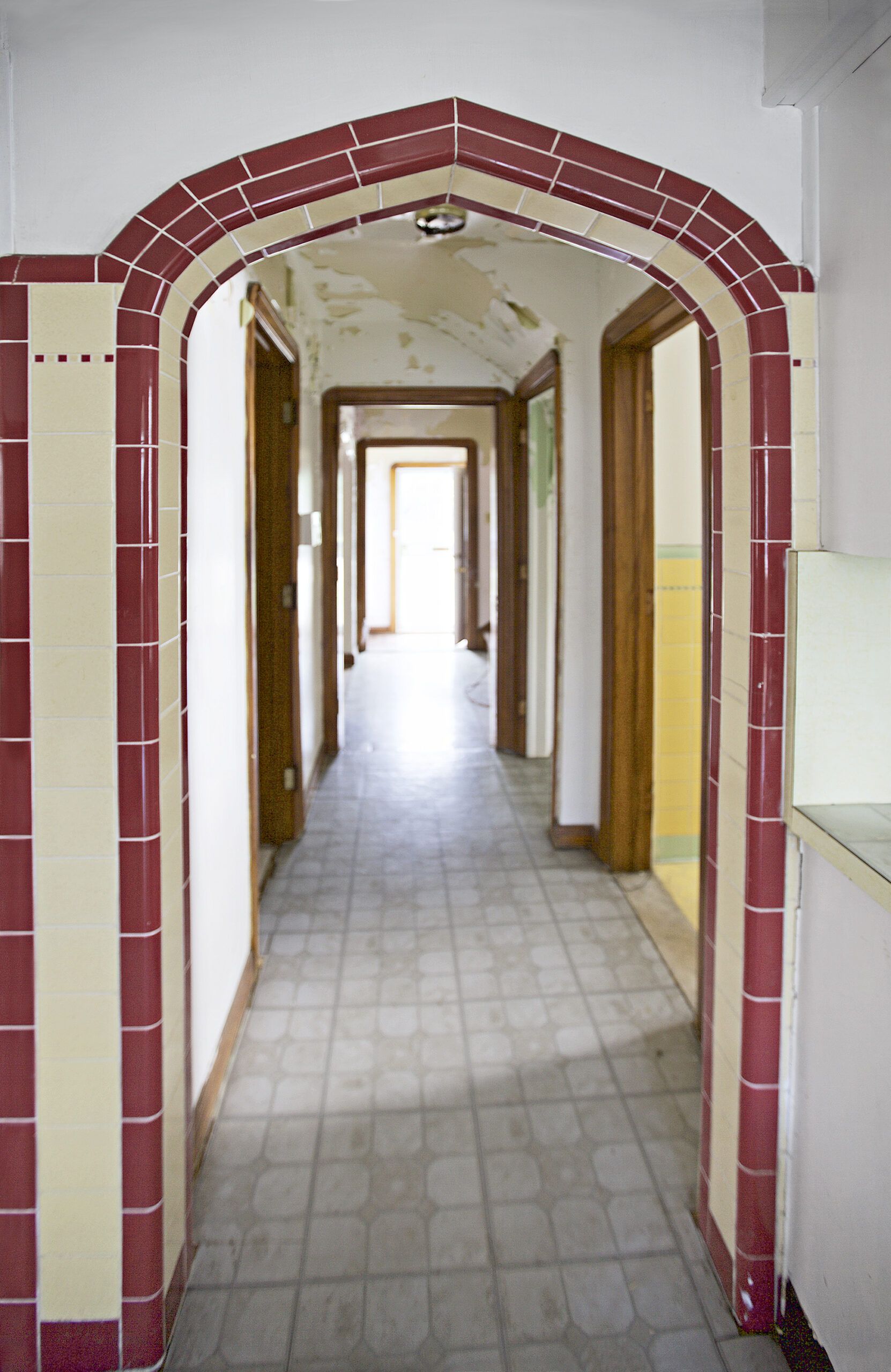 The house that the Polks won at auction sat vacant and vandalized, with obvious water damage from a leaking roof, leaded-glass windows that needed restoration, and a missing HVAC system that had been stolen. But while the city that surrounds it might have seen plenty of blight, this particular neighborhood was far from abandoned. The Russell Woods area was historically a Jewish and Anglo neighborhood, but by the 1950s, African-American families had begun to move in, many of them prominent in the community, some even pioneers in their fields. Now, a chat with neighbors, many empty nesters themselves, quickly reveals that Diana Ross, NFL player Dick "Night Train" Lane, and poet Dudley Randall had all lived in the area.
The couple have a lot to tackle to get the house not just in shape and livable but also in line with Historic Commission regulations. The guidelines require that the defining characteristics of the site be subject to minimal change and that historic features be repaired rather than replaced. Inside, however, the couple aim to combine their modern aesthetic with the house's historical elements, particularly in the kitchen and baths. But first up, they had to address the roof.
"We had some water intrusion, both through the roof and the foundation," says This Old House general contractor Tom Silva. "Water can do major damage if not attended to."A section of roof added years ago was causing water to back up and pool; the whole roof needed replacing. The block foundation, though, turned out to be in decent shape, and the brick on the walls just needed repointing where cracks had formed in the mortar.
Shown: A colorfully tiled archway in the kitchen frames the view all the way to the back of the first floor. Tudor-style arches are one of the recurring original elements in the three-bedroom, two-and-a-half-bath house.
Light, Bright Living Room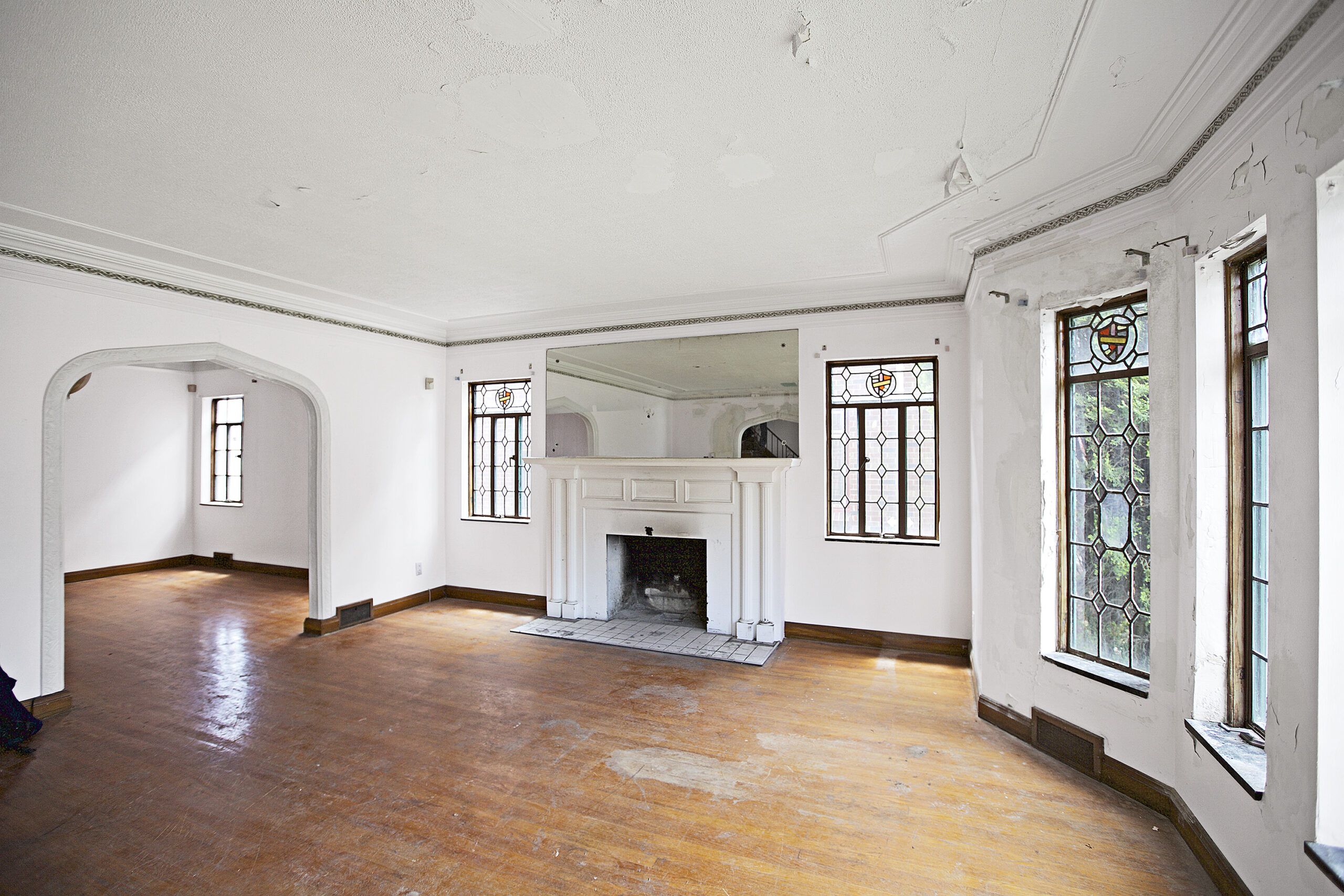 Remedying the dampness found in the basement did mean rerouting the drainage system. New gutters installed with downspouts now flow into two dry wells in the yard to keep water away from the house. Unfortunately, the water damage had taken a toll on original plaster moldings inside, along an archway and on ceiling medallions in the first-floor rooms. Tom was able to show the Polks how 3-D printing can be used to replicate such details: A 3-D camera takes images of the existing plaster, a computer model is made, and then a plastic replica is created. Some small areas of damage were repaired using traditional methods.
Shown: The leaded- and stained-glass windows lining the living room are some of the original details that first drew the Polks to the house. They were removed and taken to a shop to be painstakingly restored.
Working Together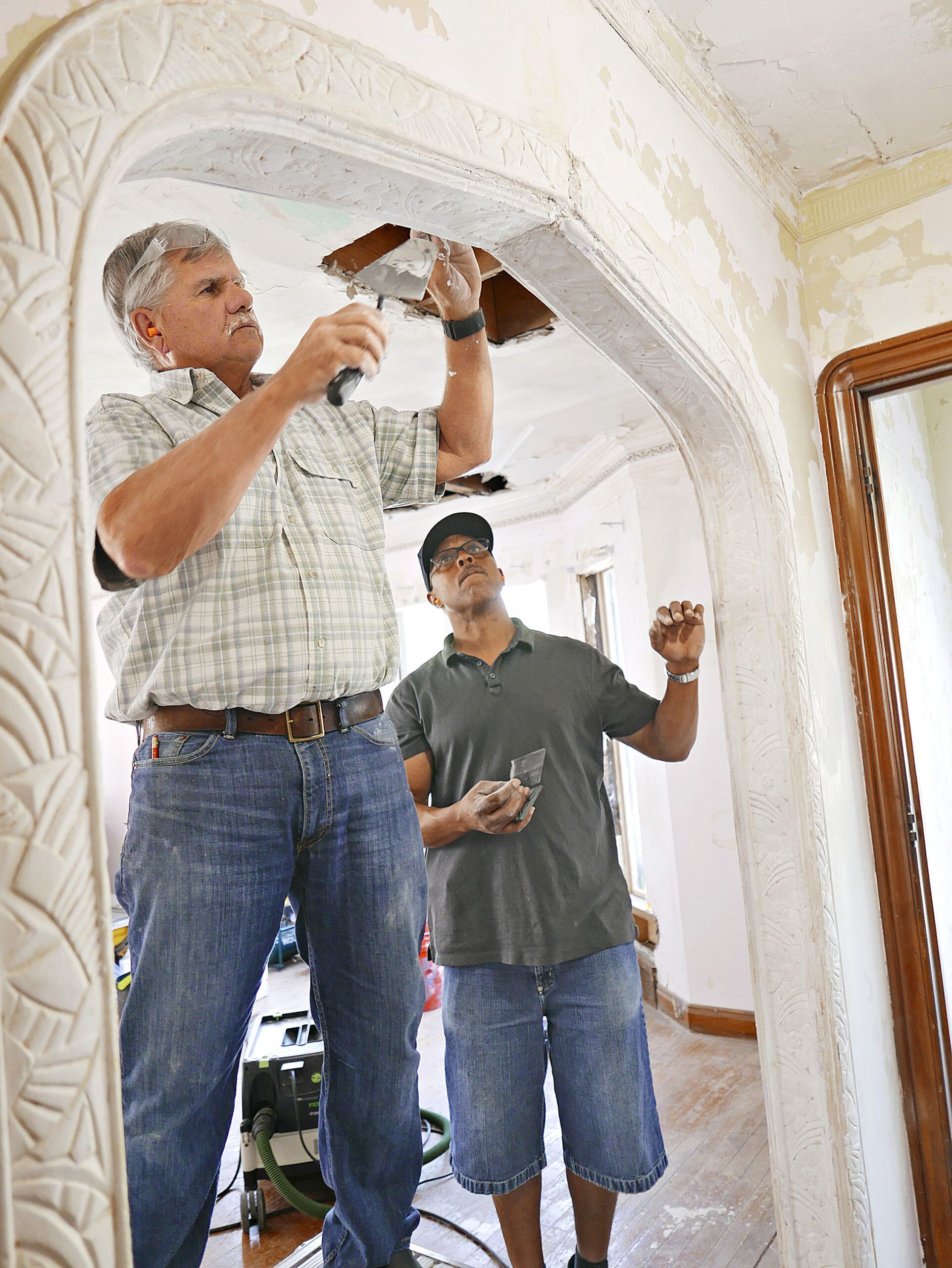 As Tom and his crew could be seen at work on the renovation, the house's revival inspired several local pros to volunteer their services.
General contractor Josh Engle, who is based in nearby Livonia and is a big fan of the TV show, would regularly drop by the house to offer suggestions to the Polks. When Engle offered to pitch in, the Polks were thrilled to have him lend his expertise—and the extra hands. "Our main fan is helping us now," says Frank. "He's a wealth of knowledge. Without him, I don't know where we would be—I think I was overly optimistic about my capabilities and the time frame that I could do it in."
Engle also led them to Ann Baxter, a Metro Detroit glass artist, who volunteered to take on the restoration of the leaded-glass windows. Mike Thompson, who heads up a Detroit landscaping business, offered to help TOH landscape contractor Roger Cook install the dry wells and will donate sod.
Shown: TOH general contractor Tom Silva shows homeowner Frank a plaster-repair technique on the ornamented arch that divides the living room and the front hall.
Period Tilework in the Bath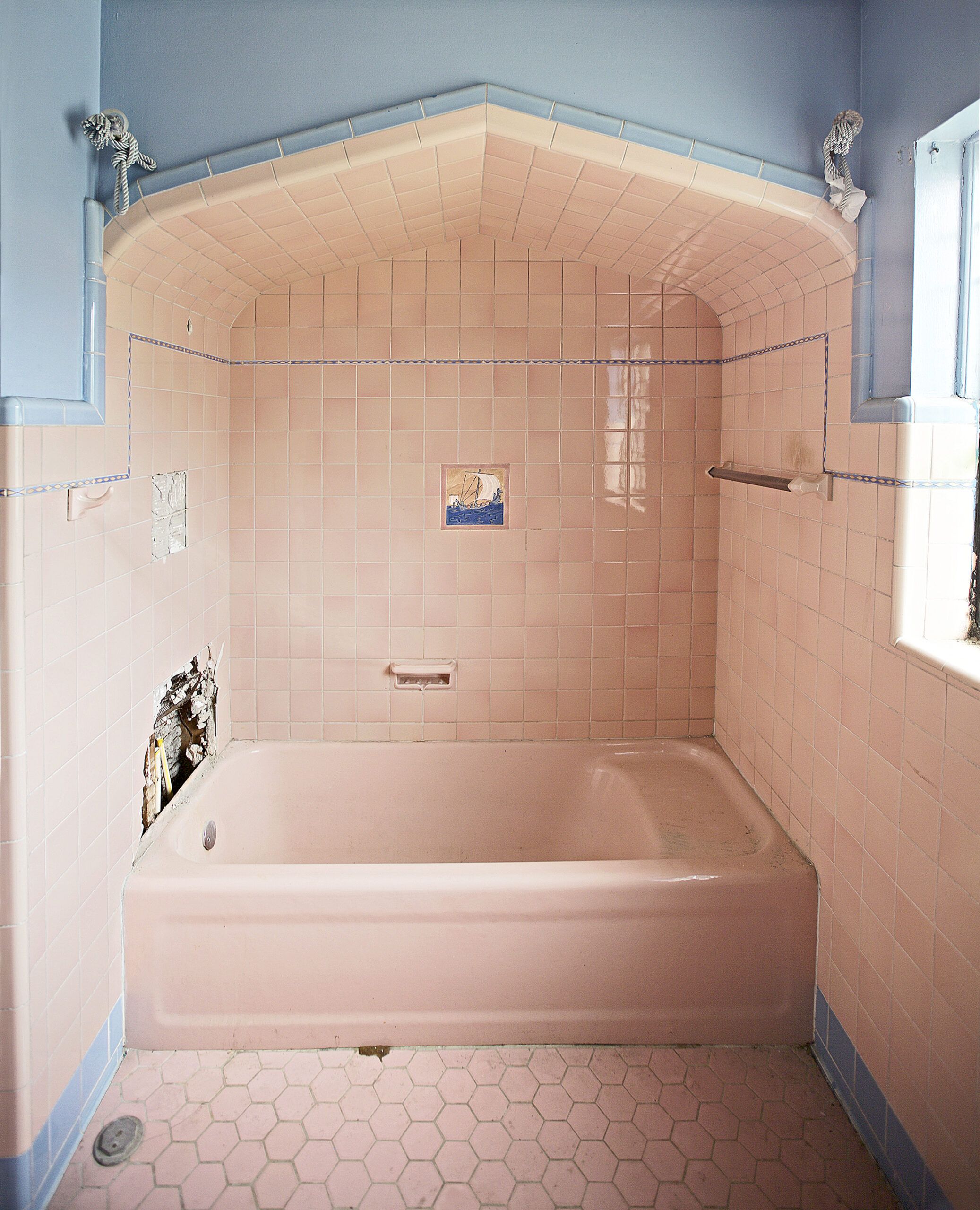 The Polks have been collaborating with the crew and the tradesmen and women every step of the way, helping run plumbing pipe and pull electrical cable. "They've been involved in everything," says Tom.
The Polks' family has been chipping in, too. Christian, 26, their eldest son, got to work demolishing the thick plaster walls in the upstairs bathroom and kitchen, working on 90-degree days to bust up the heavy, solid material. Frank's sister, Caryl Polk, came up from Atlanta for two months to help rebuild the front steps. Tamiko's father, Donnie, flew in from Texas to do as much as he could. Even Frank's firefighter colleagues showed up to do demolition. "We're good at tearing things up," he says.
Shown: Colorful bath fixtures and tilework are hallmarks of 1930s residential design. Combinations ranged from Easter-egg pastels, such as this pink and blue, to Deco-inspired greens and yellows accented with bands of black to palettes incorporating purple, brown, or burgundy.
Renovation Plans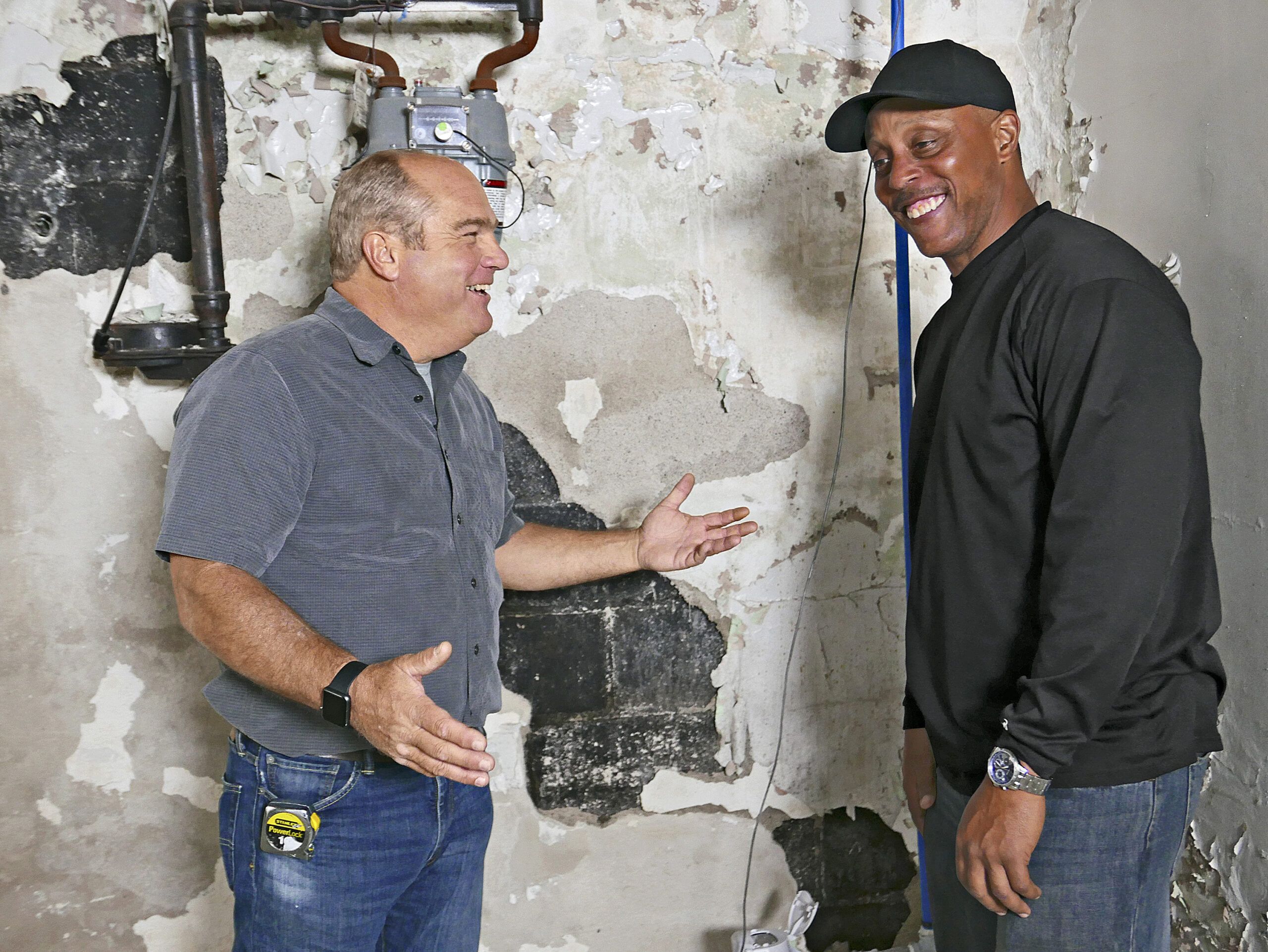 The kitchen, closed off by a wall, is being opened up and new cabinetry, an island, and granite counter­tops are being installed, as well as a subway-tile backsplash with some accent tiles from Detroit's iconic Pewabic pottery, founded in 1903 and still in operation today.
The silver lining to the stolen HVAC system is that the Polks, with help from Joe Burke, a local heating and cooling contractor, had a blank slate in which to install a modern, high-efficiency system, saving them on both installation and operating costs. Masonry expert Mark McCullough, who flew in from Boston, is finishing up the brick repair around the house, dissecting the collapsed concrete steps and crumbling brick columns out front and reusing the materials to build them back up.
Shown: TOH heating and plumbing expert Richard Trethewey talks to Frank Polk about the journey his house—and he himself—have been on.
Renovation Goals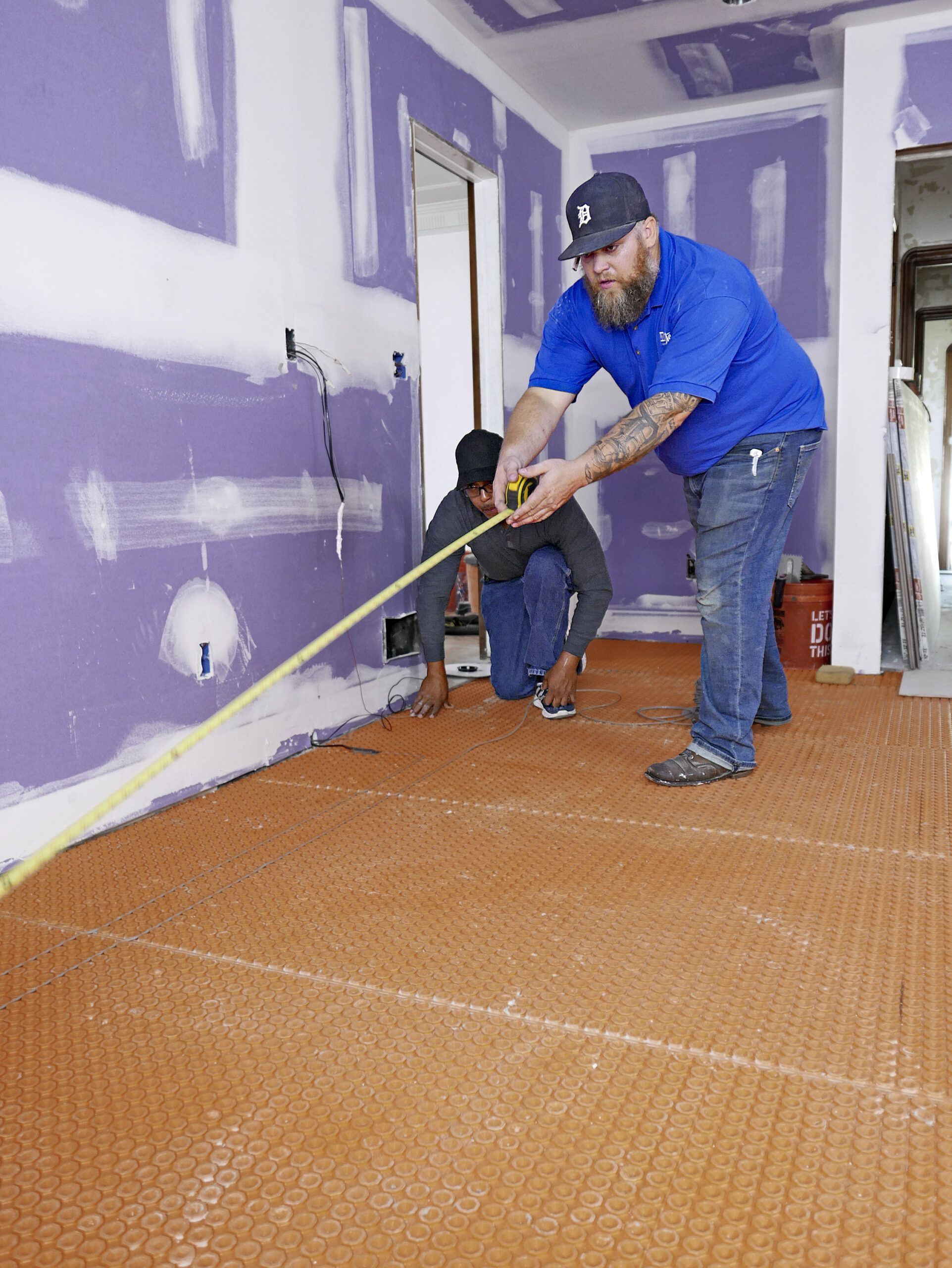 For the Polks, while the work they continue to put in is strenuous, doing it as a family is making the entire process more meaningful. "We're putting our hands, sweat, blood, tears, everything into this project," says Tamiko. "At a young age of our lives, we can say we've done that."
Known for their love of hosting friends and family, they look forward to opening up their new home as soon as the work is finished, cooking up some of their signature dishes, including jambalaya, gumbo, and banana pudding, in the remodeled kitchen. It's no surprise that the Polks' vision for their new home is intrinsically tied to what's helping them achieve it: the people they love.
Shown: Local contractor Josh Engle and one of his crew tackle work in the kitchen.
Special Thanks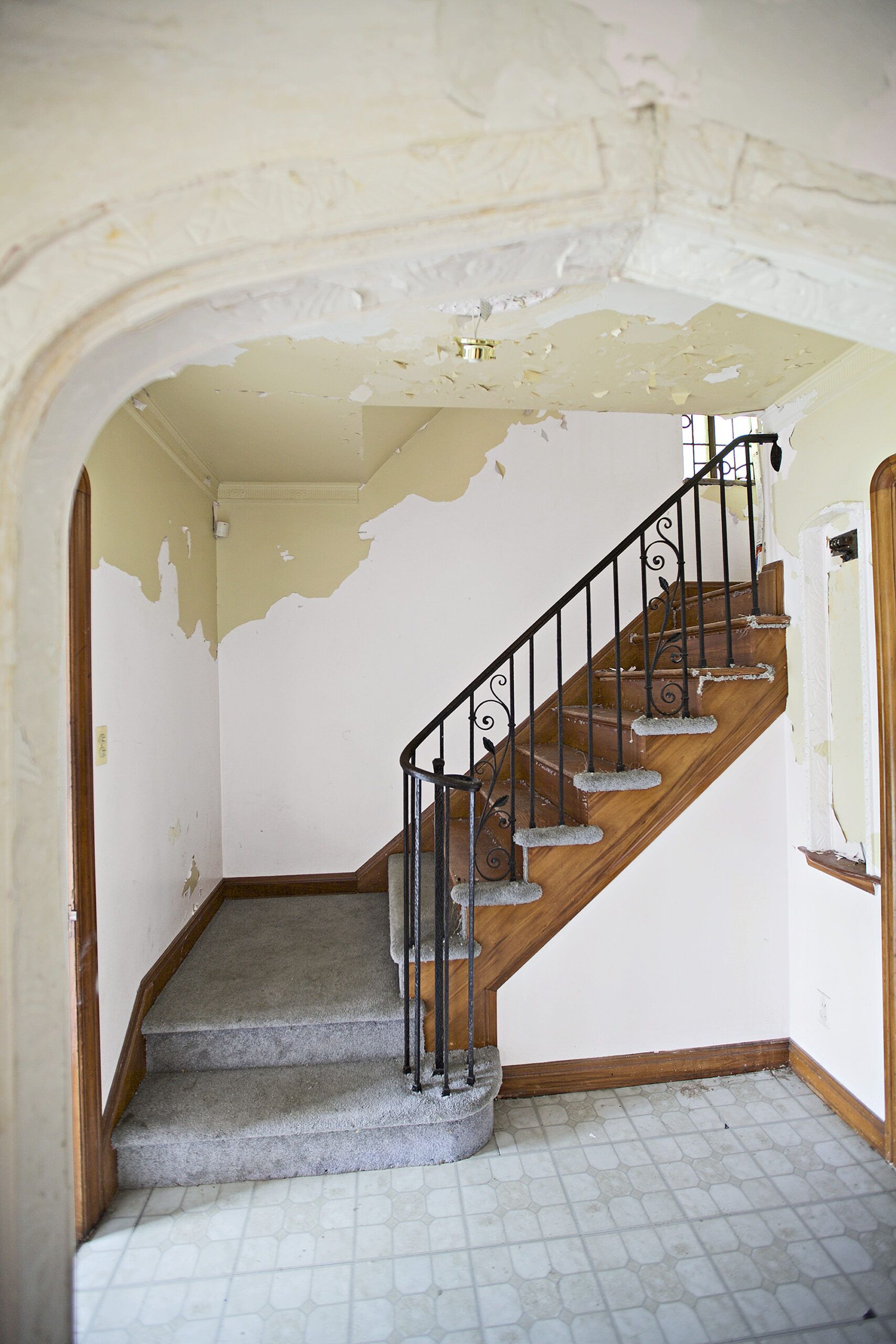 Thanks to Josh Engle, J.D.Engle Construction, Livonia, MI; Ann Baxter, Detroit; Mike J. Thompson, Detroit; Joe Burke, Burke Mechanical, Shelby Township, MI; Mark McCollough, MJM Masonry, Boston.
Shown: Before photo of peeling paint and water-damaged plaster on the first floor that await repair. Check in again soon for the renovation reveal photos.
MORE: