Yearly Upkeep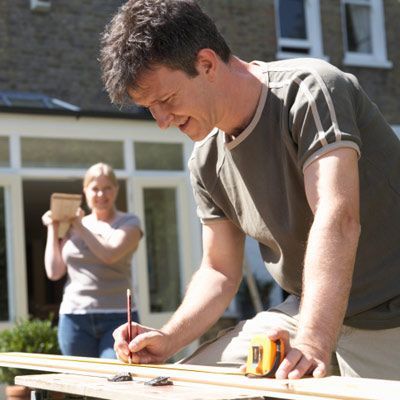 It's time to prep your house and yard for warmer weather. Target these 12 trouble spots and DIY upgrade opportunities to slash utility bills, boost curb appeal, and up your comfort all year long.
1. Stain the Fence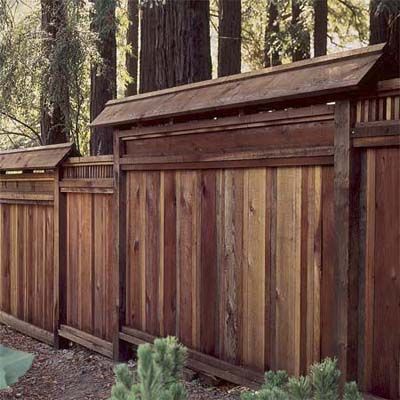 Why Now: Sunlight degrades the lignin that bonds wood fibers, allowing water to penetrate and causing the surface to gray. A semitransparent stain fortified with UV blockers can halt damage while giving pressure-treated pine a warm tone that mimics pricey hardwood.
How to Do It: Knock debris and flakes off the wood with a broom. Brush on a nontoxic deck cleaner, then rinse and let dry. Use a landscape pump sprayer to evenly apply a penetrating stain, such as Penofin Verde (about $56 per gallon; decksdirect.com). This high-tech finish, made from Brazilian rosewood oil, comes in 18 colors, offers 99 percent UV protection, and has zero VOCs, so it's safe for you and the environment.
The Payoff: Extend the life of your fence, and get the look of cedar for about half the price.
Fence Staining How-To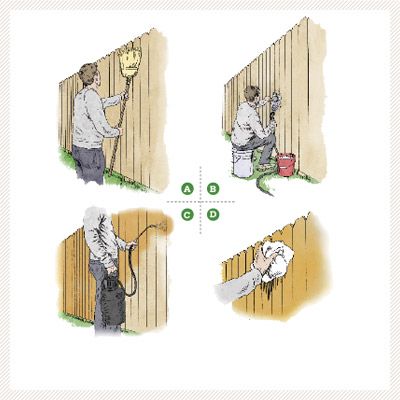 A: Knock off loose dirt and leaves with a broom.
B: Scrub the surface with deck cleaner to remove mildew and stains. Hose off and let dry.
C: Apply the stain with a pump sprayer, making a broad sweeping motion from top to bottom to ensure even coverage.
D: Wait 30 minutes, then wipe the surface with a lint-free rag to remove excess stain.
2. Hook Up a Handsome Rain Barrel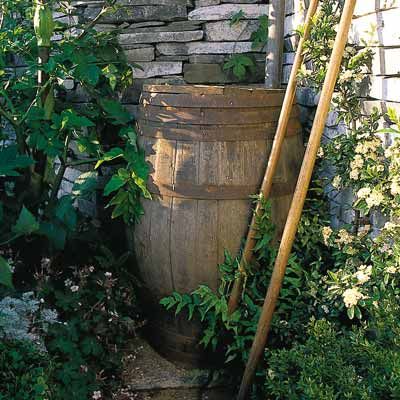 Why Now: Harvesting spring rains means you'll be ready to water the garden come summer's first dry spell. New, faux terra-cotta barrels, such as the 65-gallon Cascata with a built-in planter and brass spigot (about $199; homedepot.com), are also an attractive addition to the yard.
How To Do It: Select a downspout that's close to where you'll need extra water, like near a planted bed. Level the ground where the barrel will sit, and set a cinder-block foundation to elevate it about 8 to 15 inches so that gravity can help drain it. Use a hacksaw to cut the downspout 6 to 9 inches above the top of the barrel, and reinstall the bottom elbow. If the barrel has a screened top, orient the elbow so that water flows into the center of the lid. If the barrel has a diverter, use a flex tube to extend the downspout into the diverter.
The Payoff: About 1,300 gallons of water during peak summer months.
3. Add Window Awnings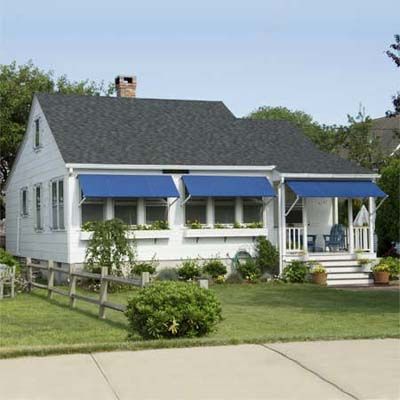 Why Now: Awnings reduce solar heat gain, glare, and UV damage to your furniture without blocking airflow or views. They come in designs to match house styles ranging from Cape Cod to Queen Anne, and new fabrics and motorized rollers make them more durable and easier to maintain than awnings of yore.
How To Do It: Choose between stationary hood- or dome-type awnings mounted on a fixed aluminum frame and designed for seasonal removal, or retractable Venetian-style sideless ones, which roll up into a protective housing mounted above the window and can be left up year-round. Hoods and domes tend to block more sunlight because they have sides, but retractable ones give you more flexibility, allowing you to extend or roll up the awnings as the angle of the sun changes. Both types start at about $200 for a 36-inch window. In either case, look for dyed-acrylic or polyvinyl-laminate fabrics, which repel water and resist mildew and fading.
The Payoff: Reduce solar heat gain by up to 65 percent on south-facing windows and 77 percent on west-facing ones, which can slash cooling costs by as much as 25 percent.
4. Repair and Green-Up Pathways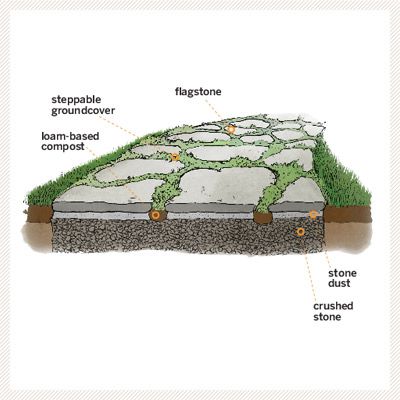 Why Now: Winter's freeze-thaw cycle can cause loose joints and cockeyed pavers, so reset and replenish them before one of your garden party guests takes a tumble.
How To Do It: Fill depleted joints with new sand or stone dust, hose down the pavers to set, then repeat. For pavers that have heaved out of place, add new base material before resetting. For flagstone, go a step further by planting steppable, ground-hugging herbs, such as woolly thyme or shade-tolerant miniature mat daisy, between stones to soften the look of their sharp edges. Simply dig out the joints, fill with loam-based compost, plant, and water.
The Payoff: Avoid a total walkway redo at about $6 to $20 per square foot for a pro job. If you opt for a groundcover, those green crack-fillers interspersed with hardscape add considerable curb appeal.
5. Tidy Up the AC Compressor/Condenser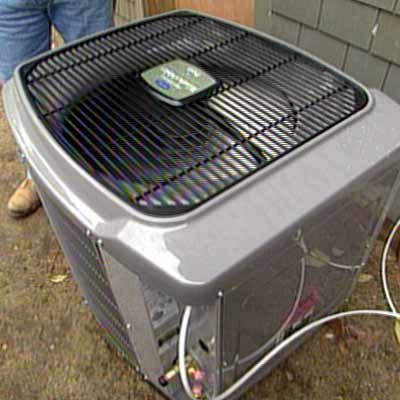 Why Now: Seasonal detritus, such as leaves, grass clippings, dust, and even nests, can reduce efficiency. By coupling maintenance with a new enclosure for the unit, you can also turn an eyesore on the side of your house into something eye-catching.
How To Do It: Start by trimming any bushes or overhanging branches that may impede airflow. Next, turn off the power and carefully brush out debris from the fins. Hose down the unit from top to bottom. Straighten any bent fins with a special tool called a fin comb. Consult your owner's manual about where to put lubricating oil. Last, hide the unit behind decorative lattice, such as the hinged three-panel Belfast Privacy Screen by New England Arbors (about $180; hayneedle.com) made of weather-resistant, no-paint PVC.
The Payoff: You'll save about $100 to $250 a year in professional cleaning services and up to 40 percent in energy costs.
6. Seal Your Vents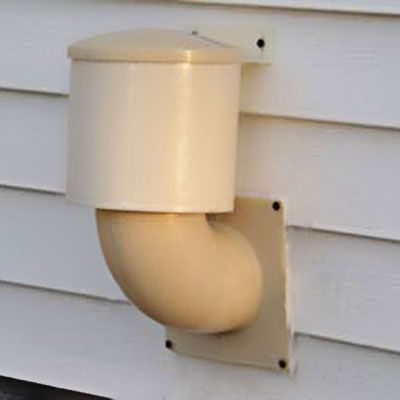 Why Now: For most birds, breeding season begins as early as mid-March and lasts through August, and any opening, such as a dryer vent or bathroom-fan vent, is a potential nesting site. Seal these up to deter birds and other unwanted critters that can set up house or sneak into your living spaces.
How To Do It: Replace builder-grade aluminum vent caps with a vent seal that remains closed when the appliance is not in use. Designs range from a floating shuttle (Lambro 289W Vent Closure, about $36; amazon.com) and a double-door model (P-tec Products Inc. No-Pest Vent, about $12; sears.com) for the dryer to a roof-mount steel hood with a built-in backdraft damper and bird screen (Broan Steel Roof Cap, about $30; lowes.com) for bathroom and kitchen fans.
The Payoff: Avoid shelling out hundreds in pest-removal costs. And prevent up to 4 percent of your home's conditioned air from leaking out.
7. Clean Up the Compost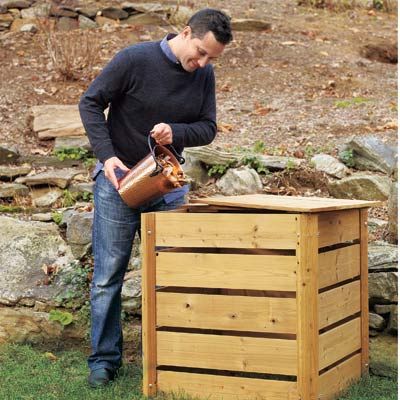 Why Now: That heap out back is sprawling out of control, and in addition to hosting the grubs and worms that turned your fall leaves into black gardening gold, it likely housed nesting animals over the cold months. Better to corral and critter-proof the compost now before adding any fresh organic material.
How To Do It: Prefab bins can be pricey, but you can make your own for just about $60. Simply build an open, box-shaped frame out of scrap 1×2 boards or old fence slats and line the walls, floor, and top with 1/4-inch galvanized hardware cloth. The metal cloth is chew-proof, and unlike solid wood or plastic panels, it allows air to circulate through the compost to speed decomposition. Hinge the top and one side of the bin for easy access.
The Payoff: A tidier yard, never finding a furry surprise when you mix the compost, plus pocketing about $25 to $150 by making a bin yourself.
Compost Bin How-to
A: Use 12s to assemble six wood frames for the top and bottom, the front and back, and the two side walls. The sides should be 1½ inches narrower than the other frames.
B: Staple hardware cloth to the inside of each frame.
C: Nail together the two sides, the back, and the bottom.
D: Hinge the top and front frames, and secure with latches.
8. Erect a Green Screen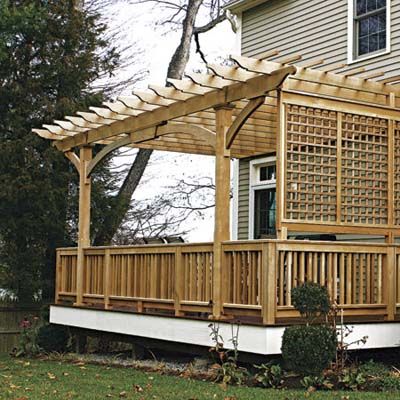 Why Now: Plants need time to green up before you start lounging on the deck or porch this summer.
How To Do It: Start with a premade trellis, which comes in a variety of sizes in cedar or rust-resistant metal. If mounting to a wall, fasten the trellis to standoffs (blocks or brackets), which steady the unit away from the wall so that plants have room to grow behind it without resting on your siding. A freestanding trellis mounts on long stakes anchored in gravel or cement. When choosing climbing plants, be sure to factor in your region and how much sun the trellis will get each day.
The Payoff: For about $12 to $20 per square foot in materials, a green screen provides privacy and creates a cooling effect by shading your house, which translates into lower air-conditioning costs.
9. Add a Raised Garden Bed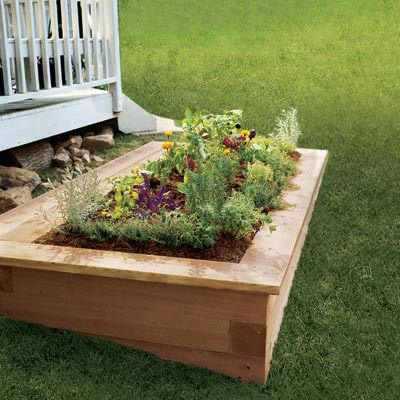 Why Now: You can extend the gardening season by facilitating better drainage and because the soil in a raised bed warms up and thaws out faster after a frost.
How To Do It: Use a kit, such as the 46-by-46-inch, 5½-inch-high bed from Suncast (about $50; sears.com), which consists of sturdy, and food-safe, BPA-free resin panels that snap together and are secured to the ground with steel spikes. There's even a tiered model that goes from 9 inches to 18 inches tall, offering more growing options within a smaller footprint and requiring less stooping.
The Payoff: A small setup like this one can yield more than $100 worth of home-grown fruits and vegetables a year.
10. Install a Sconce on the Garage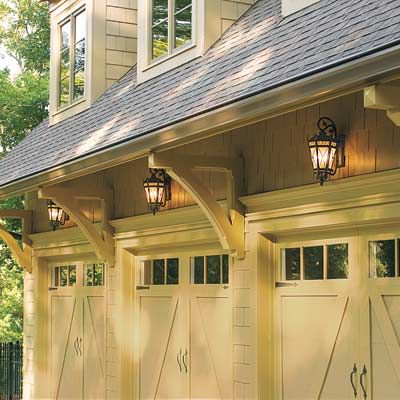 Why Now: A new fixture not only creates a welcome glow outside what may be your home's busiest entry point but also improves safety.
How To Do It: Shut off power to the receptacle box (have an electrician install a box if you don't have one). To ensure a weather-tight fit, use a rigid-foam mounting block that fits inside the sconce's base and bridges the gap between the fixture and the garage siding. Caulk the top and sides of the block's back and press it against the siding. Leave the bottom uncaulked so that any moisture that seeps in can escape. Pull the wires through from the receptacle box, connect them to the sconce, and secure the fixture. Finally, caulk around the sides and top of the sconce base where it meets the block, and the sides and top of the block where it meets the siding. Twist in a bulb, restore power, and flip the switch.
The Payoff: The garage takes up one-third of the average home's street-side facade, so even a small improvement makes a big impact. And by wiring the sconce yourself instead of calling an electrician, you'll save about $150 to $200.
11. Prevent Erosion with a New Wall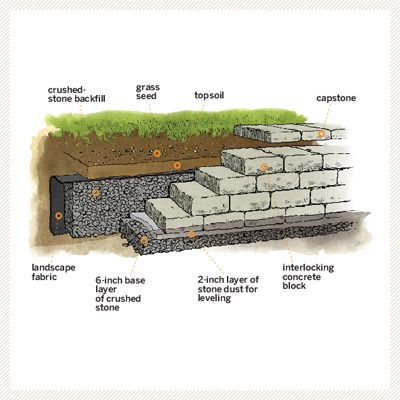 Why Now: Head off mini mudslides byterracing a slope, such as along a driveway, with a retaining wall. A small one (3 feet high, max) made from interlocking concrete blocks doesn't require you to hire a mason or rent an excavator.
How To Do It: Dig into the slope about 2 feet back from where your new wall will go, and line with landscape fabric. For the footing, create an 8-inch trench along the base of the wall and fill with tamped, crushed stone topped with stone dust. Stagger courses of the blocks, starting with half of the first course below grade. The blocks fit together like a puzzle, with construction adhesive applied between courses. As you build, backfill with crushed stone to keep water from building up behind the wall. Finish with capstones across the top.
The Payoff: A better-looking yard and driveway, plus a savings of about $30 to $60 per square foot by building the wall yourself rather than hiring a pro.
12. Put in a Screen Door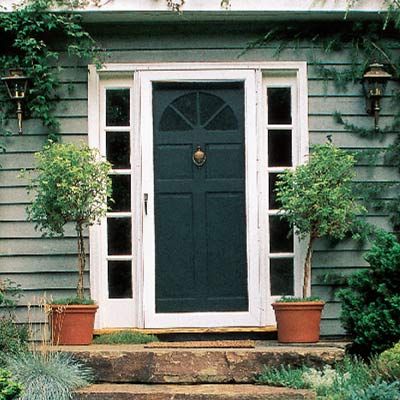 Why now: There's nothing lovelier than a gentle breeze wafting through the house on a balmy day. And by choosing an aluminum door with an interchangeable storm window, you can also save on heating costs come winter, especially if you have an older, uninsulated entry door.
How to do it: Measure your entry-door opening, noting which side the hinges are on, and choose a corresponding screen door. Check the fit before installing; you'll likely need a hacksaw to trim the base of the door's aluminum side pieces, called Z-bars, to match the slope of your existing sill. Secure the hinge-side bar to the screen door with the supplied screws, and steady the assembly in the opening. Push the bar against the jamb and secure with screws. Next, secure the top and latch-side bars to the jamb, and install the automatic closer and the door handle. Attach the safety chain, and seal around the screen-door frame with silicone caulk.
The Payoff Electricity-free ventilation in warm weather, plus a decrease in air leakage during cold months—up to 11 percent—when you swap the screen for a storm window.