Blah-Blah Land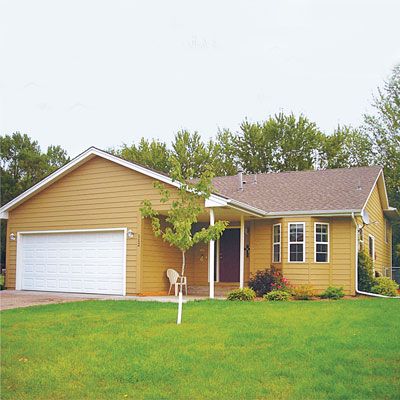 "I like my house, but I just find it kind of boring," says Lori Elsen of her 1991 ochre-color split-level in Delano, Minnesota, where she lives with her husband, Larry, and the youngest three of their five children. "I'd just like to see what could be done to spruce it up," she says.
After Photoshop Redo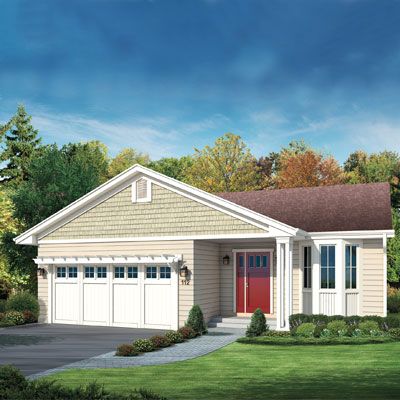 For inspiration, we went to architect Paul Hannan of SALA Architects, just down the road in Minneapolis. "I took the basic form and tried to use it in a way that adds character," Hannan says. To scale down the imposing gable, he separated it from the garage with a strong horizontal trim line and textured cedar shingles that contrast with the clapboards below. The garage gets Craftsman-style doors and a pergola for warmth and dimension. Hannan unified the bay of windows into one harmonious element with trim that echoes the garage doors'. He also jettisoned the metal porch columns in favor of one four-post column of his own design. Extending and dressing up the front walk makes for a more welcoming approach. And how do the Elsens welcome all the suggestions? "I know what I like when I see it," says Lori. "I love it."
Down to Scale
Architect Paul Hannan says a proper sense of scale is one of the big issues with the Elsen house: "You've got this gable over the garage that's looking at you, and it must be 16 feet to the top. Anything you can do to bring that down to a human scale makes it much more appealing."
High on Design, Low on Maintenance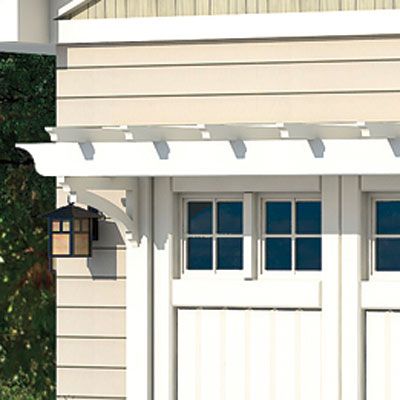 Trim made of a rot-resistant synthetic material, such as AZEK, cuts down on maintenance.
The Craftsman Style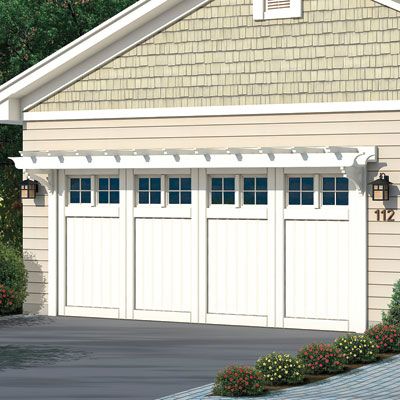 Hannan continued the Craftsman look with a garage door, the four-pane 5.04d from Minneapolis firm IDC. "We're paying homage to the Craftsman style, rather than bastardizing it," says Hannan.
By the Numbers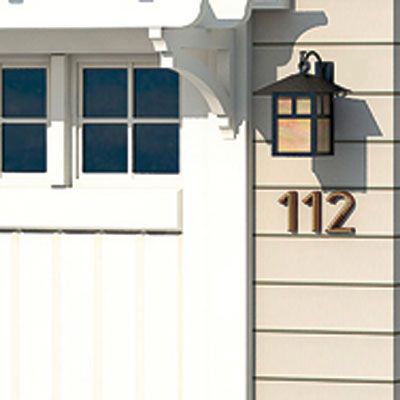 The 4½-inch-tall Avalon Modern house numbers, about $18.60 each from Atlas, fasten directly and cleanly onto the 6-inch exposure of the cedar clapboard siding.
Crafty Columns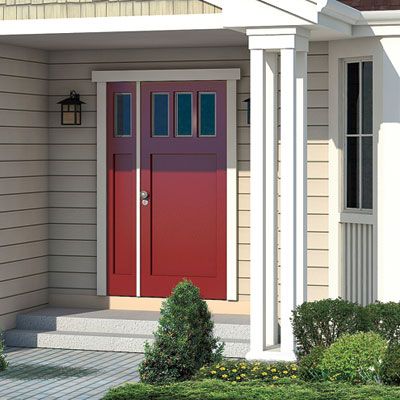 Architect Paul Hannan's simple and attractive post design features four 4×4 posts with a 4-inch gap between them. They reflect the Craftsman style and also provide an element of transparency that works well to project light from the bulb hidden under the trim at the top of the column.
A Welcoming Entranceway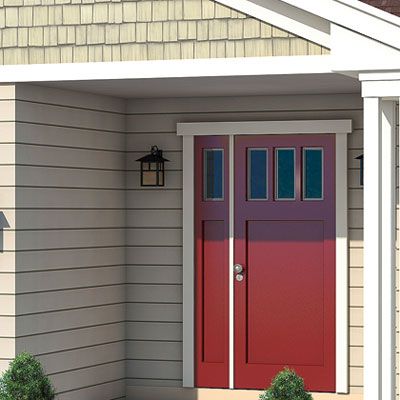 A beadboard ceiling makes the porch feel finished and gives you the sense that you're entering the home. "It makes the transition from outside to inside more elegant," Hannan says.
Finishing Touches: Brackets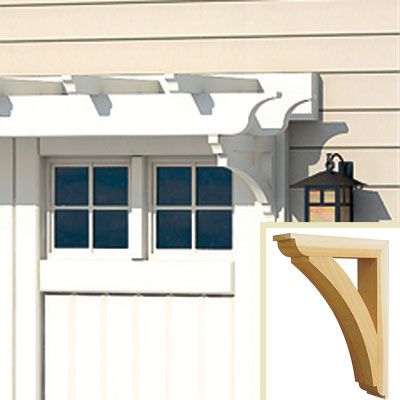 Just-right period accents provide a classic look without going overboard.
Painted cedar brackets create a foundation for the handsome pergola.
ProWoodMarket; about $60
Finishing Touches: Sconces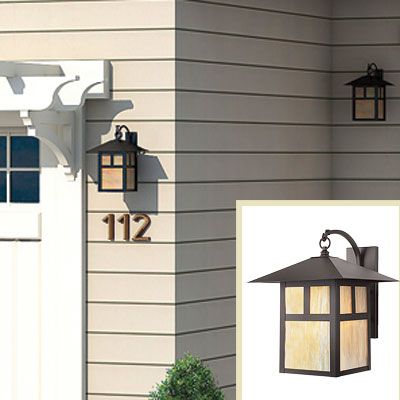 Mission-style sconces add another level of architectural detail.
Livex Lighting; about $200
Finishing Touches: Stain
A tan and gray palette trimmed in cream lightens the look.
Cabot; about $35
Finishing Touches: Door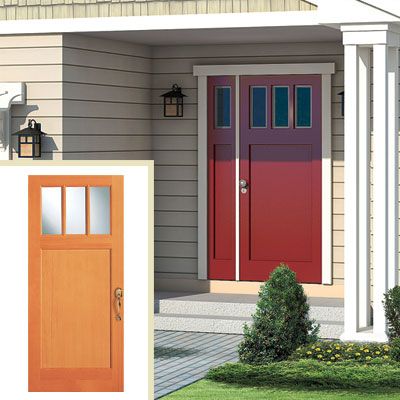 Nothing says welcome quite like a classic wood door painted bright red.
Simpson; from $600