Maximize Your Home Value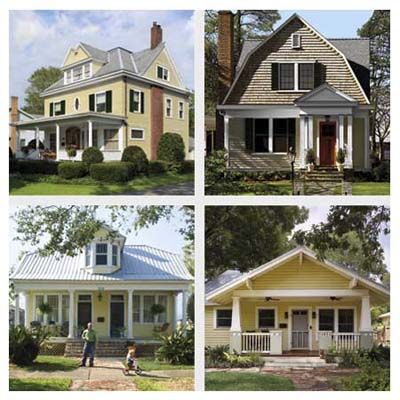 It's a back-to-basics economy, but that doesn't mean you should let your house be anything less than a pleasure to come home to. A welcoming exterior can put a spring in your step each time you climb the stoop. Adding the right elements can increase your daily comfort, too. Fixing up a front porch to lounge on during the hot summer months or swapping a failing roof for something new that's also maintenance-free makes your space more enjoyable—and shortens your to-do list.
Quality upgrades continue to add value. Home prices may have dropped, but the return on remodeling investments remains strong, according to the National Association of Realtors. Not surprisingly, exterior improvements still lead the pack in terms of biggest bang for the buck, with siding and windows paying you back over 75 percent of their cost upon resale.
But it isn't only major projects that make a difference. Whether it's investing in a good faux version of a real, and really expensive, material like wrought iron or switching in new hardware to freshen your front, the following pages are packed with small ways to spruce up your exterior on any budget. After all, there's never a wrong time to make your home more of a haven.
Enhance the Architecture: Before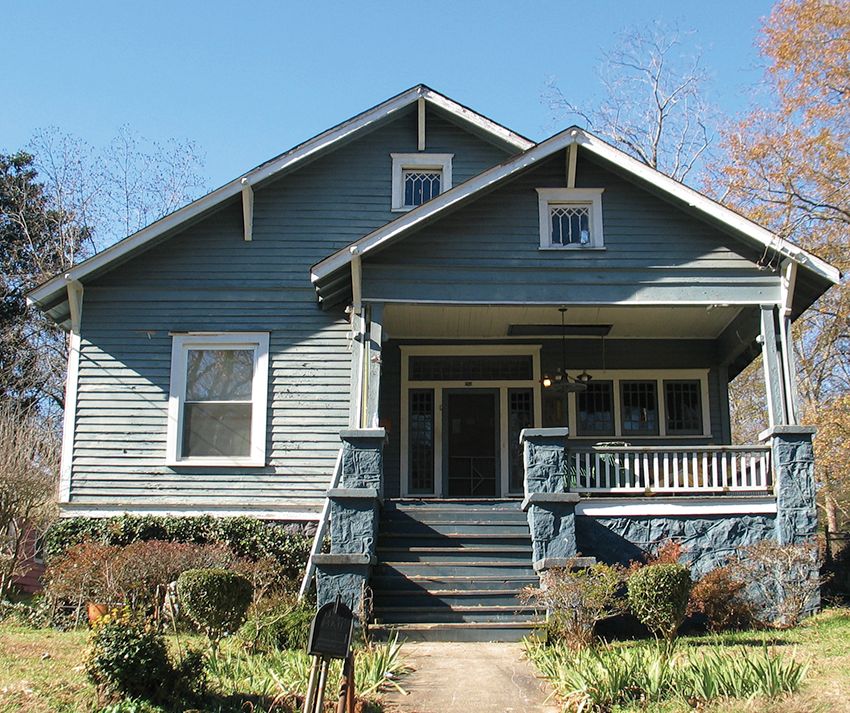 Exterior paint doesn't hold up well in Atlanta's double whammy of heat and humidity, but slathering one coat on top of another almost guarantees its life span will be cut short by flaking. Putting new latex paint on an older house that likely has oil paint somewhere underneath is sure to spell trouble.
Enhance the Architecture: After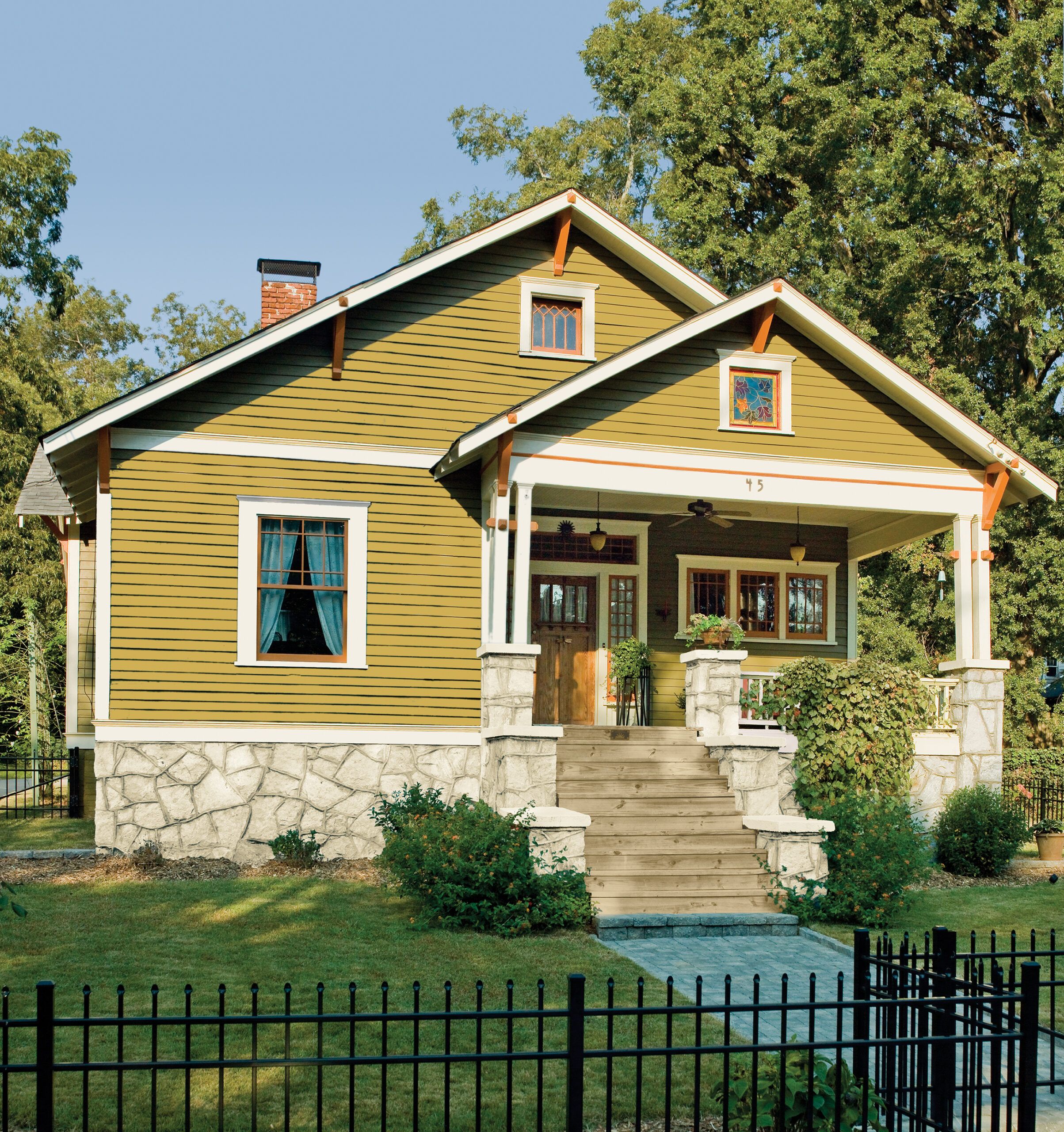 So the first thing local contractor Kara O'Brien did on this 1912 Craftsman was strip its clapboards of their 10 layers, prime them, and put on two new coats of period-appropriate green with cream on the trim. Then she used a terra-cotta color to highlight key architectural elements that had receded into the background in the old blue-and-white scheme. "It's a surefire way to draw your eye to the details, like the windows, brackets, and faux tenons," says O'Brien. Sandblasting paint from the granite foundation and repointing its thick decorative mortar seams cost $1,800—one-third the price of stone veneer.
What's it worth? A new divided-light wood window was installed to the side of the porch. It should last 30 years or more. The homeowners can expect to recoup up to 77 percent of the cost of their upgrade if they sell.
Enhance the Architecture: More Ideas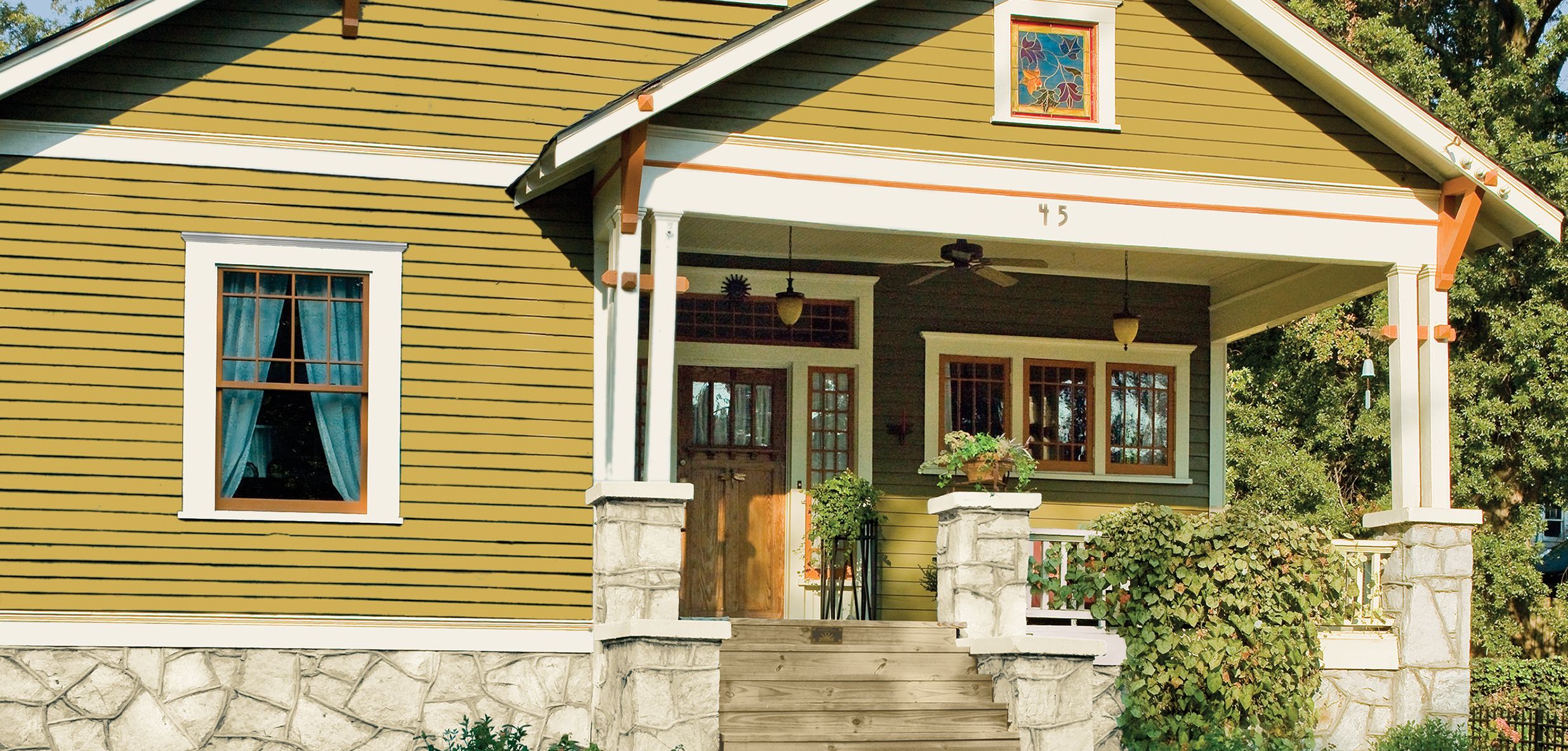 Save 50 Percent
Get a salvaged solid-wood door for half the price of a reproduction.
Big-Box Bargain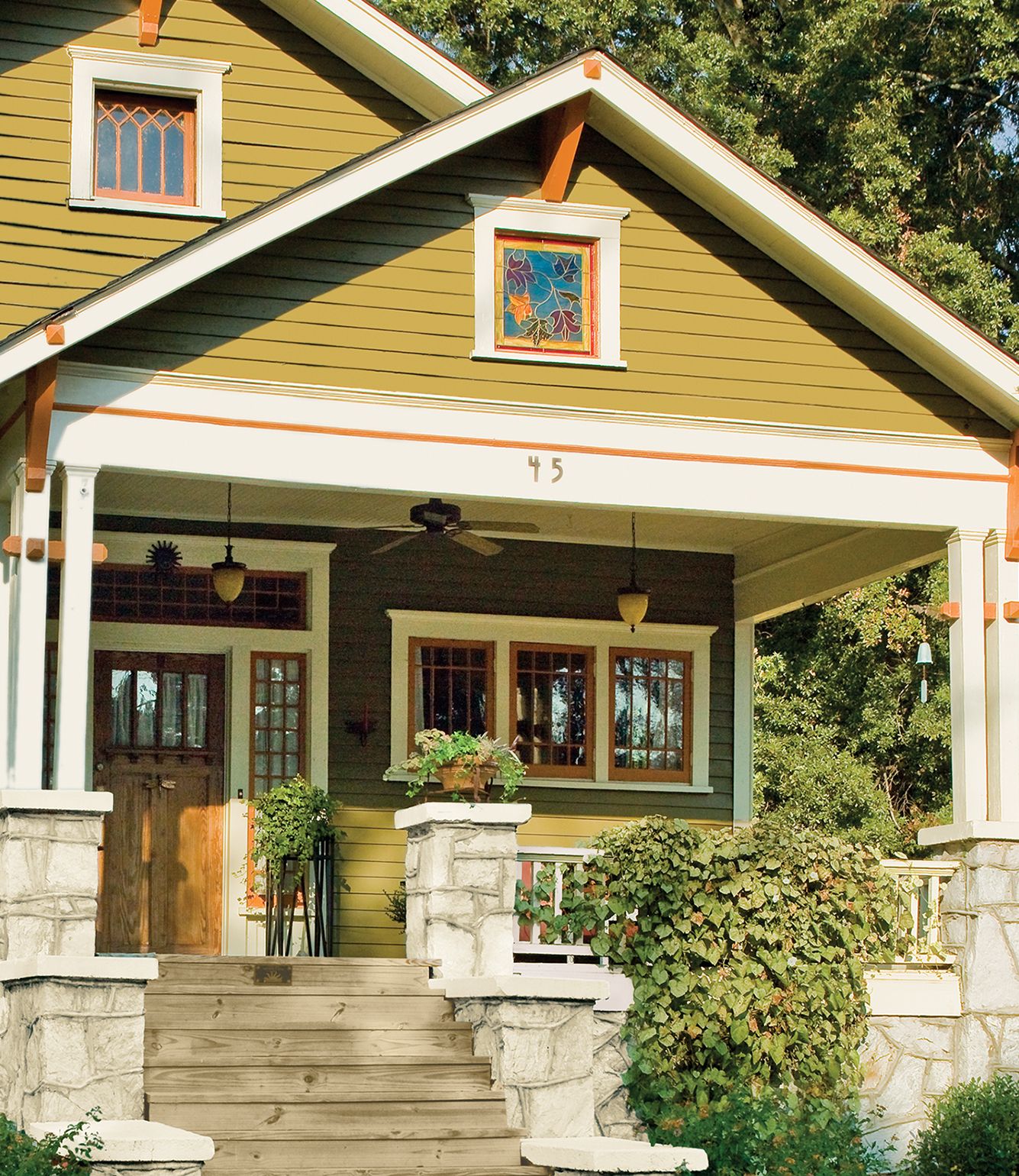 These vintage-look lights were $80 at a home center.
Half the Cost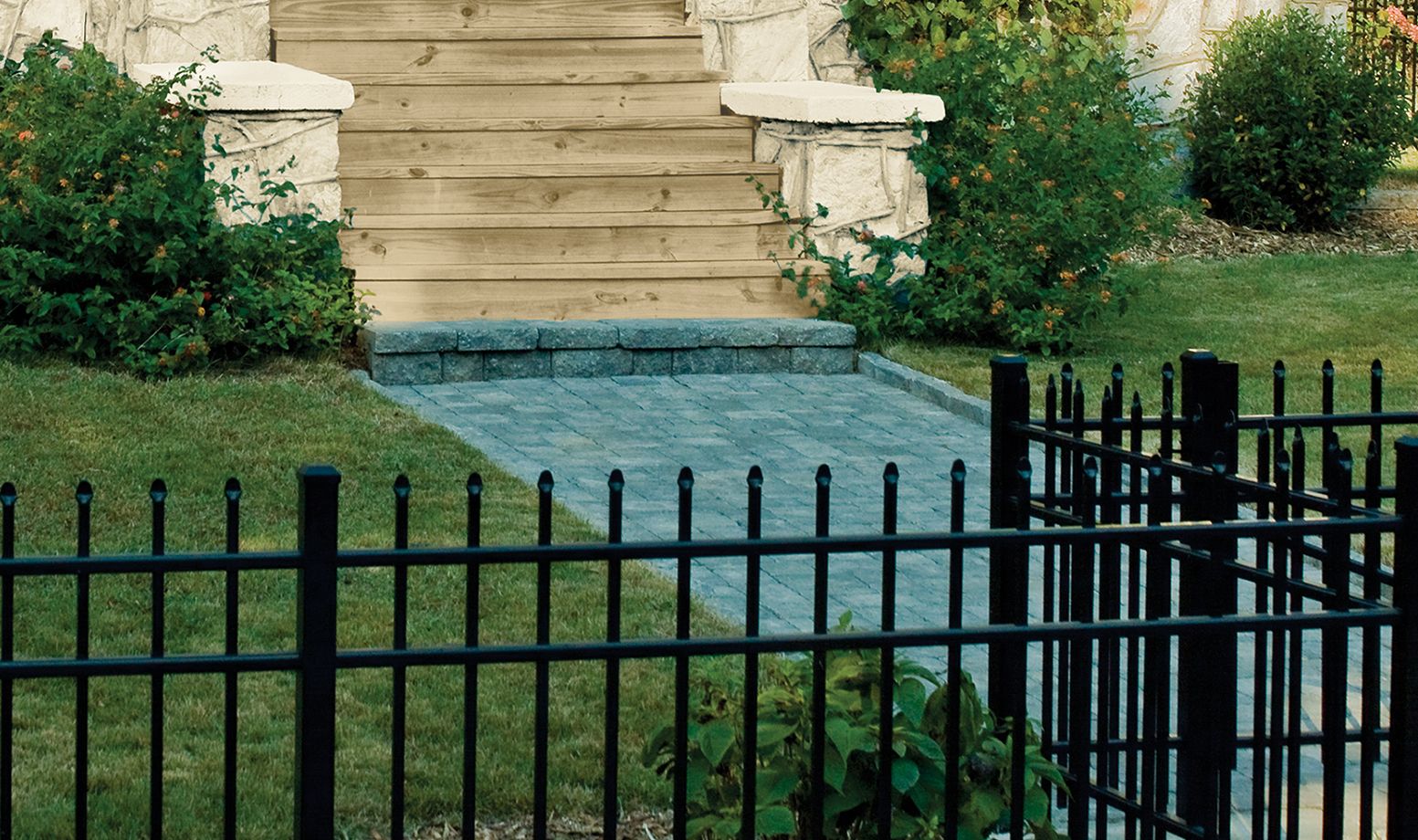 A rust-resistant aluminum fence imitates wrought iron for a lot less.
Polish with Paint: Before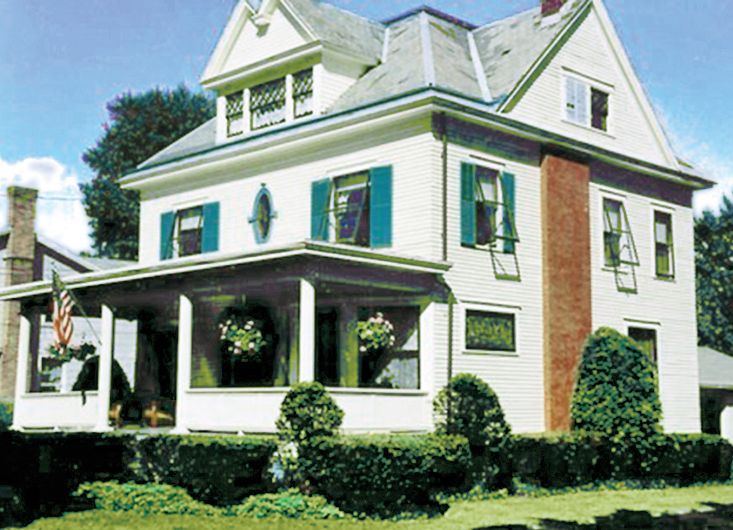 To keep the project manageable, the owners of this Seneca Falls, New York, home decided to redo their exterior in stages. "We had admired yellow houses with white trim and dark green shutters," says Barb Reese, so she and her husband agreed that their first priority was to overhaul the intense teal hue trimming the white facade.
Polish with Paint: After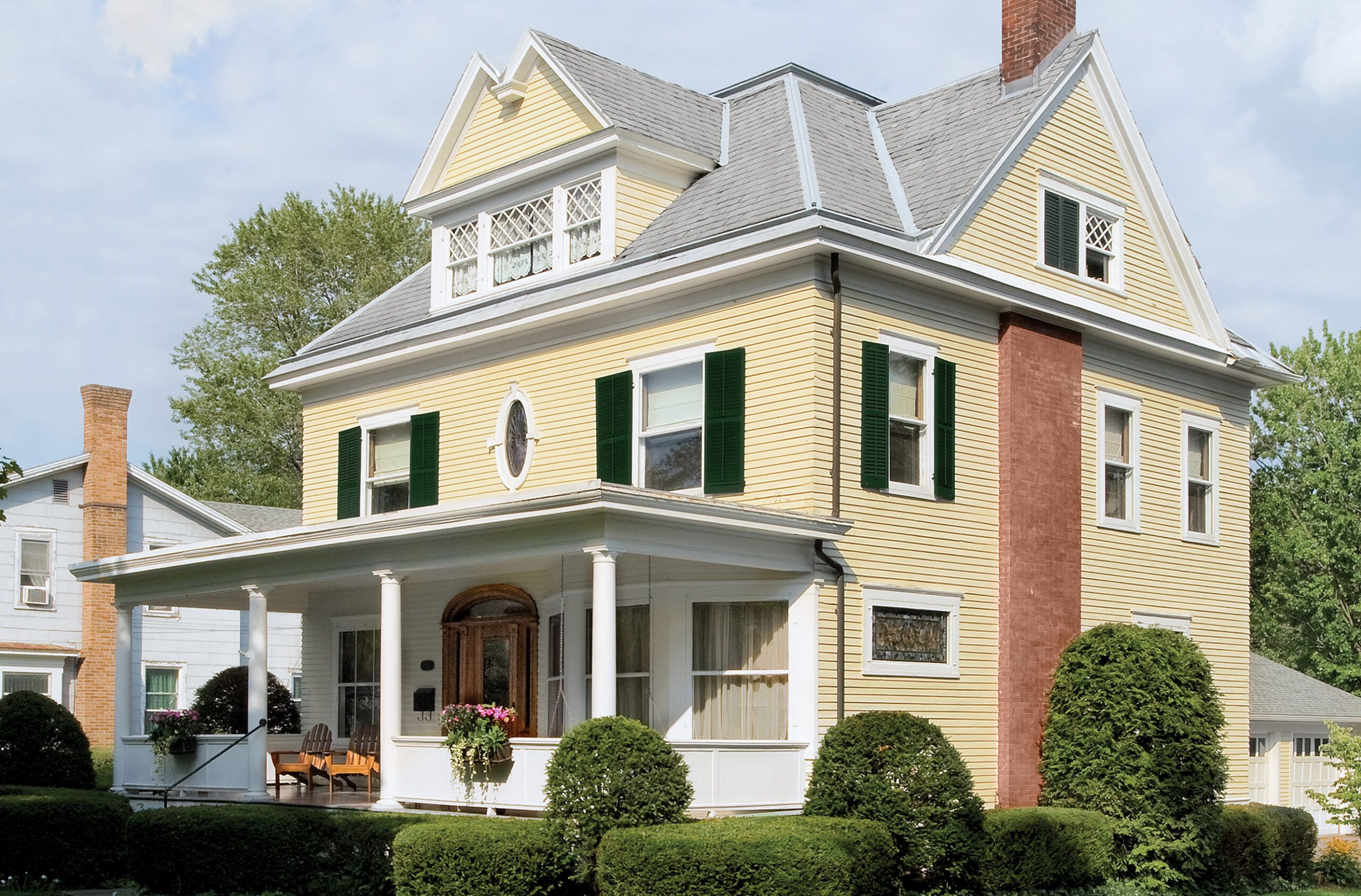 Since painting the fascia board in a contrasting color really works only with elaborate house styles such as Carpenter Gothic or Second Empire Victorians, they turned the aqua band running around their house to a light gray that blends in with the slate roof. With the clapboards now a creamy yellow and the shutters a hunter green, the 1905 Colonial Revival has reclaimed its charm.
What's It worth? A good paint job should last 10 to 15 years, so it's never a good idea to skimp on quality. With clapboards, be sure to prime dry wood and use top-of-the-line products that have additives such as mildewcides and defoamers. Homeowners can recoup up to 75 percent of their cost if they sell.
Polish with Paint: More Ideas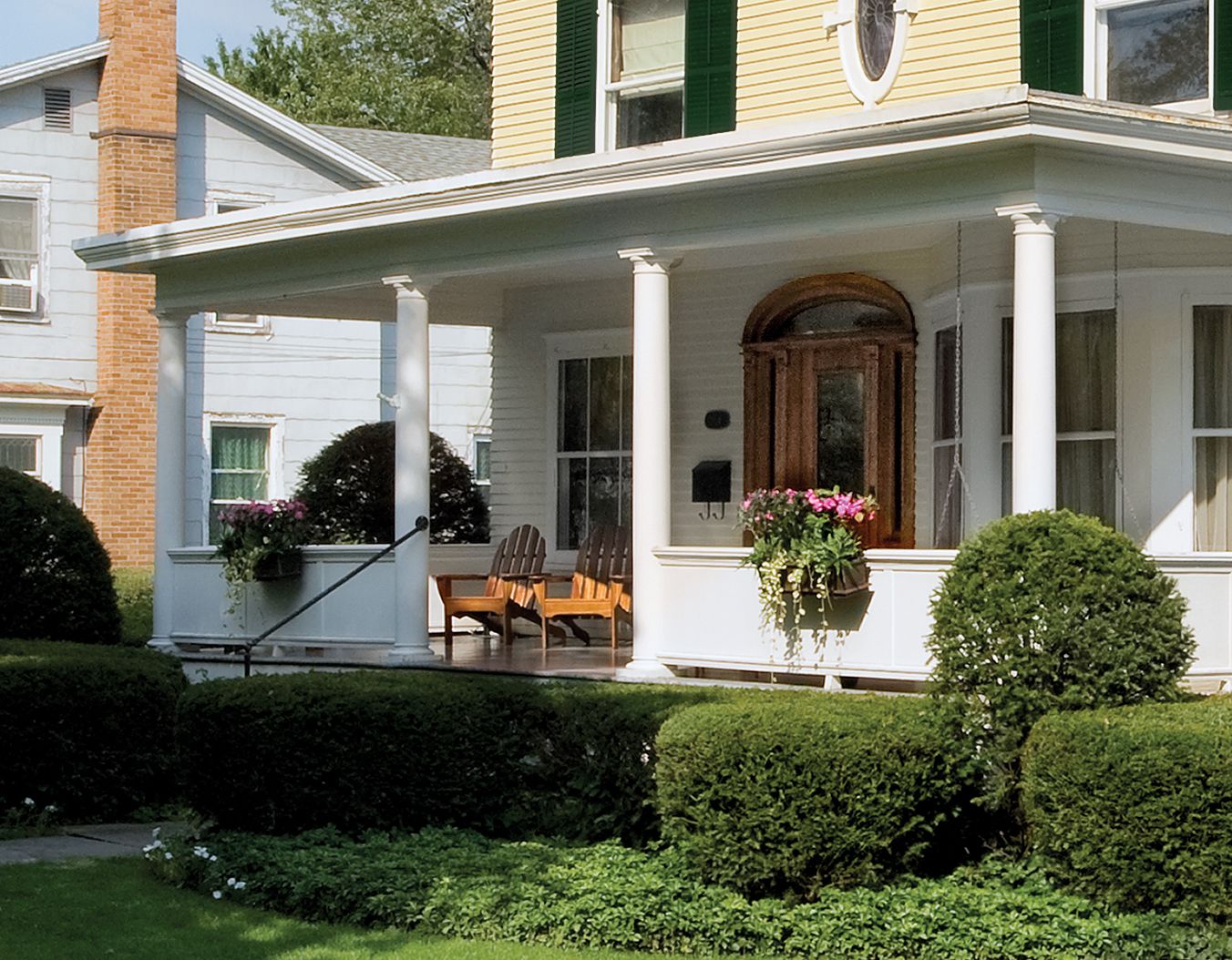 Mount Porch Planters
Mounting $25 porch planters is a quick way to add color and interest.
Save on Shutters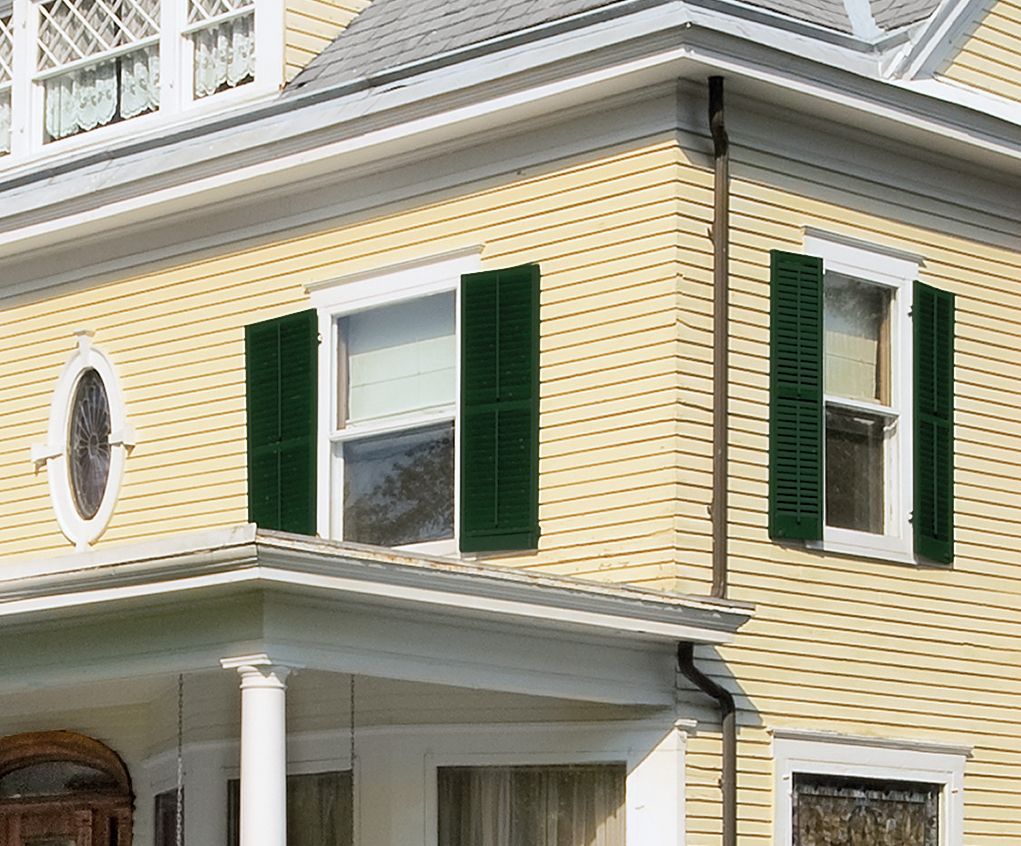 Save up to $80 on wood shutters by ordering them unprimed.
Clean up a charmer: Before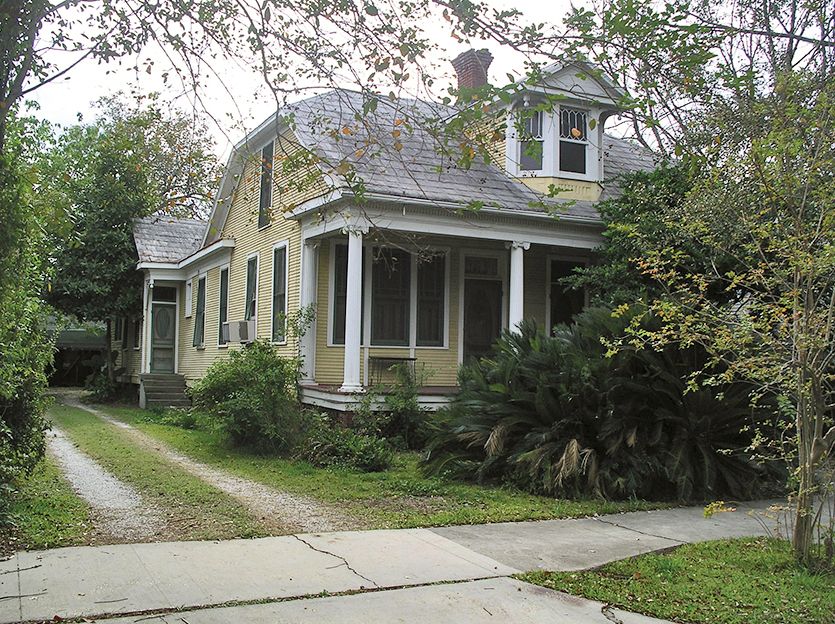 When homeowner Doug Shaffer and his wife first saw this abandoned 1852 home in the downtown historic district of Baton Rouge, Louisiana, they knew it was just the place to raise their daughter. But first Doug had to tame the overgrown brush with a chain saw to reveal the home's two front doors, a common cooling feature in the region's Creole Cottages.
Clean Up a Charmer: After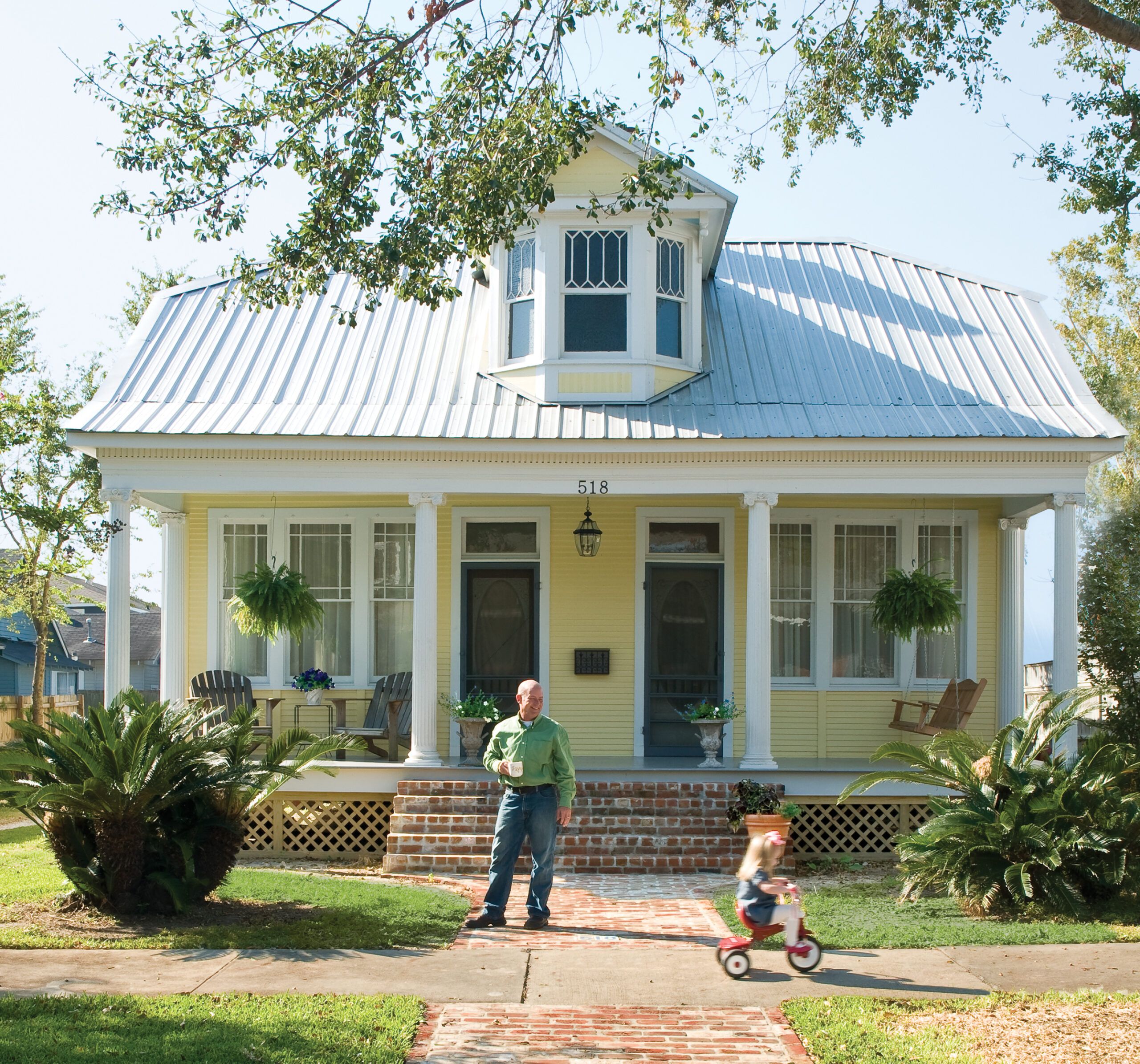 He stripped the old oak doors, rebuilt the water-damaged porch with tongue-and-groove pine, and repainted the whole house a brighter shade of yellow. Brick salvaged from a demoed fireplace and backyard path make up the new stoop and walkway. "The character of the house is just happier, more comfortable, and more welcoming now," says Doug.
What's it worth? The failing roof was replaced with standing-seam metal for $12,000—one-sixth of the $73,000 cost to put up reproductions of the original stamped-tin shingles. It offers a similar look and should last 50 years or more. Homeowners can expect to recoup up to 65 percent of the cost if they sell.
Clean Up a Charmer: More Ideas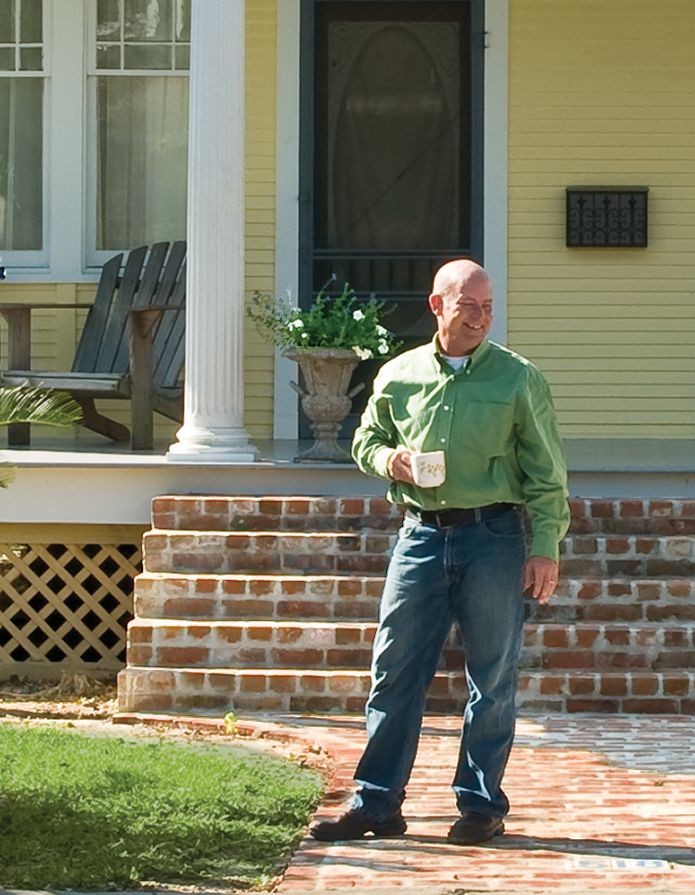 Save on Paving
Deduct $5 per square foot on paving costs by using salvaged bricks.
Finish the Porch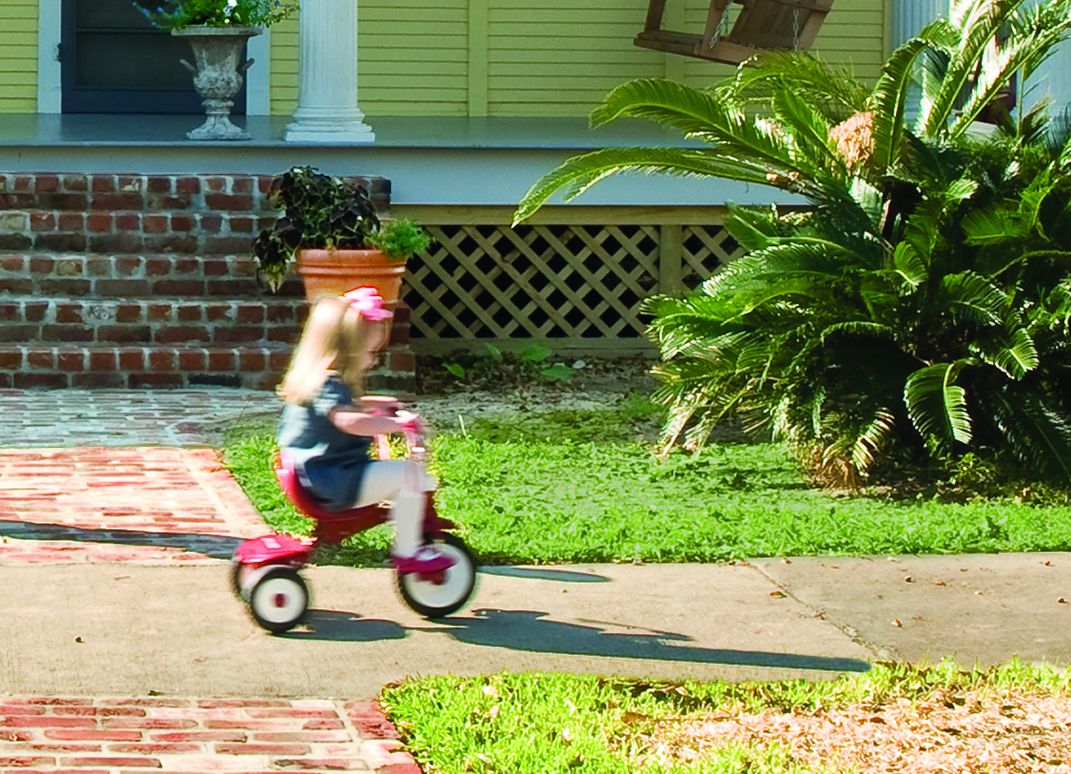 Finish the gap under a porch with decorative lattice for just $35 per 4-by-8-foot panel.
Revisit the Past: Before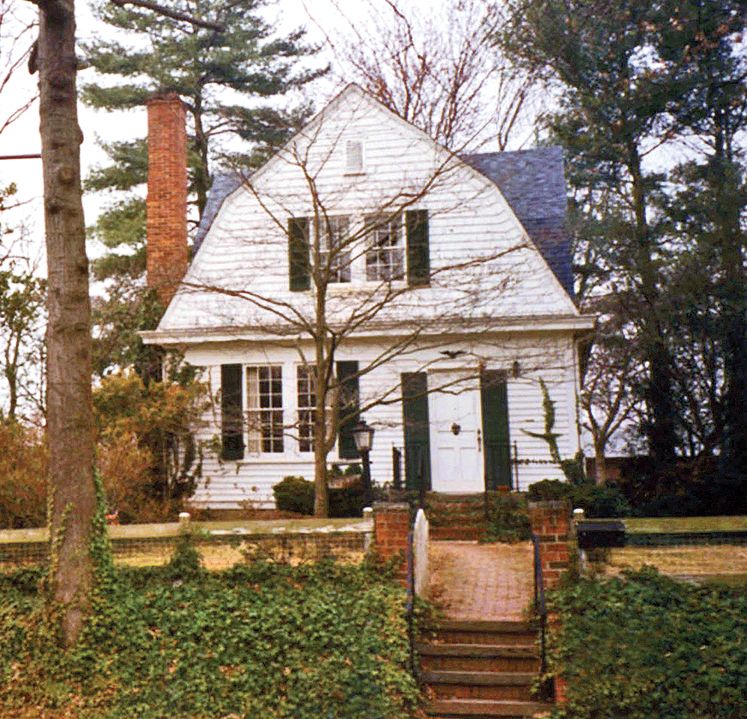 Sometimes the biggest change one can make to a house is to bring it back to its original state. "The paint scheme just didn't do the house justice," homeowner and architect George Myers says of the more modern blue and white adorning his 1894 Dutch Colonial Revival, in Kensington, Maryland.
Revisit the Past: After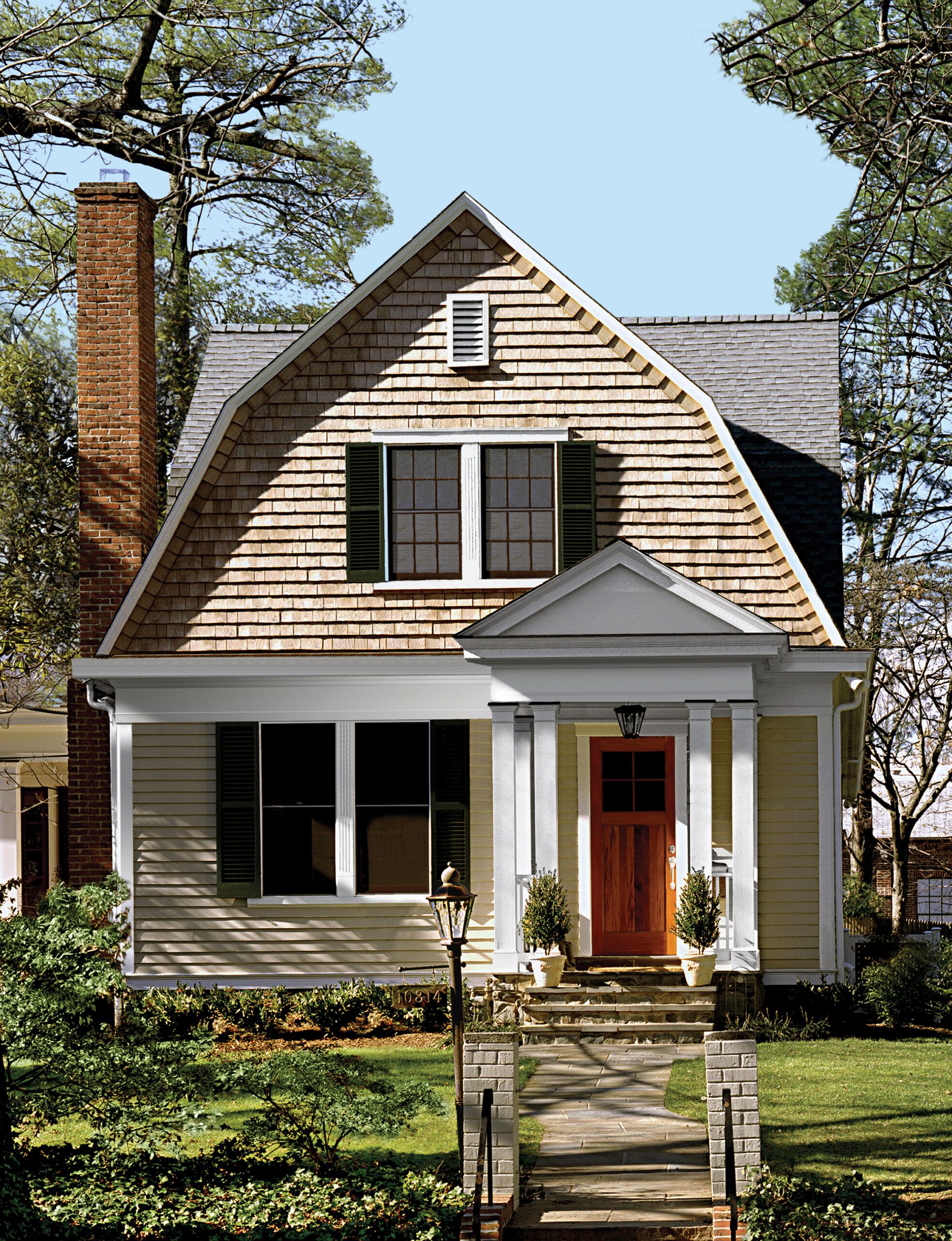 So he reshingled the gable with natural cedar shakes and used a historically appropriate beige paint on the siding below, as well as the brick columns in the front of the yard. A reddish-brown mahogany door pops against the earth-toned hues, naturally drawing your eye into the house. Helping the effect is a new columned portico that frames the entrance. Having an ample overhang—about 4 feet deep—offers valuable protection from the rain when fumbling for keys and also helps lengthen the life span of a wood door by sheltering it from the elements. The stoop was rebuilt to match the fieldstone foundation, while flagstone pavers replaced the old brick path.
What's it worth? A new solid-wood entry door complements the home's architecture and should last a lifetime. Homeowners can expect to recoup up to 100 percent of the cost if they sell.
Revisit the Past: More Ideas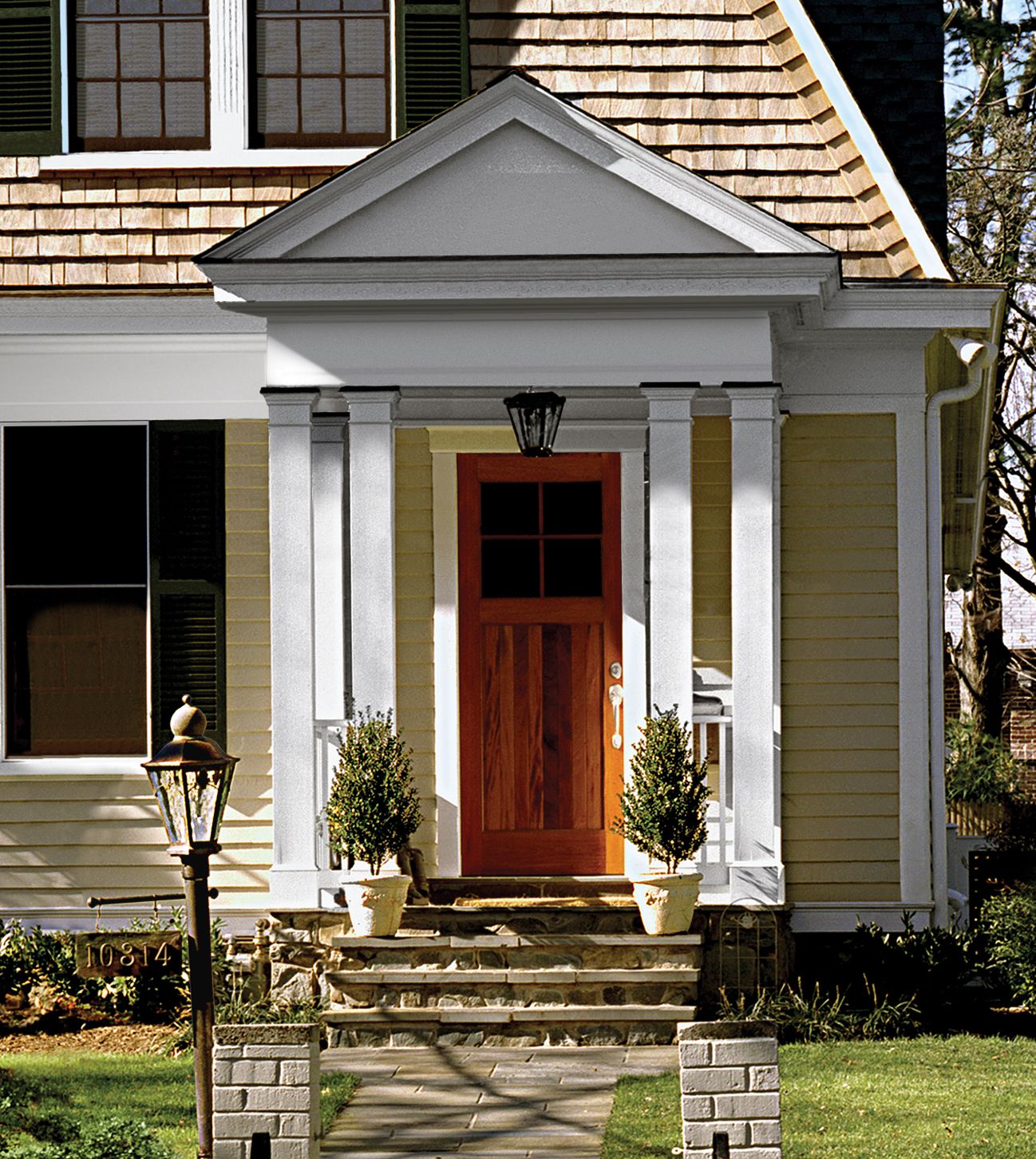 Decorative Planters
For under $50, you can refresh the look of your entry with a pair of decorative planters.
Work the Angles: Before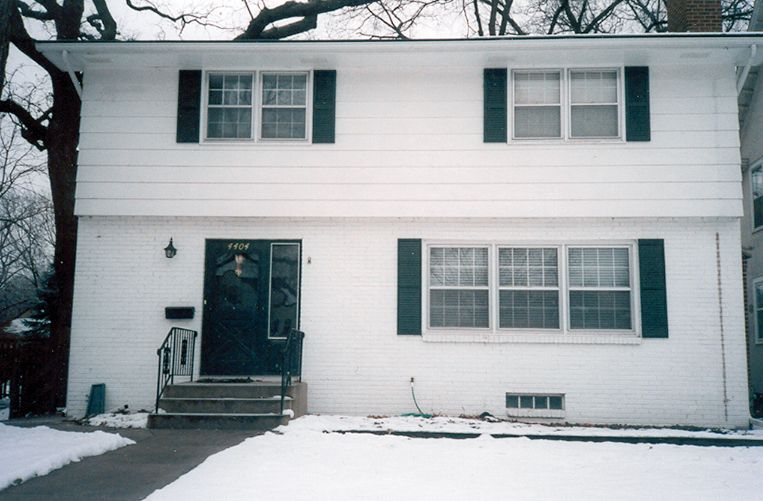 The boxy, stark white 1960s home in Minneapolis stood out from its neighbors for all the wrong reasons. "The front of the house was really flat and needed a more gracious transition," says architect Jean Rehkamp Larson. First on the list was adding a new front porch to provide shelter from the elements. The homeowners considered adding another floor above it but didn't really need the space.
Work the Angles: After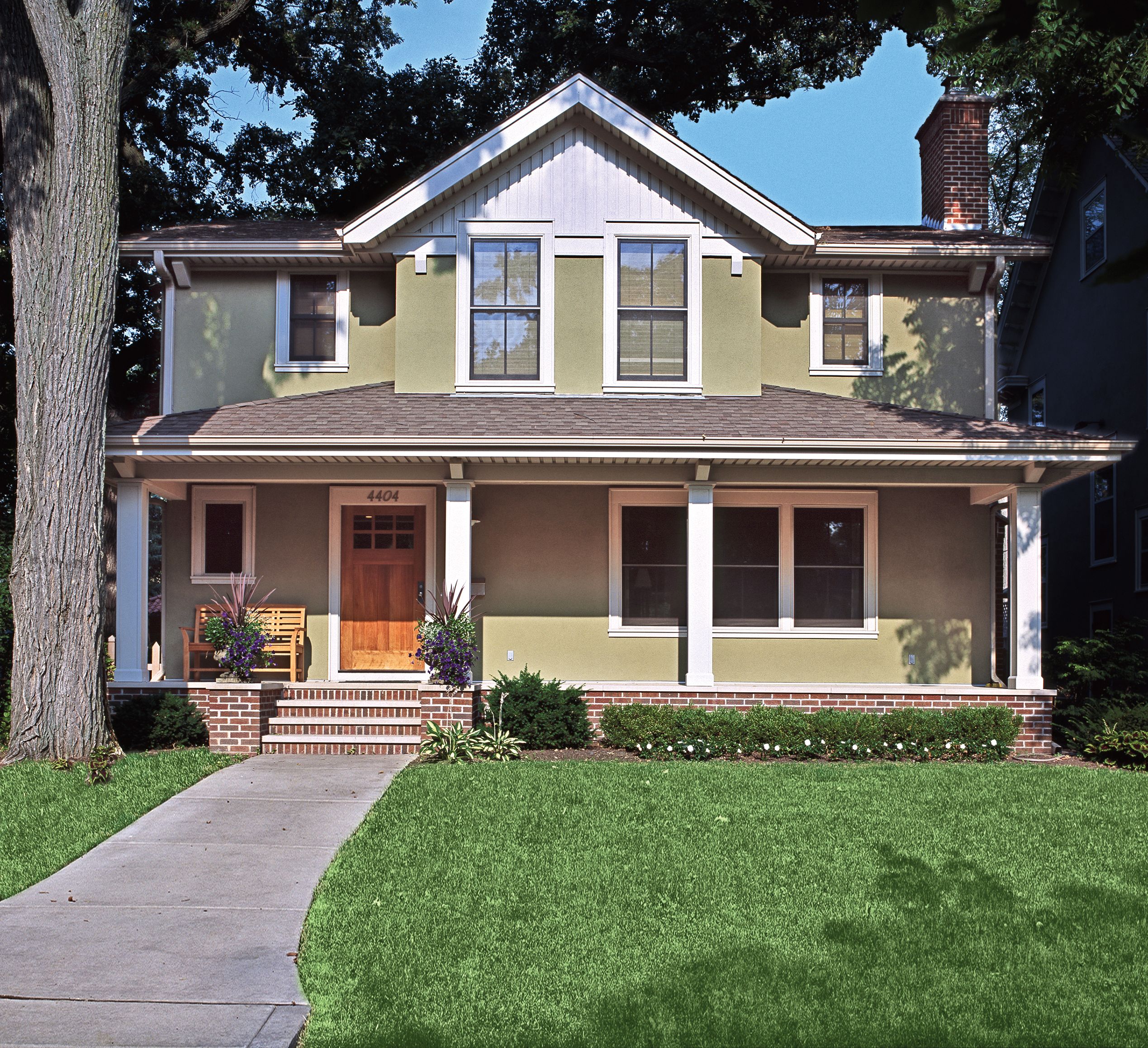 So they chose the easier and less expensive option of putting on a front gable. Bumping forward 2 feet—just enough to add window seats to the second-floor bedrooms—the dormer adds depth and height while keeping the roof's original ridgeline intact. Faux brackets and new windows highlight the home's updated symmetry, while a triangle of board-on-board siding under the eaves adds texture and character to the now stuccoed, sage-colored home.
What's it worth? Stylish, durable architectural asphalt shingles, which are thicker and more substantial looking than regular three-tab ones, were used to reroof the house. They should last 20 years. Homeowners can expect to recoup up to 63 percent of the cost if they sell.
Work the Angles: More Ideas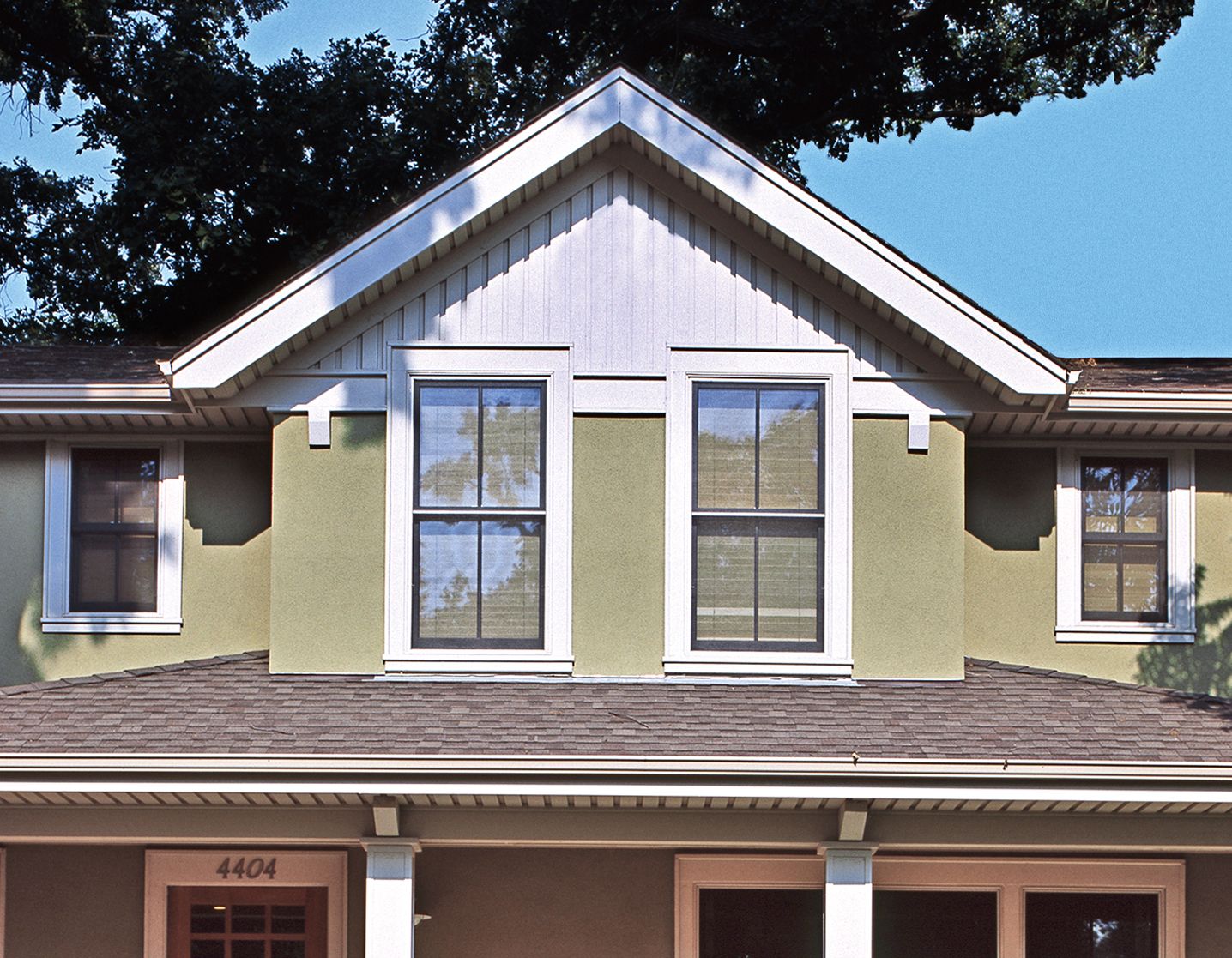 Energy-Efficient Windows
Adding energy-efficient windows can save up to $400 a year in utility costs.
Address Number Saver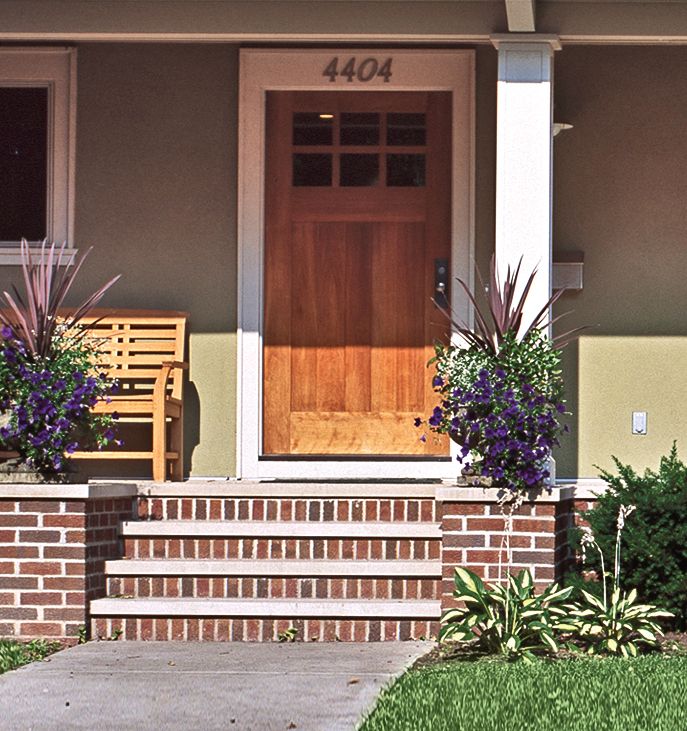 Paint on address numbers and pocket at least $5 per digit. Be sure to use bold strokes.
Put on a Porch: Before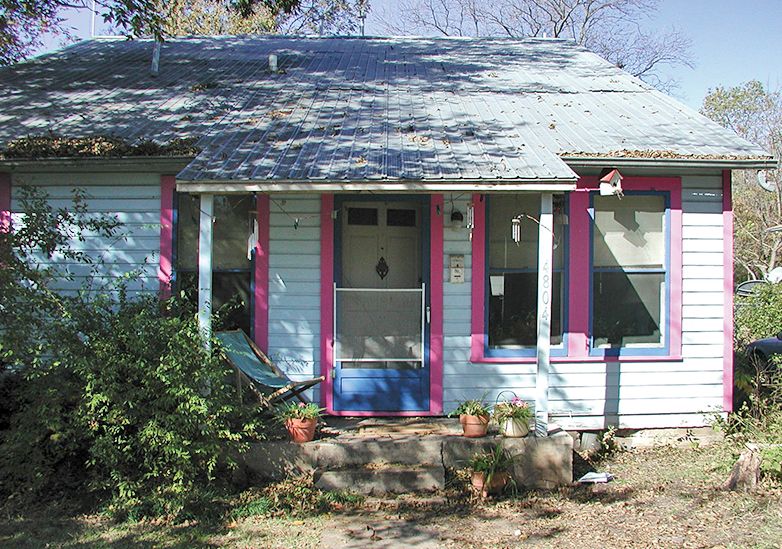 Keeping cool is an important pastime in Austin, Texas, which is why adding a porch was a priority for Aida Pollard's new home. With the help of architect Stewart Davis, she turned the humble cottage into a Craftsman-inspired oasis. The gabled front porch gives the old roof new dimension and adds visual interest. White trim and tapered columns with pale green bases complement the now yellow clapboards.
Put on a Porch: After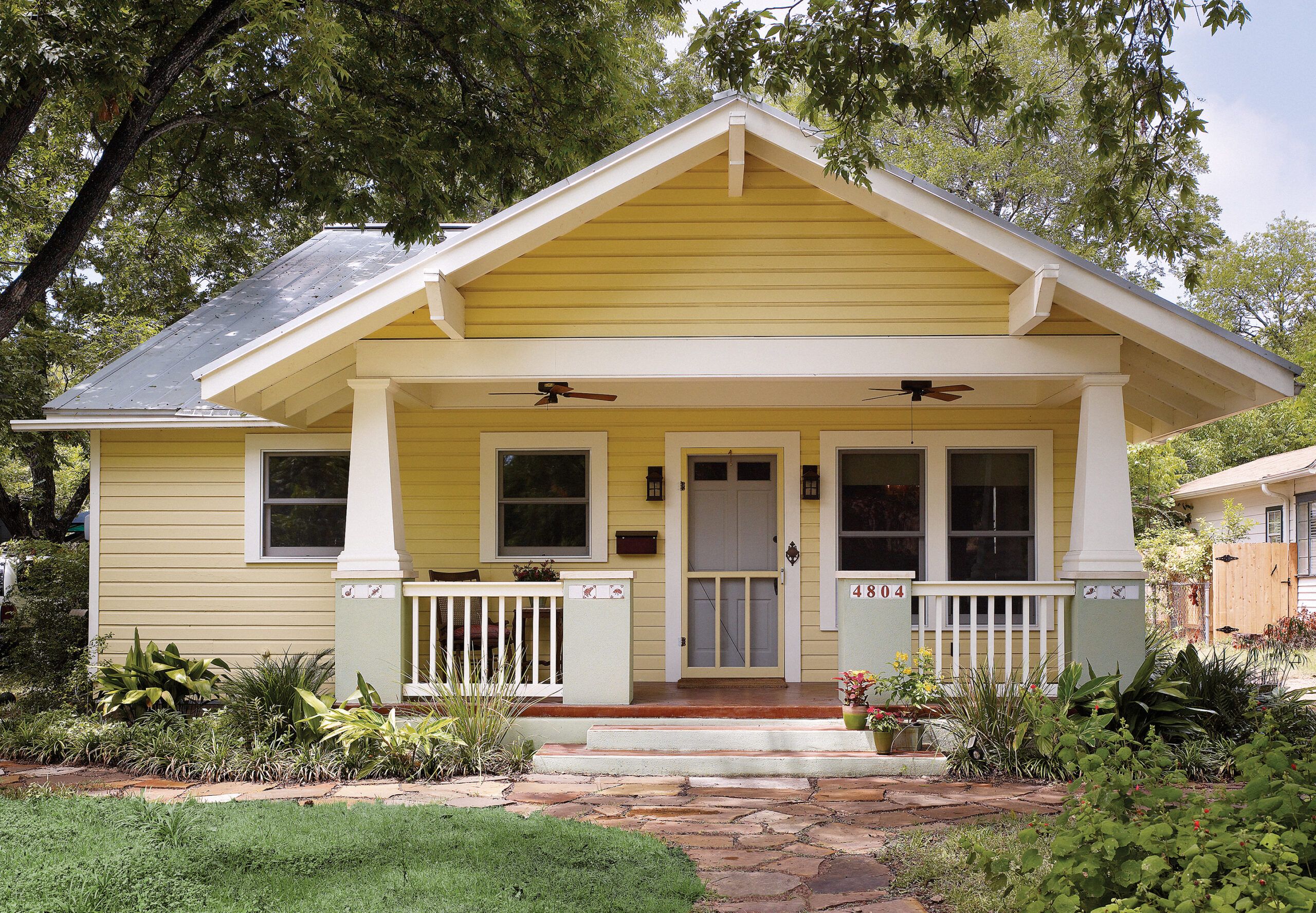 The terra-cotta-stained concrete floor stays cool, while two large fans create a breeze in the 20-foot-wide, 7-foot-deep space. Limestone pavers make a rustic walkway that leads to wide, welcoming steps. Aida also planted drought-resistant plants such as zoysiagrass and ginger out front. "People do a long stare when they pass by," she says. "I'm really proud of it."
What's it worth? A well-kept yard with lush, low-maintenance landscaping and a new sprinkler system that will last up to 25 years can bring great returns. Homeowners should expect to recoup up to 300 percent of their cost if they sell.
Put on a Porch: More Ideas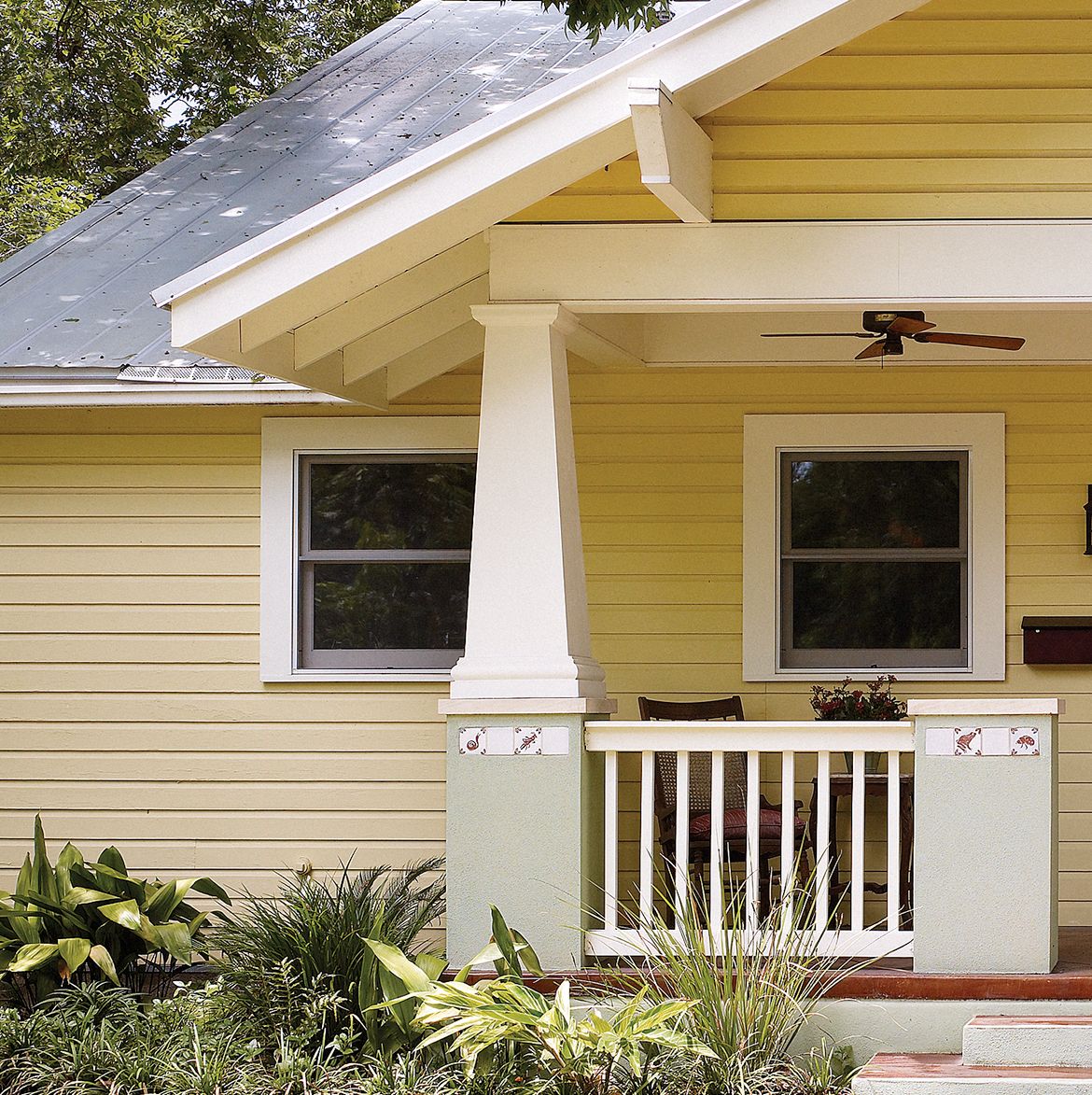 Fiberglass Columns
Use fiberglass columns for an easy-care, low-cost alternative to wood or masonry.
Cut Water Costs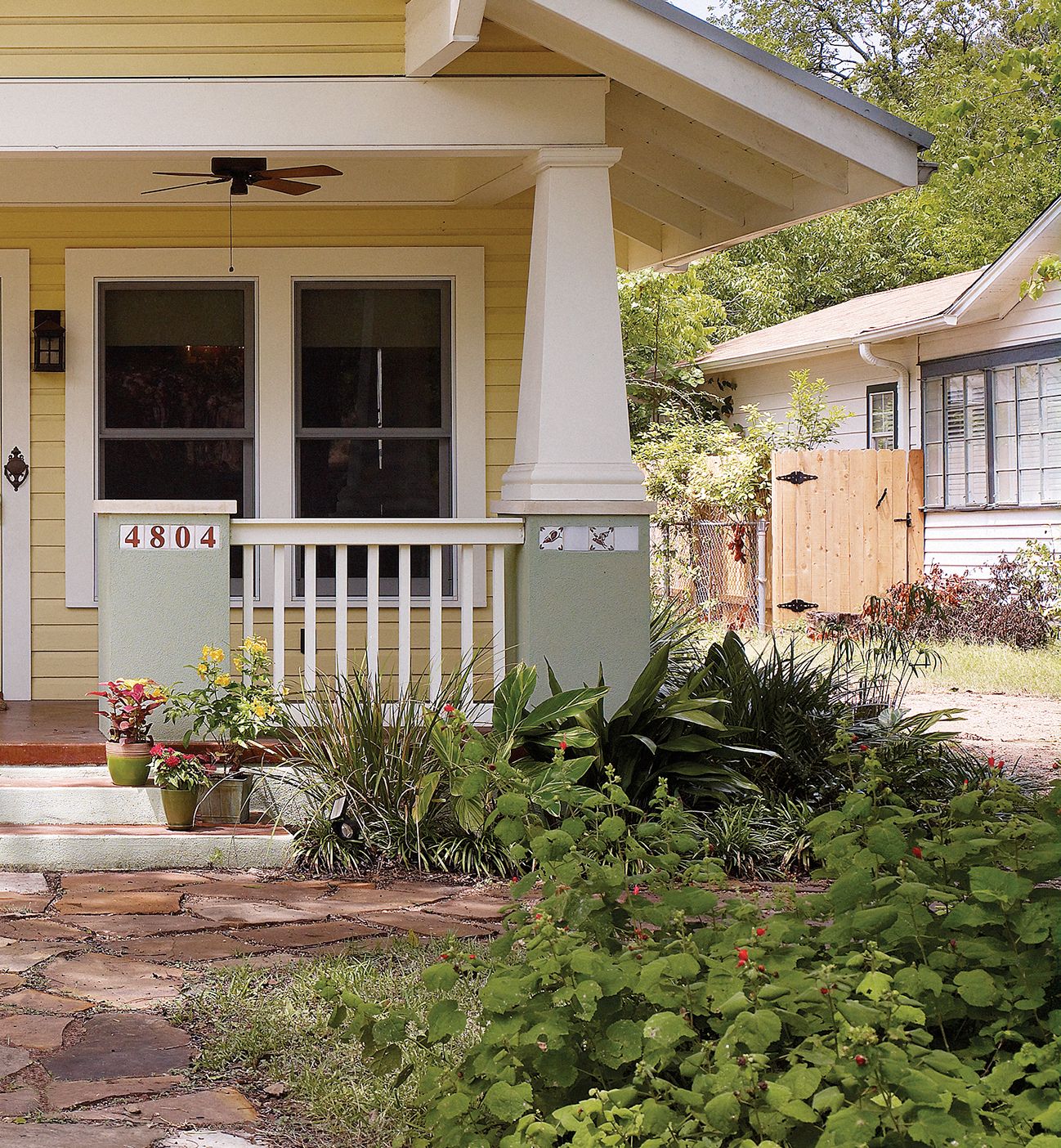 Cut water costs by two-thirds with drought-tolerant landscaping.
Playing Up to the Entry: Double-Up Entry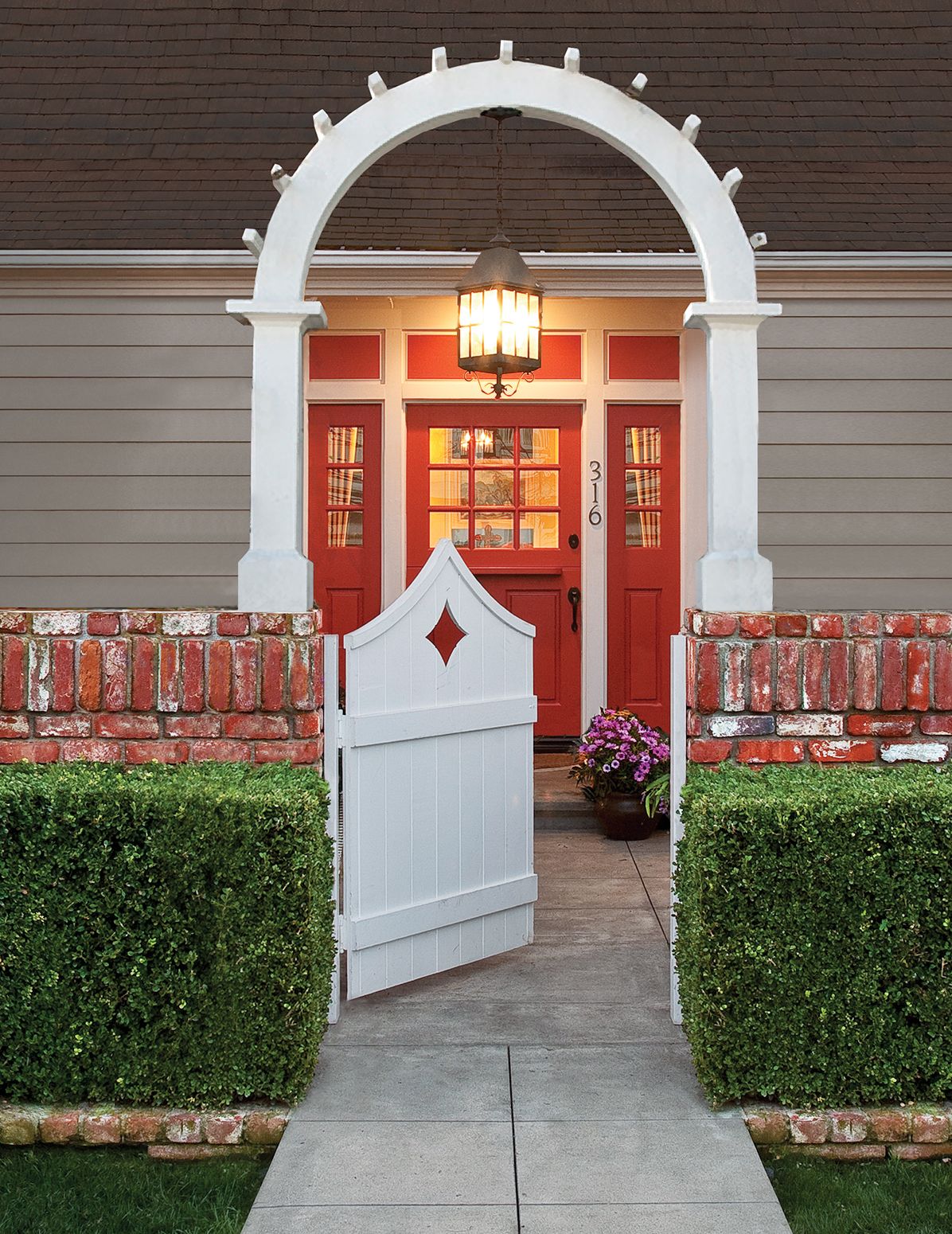 "Your home doesn't start at the front door," says landscape designer Julie Moir Messervy, author of the new book Home Outside. "A well-designed entry should have layers of elements that extend a welcome from the curb to the stoop." We asked Messervy to tell us what makes these three exteriors so effective.
"The archway frames the front door, pointing the way inside, and picks up the white trim on the house. When the gate is closed, it forces visitors to slow down and appreciate the details, including the gate's pointed top, diamond cutout, and the lantern overhead. The red door and sidelights pick up the brick walls, which are softened with greenery. Continuing the walkway's paving into the courtyard also helps reel you in toward the door."
New Lamppost Look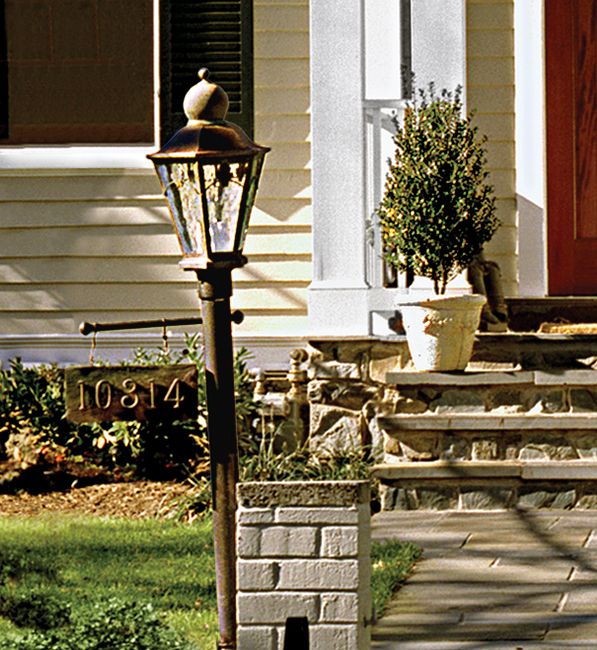 Replace just the head of a lamppost for a new look ($50) or change just the base ($6).
Playing Up to the Entry: Open Symmetry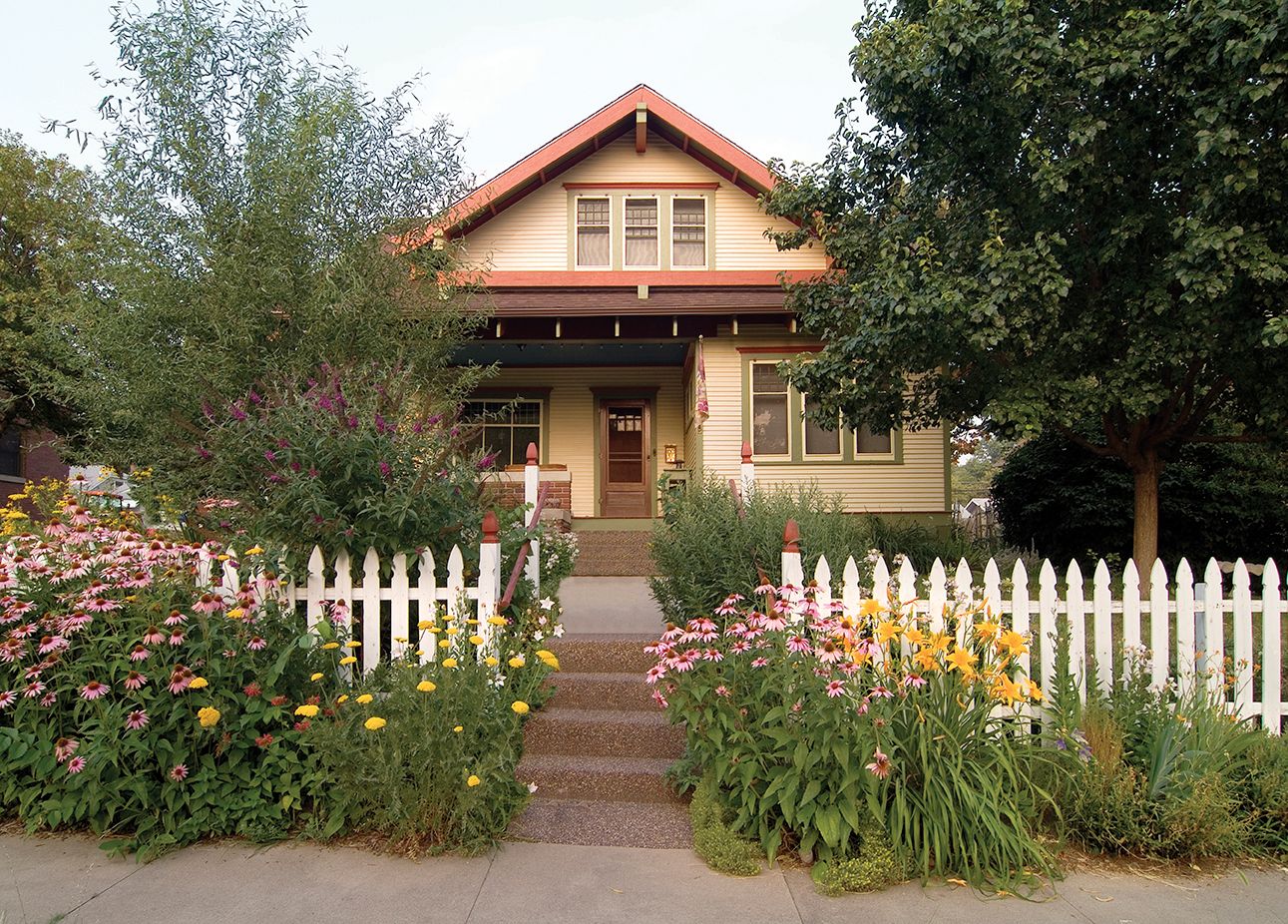 "The open picket fence is really an extension of the informal architecture of this bungalow. Rust-colored finials pick up the home's trim, while all the greenery complements the home's olive accents. Having bright perennials spill out in front of the fence is a fun, unexpected touch that complements and softens the pickets and posts, which frame the entry year-round. The design lets passersby enjoy the garden from the curb—a friendly gesture that entices people into your home."
Playing Up to the Entry: Winding Curve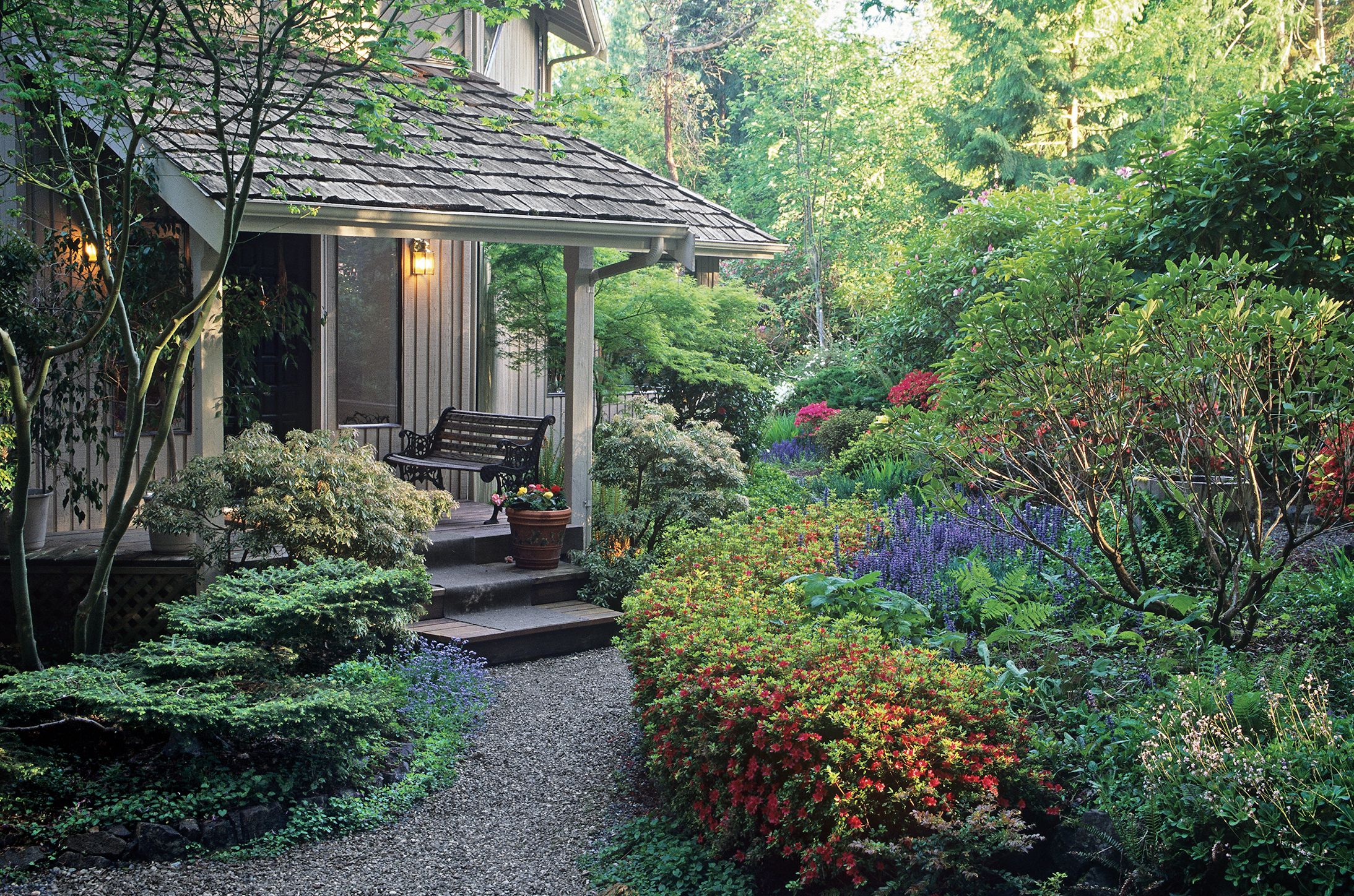 "Here the landscape looks like it has grown up around the house naturally. It's hard to tell what's cultivated and what's not. A limbed-up tree to the left seems like a natural imitation of the home's columns, and since the red, blue, and yellow flowers are scattered about, instead of situated in one place, the design looks organic. The rounded garden beds subtly push you toward the entry. With the roof's steep overhang, the simple bench is a nicely protected spot to put down packages before unlocking the door or to sit and enjoy the garden."
Money-Saver: Yes, it can cost thousands to have a landscape architect design your front entry. But for under $100, you can have a pro review your DIY plans to point out any potentially bad moves.