Go for Color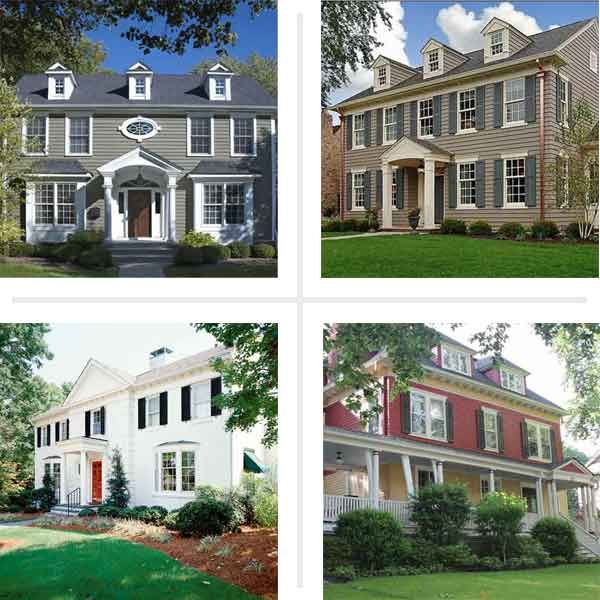 White with black shutters is the tried-and-true paint scheme for this late-19th- and early-20th-century house style. And while it's a classic, there are countless other period palettes to choose from, as well as new color combos that are simply inspired by the past. Here are some of our favorites.
The Original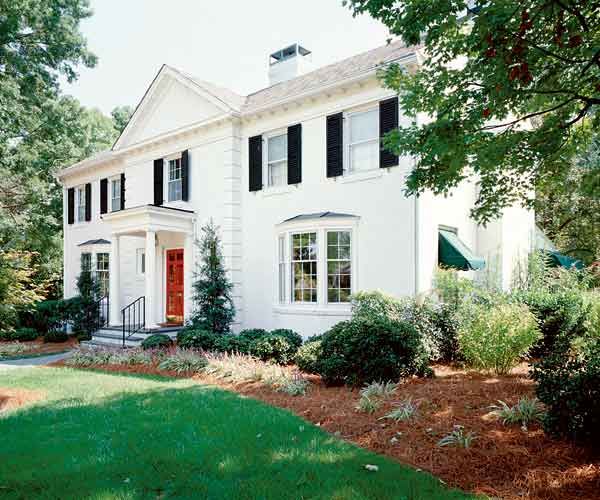 A splash of red against a traditional white-and-black backdrop focuses attention on this home's elegant, portico-covered entry.
Shown: Silver Sky (body), Deep Space (shutters); Awning Red (entry door), from Sherwin Williams.
Rich and Warm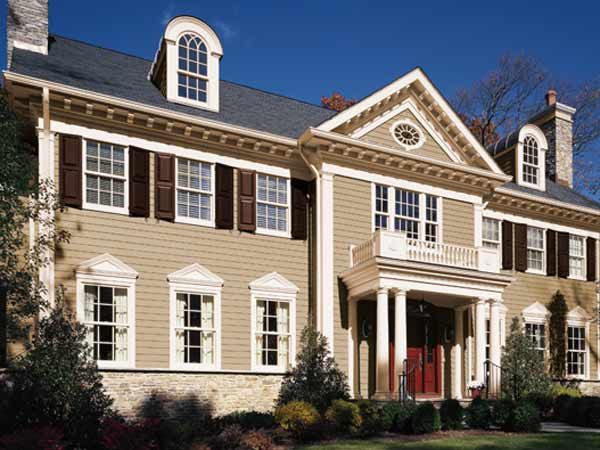 An earthy shade of beige on the clapboards is accented with chocolate-brown shutters and a brick-colored door. Creamy white trim keeps the scheme from looking too dark.
Shown: Weimaraner (body); Mascarpone (trim); Wenge (shutters); Dinner Party (entry area), from Benjamin Moore.
Blue Beauty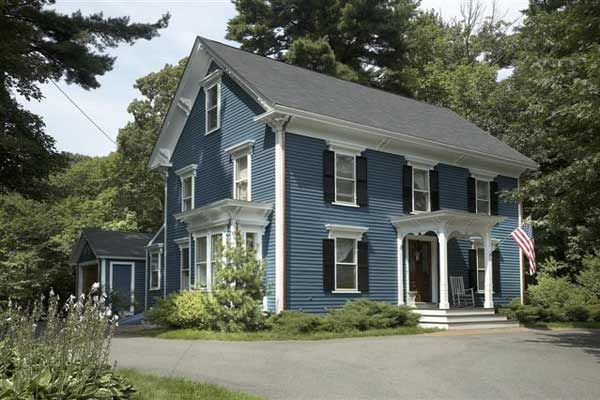 A dusty blue hue adds depth to the facade of this early 20th-century home.
Shown: Rocky Hill (body); Cool December (trim); Sayward Pine (shutters), from California Paints.
Stately Neutrals
For larger homes, such as this newly constructed Colonial, a light- or medium-range earth tone will complement the natural surroundings without overwhelming it. Here, the addition of a blue-green accent hue on the front door and shutters further links the home with the landscape.
Similar to shown: Revolutionary Storm (body); Prentis Cream (trim); Everard Blue (entry door and shutters), from Benjamin Moore.
Woodsy Greens
Look to your surroundings and your home's existing architectural elements to inspire your color choices. Here, green paint on the clapboards and dark shutters tie in with the leafy landscape and the slate-gray roof shingles.
Shown: Spanish Galleon (body); Sled (shutters); White (trim); Burnt Tile (entry door), from Behr.
Basic and Balanced
A stormy gray hue on the clapboards makes the house recede into the landscape, rather than compete with it. A single accent color on the door and shutters emphasizes the symmetrical facade, a hallmark of the Colonial Revival style.
Shown: Gray Wolf (body); Crimson Strawberry (door and shutters); Sheet Metal (window sash), from California Paints.
Two-Tone Body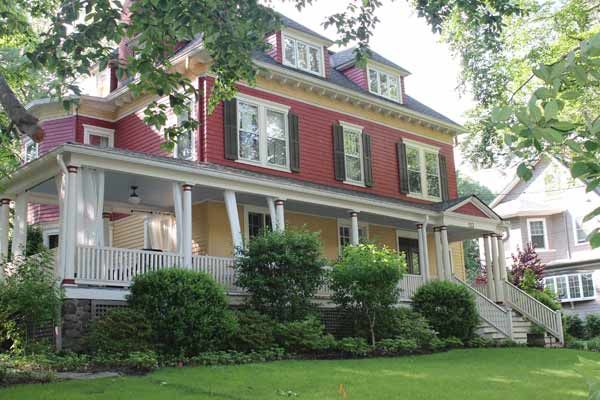 Varied wall cladding, such as the clapboards on the lower portion and shingles on the upper part of this house, present the perfect opportunity for two different body colors. Typically, the darker hue goes on the bottom to anchor the house and keep it from looking top-heavy. An exception is when both colors are of equal intensity, such as this saturated yellow that easily holds its own against the red above.
Shown: Golden Fleece (clapboards); Salute (shingles); Antique White (trim); Iron Gate (shutters); Blissful Blue (porch ceiling), from Sherwin-Williams. Texas Leather (porch floor, stairs, and lattice), from Benjamin Moore. Warm Silver (silver banding on porch posts), from Modern Masters.
Petal Pink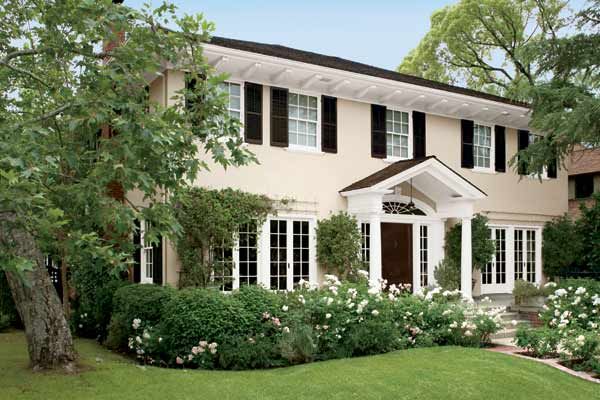 A slight departure from the traditional white, this creamier body color has a hint of pink to match the pale peonies blooming around the home's foundation.
Shown: Aged Parchment (body); Gallery White (trim); Dark Truffle (door and shutters), from Behr.
Shades for Scale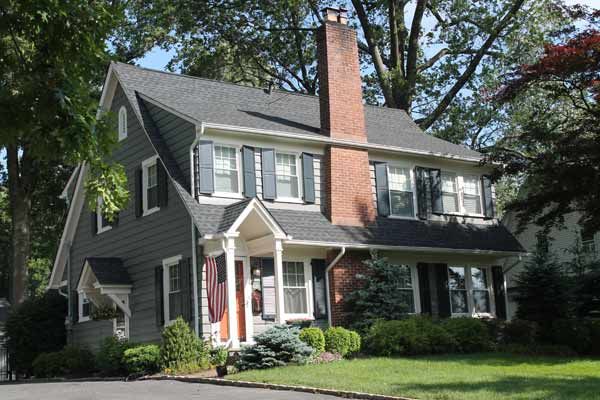 Darker hues tend to give small to medium-sized homes, such as this restored Colonial Revival cottage, more presence and a weightier look on the landscape. On larger homes, though, dark colors can overpower the surroundings.
Shown: Amherst Gray (body); Navajo White (trim); Soot (shutters), from Benjamin Moore. Rust (door) by Benjamin Moore, custom mixed in Hollandlac Brilliant by Fine Paints of Europe.
Soft and Subdued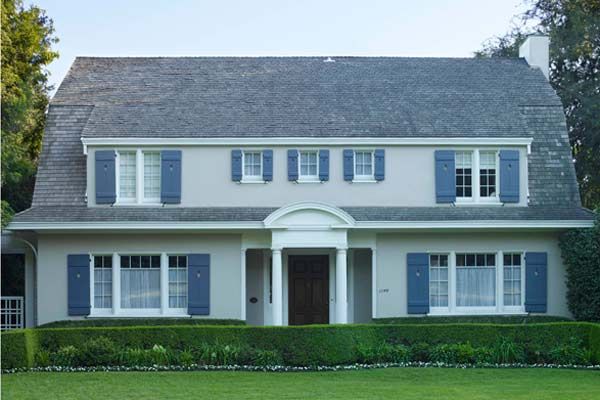 Light gray paint on this stucco-clad Dutch Colonial coordinates with the shingles on the home's prominent gambrel roof.
Shown: Dolphin Fin (body); Windmill Wings (trim); Mesmerize (shutters); Bison Brown (door), from Behr.
Sharp Contrast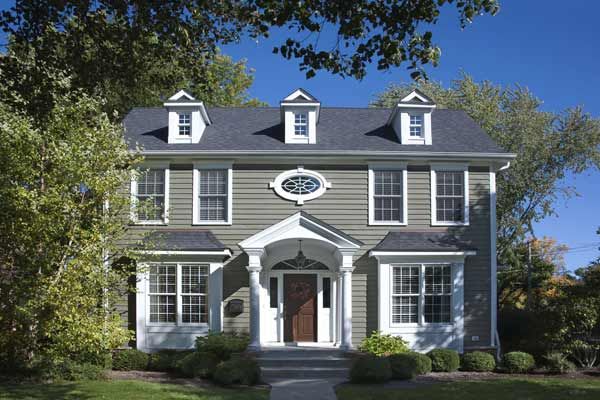 Stark white paint on the oval accent window, twin bays, and dormers makes a crisp delineation between the eye-catching architectural features and the khaki-colored clapboards and muted gray roof.
Shown: Filoli Carriage House (body); Du Jour (trim), from Valspar Paint. The wood entry door is finished with a walnut-color stain.