Moving Swiftly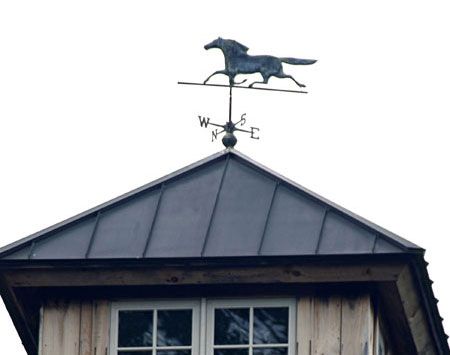 Although weathervanes appeared as early as the 1600s in America, they came into widespread and popular use in the late 1800s, when a number of national manufacturers provided an abundant supply of the copper icons. The racing horse was especially popular for barns or stables.
Steer Clear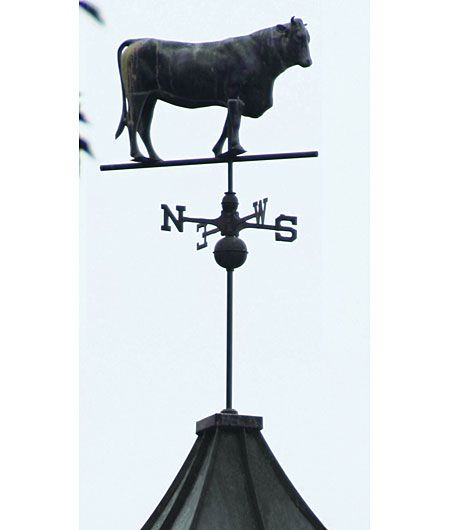 Many weathervanes were cast in likenesses of agricultural symbols—as in this bull—reflecting America's rural roots. At the time of a weathervane's installation, a compass was used to set the vane's cardinal points. Just knowing the wind direction was enough information for early colonists to be able to tell the weather, as prevailing winds brought particular types of conditions.
Scribe on High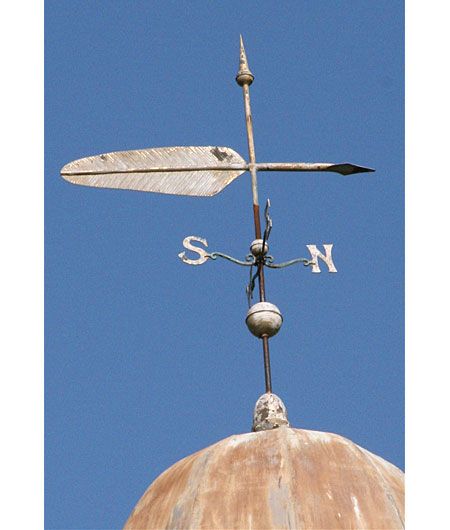 A weathervane in the shape of a quill, a typical writing instrument of the 18th century, may have indicated a writer or statesman in residence. Weathervane spires were usually made of wrought iron.
Give Us a Sign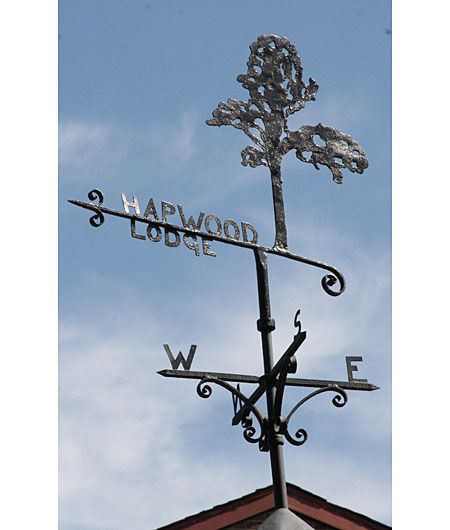 Weathervanes often incorporated the sign for a tradesman, an inn, or a shop. This hammered metal vane marks "Hapwood Lodge" and includes a stylized tree, suggesting the environs of the lodge may be known for its woods.
Flying Fish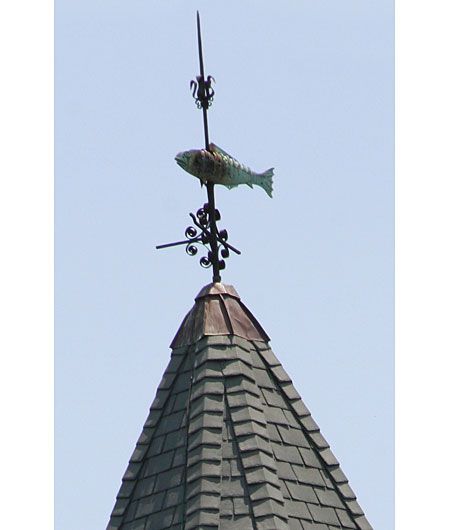 The copper body of this fish weathervane has developed a beautiful patina, prized by weathervane collectors for its suggestion of age and authenticity. The tall spire rising above the fish may have acted as a lightning rod.
Whale's Tail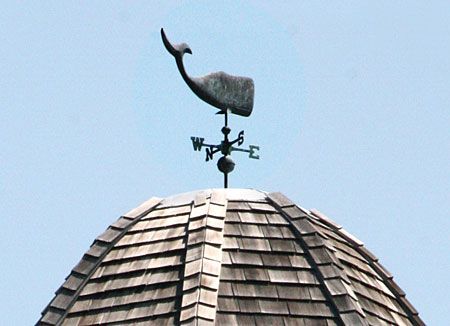 A whale weathervane was a popular choice for the homes of seafarers in coastal New England, the center of the whaling industry in the 18th century.
Miss Fortune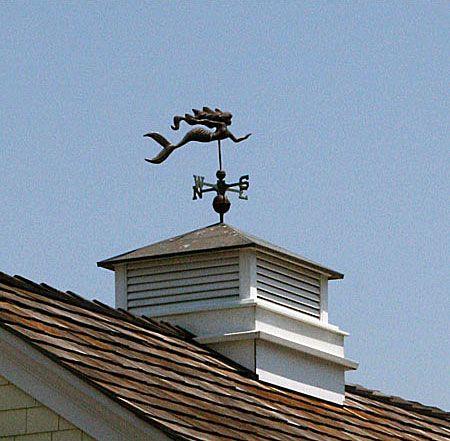 Although sailors on whaling ships considered the mermaid bad luck—legends say that mermaids lure sailors to their death with song—the form makes a graceful weathervane in silhouette against a blue sky.
Sailing Away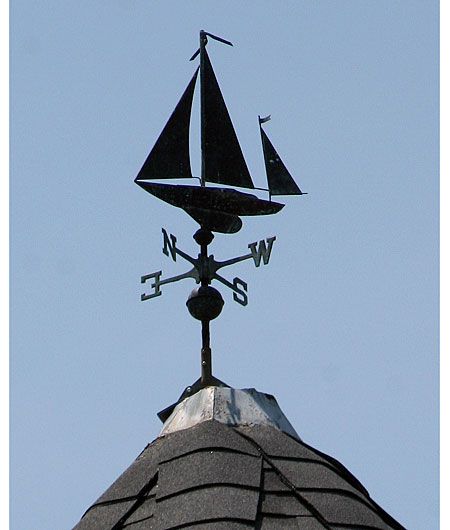 The choice of a sailboat weathervane speaks to the interdependence of the two objects: A sailboat is reliant on the wind as a source of power. The ball just under the cardinal point letters adds balance and stability to the weathervane.
Fairway Weather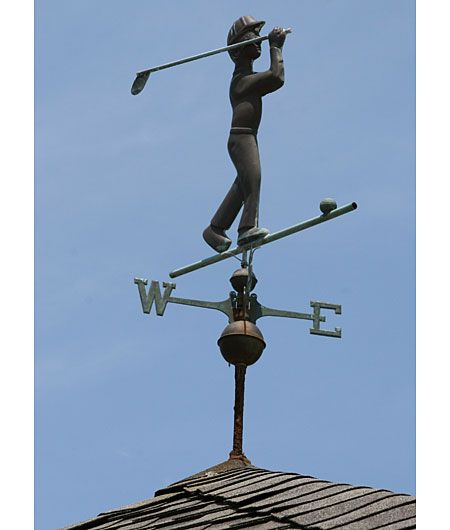 Since the sport of golf did not come to this country until the late 1800s, one can assume this weathervane is relatively modern, as opposed to those with colonial motifs.
Welcome Home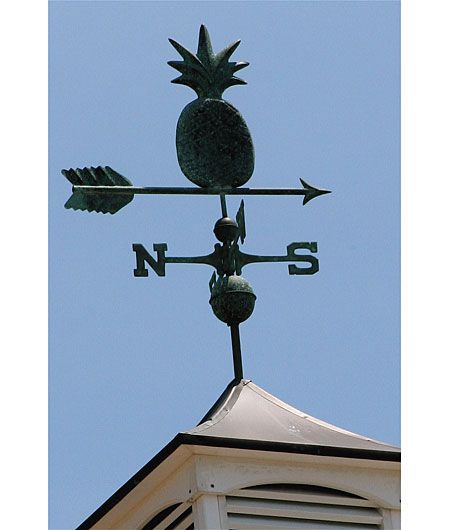 A symbol of welcome during the colonial era, the pineapple may have been used to distinguish an inn. Antiques dealers say that one mark of an authentic 18th century weathervane is whether it has musket ball holes, which would indicate it was in place during the Revolutionary War.
Riding High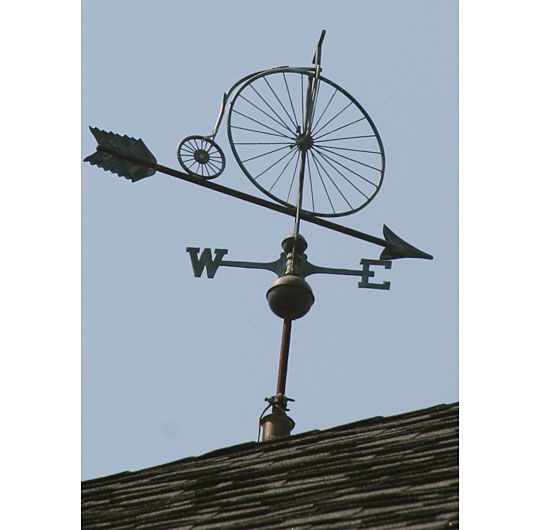 This weathervane in the form of a high wheel bicycle may have marked the shop of a tradesman who built or repaired bicycles. High wheel bicycles were particularly popular in the 1870s and 1880s.
Flying Goose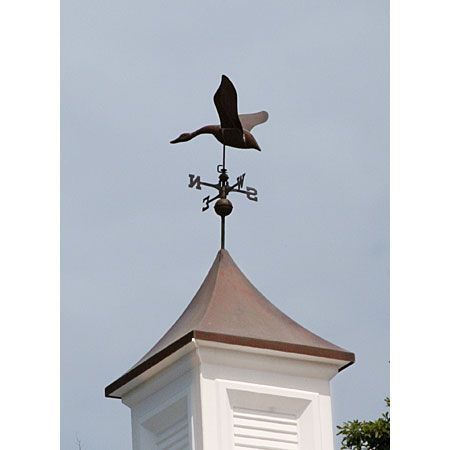 Set against a blue sky, this goose weathervane appears lifelike because of the suggestion of movement in its wings and craned neck. One imagines a real goose might have a second look.