With just under 2,500-square feet for both the main house and the rental unit, we needed to get creative and maximize every inch of space. Here's a look at some of the easy-care, innovative, and space-saving products and materials that brought this Cottage together.
A Closer Look at the Kitchen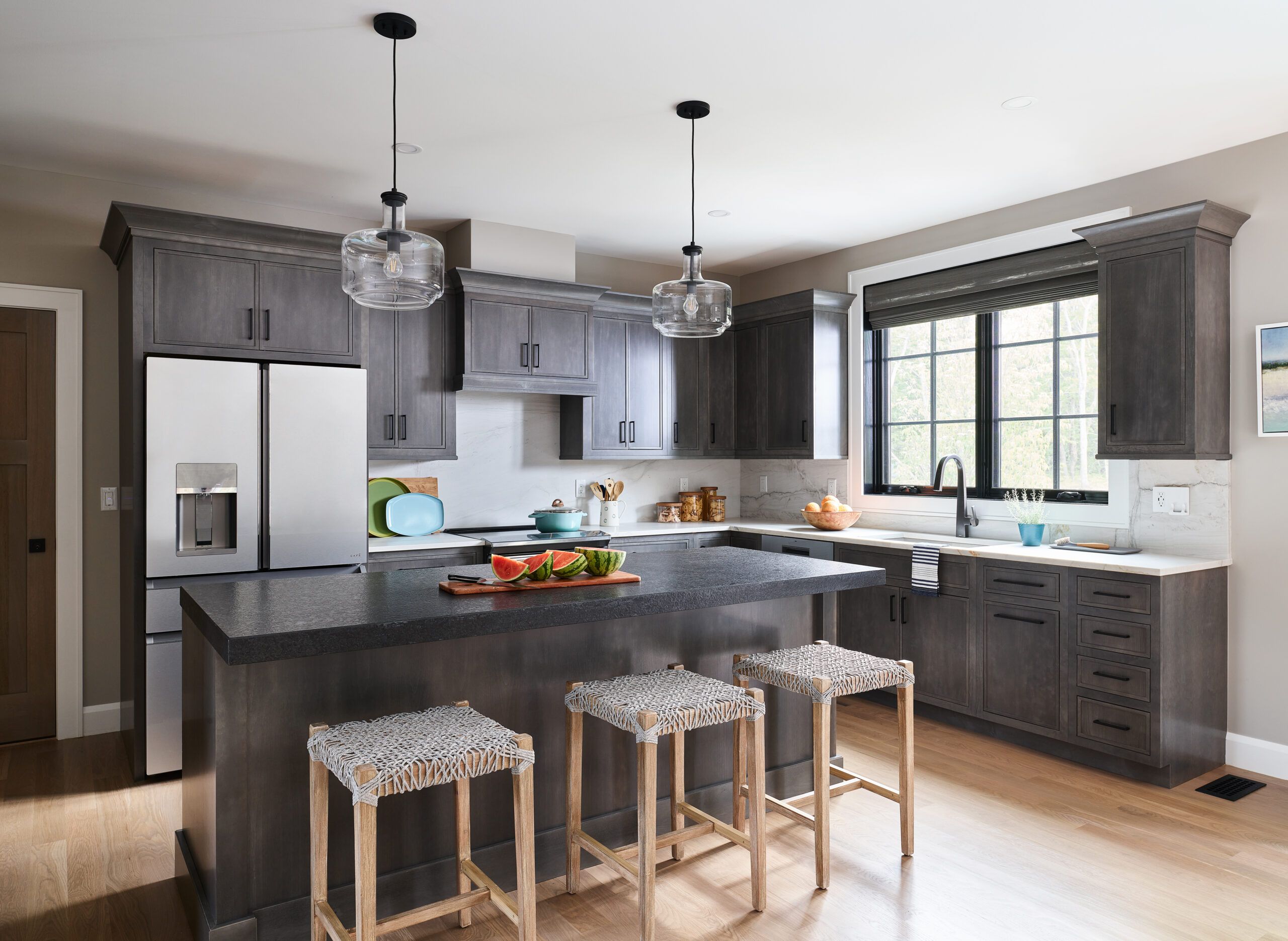 The 3-by-8-foot kitchen island has a quartzite top with a rich, easy-care leathered finish. The touchless smart faucet is voice activated. Custom alder cabinets feature inset drawers that maximize storage.
Countertops: Global Marble & Granite; Faucet: Moen; Cabinetry: Woodharbor Custom Cabinetry
Wireless Charging Station
This handy combination wireless wall-mount charger and USB outlet keeps phones off the counter while charging, and leaves the outlets free for other plug-in needs.
Charger/Outlet: Hubbell Wiring Device-Kellems
Sleek, Smart Refrigerator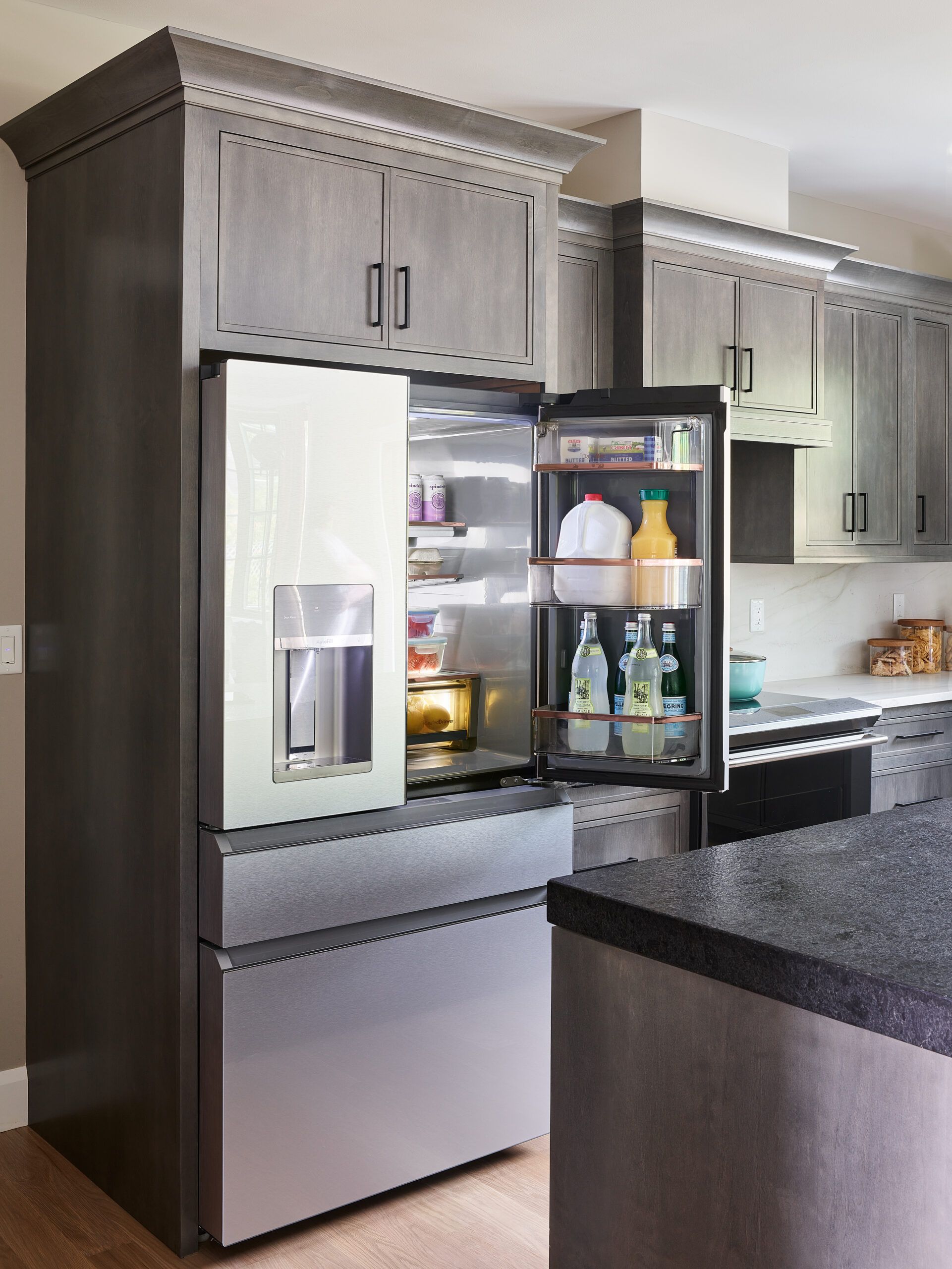 The French-door refrigerator in a striking platinum-glass finish features a convertible freezer drawer with settings as low as 23 degrees or as high as 42 degrees. Sliding glass dividers keep it all organized. And an LED light wall that spans the back wall of the refrigerator illuminates the fresh food section, so every item is easy to find.
Refrigerator: Café Appliances
Quiet Indoor Air-Quality Control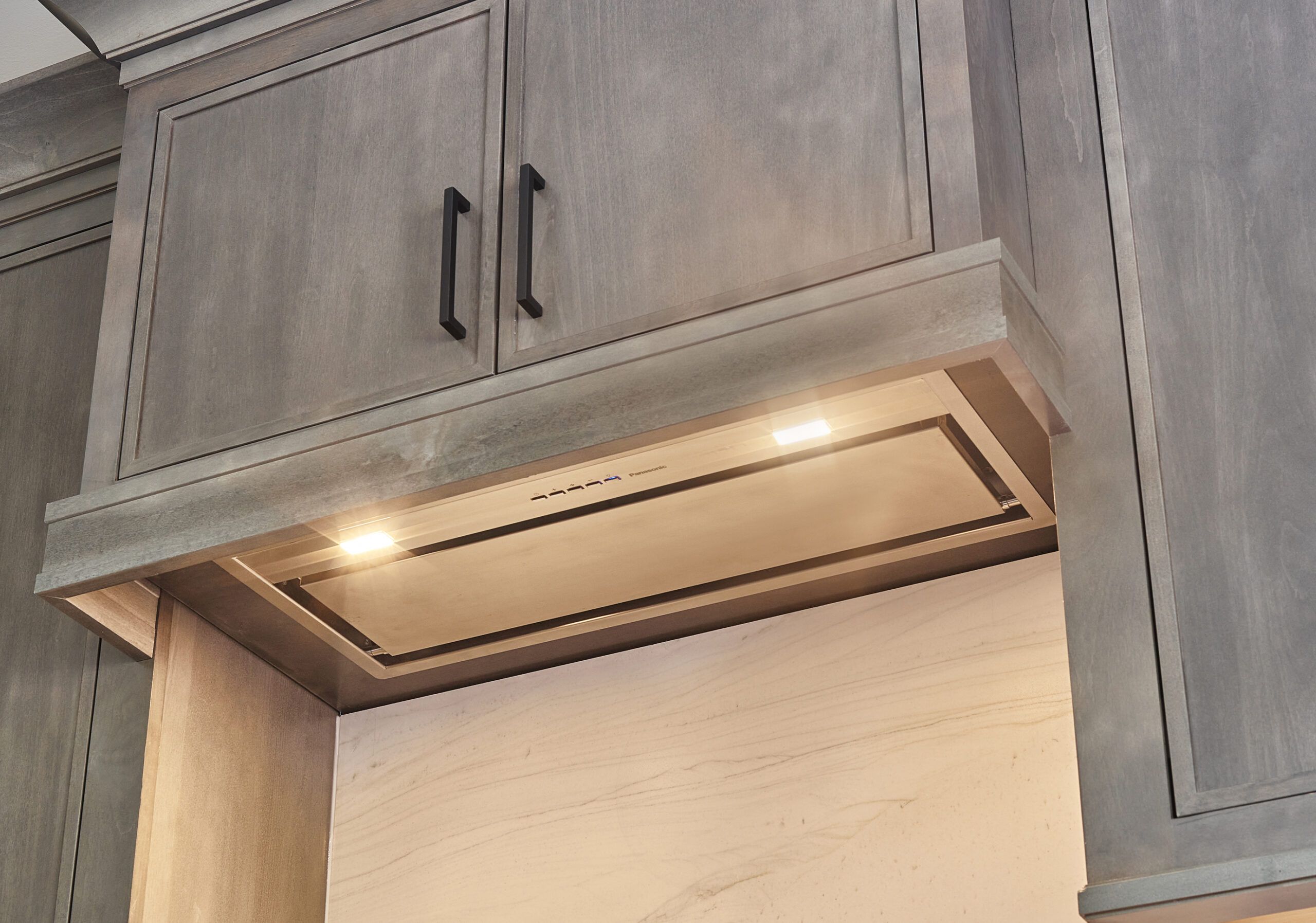 This range hood utilizes ultra-quiet ventilation technology to quickly trap and remove moist, contaminated air from the source—without disturbing your dinner conversation.
Range hood: Panasonic
Discreet Task Lighting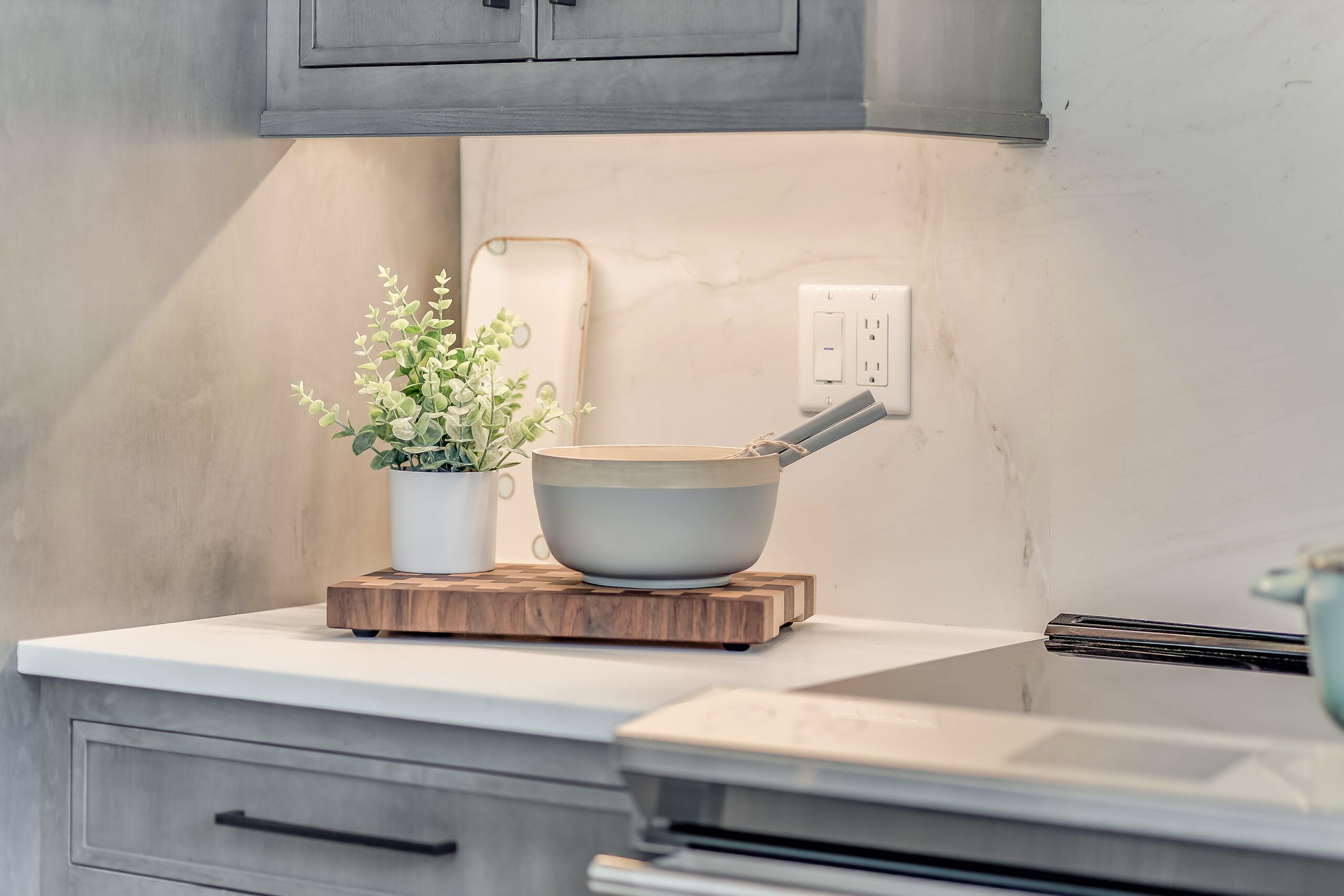 Undercabinet lighting is perfect for close-up tasks, and can double as a night light in the evening hours.
Undercabinet lighting: Häfele
Flooring Transition
Just beyond this solid oak door—which can be locked from both sides—lies the galley kitchen of the in-law apartment or rental unit (and another potential source of income for our future homeowners). Select-grade oak floors gently transition to a darker, character-grade white oak as you pass through.
Floors, doors, interior trim: Baird Brothers Fine Hardwoods
Consistently Cool Refrigerator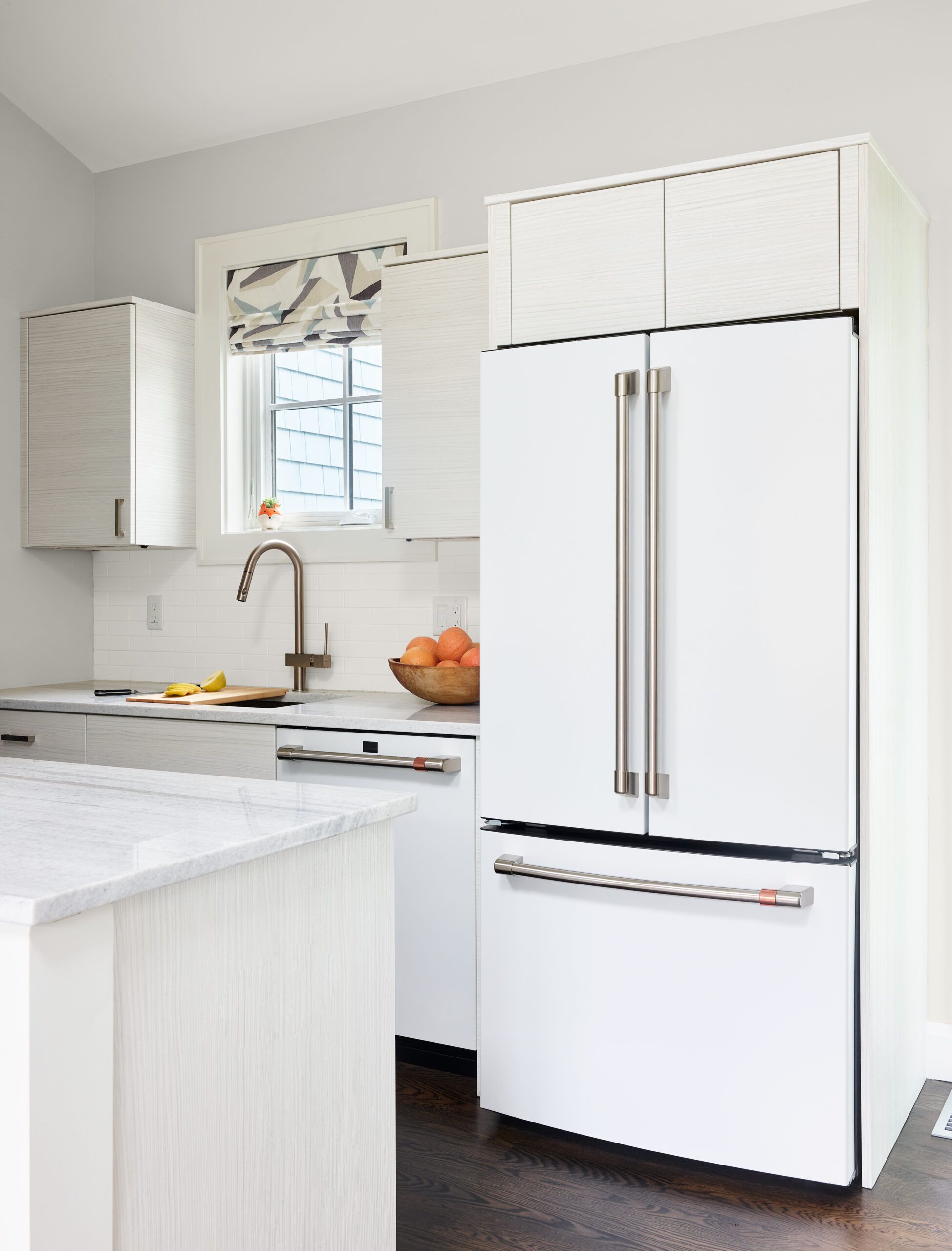 Despite the small footprint of the rental unit, we were able to incorporate full-size appliances. This stylish matte white refrigerator features a Turbo Cool setting that allows you to open the door as often as you need to while cooking or attending to guests, without compromising the internal temperature settings.
Appliances: Café Appliances
A Sensible Skylight
Not only are these skylights designed to be leak-free, but they open and shut via solar power to allow in a breath of fresh air. A built-in rain sensor will close the unit in the event of inclement weather while you're away, for ultimate peace of mind.
Skylights: VELUX
Zoned Comfort Solution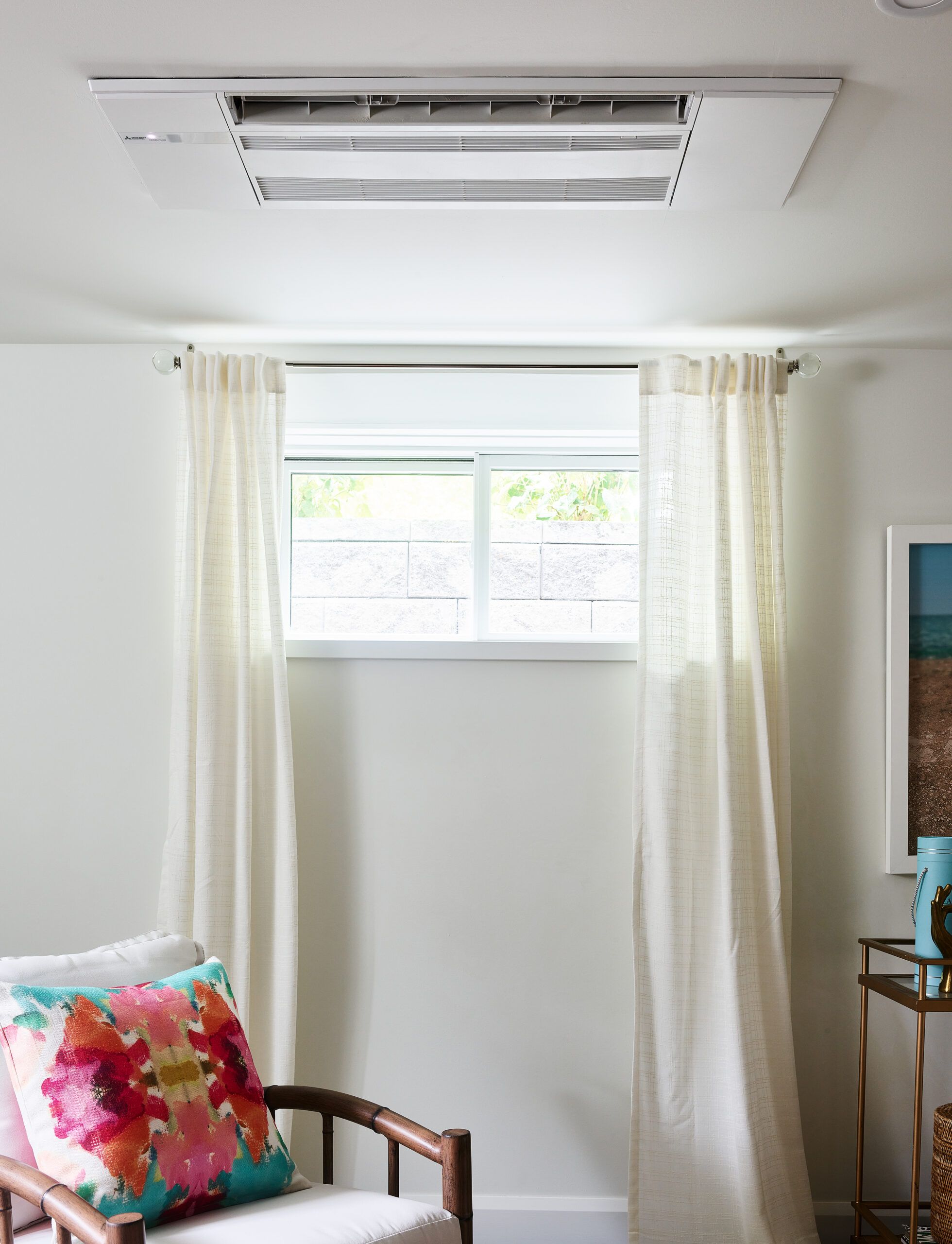 Control your comfort from just about any smartphone or tablet with a zoned heating and cooling system. Slim and attractive ceiling cassettes can be easily mounted between standard 16″ joists, making it an ideal heat pump for retrofit or new construction applications.
HVAC: Mitsubishi Electric
Healthier Indoor Air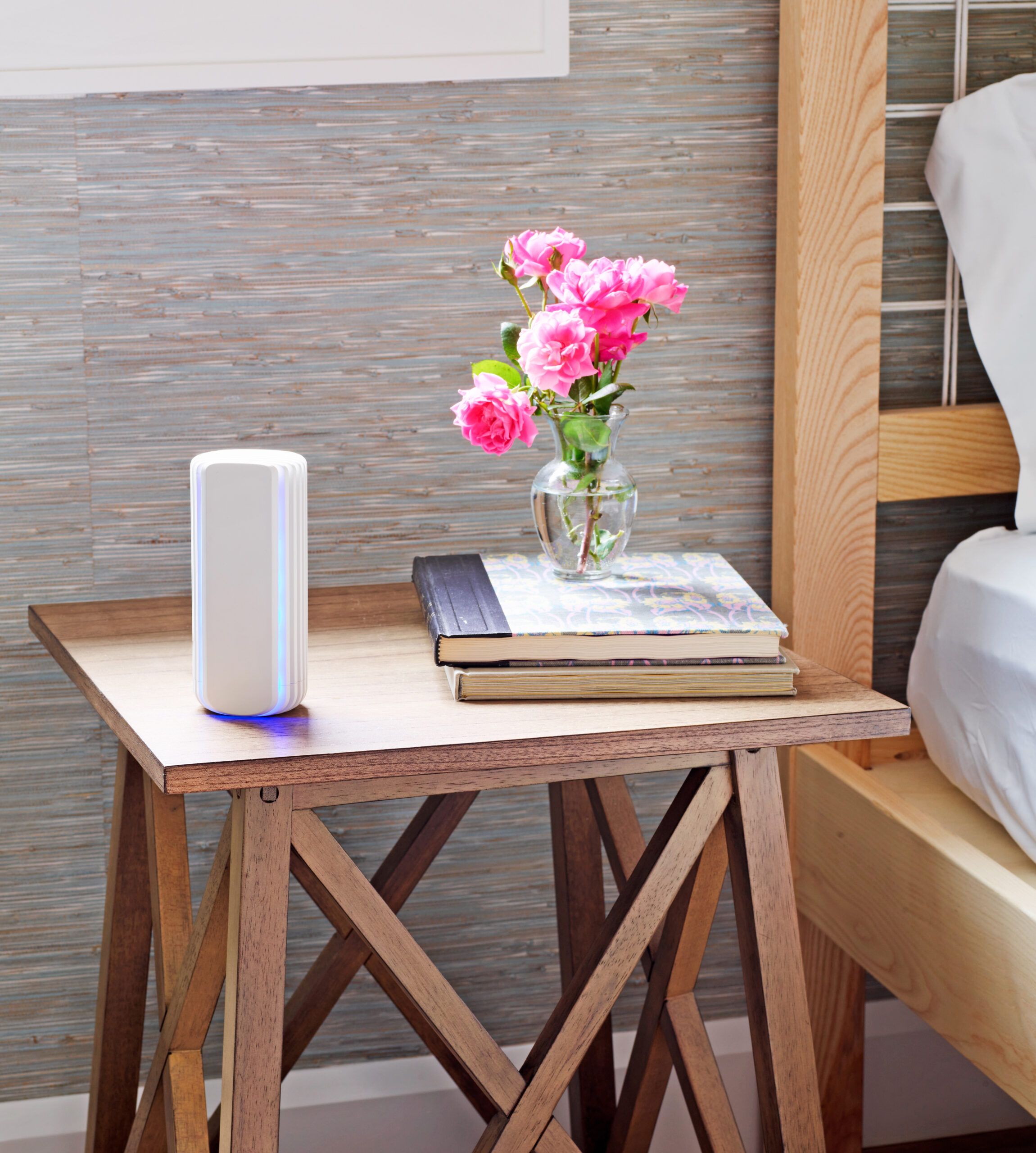 Poor indoor air quality is ranked as the 4th biggest environmental threat in the U.S. This discreet little sensor continuously monitors indoor air quality; when it detects an irregularity, it will automatically activate the system to return air to healthy levels.
Healthy home system: Panasonic
Multifunction Mirror
The master bath features a smart mirror with integrated makeup lighting, as well as a sound system and a de-fogging function for a clear view when things get steamy.
Mirror: Häfele
Creative Use of Edging Profile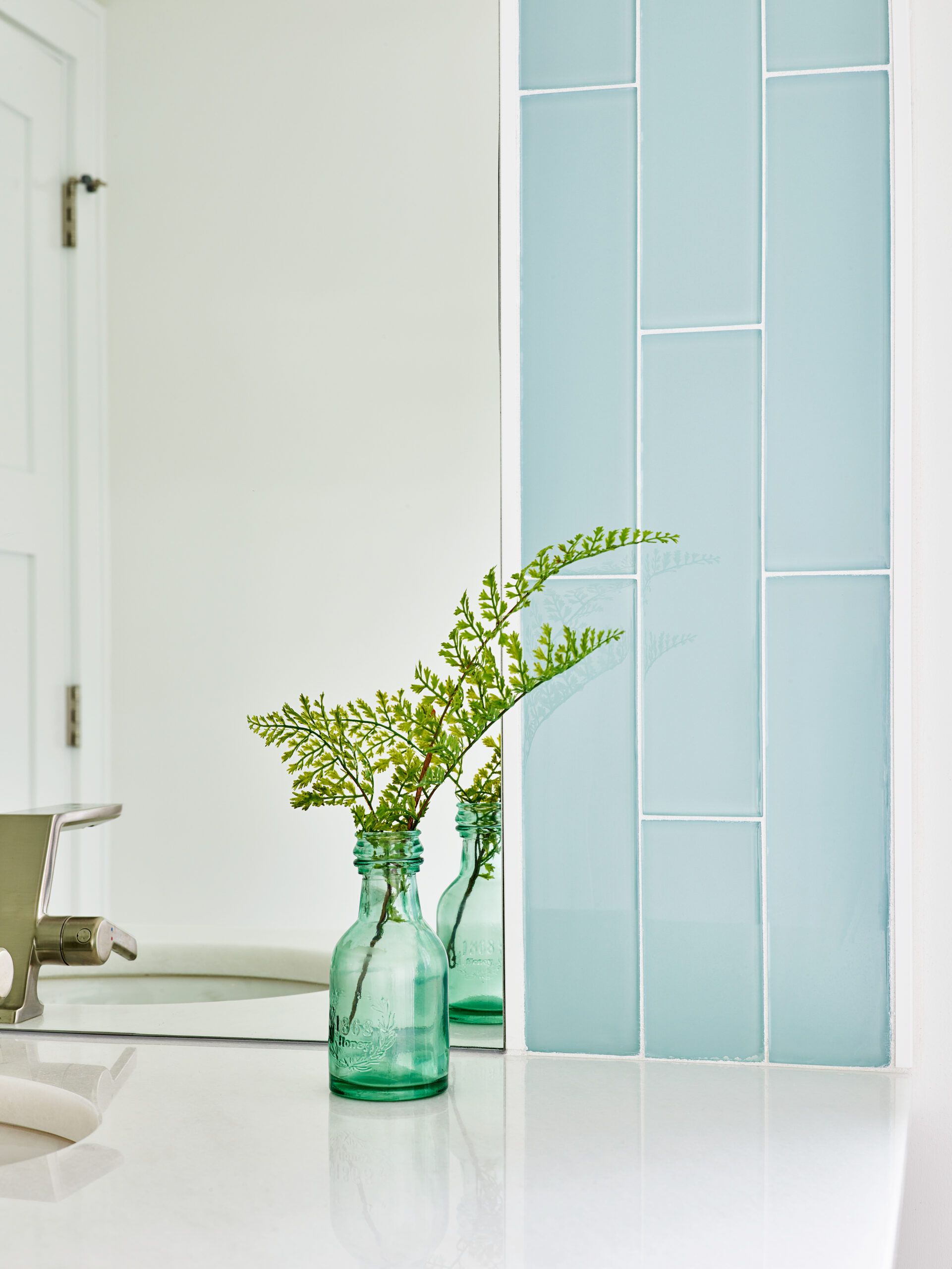 In the guest bath, seaglass-inspired glass tile and edging profile create a one-of-a-kind frame for the vanity mirror.
Tile: AKDO; Edging Profile: Schluter-Systems
Space-Saving Laundry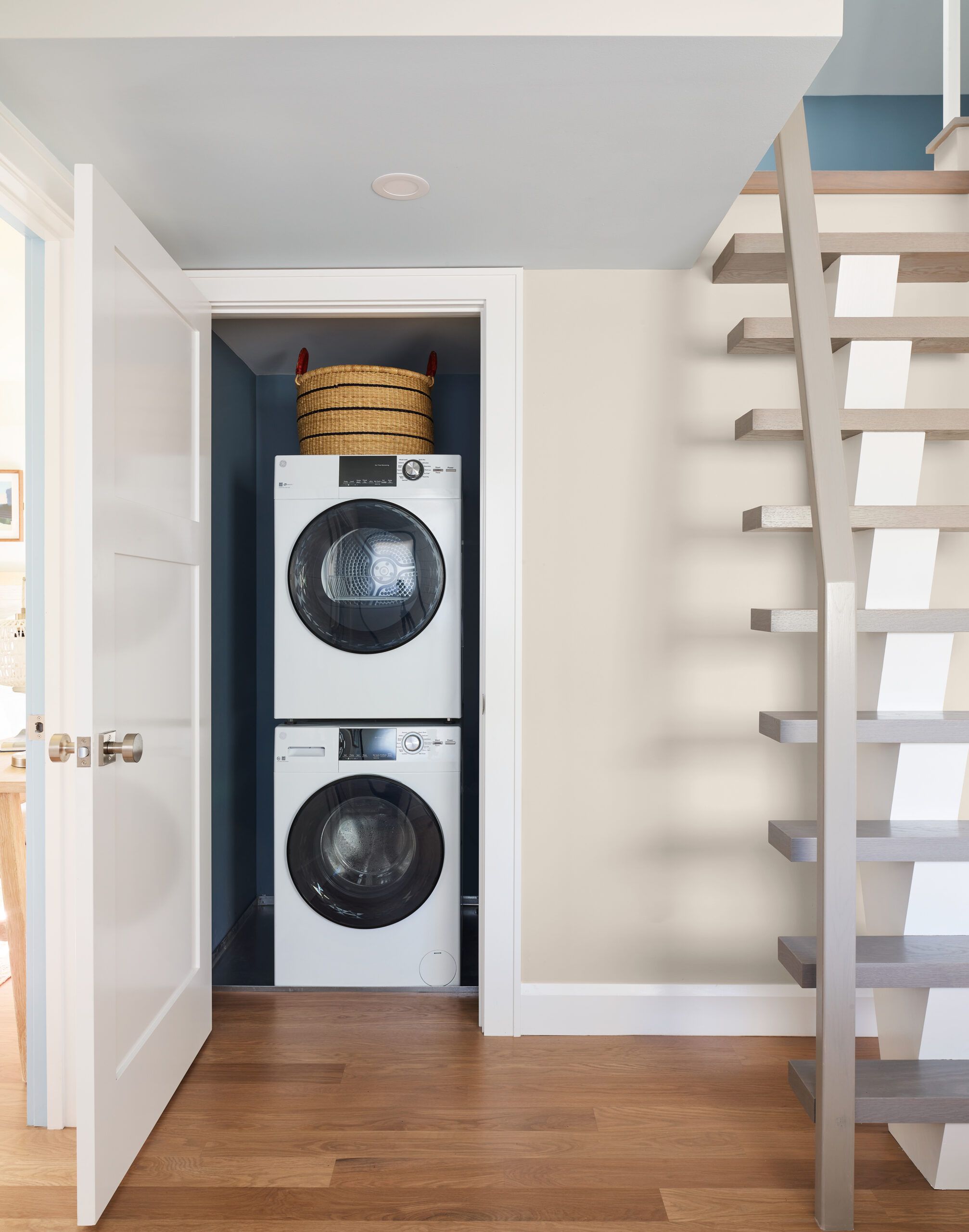 A stackable washer and dryer are tucked into a closet under the loft. The front-load washer features a steam function to penetrate deep into fibers, loosening stains while protecting your fabrics. And the electric dryer continually monitors moisture and temperature to prevent wear and tear that can result from over-drying and inconsistent heat.
Stackable washer, dryer: GE Appliances
Organized Workspace
The garage/workshop features modular design workstations, each equipped with tool storage, electrical outlets, and room to create.
Workstation: California Closets; Pop-up receptacles: Hubbell Wiring Device-Kellums
Squeak-Free Subfloor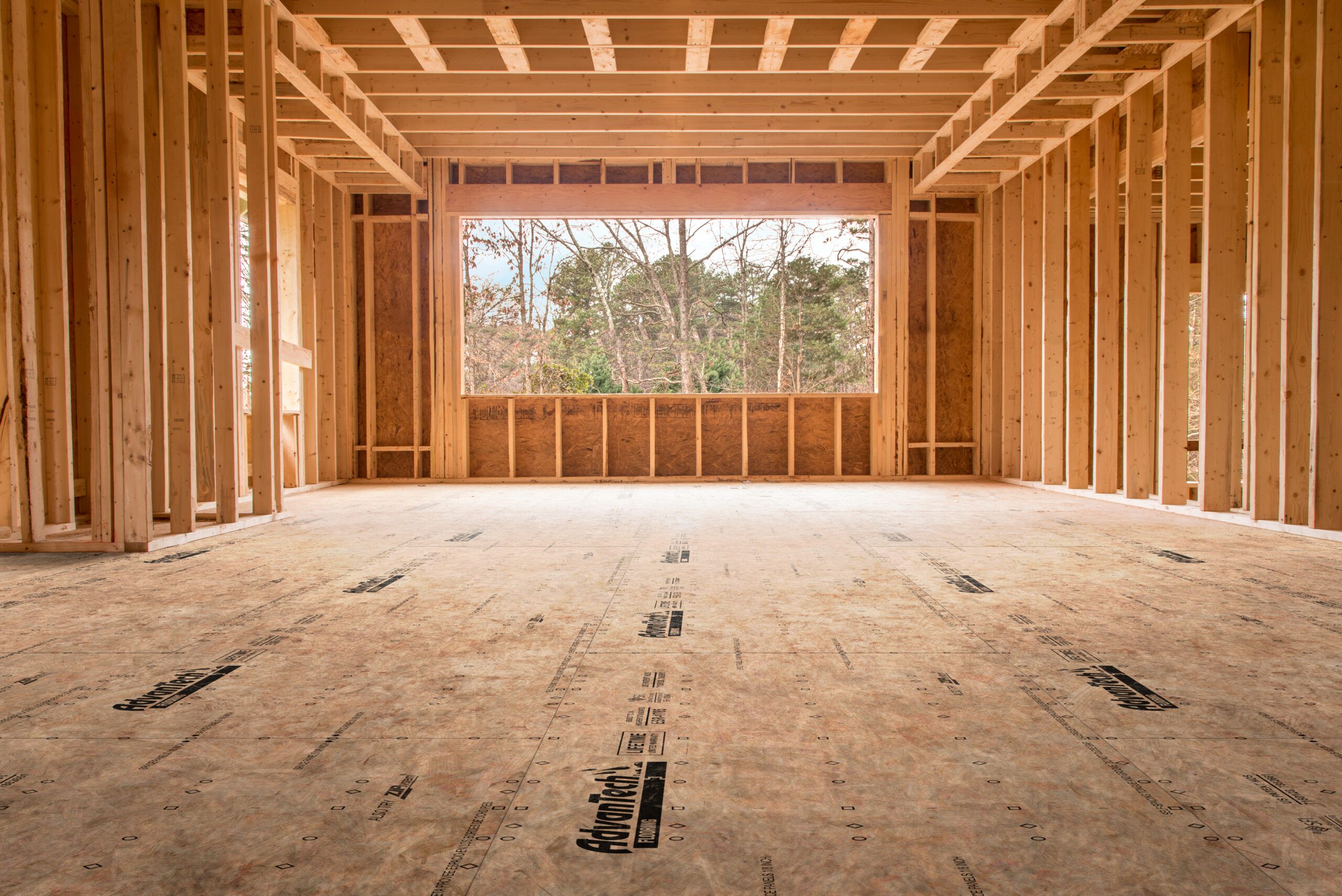 This subfloor's precision-engineered tongue-and-groove system ensures a secure fit for edge-to-edge support, preventing movement that can cause squeaks.
Engineered wood: AdvanTech
Innovative Insulation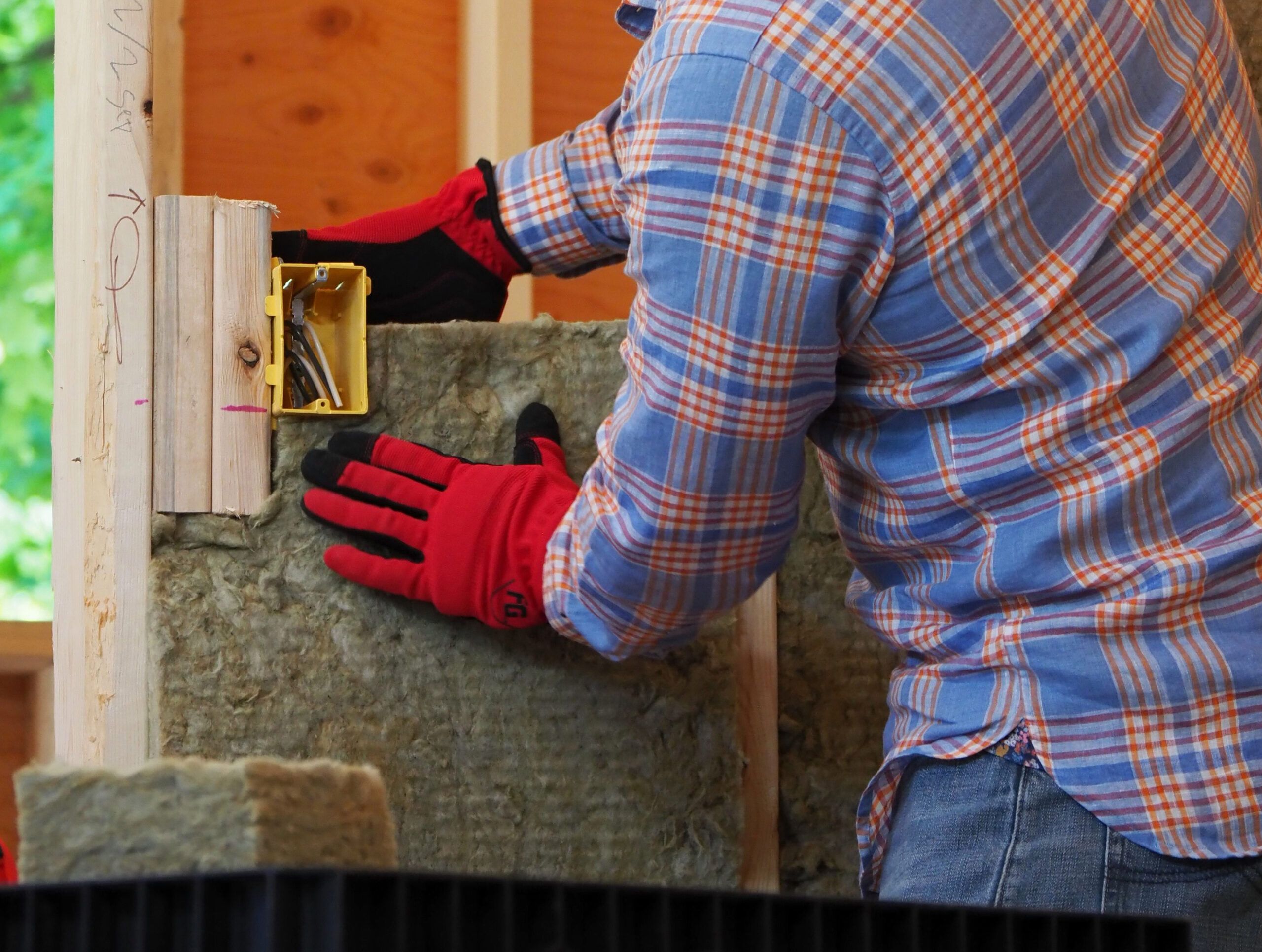 This semi-rigid stone wool batt insulation has a unique flexible edge designed to compress as the batt is inserted into walls, attics, ceilings and floor frames, and then spring back to fill the space; this flexibility ensures the expected R-value is achieved and maintained.
It's non-combustible and fire resistant, and will not develop toxic smoke or promote flame spread, even when exposed directly to a fire. It also offers water and moisture resistance and excellent sound absorbency.
Insulation: Rockwool
Connected Systems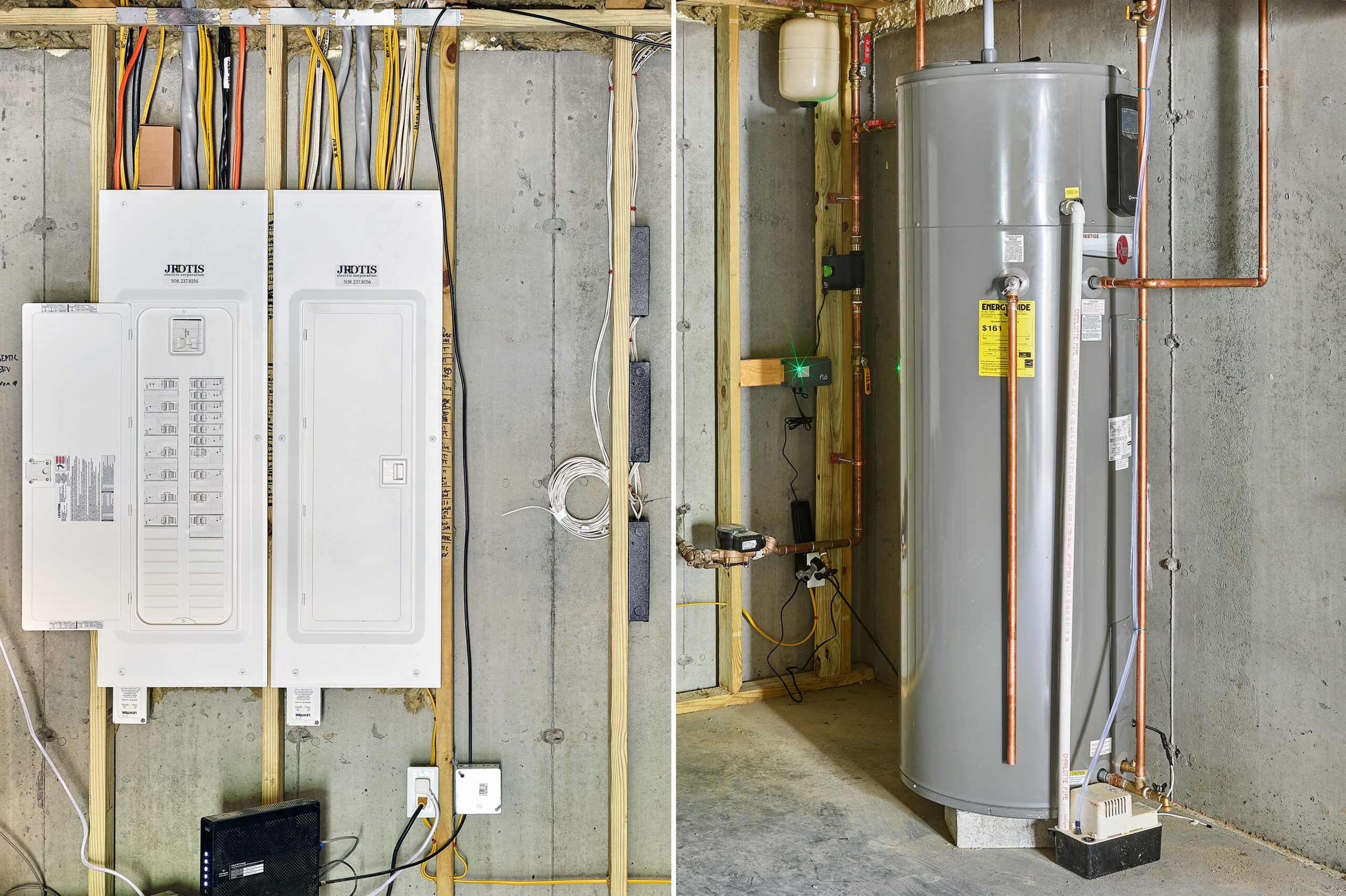 With optional Internet connectivity, an all plug-on design for fast installation, and safety features that exceed the UL standard, these load centers allow the user to efficiently and easily manage the home's electrical system directly from the breaker box.
An 80-gallon water heater features a hybrid heat pump design, making it 400% more efficient than standard electric water heaters. The built-in WiFi and EcoNet app allows the user to check hot water availability and track energy usage.
Electrical load center: Leviton; Water heater: Rheem, courtesy of Morris Merchants