"When you're designing this small, you're taking into account every little thing, from the width of the casing to the thickness of the floor," architect Don Powers says.
Down in the basement, a bonus room can be used as anything from an office to a teen hangout. The garage was turned into a maker's workshop. Upstairs, a loft provides an elevated hangout space. All were drawn down to the inch.
Cozy Reading Loft
A sculptural ladder, a collaboration between Enright and Cape Associates, offers access for the agile to a reading loft above the second-floor hall.
Ladder finish: Varathane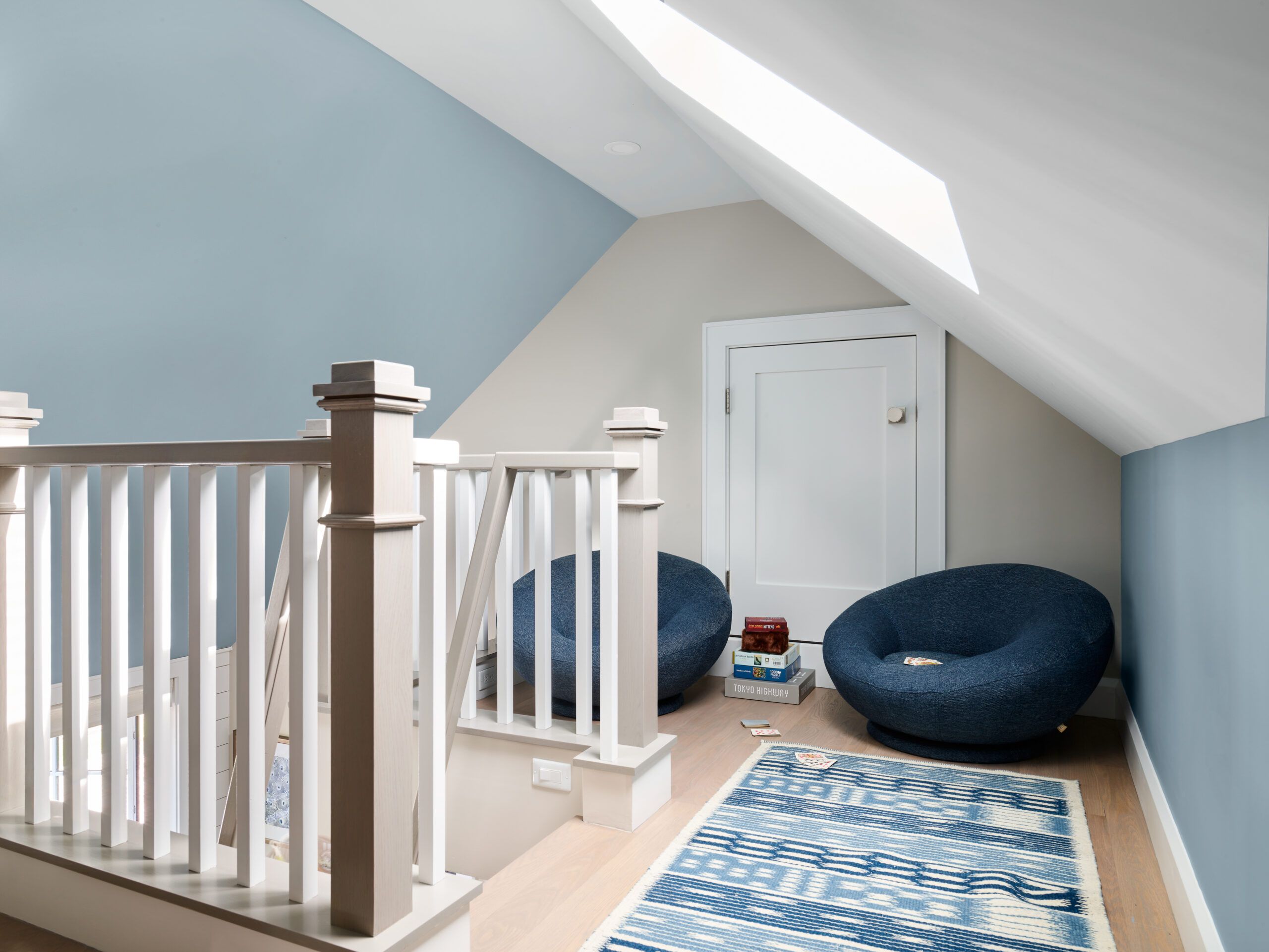 The loft's sloped ceiling accommodates low-slung seating that suits its use as a casual hangout. Electrical outlets beneath the railing ensure everyone sharing the space has a place to plug in. A door accesses attic space that houses the home's main air handler.
Loft paint: Palace Pearl (end walls, ceiling), Chiswell Blue (sidewalls), by Benjamin Moore; Railing finish: Varathane; Skylight: VELUX; Rugs: Annie Selke; Outlets: iDevices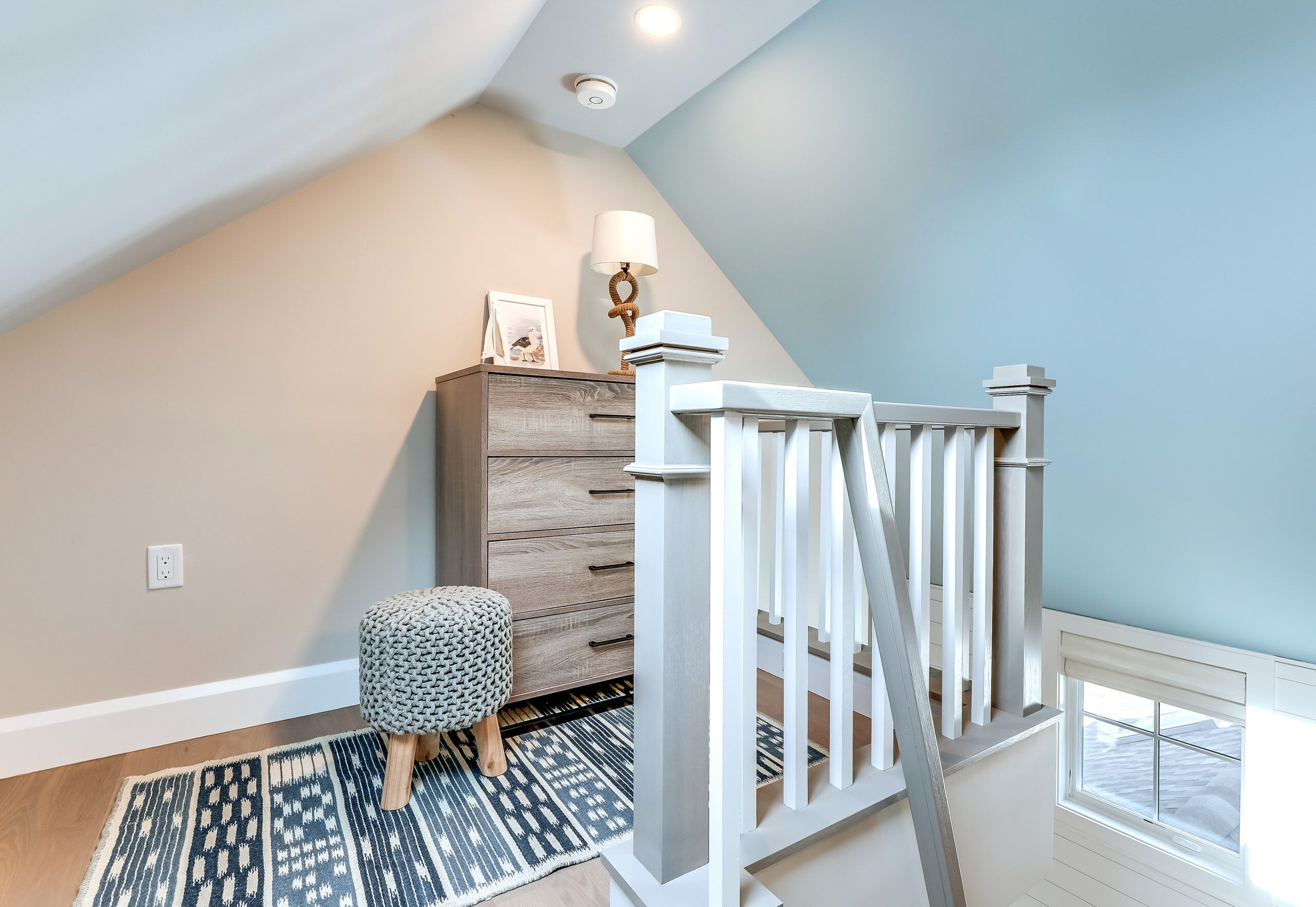 The loft also provides room for extra storage.
Ladder finish: Varathane; Rug: Annie Selke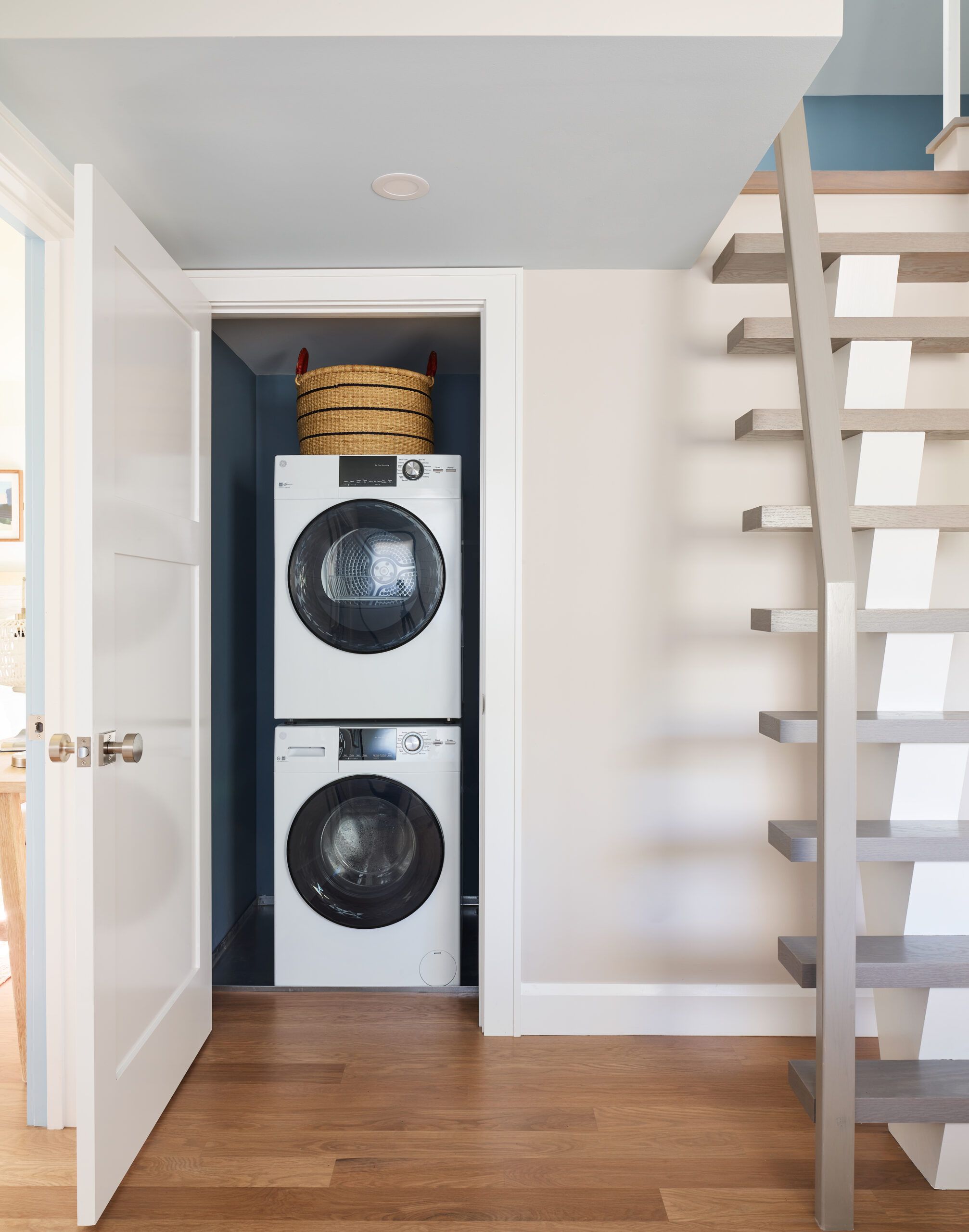 A space-saving stackable washer and dryer are neatly tucked into the space beneath the loft in the second-floor hall.
Washer, dryer by GE Appliances
Basement Bonus Space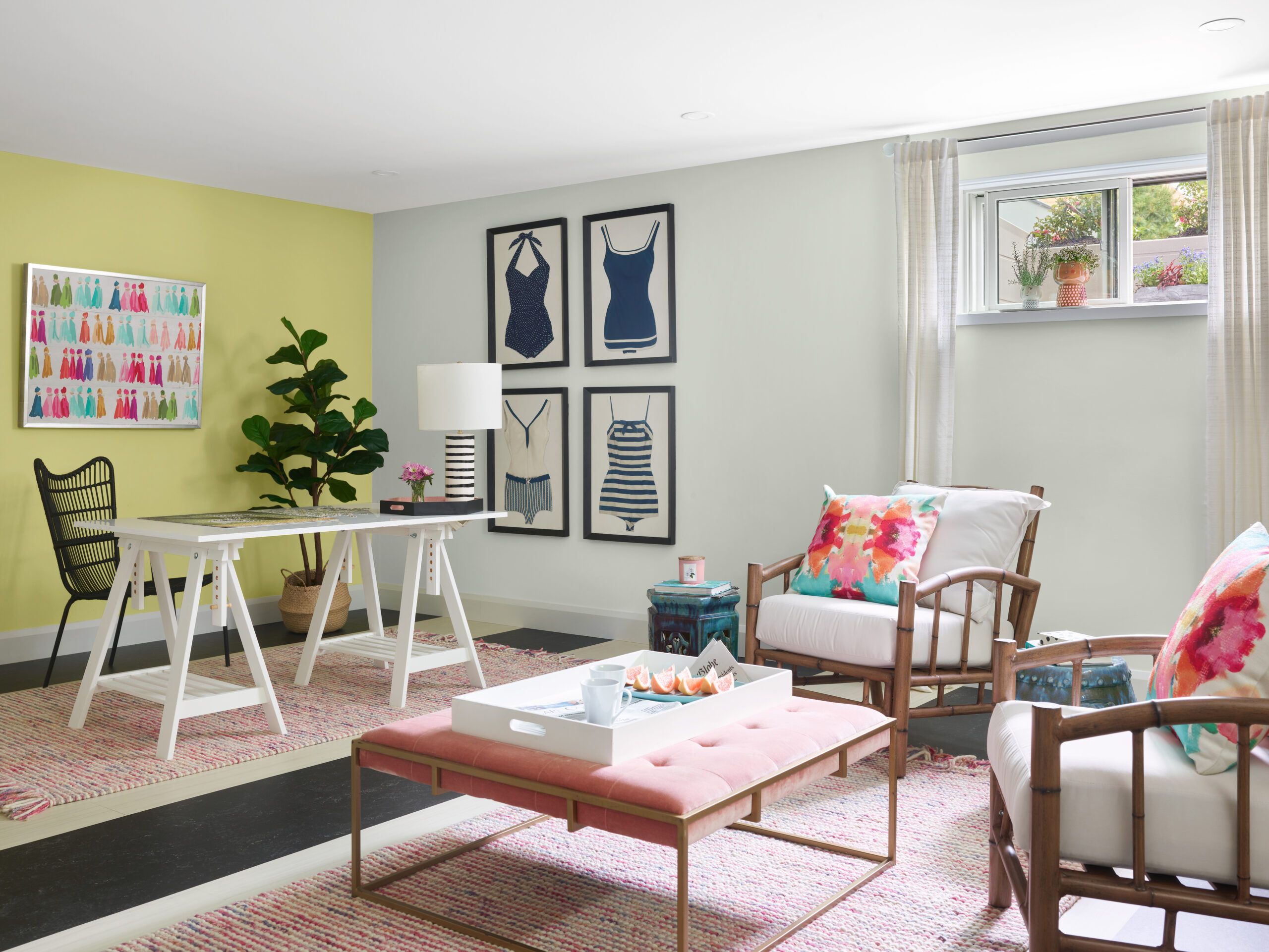 To succeed, a basement office needs light and personality. In ours, unique plantable window wells provide light and a pretty view, while Enright added the personality. She started with a floor of click-together linoleum tile laid in 24-inch-wide black and bone stripes to give the space a "fun, unexpected, kind of retro look."
Then she added bold, whimsical photo prints of vintage bathing costumes. Long curtains visually raise the ceiling and help the space feel finished, as do a sunny accent wall and airy furniture. The result: a space that's energizing, not oppressive.
Paint: Harwood Putty (walls), Green Umber (accent wall), Benjamin Moore; Window well: The BILCO Company; Window treatments, rugs, pillows, artwork: Annie Selke; Flooring: Forbo
Creative Maker's Workshop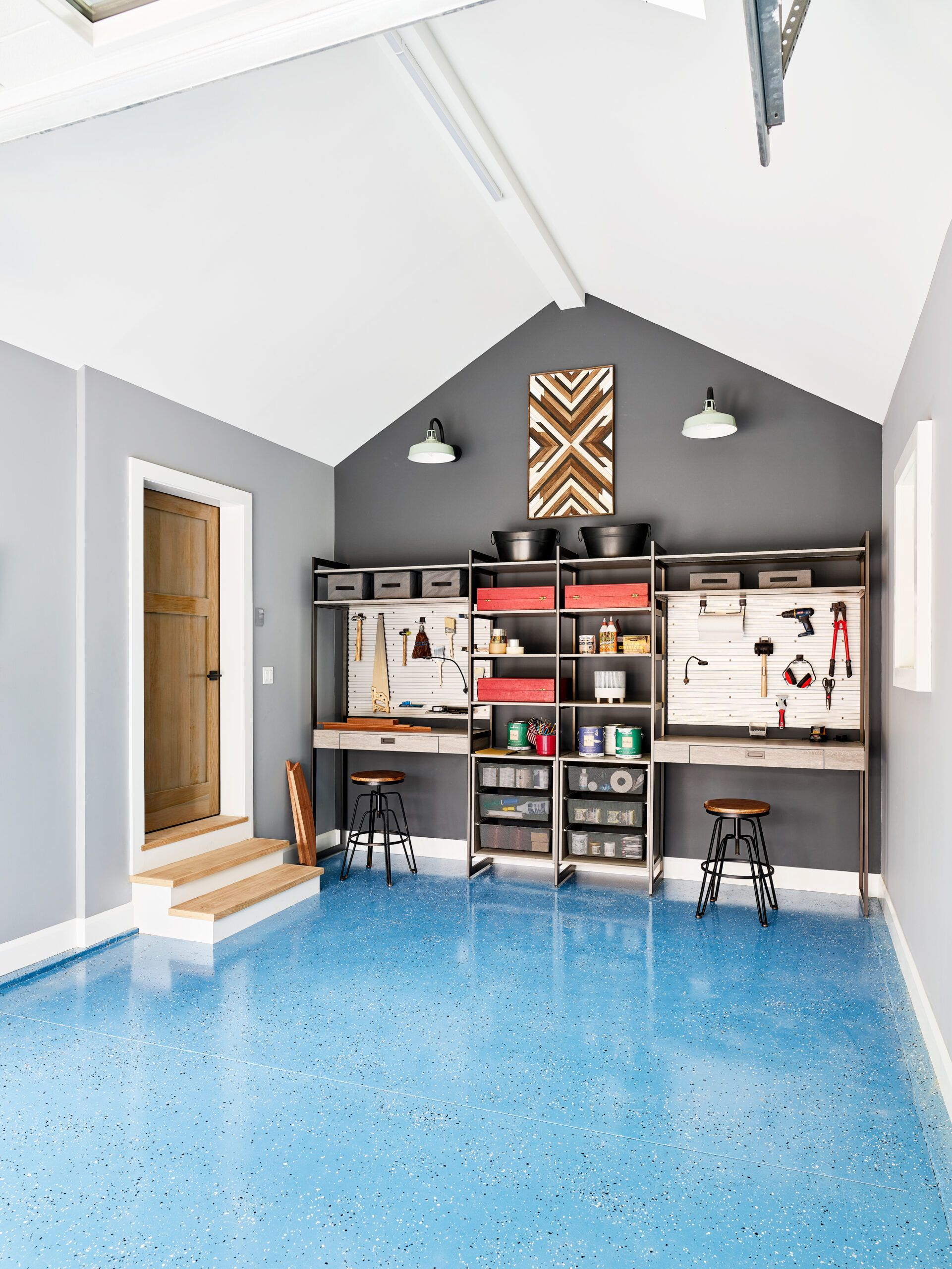 In the combined garage/workshop, a darker paint color anchors the shelving and workstations lining the back gable wall.
Paint: Ambler Slate (behind wall unit), Slate (side walls), Benjamin Moore; Door: Baird Brothers Fine Hardwoods; Door hardware: House of Antique Hardware; Floor coating: EpoxyShield; Organization system: California Closets; Adhesives: Gorilla Glue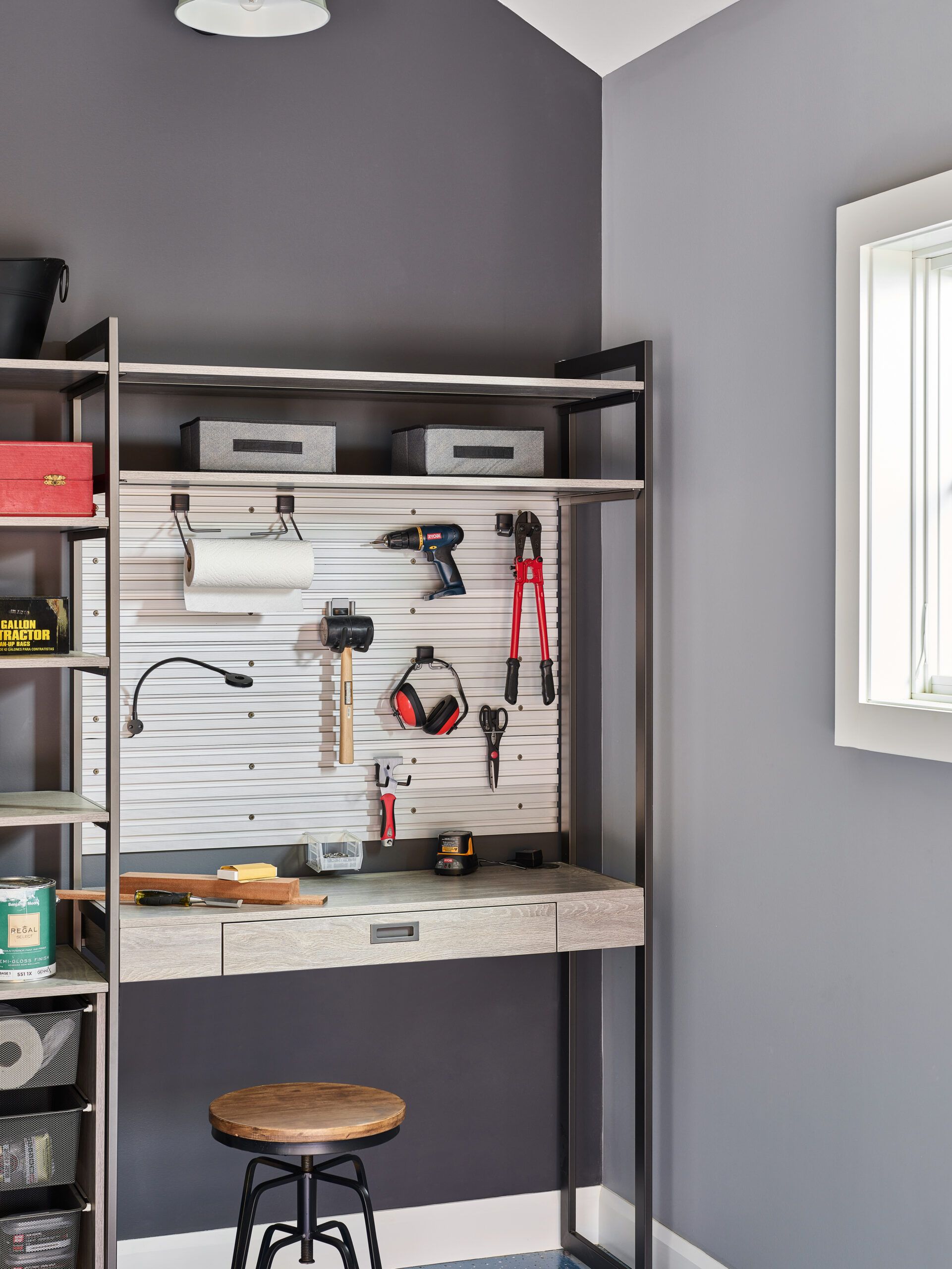 The garage/workshop features dual workstations, each equipped with tool storage, electrical outlets, and room to create. Pop-up outlets, battery-charging stations, and visible storage aid productivity.
Workstation: California Closets; Hooks & LED strip lighting: Häfele; Pop-up counter top receptacles: Hubbell Wiring Device-Kellems
Gooseneck lighting and a wood "quilt" give some style to the gable wall of the garage/workshop, while a darker paint shade adds depth.
Paint: Ambler Slate, Benjamin Moore; Lighting: Progress Lighting; Storage system: California Closets; Wall art: Custom wood art by Jenn Largesse of This Old House, featuring Varathane Weathered Wood Stain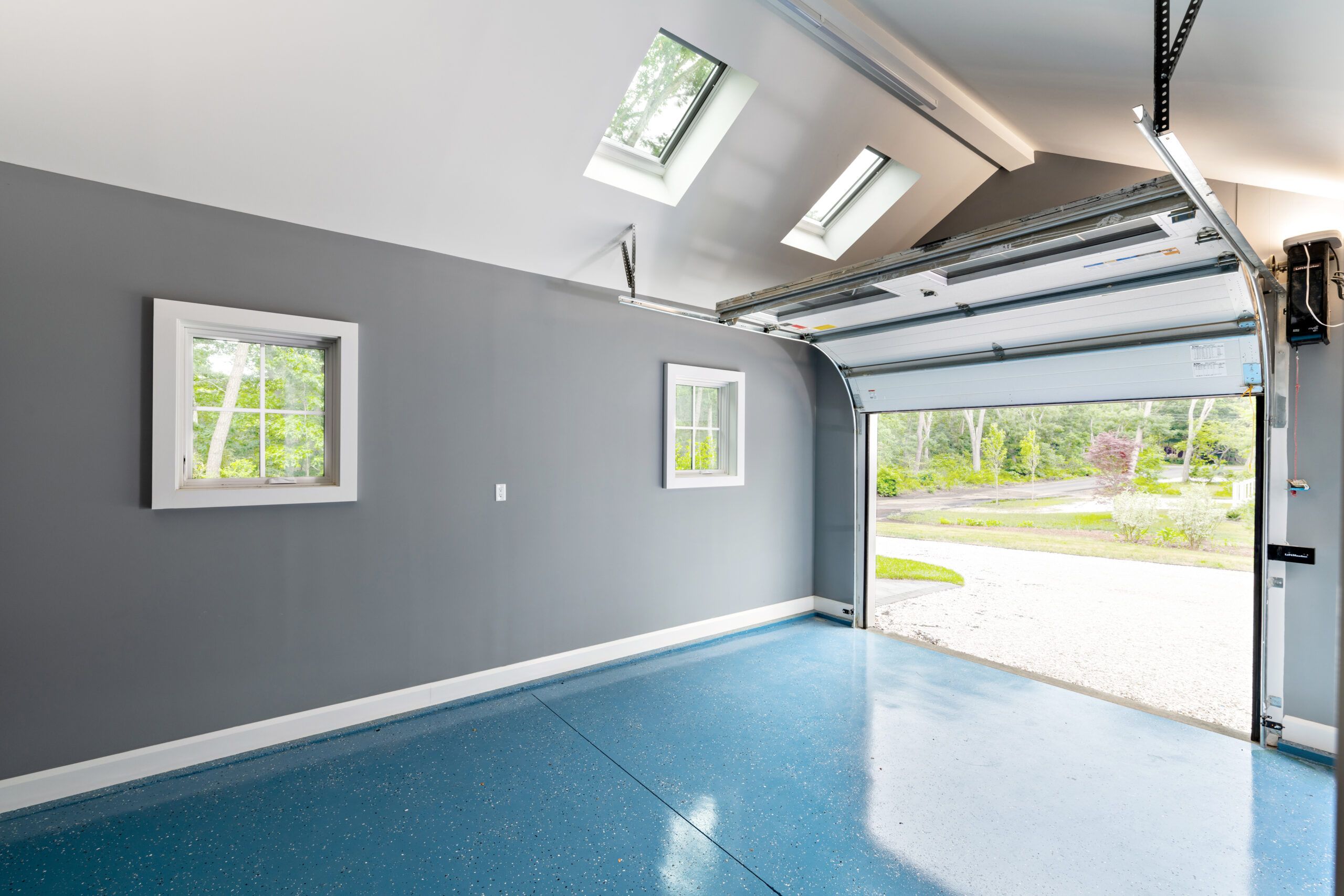 A durable, easy-to-clean epoxy coating on the concrete looks great underfoot. Windows and skylights ensure there's plenty of light for tinkering. A carriage house-style garage door allows ample fresh air and accessibility.
Floor coating: EpoxyShield; Skylights: VELUX; Garage door: Clopay